If Italy already represents a specific case in the way it approaches Catholic holidays, Naples is a real exception. We are talking about a city where oppositions create harmony, where the sacred and the profane are so strongly connected that they are no longer able to distinguish them and have merged into a single folk scene, including food!
When the Romans ruled in the West and East, Naples was a Greek colony; when the Second World War brought Nazi-fascism in Italy, Naples freed itself. This excursus is aimed to make you understand the "behavior" of this city where, as always, the rich and the poor, the criminal and the innocent have been one step away from each other, much more than in other cities of the world. 
 On this black and white background, Easter is grafted like a ritual made up of almost absolute duties, including meals.
For example, it would be impossible to tell you all the differences between the provinces of Campania and its so small rural villages. However, what I can offer you is a virtual tour in order to discover the Neapolitan Easter table. 
The king of Neapolitan Easter: the Casatiello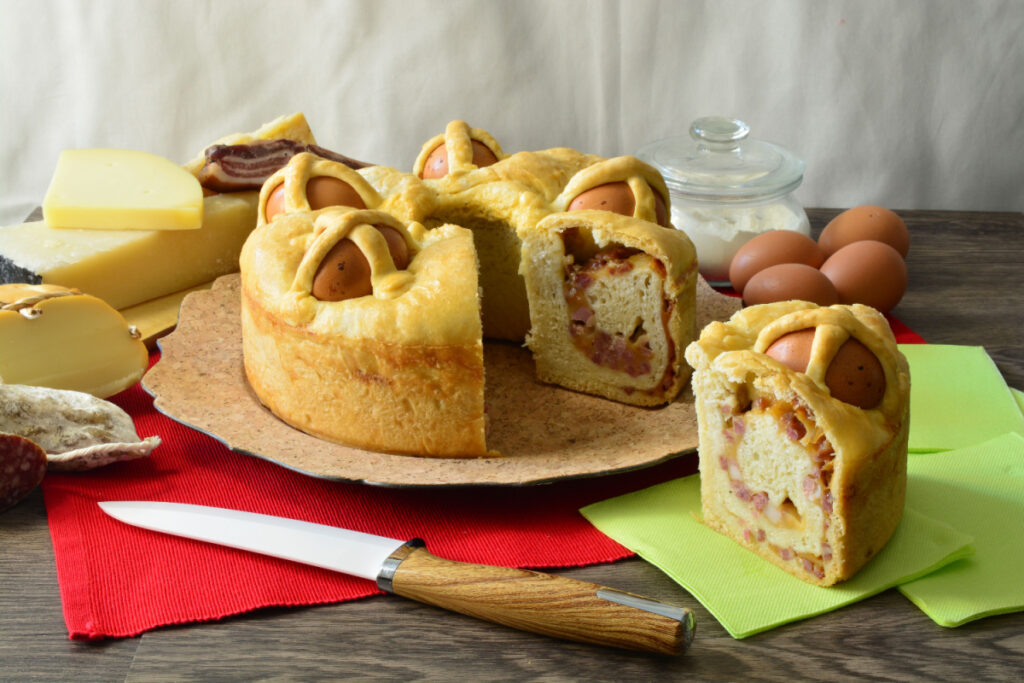 If we had to simplify and limit ourselves to indicating just one dish that cannot be missing on Neapolitan tables at Easter, there would be no doubts for me. 
It is not a first course, not a second course, not a side dish: it is the casatiello!
The casatiello is a rustic pie, or rather a stuffed savory pie, amazingly rich, where the dough houses cold cuts and cheeses inside and hard-boiled eggs on the surface, often anchored with a strand of pasta.
Many people also call it tortano, although this name usually refers to an identical rustic but with the eggs "dispersed" inside the dough along with the other ingredients. 
However, let's keep talking about food, because the gastronomic choice during Easter holidays in Naples is actually varied. So, we can see a possible menu made up of all typical Easter dishes. 
The Neapolitan Easter menu
Imagining sitting at the table of a Neapolitan family, these would be the courses you could find in front of yourself. 
Appetizer: The Neapolitan Fellata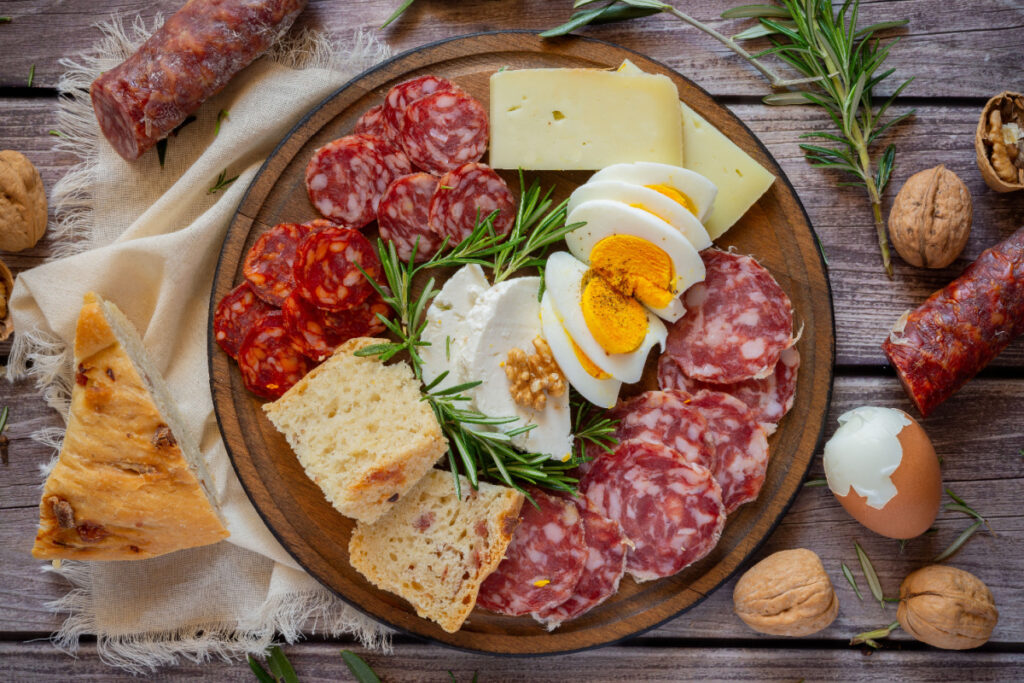 Fellata means "course consisting of slices" and, in fact, we are talking about an extremely rich tray of cold cuts and hard-boiled eggs, which is often accompanied by a few flakes of Parmesan cheese. A dish that basically makes you feel full already after the appetizer. 
First course: among Casatiello and Maritata soup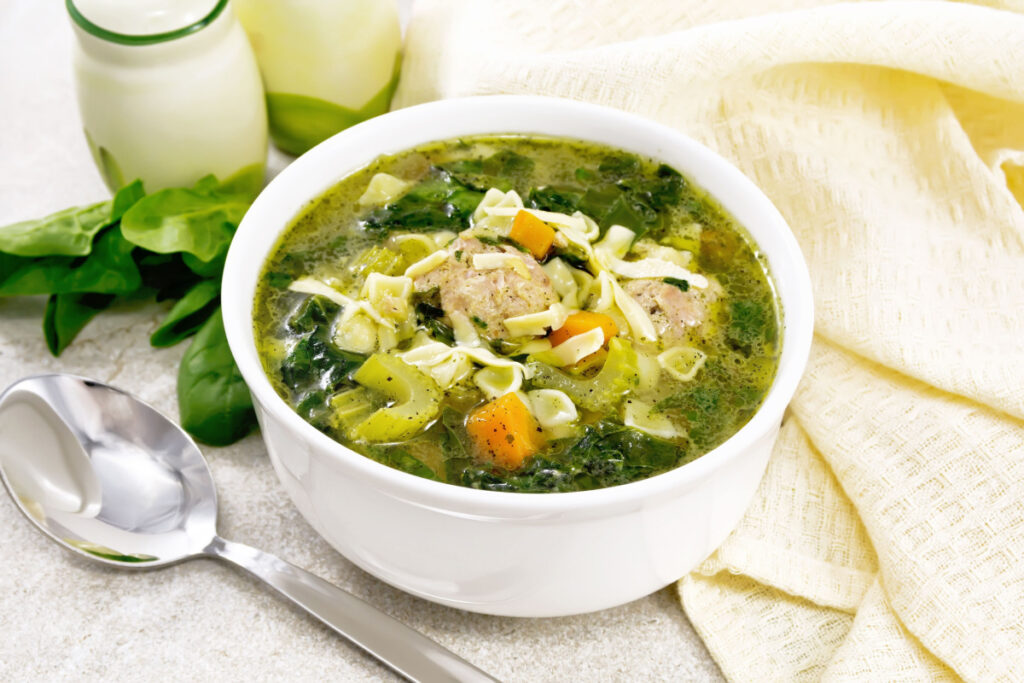 In addition to the casatiello ritual, the second step of the Neapolitan Easter lunch includes a dish that is often offered also on Boxing Day: the maritata soup: typical soup with pork and seasonal vegetables, a very rich and substantial dish, to be served piping hot.
A course with ancient origins that comes from a long preparation (just like ragù, for the Neapolitans the time spent in the kitchen is never wasted!) and it aims to "maritare", or rather, to get married, meat and vegetables. 
Second course and side dish: Lamb with Potatoes or Peas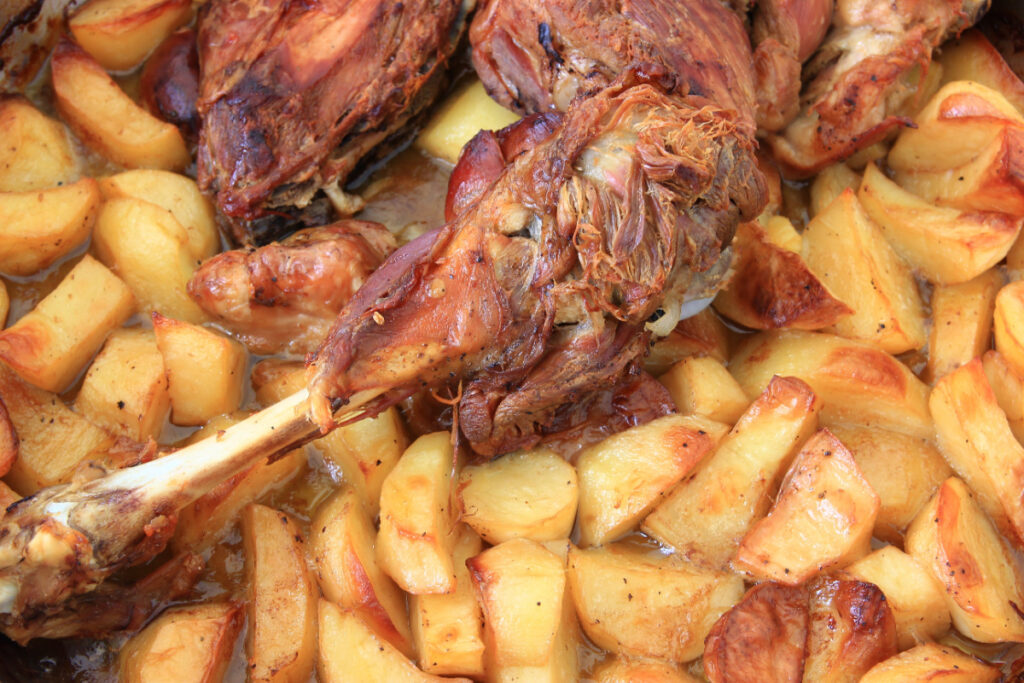 No full stomach because, at this point, you have to make space for a recipe rich in proteins: it is the turn of the lamb in the oven and garnished with potatoes or cooked in a pan with peas. 
Here they call it 'o ruot', the wheel, a term that evokes a pan, generally a circular one, placed at the center of the table and able, indeed, to rotate and be reached by all the diners. 
This second course belongs to the ancient tradition, still deeply followed by many families; although many young people are opting for alternatives that they consider more in line with their own ethics. 
Dessert: the Neapolitan Pastiera and the Easter egg
Do you think dessert can give you a break? Not at all! The meal closes (so to speak) with the Neapolitan pastiera: a typical dessert dating back to at least the sixteenth century and which includes a dough based on wheat, ricotta, sugar and orange blossom water. 
On top of that, at the end of the lunch, it is time for the Easter eggs to be opened (a tradition mostly dedicated to children), where huge chocolate eggs are pulverized out of curiosity in order to discover the surprise hidden inside. And, guess what? You can also find a little space in your stomach to greet a few pieces of chocolate. 
The traditional foods of the days around Easter
As I will explain to you below, there are traditions regarding the days around Easter. 
On Holy Thursday, for example, spicy mussel soup is eaten for dinner which, in its own personal way, wants to revoke the moment of the washing of the feet reserved by Jesus for his apostles. 
However, on Easter Monday (Pasquetta, the day after Easter) picnics become a perfect opportunity to consume a crunchy macaroni omelet (often prepared with leftovers) or tasteful artichokes roasted strictly on the site on a portable grill and seasoned with salt, chili pepper, parsley, garlic and oil. 
I will stop at this point, but I could still tell you about so many culinary traditions related to Easter regarding these people and their region. And it is not a surprise. A Neapolitan proverb declares: "when you eat, you fight with death". 
Why do people eat different things than usual during Easter days in Italy?
Although the Vatican lies within its perimeter, Italy is a secular nation, where religion – in very much theory – does not formally interfere in its citizens' activities. 
Actually, things are a little more complicated than that: there are many cities where the Christian presence is very powerful, being able to "infiltrate" into daily life, dominating its scenarios. It is a contrast that I can easily explain to you like this: in our courts, no one swears by the Bible; despite this, homosexual marriages have not been legalized in Italy yet. Indeed, same-sex couples can aspire just to a civil union. 
The most professed religion is obviously Catholicism, the preponderance is so clear that it affects our national holidays: indeed, many more days appear red on our calendar than on foreign ones and not only; each of these dates is considered part of a very particular traditional and gastronomic journey, often differentiated from region to region or even from municipality to municipality! 
And so, if Christmas is framed between the holidays of Christmas Eve (December 24) and Boxing Day (December 26), Easter is also connected to other celebrations, distant and near in time. 
Along with Carnival, Easter is a "flexible" holiday, this means that it does not always fall on the same day of the year, but on a day connected to the first full moon, following the spring equinox.
Carnival and Easter are 6 weeks apart, 5 of which represent Lent that, in my country, is still fairly respected in some families: for example, on Ash Wednesday and Fridays of Lent, people avoid eating meat and, although a real fast, we tend to remain light to honor the sacrifice made by Jesus.
Even the day after Easter, for us, is a weekday: we call it "Easter Monday", as if it were a "little Easter" and, in general, we spend it having some picnics in the open air, if the weather allows it. 
Now, I hope you understand why, during the Easter holiday period, people eat so much in Naples and, above all, different dishes that are not necessarily found during the rest of the year. 
Image credit:
https://commons.wikimedia.org/wiki/File:Casatiello_in_Rome_2017.jpg
https://commons.wikimedia.org/wiki/File:Home_Made_Casatiello.jpg