When winter comes and the temperatures drop, Italians usually end their day having dinner with a good dish of minestrone soup. Do you know this recipe? It is a vegetable and legume-based soup, but some people like to add pasta, rice or croutons as well.
A single recipe for minestrone does not exist, because all the vegetables inside can vary according to the region, seasonality, and personal tastes. This dish has almost infinite variations and it can be customized according to the needs of your diners.
When was minestrone born? And how is it prepared? Read on to discover all the secrets of this traditional Italian dish.
Is minestrone the national soup of Italy?
Yes, it is. Although you will hardly hear an Italian refer to minestrone as "Italian national soup", it is certainly one of the most appreciated dishes, especially during the winter months.  Minestrone soup has very ancient origins; even the Romans used to have their own version. 
Minestrone soup is a dish of the peasant tradition, where it was cooked using all the vegetables available in the kitchen, so as not to waste anything. Over the centuries it has spread widely, with various recipes, and has also begun to be consumed by other social classes.
Do Italians eat minestrone soup?
Yes, we do. Italians do eat a lot of minestrone soup and in 2020 they consumed 75,480 tons of this product in its frozen version. But why is such a simple dish so popular? These are the main reasons:
The recipe can be customized and it takes very little effort to invent your own version;
It can be prepared exclusively with vegetables for a light version, perfect for those who are on a diet;
There are many types of frozen minestrone soup with quality ingredients and they are very quick to prepare;
It is a dish that allows you to increase the consumption of vegetables and fiber.
Minestrone is therefore a dish that never fails on Italian tables, especially during winter.
Why is minestrone soup called minestrone?
Minestrone in Italian means "big soup". This name comes from the Latin verb minestrare which means the action of those who cooked the dish and distribute the food at the table. The word minestrone in Italian is also used in a figurative sense to indicate a disordered set of things.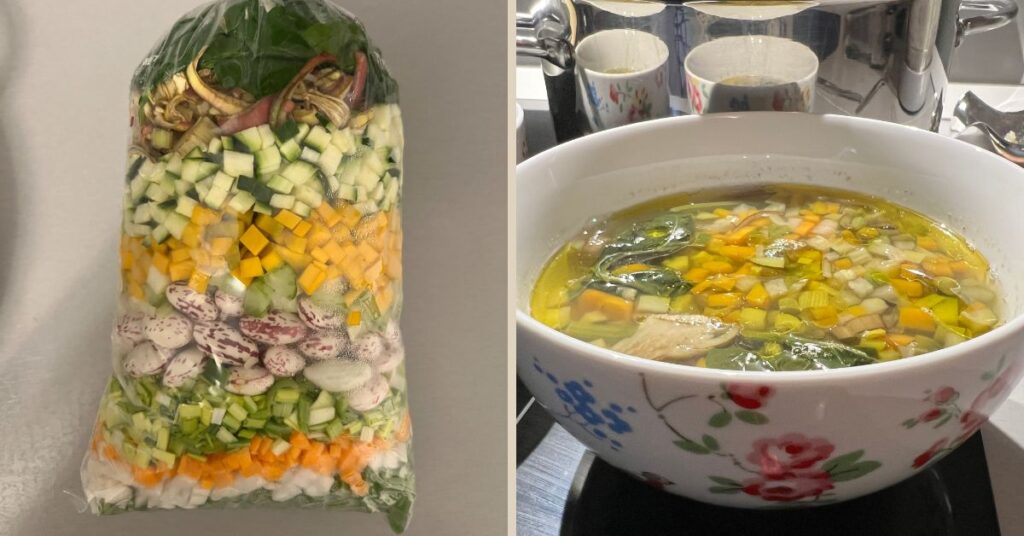 Does minestrone soup have pasta in it?
Minestrone is a vegetable and legume soup but it can be enriched with pasta, rice, or other cereals of your choice to make it an even more complete dish. The best pasta to add should be small in size ("ditalini rigati" is the most common shape of pasta you will eat In Italy in the minestrone) so that it can be eaten with a spoon.
To prepare a good minestrone, pasta should not be added when it is already cooked, but you can put it dry for 10/12 minutes and let it cook directly in the soup.
Is there meat in minestrone soup?
No, generally minestrone does not contain meat, but as you know there isn't only one recipe for this dish. Some people add cubes of bacon or lard in the soup, to make it tastier or little meatballs made with minced meat. If you love meat, you should try Italian wedding soup, a traditional recipe with both meat and vegetables.
Which are the differences between minestrone and Italian wedding soup?
The Italian wedding soup is a recipe from Campania and it is made with vegetables and meat. The ingredients are:
chicken, hen or pork;
lard;
beets;
cabbage;
escarole;
celery;
carrot;
onion;
caciocavallo cheese.
It is richer than minestrone, in fact, it is traditionally prepared during festive meals.  
Which are the differences between pasta fagioli and minestrone?
Pasta e fagioli and minestrone are two very different dishes. Minestrone is a mixed vegetable soup and pasta or rice can also be added, while pasta e fagioli is a first course that does not contain vegetables, but only beans and pasta. Furthermore, pasta e fagioli is still considered a soup but is way thicker than minestrone. 
Which are the differences between minestrone and minestra?
Minestrone is a dish of mixed vegetables cooked and served in broth. The Minestra, on the other hand, has a brothy base and the addition of pasta or rice (for example, meat or fish soup), is quite dense, and full-bodied.
Which are the differences between minestrone and ribollita?
Ribollita is a soup of stale bread and vegetables whose main ingredients are black cabbage, cabbage, and beans. While minestrone is a broth soup with various vegetables and legumes that can also be enriched with pasta or rice.
How is minestrone served?
Minestrone is usually served hot in a bowl, with a drizzle of extra virgin olive oil and grated Parmesan cheese. There is a variant called "minestrone genovese" where you add a little bit of pesto sauce before serving, to flavor the soup.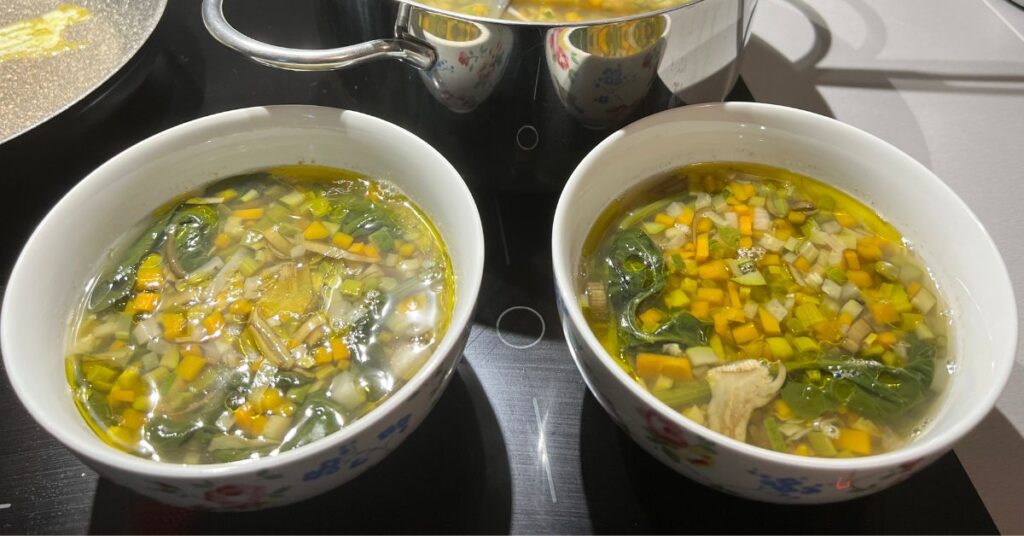 Can you eat minestrone soup cold?
Yes, you can and it's perfect if you love this dish and you want to enjoy it even during the hot summer days. But keep in mind that usually when Italians talk about minestrone, they refer to the hot version.
If you have read this far, minestrone soup has no more secrets for you! Make a list of all the vegetables you need to prepare for the next family dinner and be ready to impress your diners!