Escarole Pie, called Italian Pizza di Scarola is a savory pie typically cooked on Christmas Eve in southern Italy.
A pie of sautéed vegetables, with contrasting flavors such as anchovies, raisins, pine nuts, olives, and of course lots of Escaroles, which are nothing more than bitter endives.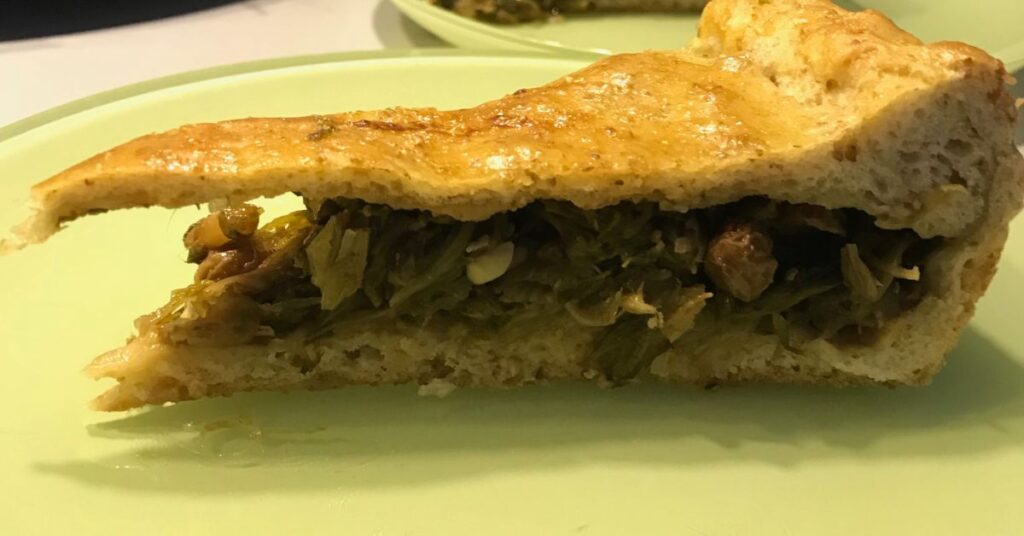 Why is it called Pizza di Scarola even though it is a pie?
In Italy when we talk about pizza di Scarola we refer to a recipe that is part of the "pizze rustiche" or rustic pies, they are savory pies stuffed with different things inside.
So escarole pizza is actually not a classic variation of pizza Napoletana.
But is still called a pizza because the outside dough and shape are similar to that of the classic Neapolitan pizza, although in reality rustic pizzas and classic pizzas are two quite different preparations.
That is why you will not find on the menu of the classic Neapolitan pizzeria the escarole pie, this is because it is a stuffed pizza and it is mainly cooked at home on Christmas.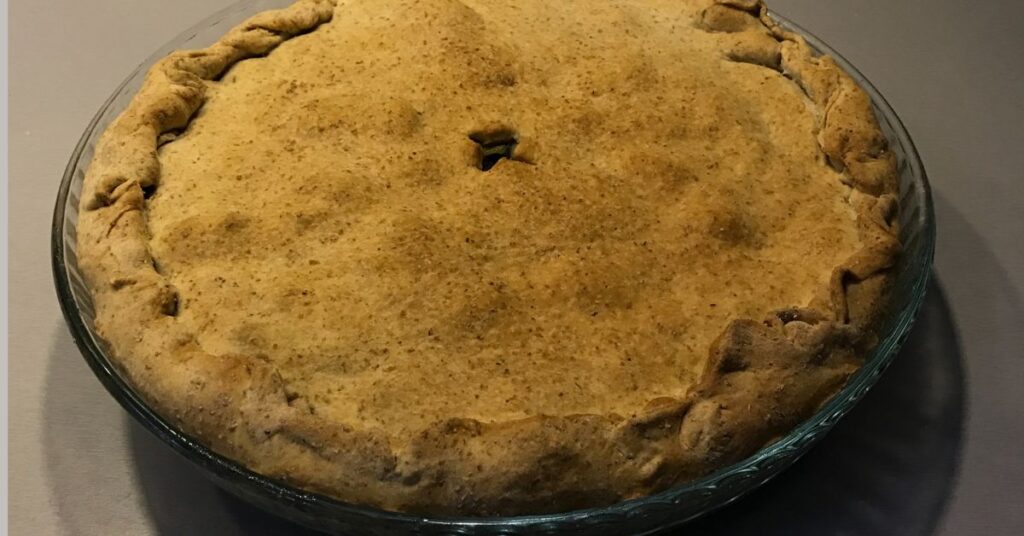 Why on Christmas Eve in southern Italy do we lunch with escarole pizza?
On December 24, Neapolitans have their custom: at lunch, in order not to get overly full while waiting for dinner, they eat a slice of pizza with escarole.
In the typical Italian tradition, no meat should be eaten on Christmas Eve. Therefore, Neapolitans, to stay light and preserve their appetite for clams, salt cod, and other delicacies planned for dinner, eat the escarole pizza made by mom at noon.
When do Italians eat escarole pie?
Although it is a typical Christmas Eve dish in southern Italy, Italians often eat escarole pie, even on Christmas Day or New Year's Day.
Because it is a pie related to the seasonality of escarole vegetables, it is more likely to be found in winter.
What is escarole?
Escarole (or endive scarole) is a variety of endive. Escarole looks like a salad, light green (or yellowish) at the top of the leaves and white on the stem.
Escarole is thus an autumn-winter vegetable, excellent for fulfilling vitamin and salt needs at a time when most vegetables are no longer available.
The best method of consuming escarole is raw "in a salad"; in this way, with the leaf "alive," the entire vitamin and salt pool remains unchanged. Escarole Salad leaves can be sautéed, braised, or boiled.
What vegetable is similar to escarole
It may not be easy to find escarole; these are some vegetables you could use instead of escarole, although my advice is to try to find it since it is a vegetable with a very distinctive flavor.
Alternative vegetables to escarole:
Kale
Radicchio
Arugula
Spinach
Chard
Mustard Green
You can find a recipe for escarole pizza here.