Cooking a pasta dish is very simple but there are some mistakes that it is important to avoid in order to obtain a pasta dish worthy of being called such. Often people ask themselves whether it is necessary to rinse pasta before adding the sauce. 
It's a common belief to think that rinsing the pasta may improve its flavor, eliminate the excess starch and make it more digestible.
But is this really true? 
In this article, I will dispel all the false myths.
Do Italians rinse pasta after cooking it?
No, they don't. Italians usually don't rinse pasta after cooking it because the starch released is useful for binding the sauce. In many first course recipes, in fact, you have to add a little cooking water to mix the condiment with the pasta.
See here all the steps and my advice for cooking a dish of pasta al dente and approved by an Italian
When rinsing the pasta is the right thing to do?
Rinsing pasta may be useful if you want to prepare cold pasta or pasta salad. In these cases, pasta has to be cold before adding your favorite ingredients and as it cools it can become very sticky, because of the starch as I explained here in anti-sticky techniques.
To avoid this awful result, you can rinse the pasta after draining it and add a tablespoon of extra virgin olive oil, remember however, never to add oil to the cooking water.
Is it better to rinse pasta with hot or cold water?
If you want to prepare a pasta salad, it is thus advisable to rinse the pasta after cooking it. But is it better to use cold water or hot water? There are no particular indications so since the pasta needs to cool, you can use cold water to make it cool faster.
Is it healthier to rinse pasta?
No, it is not. Rinsing the pasta does not involve any change in nutritional terms and the pasta itself is not junk food, so you can eat it without second thoughts. If seasoned with fresh vegetables or with a not overly fatty and greasy sauce, a pasta dish can be considered a healthy and complete meal.
If you want to get your fill of micronutrients and fiber, you can buy wholemeal pasta.
Does rinsing pasta reduce carbs?
No, it doesn't. As we have already said, rinsing pasta is useful only if you are preparing a pasta salad or if you want to add cold dressing. But it does not cause any changes in terms of nutrition.
In any case, don't worry too much about the carbohydrates contained in a dish of pasta. To stay healthy, it's enough to have a balanced diet which can for sure include pasta. 
In fact, Italians eat pasta every day and yet most of them are not overweight. But it's important to pay attention to the portions. When you are preparing a primo piatto of pasta, always count 80-100 grams maximum per person, no more. Read the link here to better understand pasta portions size here in Italy.
Does rinsing pasta reduce calories?
No, it doesn't. Unfortunately, there isn't a secret to reducing the calories in your pasta. If you are on a diet, in addition to following the directions of your nutritionist, you can certainly eat pasta but pay attention to:
do not overdo the portions, always weigh it;
choose a light dressing, such as fresh tomato sauce or vegetables;
avoid buying frozen ready-made pasta meals, rich in salt and fat.
So, even if rinsing pasta does not reduce its calories, the good news is that pasta, as a part of a healthy diet, does not make you fat!
Why do you have to turn on the tap when you drain the pasta?
When you drain the pasta, it is recommended to turn on the tap and run the cold water. In this way, not only the boiling water will end up in the pipes of your kitchen sink, but also the cold ones and they won't be ruined.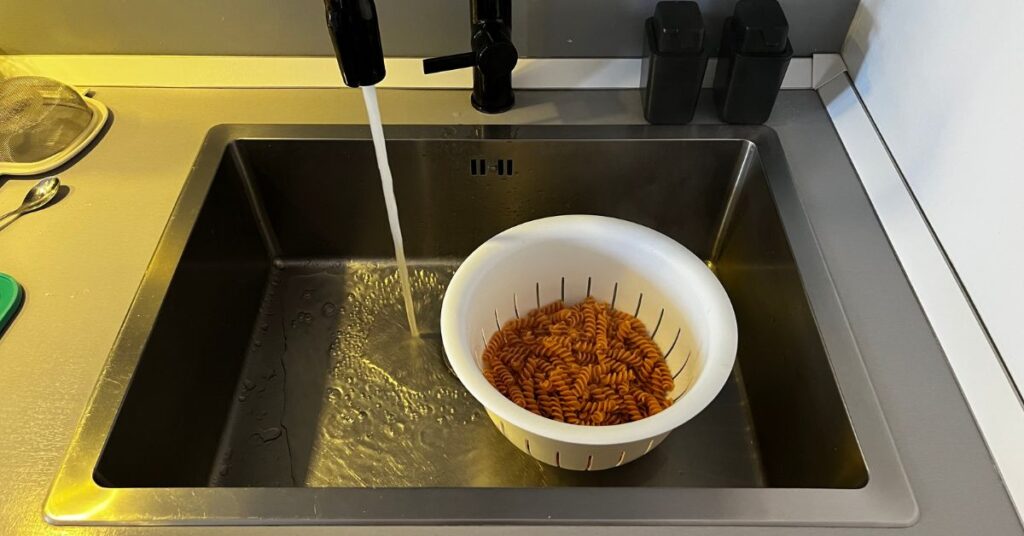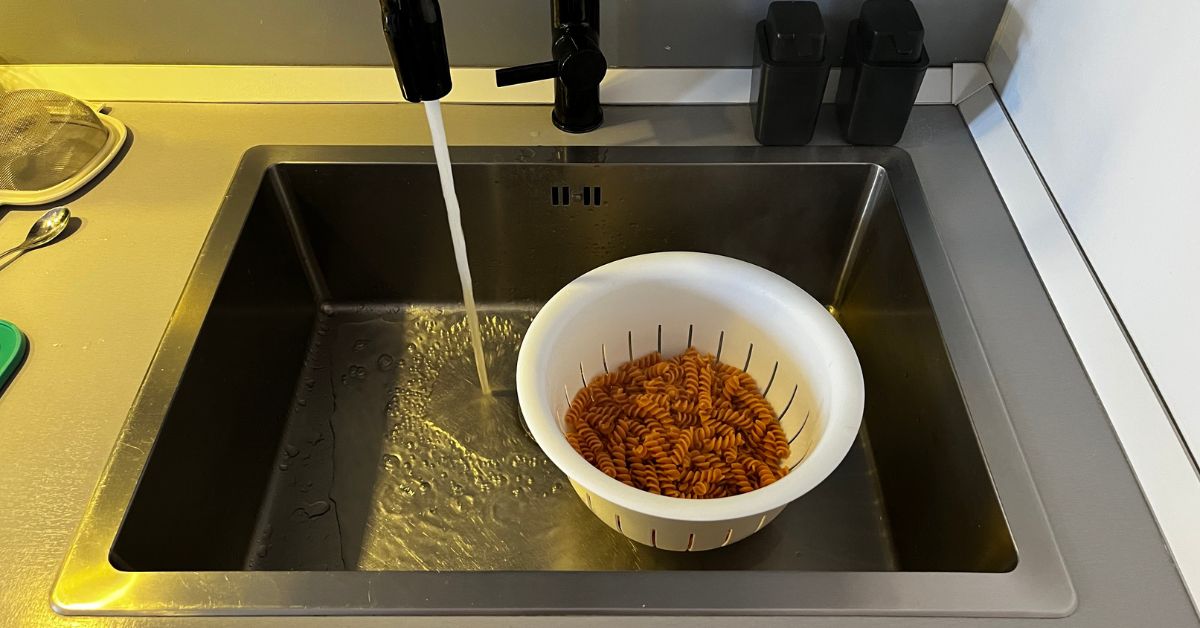 Did you know these little tips to cook pasta or do you use to rinse it in any case? If you read this far, you have the knowledge of real Italian and you are ready for the next spaghettata! Have fun!