Yes, snails are a rare but cherished delicacy in Italy, traditionally prepared in tomato sauce or various other methods. The practice of eating snails, known as "lumache" in Italian, has ancient origins that trace back to Roman times. Even today, they are consumed particularly during local festivals.
The most delicious Italian snails are those collected in vineyards and along country trails, especially at the end of summer and the beginning of autumn, after the first rains.
When it comes to dining in Italy, you might hear folks talk about eating "snails" but what they're really digging into are "chiocciole," not "lumache." These terms often get tossed around like they're the same, but trust me, you want to know the difference.
Chiocciole (snails) are the edible ones you'll actually find on your plate, and thank goodness for that! Because lumache (slugs) aren't something you'd want to chow down on — they're not safe to eat.
Differences Between Italian Edible Snails and Poisonous Slugs
While the terms "snails" and "slugs" might seem interchangeable, they refer to two distinct types of creatures with some critical differences, especially when it comes to culinary use:
Shell Matters
Snails: Snails come equipped with a protective shell. This shell serves as a defensive mechanism and as a shield against environmental elements like heat and cold. Snails have the ability to seal themselves inside this shell using a special secretion that dries and acts as a sealant.
Slugs: Unlike snails, slugs lack a protective shell, making them more vulnerable to the environment. Importantly, slugs can consume foods that are toxic to humans, such as certain poisonous mushrooms, which makes them inedible.
While snails are widely considered safe and delicious to eat, the same cannot be said for slugs due to their potentially toxic diet.
Snail Dishes: the Italian Way
Chiocciole con Polenta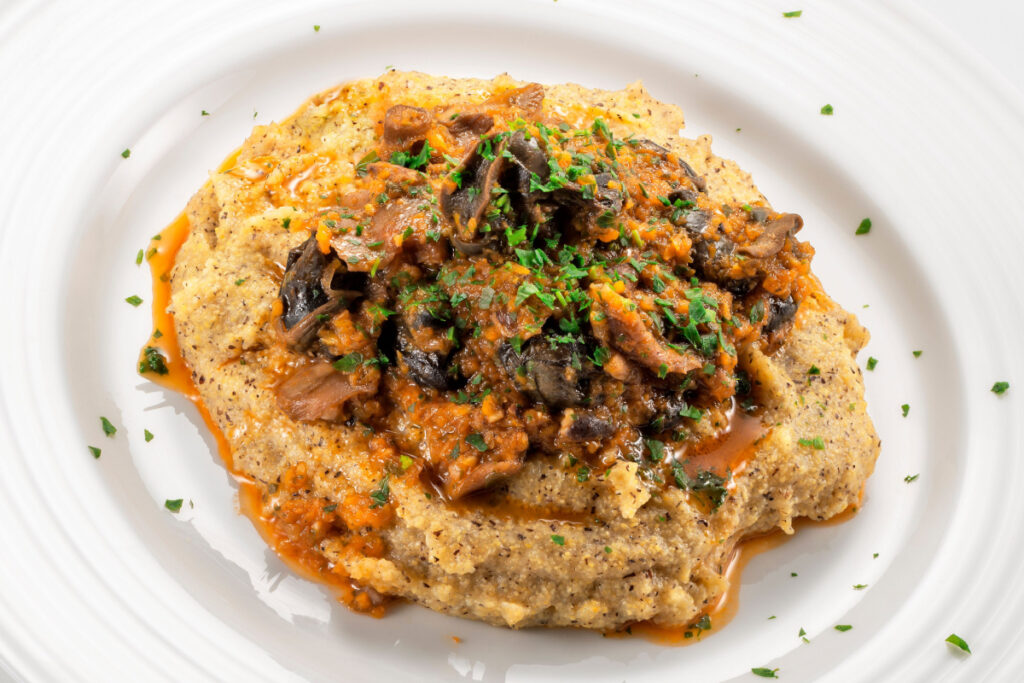 Snails and polenta are a match made in heaven in Northern Italy. The snails are usually sautéed with garlic, parsley, and sometimes a bit of chili pepper, then served over creamy polenta.
Lumache alla Romana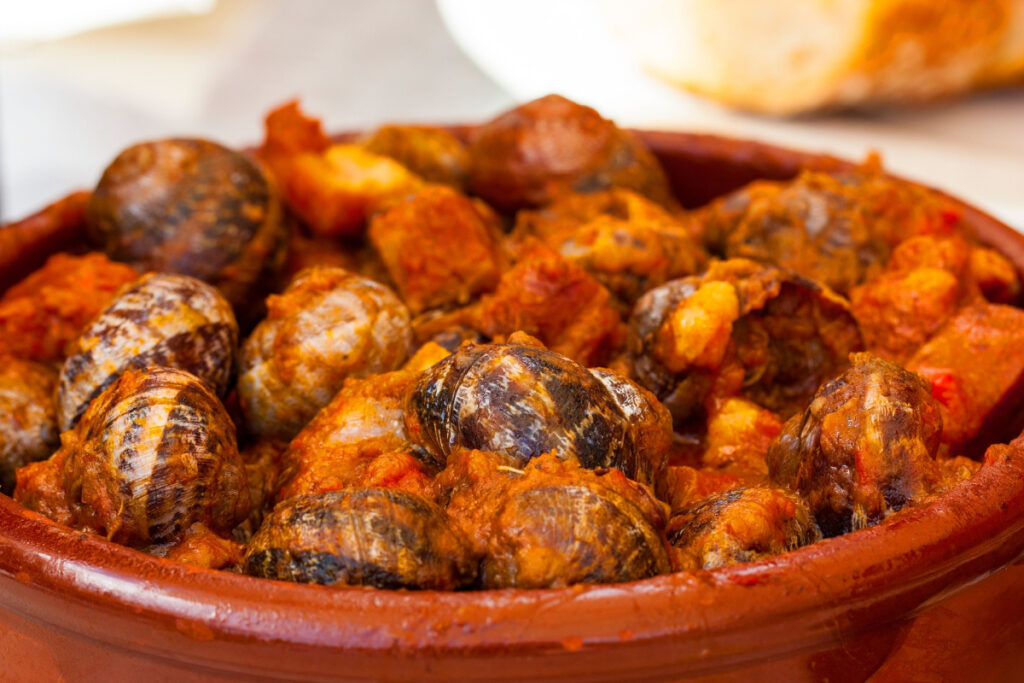 In Rome, snails are traditionally cooked with tomato sauce, mint, and pecorino cheese. Lumache alla Romana is a dish that dates back to ancient Roman times. The snails are first purged and then simmered in the robust sauce, absorbing all the wonderful flavors.
Lumache e Funghi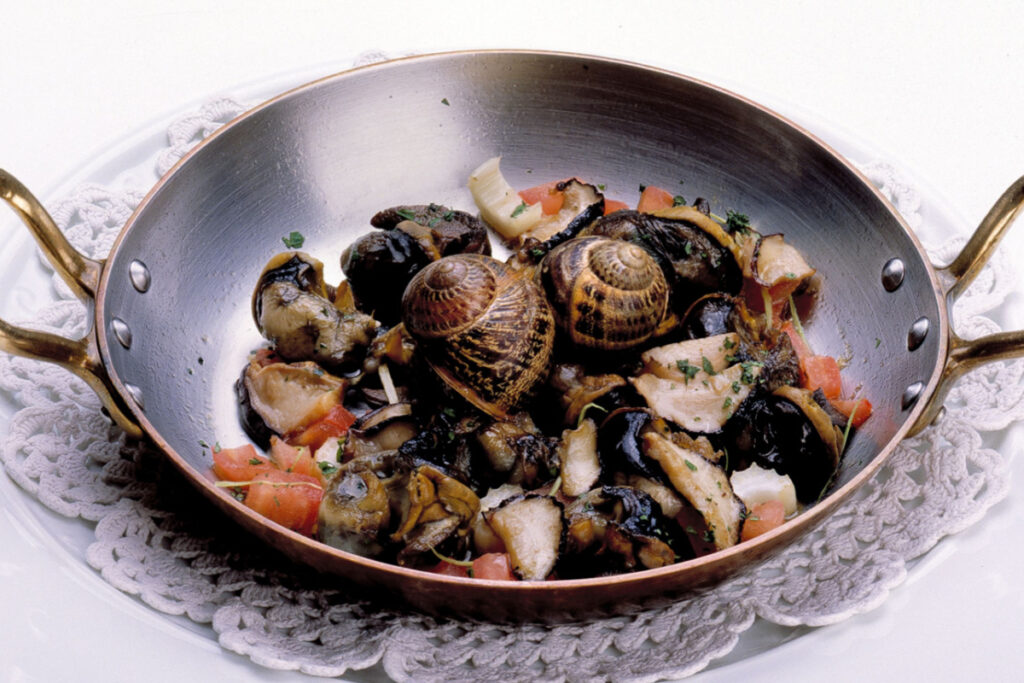 In this autumnal dish, snails are cooked with various mushrooms and sometimes truffles. The mushrooms' earthy flavors perfectly complement the snails' distinct taste.
Chiocciole con Salsiccia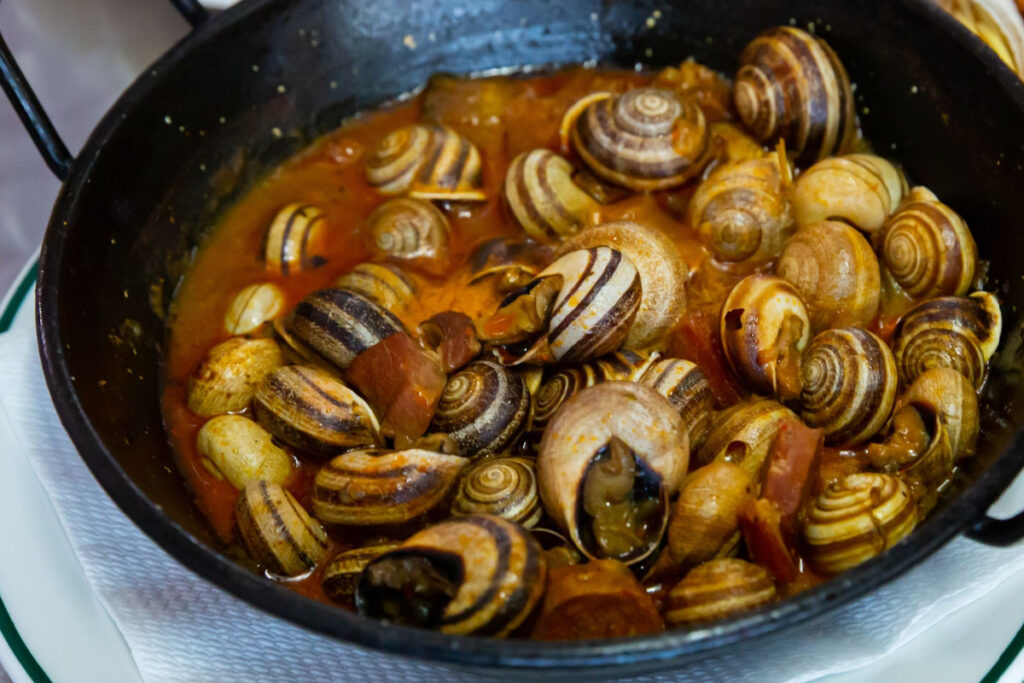 In this hearty dish, snails are cooked alongside Italian sausage and a medley of vegetables like bell peppers, onions, and tomatoes. This rustic meal hails from the countryside and is often served with a side of polenta to soak up the sauce.
Lumache in Umido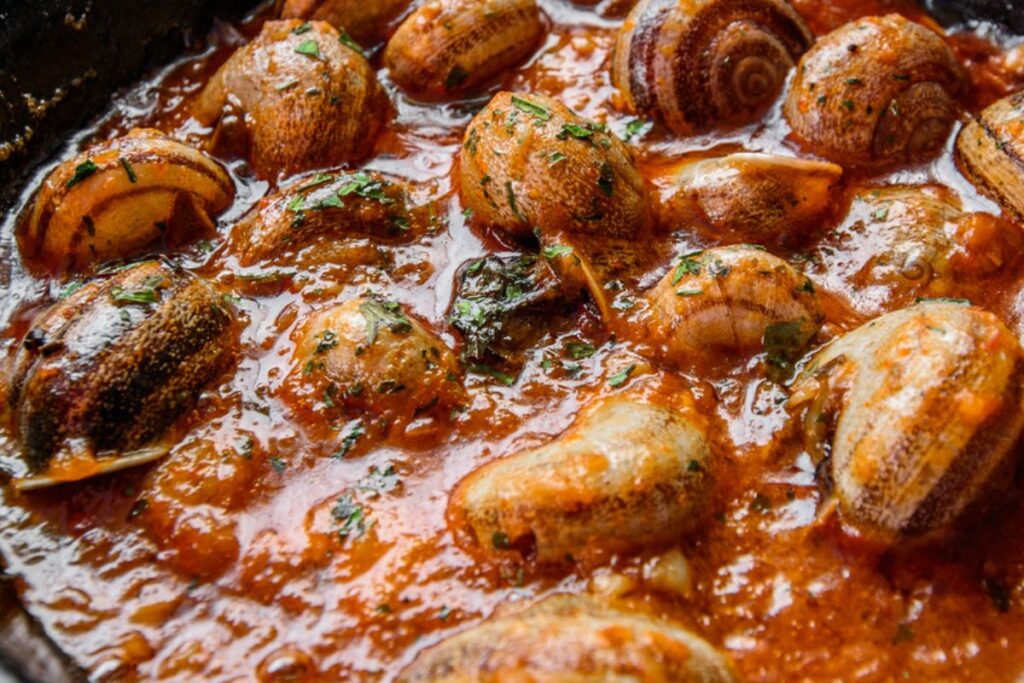 This dish involves snails stewed in a savory broth made from white wine, garlic, and herbs. Sometimes, anchovies are added for an extra layer of flavor. It's a simpler dish but very popular in regions like Tuscany and Emilia-Romagna.
Chiocciole Ripiene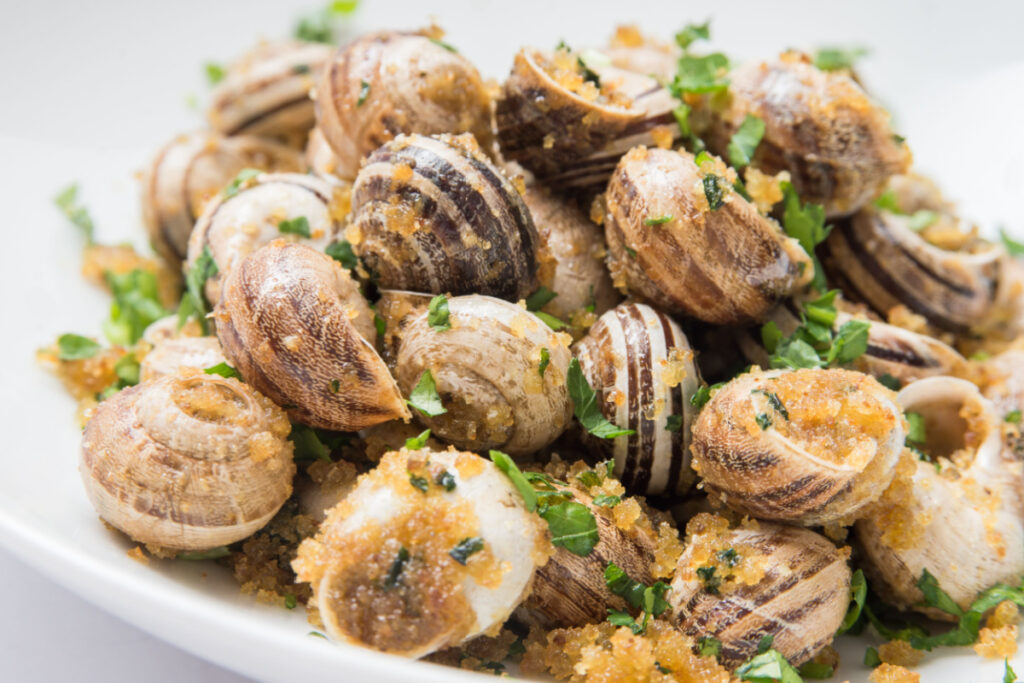 A festive dish especially popular in Sardinia, Chiocciole Ripiene involves stuffing the snail shells with a mixture of breadcrumbs, garlic, parsley, and cheese, then baking them until golden.
Italians and Snails: A Long-Standing Enchanted Love
Long before snails graced the tables of fine dining establishments, they were consumed by our prehistoric ancestors. The Greeks adored them, even inventing a special "fork" to consume them more easily and attributing aphrodisiac qualities to them.
The Romans considered snails a delicacy, raising them on a diet of laurel leaves, wine, and boiled bran. Snails even featured in their grand banquets, marking them as fashionable food.
A popular legend claims that a Roman soldier, a fan of snails, discovered a secret passage into the besieged city of Carthage while pursuing these creatures. Thus, it would seem snails have not only tantalized taste buds but also potentially altered the course of history.
During the 15th and 16th centuries, snails were mainly seen as 'poor man's food,' often consumed as a meat alternative during times of fasting. However, their status elevated in the early 1800s, especially in French cuisine, where Prince Talleyrand served them at a banquet in honor of Russian Tsar Alexander I.
In Italy, the night between June 23rd and 24th is known as the "Night of the Witches", a time filled with folklore and ancient traditions. Snails become the star dish of festivals around Rome on this special night.
Why? It's believed that eating snails, with their horn-like appendages, is a way to ward off evil. This tradition is deeply tied to Italy's cultural and religious beliefs, making snails more than just a culinary delicacy.
Italian snails and French snails, a matter of taste
The most delicious snails are usually gathered from vineyards and countryside paths, particularly in late summer and early autumn after the first rains. The French and Italians have distinct ways of purifying snails for consumption:
The French prefer snails in hibernation, which naturally purify themselves before winter.
Italians favor 'running' snails, active in spring and autumn. These require a more extended purification process to ensure they don't taste of certain undesirable herbs.
Five Good Reasons to Try Snails in Italy
Taste: Once cooked, snail meat is tender and versatile, complementing a range of ingredients from classic garlic, butter, and parsley to more complex sauces. They can be enjoyed stewed or even in tempura.
Health: Snail meat is lean, rich in protein, and generally free from drug residues. It is an excellent source of omega-3 fatty acids and vitamin B12, helping to lower bad cholesterol levels.
Environment: Snail farming or hunting has a minimal impact on the environment. They produce little waste, and their overall contribution to greenhouse gas emissions is low.
Tradition: The cultural appreciation of snails dates back to Roman times and has been documented in various foundational texts of Italian culinary culture, including Pellegrino Artusi's "Science in the Kitchen and the Art of Eating Well."
Future: Snails are a sustainable option for meeting the global demand for affordable, easily produced animal proteins with minimal environmental impact.
It's clear that snails hold a special place in Italian cuisine, a tradition deeply rooted in history and full of flavor. So, to answer the question, "Do Italians eat snails?"—Absolutely (even if it's not an everyday dish) and perhaps you should too!