Fancy a taste of Tuscan tradition for Christmas? Let me show you my list of typically Tuscan foods that grace our tables during the holidays, especially during Christmas Eve dinner and Christmas lunch.
On Christmas Eve, we Tuscans observe tradition, avoiding meat. So for dinner, we have appetizers like mushroom crostini and fried polenta, traditional pasta dishes like spaghetti with seafood or potato stuffed pasta, and even seafood dishes like octopus, shrimp, or the classic Cacciucco.
While on Christmas Day, namely the lunch on the 25th, it's all about meat, composed of several courses and sides: chicken liver crostini, regional cured meats, meat stuffed pasta, and meat roasts like guinea fowl or pork loin. There are also sides like beans and vegetable flan, ending with the classic Tuscan desserts like panforte, cantucci biscuit, and castagnaccio cake.
These two examples of Tuscan Christmas menus are just a sample because, as you can understand from the list below, the specialties brought to the table during the holidays here in Tuscany are truly numerous and also vary from city to city.
1. Salumi Toscani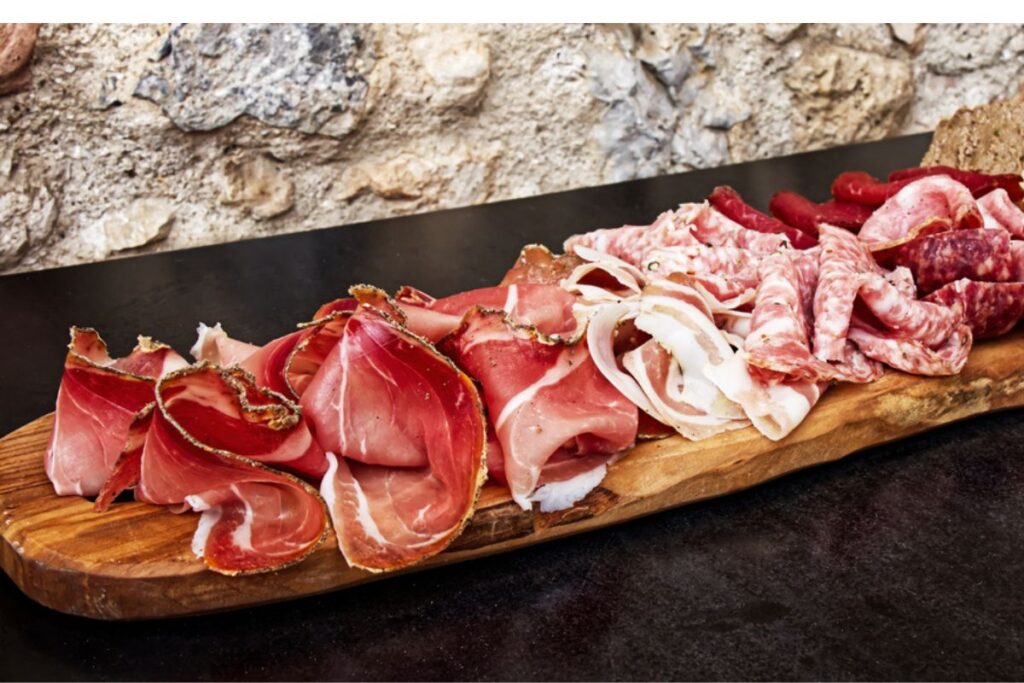 Feast your eyes (and soon, your taste buds) on a glorious antipasto of Tuscan cold cuts platter featuring some of the finest cured meats from the region. Trust me, it's a must-try during a festive Tuscan Christmas.
The stars of the show are Prosciutto Toscano, Finocchiona, and Salame Toscano. Prosciutto Toscano is an enticing ham, massaged with a blend of spices and left to cure for a good year. Its intense, slightly salty taste is sure to win you over.
Finocchiona, a salami that is uniquely Tuscan, packs an aromatic punch with fennel seeds. The name itself comes from 'finocchio', meaning fennel in Italian. It gives you a unique combo of fat and lean meat with a hint of garlic and pepper.
Then, there's Salame Toscano, a blend of pork, salt, and pepper, with a subtly spicy kick. It's made from carefully selected cuts of pork, lending it a mouthwateringly complex flavor profile. Feeling hungry? Grab this antipasto Toscano at a local 'trattoria'.
2. Crostini di Fegatini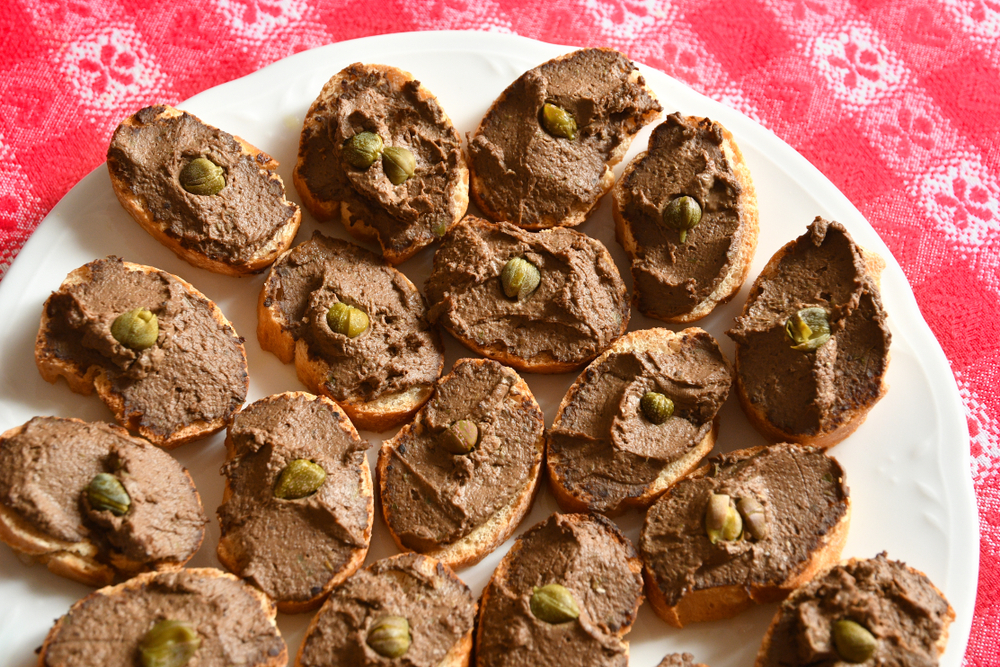 You simply can't miss Crostini di Fegatini if you're delving into the delightful Tuscan food traditions, especially around Christmas time. This antipasto, or appetizer, is an authentic Tuscan classic!
Imagine this: crisp, toasted slices of bread, slathered with a rich, savory spread made from chicken livers, capers, and anchovies. Every bite is an explosion of bold flavors, thanks to a medley of herbs like sage and rosemary, and a tangy kick from pickled cucumbers.
'Crostini' means 'little crusts' in Italian, pretty apt for our tasty, toasted bread base, don't you think? And 'Fegatini'? That's Italian for 'little livers', the heart of this delightful delicacy.
The Crostini di Fegatini is as rustic as it gets, born out of the Tuscan tradition of wasting nothing. Even the bread is lightly soaked in a good local broth, making it beautifully moist and adding an extra layer of flavor.
3. Agnolotti alla Fiorentina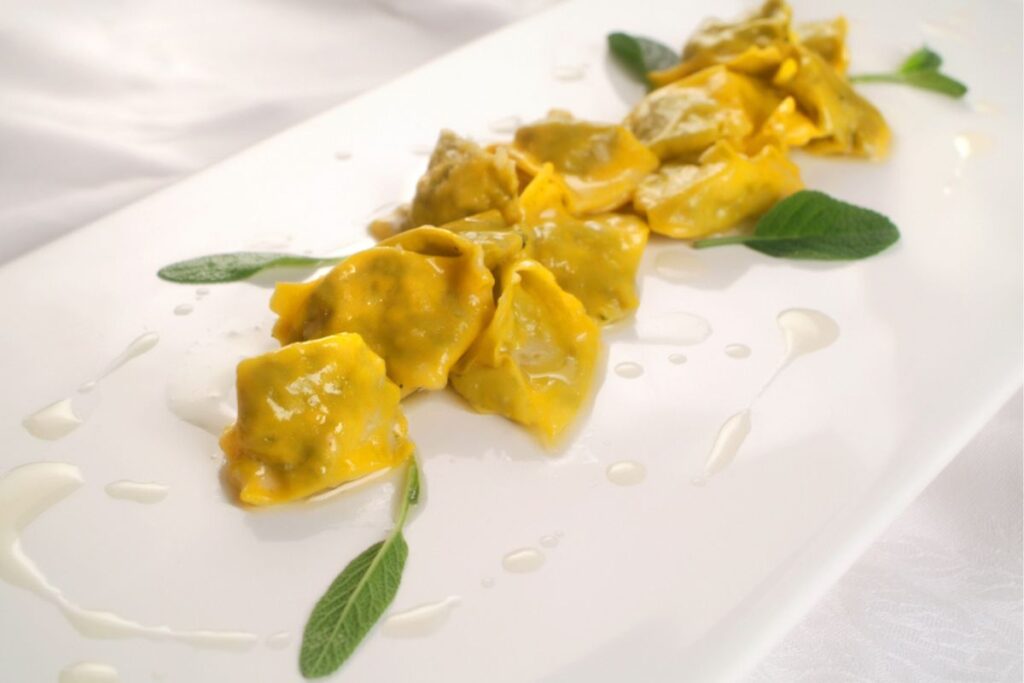 Agnolotti alla Fiorentina it's a primo (first course) and its star is homemade pasta. Imagine plump, dough pockets stuffed with a heavenly mix of minced meat, mortadella, and Swiss chard.
With one bite into these delicacies, you're greeted with the rich meatiness balanced with the mild, earthy undertones of the chard. They're typically served doused in a butter and sage sauce, adding a creamy, aromatic dimension.
You'd find Agnolotti alla Fiorentina mainly in local trattorias or during family feasts, especially around Christmas. It brings a cozy, festive vibe, making it a cherished part of the holiday tradition in Tuscany.
4. Tortelli di Patate del Mugello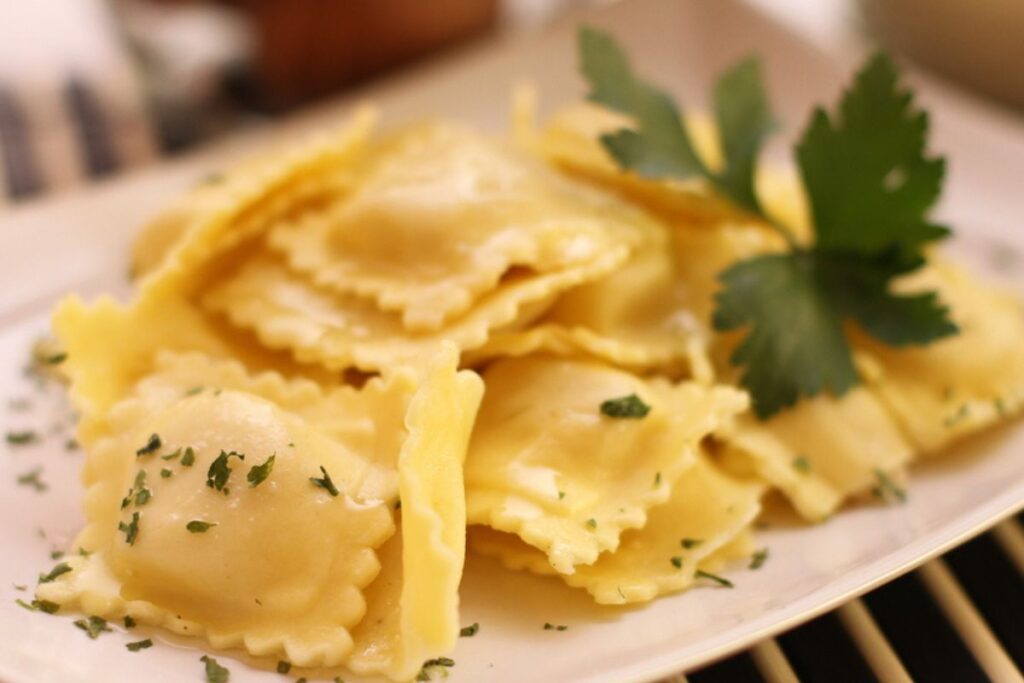 It's a typical primo, or first course, perfect for those cozy Christmas dinners in Tuscany, just imagine biting into these large, soft, ravioli-like squares, stuffed with boiled potatoes, cheese, garlic, and parsley. Their distinct yellow color, the aroma of fresh pasta, and that comforting potato flavor are a culinary high-five to your senses!
Now, the word "tortello" harks back to the Tuscan and Romagnol cuisines, praised since the 1400s by the court of Lorenzo the Magnificent. It's all about that magical blend of simple ingredients and age-old preparation methods that have remained unchanged over the centuries.
And if you're asking about my personal opinion, well, these potato-filled wonders have definitely won my heart. Next time you're in Tuscany for the holidays, don't miss the chance to try them!
5. Ribollita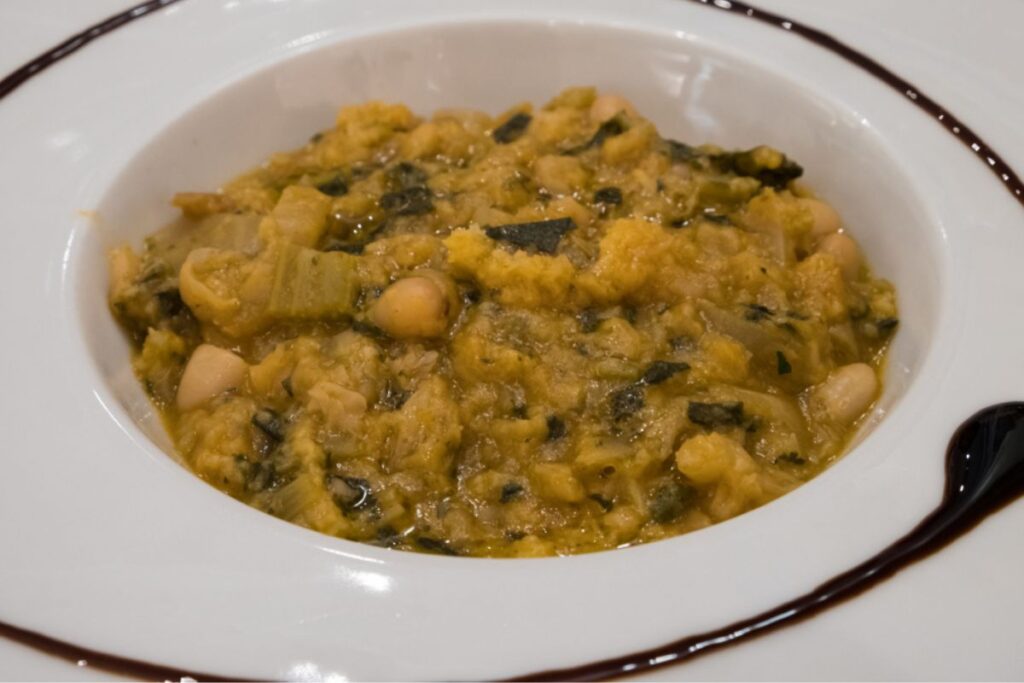 It's a soup that brings together stale bread, leafy greens, and beans in a wonderfully satisfying mix. The stars of the show are cavolo nero (Tuscan kale), savoy cabbage, and beans.
Originally, this dish was made on Fridays, a day when meat was traditionally avoided, by simmering the leftovers from the day before. The name "ribollita" literally means "reboiled," and trust me, it only gets better each time it's reheated!
Ribollita is the epitome of comfort food: hearty, savory, and incredibly filling. The veggies add freshness, while the beans and bread make it as comforting as a warm blanket on a chilly night.
Ribollita it's particularly popular during the winter months, especially around Christmas. There's something about the Tuscan winter that just calls for a bowl of Ribollita.
6. Crespelle alla Fiorentina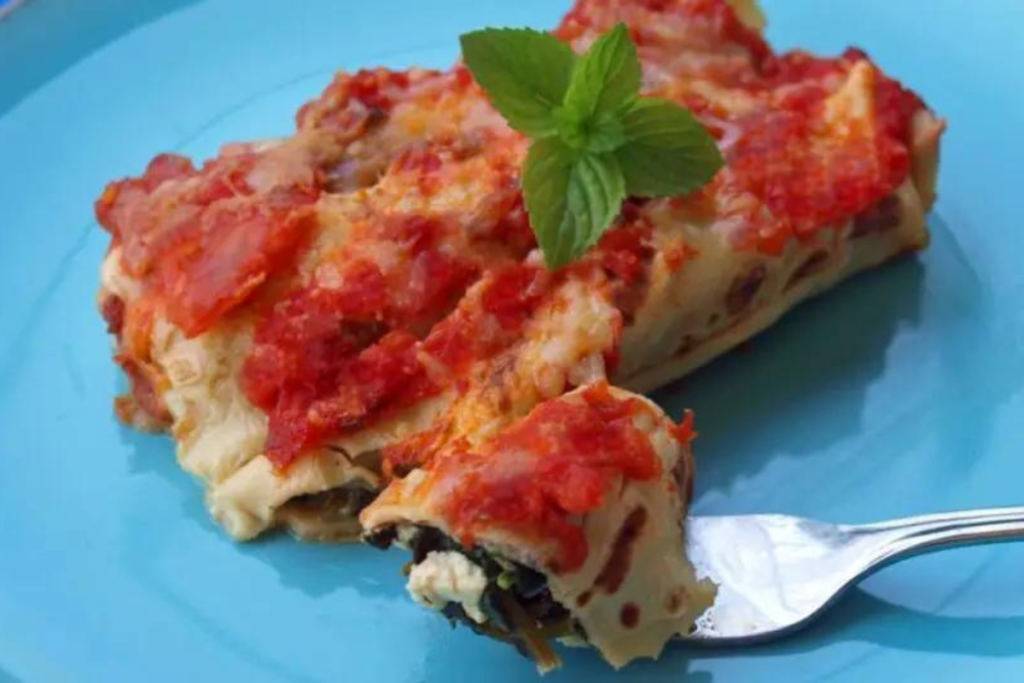 Crespelle is essentially the Italian version of crepes, but the Florentine twist makes them uniquely Tuscan. This dish is a savory first course, typically enjoyed around special occasions, like Christmas.
They're stuffed with a rich filling of ricotta cheese and spinach, then smothered in a silky béchamel sauce before being baked to perfection. The result? A heartwarming delight, ideal for a winter's evening.
The distinctive taste of the Florentine zucchini, known for its vibrant green color and characteristic yellow flower, adds a special touch. Upon tasting, you'll encounter the smooth, slightly sweet crepe contrasted by the savory filling – a true dance of flavors in your mouth!
7. Cacciucco alla Livornese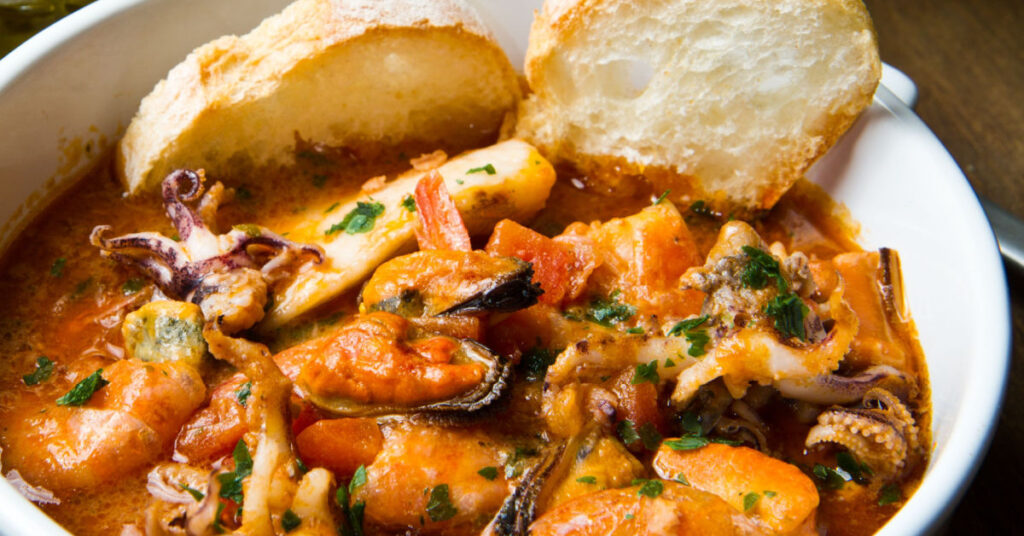 This rich fish stew is a signature dish of Livorno, a charming port city. Cacciucco is a tantalizing main course, that packs a flavor punch. It's brimming with at least five types of seafood – hence the five "C"s in its name.
You've got two types of soup fish, two shellfish varieties, and a cut fish. No tomato concentrate is used; instead, a broth is crafted from fish scraps, including cleaned and purged heads and bones. The descaled fish flesh is added towards the end without being sieved, preserving its rustic texture.
Cacciucco is commonly served in traditional trattorias and seafood restaurants across Tuscany. But the most authentic experience? That would be savoring this maritime masterpiece in a cozy, local spot in Livorno.
While it's not strictly a Christmas dish, it's often enjoyed during the festive season, adding a unique Tuscan twist to holiday feasting.
8. Sformato di Gobbi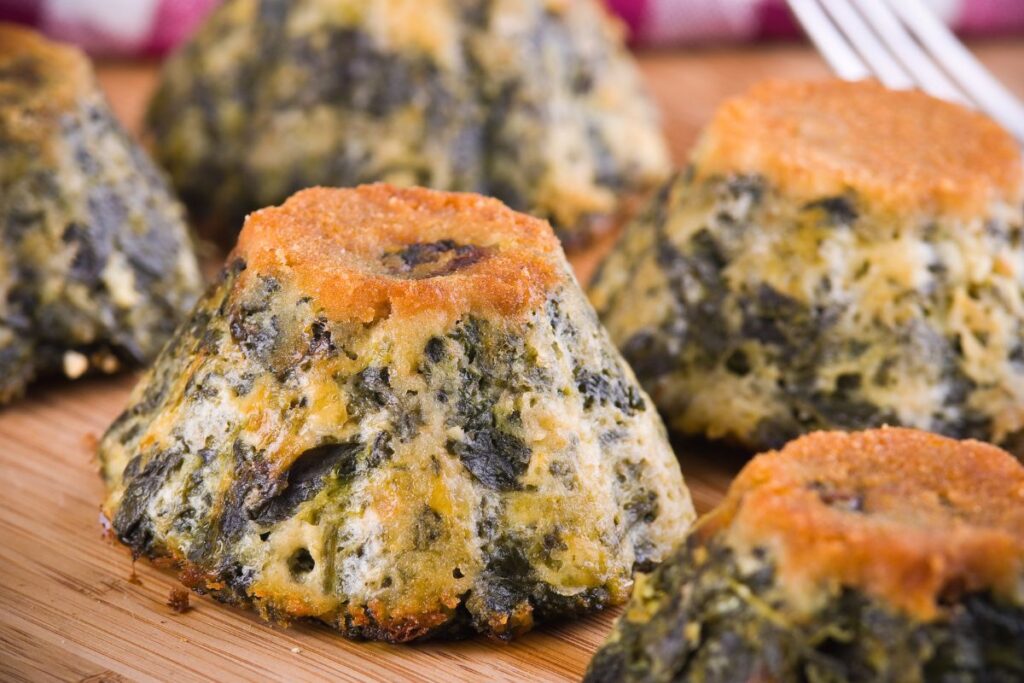 This is a typical Tuscan dish where the humble cardoon, known locally as "gobbo", becomes the star. Sformato can be thought of as an Italian savory custard or flan, but instead of seafood or veggies, we've got cardoon here!
The cardoon, a cousin to the artichoke, is first cleaned and boiled, then combined with Parmesan cheese and béchamel sauce. It's a leftover-friendly dish, often made using remnants from previous meals. It might seem simple, but trust me, the flavors are anything but. There's a wonderful harmony between the creamy béchamel, the savory Parmesan, and the slightly bitter undertone of the cardoon.
You're most likely to find this dish in Tuscan homes, but some traditional trattorias may serve it as well. Around Christmas, it becomes a common sight on tables across the region, in part due to the cardoon being in season.
9. Faraona in Umido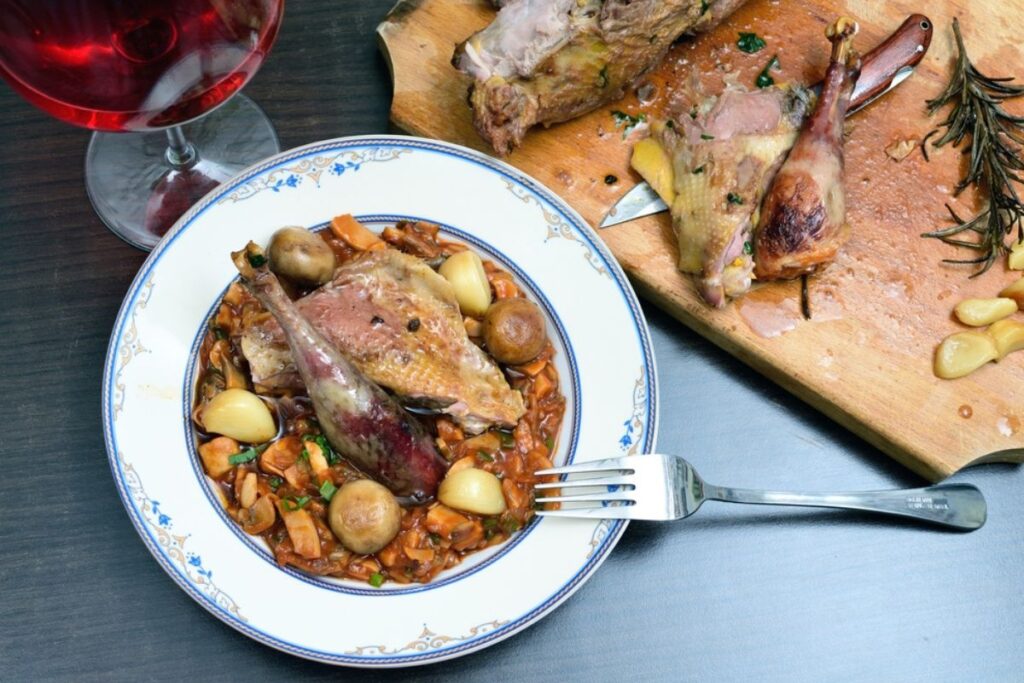 Faraona in umido a.k.a Guinea fowl Stewed Tuscan Style. This scrumptious dish is a fall and winter favorite, often taking center stage at the Christmas dinner table.
Now, guinea fowl is certainly not an everyday dish, is a bird that boasts a deep, rich flavor – unlike your typical chicken or turkey. This tasty bird is known for its lean yet hearty meat, packed with protein and low on fats.
Cooking faraona Tuscan style means stewing it slowly until it's tender and full of flavor. The bird is often cooked whole, bathing in a savory broth until the flavors meld and the meat falls off the bone. Oh man, you can't beat the rich, warm, and enveloping taste it brings!
10. Arista alla Fiorentina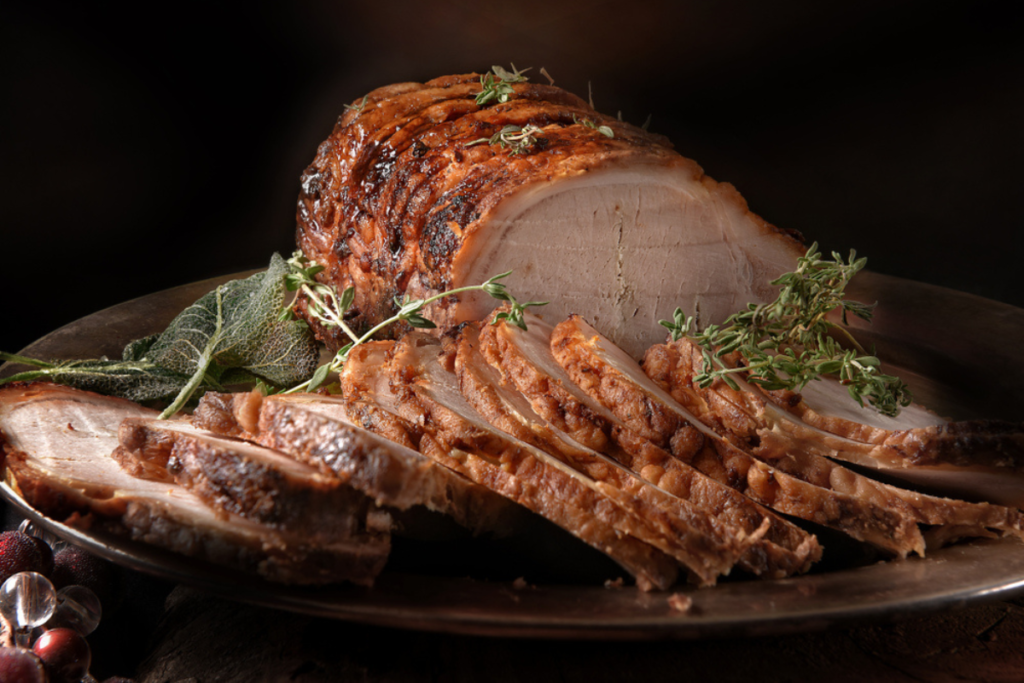 Let's chat about Arista alla Fiorentina, a star of the Tuscan table. This main dish is all about the pork loin, roasted to perfection with garlic, rosemary, and sometimes sage – simple ingredients, true to Tuscan style.
Legend has it, this dish got its name at a 15th-century feast when a Greek cardinal, sampling the succulent roast, exclaimed "Ariston!" which means "the best!" So, in Tuscany, a pork loin isn't just a pork loin – it's an Arista!
The texture? Crispy on the outside, tender and juicy on the inside. During Christmas, Tuscan tables are overflowing with traditional dishes, and Arista alla Fiorentina holds a place of honor.
11. Fagioli all'Uccelletto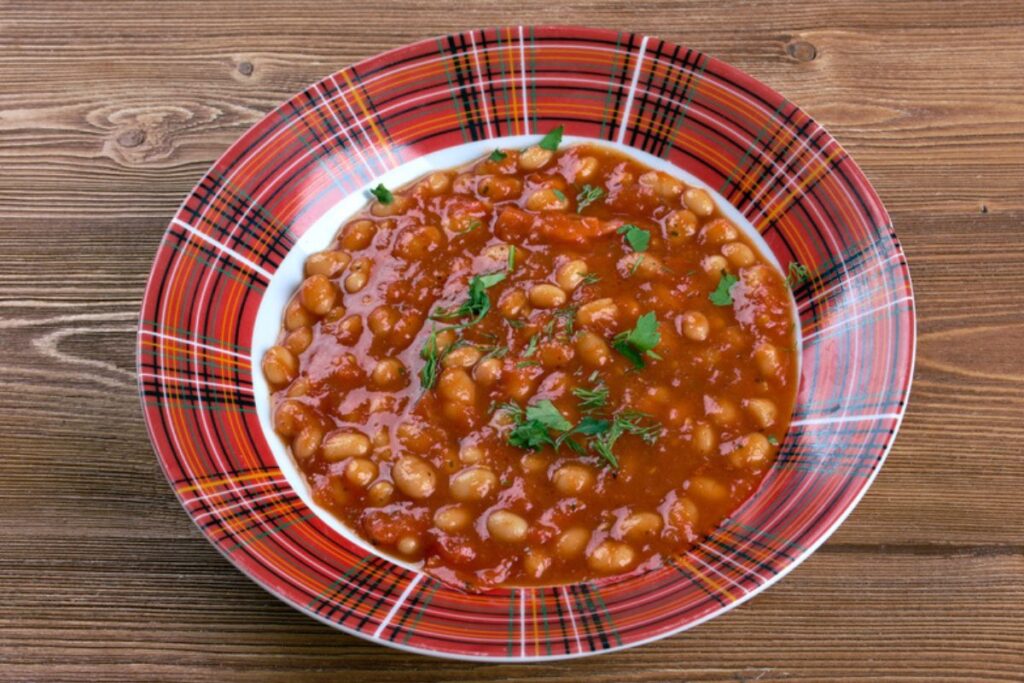 One classic dish you've gotta try is Fagioli all'Uccelletto – simply put, beans cooked "birdy style". A bit weird, huh? But trust me, it's divine!
Usually served as a hearty side dish, Fagioli all'Uccelletto is often enjoyed as a main too. At its heart are cannellini beans – a Tuscan staple – sautéed in garlic, sage, and a rich tomato sauce. The end result? A bowl of comfort that's rustic and brimming with flavor.
Every mouthful of this dish is a warm hug from the inside out. The beans are tender and the tomato sauce lends a tangy kick. It's a hearty, simple pleasure that'll make you feel like you're dining in a Tuscan Nonna's kitchen.
12. Cappone in Umido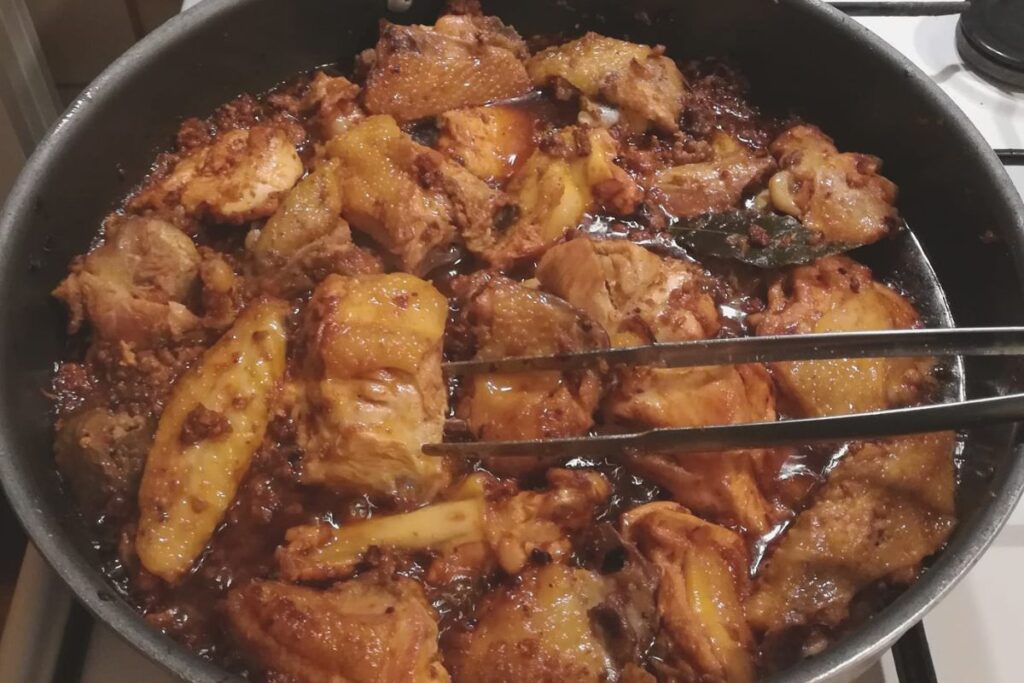 Let me introduce you to "Cappone in Umido"! It's a Tuscan way to cook capon, a type of large castrated chicken. Typically, this dish is served as a second course. Trust me, it's a showstopper at the Christmas table!
The main ingredient, of course, is the capon itself. The bird is cut into pieces, then slowly stewed with vegetables, white wine, and tomatoes. The slow cooking ensures that the meat is tender and soaked full of flavors, resulting in a rich, succulent dish. One bite and your taste buds will be dancing with joy!
"Cappone in Umido" isn't just a dish, it's a tradition. During the winter solstice and Christmas season, Tuscan families gather around the table to share this delectable dish.
13. Collo Ripieno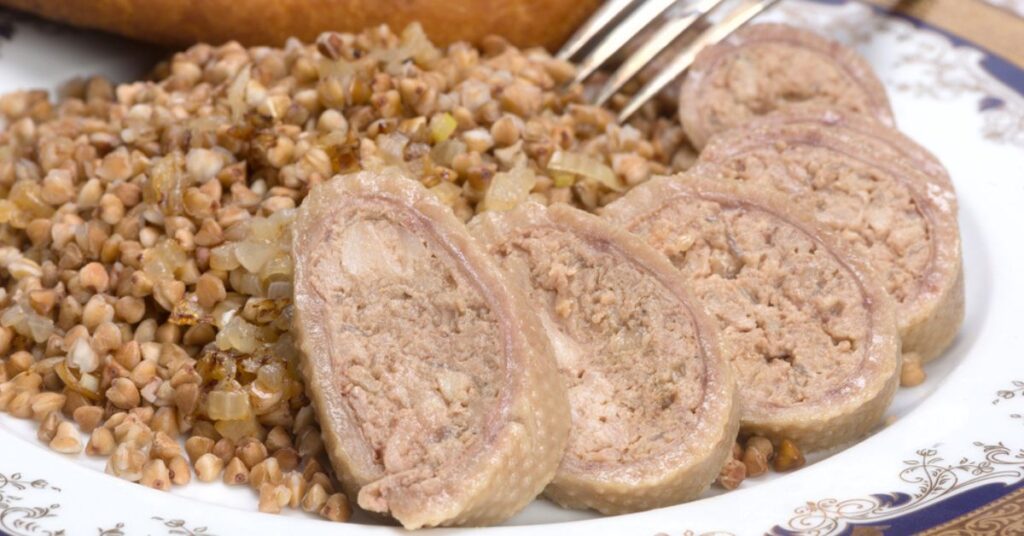 Collo ripieno in English means "stuffed neck," and it's a savory dish typically made from goose or chicken neck. It's a testament to Italian resourcefulness, transforming a humble ingredient into a culinary star.
Think of the neck, bones, and meat removed, stuffed with a hearty blend of stale bread, ground meat, chicken offal (if you're going traditional), and various spices. Some folks add cheese into the mix for an extra flavor kick. After stuffing, it's either simmered in broth or roasted in the oven.
Each family has their own variation, so the flavors can differ, but the richness and the contrasting textures are what make it delightful!
Imagine the scent of it cooking, filling the Tuscan homes with warmth and anticipation. You can find it at local trattorias around Christmas or, if you're lucky, you might get invited to a home-cooked meal!
14. Chiocciole in Umido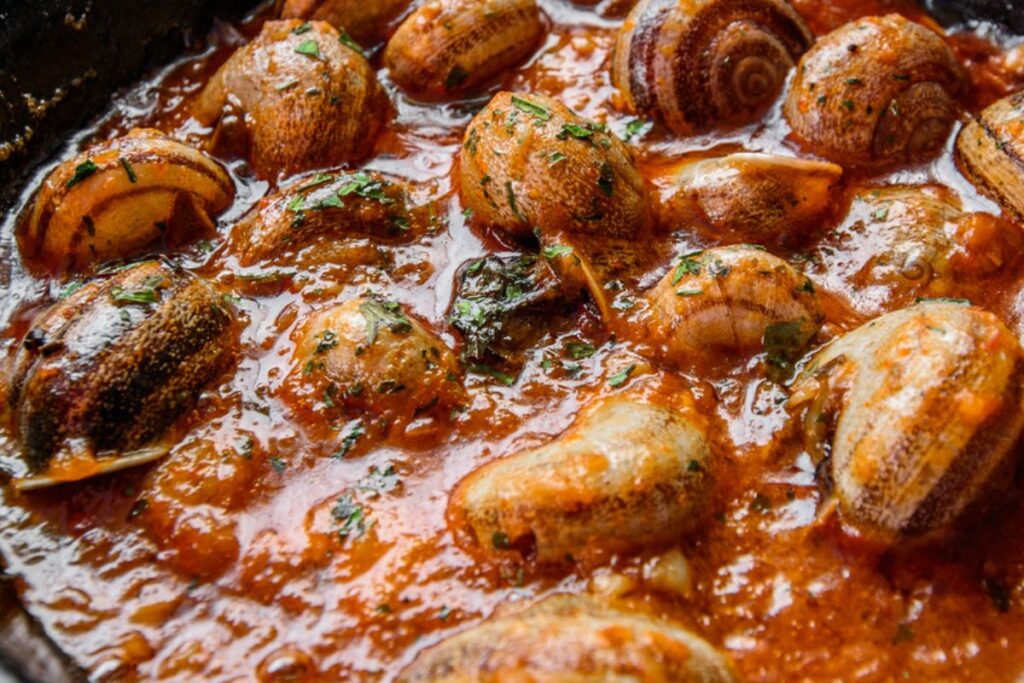 Chiocciole in Umido, are a savory second course that Tuscans especially enjoy during the festive season. Snails are eaten in different ways in Italy, although here too they are not a dish for everyone.
In English, it's "Stewed Snails". Not the average American holiday fare, I know! But trust me, when prepared the Tuscan way, they're a treat. You see, the snails are pre-cooked and then sautéed with a hearty mix of celery, carrots, onions, pancetta, and a good dose of hot pepper. A touch of rosemary, bay leaves, and the local herb "nepitella" adds complexity.
But the magic happens when a robust Tuscan red wine is added. As it evaporates, it leaves a depth of flavor, then tomato sauce joins the party. Simmered for about two hours, the sauce becomes thick and rich, a perfect complement to the chewy, earthy snails.
Having tried it, I can say it's a bold flavor journey not for the faint-hearted, but definitely worth a try. The robust sauce, and the distinctive texture of the snails – it's a gastronomic adventure you won't forget!
15. Pagnottella di Natale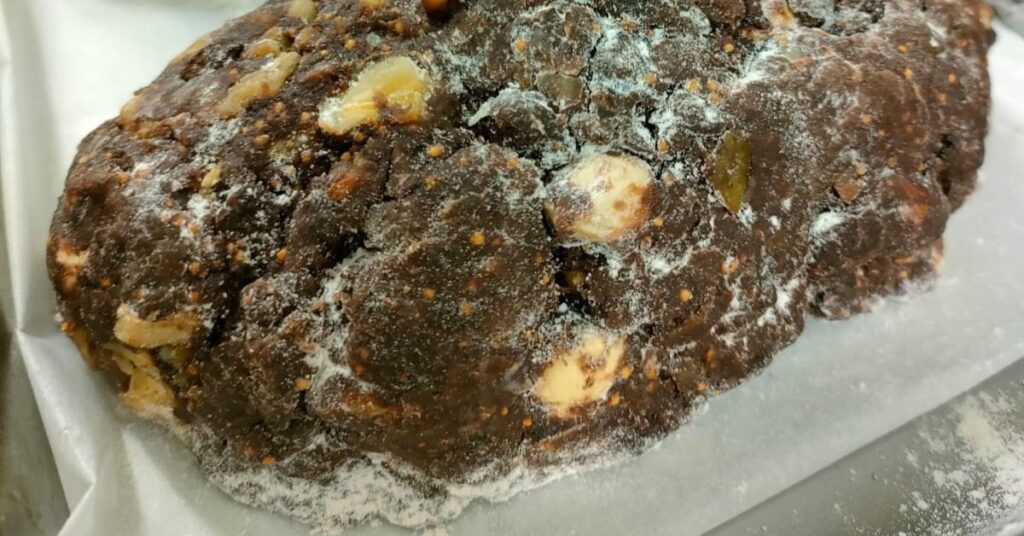 This isn't your usual Christmas cookie or cake. Nope! Pagnottella is a robust, hearty bread packed with winter and holiday staples like dried figs, sultanas, and a ton of crushed nuts. It's a dessert bread, but it doesn't play by the rules, shunning sugar and instead leaning into the rich flavors of cocoa and chocolate.
The Pagnottella is as unique as the families that bake it. You see, there's not just one recipe, there are hundreds! Each Tuscan family puts their spin on it and guards their version like a treasured heirloom. In fact, it's a common topic of friendly holiday debates. So, good luck getting your hands on an "authentic" recipe!
This bread hails from the concept of "making do with what you have." In Tuscan homes, this means creating a delicious treat from long-lasting pantry staples, something even sailors could take with them to taste home during their long voyages.
16. Panforte di Siena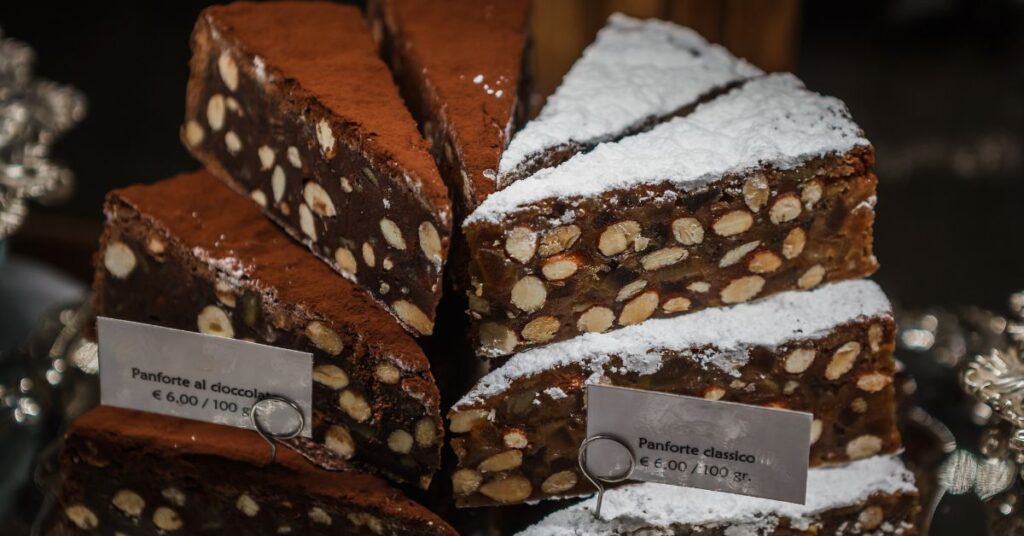 Let me introduce you to Panforte di Siena, one of the most delightful Tuscan treats you've got to try around the holiday season. Originating from the city of Siena, it is just one of the specialties of this city, it's a dessert with an old-world charm, dating back to the Middle Ages.
Panforte, which literally translates to "strong bread", ain't bread at all. It's a dense, rich, and sweet confection packed with dried and candied fruits, honey, and a blend of spices. It's this mix that gives it an inviting aroma and a unique, sweet taste with a lingering hint of candied fruit, almonds, and spices. Definitely a flavor explosion!
Panforte is deeply rooted in Tuscan tradition, particularly around Christmas. It's an essential part of holiday celebrations, shared with family and friends, often enjoyed with a glass of Vin Santo, a sweet dessert wine from the region.
17. Ricciolina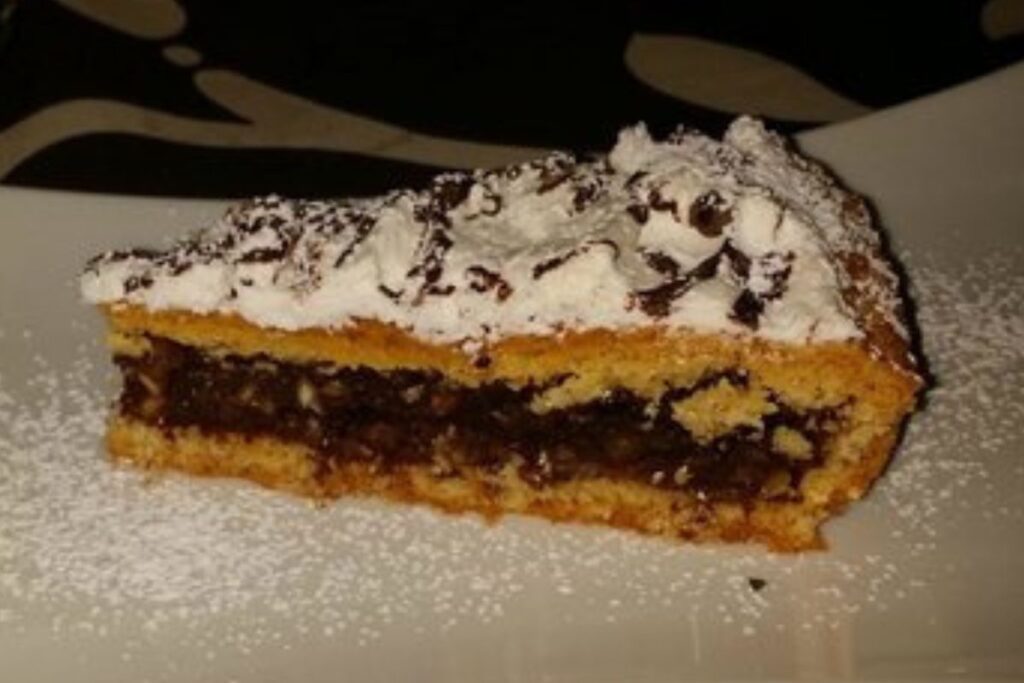 Ricciolina is a round sweet cake, about 3-4 cm thick. It's dry on the outside and soft on the inside, sporting a beautiful, uneven white surface streaked with dark brown. The prominent flavors? Chocolate and almonds – a divine combo, if you ask me!
This scrumptious dessert is a product of the early 1900s during a mining "industrial" revolution in the Monte Amiata area. Legend has it, a pastry chef named Beppa and her friends invented this cake, using leftover egg whites for the meringue decoration – clever, right?
While Ricciolina is made throughout the year, it peaks during Christmas and Tuscan Easter. It's found in local bakeries and is best enjoyed with Vin Santo. So if you're ever in Tuscany around the holidays, don't miss the chance to try this delectable treat!
18. Ricciarelli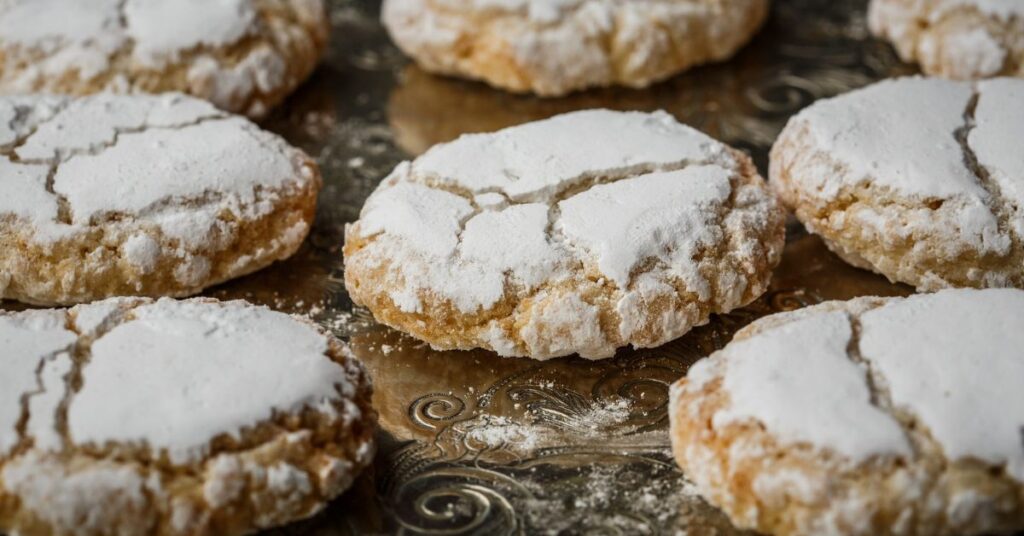 These sweet almond cookies are a staple on Tuscan Christmas tables. Originating from Siena, they're thought to have been inspired by the sultan's curled beards, brought back from the Crusades by Ricciardetto della Gherardesca in the 14th century.
Made from almond paste, sugar, honey, and egg whites, they're lightly crisp on the outside, but the inside? It's a whole different story – soft and moist with a rich almond flavor.
You can find them in almost any pasticceria (pastry shop) around Siena, you'll also notice them popping up around the Christmas season in food markets and traditional Christmas fairs.
Here I wrote an entire article dedicated only to Tuscan desserts.
19. Castagnaccio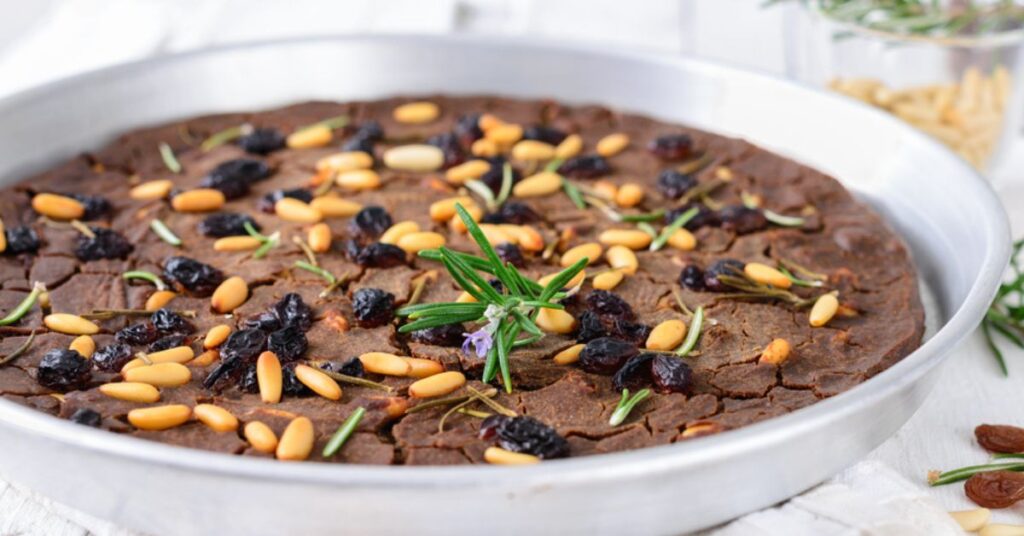 Castagnaccio it's a no-yeast dessert, hailing from the humble beginnings of Tuscany's chestnut-rich woodlands. Back in the day, chestnuts were known as "the bread of the poor" and were a staple for those in need.
This rustic cake, made from chestnut flour, isn't your typical sugary dessert. It's dense but oh-so-delightful when you bite into it. The texture is soft and the taste? A combo of sweet, nutty, and a little earthy, thanks to the main ingredients: chestnut flour, olive oil, pine nuts, and rosemary.
It's not just about the food, it's the tradition! The Castagnaccio is baked up plenty during winter, especially around Christmas. Picture this: A cozy Tuscan kitchen, the sweet, nutty aroma filling the air, and the warmth of family gathered around. Yeah, this is more than a dessert, it's a time-honored tradition.
20. Cavallucci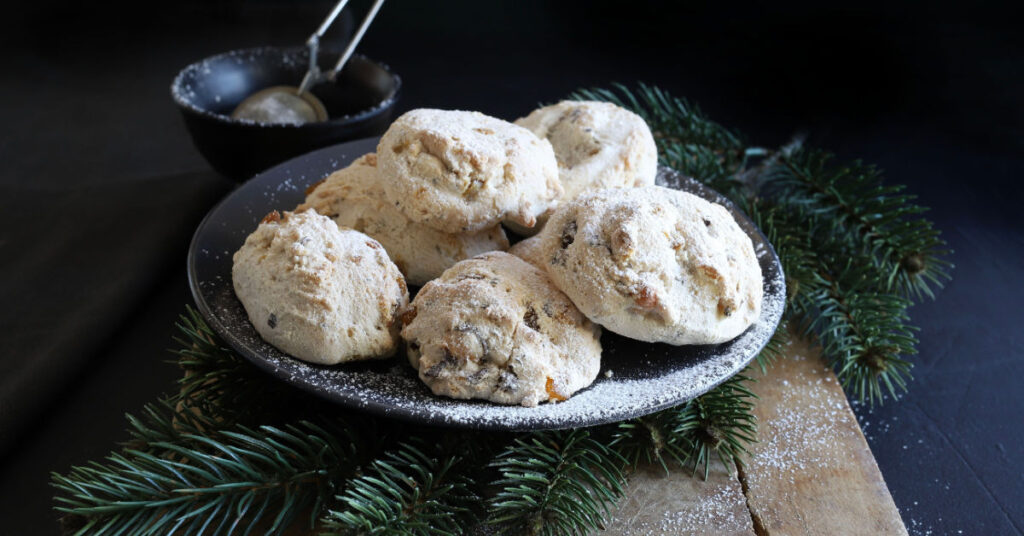 These biscuits at first glance, might not win a beauty pageant, but trust me, their flavor is a delightful surprise. Hidden beneath the hard, white crust is a middle texture that's evolved over time to become a pleasant medium-hard. The taste is what makes these pastries truly special. Expect a bold blend of nuts, candied fruits, and spices like anise.
Cavallucci's ingredients paint a picture of 14th-century Siena, a major commercial power where you could find exotic spices like cinnamon, coriander, nutmeg, and candied citron and orange. All these elements pop up in different variants of the original recipe, which you can find in Siena and the town of Massa Marittima in Grosseto province.
Now, when to enjoy these? Christmas! These sweets are a beloved part of Tuscan Christmas traditions. You'll find them in bakeries, pastry shops, or even made at home following family recipes.
21. Cantucci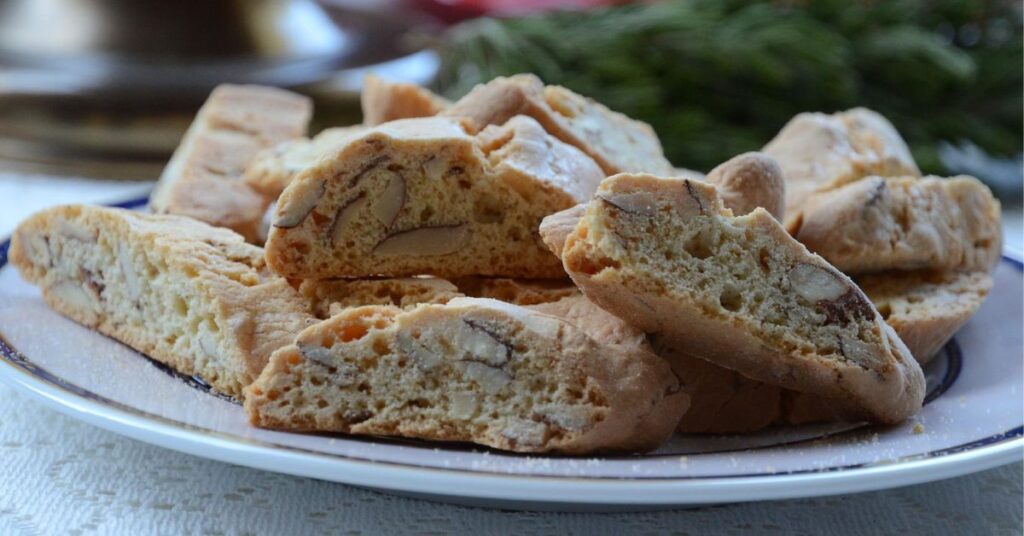 These biscuits are simple yet unique. They're made of flour, sugar, eggs, butter, and lots of almonds – not toasted or peeled. The result is a biscuit that's crisp, slightly dry, but not too hard, crumbly, and oh-so-aromatic.
You see, "cantuccio" stems from the Latin "cantellus" meaning "piece" or "slice," describing how they're prepared. After baking, the dough is sliced diagonally into individual biscuits. This tradition dates back to Roman soldiers, who would slice and re-bake their bread to make it last longer.
If you're in Tuscany, particularly Prato around the holiday season, you'll find Cantucci everywhere – from local bakeries to fancy restaurants. Nowhere will you find a biscuit that encapsulates the region's flavor so well.
Especially during Christmas, Cantucci pairs perfectly with Vin Santo, a sweet dessert wine – you dip the biscuit in the wine, a delightful Tuscan tradition.