Defining Tuscan cuisine is not easy as it is primarily a cuisine rooted in humble traditions but now thrives on excellent products.
It consists of flavors that have never been lost over time, founded on dishes created with generously offered ingredients from the garden and the woods, accompanied by homegrown meats, strictly extra virgin olive oil, incomparable bread, and a wine for true connoisseurs.
Listing the traditional dishes of Florentine cuisine alone would be an offense to all the other Tuscan cities that, just like Florence, hide unique dishes, historic recipes, and delicacies that must be tasted at least once in a lifetime.
Here is my list of Tuscan delicacies, taking you on a journey to experience the diverse territories and foods of this region: Siena, Lucca, Arezzo… there isn't a city that doesn't hold its own goodness that you can find only on site.
1. Polenta fritta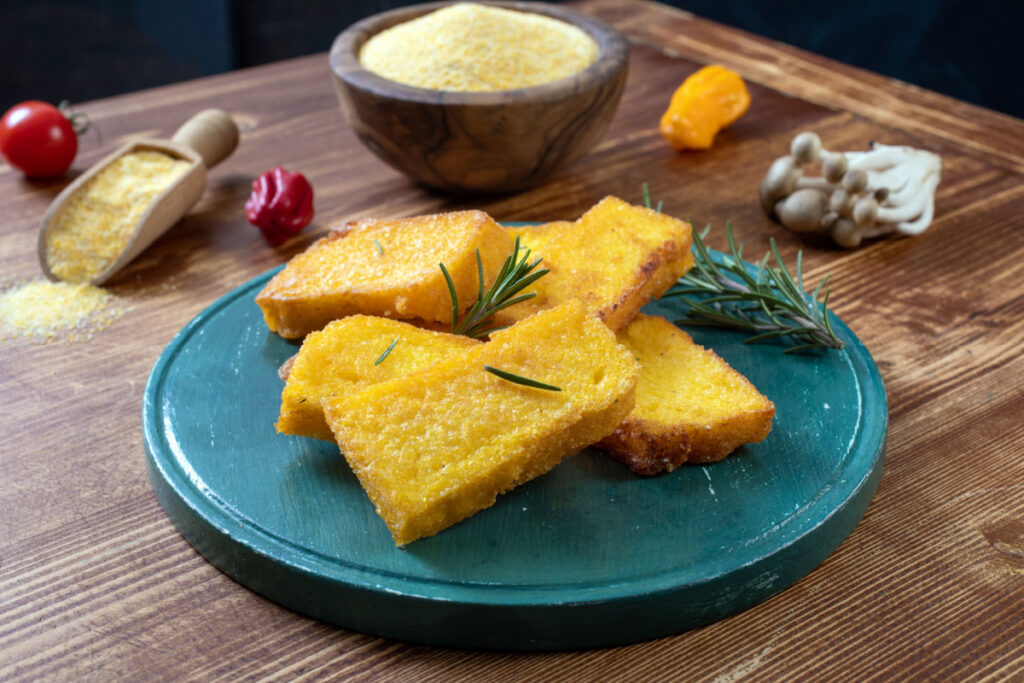 Fried Polenta, or "Polenta Fritta" in Italian, is an absolute must-try street food or appetizer in Tuscany. The name "Polenta" refers to the creamy, cornmeal dish it starts as, and "Fritta" means fried, which is the game-changer here.
The main ingredient is quite simple: coarse cornmeal. It's initially cooked with water and salt until it reaches a porridge-like consistency. After cooling and solidifying, it's cut into sticks or squares and deep-fried until golden and crispy.
The taste is uniquely satisfying – mild, with the earthy hint of corn and an addictive salty finish. The texture is a delightful contrast that keeps you reaching for more.
2. Mortadella di Prato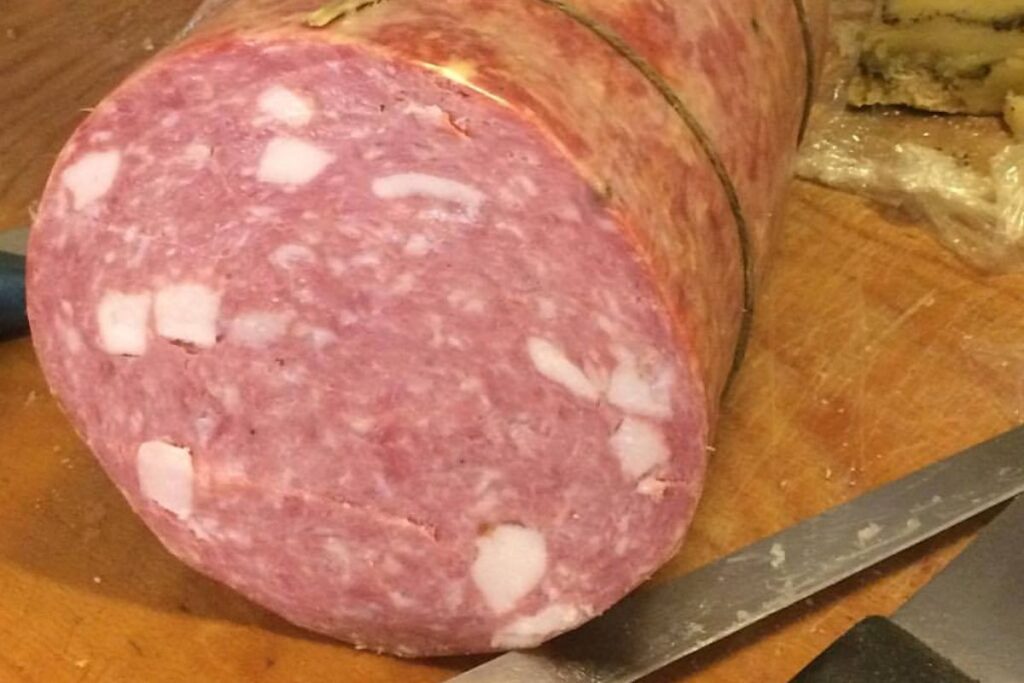 For those exploring Tuscany's gastronomy, Mortadella di Prato is a must-try! Unlike Bologna's variant, this distinct sausage features "alchermes," a vibrant red liqueur, giving the meat a unique character and hue.
This sausage is a craft of art, comprising handpicked pork cuts, chopped and mixed with lard cubes, sea salt, garlic, pepper, spices, and the defining alchermes. After the mixture is stuffed into casings, it's cured and cooked to perfection.
Slicing into it reveals a firm, smooth texture, with a pink color contrasted by white fat specks. This type of Mortadella is just one of the gastronomic delights of Prato, click the link to see them all.
3. Pici all'Aglione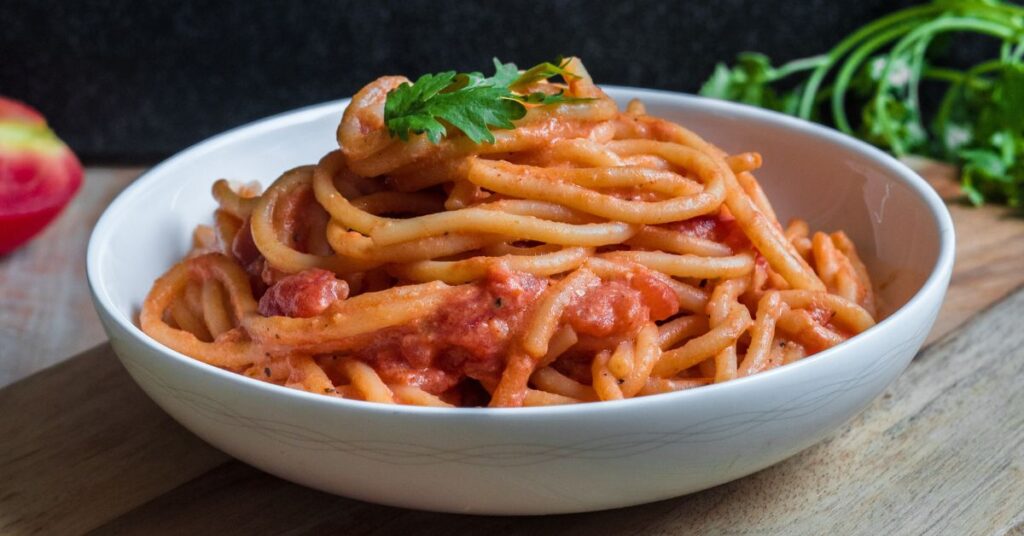 Pici is a traditional dish of the gastronomic culture of Siena, a pasta with ancient roots dating back to the Etruscan civilization. This pasta is long, hand-rolled, and slightly irregular, almost like a thicker version of spaghetti.
The real magic of pici lies in its versatility. It can be served with a variety of sauces, from rabbit liver sauce to meat ragù, or even simple breadcrumbs. But there's one pairing that stands out above all others: aglione.
Aglione is a type of giant garlic native to the Chiana Valley. Its ivory bulbs are enormous, each containing around six large cloves. Unlike regular garlic, aglione has an incredibly mild and delicate flavor. It's becoming increasingly rare and is considered a precious ingredient in Tuscan cuisine.
The pasta is cooked until al dente and then tossed in a rich, smooth sauce made with aglione, tomatoes, and hot pepper. The result is a dish that's hearty, satisfying, and packed with flavor.
4. Salumi di Cinghiale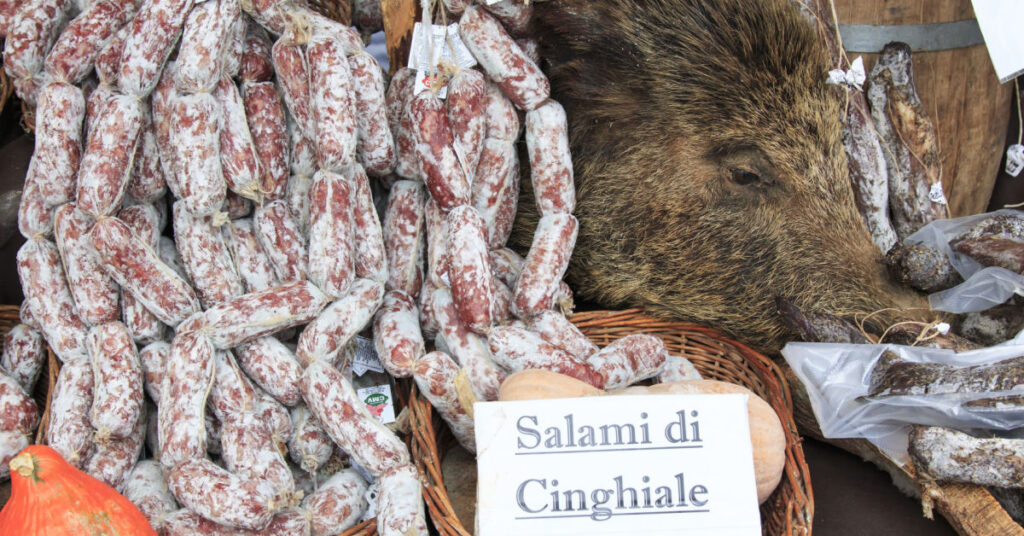 Literally translated as "wild boar salami," this Tuscan delicacy is crafted with the rich, bold flavors of wild boar meat, certainly not everyday meat in Italy but highly appreciated by connoisseurs, as I explained in this post about boar and Italian eating habits. Enhanced with garlic, pepper, and a mix of traditional spices, it's a taste you won't easily forget.
Crafted from select cuts of wild boar that are carefully trimmed to ensure a more delicate flavor and soft texture, this meat is then ground finely, mixed with salt and a unique blend of spices, and packed into natural casings. The salami is then quickly dried with warmth, tied, and left to hang in the breezy Tuscan hillside valleys.
Savor it straight, enjoy it as an antipasto, or pair it with some local cheese and wine during aperitivo for the ultimate Tuscan culinary experience. This is a taste of Tuscany that I, personally, can't get enough of!
5. Fettunta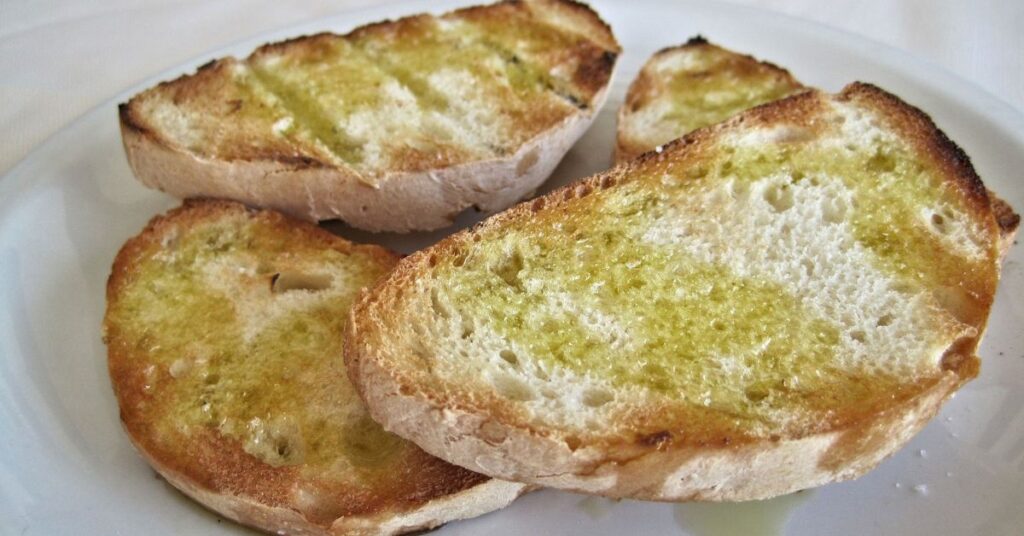 This is no ordinary garlic bread, in fact, garlic bread doesn't exist in Italy at all. Fettunta is pure Tuscan with toasted bread, garlic, olive oil, salt, and pepper. A slice of Tuscan bread, ideally stale, is toasted, rubbed with fresh garlic, drizzled with local extra virgin olive oil, and seasoned. The result? A bite that's crunchy, garlicky, and oozing with the fruitiness of olive oil.
Fettunta is a testament to the Tuscan philosophy of not wasting food, a tradition dating back to the rural homes of Tuscany. You'll find Fettunta in any Tuscan trattoria or osteria, especially loved in November during the olive harvest.
6. Pecorino di Pienza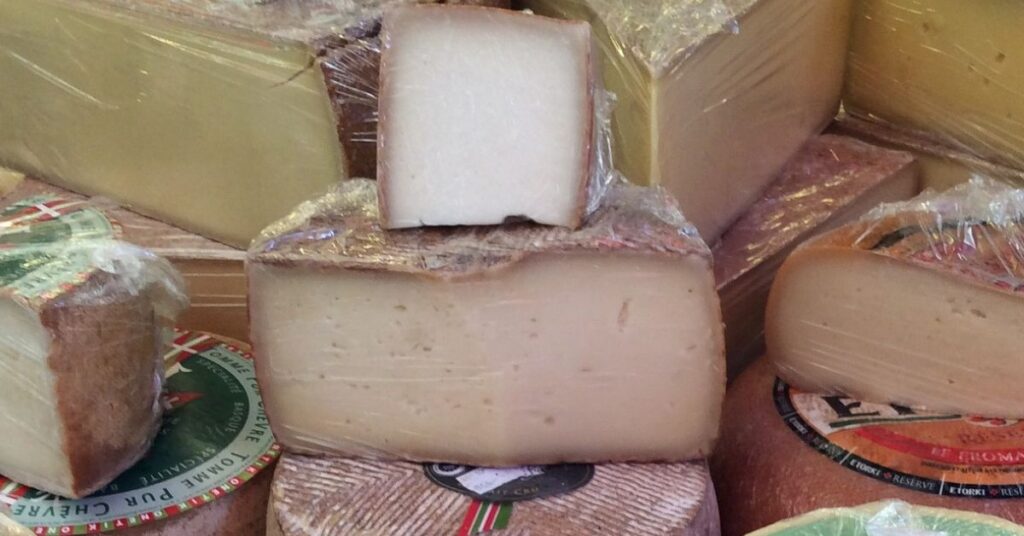 One must-try when in Tuscany is the Pecorino di Pienza, a cheese that's steeped in tradition and packed with flavor. "Pecorino" comes from the Italian word "pecora," meaning sheep, hinting at its main ingredient, sheep's milk. This specific pecorino gets its name from the town of Pienza, known for its exceptional cheesemaking.
Pecorino di Pienza ranges from soft and creamy if it's fresh, to hard and crumbly when aged. The flavor profile shifts from delicate and milky in younger variants, to more robust and savory in the mature versions. It often leaves a pleasant aftertaste that can range from grassy to nutty notes, depending on its age.
You can find this delightful cheese at local markets, cheese shops, and many restaurants throughout Tuscany. It's a year-round staple, but it shines during the "festa del cacio," a cheese festival held in Pienza each September.
7. Gnudi Gnocchi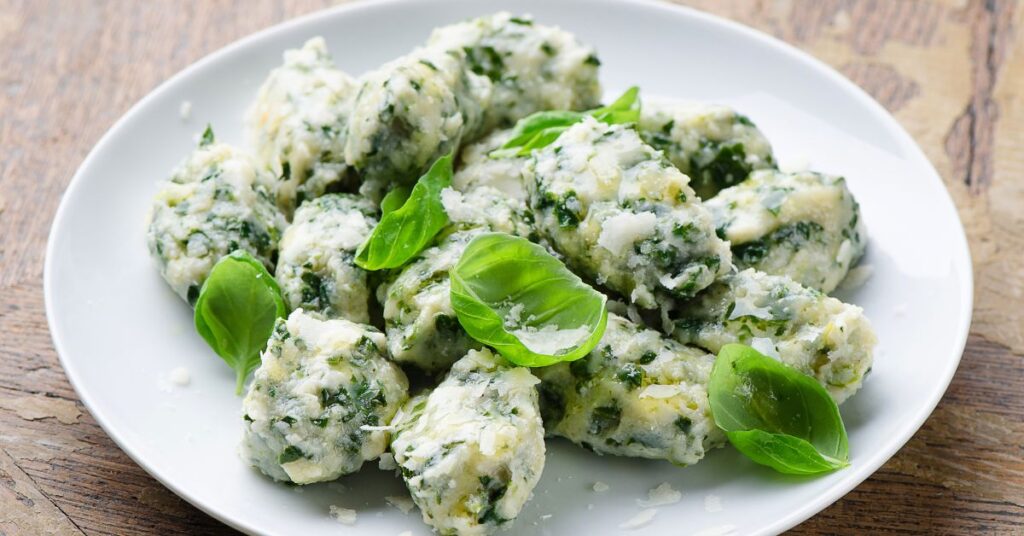 In Tuscany, you've got to try Gnocchi Gnudi! The term 'Gnudi' means 'naked', these are essentially the ricotta and spinach filling of ravioli, without the pasta wrapper. A mixture of spinach, ricotta, Parmigiano-Reggiano, flour, and egg is rolled into small balls and boiled. The result? Creamy, tender dumplings with an earthy flavor that practically melt in your mouth.
You'll find Gnudi at traditional Tuscan trattorias, served as a primo (first course). They're perfect comfort food, especially in colder months. Enjoy them with a drizzle of melted butter, sage, and a glass of local Tuscan wine, like Vernaccia or Chianti Classico. I promise you, it's an experience you won't forget!
8. Finocchiona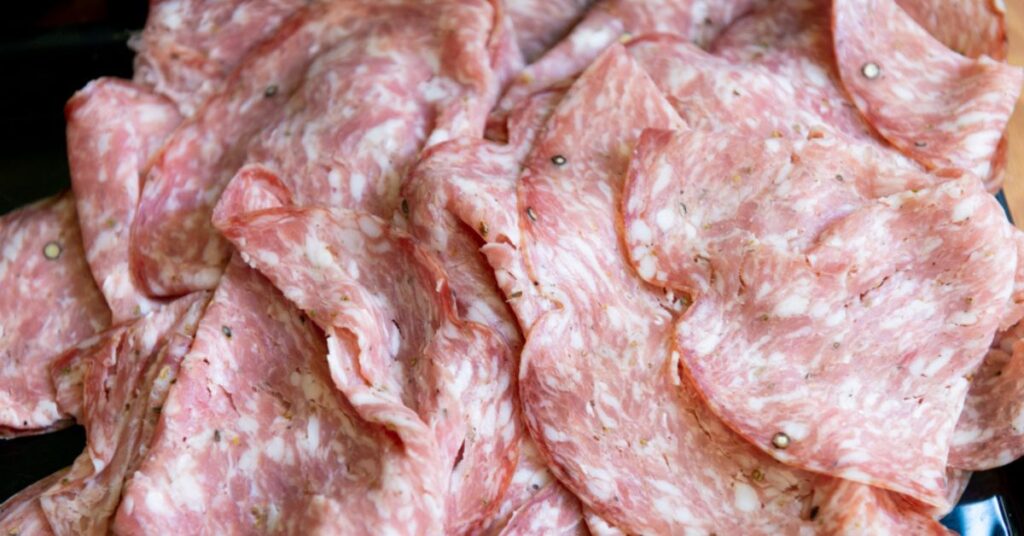 If you're a fan of Italian cured meats, you can't miss the Finocchiona, a salami typical of Tuscany. Its name comes from the Italian "finocchio," meaning fennel, which is a key ingredient in this delectable salami. The flavor profile is unique with a subtle balance of sweet and salty from the pork, and an aromatic hint from the fennel seeds.
Crafted from finely ground pork, Finocchiona is seasoned with salt, pepper, garlic, and most importantly, wild fennel seeds, which set this salami apart from others. It's then left to cure for a few months to develop its full flavor. The result is a delicious, soft, and aromatic salami that is enjoyed sliced thin and often served as part of an antipasto platter.
You'll find Finocchiona in delis, farmers markets, and on the menus of trattorias all over Tuscany. It's a year-round delight, making it a versatile addition to any culinary adventure.
9. Crostini Neri Toscani
Let's talk about Crostini Neri Toscani, a classic Tuscan appetizer that literally means "Tuscan black croutons." Made from a hearty chicken liver with sautéed anchovies, capers, onions, and sage, all simmered with a good splash of Vin Santo, a sweet Tuscan wine.
These croutons are a beautiful balance of savory, sweet, and salty, with a touch of herbaceous sage and a hint of tang from the capers. They're best enjoyed warm, straight out of the kitchen.
As you stroll through the streets of any Tuscan town, you'll find these delectable bites in many trattorias and enotecas. They are also a staple at celebratory feasts and holiday gatherings, see here the Tuscan delicacies during the Christmas period.
10. Crostini Salsiccia e Stracchino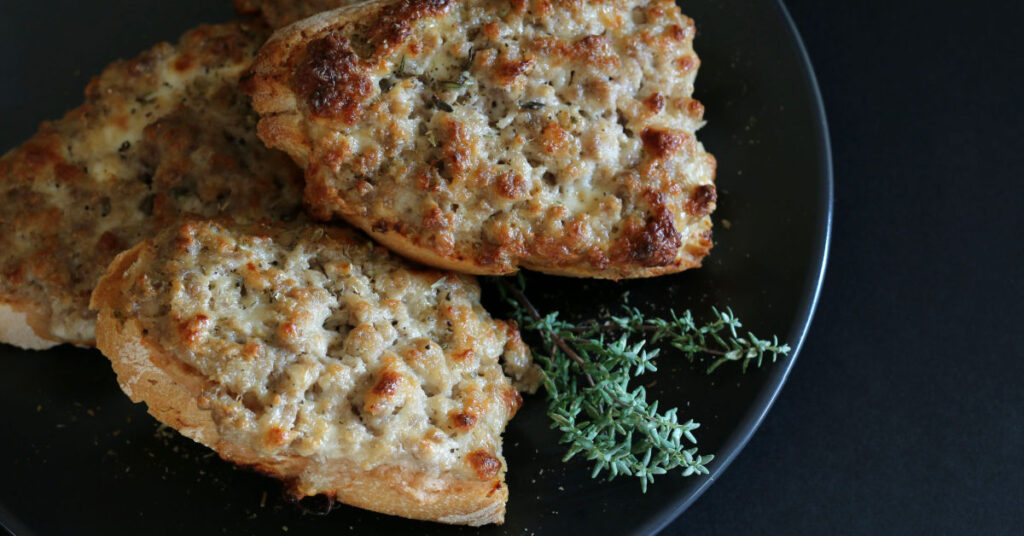 Imagine savoring the Tuscan countryside's flavors in a simple yet satisfying appetizer – that's what Crostini with Sausage and Stracchino offers. A rustic dish, these "crostini" (little toasts), are topped with crumbled Italian sausage and creamy "stracchino", a fresh cheese that adds a fresh touch.
The dish's success lies in the quality of ingredients – starting with unsalted Tuscan bread, locally produced sausage, and fresh stracchino cheese.
They're commonly served as starters at local restaurants or during social gatherings, especially in Grosseto (follow the link for other Grosseto dishes), where they are very popular in the local cuisine. Take a bite, and you'll experience a perfect blend of crisp, creamy, and savory – a Tuscan delight not to be missed!
11. Lardo di Colonnata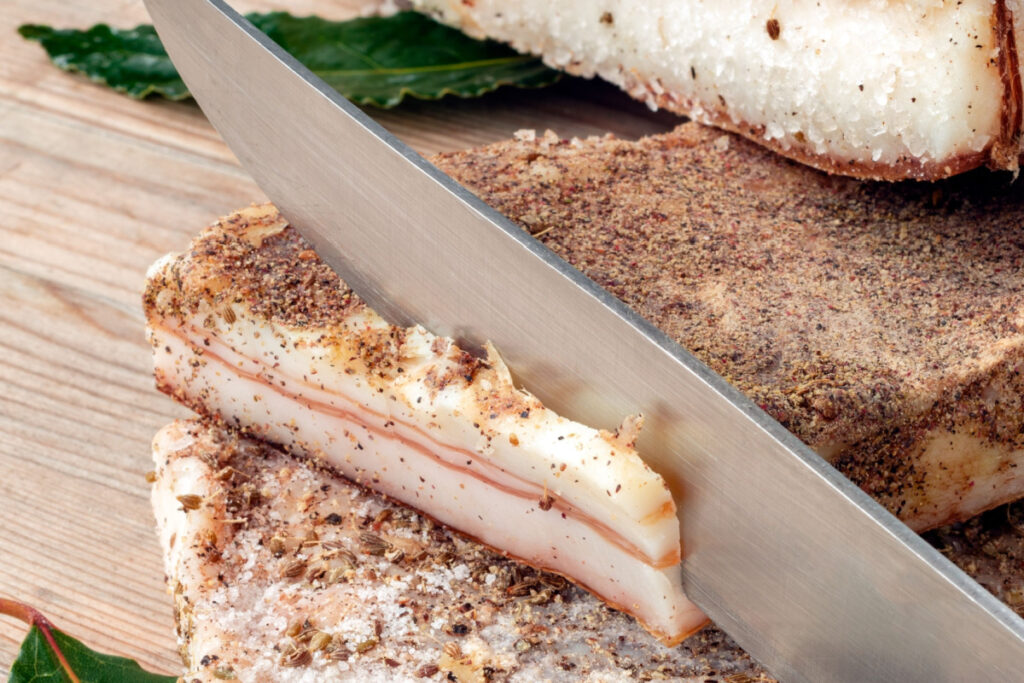 In Tuscany don't miss a chance to savor Lardo di Colonnata, a unique Italian delicacy. This is a type of charcuterie made from the fatback of select pigs, seasoned and cured in marble basins in the village of Colonnata, this delicacy is part of the immense culinary tradition of Massa Carrara.
Lardo di Colonnata is roughly rectangular and at least 3 cm thick. Its lower side has a skin, while the upper part is covered in darkened curing salt, infused with aromatic herbs and spices. A strip of lean meat may also be present. Its fragrance is rich and inviting, and its flavor is delicate, fresh, almost sweet, and enriched by the herbs and spices used in its preparation.
Served thinly sliced over toasted bread, Lardo di Colonnata is best enjoyed as is, allowing you to appreciate its complex flavors. Did you know that in ancient times lard was used in Italian cooking instead of oil?
12. Coccoli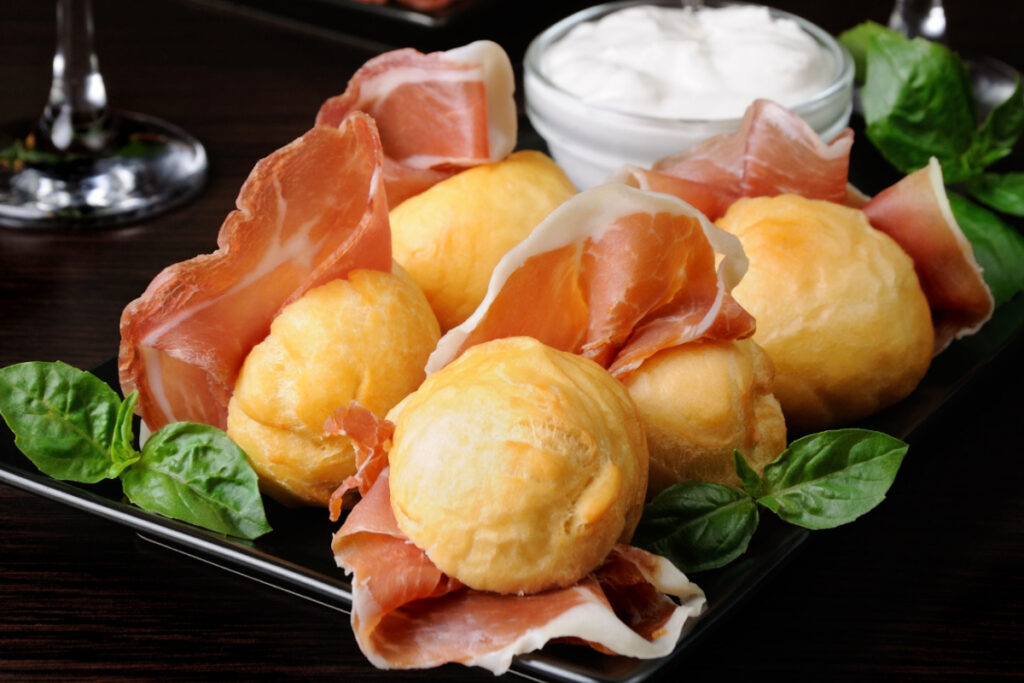 Picture this: You're in Tuscany, sipping on a glass of light red wine, and then you're introduced to Coccoli. These small, round delights of fried dough are a popular appetizer that'll have you reaching for more. Served traditionally with stracchino cheese and prosciutto, Coccoli perfectly pairs with your Tuscan wine.
Fried dough is an art in Italy, with each region offering its own take. In Tuscany alone, there are variants like 'crescentine' from Lucca and 'ficattole' from Prato. But the real magic lies in the classic Florentine Coccoli.
The word 'Coccoli' in Tuscan dialect translates to "cuddles", fitting as these treats are so comforting. They're golden, crisp on the outside, and soft inside, creating a pleasing contrast in your mouth. You'll find them in trattorias, at street food stalls, and even at festive events.
13. Ribollita Soup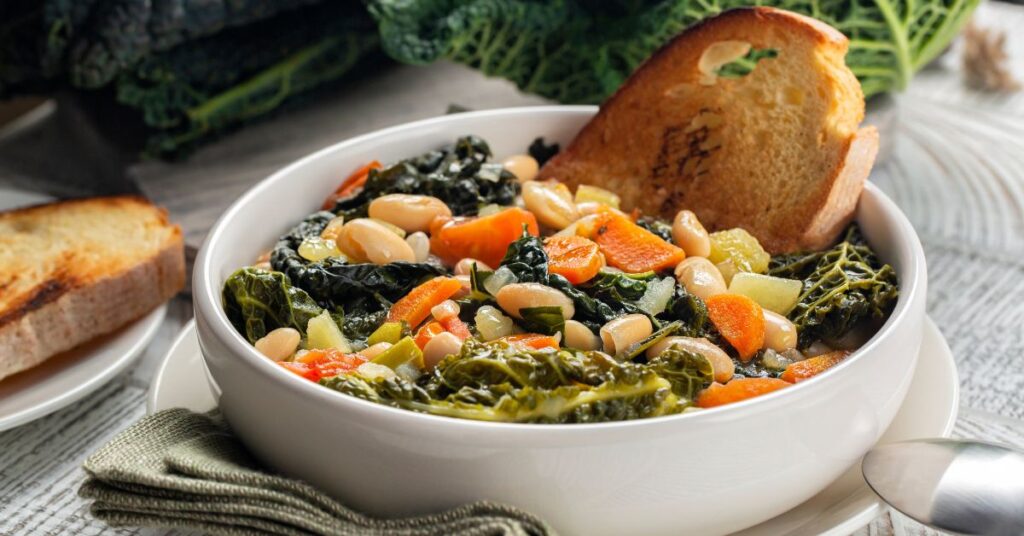 Meet Ribollita, a hearty soup that embodies the spirit of Tuscany. It's a warming stew of day-old bread and garden vegetables, starring black cabbage, savoy cabbage, and beans. Its name, "Ribollita," literally translates to "reboiled," referring to its traditional preparation method.
This Tuscan staple screams 'anti-waste,' using humble, seasonal ingredients to create a flavor-packed, heartwarming dish. The recipe varies, adjusting to what vegetables are in season. But beans, savoy cabbage, and black cabbage are non-negotiables, along with a drizzle of extra-virgin olive oil and leftover bread.
You can savor Ribollita in local trattorias, where it's served with love and a welcoming smile. This soup is a classic comfort food for winter, perfect for chilly Tuscan evenings.
14. Pappardelle al ragù di Cinghiale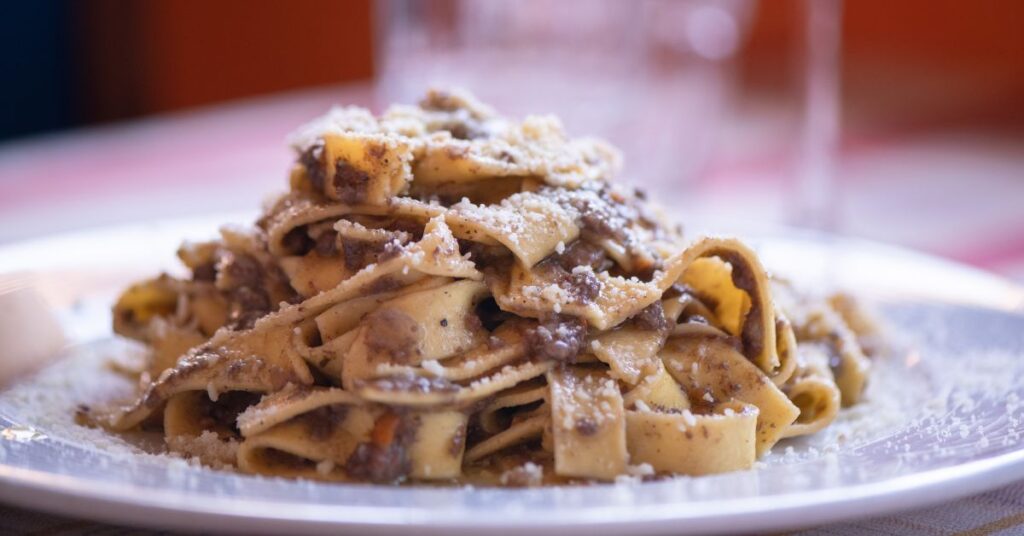 If you're in Tuscany, you can't miss trying Pappardelle al ragù di Cinghiale, one of my favorite typically Tuscan pasta dishes. Pappardelle is a type of broad, flat pasta, and 'cinghiale' means wild boar, giving this dish its hearty character.
The sauce, a ragù of wild boar, is more robust and distinctive than your standard Bolognese. It has a slightly gamey taste, which mellows into a tender, flavorful delight after hours of slow cooking. When it meets the pappardelle, something magical happens. The egg-based, porous pasta absorbs the ragù, releasing a burst of flavor with every bite.
So, where to enjoy this culinary wonder? Visit a local 'trattoria' when in Tuscany for the most authentic experience. And my personal advice? Go ahead and soak up any leftover sauce with a piece of bread. It's too good to waste!
15. Pici con Briciole di Pane Toscano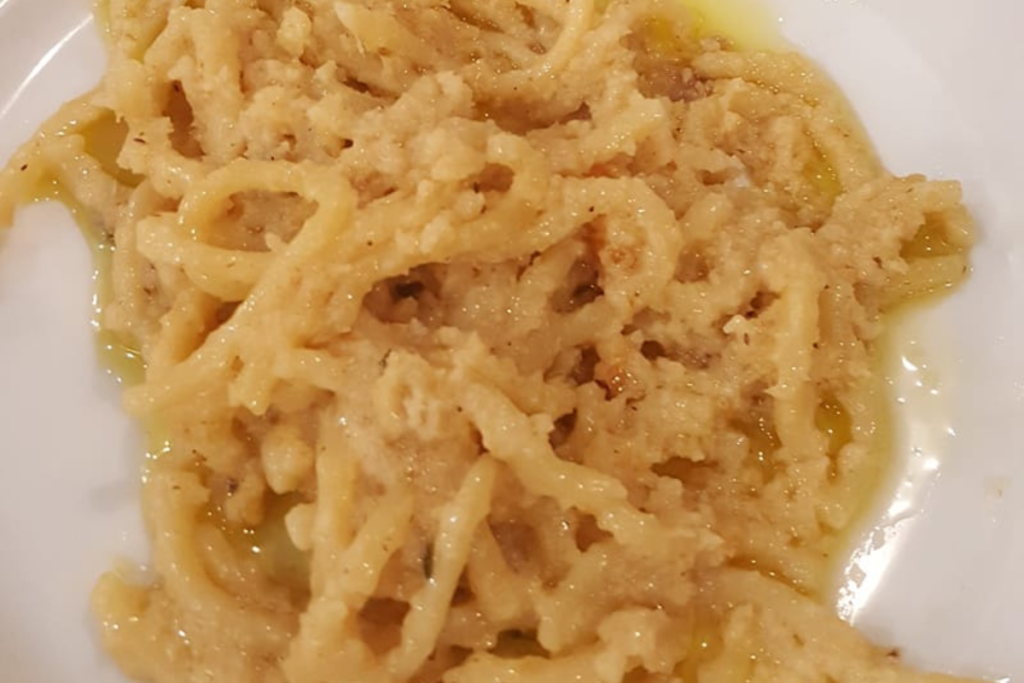 In Tuscany, you simply can't miss trying "Pici alle Briciole," a true comfort food that tastes like home. "Pici" is a thick, hand-rolled pasta, somewhat like a fat spaghetti, traditionally made with durum wheat flour, water, and a pinch of salt. "Briciole," on the other hand, means breadcrumbs, giving name to this delightfully simple dish.
"Pici alle Briciole" hails from the Tuscan culinary tradition of utilizing every part of the food, not wasting anything. That's why the sauce is so minimalistic – just sautéed breadcrumbs with a bit of extra-virgin olive oil, fresh chili, and garlic. The breadcrumbs, typically from stale, crustless Tuscan bread, create a wonderful texture contrast to the smooth and chewy pici.
The final result? A pasta dish with a rustic and genuine flavor, a celebration of simplicity that reflects the charm of the Tuscan countryside. This homely dish can be found in most traditional trattorias in Tuscany. And let me tell you, once you've tried it, "Pici alle Briciole" will become one of your favorite pasta dishes ever!
16. Panzanella Toscana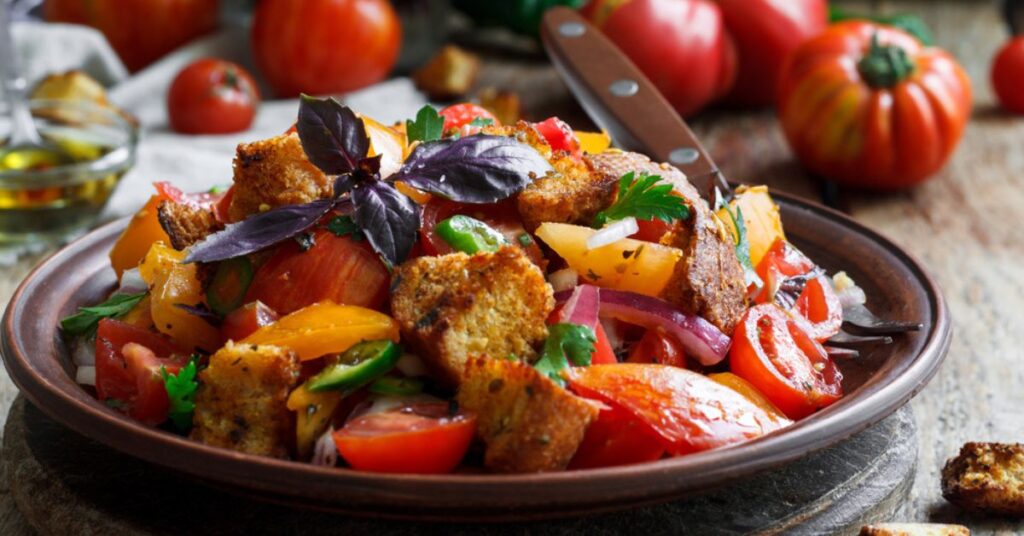 This salad, a staple of Tuscan cuisine, is a prime example of a "recovery dish," born out of the necessity to use every bit of bread – a precious commodity.
The star of the show is stale bread, soaked to regain its softness, paired with an abundance of fresh vegetables. This combination creates a delightfully crisp texture and refreshing taste that makes Panzanella an ideal choice for a summer lunch. Just imagine savoring it under the Tuscan sun – that's amore!
Panzanella's origins are tied to two main theories. One ties it to the farmer's motto that nothing should be wasted, especially bread, leading to its creative use in the dish. The other theory links it back to sailors who would soak stale bread in seawater for sustenance during long voyages.
But here's the magic of Panzanella: there's no strict recipe. The variation lies in the vegetables used, often dictated by whatever's in season or at hand in the home garden – the true spirit of Italian home cooking.
17. Acquacotta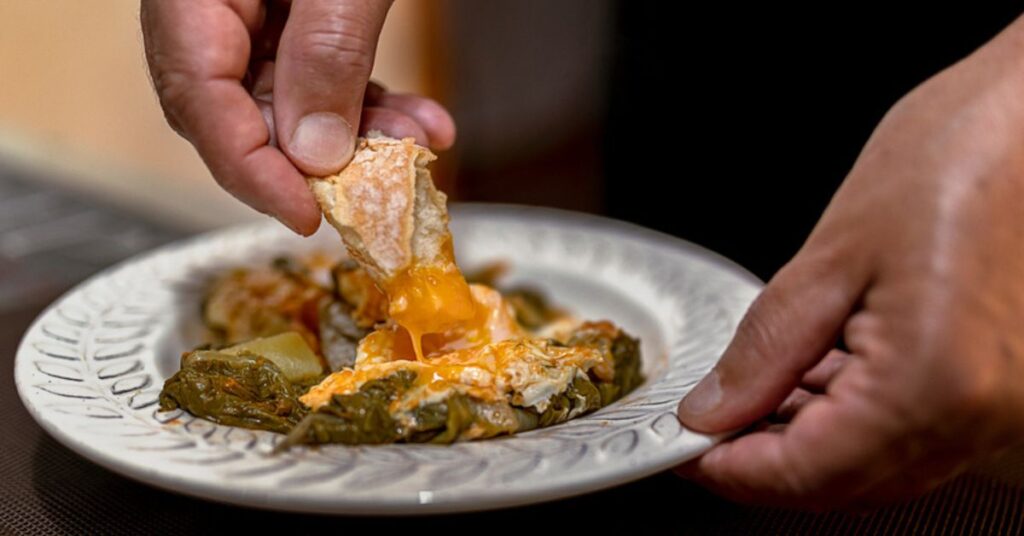 Originating from the humble kitchens of shepherds and woodcutters, this 'cooked water' is a rustic, hearty soup that's steeped in tradition.
Made with ingredients readily available according to the season and the cook's pantry, Acquacotta often features a base of onions, tomatoes, and a variety of local greens, with a piece of stale bread added in the mix. The ingredients are boiled together, then ladled over more stale bread, making it a delicious, filling dish.
Its flavor profile? Imagine a deeply savory broth brimming with the wholesome taste of vegetables, and that hint of olive oil lending an unmistakable Mediterranean charm. That's Acquacotta for you – simple, comforting, and a culinary testament to Tuscany's tradition of making something extraordinary out of the ordinary.
You'll find this peasant soup in small local trattorias across Tuscany, particularly in the Maremma region, each with their own family recipe. Do note that the taste might change with the seasons, so trying it in different times of the year might give you a new experience each time.
18. Maccheroni all'Ocio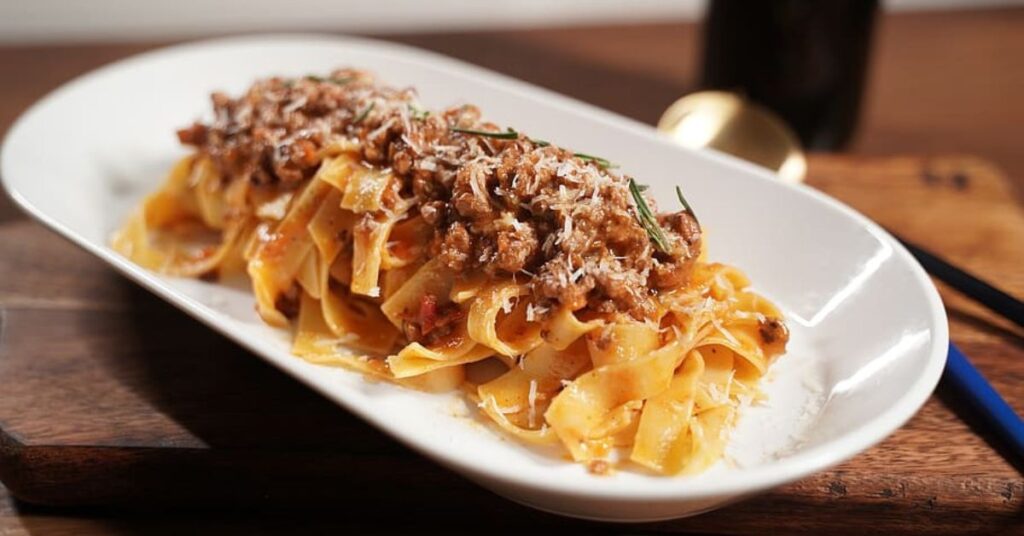 In Tuscany, specifically Arezzo, a city full of local delicacies, you'll find a unique and delectable dish known as Maccheroni all'Ocio. It's a hearty pasta dish that turns the idea of 'macaroni' on its head.
In Arezzo, 'maccheroni' refers to large squares of fresh pasta, similar to lasagna sheets but not quite the same. These pasta squares are perfectly designed to hold the specialty sauce – a robust, local goose sauce. Hence, the name Maccheroni all'Ocio, with 'Ocio' referring to a gander, the male goose.
For this dish, the goose is locally sourced from Arezzo and its surroundings, exemplifying the concept of zero-kilometer, or locally sourced, cooking. The sauce preparation requires time and patience to ensure the right flavor, making it a labor of love.
Although goose meat is not found in every restaurant, once you take a bite, you'll be rewarded with the sumptuous, hearty flavors of the tender goose sauce coating the fresh, chewy pasta. It's a culinary experience that encapsulates the essence of Arezzo.
19. Pappardelle al ragù di Lepre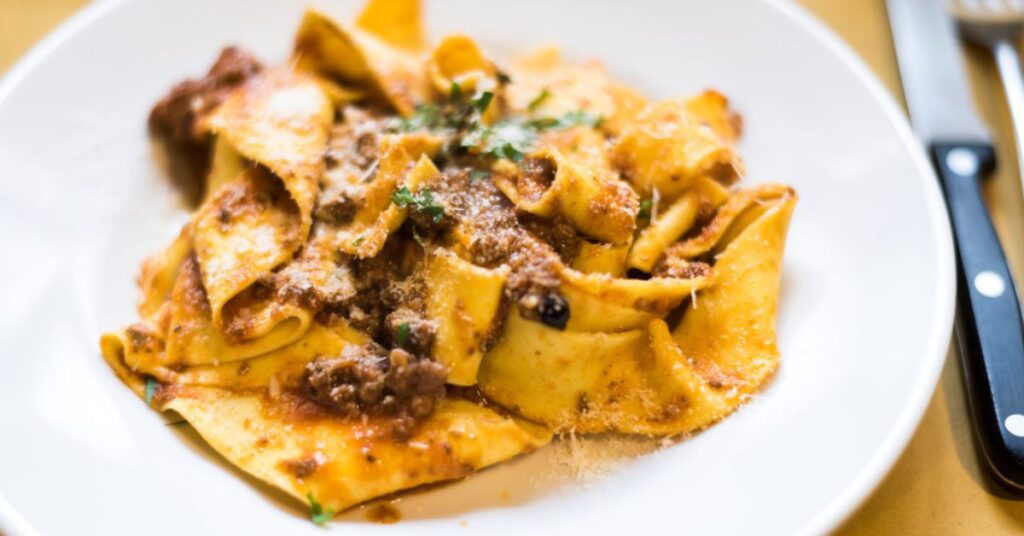 Get ready to indulge in pappardelle with hare ragù, a refined Tuscan dish showcasing game meat, quite popular in this region. The hare, a common animal in Tuscany, is highly valued for its flavorful meat, making it a prized catch among hunters.
Pappardelle, the pasta of choice for this dish, are long, wide, and soft ribbons of homemade pasta that perfectly soak up the hearty sauce, this ragù offers an enticing combination of rich, gamey flavors.
The preparation, while not exactly a walk in the park, brings out the best in these unique ingredients. Skilled chefs masterfully tone down the gamey flavor of the hare, maintaining its tenderness, and delicately slicing it by hand once deboned.
20. Pappa al Pomodoro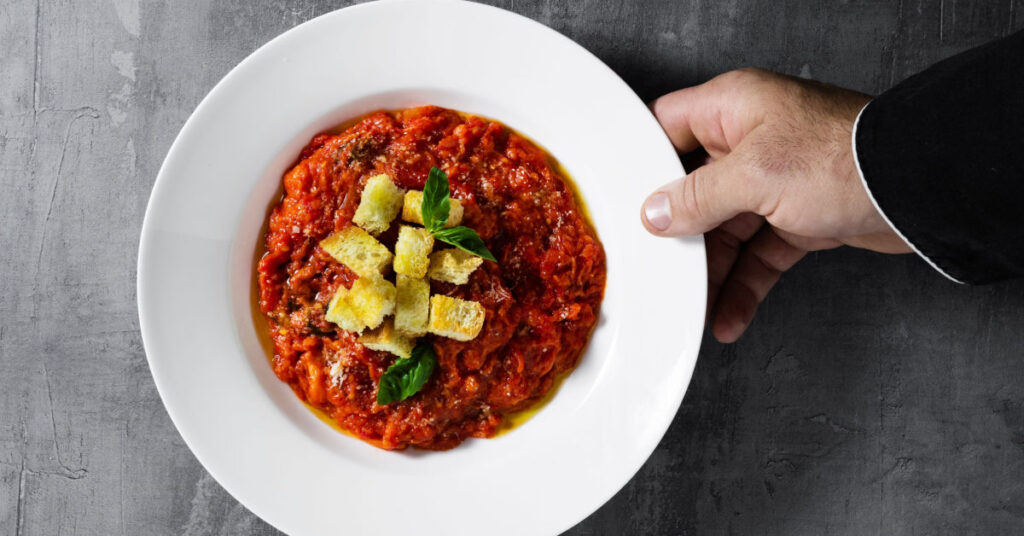 I've got to tell you about Pappa al Pomodoro, a flavorful tomato bread soup that's as hearty as it is comforting. Imagine ripe tomatoes, stale Tuscan bread (unsalted), garlic, fresh basil, and olive oil combined into one tasty dish. The name translates to "tomato mush," but don't let that fool you—it's absolutely delicious!
Cooking this dish is like a two-act play. First, sauté garlic and basil, add the tomatoes, and let it simmer. Then, toss in the bread, allowing it to soak up all that tomato goodness. It's like a stroll through a Tuscan summer garden in a bowl.
Pappa al Pomodoro tastes best in the summer when tomatoes are at their juiciest, though you can enjoy it year-round in local Tuscan restaurants and trattorias.
21. Maccheroni di San Jacopo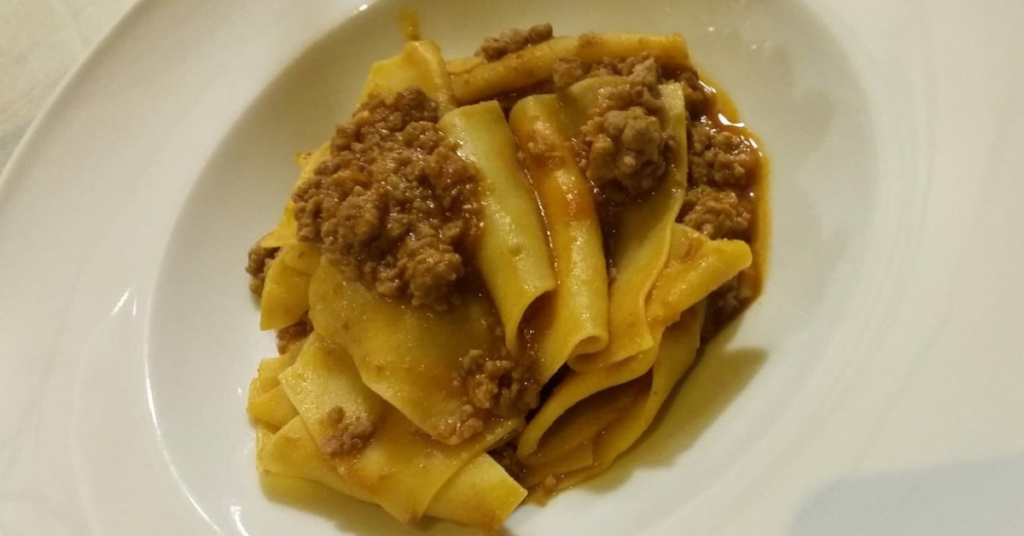 Visiting Tuscany, especially Pistoia, around July 25th? You're in for a treat with "Maccheroni di San Jacopo" – maccheroni with duck. Not typical Tuscan fare, you say? Well, that's what makes it special!
This hearty dish is a unique two-part meal. The duck is first used as a pasta sauce, then served as the main course – a double treat! It's often paired with 'snake' green beans, so-called for their elongated shape.
The dish is a staple food during the feast of San Jacopo, the patron saint of Pistoia. Days full of folkloristic events, which make it a perfect moment to taste the Maccheroni di San Jacopo and immerse yourself in the local tradition.
22. Taglierini nei Fagioli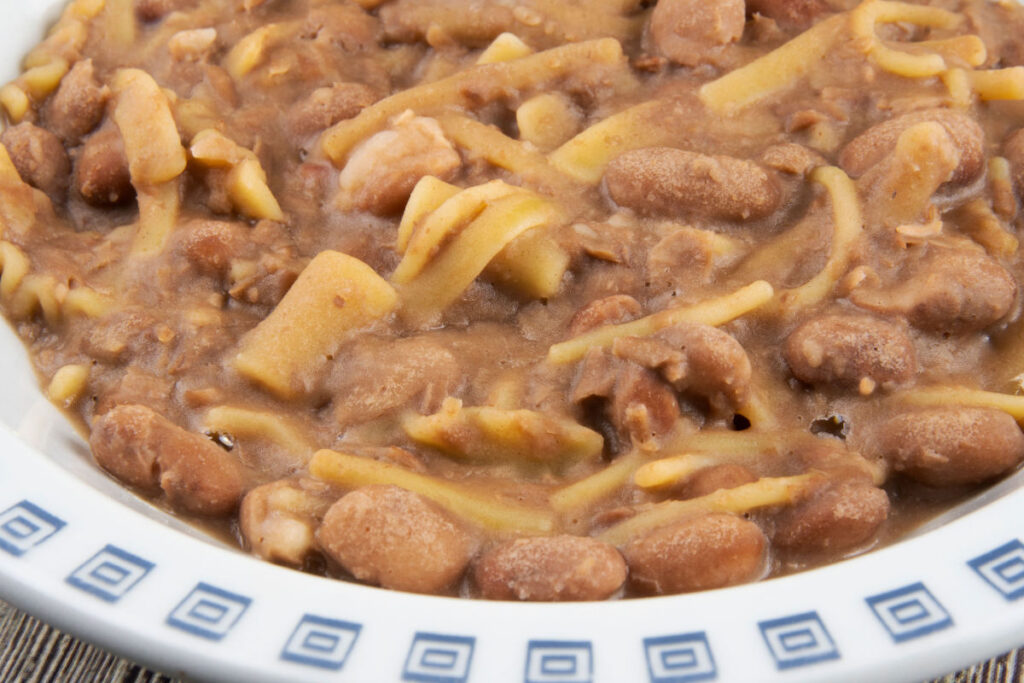 If you're looking to dive into Tuscan comfort food, don't miss Taglierini nei Fagioli! Imagine hand-rolled pasta mixed with hearty beans in a thick, savory soup – a dish so satisfying, locals called it "the meat of the poor".
The pasta, called taglierini, is made simply with flour, water, and salt. The magic is in the thickness – it's rolled not too thin, yet cut finely, which creates a pasta that's deliciously absorbent.
The beans, cooked in an earthenware pot, are partially mashed to allow them to meld better with the pasta. Once combined, the mixture should be so dense that, as tradition says, a wooden spoon could stand up in it alone!
23. Testaroli alla Lunigiana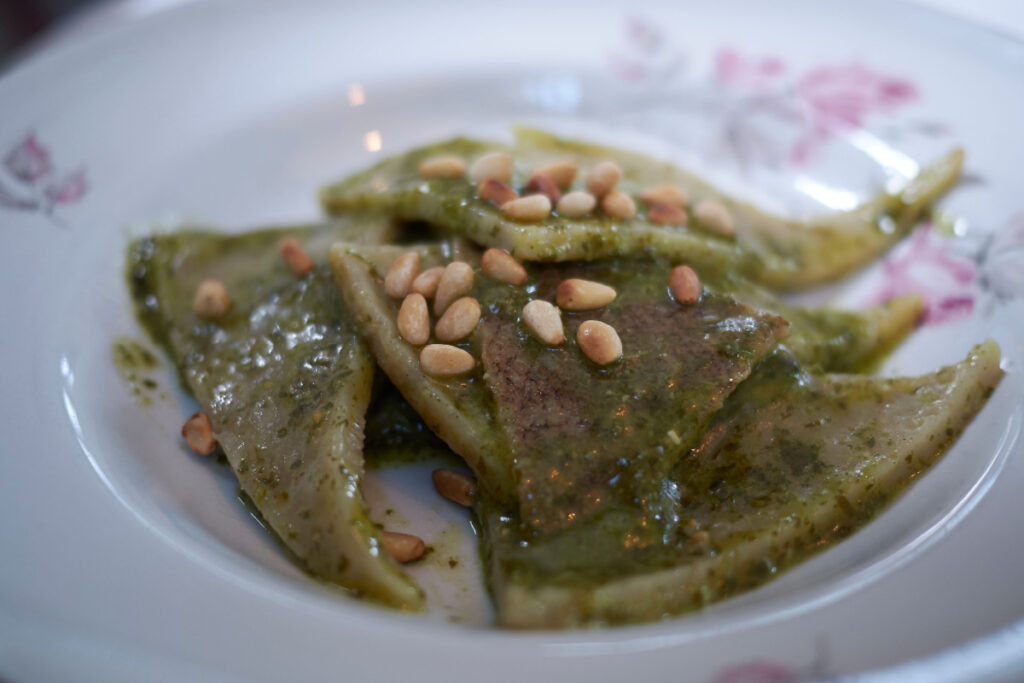 Ah, Testaroli alla Lunigiana! These are a kind of pasta that hails from the beautiful region of Lunigiana in Tuscany, territory that also includes Massa Carrara with its gastronomic specialties.
Considered to be one of the oldest pasta dishes in Italian history, Testaroli get their name from the "testo" – a special cooking pan used in their preparation. Simple yet delightful, these pasta discs are made with just water, salt, and flour. In old times, they were traditionally made with spelt flour, but these days white flour is more commonly used.
The dough is slowly cooked until it transforms into a soft, pancake-like disc. It's then cut into squares or diamonds and quickly blanched in boiling water before being dressed typically with basil pesto or walnut sauce.
What stands out is the unique cooking process, making them unlike any other pasta you've tried. The pasta is not boiled in the traditional sense but toasted and then dunked in boiling water, which gives them their characteristic texture and flavor.
Whenever you find yourself in Lunigiana, especially in Pontremoli, Fosdinovo or Castagnetoli, don't miss out on this deliciously rustic dish.
24. Bordatino alla Pisana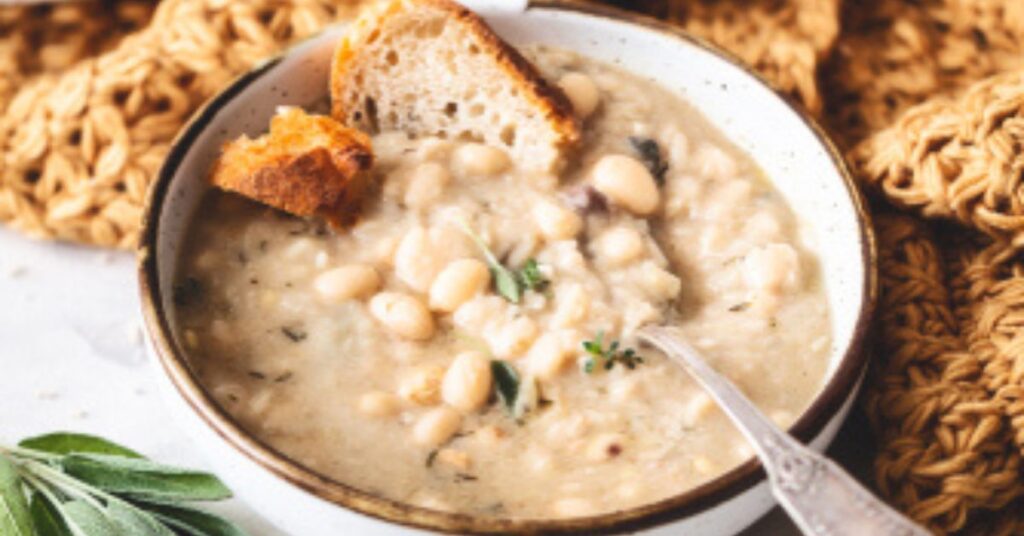 Bordatino alla Pisana is a popular soup originating from the coastal city of Pisa, which features tons of other local dishes I've covered here. The name 'Bordatino' has nautical origins, originally prepared aboard fishing boats using readily available ingredients. This warm, filling soup features a robust blend of cornmeal, black cabbage, beans, and onions cooked in a savory vegetable broth.
Every spoonful of Bordatino alla Pisana is a delicious, comforting reminder of the region's humble seafaring and farming roots. Its unique texture, somewhere between a chowder and a porridge, leaves a satisfying feeling with each taste. Locals enjoy it all year round, but it shines as a winter warmer.
For the authentic Bordatino experience, head to the local trattorias in Pisa. They masterfully prepare this time-honored dish that pairs perfectly with a slice of Tuscan bread.
25. Tagliata di Mucco Pisano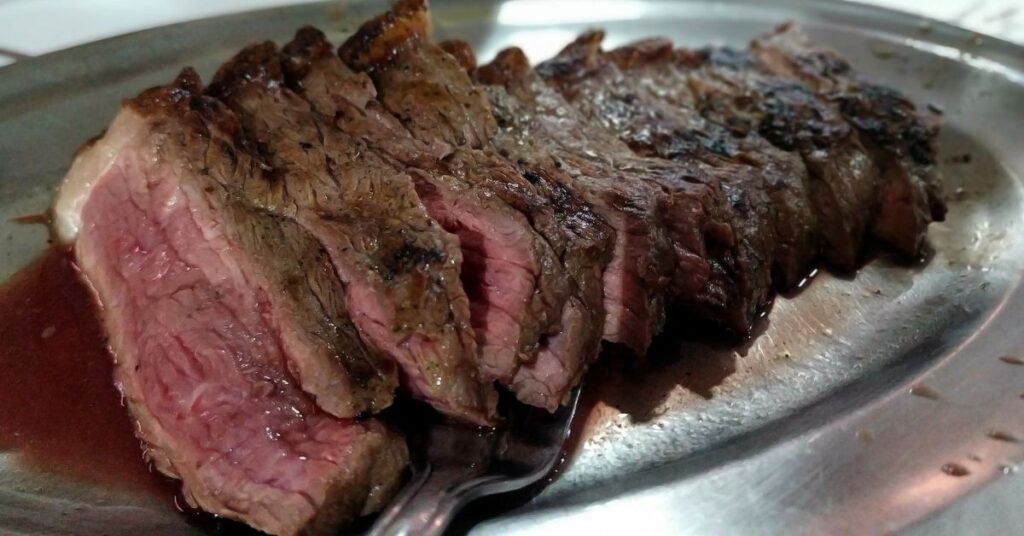 Meet the Tagliata di Mucco Pisano, a Tuscan steak dish that'll leave your taste buds wanting more. In Italy, "tagliata" means "cut," referring to the sliced beef, and "Mucco Pisano" denotes a unique cattle breed native to Pisa sorroundings, ensuring top-quality meat. This dish is a regional twist on the classic Tagliata di Manzo.
The Mucco Pisano, an ancient breed that nearly disappeared just a few years ago, has a distinctive flavor profile that sets it apart from other beef. It's been cultivated in the natural park area of Migliarino Massaciuccoli and San Rossore for five centuries.
If you're dining in Tuscany, especially around Pisa or Livorno, this hearty second course is a must-try. The meat is tender and succulent, boasting a rich red hue that translates into a robust, unmistakable flavor on your palate.
26. Stoccafisso alla Pisana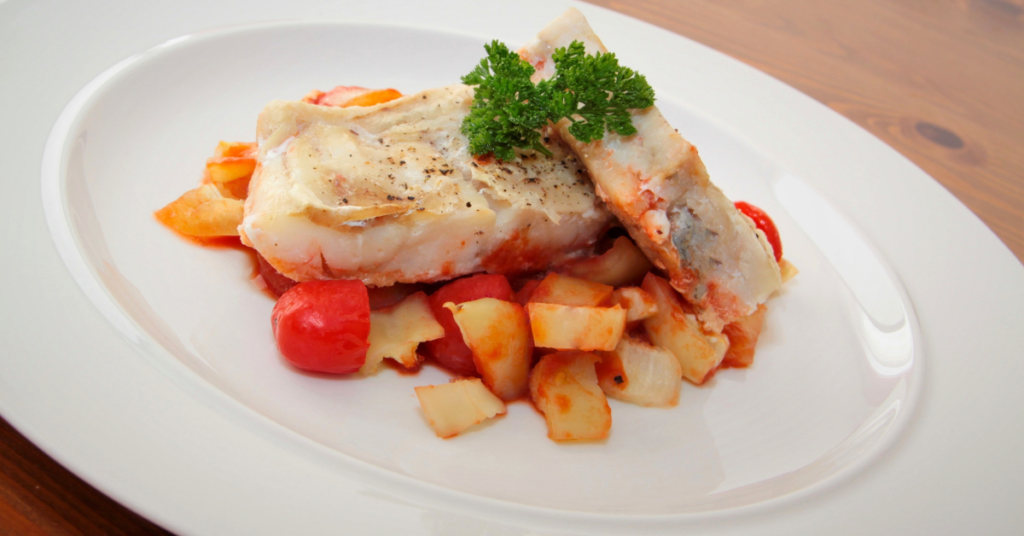 Stoccafisso means "stockfish," which is air-dried fish, and 'alla Pisana' means 'in the style of Pisa', the Tuscan city. This dish is a tasty combination of stockfish and potatoes, cooked together with garlic, parsley, and tomatoes.
As a main course, it is rich, hearty, and full of flavor. Though stockfish has a robust taste that might take some getting used to, when combined with the other ingredients, it creates a beautifully balanced dish.
You can find Stoccafisso alla Pisana in local trattorias or seafood restaurants. If you're a fan of fish and up for trying something traditional, I highly recommend giving this dish a try, and do not miss my list of Pisa traditional food.
27. Ossobuco alla Senese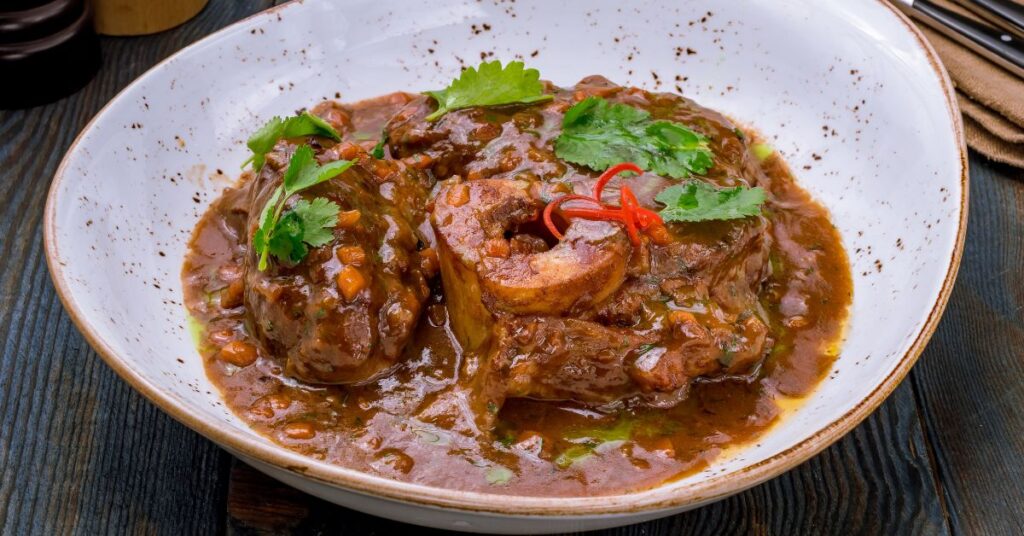 If you're planning to visit Tuscany, I highly recommend you try the Ossobuco alla Senese, a classic meat dish from Siena. "Ossobuco" means "bone with a hole" in Italian, and it's named after the marrow-filled bone in the center of the veal shank used for this dish.
The veal is simply prepared with a mix of chopped celery, carrot, and onion, then floured and browned in aromatic herbs. The meat is simmered in wine and broth until tender, resulting in a succulent dish that's a true pleasure for meat lovers. The veal becomes so tender that you won't even need a knife to enjoy it!
You can find Ossobuco alla Senese in trattorias throughout Siena, serving this delicacy as a hearty second course. It's a dish that might be humble in origin, but the flavors are anything but. Try it, and you'll discover how even the simplest ingredients can create something truly delicious when cooked with care and passion.
28. Peposo alla Fornacina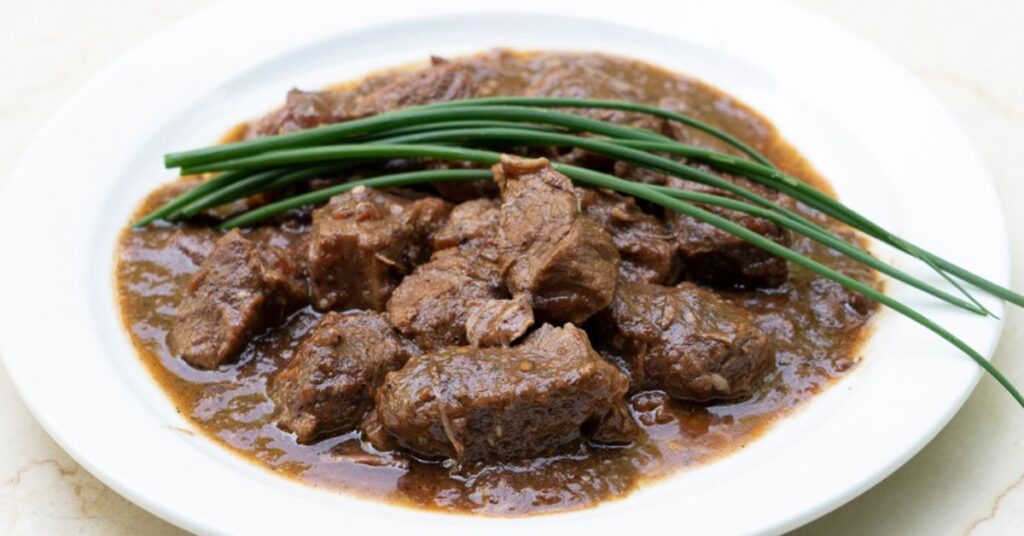 This hearty stew, main course, and absolute comfort food is made mainly of beef slow-cooked in red wine and a ton of black pepper, hence the name 'Peposo' which translates to 'peppery'.
Imagine this: the dish dates back to the 15th century, supposedly made by the very brick workers who helped build Florence's grand Duomo. To mask the scent of not-so-fresh beef, they added red wine and plenty of pepper, slow cooking it until it became a tender, spicy masterpiece.
Biting into this stew, you'll be hit by the peppery heat, followed by the rich, savory notes of the beef, mellowed by the deep, luscious red wine. It's like a warm hug on a plate!
29. Trippa alla Fiorentina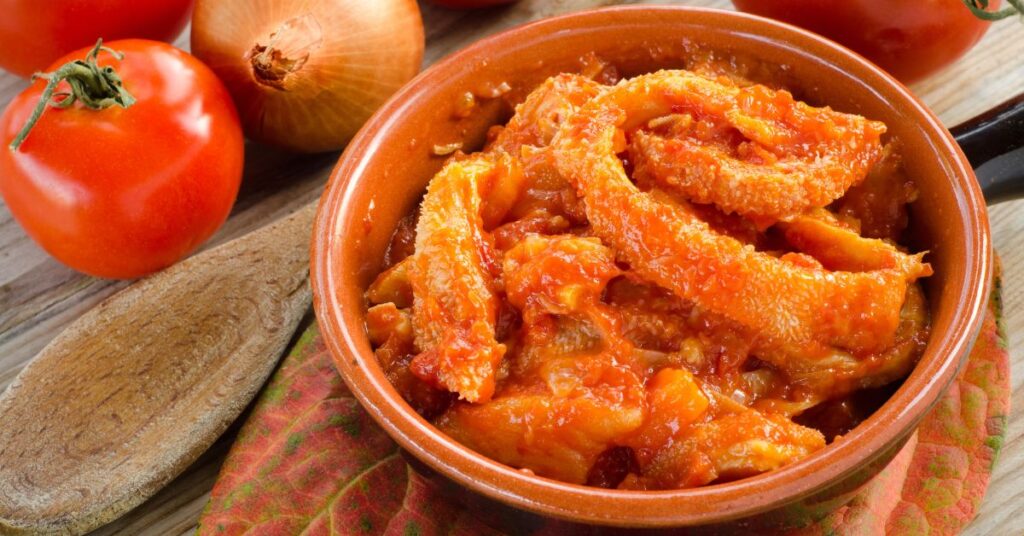 The dish stars tripe, which comes from the pre-stomach of cows, and is part of Tuscany's rich history of utilizing offal, in other dishes the face of the beef is even eaten. In less affluent homes, this was a way to procure low-cost protein.
The tripe is typically washed and boiled, then simmered with ripe tomatoes, aromatic onions, and other savory ingredients to create a robust, meaty stew. It's a main course with deep roots in the culinary history of Florence.
The taste of Trippa alla Fiorentina is hearty, with the tender, gelatinous texture of the tripe beautifully contrasting the chunky tomato sauce. The aroma is enticing, making this a mouth-watering dish you'll want to try.
30. Bistecca alla Fiorentina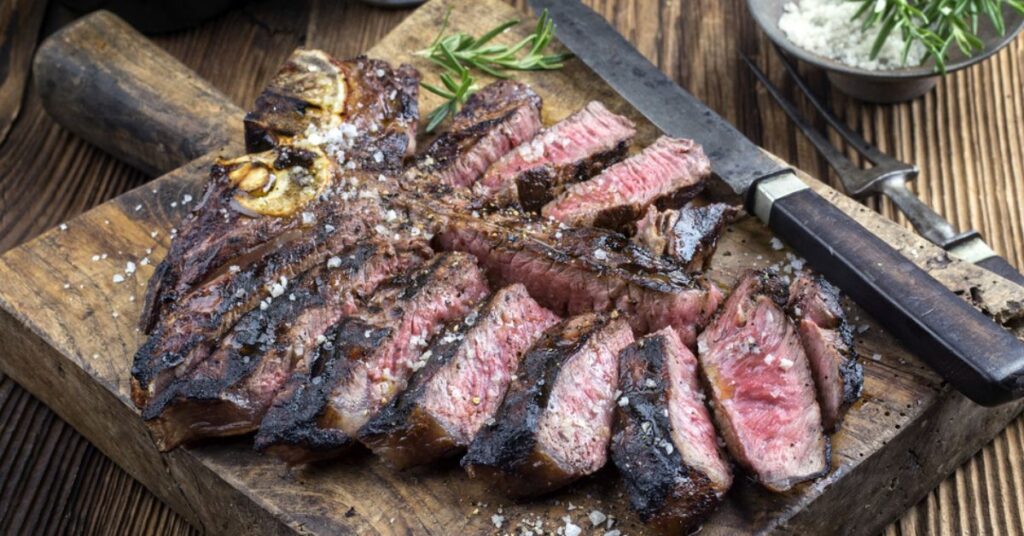 Stepping into Tuscany, you'd be remiss not to indulge in the renowned "Bistecca alla Fiorentina", or Florentine steak, an emblem of Tuscan cuisine. It's a beef steak, precisely a T-bone or a porterhouse, from the loin near the backbone, that includes the tenderloin and strip.
The steak has strict requirements: it should be from Chianina cattle, one of Italy's oldest breeds, aged for at least five to six days, and it typically weighs between 800 grams to 1.2 kilograms.
It's traditionally cooked on a grill over high heat, seasoned only with salt, pepper, and a touch of olive oil. The result? A perfectly charred outside and tender, juicy pink inside that delivers a robust and savory flavor that'll leave you wanting more.
You'll find it served in trattorias all across Tuscany, especially in Florence. A word of advice: remember to order it "al sangue" (rare) to enjoy it in the traditional Italian style.
31. Fagioli all'Uccelletto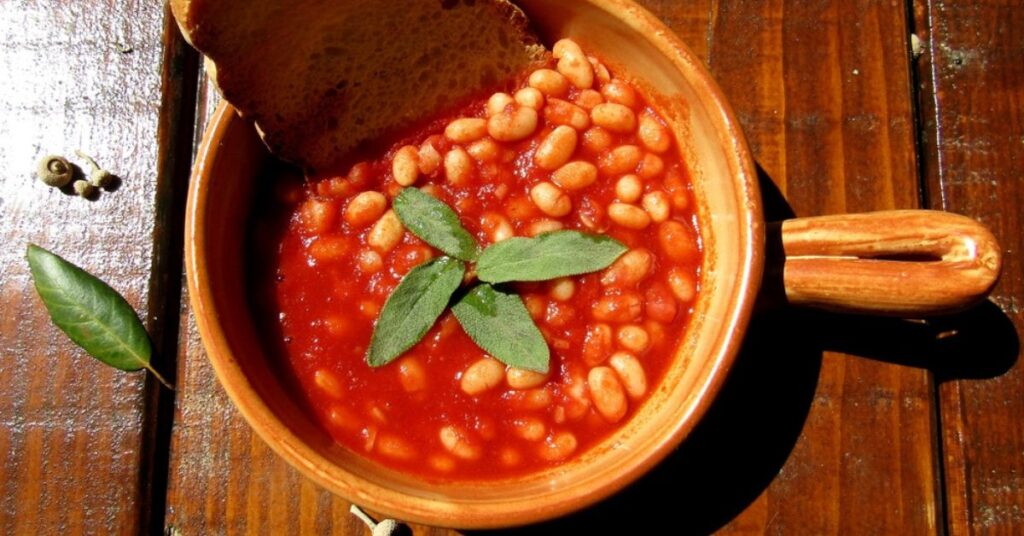 Don't miss the unique experience of tasting Fagioli all'Uccelletto, a typical Tuscan side dish that goes perfectly with meats or on its own. Despite the literal translation, "Beans in the style of little birds," rest assured, no feathered friends were harmed in the making of this dish!
The name is a nod to the traditional Tuscan way of cooking small birds with sage and tomatoes, the same ingredients used in this delicious dish.
The beans, usually cannellini, are initially boiled, then sautéed with garlic, sage, olive oil, and the addition of tomato sauce. The result is a rich, hearty dish, with the beans becoming wonderfully creamy while absorbing the flavors of the sage and tomato. They're a staple in local trattorias and usually available throughout the year.
32. Crespelle alla Fiorentina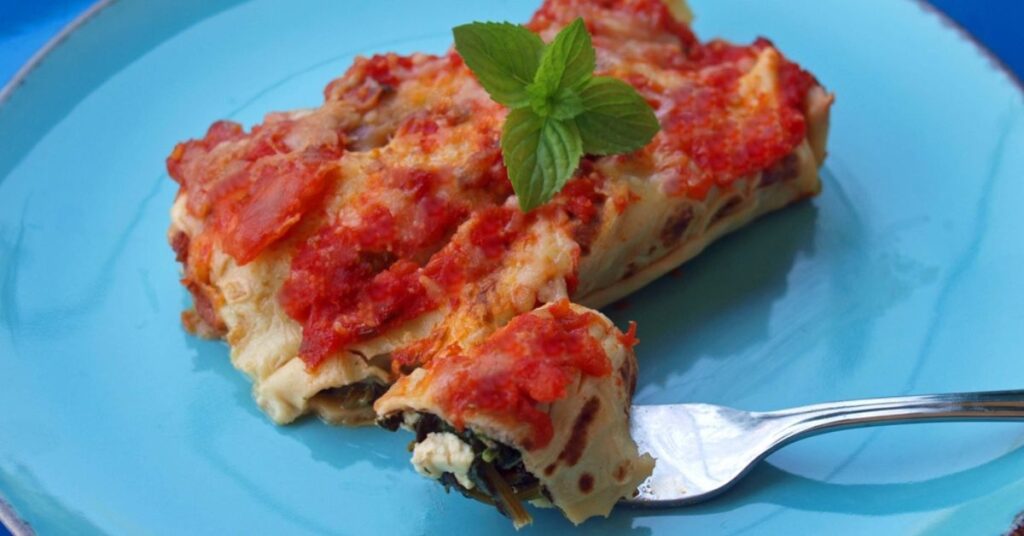 While roaming through Tuscany, and specifically Florence, you must try Crespelle alla Fiorentina. Think of crespelle as Italian crepes, but in this Florentine style, they're filled with spinach and ricotta, then baked with béchamel sauce.
But here's a fun fact – these crepes owe their name to the term "crespo," meaning crinkled, just like the tiny folds that form during cooking.
And let's not forget Caterina de' Medici, an ardent food lover who's said to have introduced the humble crespelle to France, contributing to the creation of the famous French crêpe. So, as you dig into this dish in local Tuscan trattorias, remember its rich, far-traveled history, and enjoy the mouthful of homey Florentine flavors.
33. Filetto al Vino Nobile di Montepulciano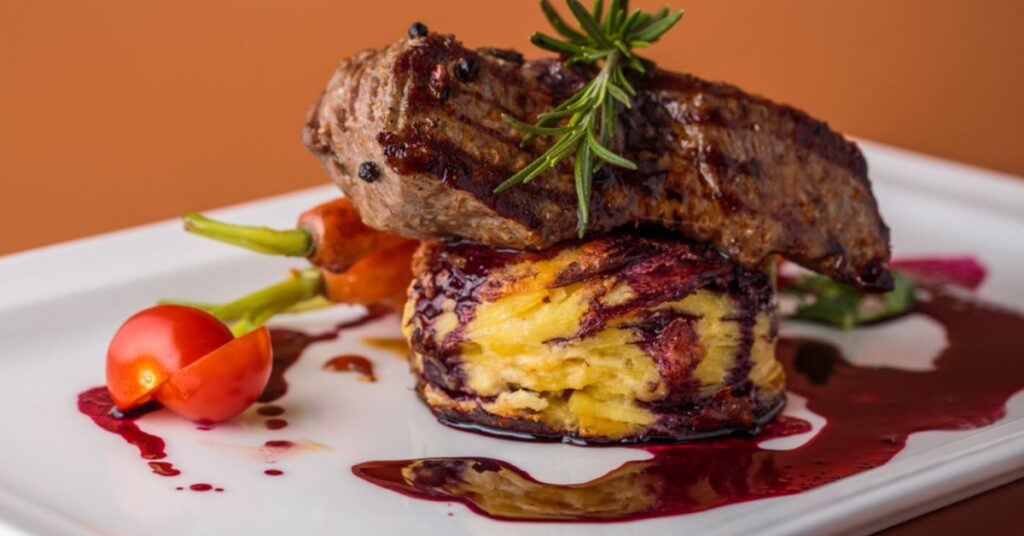 If you find yourself in the region of Tuscany, you've got to try the Filetto al vino nobile di Montepulciano. This mouth-watering dish features a succulent veal fillet from the native Chianina breed, perfectly cooked and bathed in the rich flavors of the famed Nobile di Montepulciano wine.
The smooth velvety texture of the veal coupled with the robust, fruity notes of the wine creates a culinary experience that's truly Tuscan. The rich, aromatic flavors from this dish reflect the gastronomic spirit of Montepulciano, a beautiful town known for its exquisite wines, and also for some typical dishes as you can read at the link.
34. Spezzatino di Cinghiale in Umido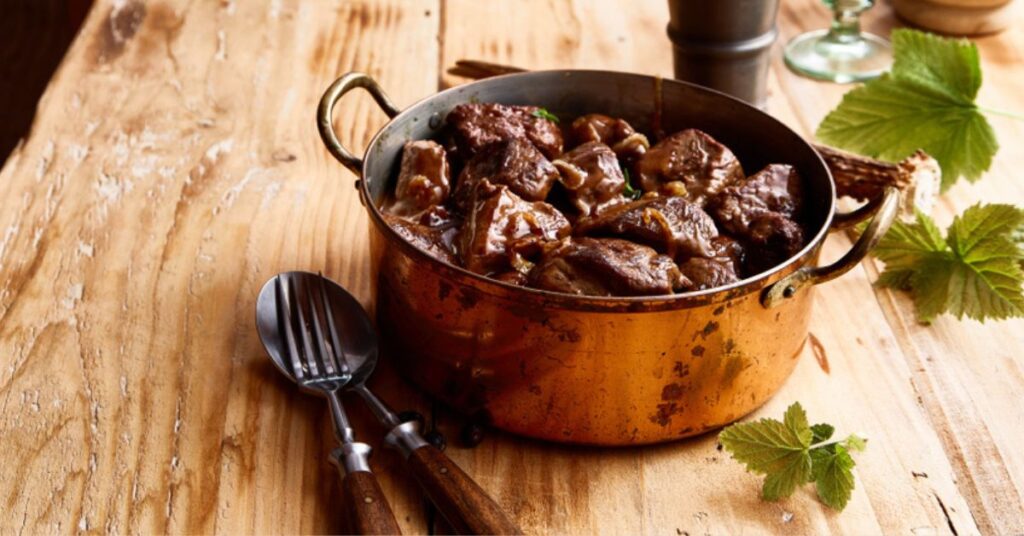 For a true Tuscan culinary adventure, savor a plate of Cinghiale in Umido – a savory, slow-cooked wild boar stew. This hearty dish dates back to Roman times and is a staple in Tuscan homes, particularly in the cooler months.
In this dish, the gamey flavors of the boar are tamed by marinating the meat in red wine with onions, carrots, celery, and herbs, typically rosemary and juniper berries. After marinating, the meat is slowly simmered until it becomes tender and absorbs the flavors of the stew, resulting in a rich, deeply satisfying dish.
Whether served over pasta or polenta, or with a side of Tuscan bread to soak up the robust sauce, Cinghiale in Umido is an experience to remember. I can personally vouch for its deliciousness – each bite immerses you in the rustic charm of Tuscany!
35. Polpo Ubriaco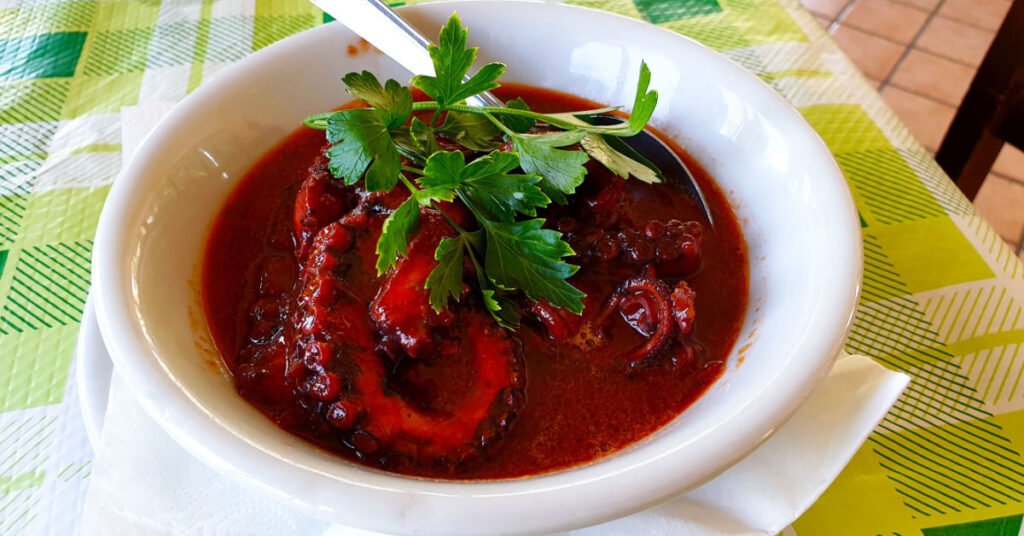 Meet the "Polpo Ubriaco" (or "Drunk Octopus"), a gem from the seaside city of Livorno, a must for any seafood lover. This is a heartily cooked octopus dish, using simple and genuine ingredients like fresh octopus, garlic, herbs, extra virgin olive oil, and a good splash of red wine.
The beauty of Polpo Ubriaco lies in its versatility. Served hot or cold, it makes a remarkable main course. Imagine it as a tasty topping for bruschetta, or mix it into spaghetti for an extraordinary pasta dish.
The name 'Ubriaco' literally translates to 'drunk', signifying the generous amount of wine used in cooking the octopus, which infuses it with a robust flavor.
36. Cacciucco alla Livornese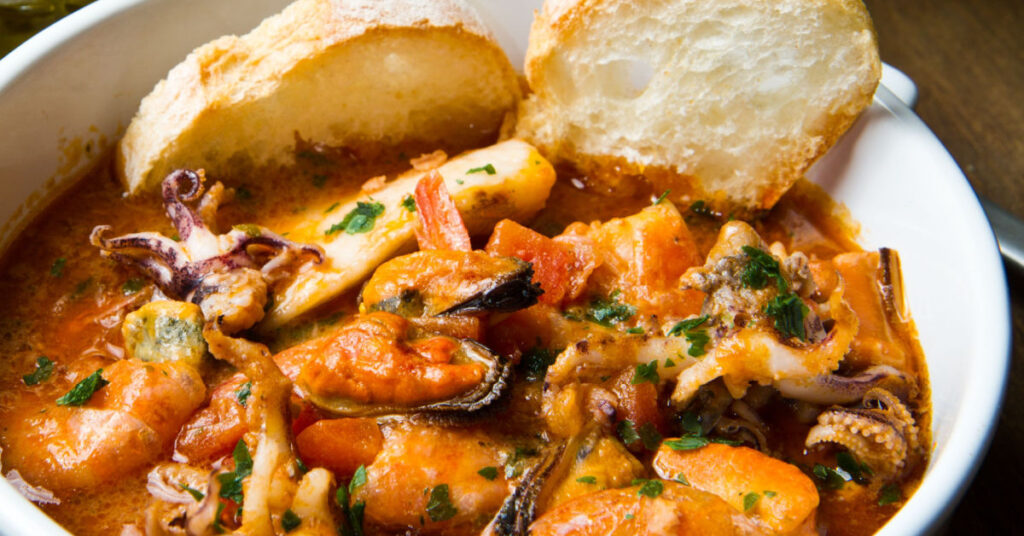 Don't miss out on trying Cacciucco alla Livornese, this flavorful fish stew from the coastal city of Livorno is a perfect blend of the land and sea.
The word "cacciucco" comes from the Turkish 'küçük', meaning 'small', hinting at the tradition of using the day's smaller catch in the stew. Made with at least five types of fish and shellfish, tomato, garlic, chili pepper, and red wine are added to the medley, this dish represents the bountiful Tuscan coast.
Each spoonful of this main course offers a new experience – the brininess of the ocean, the tang of the tomatoes, and the warmth of the chili. It's tradition to serve the cacciucco on toasted bread rubbed with garlic, which soaks up the broth and adds a comforting element.
37. Frittura di Pesce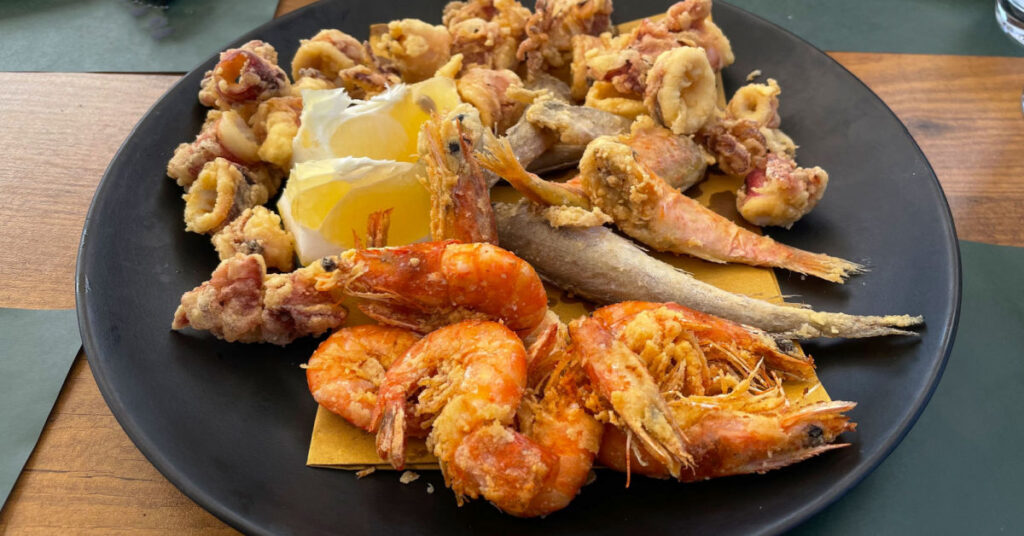 This mixed fried fish dish is a sensory delight. Its alluring aroma wafts through the air, making it a popular order at seaside restaurants. It's versatile too – you can enjoy it as an appetizer or a main course.
This dish isn't just for sit-down meals. It's also a beloved street food, perfect for munching on as you explore the city or relax by the ocean at sunset. On special occasions, it's a favored centerpiece of the meal.
Freshest fish is key here, lightly battered and fried to crispy perfection. After a satisfying meal of Frittura di Pesce, there's nothing like a refreshing lemon sorbet to cleanse the palate. It's almost like a mini Tuscan holiday on your taste buds!
38. Cozze ripiene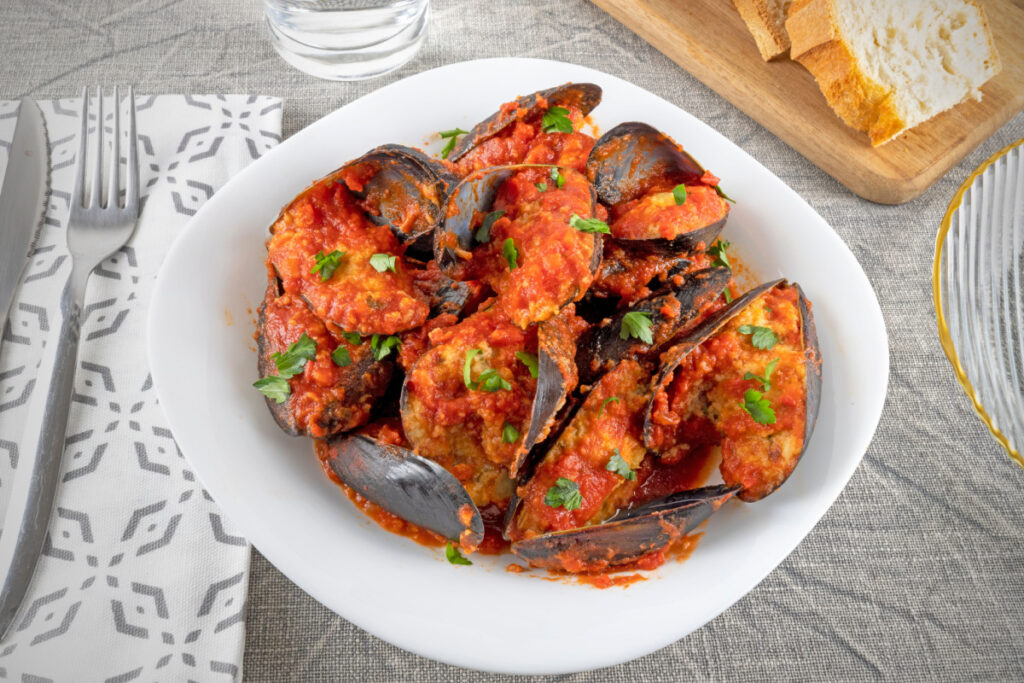 Cozze Ripiene it's essentially mussels stuffed with a rich and flavorful filling. The roots of this dish can be traced back to the 16th century when Livornese fishermen cleverly repurposed leftover ingredients to avoid waste.
Initially, the filling was made from leftover boiled meats, which over time was replaced with minced beef.
In true Livornese style, the mussels are stuffed with a mixture of minced beef, bread crumbs, eggs, and Parmesan cheese. Other Tuscan locales offer a slight twist; for example, in Viareggio, vegetables and white wine are used for cooking mussels, and beef is omitted.
39. Baccalà alla Livornese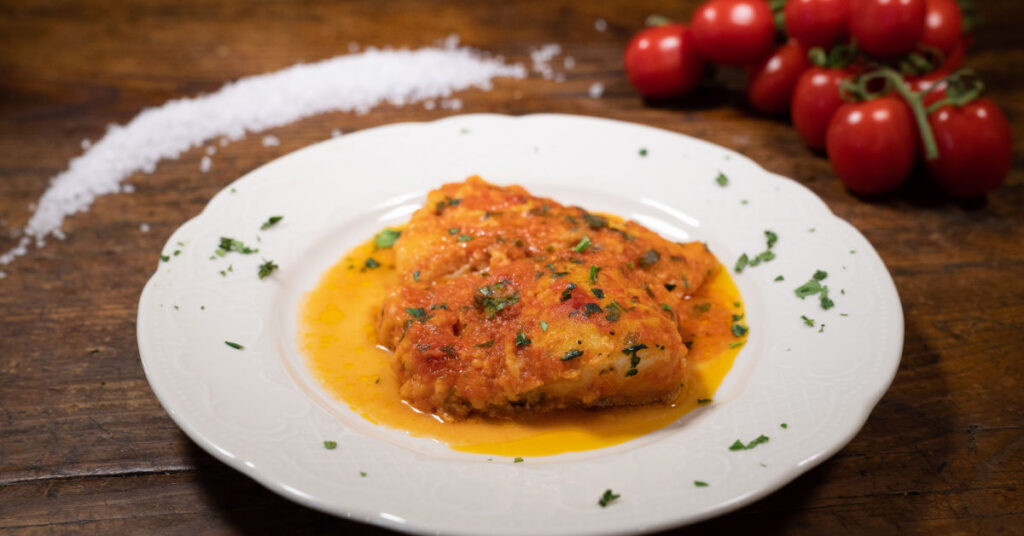 Baccalà alla Livornese, a fish dish from the coastal city of Livorno, is a gem in Tuscan cuisine. It all starts with baccalà, which is cod preserved in salt.
The cod is soaked to remove the salt, then gently simmered with tomatoes, garlic, parsley, and a touch of chili pepper. This process infuses the fish with a medley of flavors, creating a dish that's both comforting and vibrant.
Served as a main course, Baccalà alla Livornese is a hearty and satisfying plate that truly represents Livorno's seafaring heritage.
40. Agnello a Buglione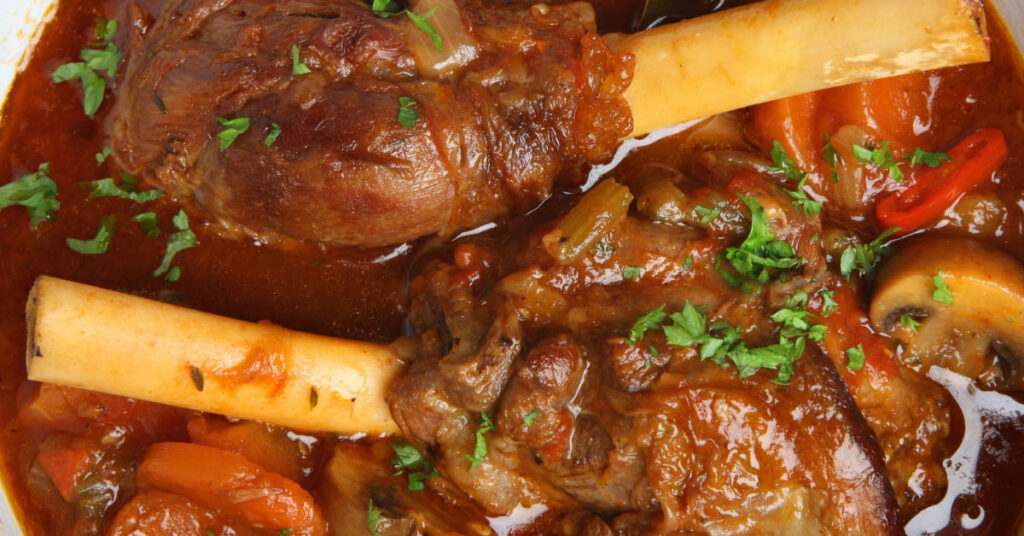 A local favorite hailing from the Monte Amiata region, Buglione, meaning 'mixture' in dialect, is a hearty lamb (agnello) stew. True to its name, it was traditionally made using various leftover cuts of lamb – nothing went to waste! It's simple in its essence, yet rich and satisfying, a true embodiment of Tuscan cuisine.
In this dish, pieces of lamb are slowly cooked with a robust, concentrated tomato sauce. The result is a tender, flavorful meat that practically melts in your mouth, wrapped in a bold, savory sauce that's absolutely packed with taste.
Whether you find it at a local trattoria or a rustic eatery in the countryside, Buglione d'Agnello is a quintessential Tuscan experience. Every bite takes you closer to the heart of this wonderful region.
41. Cecina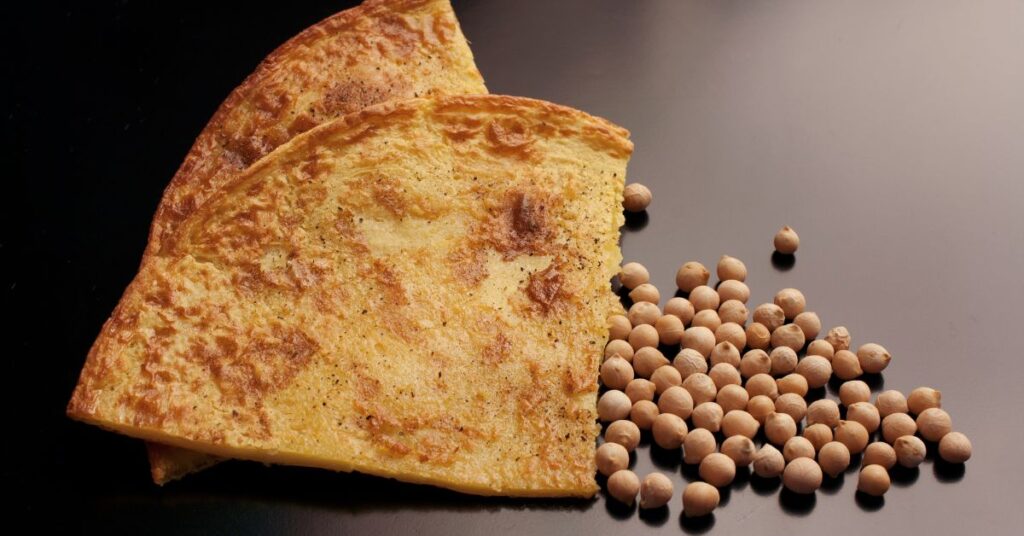 This delicious snack, also known as 'farinata' or 'torta di ceci', is a thin, savory pancake made from chickpea (ceci) flour, water, salt, and extra virgin olive oil. Crispy on the outside, soft and creamy on the inside.
Cecina is deeply rooted in Italian history, with its creation dating back to 1284 during a war between Genoa and Pisa. As legend has it, a storm at sea caused barrels of oil and sacks of chickpeas to spill and mix with seawater on a Genoan ship.
With food being scarce, the sailors had no choice but to eat this strange chickpea and oil mash. However, some left their portions in the sun, which dried into a sort of pancake. Famished the next day, they tried these chickpea pancakes and loved them!
Today, you can find cecina in pizzerias, bakeries, and street food kiosks across Tuscany.
42. Schiacciata Toscana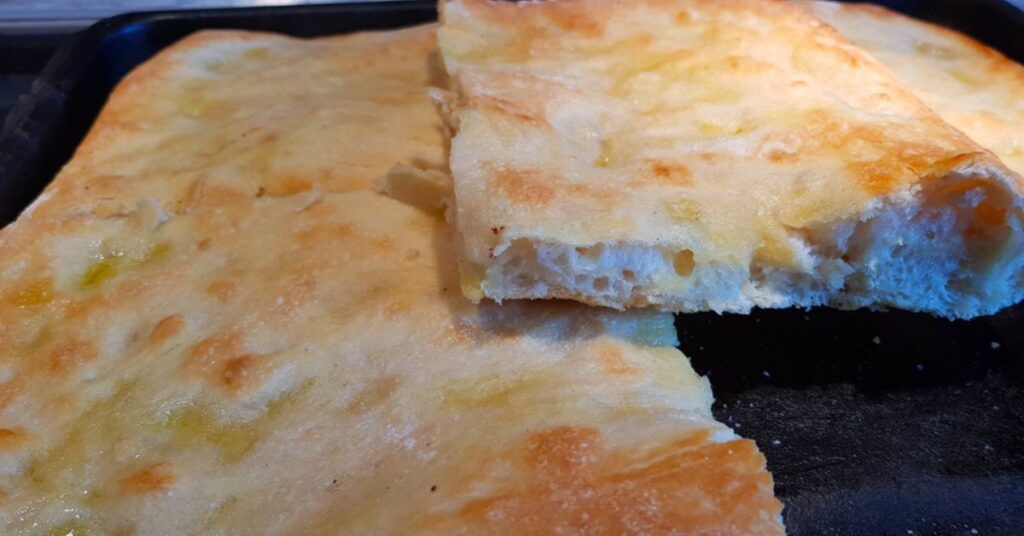 Schiacciata, meaning "flattened" or "crushed", is a classic Tuscan flatbread prepared with a simple mix of flour, olive oil, and salt, this bread is the ultimate comfort food.
Its history is believed to date back to ancient Egypt, before yeast was even used in baking. Tuscan farmers later adopted this bread, baking it once a week before making their loaves, to check the temperature of their brick ovens. The bread's texture would tell them if the oven was hot enough for the loaves.
Taste-wise, Schiacciata offers a perfect balance of crusty outside and soft, fluffy inside, generously sprinkled with salt and drizzled with a hearty amount of olive oil. It's typically enjoyed as a snack or an appetizer, though when filled with Tuscan salami, it makes a perfect light meal.
43. Panino col Lampredotto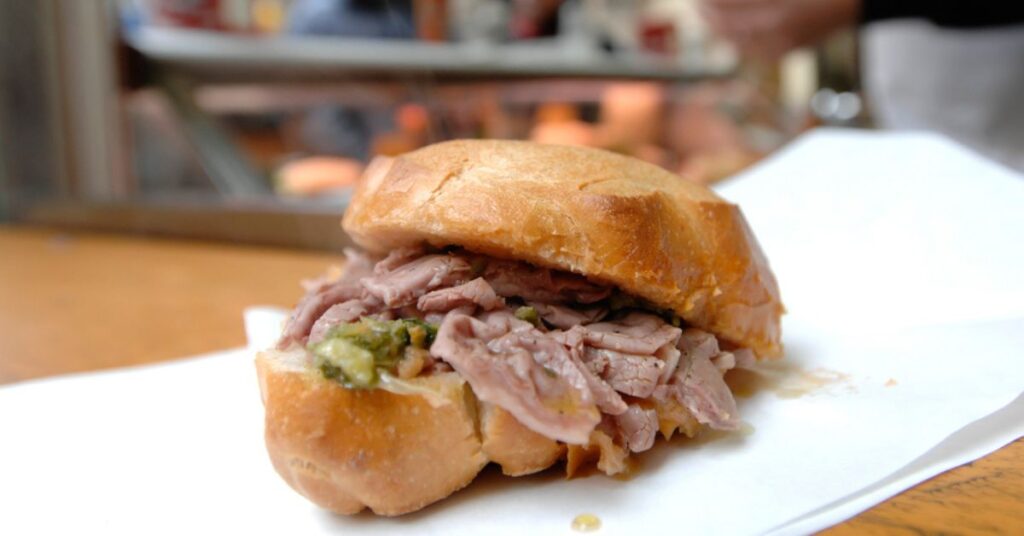 The quintessential Florentine street food – the Panino col Lampredotto. This unique and hearty sandwich starts with lampredotto, made from the abomasum, the fourth stomach of a cow. You can find this iconic Florentine sandwich at street food stalls, or 'food trucks', across the city.
The name "lampredotto" is an ironic nod to the lamprey, a prized delicacy among nobles that ordinary folks couldn't afford, and its name is meant to mimic the peculiar mouth of the lamprey fish. Just one of the many delights obtainable from the bovine stomach.
Lampredotto is slow-cooked until it's meltingly tender, usually simmered in a flavorful broth with tomatoes, onion, parsley, and celery until it's rich and flavorful. This savory filling is then piled onto a crunchy bread roll. For an extra kick of flavor, the top of the roll is typically soaked in the cooking broth, and the sandwich is usually served with a generous dollop of tangy salsa verde.
44. Torta d'Erbi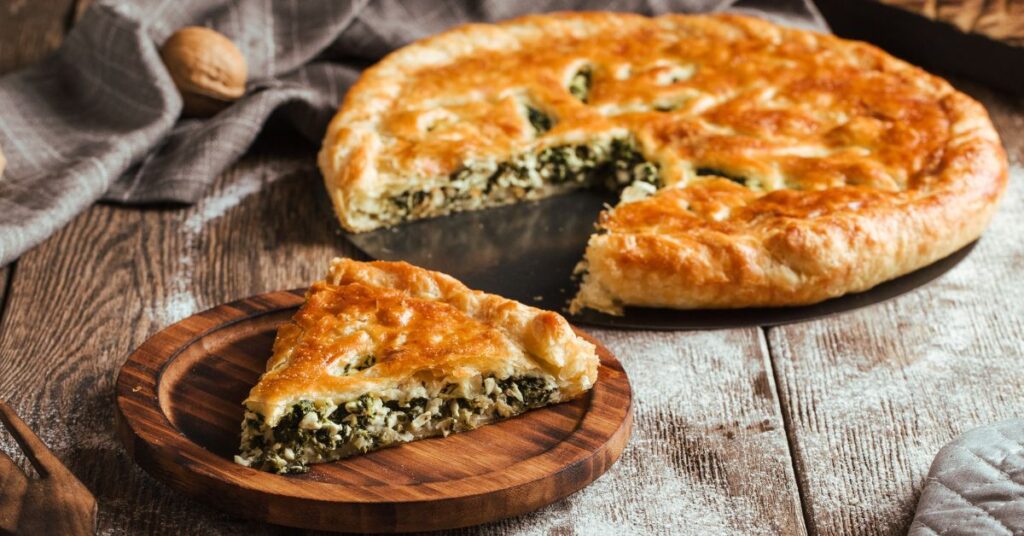 While wandering through Tuscany, be sure to grab a slice of Torta d'Erbi, a traditional savory pie from the Lunigiana region. The name literally translates to "herb pie", and it's as delightful as it sounds.
This pie is a seasonal delight made from finely chopped wild herbs and seasonal vegetables. These are flavored with extra virgin olive oil, salt, and either Parmesan or pecorino cheese, all enveloped by thin pastry made from water, salt, and flour.
These days, wild herbs are usually substituted with more common vegetables like chard, onions, leeks, squash, spinach, and potatoes. Each pie is unique, with some recipes including pumpkins and spinach, a handful of rice to better dry the herbs, or pecorino cheese instead of Parmesan.
45. Panino 5e5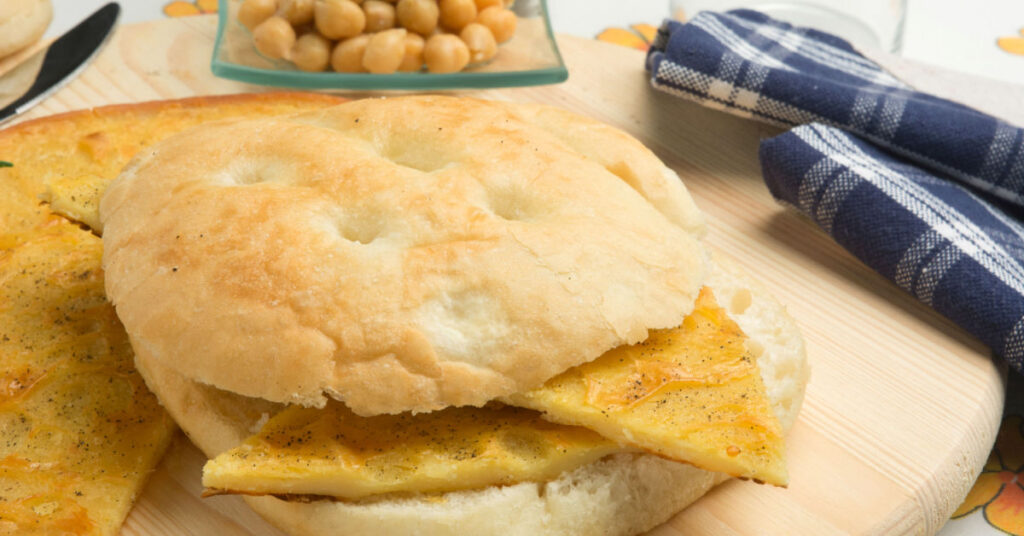 If you find yourself in Livorno, you simply must try the Panino 5 e 5. A scrumptious sandwich filled with chickpea cake (torta di ceci) tucked inside a roll known as francesino. Optional flavor boosts include pepper and marinated grilled eggplant.
The name Panino 5 e 5 goes back to the 1930s. People used to order "5 of cake and 5 of bread" with 5 referring to 5 cents of the lira. Over time, this evolved into the "Panino 5 e 5", a cornerstone of Livorno's culinary tradition.
However, be aware of the culinary rivalry between Pisa and Livorno, each city claims to be the birthplace of this delicious chickpea preparation. But as a tourist, you can just sit back and enjoy the sandwich, leaving the debate to the locals!
46. Frati di Livorno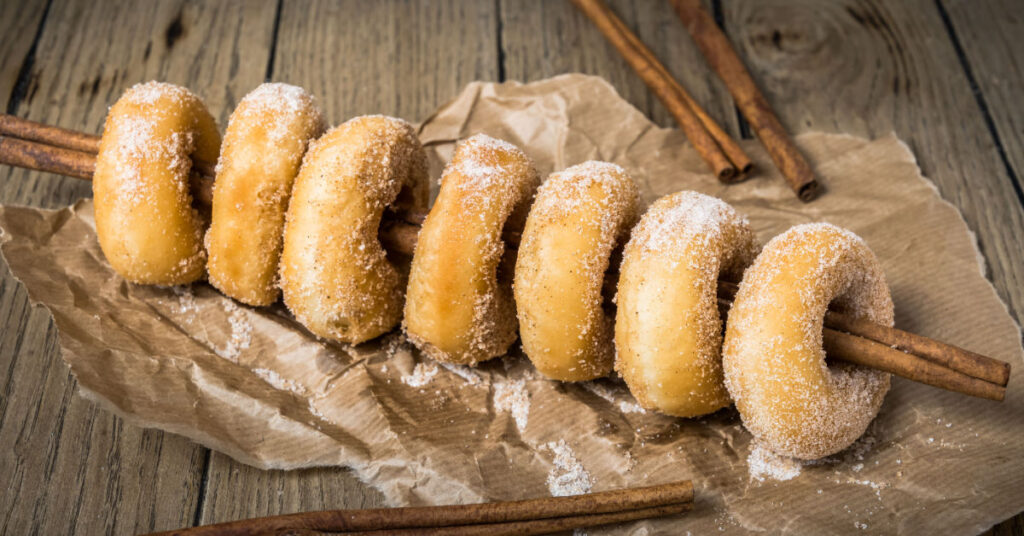 When in Livorno, Tuscany, you simply must try "Frati." Now, you might be thinking, "I know 'frati' means 'monks,' but what does that have to do with food?" Well, in Livorno 'frati' refers to an irresistible type of donut with a hole in the middle!
This isn't your average donut, though. It's reminiscent of a cleric's tonsure (hence the name), only instead of bald heads, these 'frati' are generously sprinkled with sugar. This pastry is a staple at a local bakery aptly named "Il Frataio".
Biting into one, you're greeted with a delightful mix of sweetness and fluffiness. You can grab these treats at bakeries and cafes in Livorno. They're perfect with a cup of coffee for breakfast or as a quick, sweet snack any time of the day.
47. Castagne dell'Appennino Pistoiese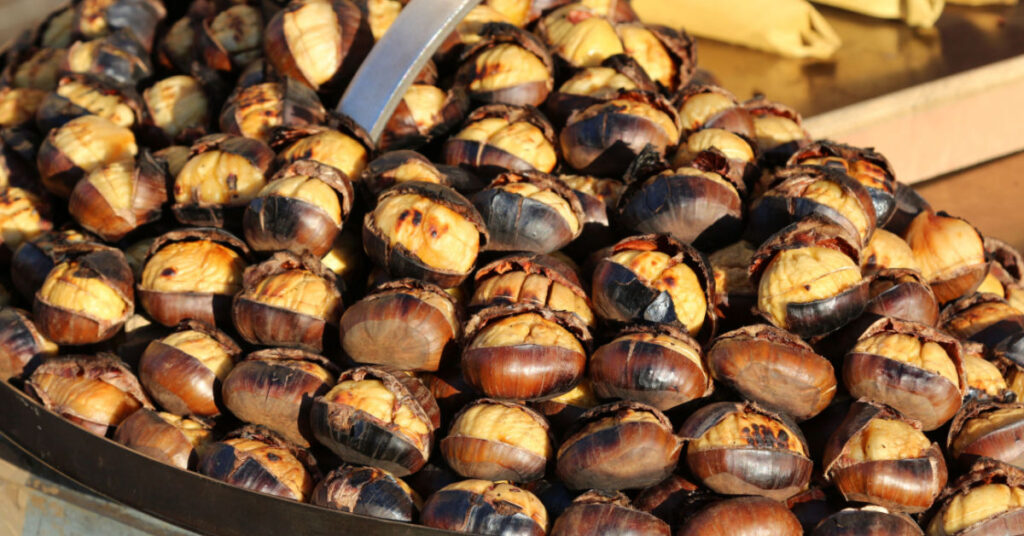 Nestled in the Apennines of Pistoia, you'll discover the Val d'Orsigna, renowned for its chestnuts. Now, chestnuts might sound common, but these are no ordinary nuts! The chestnuts of this region are rich, sweet, and have a unique, unmistakable flavor that comes from the land they're grown on.
Harvested in autumn, these chestnuts become the star of many dishes, like roasted chestnuts sold in paper cones on the street, comforting chestnut soups, and even sweet treats like castagnaccio, a traditional Tuscan cake.
Trust me, there's nothing like the experience of warming your hands on a cone of freshly roasted chestnuts as you stroll through a charming Tuscan town in the fall. I'd even go as far to say that it's a quintessential Italian experience.
48. Brigidini di Lamporecchio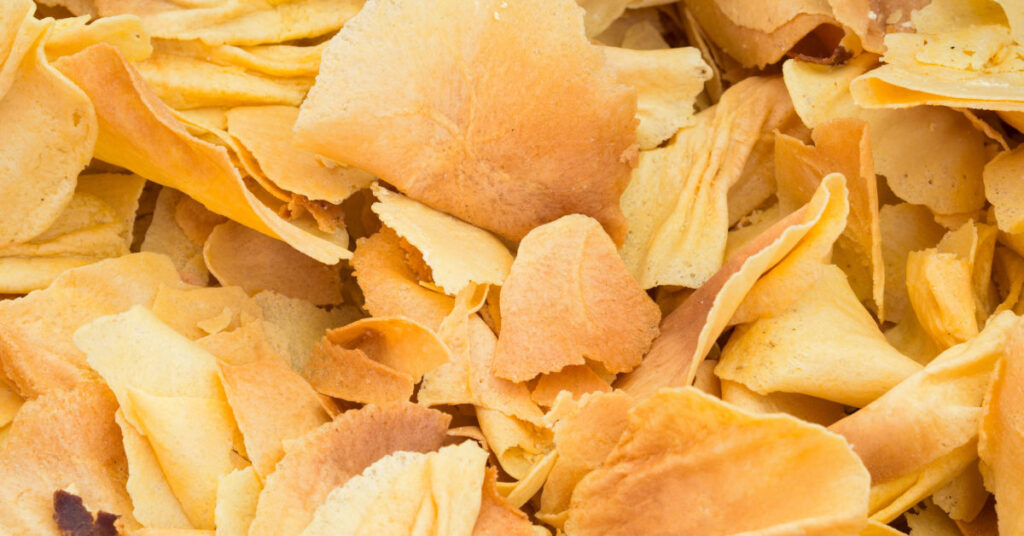 Brigidini di Lamporecchio are enchanting, wafer-thin Tuscan sweets with a beautiful orange-yellow hue and an enticing aniseed flavor. These delicately crisp, round wafers, about 5cm in diameter, have a texture that practically melts in your mouth. They're made with a simple dough of sugar, flour, eggs, and anise essence.
The name "Brigidini" hails from the nuns of the Brigidine convent in Pistoia, who reputedly invented these cookies in the mid-16th century. So when you're munching on these delightful wafers, you're literally tasting a bit of history!
While you can stumble upon them throughout Tuscany, they are most commonly found at fairs, festivals, and amusement parks. Street vendors often prepare them on the spot, ensuring you get the freshest taste possible. Trust me, once you've tried one, you'll find it hard to stop at just a few!
49. Cantucci col Vinsanto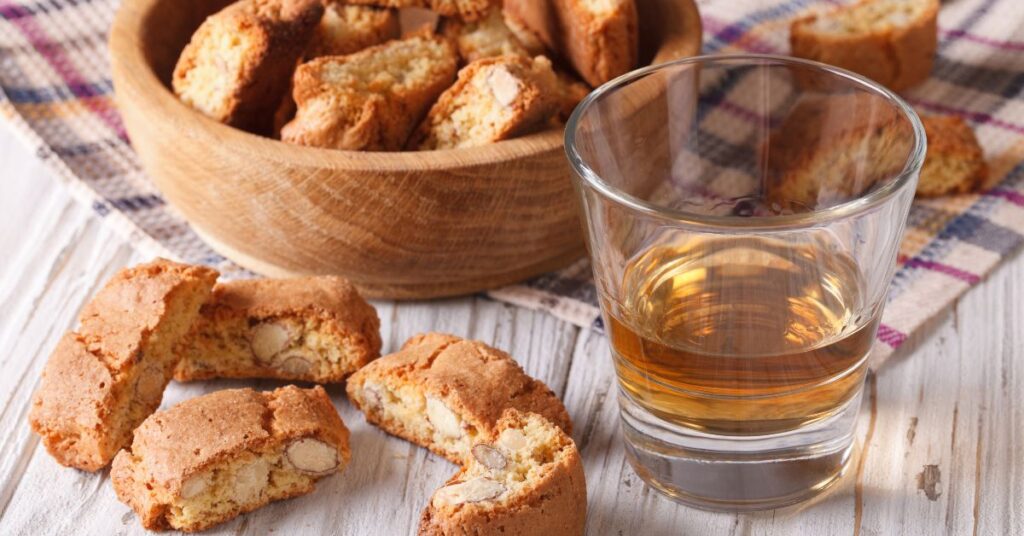 Cantucci, also known as Biscotti di Prato, are a true pride of Tuscan cuisine. They date back to the 17th century, they are delightful, crunchy almond biscuits, typically oblong in shape.
They are twice-baked, resulting in a firm texture that pairs perfectly with a glass of Vinsanto, a sweet dessert wine. The traditional way to enjoy them is by dipping the Cantucci in the Vinsanto, allowing the flavors to mingle and creating a heavenly taste experience.
You can find Cantucci col Vinsanto in many bakeries, pastry shops, and even some restaurants throughout Tuscany. It's a beloved treat that's perfect for enjoying during special occasions, holidays, or simply as an afternoon indulgence.
50. Torta coi Bischeri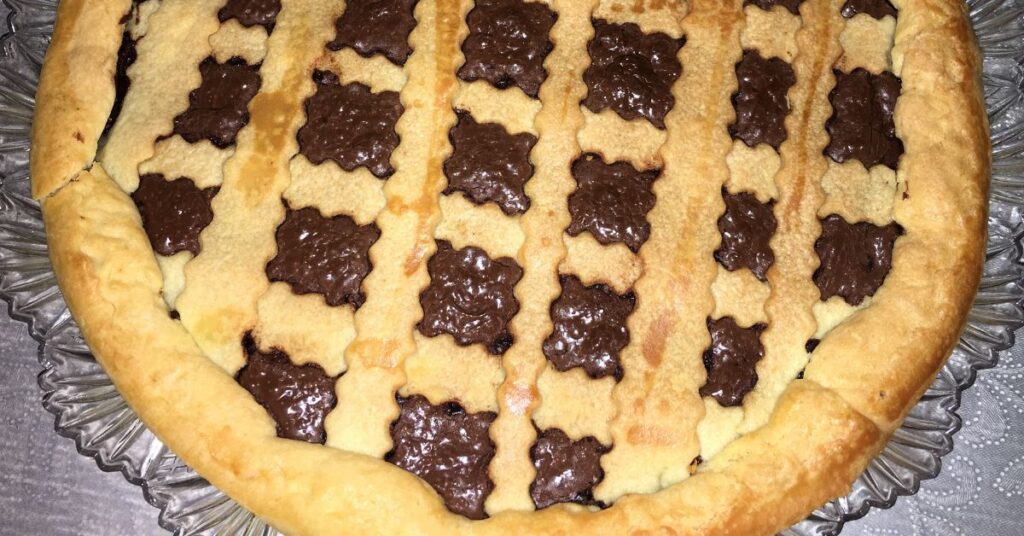 This unique dessert has a fascinating history and an incredible taste. The Torta coi Bischeri is named after the pointed pastry decorations resembling crowns on top. It's a cake filled with a delicious combination of chocolate, rice, pine nuts, raisins, and candied fruit.
While there isn't one definitive recipe, you can find various versions of Torta coi Bischeri. Each family has its own unique twist, whether it's a dash of nutmeg or a splash of liqueur.
To experience the authentic taste, look for it in Pisa and visit local bakeries, pastry shops, or traditional trattorias.
51. Panforte di Siena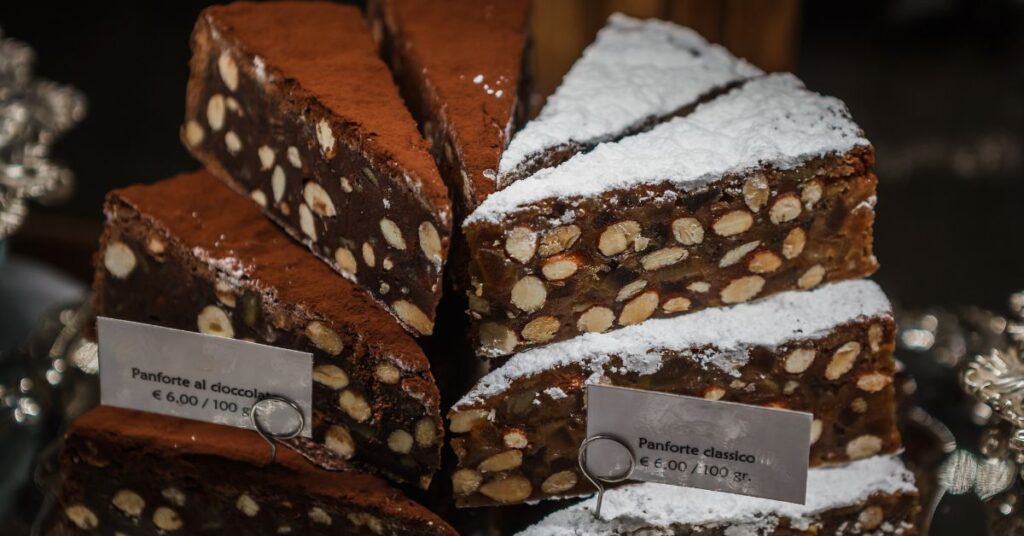 Panforte is a traditional Christmas dessert from the city of Siena and the wider Tuscan region. It's a dense cake-like treat made with almonds, candied fruit, sugar, honey, and a blend of aromatic spices. Baked on a sheet of edible wafer, it has a soft yet slightly crunchy texture and an unmistakable fragrant and honeyed taste.
This delightful delicacy has its roots in medieval times when it was prepared in monasteries as a bread-like cake called "panes fortis." It was later enriched with candied fruit, almonds, and spices by Sister Berta in 1550 to provide sustenance to the Sienese fighters after a siege, resulting in the flavor we know today.
During the holiday season, you'll find Panforte prominently displayed in bakeries, pastry shops, and gourmet food stores throughout Tuscany. It's a beloved treat enjoyed by locals and visitors alike, and it makes for a delightful gift or a sweet indulgence during festive gatherings.
52. Schiacciata alla Fiorentina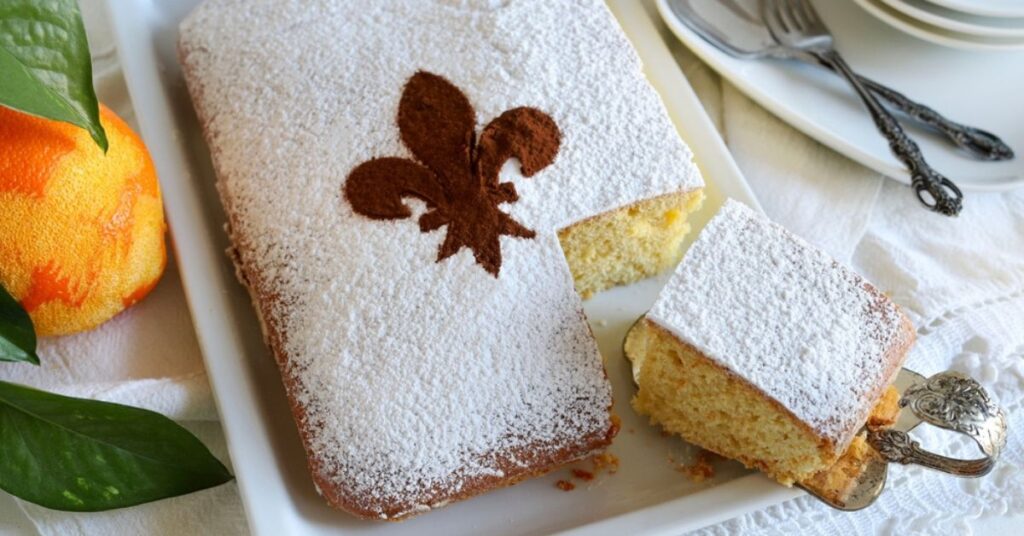 Schiacciata alla Fiorentina is a traditional Florentine dessert, especially enjoyed at Carnival, but often available all year round, for many other Carnival desserts follow the link. It's a flat, soft cake made with a light and airy dough infused with orange zest and sometimes flavored with a touch of vanilla or almond extract. The cake is typically covered with a generous dusting of powdered sugar, and it often features the iconic fleur-de-lis pattern.
When you take a bite of Schiacciata alla Fiorentina, you'll experience a delicate, citrusy flavor that's both refreshing and satisfying. The texture is wonderfully soft and moist, with a slight hint of fluffiness.
You can find Schiacciata in many pastry shops, cafes, and bakeries throughout Florence and the surrounding areas. It's a popular dessert for special occasions like birthdays, weddings, and, of course, during the Carnevale season in February.
53. Schiacciata con l'Uva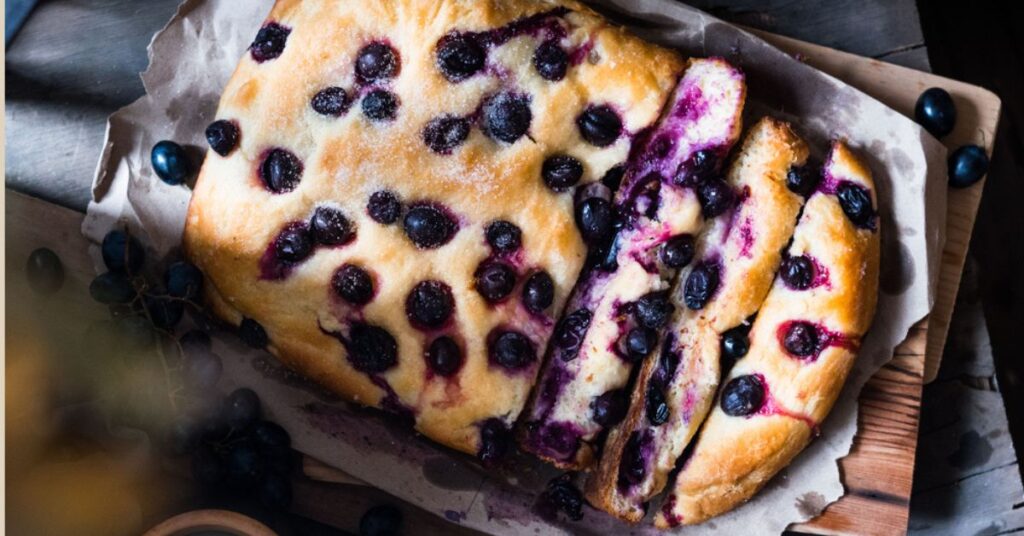 This mouthwatering "cake" is a traditional grape focaccia bread that originated in the Florence province but has become popular throughout Tuscany.
Legend has it that this sweet delight has ancient Etruscan origins, dating back to the 8th century BC. It consists of a simple combination of wheat flour, black grape berries, and a touch of sugar. The dough is enriched with extra virgin olive oil, which gives it a rich flavor.
This delicious treat is typically served chilled, and you can find it in local bakeries, pastry shops, and even at street food stalls. It's a delightful combination of flavors, with the sweetness of the grapes perfectly complementing the soft, slightly savory dough. Make sure to give it a try, and let your taste buds experience the authentic flavors of Tuscany!
54. Zuccotto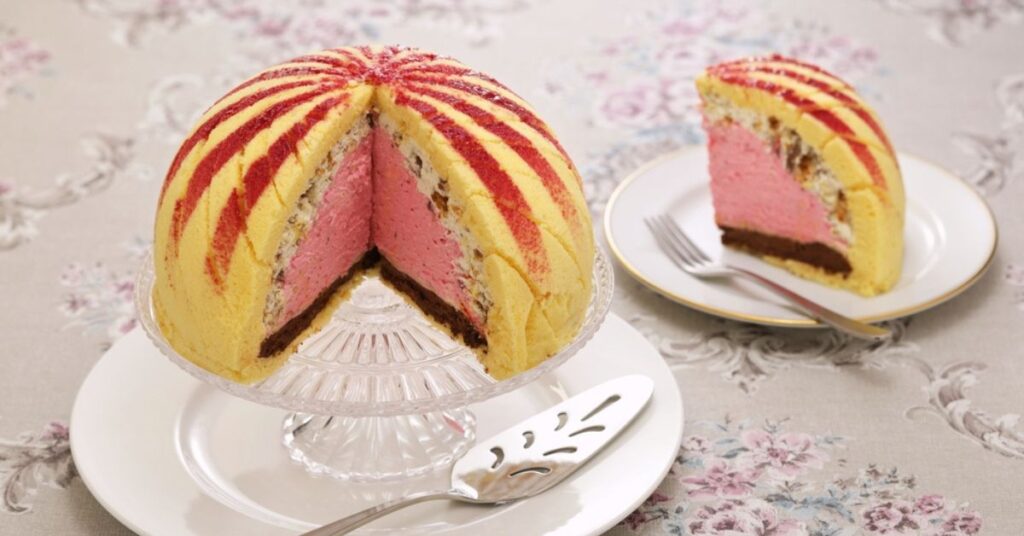 Zuccotto is a delightful dessert that is a true Tuscan specialty. Its origins can be traced back to Bernardo Buontalenti, a renowned Florentine architect, sculptor, and painter from the 16th century. Legend has it that he created this dessert, initially called "Elmo di Caterina," for a banquet hosted by the Medici family. Since then, Zuccotto has become beloved throughout Italy.
The main ingredients for Tuscan Zuccotto include ready-made sponge cake, powdered sugar, dark chocolate, almonds, hazelnuts, vanilla, cream, cocoa powder, and a touch of liqueurs like crema di cacao, Grand Marnier, and Brandy. Here in Italy, we love alcoholic desserts.
When you take a bite of Zuccotto, you'll experience a harmonious blend of flavors and textures. The sponge cake, soaked in the liqueurs, becomes moist and rich, while the chocolate, nuts, and cream create a luscious filling. It's a sweet indulgence that truly captures the essence of Tuscan dessert traditions.
55. Buccellato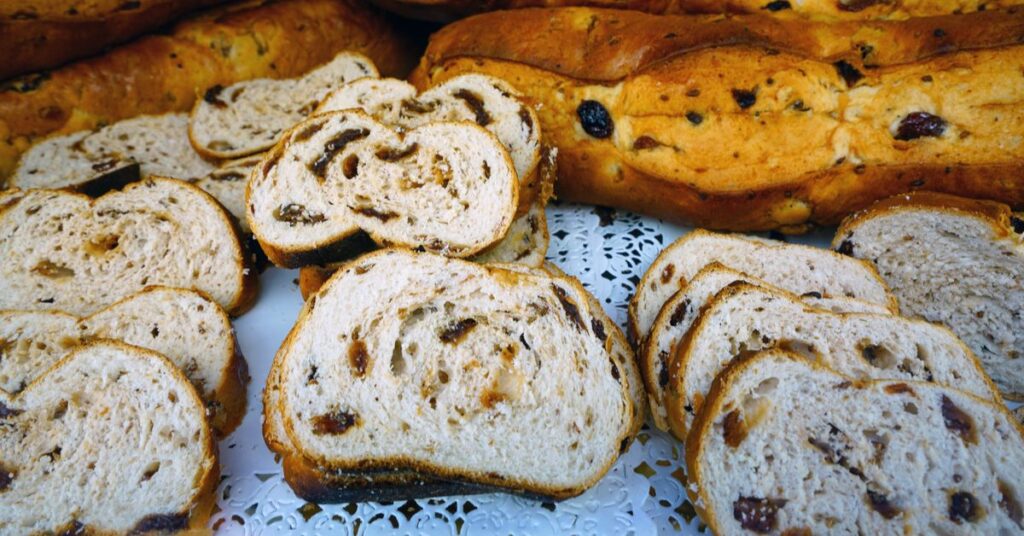 The buccellato of Lucca it is only one of the many specialties of the city of Lucca. It has ancient origins and is traditionally shaped like a circular ring, although oval versions are now more common for convenience.
The buccellato is a humble dessert made with simple and inexpensive ingredients. It has a glossy, golden crust and a soft, compact interior filled with raisins and anise seeds.
Fragrant and delicious, it pairs perfectly with a cup of tea or coffee for breakfast, or as a sweet treat after a meal, accompanied by a glass of wine or a shot of anise liqueur.
56. Castagnaccio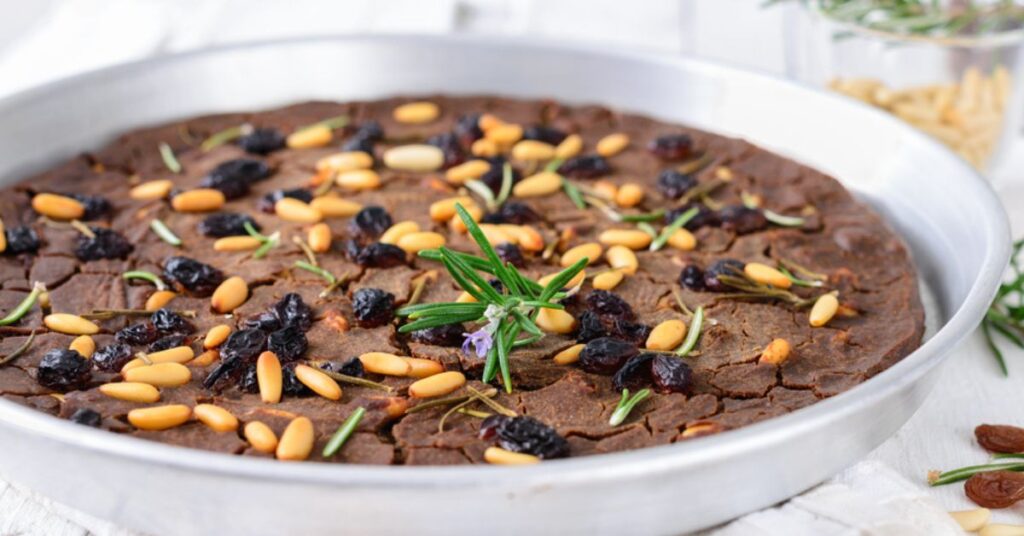 Castagnaccio it's a traditional dessert that dates back to ancient times and is closely associated with the Tuscan region, a rustic and humble dessert made primarily from chestnut flour, pine nuts, raisins, and rosemary.
It's a simple yet flavorful treat that captures the essence of the Tuscan countryside. In Tuscany, it is typically baked in a shallow copper pan, and seasoned only with olive oil and rosemary.
When you take a bite of Castagnaccio, you'll experience a unique combination of nutty flavors from the chestnut flour, the subtle sweetness of the raisins, and the aromatic touch of rosemary. It's a delightful blend of rustic simplicity and natural ingredients that will transport you to the heart of Tuscany.
57. Gattò all'Aretina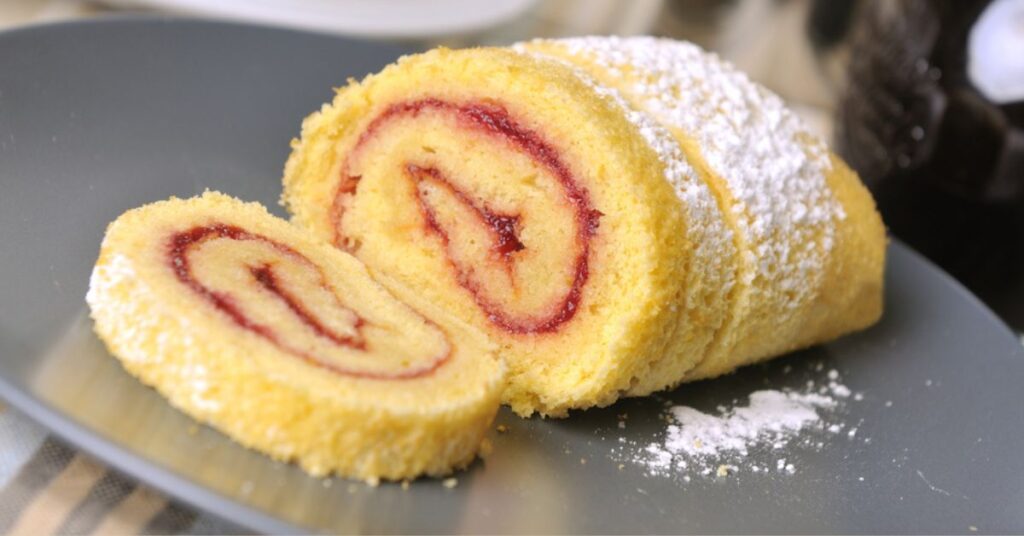 This delightful treat is a typical dessert of the Arezzo province, originally served at weddings and banquets in the countryside. Today, you can find it at local festivals and in the display windows of pastry shops and bakeries throughout Arezzo and its surrounding areas.
Gattò all'Aretina is made up of a rolled sponge cake soaked in Alchermes liqueur (a beloved Tuscan liqueur with origins dating back to the Medici era) and filled with pastry cream and chocolate cream.
The word "gattò" comes from the French word "gateau," which means "cake." In Tuscany, this sweet roll is also commonly referred to as the "salame del re" or "king's salami."
58. Cenci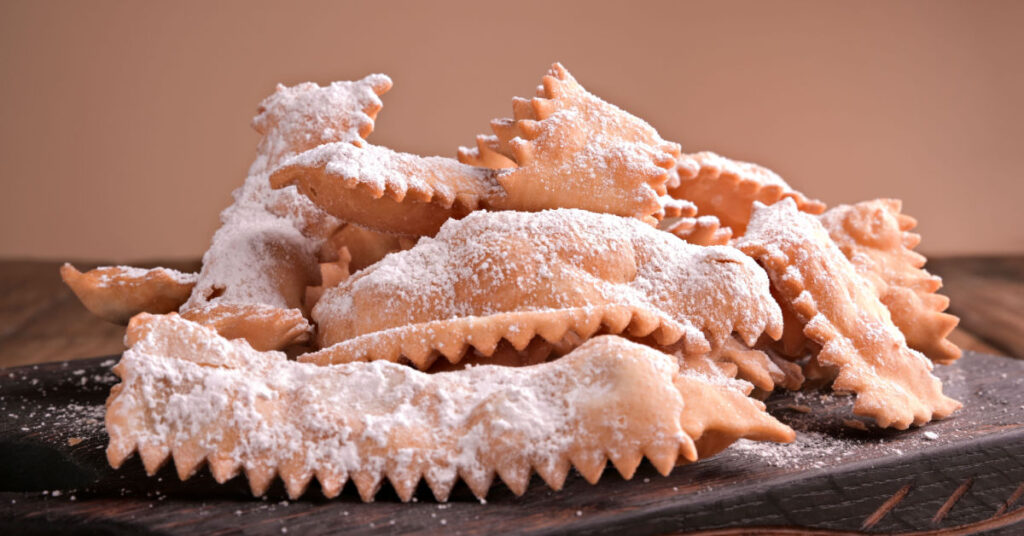 Cenci, also known as "frappe" or "chiacchiere" in other parts of Italy, are delightful fried pastries commonly enjoyed during Carnevale season in Tuscany and beyond. These small treats are made from a simple dough of flour, eggs, sugar, and Vin Santo (a sweet dessert wine), fried until golden, and dusted with powdered sugar.
Cenci have become a symbol of Tuscan culinary tradition, cherished not only in Italy but also around the world for their deliciousness and historical significance.
You can find Cenci during Carnevale festivities in Tuscany, where they are often sold in bakeries, pastry shops, and even at street stalls. They are a delightful indulgence that brings joy and a touch of sweetness to the festive atmosphere.
59. Pesche di Prato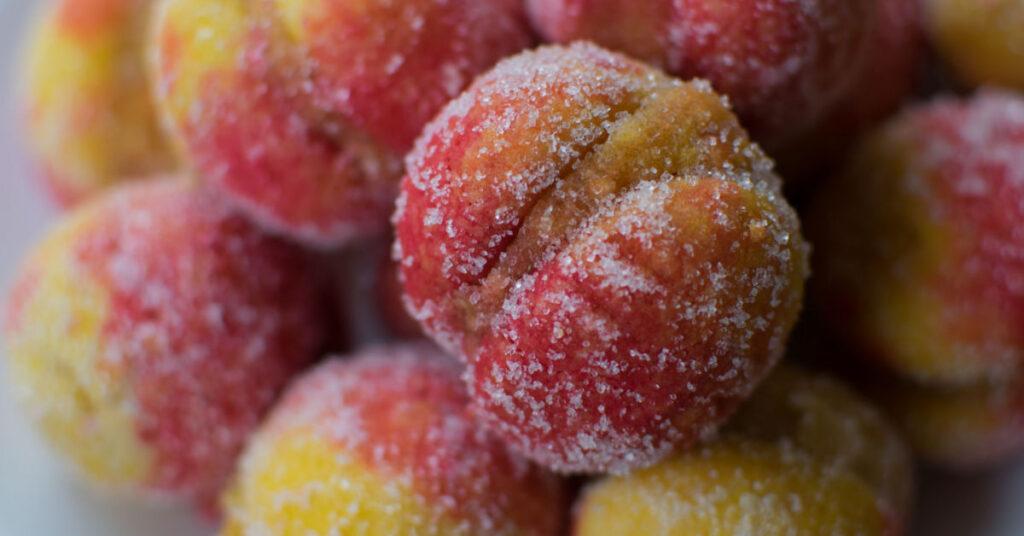 These sweet treats originated in Prato and are named after the city. They consist of two brioche pastry hemispheres (with a shape similar to peaches, "pesche" in Italian) filled with a creamy custard that binds them together. The pastries are soaked in a spiced syrup called "alkermes," which adds a unique flavor profile with hints of vanilla.
The surface of the pastry is pleasantly crispy, thanks to the sprinkling of granulated sugar. As you chew, the flavors dance in your mouth, and at the end, you're left with a touch of aromatic cinnamon. It's a harmonious and soft dessert that will please any traditional dessert lover.
You can find Pesche di Prato in pastry shops and bakeries throughout Prato and other parts of Tuscany. They are perfect for enjoying with a cup of coffee or as a sweet treat after a meal.
60. Scole Pistoiesi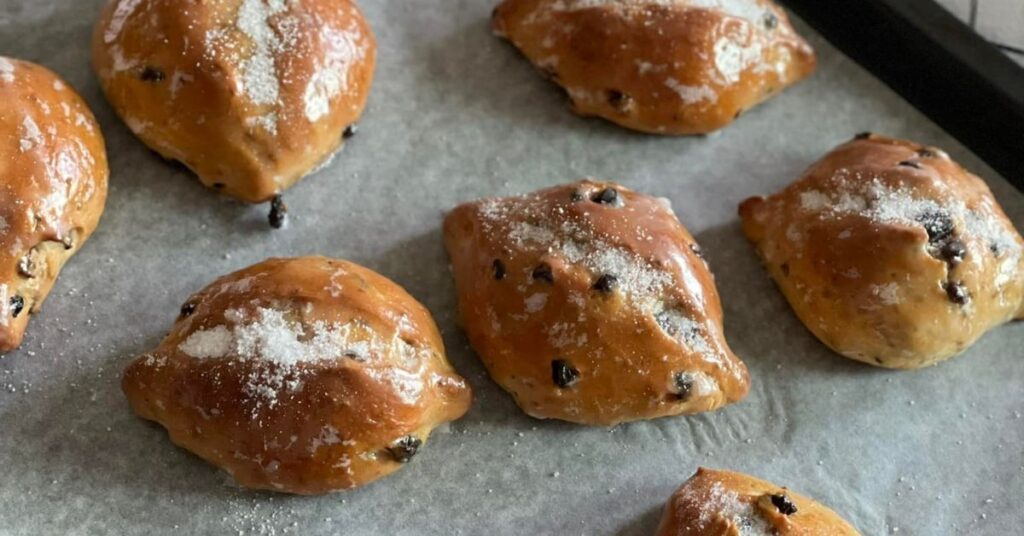 Scole Pistoiesi are a typical dessert from the Pistoia area, traditionally made during the Lenten period. These are simple, semi-sweet rolls with a long history.
Years ago, in the countryside and mountains, bread was baked in wood-fired ovens, which could easily reach high temperatures. This posed a challenge as the bread batch would often get burnt. To test the oven temperature, they would tear off small pieces of dough, flatten them on a paddle, drizzle them with oil, sprinkle some salt, and put them in the oven.
Today Scole are a delightful treat with a unique flavor profile, combining the sweetness of the bread with hints of anise and salt, typically enjoyed as a snack or dessert. You can find them in local bakeries or pastry shops in Pistoia.
61. Puppe di Monaca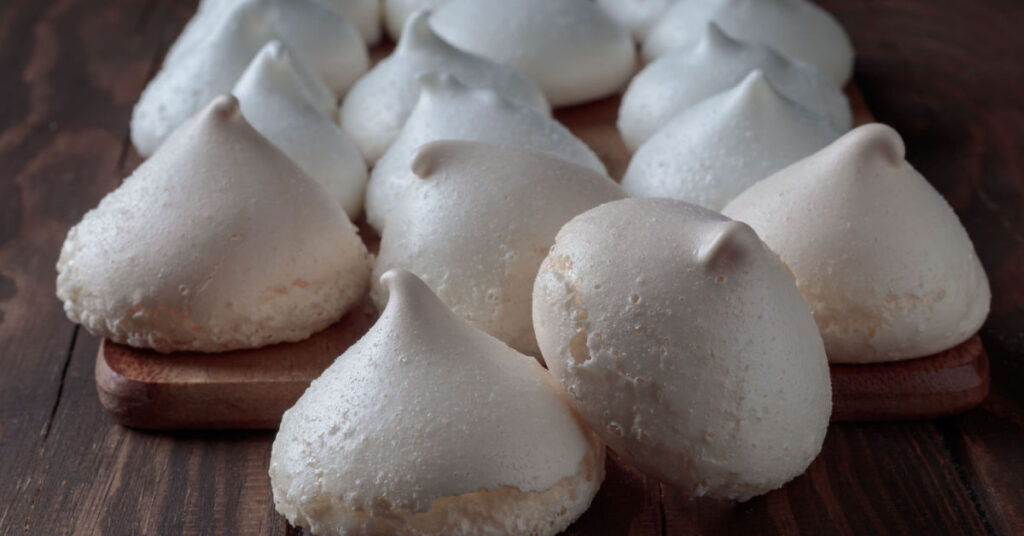 Puppe di Monaca in Prato are essentially meringues. But do you know why they're called "Nun's Dolls"? Well, the shape of these sweet treats resembles a female breast, and their white color matches the attire of nuns.
These sweet delights are part of the pastry tradition in Prato. You can find them in local bakeries or pastry shops throughout the year.
62. Cavallucci di Massa Marittima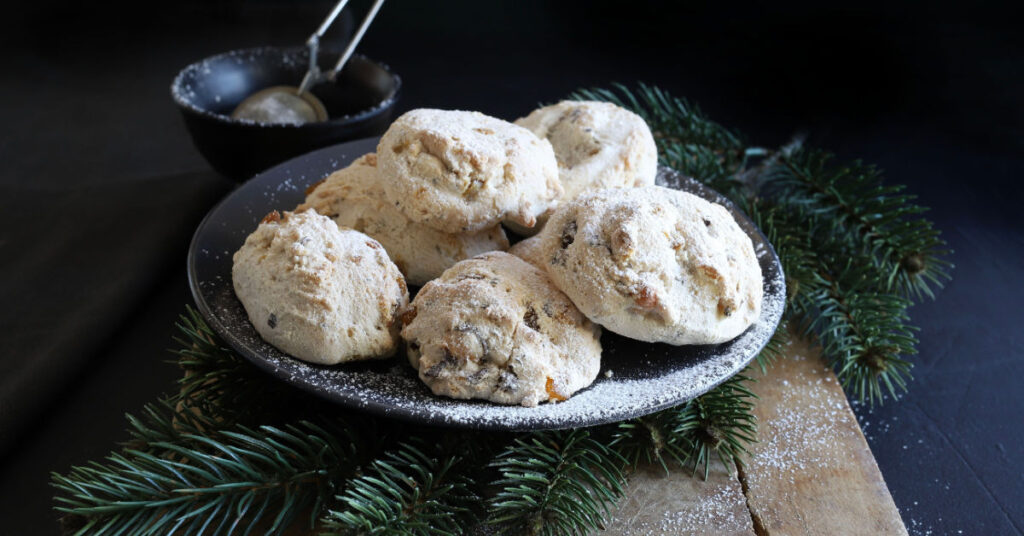 Cavallucci di Massa Marittima are rustic and irregularly shaped cookies that pack a punch in both size and flavor. They have a whitish color, a dense and spongy texture, and a taste that combines the richness of walnuts, the aromatic hint of anise, and the sweetness of candied fruits.
These cookies are quite hard, so they are often enjoyed by dipping them in sweet wines like Aleatico, Passito, or Vin Santo.
Also known as "morsetti," Cavallucci cookies have their origins in the peasant tradition and date back to the 16th century. They were traditionally exchanged as a symbolic gift during festive occasions. The name "cavallucci" comes from the fact that they were commonly used by the "cavallai," the horse handlers at the post stations where travelers changed their horses.
63. Scendiletto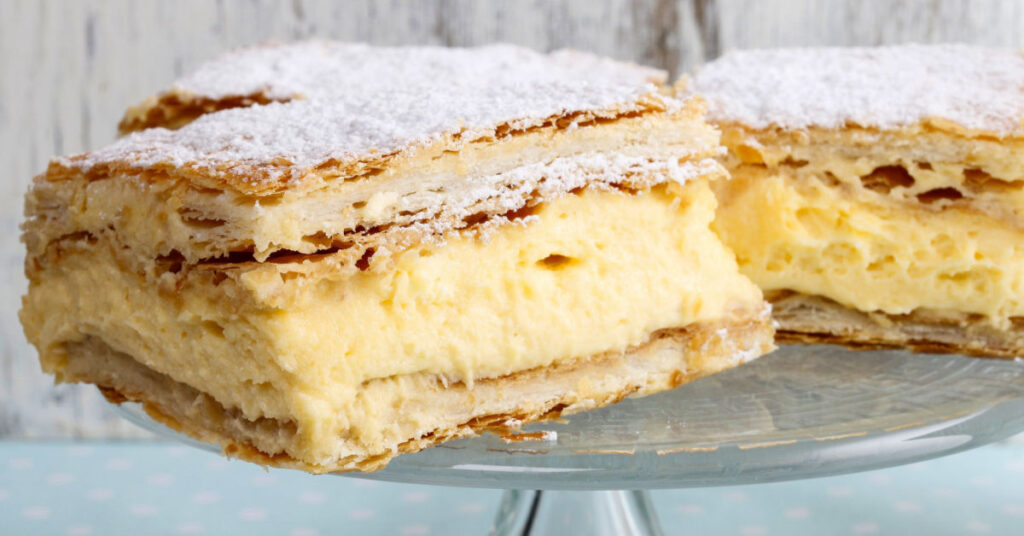 The "Scendiletto" cake is a typical Tuscan dessert with a name that has two possible origins. One interpretation relates it to the carpet placed at the foot of the bed or the woman's dressing gown, both known as "scendiletto." Or another interpretation: the deliciousness of this pastry with puff pastry and pastry cream is a great reason to get out of bed.
This dessert is a delightful treat, perfect for indulging your sweet tooth. Its creamy and flaky texture, combined with the delicate sweetness of the pastry cream, creates a heavenly experience. You can find Scendiletto cake in traditional bakeries, pastry shops, and even some restaurants throughout Tuscany.
64. Frittelle di Riso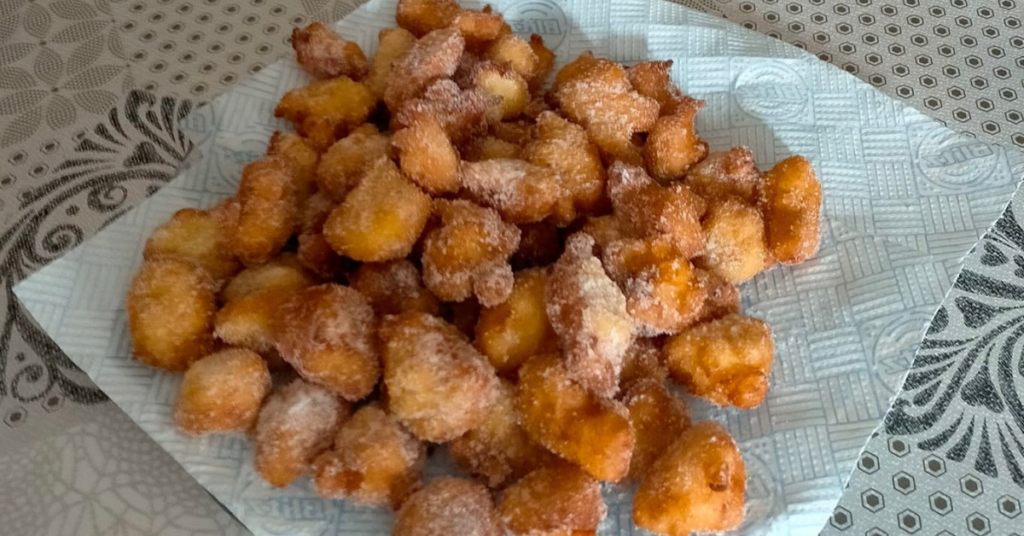 Frittelle di Riso or Rice Fritters, are a popular dessert enjoyed during festive occasions in Tuscany. Originating from the Renaissance period, these fried delights hold a special place in the hearts of locals and top-notch chefs alike.
The preparation involves cooking rice in a mixture of water and milk, with a touch of vanilla and orange zest. Once the rice is cooked and cooled, it is combined with eggs, a sprinkle of flour.The mixture is then shaped into rounds or desired forms before being deep-fried in sunflower oil until golden and crispy.
These fritters are traditionally enjoyed during the festivities of San Giuseppe, a celebration honoring fathers in Tuscany, but you can find them year-round in local pastry shops or specialty fritter shops known as "Frittellari".
65. Pan di Ramerino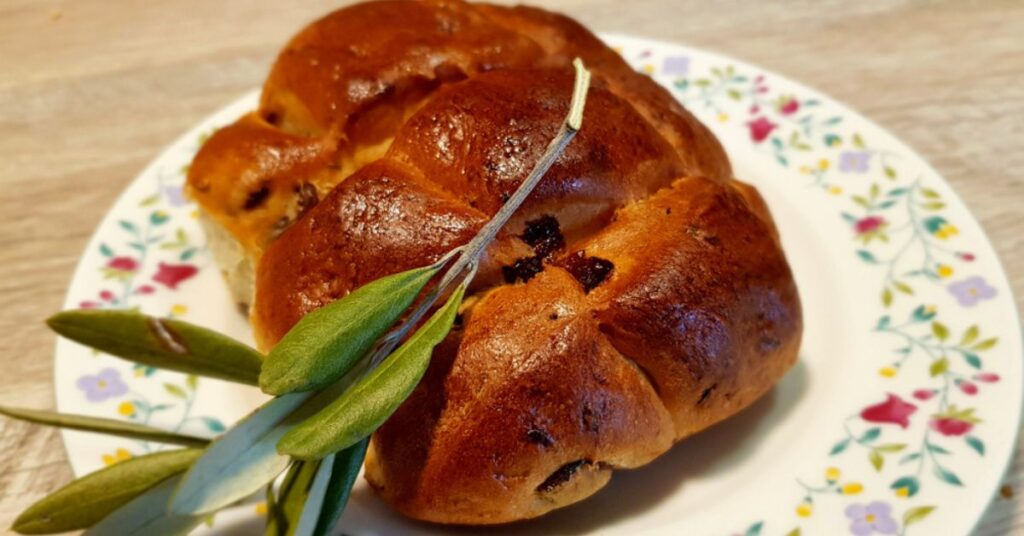 Pan di Ramerino, a fragrant and delicious Tuscan treat, is a bread roll enriched with a hint of sugar, raisins, extra virgin olive oil, and rosemary.
In Tuscany, it is called "ramerino," and it belongs to the tradition of Tuscan sweet bread known as "pandolci." These bread rolls were traditionally made in spring, especially leading up to Easter (click the link for more Easter sweets), and have been mentioned since medieval times.
While it used to be consumed on Holy Thursday, nowadays you can find it available for a much longer period, with some bakeries offering it year-round.
Pan di Ramerino is a versatile treat that can be enjoyed as a snack or paired with savory dishes. The combination of the subtle sweetness from the sugar and raisins, the aromatic olive oil, and the fragrant rosemary creates a delightful flavor profile that tantalizes the taste buds.