As an Italian, I can tell you that every time I have the opportunity, I visit Lucca. Even just for a weekend, I don't miss the chance to take a walk on the Renaissance walls…but of course, the primary motivation for my visits is always the typical foods that this city offers!
If you want to discover the gastronomic wonders of this Tuscan city with many faces, you're in the right place. I have made a list of all Lucca's traditional dishes, that you absolutely must try every time you go there.
Of course, I have my own preferences when it comes to Lucca's culinary delights, even though this list will be as complete as possible. Below, I will give you my personal selection of foods that I never fail to taste every time I visit Lucca.
Lucca: 13 Must-Try Local Delicacies
1. Tordelli Lucchesi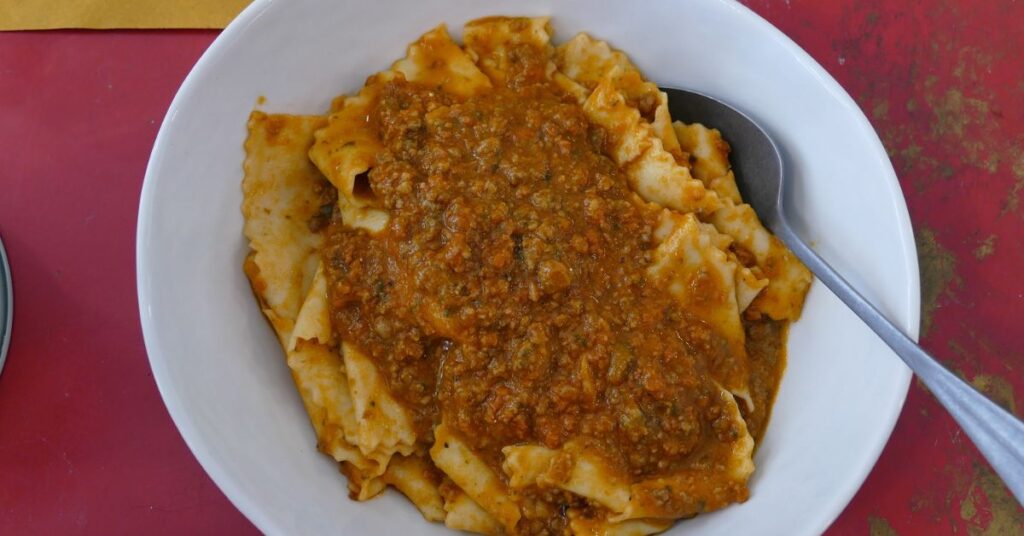 A traditional first course that's very rich and flavorful: Tordelli alla lucchese is a type of fresh stuffed pasta filled with a mixture of ground meat, mortadella, grated cheese, and aromatic herbs.
The filling can vary depending on the recipe, for example, you can add cooked and drained chopped herbs, or you can brown the meat with a mixture of onion, carrot, celery, and garlic. You can also substitute some of the mortadella with chopped prosciutto crudo. The tordelli pasta is always large and has a characteristic half-moon shape.
This pasta is usually served with a meat ragù sauce, but if you prefer a lighter version, you can toss the tordelli with melted butter, sage, and grated Parmigiano-Reggiano cheese.
You can find tordelli alla lucchese in many restaurants and trattorias in Lucca, but also in other parts of Tuscany.
I've tried tordelli alla lucchese several times, and I can say that it's definitely worth a try if you're pasta addicted like me. Let me know if you end up trying it and what you think!
2. Zuppa di Farro Lucchese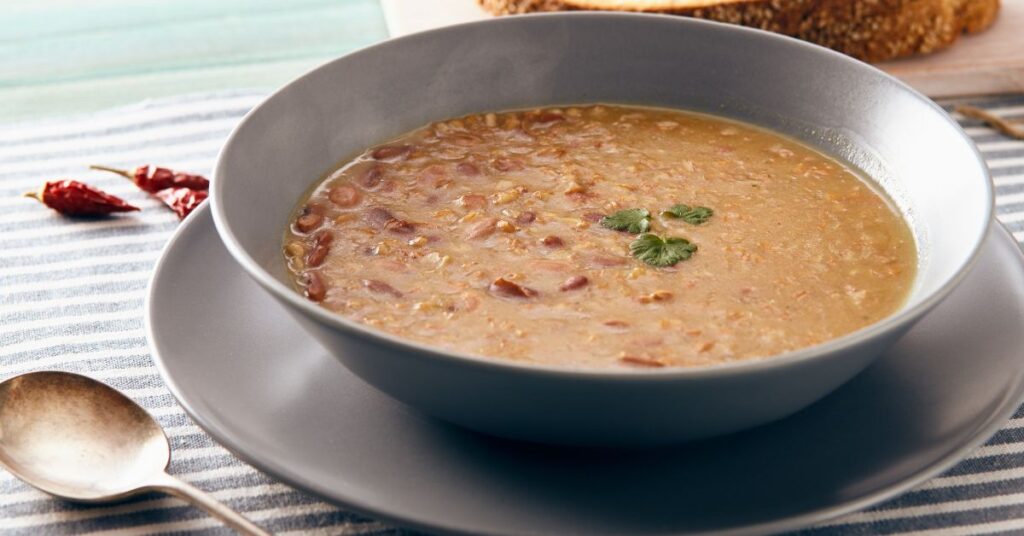 An ancient dish that brings authentic medieval flavors to the table: Zuppa di Farro alla Lucchese is a delicious and hearty soup made with farro, a type of ancient grain similar to spelt. It's a first course dish, typically served as a main meal. The main ingredients are farro, beans, lard, tomato, and vegetables such as onion, garlic, celery, and carrot.
The dish has a rich and earthy flavor, with a creamy texture from the mashed beans. The farro adds a nutty taste and a chewy texture that pairs perfectly with the savory tomato and vegetable broth. It's a comforting and satisfying meal that will warm you up on a chilly day.
You can find Zuppa di Farro alla Lucchese in traditional restaurants and trattorias in Lucca and the surrounding area. It's a staple dish in Tuscan cuisine, and you can also find it at local food festivals and events. Here you will find a fairly exhaustive list of Tuscan foods.
In terms of Italian eating habits, Zuppa di Farro alla Lucchese is a perfect example of the country's focus on using simple, fresh, and high-quality ingredients to create flavorful and wholesome meals.
3. Zuppa Frantoiana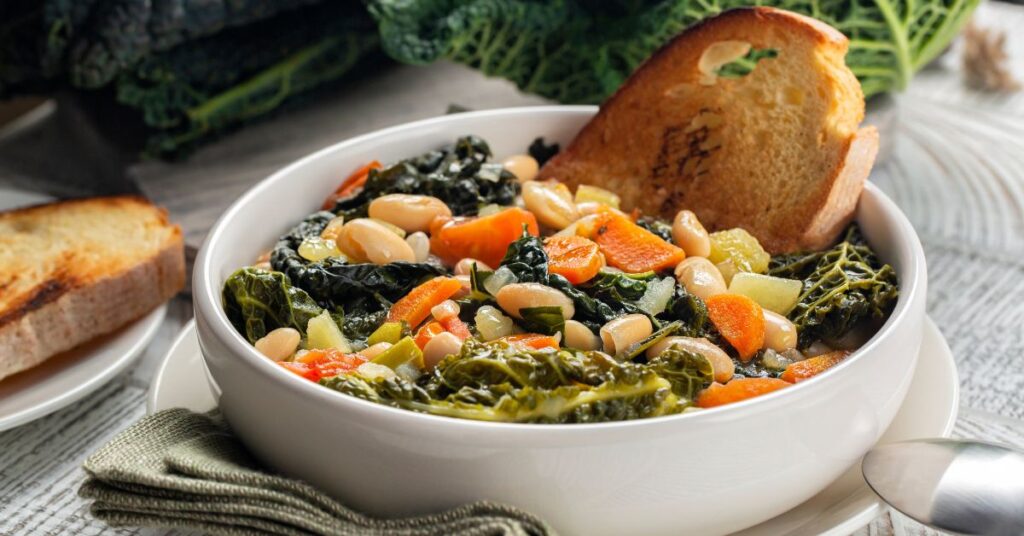 Another traditional Tuscan soup called Zuppa Frantoiana, a first course made with seasonal vegetables like carrots, potatoes, zucchini, celery, and kale, along with fresh borlotti beans. The name "Frantoiana" comes from the fact that it was originally prepared during the olive oil production period when the mills (frantoi in italian) were in full swing.
The dish is quite simple but the combination of these ingredients creates a delicious flavor that is enhanced when enjoyed with toasted bread and freshly pressed, slightly spicy, new olive oil.
It's typically prepared in the autumn months when the vegetables are in season and the new olive oil is available.
As for the significance of this dish in Italian cuisine, it's a testament to the Italians' love of simple, fresh ingredients that are available seasonally. It's a dish that truly embodies the idea of "cucina povera," or peasant cooking, as it uses humble ingredients to create a delicious and nutritious meal.
4. Matuffi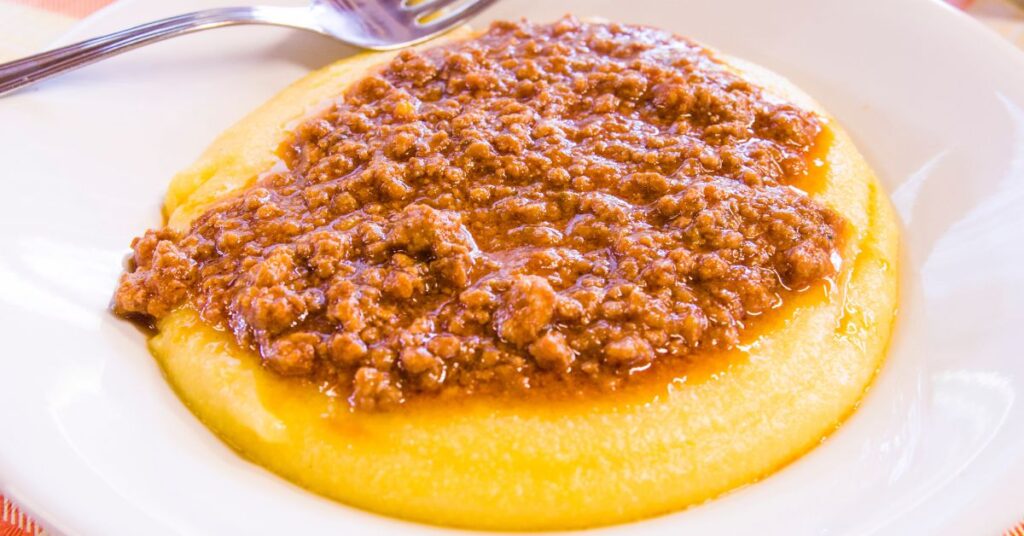 It's a first course made up of layers of steaming polenta alternated with layers of a robust mixed meat ragù. The polenta in Matuffi should have a creamy consistency, not firm. Delicious variations include Matuffi with porcini mushrooms or with wild boar ragù.
Polenta is a dish made from boiled cornmeal, and ragù is a meat-based sauce usually made with ground meat, tomatoes, and vegetables.
The taste of Matuffi is rich and hearty, perfect for a chilly day. The creamy polenta and savory ragù complement each other perfectly. It's a filling and satisfying dish that will leave you feeling warm and cozy.
It's a dish that's meant to be enjoyed slowly, savoring each bite. Trust me; you won't regret trying it!
5. Garmugia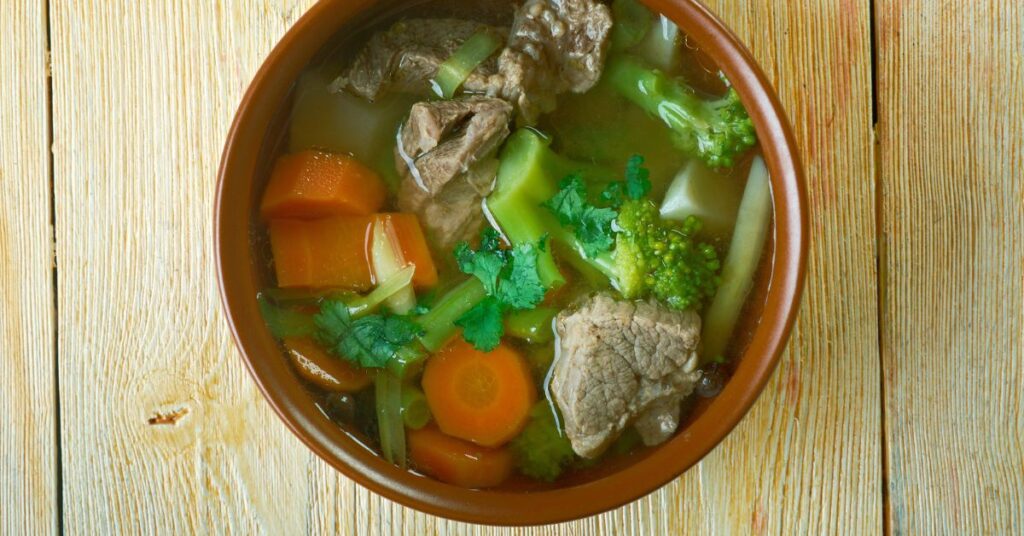 This dish from the Lucchesia area dates back to the 1600s, and it's a delicious soup made with spring vegetables and ground meat.
The Marchesa Maria Luisa Incontri Lotteringhi della Stufa (incredibly long name, but you know… the nobility) revived this ancient soup in her book "Pranzi e Conviti" in 1965, where she recommended it as a restorative dish to help sick people regain their health.
Is a primo (first course) dish, and its main ingredients are fava beans, peas, scallions, asparagus, ground beef, and chicken broth.
The name "Garmugia" has different theories on its origin. Some say it comes from the Tuscan dialect word "germiglio," which means "sprout," because of the fresh vegetables used in the recipe.
Others believe that the name derives from the French word "gourmet." Either way, a good plate of Garmugia with a slice of Tuscan bread is simply heaven!
You can find Garmugia in some traditional trattorias and restaurants in Lucca and the surrounding areas, but it's not very common on menus. It's usually served in spring when the vegetables are in season, so you might have to look for it during that time.
6. Rovelline Lucchesi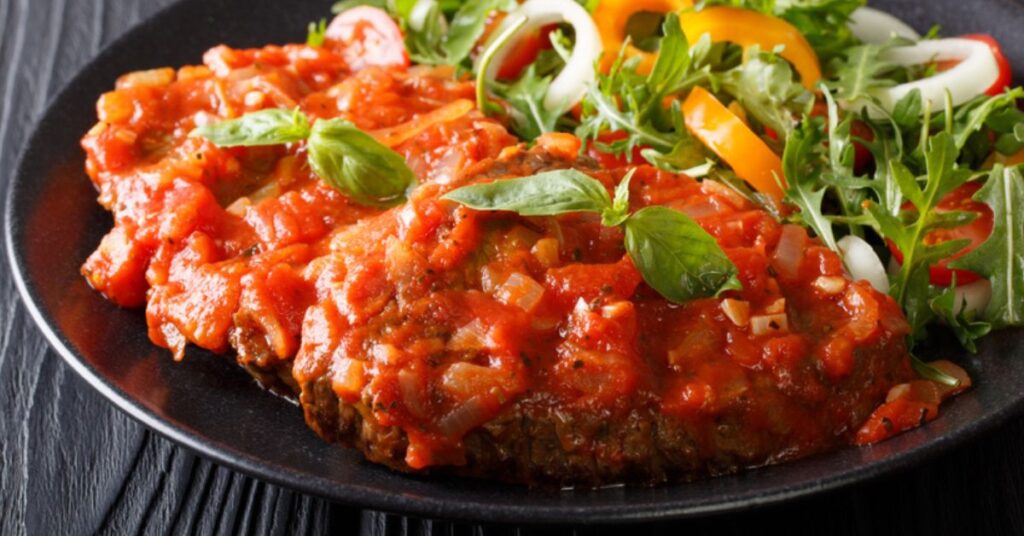 This is a simple yet tasty meat-based dish, traditionally made by using leftover fried beef slices, which are breaded and then cooked in a tomato sauce with capers and herbs. The dish is said to have originated during the Napoleonic era, when Austrian soldiers stationed in Lucca introduced the technique of breading meat.
Nowadays, "Rovelline Lucchesi" is a popular dish that you can easily find in restaurants and trattorias in Lucca and its surroundings. It's a typical second course that you can enjoy with a variety of sides, such as vegetables or potatoes.
The dish has a savory flavor and a crispy texture, thanks to the breading and frying process. The tomato sauce adds a slightly acidic note, while the capers provide a tangy flavor that balances the dish.
If you're a meat lover, you definitely shouldn't miss this dish during your stay in Lucca. You can try it in many restaurants and trattorias, but my personal recommendation would be to look for a traditional family-run place, where you can taste the real homemade version of "Rovelline Lucchesi".
7. Biroldo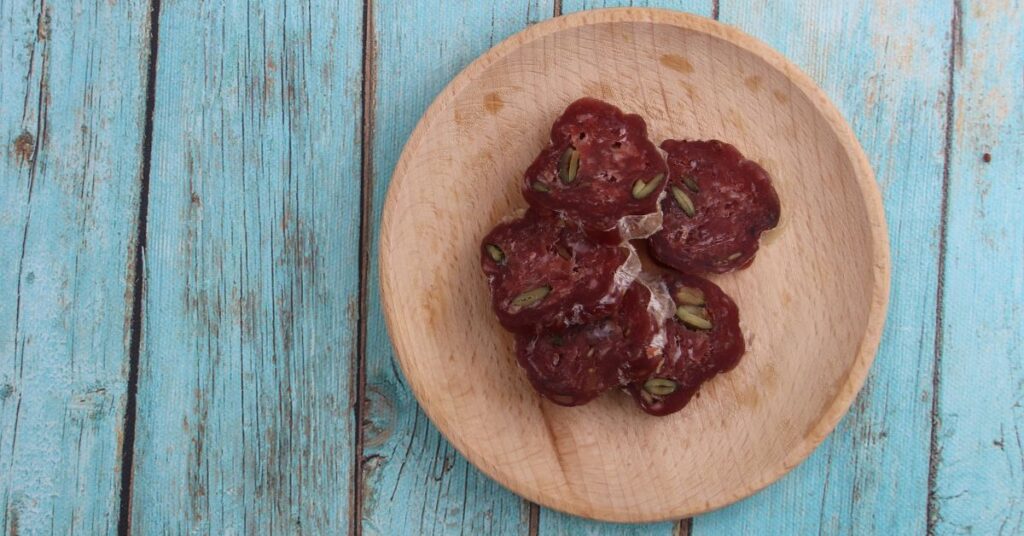 A type of salami made from the less noble parts of the pig, such as the head, skin, tongue, and various entrails. The main ingredient is pig's blood, making it a type of "blood sausage."
Biroldo has humble origins and was often consumed by the poorest farmers in the Lucca area. However, it has since gained popularity and is now even a Slow Food Presidium, appreciated by foodies and those interested in the latest food trends, although in Italy the use of pig's blood in cooking is certainly not new.
Biroldo is typically served as an antipasto or snack, sliced thinly and enjoyed with bread or cheese. Its taste is quite unique and may take some getting used to. It's savory and slightly spicy, with a dense and chewy texture.
You can find Biroldo in many traditional Tuscan restaurants or trattorias. It's also available in some bakeries or butchers shops.
8. Pane di Patate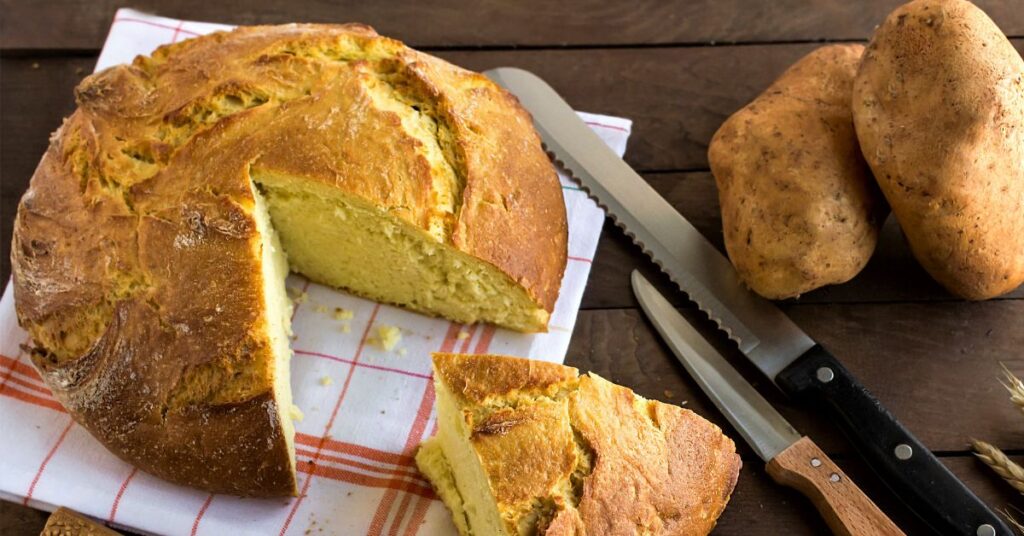 The Potato Bread: this type of bread has a long tradition in the Garfagnana area, where potatoes have always played a significant role in the local economy and diet.
Potatoes grown in Sillano, at an altitude of 1200 meters, are small, red, tasty, and compact. They were once boiled and mashed into the bread dough to save flour, but now they are added to make the bread more flavorful and moist, giving it a unique taste that distinguishes it from ordinary Tuscan bread.
This bread is now produced by only a few family-run bakeries that still use the traditional method of boiling and mashing potatoes into the dough instead of using potato starch. One of the best places to find the authentic Garfagnino bread is at the "L'Arte del Pane" bakery run by the Enia sisters and their nephew Simone in Castelnuovo di Garfagnana.
If you want to try Garfagnino potato bread, you can find it in most bakeries and supermarkets in the Garfagnana region, especially in Castelnuovo di Garfagnana. It is usually eaten as a side dish to complement various types of meals or as a snack on its own.
Potato bread has a unique taste that is more intense than ordinary bread, but you won't necessarily feel the aroma or taste of potatoes. Instead, you'll notice a more savory and moist texture that melts in your mouth, leaving a subtle aftertaste.
9. Torta d'Erbi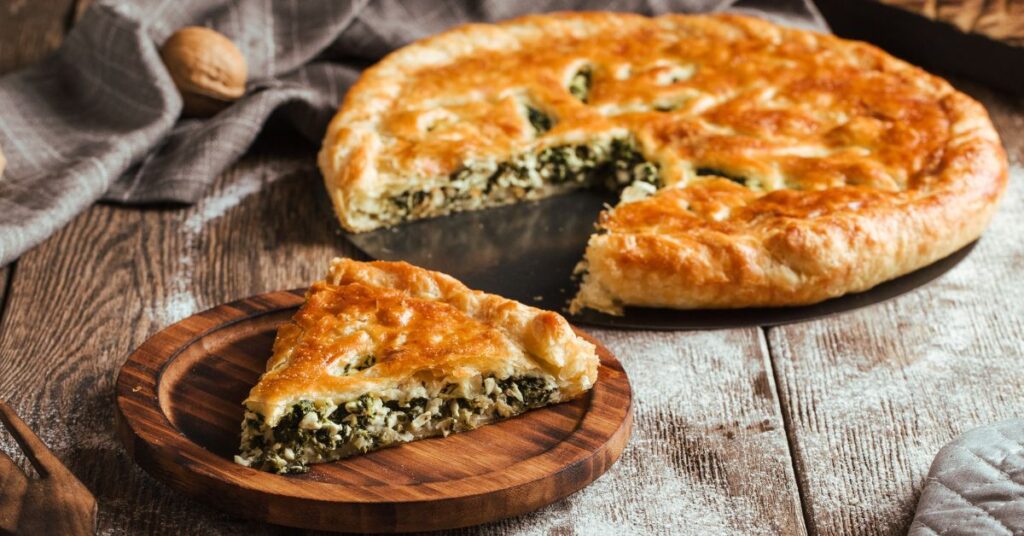 In Lucca you can't miss Torta d'Erbi, my choice of street food when I go to Lucca, is a savory pie that is the traditional recipe of Saint Zita, one of the co-patron saints of Lucca, celebrated on April 27th with flower shows and markets throughout the historic center. The aroma of flowers blends with that of Torta d'Erbi, which is prepared in homes and sold at local bakeries.
This pie combines the sweet taste with the savory one. It has a base of shortcrust pastry and a filling of chard, pine nuts, raisins, but also stale bread, sugar and unusual aromas given by citron, candied fruit and cinnamon.
You can find Torta d'Erbi in local bakeries and pastry shops, especially during Saint Zita's celebration, but it's also available year-round in Lucca's restaurants and trattorias.
10. Coniglio in umido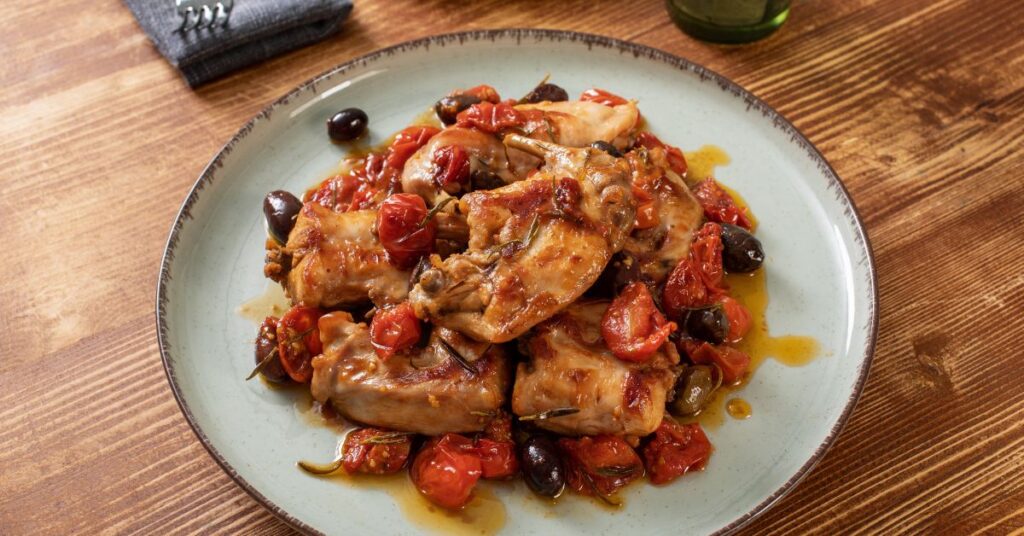 You definitely need to try one of the most traditional and delicious dishes of Tuscan cuisine: Coniglio in umido, in English known as rabbit stew.
This dish is a second course and the main ingredients are rabbit, tomato sauce, olive oil, black olives, garlic, onions, and fresh herbs such as rosemary and thyme. The rabbit is first browned in olive oil, then slowly cooked in the tomato sauce and herbs until it becomes tender and juicy.
The addition of black olives gives a unique salty and briny taste to the dish, while the fresh herbs add a fragrant aroma, you'll be blown away by the rich and intense flavors of the tomato sauce, the savory and tender meat of the rabbit, and the aromatic blend of herbs.
You can find Coniglio in umido in many restaurants and trattorias in Lucca and the surrounding areas, especially in the fall and winter seasons when the rabbit is at its best. If you're lucky enough, you might also find it in some local food festivals or fairs, where you can taste the most authentic and traditional version of this dish.
In Italy, rabbit meat is considered a delicacy and it has been part of the Tuscan cuisine for centuries. Many local farmers and breeders still raise rabbits and use them in their recipes, following the same ancient techniques and traditions.
As a local myself, I can tell you that Coniglio in umido is one of my favorite dishes and it's definitely worth a try if you want to taste the authentic flavors of the Tuscan cuisine.
11. Pecorino della Garfagnana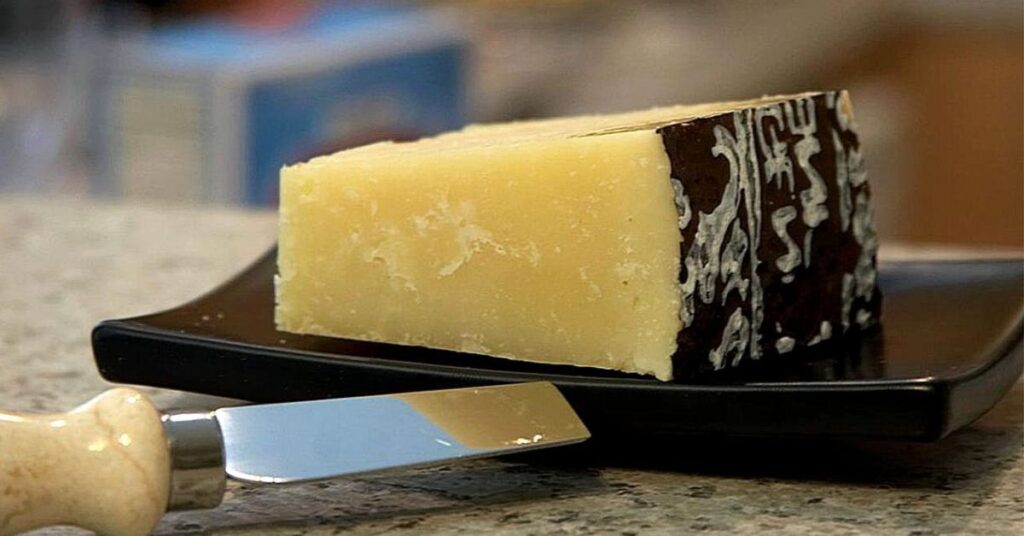 Pecorino is a fatty cheese, available either fresh or aged for a short or medium amount of time, with a soft or semi-hard texture. It's made from raw milk from a single herd, which is immediately processed and curdled with veal rennet. Can be eaten immediately after salting as a fresh cheese, or let it age on poplar or chestnut wood boards.
In the fresh version, the cheese has no rind and a soft outer layer that's white in color. The cheese is soft, without any holes. The aged version has a rind that's a straw-yellow or light brown color and a semi-hard pale-yellow interior. It's great as a table cheese and pairs well with honey, and it goes best with low-alcohol white or red wines.
You can find this cheese at local restaurants, trattorias, bars, markets, delis, or specialty food shops in Lucca and the surrounding areas. It's perfect for a light lunch or as a snack with some bread and honey.
12. Buccellato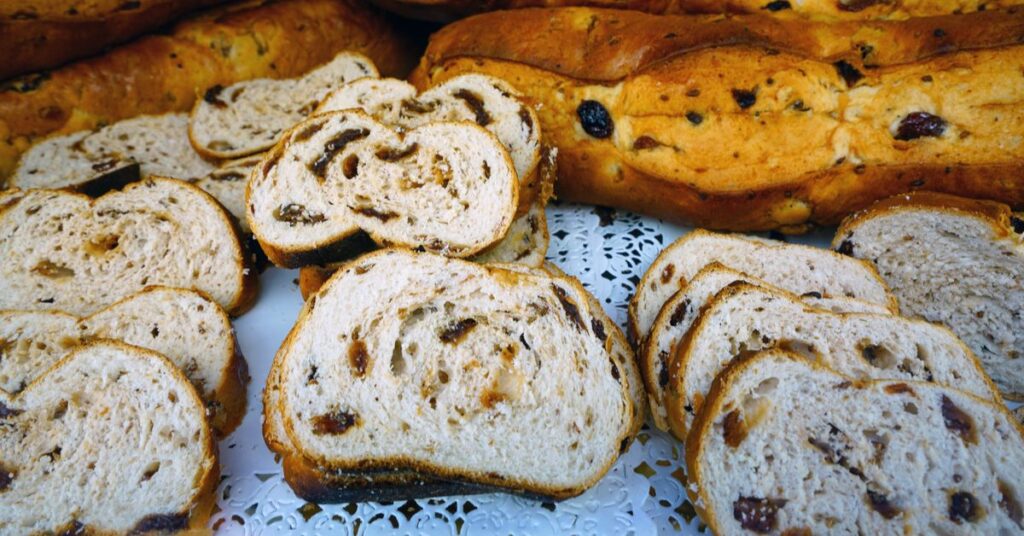 Now let me tell you about one of the sweet treats that you can find in Lucca, buccellato: is a typical sweet bread, a baked good with very ancient origins, with a characteristic circular and ring shape that has recently given way to a more convenient oval versions to package and transport.
The Buccellato of Lucca is a humble dessert made with simple and poor ingredients: it has a shiny and golden crust that encloses a compact and soft interior filled with raisins and anise seeds.
Fragrant and delicious, it's perfect to be dipped into a cup of tea or coffee in the morning for breakfast or served at the end of a meal with a glass of wine or a shot of anise liqueur. Also is my go-to sweet street food in Lucca, and talking about foods to eat on the street in Tuscany, read the link and thank me later…
The name "Buccellato" comes from the Latin "buccellatum," which means "bread to be transformed into pieces, small bites." Today you can find Buccellato in many bakeries and pastry shops in Lucca.
Personally, I absolutely love Buccellato! It's such a simple and humble dessert but it's full of flavor and perfect for a sweet treat any time of day. If you're visiting Lucca, I highly recommend trying it out!
13. Castagnaccio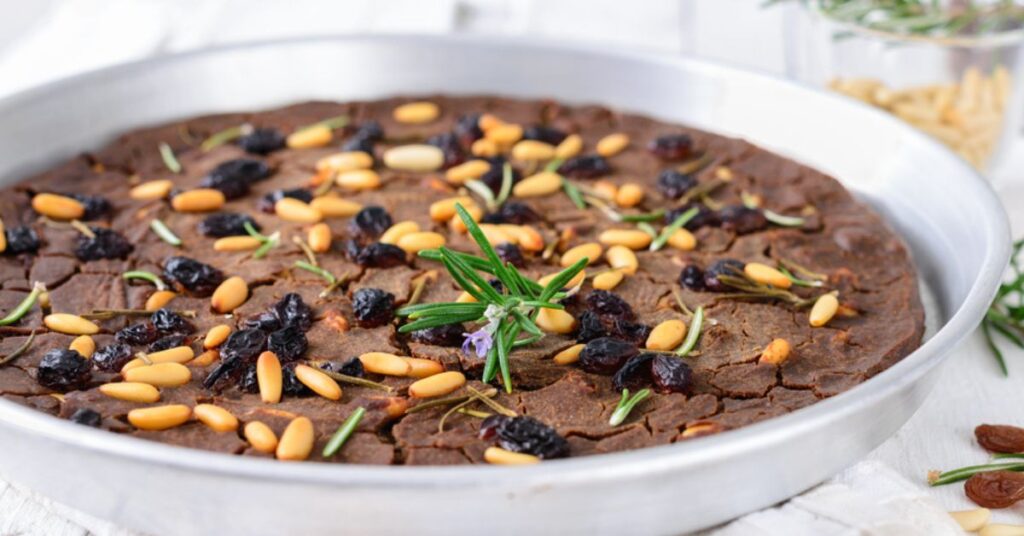 Another treat that you can't miss, Castagnaccio: a cake that's traditionally made during the autumn months in Tuscany. The word "castagnaccio" comes from "castagna," which means chestnut in Italian. The main ingredients of this cake are chestnut flour, water, olive oil, pine nuts, raisins, and rosemary.
The chestnut flour cake is baked in the oven and has a dense, chewy texture. When you take a bite, you'll taste the sweetness of the raisins and the pine nuts, which are slightly crunchy. The rosemary adds a savory note that balances out the sweetness. Overall, it's a unique and delicious combination of flavors.
You can find Castagnaccio in many bakeries and pastry shops in Lucca, as well as in other towns throughout Tuscany. It's often served as a dessert or a snack with a glass of red wine.
As an Italian, I can tell you that Castagnaccio is a dish that's close to my heart, above all because it was my Grandma Iolanda's main dish, I grew up enjoying her Castagnaccio! It's a staple of Tuscan cuisine and a must-try when you're visiting Lucca.
What would I choose if I were in a restaurant in Lucca
It's time for me to sit at the table and order. I couldn't wait for this moment after listing and describing all these foods. I really deserve it.
The appetizer: I am a lover of savory pies, and in Lucca, I would not miss a slice of Torta d'Erbi to eat as an appetizer.
First course: I am a fan of pasta, I mean every pasta dish literally, and visiting Lucca I can't help but order a plate of Tordelli Lucchesi of course.
Second course: game meat cannot be missed, so I would order a nice rabbit stew to be accompanied by some slices of potato bread, a pairing that I highly recommend.
Dessert: As you may have guessed from the list, I have a weakness for Castagnaccio. This cake made from chestnut flour and pine nuts is my obsession, and I never fail to taste it whenever I'm in Lucca.
More information about characteristic food from Lucca
Which dish or typical food from Lucca is suitable for vegans?
A suitable dish for vegans in Lucca is "Zuppa di Farro Lucchese," a hearty soup made with farro, beans, and vegetables like onion, garlic, celery, and carrot. It's typically served as a main meal and doesn't contain any animal products.
Which dish or typical food from Lucca is suitable for vegetarians?
A suitable dish for vegans in Lucca is "Zuppa di Farro Lucchese," a hearty soup made with farro, beans, and vegetables like onion, garlic, celery, and carrot. It's typically served as a main meal and doesn't contain any animal products.
What are the typical street foods of Lucca?
Typical street foods of Lucca include "Buccellato," a sweet bread filled with raisins and anise seeds, and "Torta d'Erbi", a shortcrust pastry with a filling of chard, pine nuts, raisins, candied fruit and cinnamon.
What is the typical dessert of Lucca?
The typical dessert of Lucca is "Buccellato," a sweet bread with a shiny and golden crust and a soft interior filled with raisins and anise seeds. It's perfect to enjoy with a cup of tea or coffee in the morning or as a sweet ending to a meal.