Having been born and raised in Florence, it wasn't easy to decide which food and dishes to include in this list and which ones to exclude. Florentine cuisine, in fact, consists of typical dishes from the city, but above all, Tuscan dishes inherited from the kitchens of nearby cities.
Therefore, I focused on truly Florentine dishes, as including all Tuscan dishes would have made this list extremely long.
The signature dishes of Florence are definitely the Florentine steak, obtained from the cut of the sirloin of Chianina breed cows; Ribollita soup, a hearty soup made with vegetables, beans, and bread; Peposo, a beef stew flavored with black pepper. We also have to mention Florentine tripe and the Lampredotto sandwich. Additionally, two must-try local sweets are Zuccotto and Schiacciata Fiorentina.
But now let's go into detail and take a look at each of the historical dishes of Florence that you absolutely must not miss.
1. Pappardelle al ragù di Cinghiale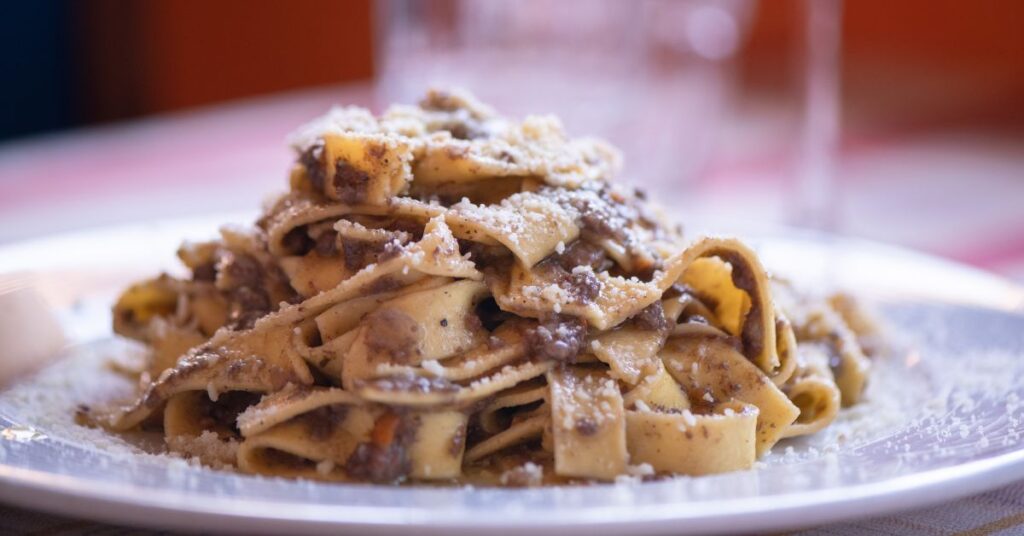 A mouthwatering pasta dish that's a true Florence specialty, the star of the dish is the boar ragù, a rich and flavorful sauce made with wild boar hunting (a tradition still very much alive today) in the woods near Florence. Pappardelle refers to the type of pasta used, which are wide and flat noodles.
Now, let me tell you about the taste experience you're in for. Picture this: tender strands of homemade pappardelle coated in a robust ragù made with slow-cooked wild boar, tomatoes, and aromatic herbs. The flavors are bold and earthy, with a hint of gaminess from the wild boar, each bite is a delightful combination of tender pasta and savory sauce that will transport your taste buds straight to Tuscany.
As an Italian who has savored this dish (many many times), I must say that the combination of homemade pasta and the rich, gamey ragù is simply divine. It's one of those dishes that truly captures the essence of Florence cuisine and leaves a lasting impression.
2. Peposo alla Fornacina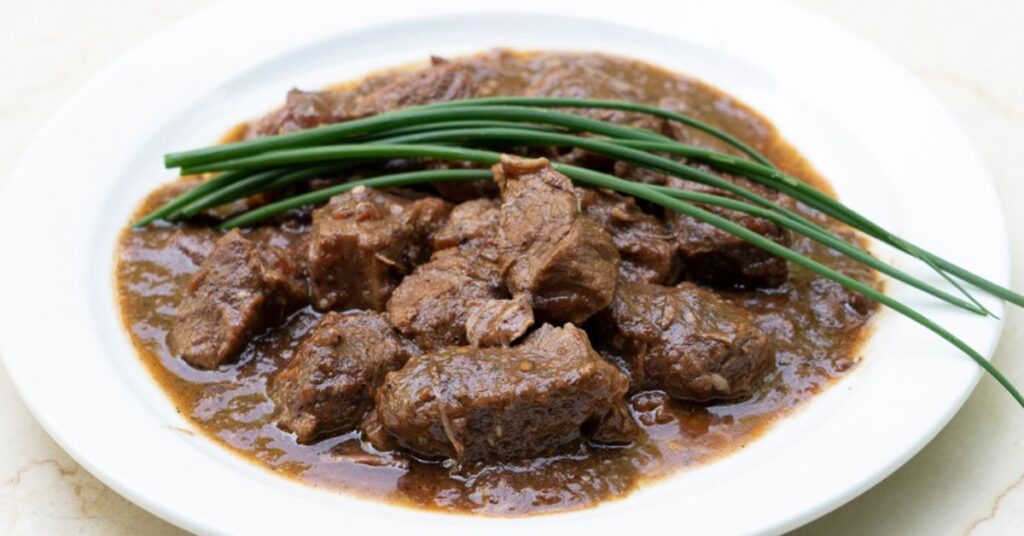 Peposo alla Fornacina is a beef stew flavored with black pepper that originates from Impruneta, a town in the outskirts of Florence. Historical research dates the preparation of this dish back to the time of Messer Filippo di Brunellesco Lapi (1377 – 1446).
The name "alla fornacina" comes from the fact that it was the typical dish of the "fornacini", the workers responsible for brick and tile production. They used to cook beef in terracotta containers placed at the mouth of the kilns where bricks were fired. The meat was seasoned with plenty of red wine and spices, probably to mask any less-than-fresh flavors.
In fact, this dish is so special that it even has its own production guidelines registered with the Trademarks and Patents Office of the Chamber of Commerce in Florence.
The traditional cooking methods include baking it in an oven, which needs to be heated for several hours beforehand, or simmering it in a terracotta pot on the stovetop. Once it's ready, it's usually served with toasted bread slices or mashed potatoes and vegetables.
Now, let's talk about the taste and sensations you'll experience when you take a bite. The beef muscle parts become incredibly tender and fall apart effortlessly. The rich flavors of red wine, garlic, black pepper, and herbs infuse the meat, creating a savory and aromatic explosion in your mouth.
The combination of tender beef, bold flavors, and unique cooking method make it a true Tuscan gem. Trust me, your taste buds will thank you for giving it a try!
3. Schiacciata Toscana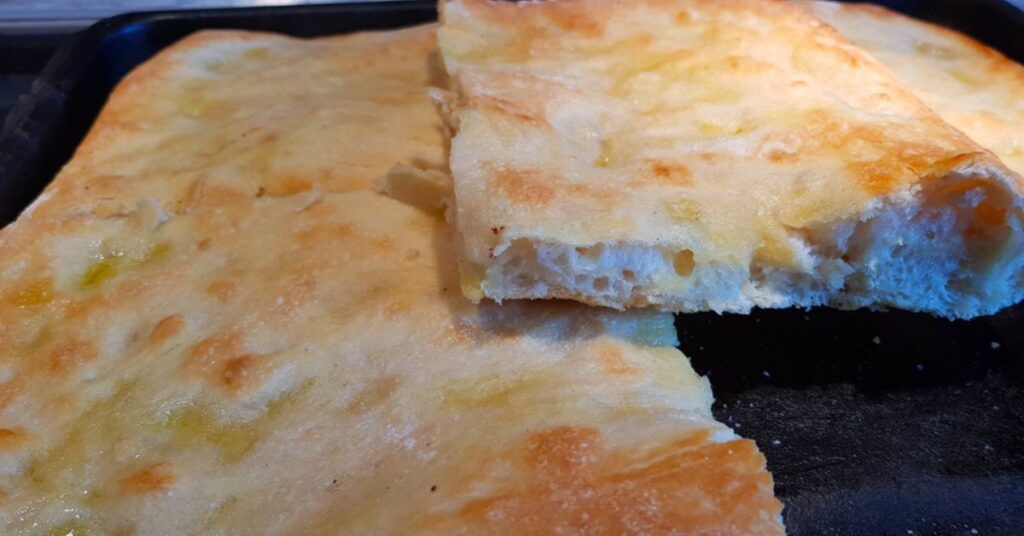 One of the most typical and ancient street foods you'll find in Tuscany, and it's the ultimate comfort food for us locals.
Schiacciata Toscana, also known as "schiacciata all'olio," "schiaccia," "ciaccia," or "stiacciata," is a savory flatbread that's often enjoyed as a snack, as a stuffed sandwich or as part of a meal. The word "schiacciata" means "pressed" or "flattened" in Italian, which perfectly describes its thin and crispy texture.
When you take a bite of Schiacciata Toscana, you'll experience a delightful combination of flavors. It's topped with simple ingredients like extra virgin olive oil, salt, and sometimes rosemary, which infuse the bread with a rich and aromatic taste. The outside is wonderfully oily and crunchy, while the inside remains soft and fluffy.
You can find Schiacciata Toscana practically everywhere in Florence and Tuscany, it's sold in bakeries, street food stalls that also sell other Tuscan delicacies, and even some restaurants and trattorias. One iconic place to try it is All'Antico Vinaio, with its mouthwatering fillings, his schiacciate have become a true sensation, not only in Florence but also across the ocean.
Trust me, once you try it, you'll understand why it's such a beloved part of Tuscan cuisine.
4. Panino col Lampredotto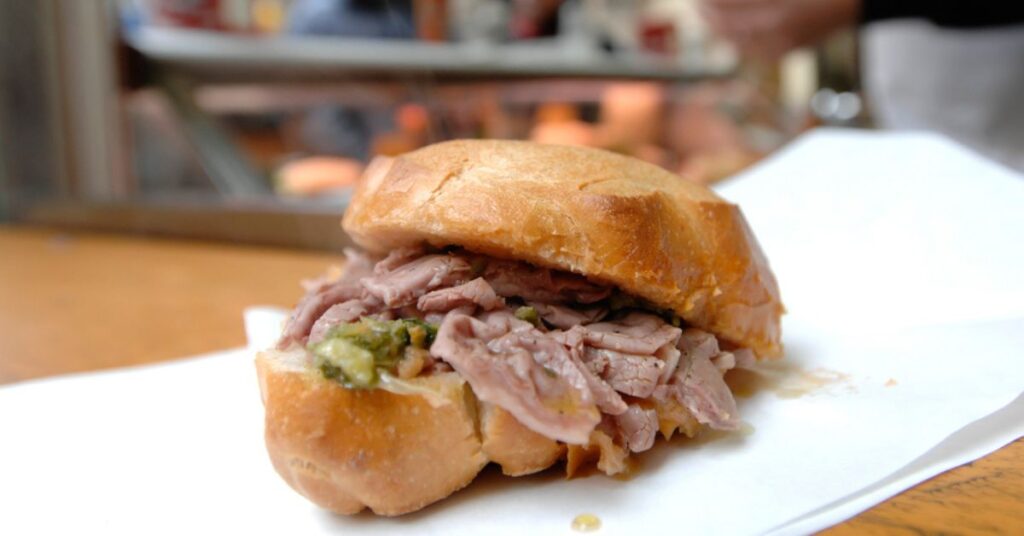 One food you gotta try in Florence: A sandwich with Lampredotto. Now, let me break it down for you. Lampredotto is a typical Florentine food, it's made from the fourth stomach compartment of cows, taste very similar to tripe… yep! We're diving into the world of offal here!
This classic Florentine sandwich is an experience you shouldn't miss. You'll find different variations of it all around town. Every true Florentine has their go-to "Trippaio" (lampredotto sandwich vendor), and there are also food trucks scattered throughout the city, filling the air with aromas.
The traditional recipe calls for dipping the top part of the bread quickly in the broth used to cook the lampredotto. It's then filled with a green sauce made of parsley, vinegar, bread, anchovies, and olive oil. But there are gourmet versions too, with added vegetables, pecorino cheese, and other tasty ingredients.
You can enjoy a Panino con Lampredotto in various places. Look out for small stands or food trucks specializing in street food. They're usually located in busy squares or local markets. It's a quick and affordable meal that you can savor on the go while exploring the city.
The combination of tender lampredotto, savory sauce, and the softness of the bread creates a burst of flavors in your mouth.
5. Ribollita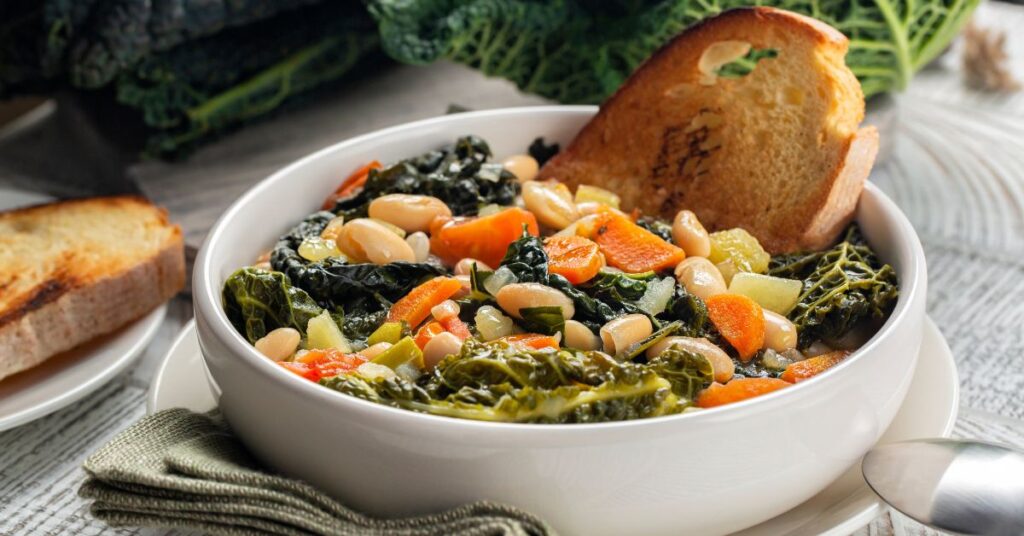 Ribollita is a hearty and warming first course that is a staple of Florentine cuisine, especially in the traditional "cucina povera" (peasant cuisine). It's essentially a soup made with stale bread and vegetables, with the key ingredients being black cabbage, Savoy cabbage, and beans.
The name "Ribollita" actually means "reboiled" in Italian, and it refers to the traditional method of preparing the dish. In the past, it was made on Fridays, which was considered a lean day, by combining leftover vegetables and simmering them multiple times on a low heat. The more it was cooked, the better it became for the following days!
It's comforting, earthy, and packed with flavors from the vegetables and beans. The bread soaks up all the goodness, giving it a thick and satisfying texture. Each spoonful will warm you from the inside out and make you feel like you're indulging in a rustic Tuscan feast.
You can enjoy Ribollita in various restaurants and trattorias in Florence. It's a popular dish throughout Tuscany, so you'll find it in many traditional restaurants.
6. Finocchiona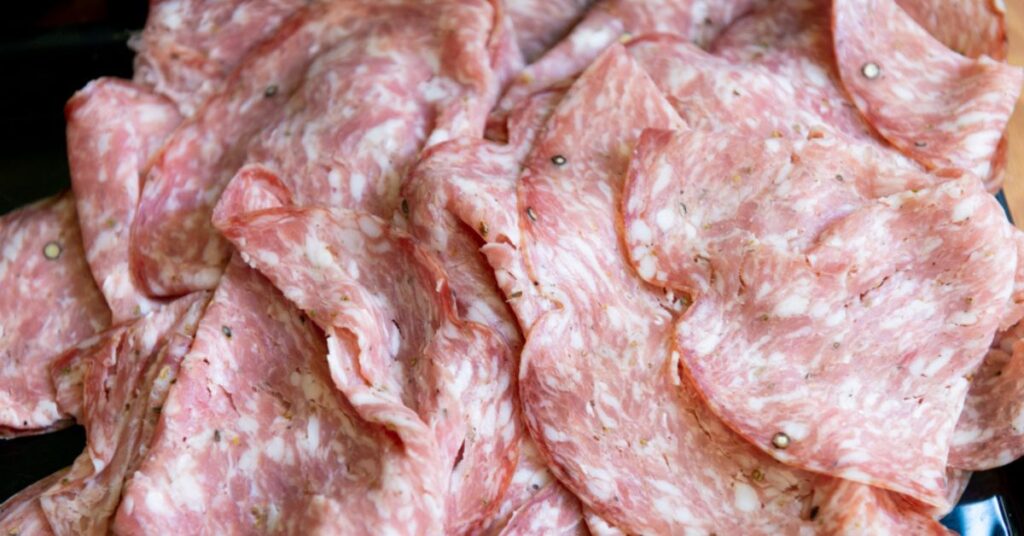 Finocchiona is a traditional Tuscan salami made from ground pork, flavored with fennel seeds, and moistened with red wine. Recognized as a Protected Geographical Indication (IGP) product.
Legend has it that Finocchiona dates back to the late medieval or Renaissance period, and even the famous Niccolò Machiavelli was said to be a fan. It originated in the Florence area, with claims from both Campi Bisenzio and Greve in Chianti.
Unlike regular salami, Finocchiona is crafted into larger forms. It's made using select cuts of pork belly and shoulder, then aged for a long period. What makes this salami truly unique is the addition of fennel seeds, which the Tuscans cleverly used to replace the more expensive pepper.
The preparation of Finocchiona has spread throughout Italy, and it's now a well-known cured meat both domestically and internationally.
There's also a variant called "sbriciolona," which has a coarser texture and shorter aging time. It's typically sliced thicker than the drier salami as it tends to crumble, hence the name "sbriciolona," meaning "crumbly" in Italian.
You can find Finocchiona in various places in Florence, including restaurants, trattorias, bars, and delicatessens. It's often served as part of a charcuterie platter or in sandwiches.
7. Trippa alla Fiorentina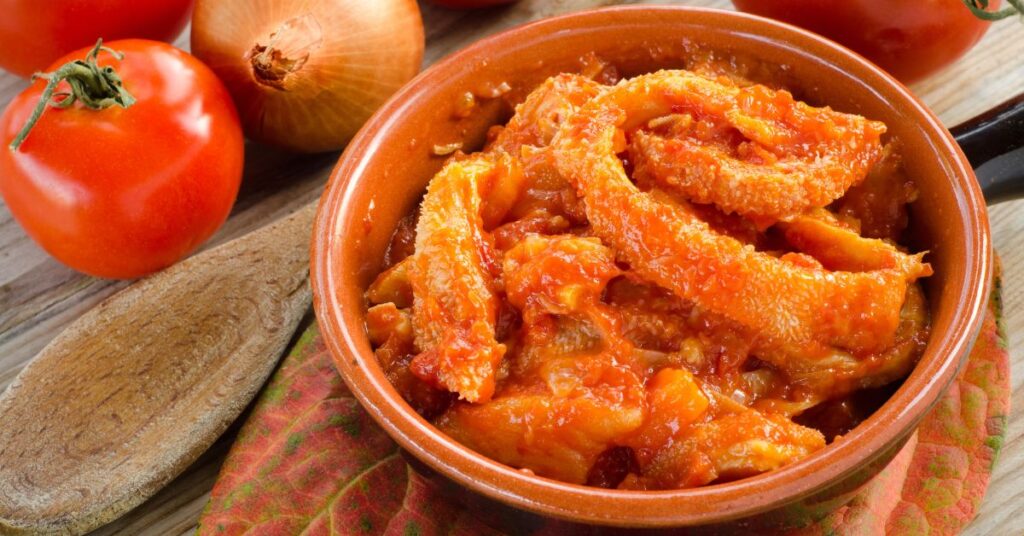 Another traditional Florentine gem dish that falls into the category of "secondo," which means it's a second course or main dish.
It's a dish made with tripe, which is the edible lining of the stomach of various animals, typically beef in this case. The tripe is cooked with peeled tomatoes, extra virgin olive oil, and a finely chopped mixture of celery, carrot, and onion. To add a flavorful finishing touch, it's topped with grated Parmigiano Reggiano DOP.
Now, let's talk about the taste and experience of Trippa alla Fiorentina. It has a unique and distinct flavor that is both simple and bold. The tripe becomes tender and absorbs the flavors of the tomatoes and the aromatic vegetables, creating a harmonious blend of savory goodness. The grated Parmigiano Reggiano adds a touch of creaminess and a delightful nuttiness to the dish, true florence food enthusiasts will appreciate.
When it comes to finding Trippa alla Fiorentina, your best bet is to look for it in traditional trattorias and local restaurants in Florence. These are the places where you'll find authentic and delicious versions of this Florentine specialty, it's also commonly found in street food stalls.
Now, as an Italian food lover, I have to admit that Trippa alla Fiorentina is not for everyone. It's a dish that celebrates the use of offal, which is a common practice in Italian cuisine. So, if you're feeling adventurous and want to try something unique to Florence, I encourage you to give it a go!
8. Bistecca alla Fiorentina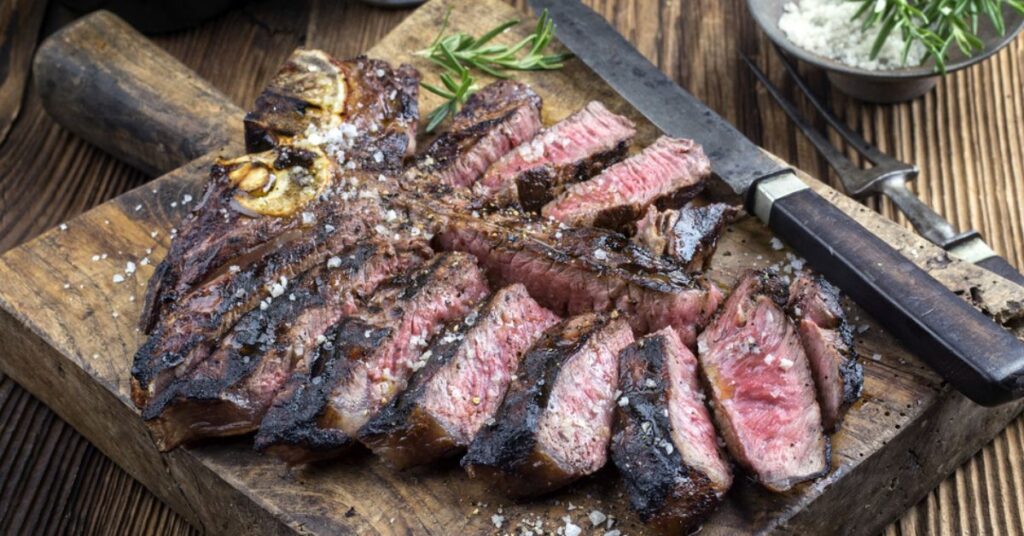 Bistecca alla Fiorentina, also known simply as Fiorentina, is a mouthwatering grilled T-bone steak that's a pride of Tuscan cuisine. The name "Fiorentina" refers to its origin in Florence, the heart of Tuscany. This dish features a thick-cut steak from Chianina beef, a local breed known for its tenderness and flavor.
Now, let me tell you about the taste sensation this steak delivers. Picture a perfectly seared, juicy steak with a smoky aroma. The meat is cooked "al sangue," which means it's rare and pink in the center, ensuring maximum tenderness. Every bite is a savory explosion of flavors, with hints of charred exterior and a buttery, melt-in-your-mouth texture. It's a carnivore's dream come true!
9. Piselli con il Rigatino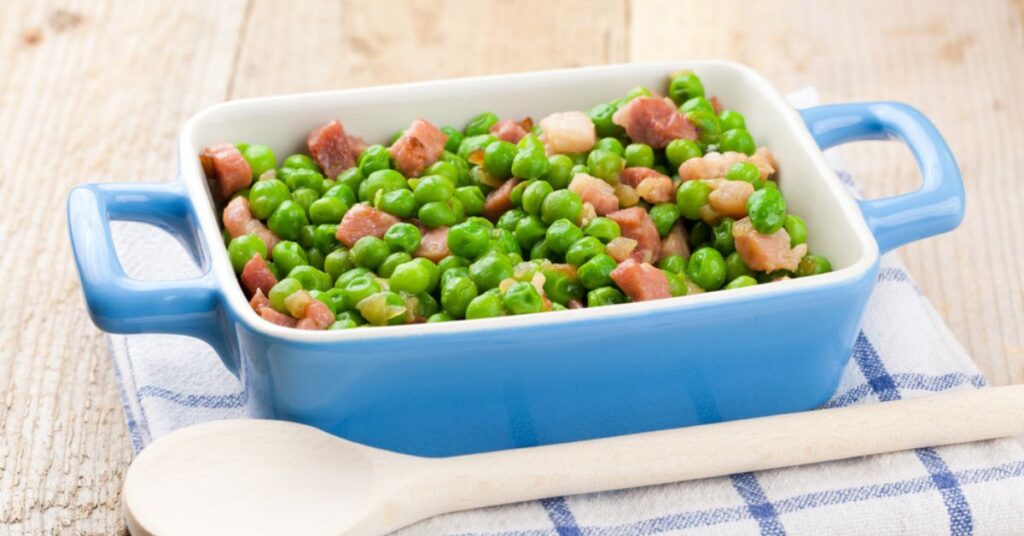 Piselli alla Fiorentina con il Rigatino, cooked peas with local bacon, is a typical side dish that you'll often find on the Sunday lunch menu. It's the perfect accompaniment to roasts and is loved by just about everyone.
Now, let's talk about the star of the show: not the peas… the rigatino! This Tuscan delicacy is a type of cured meat made from the upper part of the pig, specifically between the back (which is used to produce lard) and the belly (which gives us pancetta). It's a cured meat that's about 70% lean and 30% fat. It has a rectangular shape and is characterized by its rich aroma of spices.
The meat is seasoned with ground garlic and salt, leaving the rind attached. After about a week of resting, it's rinsed with vinegar to remove any excess salt and garlic, then generously coated with pepper and chili. The next step is to hang it in a well-ventilated room for several months to achieve perfect aging. And let me tell you, the rigatino is also fantastic when enjoyed on its own with some Tuscan bread.
Now, let's dive into the flavors! Piselli alla Fiorentina is a delightful combination of tender peas and the savory, slightly salty taste of the rigatino. The peas are cooked to perfection, maintaining their vibrant color and natural sweetness. When you take a bite, the flavors blend harmoniously, creating a mouthwatering experience that will leave you craving more.
10. Fagioli all'Uccelletto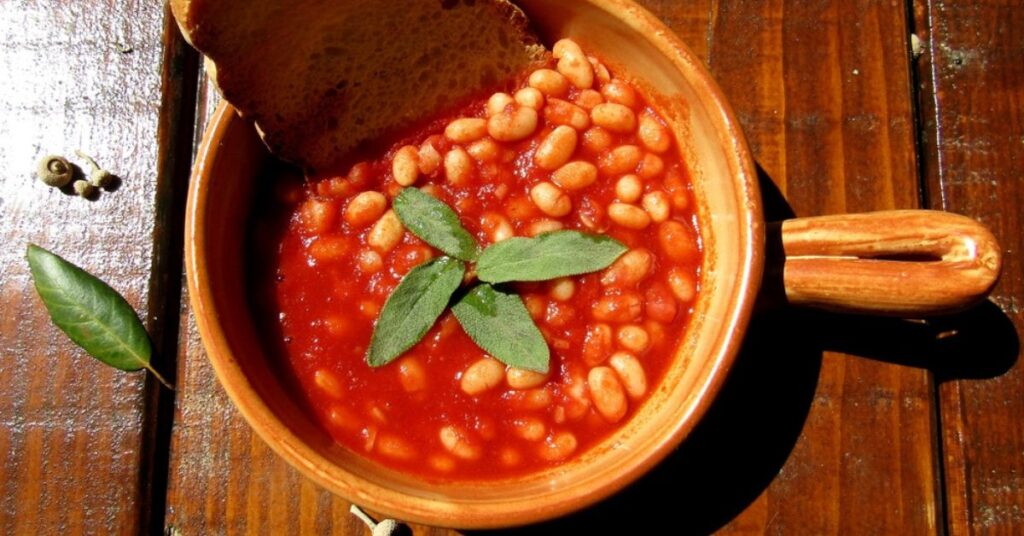 Fagioli all'Uccelletto is a typical recipe from the humble Tuscan cuisine, the main ingredient, as the name suggests, is beans (fagioli in italian), than extra virgin olive oil, tomato and sage.
Fagioli all'Uccelletto is typically served as a side dish, but in Tuscany, it's often enjoyed as a main course as well.
Fagioli all'Uccelletto has its roots in the culinary tradition of Tuscan farmers, especially those around Florence. The region has abundant bean cultivations, including white beans, red beans, borlotti, and cannellini. In fact, there's a Tuscan saying:
"Fiorentin mangia fagioli, lecca i piatti e i romaioli."
"Fiorentin eats beans, licks dishes and spoons."
The beauty of Fagioli all'Uccelletto lies in its versatility. It can be enjoyed as a satisfying and calorie-rich side dish or as a lighter and low-calorie main course.
11. Crespelle alla Fiorentina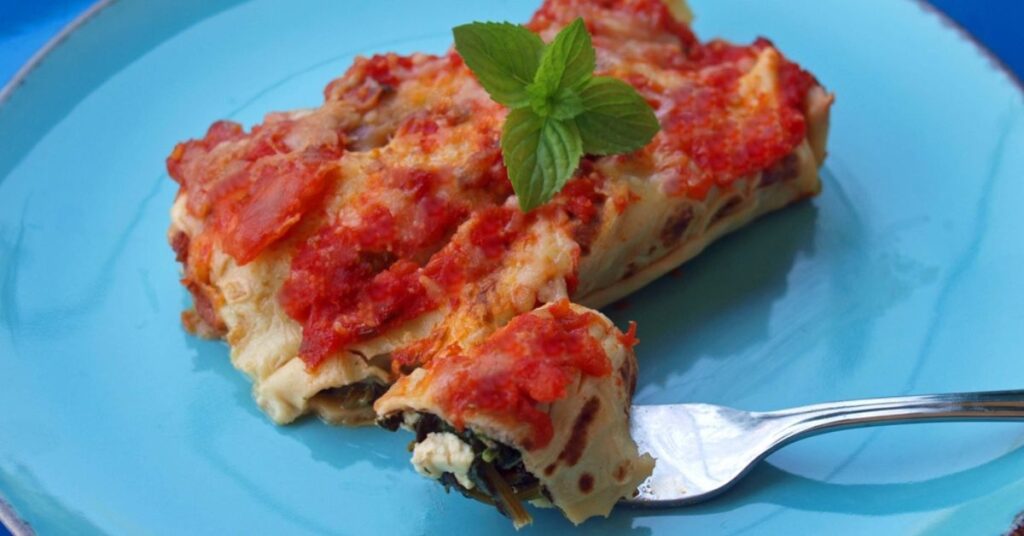 Let's talk about this delicious dish you can't miss when visiting Florence: Crespelle alla Fiorentina, these savory crepes stuffed with spinach and ricotta are a first course that can be enjoyed all year round, but they're particularly popular during special occasions like Christmas.
The term "crespelle" derives from "crespo," meaning "curly" or "wavy," just like the small folds that form on these delicious crepes during cooking.
As for the taste and texture, crespelle are heavenly! Picture delicate, thin crepes filled with a creamy mixture of spinach and ricotta cheese, and sometimes a touch of nutmeg. When baked to perfection, they become golden and crispy on the outside while remaining moist and flavorful on the inside, it's a delightful combination.
12. Gnudi alla Fiorentina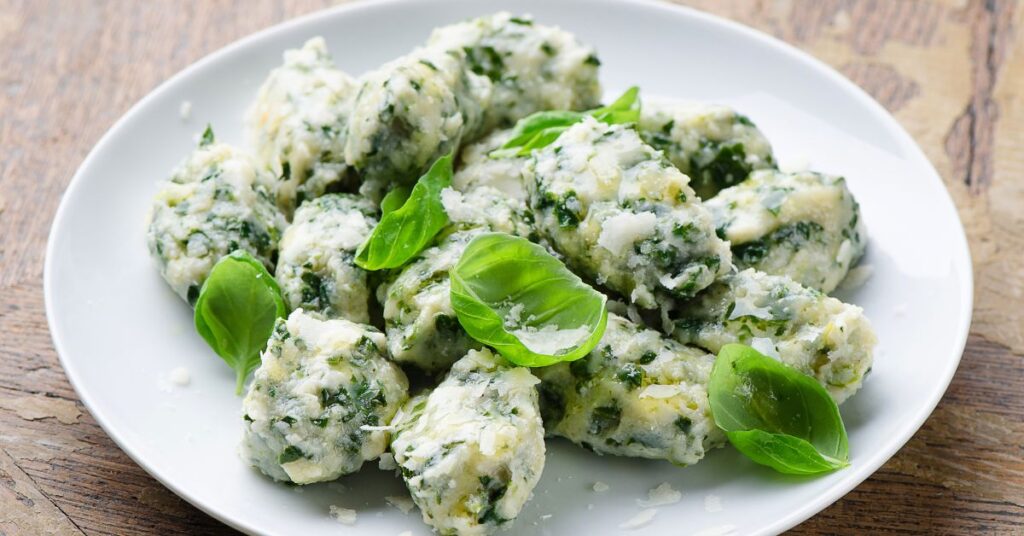 Gnudi are a type of dumplings that are often described as "naked ravioli" because they don't have the pasta shell that typically surrounds them. The name "gnudi" actually comes from the Tuscan word for "naked" or "bare," reflecting their stripped-down appearance.
Now, let's dig into what makes Gnudi alla Fiorentina so special. This dish is typically considered a primo, which means it's a first course. The main ingredients are spinach, ricotta cheese, Parmesan cheese, eggs, and a touch of flour. These ingredients come together to create delicate, pillowy dumplings that melt in your mouth.
When you take a bite of Gnudi alla Fiorentina, you'll experience the creamy ricotta and Parmesan cheese blend beautifully with the earthy taste of spinach. The texture is soft and velvety, and each gnudi is like a little cloud of deliciousness. It's truly a comfort food that will warm your heart.
You can find Gnudi alla Fiorentina in many traditional Florentine trattorias and restaurants. It's a classic dish that showcases the flavors of Tuscany.
13. Polpette di Lesso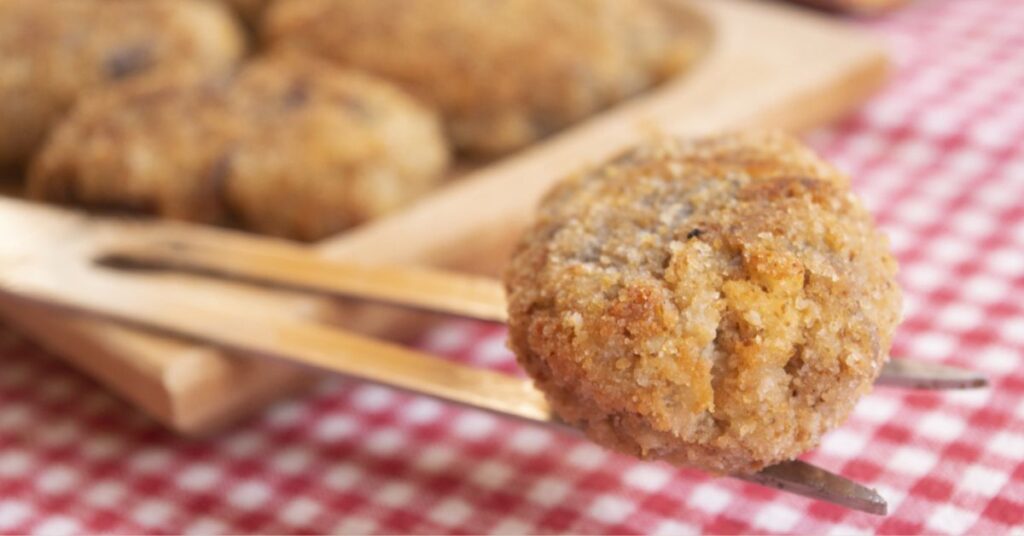 Polpette di Lesso, also known as Tuscan or Florentine meatballs, are a specialty that will leave you and your taste buds satisfied.
These delicious and fragrant meatballs are made using boiled beef, mixed with breadcrumbs, eggs, grated cheese, and aromatic herbs. They're then rolled into small balls and gently cooked. The result is a tender and flavorful bite that will have you craving for more.
You can find Polpette di Lesso in various restaurants, trattorias, and even some street food vendors in Florence. They're often served as a main course or as part of a meat-based meal. It's a popular dish among locals and visitors alike, so you won't have trouble finding it on menus around the city.
14. Cibreo Toscano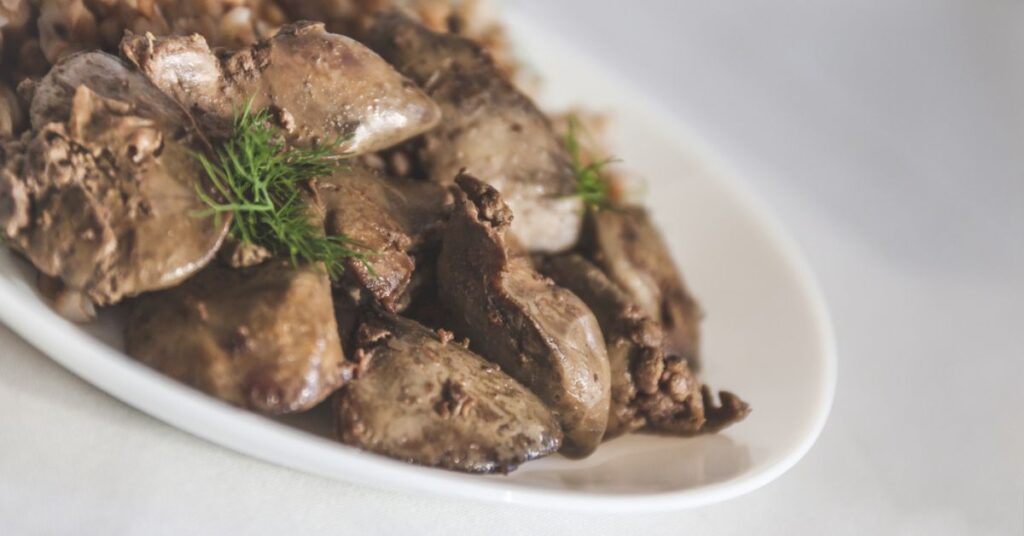 In Florence, there's a traditional Tuscan dish you should definitely try: Cibreo Toscano, is a unique and hearty dish that has its roots in the Renaissance era, made with chicken combs, wattles, chicken testicles, and hen's feet. Now, I know it might sound a bit unusual, but trust me, it's worth a try!
The dish is prepared by simmering the chicken combs, testicles, and other ingredients together with salt, pepper, and broth. Is served with a suace made of eggs, flour, lemon juice, and hot broth. The sauce is poured over the cooked ingredients to enhance the flavors
As for the taste, Cibreo Toscano offers a unique blend of flavors. The chicken combs have a slightly chewy texture, while the broth adds richness to the dish. The sauce, with its tangy and creamy notes, complements the meaty flavors perfectly. It's definitely a dish that will give you a memorable and authentic taste of Florentine cuisine.
You can find Cibreo Toscano in traditional Florentine restaurants and trattorias. It's not commonly found in street food stalls or bakeries, as it's considered more of a specialty dish.
15. Schiacciata alla Fiorentina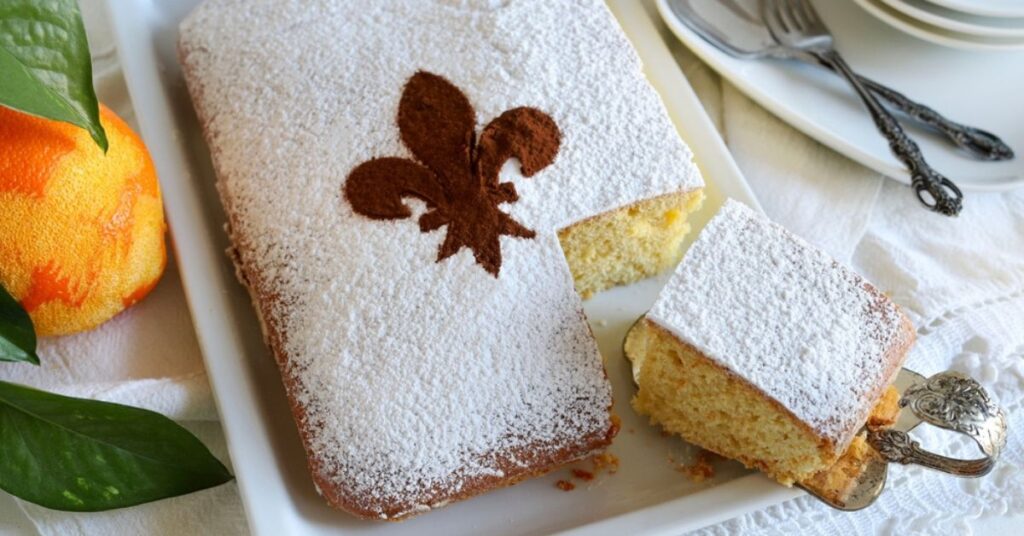 Schiacciata alla Fiorentina is a typical Carnival dessert from the city of Florence. It's a simple yet delicious rectangular and low cake that's soft and fragrant, topped with the traditional "Giglio" symbol (a Lily flower).
With its double leavening, which ensures its softness, Schiacciata alla Fiorentina is fluffy, fragrant, and irresistible. To flavor the Schiacciata Fiorentina and give it its classic colour, orange zest and juice are used, but many also add a pinch of saffron which gives the dessert a more decisive shade and flavor!
It's so simple and delicious that it's perfect for breakfast or a snack.
You can find Schiacciata alla Fiorentina in many bakeries and pastry shops in Florence. It's a popular dessert that locals enjoy year-round, but it's especially prominent during the Carnival food season in Tuscany, usually in February. You'll find it during this time in various festivities and events celebrating Carnival.
As an Italian, I can tell you that Schiacciata alla Fiorentina holds a special place in my heart. Its soft texture and delightful flavors make it a true delight. Make sure to try it when you're in Florence, and I guarantee you won't be disappointed!
At this moment, you can also read this article where you can see the list of all the typical sweets and cookies of Tuscany.
16. Schiacciata con l'Uva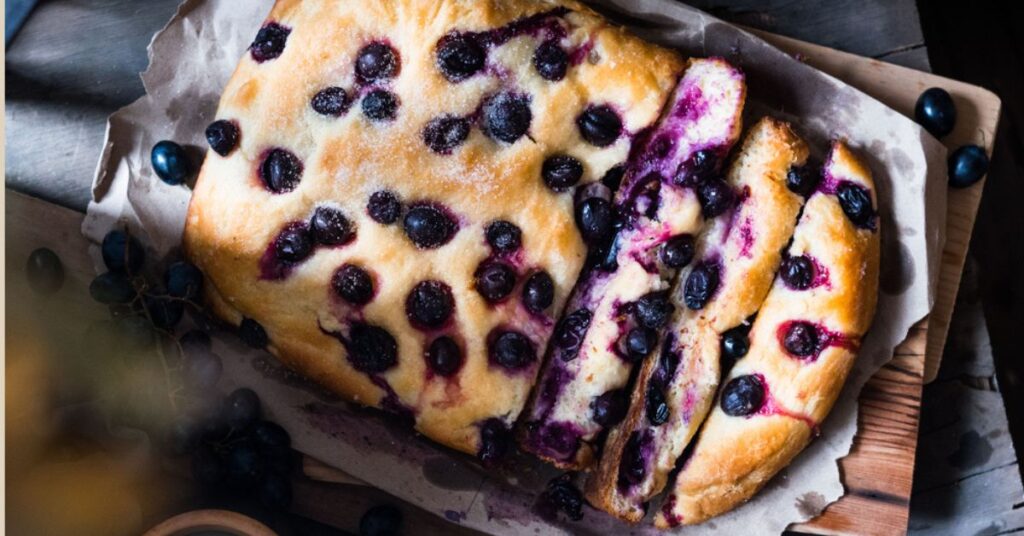 Let me introduce you to a delightful treat: schiacciata con l'uva. Literally "flat bread with grapes", is the perfect snack that captures the essence of early autumn. It's an easy recipe from the Tuscan peasant tradition: bread dough topped with black grapes and sugar. The result is a mildly sweet treat with a sugary crust and juicy grape bursts. Pure goodness!
Schiacciata con l'uva is a traditional Tuscan recipe, typically made during the grape harvest season when grapes were ripe and plentiful, and homemade bread was a must. It's made of leavened bread dough, without salt as per the tradition of Central Italy, black grapes, extra virgin olive oil, and a touch of sugar – all locally sourced ingredients.
The bread dough forms the base and the top crust, while the grapes are added as a filling and on the surface, resulting in two layers of soft, sweet focaccia and two layers of fruit. It's a true delight.
You can enjoy schiacciata con l'uva at various places in Florence. Look for it in local bakeries, pastry shops, and even some traditional trattorias. It's a perfect treat to satisfy your sweet tooth while exploring the city's charming streets.
As for the timing, schiacciata con l'uva is typically enjoyed during the grape harvest season, which usually falls around September or early October. Keep an eye out for local festivals or food events that celebrate the harvest, as you're likely to find this delightful treat there.
17. Zuccotto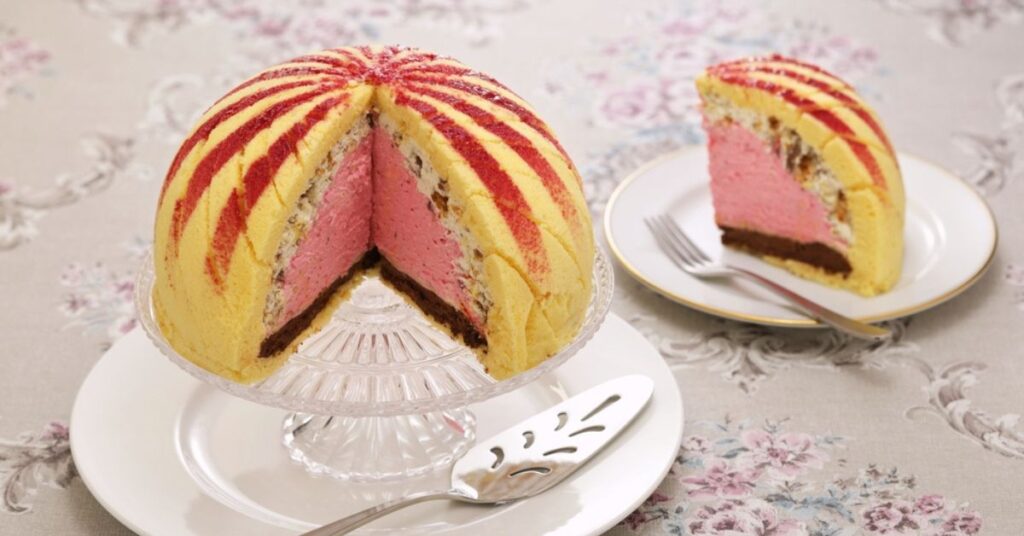 It's a delicious dessert made with layers of sponge cake filled with a creamy mixture of ricotta cheese, whipped cream, and cocoa. It's a heavenly combination of flavors and textures that will satisfy your sweet tooth in the most delightful way.
Legend has it that Zuccotto is the first semifreddo (partly frozen dessert) in the history of Italian cuisine and was created to pay homage to Caterina de' Medici. In fact, "zucca" in Tuscan dialect means "head," and it's said that the first mold used to shape this dessert resembled an infantry helmet.
While the original recipe featured ricotta, candied fruit, almonds, and dark chocolate, there are now many variations of Zuccotto, including the famous gelato version known worldwide.
You can find Zuccotto in various restaurants, trattorias, and pastry shops in Florence. It's a popular dessert that's often enjoyed after dinner with friends. Trust me, it's a fantastic way to end a meal on a sweet note, a spoonful of pure indulgence!
As an Italian with a serious sweet tooth, I highly recommend trying Zuccotto when you're in Florence.
18. Pan di Ramerino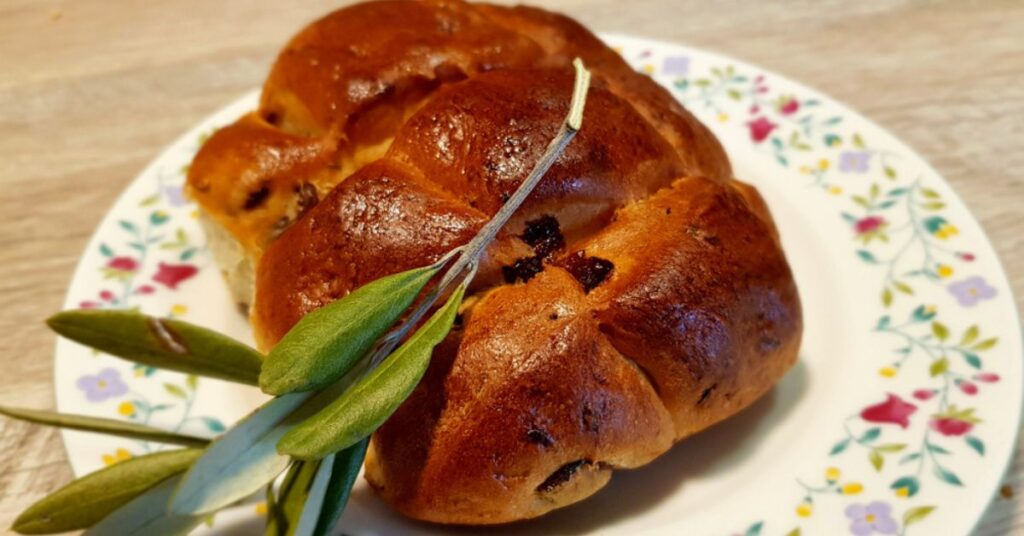 Pan di Ramerino is a small sweet bread roll made with bread dough, sultanas (raisins), and rosemary. Sometimes, milk and eggs are also added to the dough. This medieval delicacy is closely associated with the period leading up to Easter, one of the many desserts that fill the Tuscan tables during the Holy Easter period.
Back in the day, you could only find Pan di Ramerino in the Florentine bakeries and surrounding areas on Holy Thursday, already blessed by local priests. However, nowadays, you can enjoy it any time of the year!
Pan di Ramerino is a small, sweet bread with a thick crust and a soft, fluffy interior. The bread dough is enriched with extra virgin olive oil infused with aromatic rosemary and studded with plump raisins.
The word "ramerino" refers to rosemary in the Tuscan dialect, and it adds a unique and distinct flavor to these delightful little bread rolls!
You can find Pan di Ramerino in various places throughout Florence, such as bakeries and pastry shops. It's a popular snack or treat to enjoy with a cup of coffee or tea.
19. Torta Pistocchi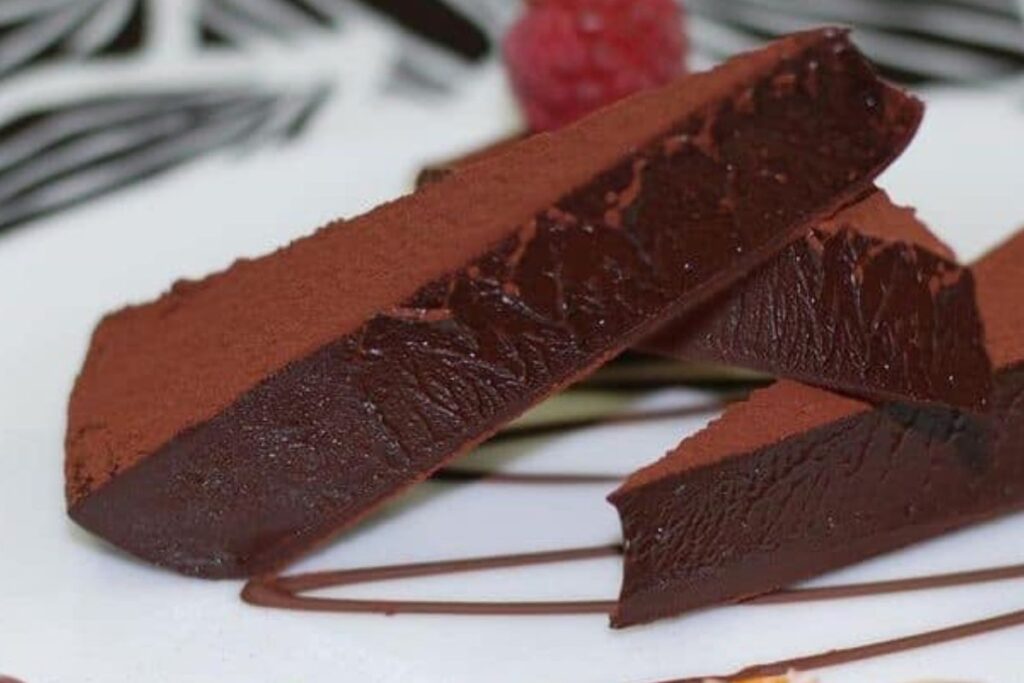 The Torta Pistocchi is a heavenly dessert hailing from Florence, the brainchild of Claudio Pistocchi, who was an Executive Chef in Florence. Imagine this: it's almost like a big, soft, and creamy chocolate truffle, but in the form of a cake.
Its ingredients are refreshingly simple, yet the flavors are profound—extra dark chocolate, bitter cocoa powder, and a touch of cream. No sugar, eggs, butter, or flour. No preservatives or additives. Just pure, unadulterated chocolate bliss.
Now, imagine biting into this cake. It's rich and velvety, with the deep, bitter notes of the cocoa harmoniously blending with the slight sweetness of the cream. It's the kind of dessert that makes you close your eyes and savor every single bite.
Though the Classic version of the Torta Pistocchi is legendary, nowadays you can find an assortment of variations, including some with white chocolate. Eleven variations, to be exact, so there's a slice of heaven for every type of chocolate lover out there.
As someone who has had the privilege of indulging in this cake, I can say it's a truly unforgettable experience. When I'm in Florence, I make it a point to enjoy a slice (or two), and it's always as extraordinary as the first time.
More information about characteristic food from Florence
Which dish or typical food from Florence is suitable for vegans?
For vegans, a suitable dish in Florence is Ribollita, a hearty vegetable and bread soup made without any animal products. Just a soup made with stale bread and vegetables, with the key ingredients being black cabbage, Savoy cabbage, and beans.
Which dish or typical food from Florence is suitable for vegetarians?
Vegetarians can enjoy Pappa al Pomodoro, a delicious tomato and bread soup that is a popular traditional dish in Florence.
What are the typical street foods of Florence?
The typical street food in Florence is Panino con Lampredotto, a tripe sandwich made from the fourth stomach compartment of cows, and a green sauce made of parsley, vinegar, bread, anchovies, and olive oil.
What is the typical dessert of Florence?
The typical dessert of Florence is Zuccotto, a sponge cake in the shape of a hemisphere filled with a creamy mixture of ricotta cheese, whipped cream, and cocoa.