Here in Italy wild boar isn't just an animal you might accidentally meet in the forest (and occasionally even in cities); it's also a delicacy on some dinner tables of traditional trattoria.
Does this mean that wild boar meat is still eaten in Italy?
Yes, boar meat in Italy is considered a very prized meat, especially the one that comes from wild specimens hunted in the woods of Tuscany, Umbria, and Sardinia. Hunting boars not only keeps their population in check but also supplies tasty meat that's often used in delicious local dishes, like pasta with wild boar ragù.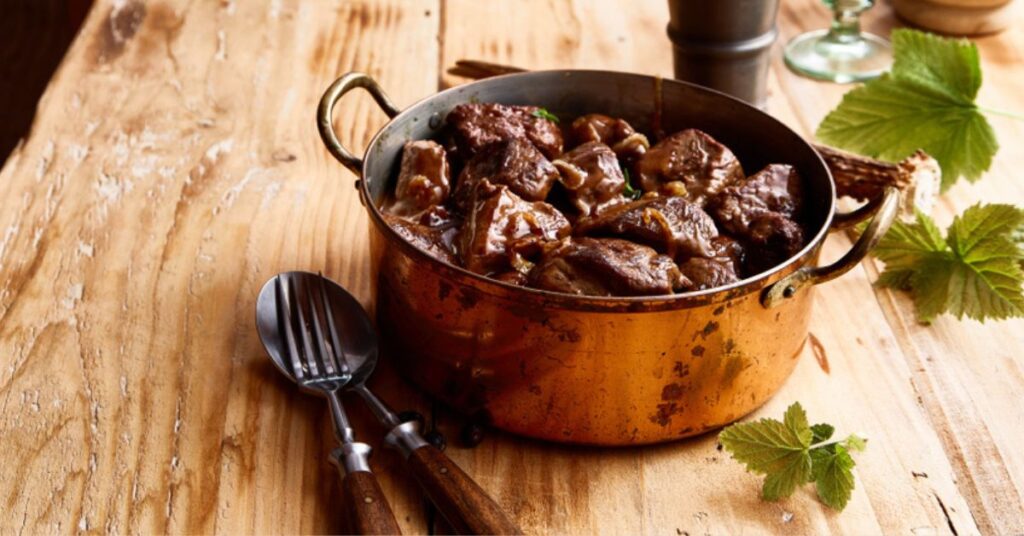 Wild boar is quite different from your standard pork in terms of taste and texture. It has a richer, more intense flavor and is less fatty, offering a slightly gamey note that sets it apart.
While pork might be the Taylor Swift of meats—versatile and universally liked—wild boar is the indie band you didn't know you'd love until you tried it.

Historically, the consumption of wild boar in Italy has both practical and cultural origins. The diverse Italian landscapes have made it a natural habitat for wild boars, offering rural communities a readily available source of food. Beyond sustenance, hunting these animals was considered a rite of passage and a communal activity that helped strengthen bonds within the community.
Today, the practice continues for similar reasons, such as the need to control the wild boar population which can be detrimental to agriculture and local ecosystems. The meat itself is cherished for its robust, gamey flavor and is often featured in a variety of hearty dishes, from stews to sausages to pasta sauces. This enduring tradition serves not only a practical purpose but also keeps alive a cultural heritage that dates back centuries.
Traditional Wild Boar Italian dishes
Before cooking, wild boar meat is usually marinated in red wine and herbs to tenderize and reduce the strong gamey flavor. This is the reason almost all dishes based on boar meet require long cooking like stews or roasted:
Pappardelle al Cinghiale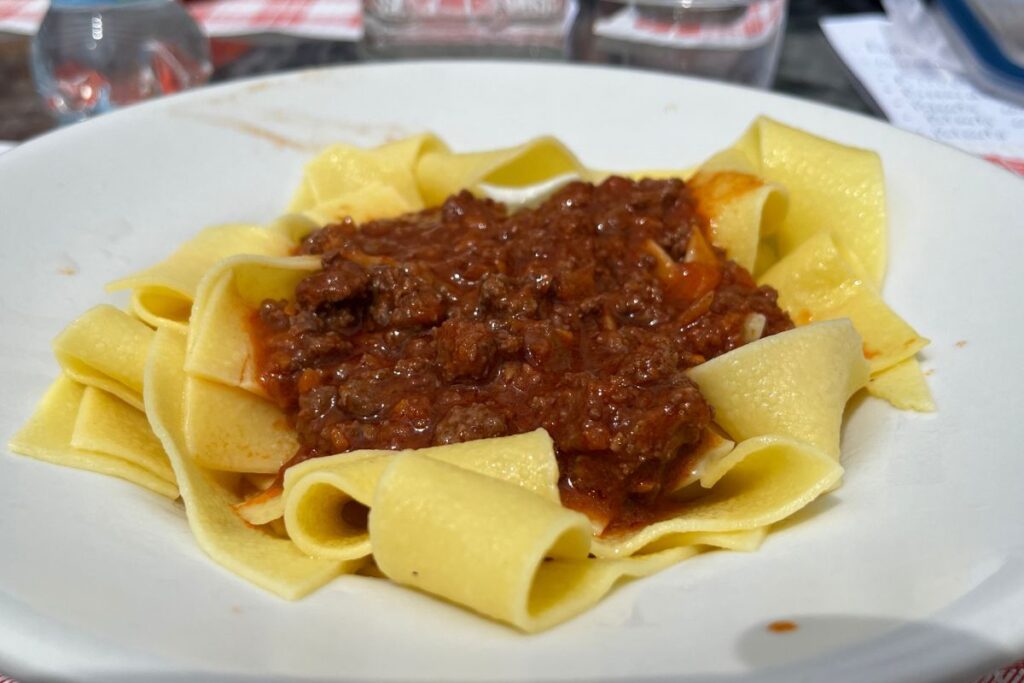 A Tuscan pasta dish featuring wide, flat noodles and a hearty wild boar sauce. Click here to see the incredible variety of Tuscan pasta dishes.
Cinghiale in Umido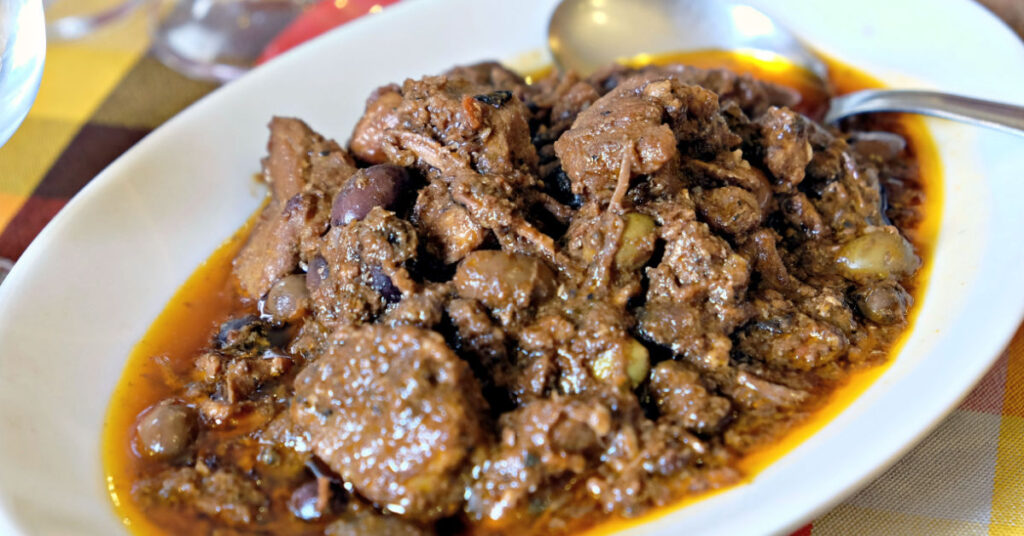 This is essentially wild boar stew, simmered until tender in a tomato and wine sauce. A staple dish in Montepulciano, the medieval city of Tuscany.
Salsiccia di Cinghiale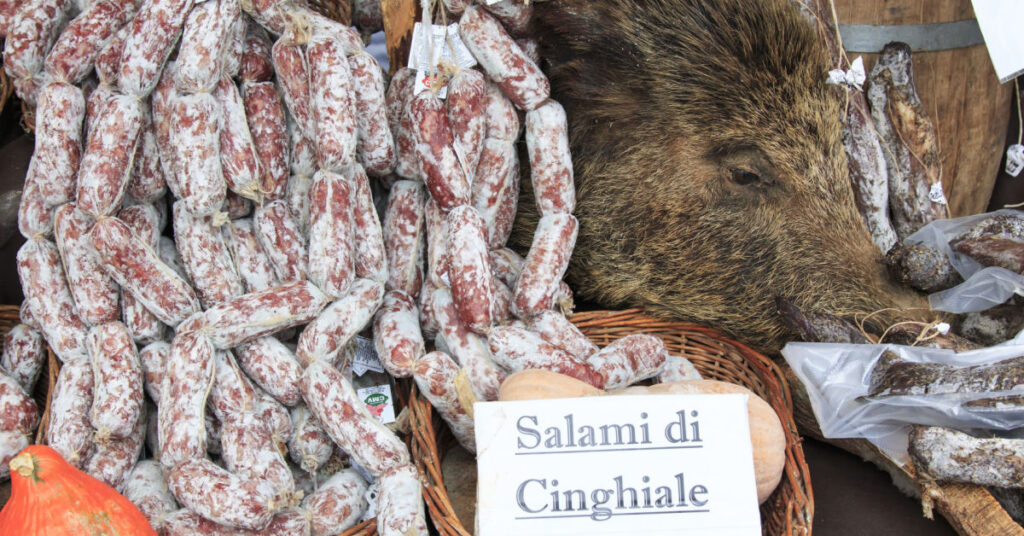 Wild boar sausage, is often seen gracing charcuterie boards across Italy, mainly in Tuscan cities like Grosseto.
Where Can You Buy Wild Boar Meat in Italy?
The wild boar meat in Italy is certainly not as common as pork; in fact, you won't find it in supermarkets or general butcher shops. In Italy, wild boar meat mainly comes from specialized hunts and can only be found through direct channels with hunters or in butcher shops specializing in game meat and local delicatessens that often display wild boar sausages.
It is also served in local trattorias and restaurants, where dishes made with wild boar are considered a specialty.
So, the next time you're in Italy and see "cinghiale" on the menu, don't be shy—give it a try! It might just be the adventurous taste of Italy you never knew you needed.
Related Questions:
Is a wild boar considered white or red meat?
The wild boar belongs to the group known as "furred game" (along with hare, roe deer, chamois, and deer), and its meat is classified as "dark meat" (as opposed to white and red meats). It has a rather tough texture and a very intense, gamey flavor.
Are wild boars raised in Italy?
While in Italy there are some wild boar farms, most of the meat used in boar delicacy comes from wild boars hunted in the woods.
What does a boar taste like?
Think of it as a rich, less fatty, gamier version of pork with a unique flavor profile. Unlike the pig, its meat is muscular and is therefore often eaten in stews or roasted.
How many Italians eat wild boar meat?
Wild boar meat in Italy is primarily consumed by those who live in rural areas and enjoy game dishes. While exact numbers are hard to pin down, it's a delicacy many enjoy, especially in certain regions.
What is the classic wild boar dish in Italy?
Pappardelle pasta with boar ragù is often considered the quintessential wild boar dish, a recipe that is part of the Tuscan gastronomic tradition, where the symbol of the region is the wild boar.