Italy is the home of good food, and one of the iconic products is Genovese basil pesto, a mixture made up of several shredded elements forming a sauce, that resembles a green sauce, typical food of the Liguria region, where the city of Genoa is located.
We Italians often eat pesto, using it as a condiment for pasta; are you wondering what kind of pasta to use with pesto? Or what other way you can eat it? Or if there is a difference between fresh and store-bought pesto? Below I will answer everything.
Yeah because pesto is much more than a pasta sauce, below we'll see other tasty ways we Italians eat it.
Before we continue though, be sure not to confuse pesto with plain basil. Basil leaves are the main ingredient with which pesto is made.
You should know that the word pesto in Italian literally means "crushed with a pestle or other instrument", in fact, the ingredients are all mixed together inside a mortar, so basil with salt, pine nuts, garlic, and Parmigiano Reggiano cheese is mixed with extra virgin olive oil, creating a lumpy-looking green sauce.
Which pasta shapes go best with pesto and why?
The most commonly used pasta shapes in combination with pesto are short shapes, but if we had to point to the most suitable pasta form then there is no doubt: trofie pasta is the perfect pasta type for Genovese pesto, together they create one of Italian' most beloved pasta dishes, trofie with pesto.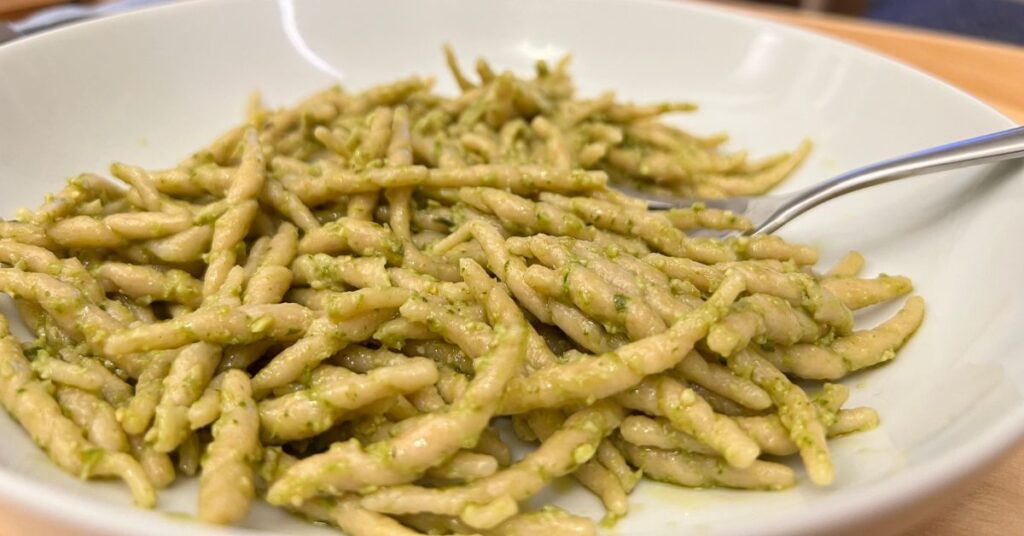 Trofie is a typical pasta form of Ligurian cuisine (the region with capital Genoa), elongated and thin, twisted on themselves, they can be found both as fresh and dry pasta, I recommend you try fresh trofie and pesto, you will see that you will not regret it.
The slight porosity of fresh trofie, combined with the spiral shape, makes them perfect for dressing with pesto. Trofie with pesto is a simplified version of one of the most famous traditional Ligurian dishes, in fact, vegetables such as potatoes and green beans are traditionally added to this first course.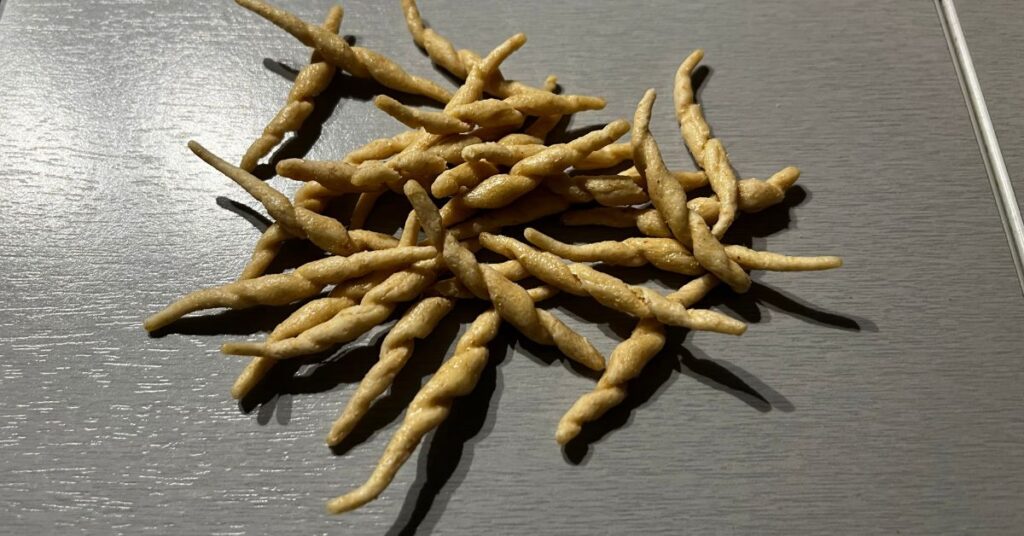 But if you can't find trofie pasta, there are other shapes of pasta that are great alternatives to go with pesto, here are a few:
fusilli, 
macaroni, 
mezze penne, 
trenette, 
potato gnocchi. 
These pasta shapes are ideal for pesto as they pick up all the cream nicely from the dish. 
But don't let this list limit you, the best pasta to enjoy pesto turns out to be one with a surface that is rough enough and irregular in shape so that it can hold the pesto best.
So in conclusion, a "rough" "porous" or "ridged" short pasta, with a surface that is not smooth but irregular represents the ideal pasta for pesto.
Should pesto be eaten hot or cold?
Pesto on pasta should be put strictly cold and raw, without heating it first.
Do not cook it, sauté it or heat it in the microwave before putting it on top of the pasta. Just add it to hot pasta as soon as it is drained.
Reheating pesto is a mistake people tend to make, but "cooked" pesto loses a lot. It does not retain its original flavor, as the heat goes to ruin the delicacy of the basil, which should be avoided if you want to enjoy authentic pesto.
Are there different types of pesto in Italy?
In Italy, the term pesto almost always means basil pesto, but there are many other types of pesto, which are beatings and minces of different ingredients that form a sauce.
We cannot fail to mention the famous Sicilian pesto, whose ingredients are tomatoes, ricotta cheese, pine nuts, and lots of basil, which together create a riot of colors and flavors. There are some variations of it with sun-dried tomatoes or pistachios.
But we can find a wide variety of tasty pestos that are not basil-based: from arugula pesto ideal for lovers of strong flavors to avocado pesto to enjoy the creaminess of the fruit, and many varieties: green bean pesto, zucchini pesto, beet pesto, and spinach pesto.
What to eat with pesto?
Pesto is great on pasta but here in Italy, there are many ways you can enjoy it. It is perfect as a topping for a pizza or focaccia and tasty as a sauce for aperitifs.
For "different" first-course dishes, pesto is ideal with vegetarian lasagna, and also with risotto, pesto blends all the ingredients to perfection. My mouth is watering just imagining pesto, pancetta, and provolone risotto or the many other variations. 
As for main courses, it is great for flavoring meat, from chicken breast to veal cutlets. It also gives a special touch to fish, from slices of salmon to sea bream. It is often used as an ingredient in puff pastry pies and the tastiest omelets. 
Do Italians eat pesto chicken pasta?
Italians do not eat pasta with pesto and chicken, the so-called pesto chicken pasta. This is a variant widespread in foreign countries, which you will very rarely find in Italy. In fact, pesto pasta traditionally does not go with chicken.
Is pesto eaten with cheese?
Pesto is also an excellent accompaniment to Italian cheeses. I recommend trying it with fresh soft cheeses, such as crescenza, gorgonzola, robiola, stracchino, squacquerone, and taleggio. Or with hard cheeses that are not too aged, such as pecorino or parmesan.
What wine to pair with pasta with pesto?
The right wine to pair with pesto pasta is definitely white wine, young and savory. 
It is ideal to aim for a wine that is light, fresh, and rich in aromas, which perfectly matches the aroma of the basil, the taste of the cheese, and the unctuousness of the oil.
A Vermentino di Liguria or a Pigato are perfect wines to accompany the typical Ligurian dish; a good Frascati is also a good choice for its sweetish perception.
Are pesto and basil the same thing?
Pesto and basil are two different things. Basil is the aromatic herb, characteristic of Liguria, with which pesto is made, but many other ingredients are needed to create pesto.
To make pesto, a stone, marble, or wooden mortar is traditionally used, in which basil is the main ingredient that will be pounded, along with basil, garlic, oil, pine nuts, parmesan, and pecorino cheese in the mix.
Italians do not use basil and pesto indifferently.
Pesto is the sauce we have been talking about, basil is an aromatic herb that in Italian cuisine accompanies many other recipes and is the basis for the preparation of pesto, this does not mean that I can replace pesto with basil though. 
For example, two or three basil leaves are impeccable in tomato sauce to season pasta, but I cannot consider that I get the same result using pesto over tomato sauce.
Where can I buy ready-made pesto in Italy?
If you are in Italy and feel like tasting pesto without having to go to a restaurant, then know that you can buy it in any supermarket, it is very likely to find it in a can of store-bought pesto. It is more difficult to find it freshly made.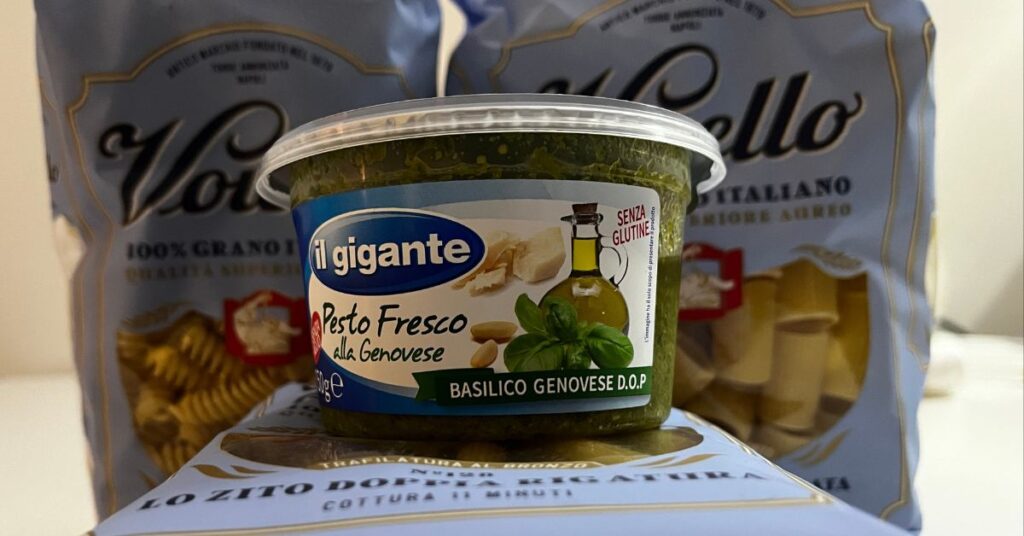 Only some supermarkets with a deli keep fresh pesto for sale, while delis usually have it all the time.
Fresh pesto is often found on the refrigerated counter, next to fresh pasta and other fresh condiments, while canned pesto (store-bought pesto) can be found among the canned foods, on the jarred condiments shelf.
What to use for pasta: fresh pesto or store-brought pesto?
Although pesto is a sauce that lends itself to storage in a jar, given a large amount of olive oil, the advantages and peculiarities of fresh pesto remain far superior to store-bought pesto. 
Many supermarkets sell cans of preserved pesto and fresh pesto as well. The second is better as it was done a few days earlier if not on the day itself.
How to distinguish preserved pesto from fresh pesto in the supermarket? Easy, fresh pesto is always kept on the refrigerated counter, while the one kept in a jar is not.
For pasta, therefore, the primary choice to make whenever possible is fresh pesto; if there is none as an alternative use store-bought pesto.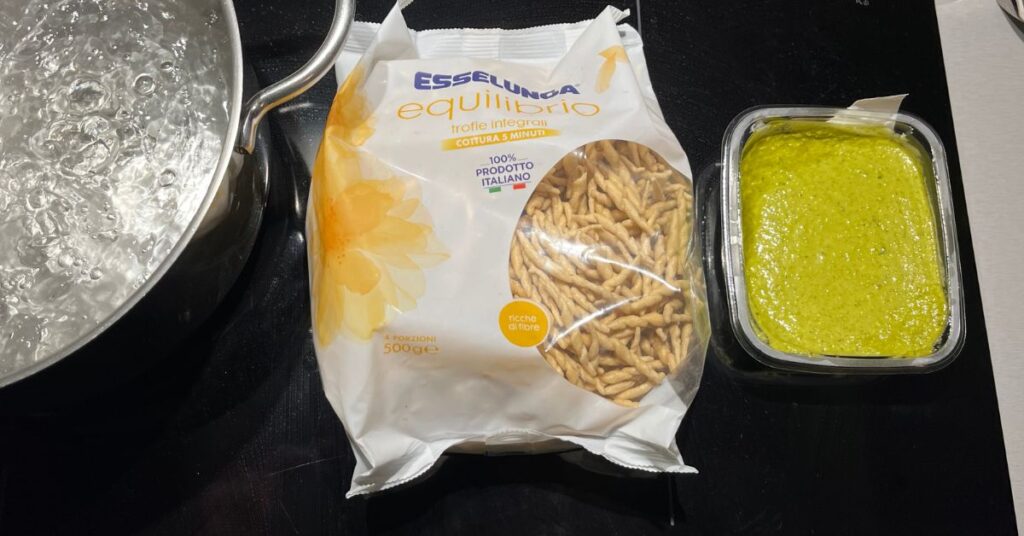 If you have a mortar and pestle, a lot of basil, plus strong arms… go for the homemade fresh pesto!
Even in the best store-bought pestos, some brands make pesto with whey, milk, and butter. In some jars we find sugar, vegetable fiber, or milk protein, ingredients probably used to stabilize flavor and texture.
Obviously, all this in fresh pesto is not used, plus fresh pesto is created with freshly chopped basil leaves, surely we are talking about food with a superior aroma to any canned counterpart.