Italian food tradition is full of simple and delicious recipes. In addition to pizza and pasta, which are known all over the world, there are other less famous specialties that you have to try at least once in your life.
One of them is focaccia, a savory leavened product made only with flour, water, yeast, salt, and extra virgin olive oil: a few ingredients to create a soft and crunchy dough, salted to the right point and seasoned with plenty of oil.
Focaccia can be prepared in various ways, depending on the area of Italy you are considering, but the most common is certainly the Ligurian focaccia. 
Focaccia Ligure is one of Italians' favorite street foods and in Liguria, it is even served for breakfast.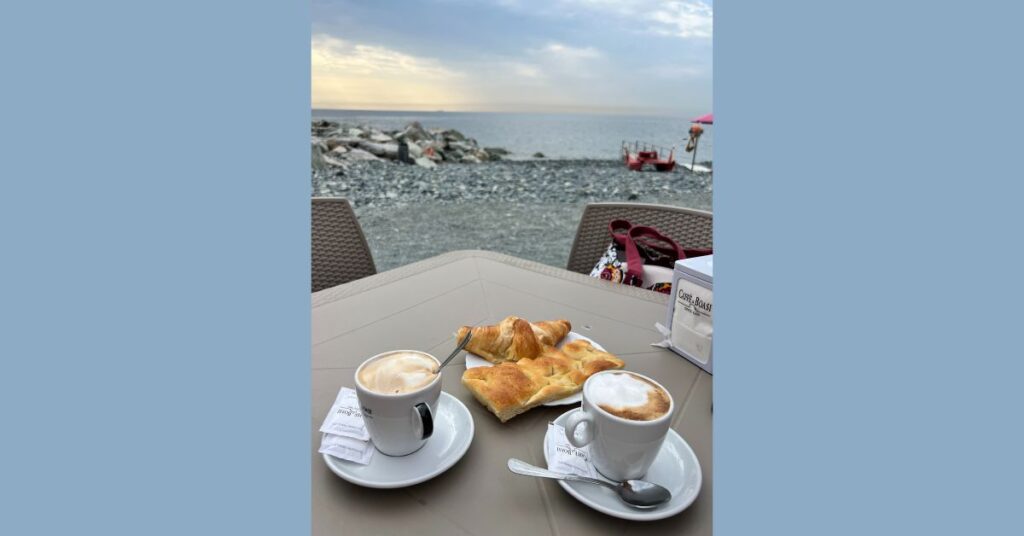 Are you ready to discover all the secrets of focaccia? Then, keep on reading!
What do you eat focaccia bread with?
To eat focaccia like an Italian, you don't need anything! The real Ligurian focaccia, in fact, is so soft and greasy that it melts in your mouth and it is delicious eaten as it is, preferably freshly baked.
Obviously, it can be combined in many ways, for example, you can eat it to accompany a Caprese salad or stuffed with ham and mayonnaise. 
There are also other versions of focaccia that already have other ingredients in their recipe, such as:
Focaccia di Bari with cherry tomatoes and olives;
Focaccia di Recco, stuffed with Crescenza cheese;
Stuffed focaccia with ham and cheese.
Which is the one to taste first? There is no valid answer. They are all very good and you should try them all at least once, preferably during a trip to Italy.
Is focaccia bread eaten hot or cold?
Focaccia is so good that you don't have to heat it to enjoy its taste! Italians usually eat focaccia immediately after buying it at the bakery, at room temperature. Those who prefer it crunchier can, however, heat it for a few minutes in a non-stick pan or in the oven.
Even in some pizzerias you may find different focaccia on the menu. It is not the Ligurian focaccia but a classic pizza without the tomato sauce, where all the toppings are added out of the oven. This type of pizza-focaccia is always served hot.
When do Italians eat focaccia?
There isn't a specific occasion to eat focaccia, because every moment is suitable for enjoying such delicious food. In Liguria people also eat a slice of focaccia for breakfast, together with a cappuccino, but it is not a widespread habit throughout the peninsula.
Focaccia is usually eaten as a snack or as a quick lunch during a trip to the sea, to the mountains or a picnic. More rarely, focaccia is served on the table in restaurants to accompany other dishes.
Is focaccia dough the same as bread dough?
No, it's not. Focaccia is a leavened product that requires two leavenings, one of the primary dough and the second of the seasoned dough. In addition, the dough of the focaccia has a higher percentage of oil than the bread.
Unlike focaccia, which in Italy is made only with extra virgin olive oil, bread can also be made with lard or without added fats.
What kind of bread is focaccine?
Focaccine are small, round and very soft focaccia bread rolls. They are usually bought at the bakery or in supermarkets. Children love it (and also me), focaccine are often served at parties or picnics. They can be eaten plain or stuffed with cheese, vegetables, and cold cuts.
What's the difference between focaccia and ciabatta?
Ciabatta is a kind of Italian bread and it is made with flour, water, salt and yeast so it doesn't contain any kind of fats. Ciabatta's dough has a big percentage of liquid and the final product is really crunchy and soft and with an alveolate crumb inside.
What's the difference between focaccia and pizza?
Focaccia and pizza are similar foods but pay attention and don't confuse them! Italians are really accurate when they talk about food, so let's dive into the differences. 
Focaccia dough is less hydrated and alveolated, in fact, it results in crunchier than pizza. Focaccia dough has a lot of olive oil in it, while the traditional Neapolitan pizza doesn't need oil in its dough. 
The classic focaccia doesn't have any toppings on it except for olive oil, while pizza is always prepared with tomato sauce, mozzarella, basil and various ingredients on top.
What's the difference between focaccia and schiacciata?
Focaccia and schiacciata are similar but they are definitely not the same. First of all, they come from two different places:  focaccia comes from Liguria, while schiacciata is Tuscan. Schiacciata has a more rustic look, the crumb is very alveolated and it is really crunchy. Focaccia, on the other hand, contains a higher quantity of oil and it is softer.
If you love Italian pizza and bread, then you will go crazy for focaccia! Try it as soon as possible, either alone, with a platter of cold cuts, or stuffed. Buon appetito!