Growing up in Italy and later traveling abroad, I've encountered various dishes claimed to be "Italian" by other countries, yet they're practically unheard of back home. Garlic bread stands out among them.
We Italians are known worldwide as avid bread eaters. Our restaurants serve it up as if it's free, and some folks here even dip it in wine! But…
Garlic bread, to the surprise of many, isn't something you'd come across in Italy. Neither in local eateries nor in Italian households. The reason? It's essentially an Italian-American invention – a culinary creation by Italian immigrants in the U.S. That's precisely why hunting for garlic bread in Italian restaurants will be a fruitless endeavor.

In this survey, a sample of Italians was asked about the acceptability of eating garlic bread with pasta. 48% responded that it's unacceptable.
Italian Opinions Garlic Bread with pasta
| Response | Percentage |
| --- | --- |
| Acceptable | 34% |
| Unacceptable | 48% |
| Don't Know | 18% |
This table displays the percentage of Italians' responses to the question "Please say whether you think it is acceptable or unacceptable to do each of the following things when cooking or eating Italian food; -"Having garlic bread with a pasta meal". Survey conducted by www.yougov.com.
Now that I've answered the question, "Is garlic bread Italian?" I'll address this one: "Where did garlic bread originate from?"
Considering its ingredients and the bread type commonly used, the French baguette, suspicions about its Italian authenticity arise. Some versions even top the bread with mozzarella or parmesan, yet, these iterations are also absent in Italy.
Unraveling the Origin of Garlic Bread
Since we've ascertained that garlic bread isn't a staple in Italy, let's unearth the roots of this misconception.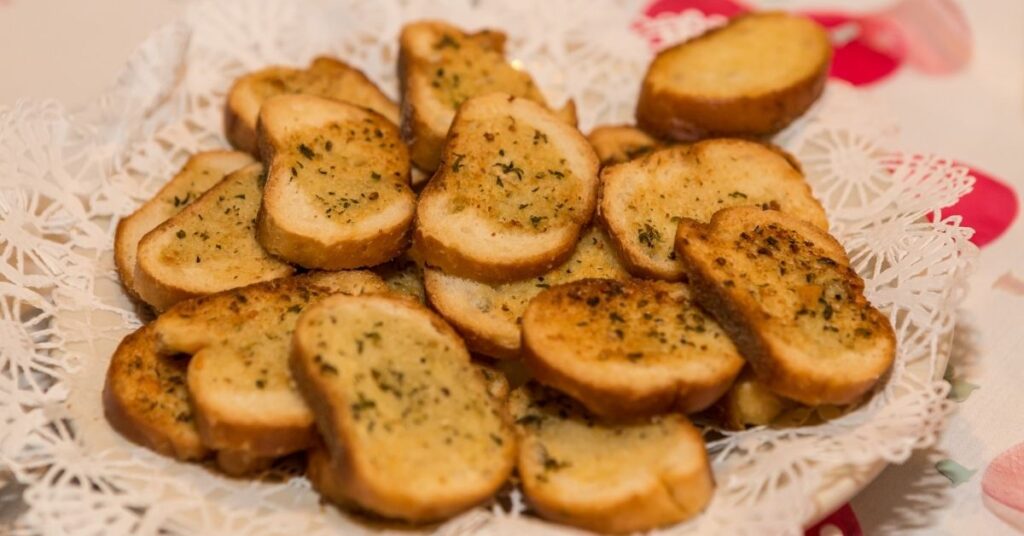 The backstory intertwines with history. Between 1861 and 1985, a staggering 30 million Italians migrated to America. While they embraced their new homeland, they clung tightly to their culinary traditions.
One such dish from the homeland, bearing semblance to garlic bread, was "Bruschetta." This Italian favorite uses homemade bread (not a baguette), toasted and rubbed with a garlic clove (hence the term "bruscare"). It's then adorned with finely chopped tomatoes, extra virgin olive oil, and select spices.
There's an even simpler version of bruschetta called Fettunta, a typical Tuscan appetizer. It's just a slice of grilled bread rubbed with garlic and then drizzled with olive oil.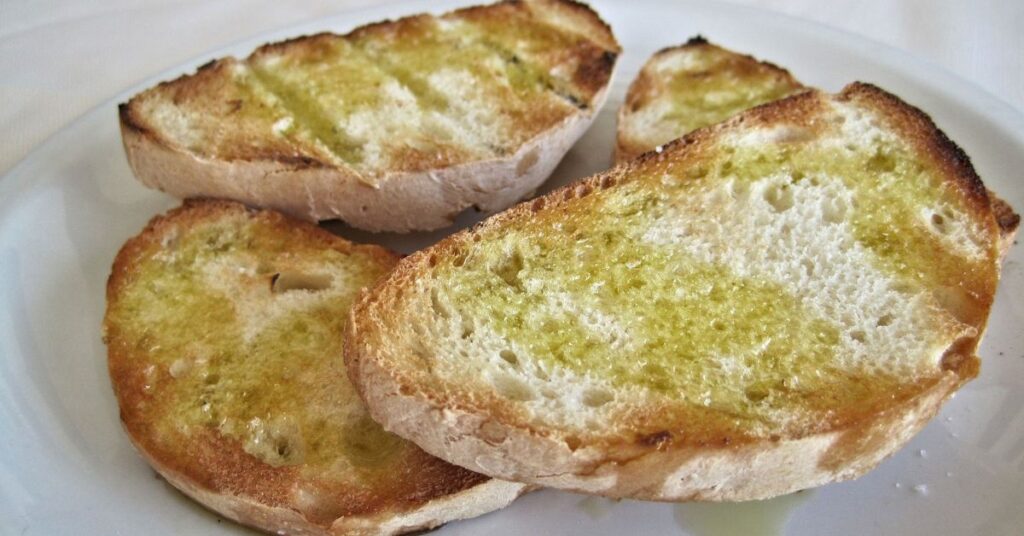 Noticing the similarities? Yet, the iconic garlic bread, with its butter and absence of tomatoes and olive oil, differs significantly. Here lies the mystery – the missing ingredients reveal the birth of garlic bread.
For Italian immigrants yearning to recreate Bruschetta, the scarcity of extra virgin olive oil posed a challenge. Remember, olive oil wasn't as ubiquitous in America then as it is now. So, "who invented garlic bread" using the most accessible alternative to olive oil? Butter was their go-to. Factor in the challenge of finding fresh tomatoes back in the day, and you have the transformation of Bruschetta into buttery, garlicky bread.
Though perceived as an Italian dish in America, garlic bread's roots are firmly American, born out of necessity and adaptation. That's why, when you ponder questions like "is garlic bread French or Italian?" or "where was garlic bread invented?", know that while its spirit may be Italian, its birthplace is undeniably American.
And thus, in Italy, garlic bread remains an enigma, seldom recognized or cooked.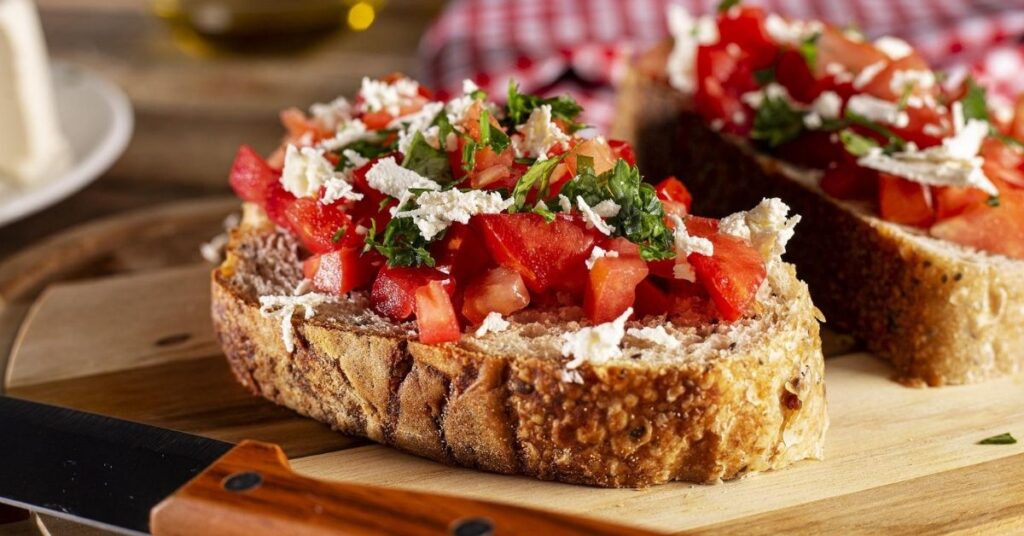 Which Italian recipe is the most similar to garlic bread?
I tried to do some more research to see if there is in Italy and the various regional cuisines, something even similar to American Garlic Bread, but other than bruschetta there is not much to be found.
If you search for the translation of Garlic Bread, the Italian-language equivalent is "pane condito all'aglio" just "garlic seasoned bread", and the only results you get are recipes for American Garlic bread.
What to order at a restaurant in Italy instead of Garlic bread?
Let's understand now how you can do it if, during your trip to Italy, you are at a restaurant and you want to order something very similar to garlic bread.
Don't spoil your appetite with the bread basket, even if it's delicious and perfect for pairing with saucy pasta dishes. You can definitely order something else.
My advice is to not even try to ask for garlic bread, as it is very likely that it is not on the menu, but instead, you can try to ask for bruschetta.
Italian bruschetta is the dish most similar to American garlic bread, different in ingredients but quite similar in concept as it consists of a slice of toasted bread with garlic rubbed on it and topped with cherry tomatoes, extra virgin olive oil, and spices.
So if you want to order the closest thing to American garlic bread at an Italian restaurant, you can ask for a bruschetta without cherry tomatoes, although my advice is to try the classic bruschetta, if you love garlic bread you will also love bruschetta.
Do Italians eat garlic bread with their pasta?
No, in Italy garlic bread is not served with pasta, the bread that is put on the table along with the pasta dish is often used to mop up the last of the sauce on your plate. But it is certainly not garlic bread, but ordinary bread without seasoning.
Do Italians eat garlic bread as a side?
No, we Italians do not eat garlic bread, much less as a side bread. Although often in Italy the meal is accompanied with bread, this is normal unseasoned bread. In addition, many people do not like or digest garlic, so we avoid mixing it with bread.
How did garlic bread come to America?
The recipe for garlic bread never came to America from Italy, but it originated on American soil invented by Italian immigrants who could not find olive oil and tomatoes and started seasoning bread with butter and garlic.
Do we have garlic bread in Italy?
You can't find garlic bread in Italy, either at the restaurateurs or at the supermarket in the frozen food aisle. Since it is a recipe not known and consumed in Italy, it is very difficult, if not almost impossible, to find it.
Where is garlic bread originally from?
Although the Garlic Bread we know today was created in America by Italian immigrants, and is a very simple recipe it is easy to believe that many populations have used it in different historical periods. Is thought to originate in the south of Europe where garlic plants have grown for thousands of years.