As an Italian who travels abroad, I have often come across recipes and foods handed down as Italian in other countries, but we don't even know here in Italy. Garlic bread is one of them.
If you are on this page, it is because you are in doubt about the true origin of the famous garlic bread and you are wondering if it is real food you can expect to find in my country.
I'll answer you right away and afterward, I'll also explain why everyone thinks garlic bread is an Italian specialty. Plus I'll show you what is the closest thing to garlic bread that we eat in Italy.
But first here is my answer:
No, garlic bread is not a specialty that you will find in Italy, either in restaurants or in our homes, this is because it is not a well-known recipe. It is a recipe of Italian-American origin, that is, created and passed on by Italian immigrants on American soil. That is why you will not find restaurants in Italy that serve garlic bread.
But why then is this simple recipe recognized by everyone in America as an Italian thing? I did some research and I think I figured out why.
As you probably already know, garlic bread consists of slices of bread seasoned with garlic and olive oil or butter and can be flavored with herbs including oregano or chives. These slices are then grilled until toasted and crisp.
Typically, the type of bread chosen to make garlic bread is a French baguette cut in half and then into pieces, already this should make you doubt whether this dish is Italian.
There are even variants of garlic bread where mozzarella or parmesan cheese is added on top, but guess what, even these variants do not exist in Italy and no restaurant makes them.
This is why garlic bread is believed to be an Italian recipe
Now that we have clarified that no grandmother, mother, family, or restaurant here in Italy makes garlic bread as a specialty, simply because it does not exist here, let's try to understand where the misunderstanding comes from.
The reasons are historical, between 1861 and 1985 almost 30 million emigrants left Italy for America, a huge number of people who, leaving everything behind, found a new life and a new home on the new continent.
Once on American soil, however, there was one thing they refused to leave behind, their culinary habits.
There is a dish that Italians ate often at that time and that these immigrants wanted to eat on American soil, it has some things in common with garlic bread.
There is bread as a base and there is garlic but otherwise, it is a different recipe and it is called in Italy "Bruschetta".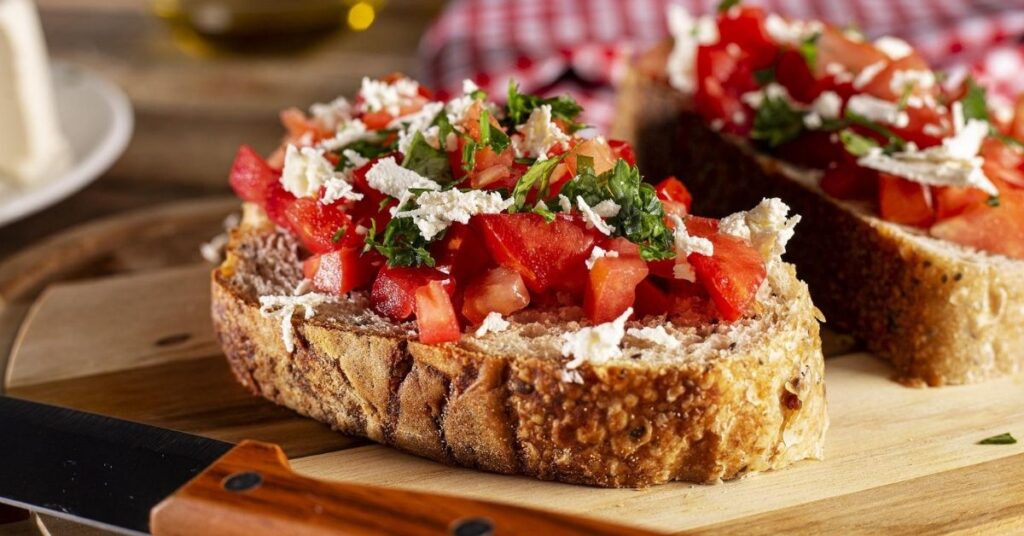 The typical bruschetta is prepared on a slice of homemade bread (not baguette) toasted and seasoned with a clove of garlic that is rubbed on top of the bread, hence the word "bruscare", it is then topped with very finely chopped pieces of tomato, extra virgin olive oil, and some spices.
As you can tell, the recipe is similar, but it is certainly not the notorious garlic bread, since it lacks butter and in addition, there is a tomato and olive oil.
And it is precisely for the missing ingredients, that we have to look for the reason why these Italian immigrants created garlic bread and started the incomprehension.
Wanting to reproduce bruschetta these immigrants found themselves in great difficulty since at that time extra virgin olive oil was not a distributed and known food as it is today in America it was almost impossible to find.
Instead, what was the most readily available fat to substitute for oil and season bread? 
That's right, butter!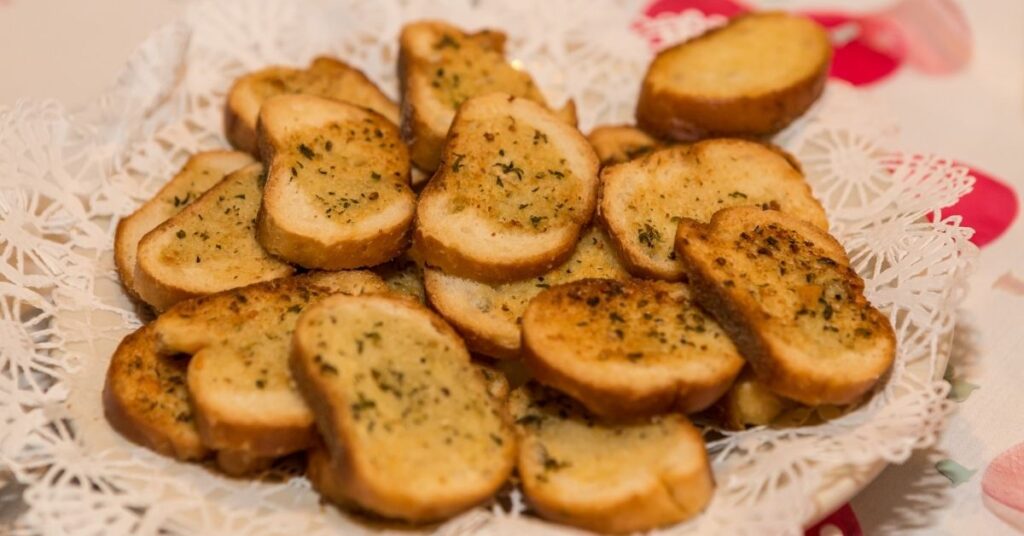 If you also think about the difficulty in finding fresh tomatoes in America in those days, that's when bruschetta was replaced by bread seasoned with butter, garlic, and other herbs.
Certainly a very simple recipe and substitute for bruschetta, which over the years has become in America a recipe sensed as Italian, when in fact it is of American origin since it was instituted on American soil.
This is also why here in Italy no one knows about garlic bread and no one cooks it.
Which Italian recipe is the most similar to garlic bread?
I tried to do some more research to see if there is in Italy and the various regional cuisines, something even similar to American Garlic Bread, but other than bruschetta there is not much to be found.
If you search for the translation of Garlic Bread, the Italian-language equivalent is "pane condito all'aglio" just "garlic seasoned bread", and the only results you get are recipes for American Garlic bread.
What to order at a restaurant in Italy instead of Garlic bread?
Let's understand now how you can do it if, during your trip to Italy, you are at a restaurant and you want to order something very similar to garlic bread.
My advice is to not even try to ask for garlic bread, as it is very likely that it is not on the menu, but instead, you can try to ask for bruschetta.
Italian bruschetta is the dish most similar to American garlic bread, different in ingredients but quite similar in concept as it consists of a slice of toasted bread with garlic rubbed on it and topped with cherry tomatoes, extra virgin olive oil, and spices.
So if you want to order the closest thing to American garlic bread at an Italian restaurant, you can ask for a bruschetta without cherry tomatoes, although my advice is to try the classic bruschetta, if you love garlic bread you will also love bruschetta.
Do Italians eat garlic bread with their pasta?
No, in Italy garlic bread is not served with pasta, the bread that is put on the table along with the pasta dish is often used to mop up the last of the sauce on your plate. But it is certainly not garlic bread, but ordinary bread without seasoning.
Do Italians eat garlic bread as a side?
No, we Italians do not eat garlic bread, much less as a side bread. Although often in Italy the meal is accompanied with bread, this is normal unseasoned bread. In addition, many people do not like or digest garlic, so we avoid mixing it with bread.
How did garlic bread come to America?
The recipe for garlic bread never came to America from Italy, but it originated on American soil invented by Italian immigrants who could not find olive oil and tomatoes and started seasoning bread with butter and garlic.
Do we have garlic bread in Italy?
You can't find garlic bread in Italy, either at the restaurateurs or at the supermarket in the frozen food aisle. Since it is a recipe not known and consumed in Italy, it is very difficult, if not almost impossible, to find it.
Where is garlic bread originally from?
Although the Garlic Bread we know today was created in America by Italian immigrants, and is a very simple recipe it is easy to believe that many populations have used it in different historical periods. Is thought to originate in the south of Europe where garlic plants have grown for thousands of years.