Sorry to disappoint you, but you won't find your special pepperoni pizza on the menu of any Italian pizzeria, but don't despair about that.
Here I'll explain why there is no pepperoni pizza in Italy, and I'll tell you which Italian pizzas are very similar to it, I'll also tell you how to order a pizza in a restaurant that is completely similar to pepperoni pizza.
But if you're in a hurry and you don't care about the story, if you're in a restaurant right now and you're trying to figure out why pepperoni pizza is not on the menu, and you don't want to give up on the fact that it doesn't exist in Italy, then here's what you need to do.
To get pepperoni pizza in Italy you have to ask for "pizza con salame piccante" (spicy salami pizza), also called "pizza alla diavola" (devil pizza). This is in fact a pizza with tomato, mozzarella, and hot salami.
Although the salami we use on pizza in Italy is quite different from pepperoni, the end result will be quite similar to the classic pepperoni pizza you eat in America.
But now let me explain why here in our country, despite being the country of pizza, you will not find pepperoni pizza.
Why pepperoni pizza can't be found in Italy?
The reason pepperoni pizza doesn't really exist in Italy is that the main ingredient of this pizza is not found in Italy.
That's right, pepperoni salami is not part of Italian cured meats, it was made in the United States probably in the late 1800s.
The origin of pepperoni salami is the same as many other U.S. "Italian sounding" recipes: Italian immigrants would take their recipes overseas and rework them with local ingredients, renaming them with mispronunciations between our language and English.
Thus what was called "peperoncino" here in Italy came to be called pepperoni in America, from the word pepper.
Once put on pizza this delicacy became pepperoni pizza, needless to say, it was a hit, although as you may have already guessed, it remains a typically American pizza.
How to order a pepperoni pizza in Italy?
But if you are in Italy, precisely in a local ristorante or pizzeria, how to order a pepperoni pizza from the waiter?
Even if pepperoni doesn't exist in Italy you can still have a very comparable pizza, just ask for a "pizza con salame piccante" or ask for a "pizza alla diavola" with tomato, mozzarella, spicy salami, and added pepper.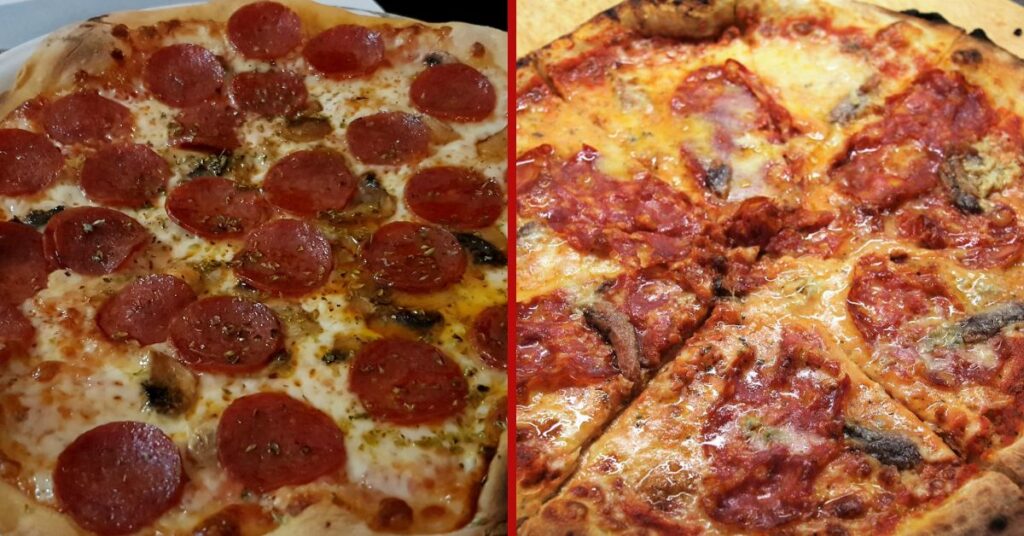 And you will see that you will be served a pizza quite similar to the pepperoni pizza you are used to eating, maybe even better!
Best Italian pepperoni for pizza
Pepperoni salami in Italy is not to be found, which is why the matching pizza from us is called "Diavola" and has hot salami slices on top. The best Italian cured meat for diavola pizza is "Salame piccante": a seasoned sausage made from a mixture of ground meat and pork fat.
Do we eat pepperoni in Italy?
No, in Italy we do not eat pepperoni, mainly because importing it is not convenient and in fact, it is not found for sale. Then in Italy, we make several pepperoni-like cured meats, which we also use to season diavola pizza, which is quite similar to pepperoni pizza.
What salami do Italians put on pizza?
So many pizza recipes in Italy call for the use of sausages and cured meats as toppings. If you like American pepperoni pizza, then in Italy you should try these pizzas, all of which have some kind of cured meat on top:
Pizza alla diavola: with hot salami, pepper and mozzarella cheese.
Pizza capricciosa: with mozzarella, mushrooms, ham, olives and artichokes.
Pizza boscaiola: with mozzarella, champignon mushrooms and sausage.
Pizza salsiccia e friarielli: with sausages, smoked provolone, chili and garlic
Pepperoni Pizza vs Diavola Pizza: which one is better?
Surely you have realized that the very famous pepperoni pizza, typical of American cuisine, is none other than our Diavola pizza, so-called because its main ingredients, in addition to the classic ones, are chili pepper and of course hot salami slices.
I don't want to question the goodness of the American pepperoni pizza, but it certainly can never compete with the Italian Diavola pizza… ok maybe I'm a little bit biased being Italian.
Let's just say that if you're in America it will probably be easy to find and eat a great pepperoni pizza, but if you're in Italy, forget about it and order a hot diavola pizza… thank me later.