While eating an Italian pizza (Neapolitan pizza) you may have wondered how to eat it, and more importantly how we in Italy eat it. Do we use cutlery or with our hands? I will explain how we eat pizza here in my country.
I will know if eating pizza with your hands in public is rude and I will also tell you what etiquette says and how to break it the right way, and I will explain exactly how to eat a pizza like a real Italian.
We eat it at home, in pizzerias, at the table, and sometimes even on the couch, at lunch, dinner, and even breakfast (when leftover). Of circumstances to eat pizza, there are many, but of ways to do so there are two in particular that divide opinion and raise the following question: is pizza eaten with hands or with cutlery?
If you also have wondered how to eat Italian pizza the right way, whether at a restaurant or at a friend's house, I can explain it to you.
But first I want to give you a very brief answer, in case you are in a hurry:
In Italian restaurants and pizzerias, you will see that pizza is eaten with both cutlery and hands. In fact, many people use both ways at different times when they consume their pizza. This happens even though etiquette, in theory, dictates that pizza at the table should be eaten with cutlery, further below I will explain why.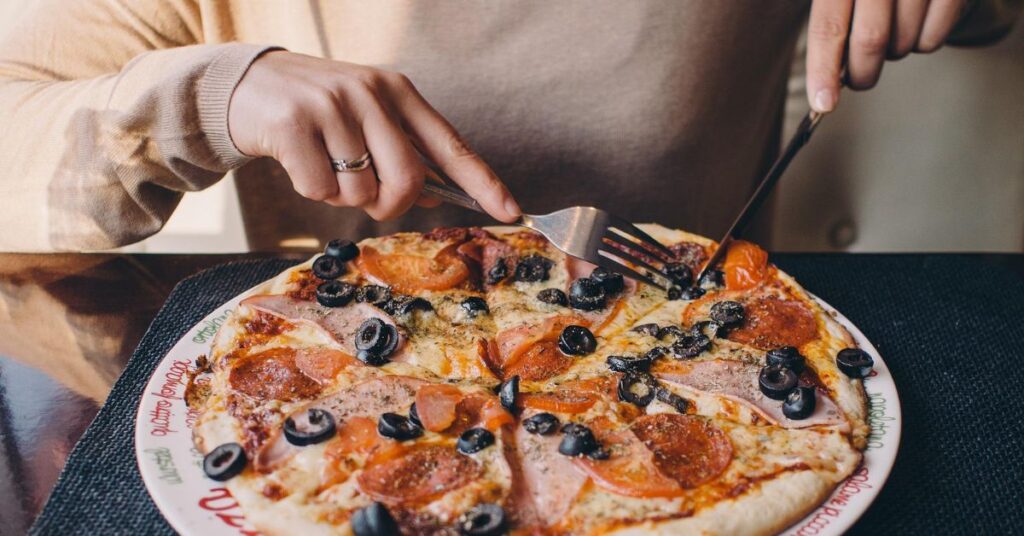 In fact, when the occasion is formal and the restaurant is of a certain level, then there are likely to be more people eating pizza on the plate with their cutlery. Whereas in the classic pizzeria, can happen exactly the opposite.
How to eat pizza in Italy according to etiquette (with cutlery)
Can you eat pizza with your hands, if we want to observe good manners? Etiquette confronts us with an unacceptable contradiction for an Italian. In fact, to follow good manners, pizza should always be eaten with cutlery.
Yes, although pizza is the majesty of informal foods, it is necessary (in etiquette theory) to enjoy it with a knife and fork, both in formal and informal locations.
As always, in small bites, bring the food toward the mouth (and not vice versa) and avoid dropping the toppings on the plate. Something to keep in mind, now more than ever, with the increase of luxury gourmet pizzerias.
When does etiquette allow eating pizza with hands?
Only one exception allows us to eat pizza with our hands: according to etiquette, pizza by the slice (sliced pizza), considered real street food, can be eaten safely without cutlery, with the hands, therefore.
The "pizza a portafoglio", I will tell you more about below, also enjoys the same exception. It is in fact a pizza of slightly reduced size, folded in four, to be enjoyed while walking and therefore by force with the hands, exactly like a sandwich.
How to eat Neapolitan pizza with your hands?
But let's put aside the rules of etiquette. Let's talk more about the magical experience of eating a real Neapolitan pizza, which is even undoubtedly more immersive when done using your bare hands.
I sincerely recommend that you try eating it with your hands, I think it is a unique and very Italian experience.
Let's start with a premise: Neapolitan pizza is not a crispy pizza, able to stay straight when you lift it from the plate, but it is soft and light and for some people, it might be easier to eat it with cutlery, so that the slice does not sag and lose some of the toppings on the plate.
This is where the skill of the experienced pizza eater comes in.
In Italy we do it this way: after cutting the pizza into four (or even six) slices, each slice should be grabbed from the puffed-edged crust and folded in two lengthwise, from the ledge to the tip. In case the tip is too soft, you can help yourself with a fork and fold it inward, so as not to let the ingredients, such as mozzarella and tomato sauce, fall off.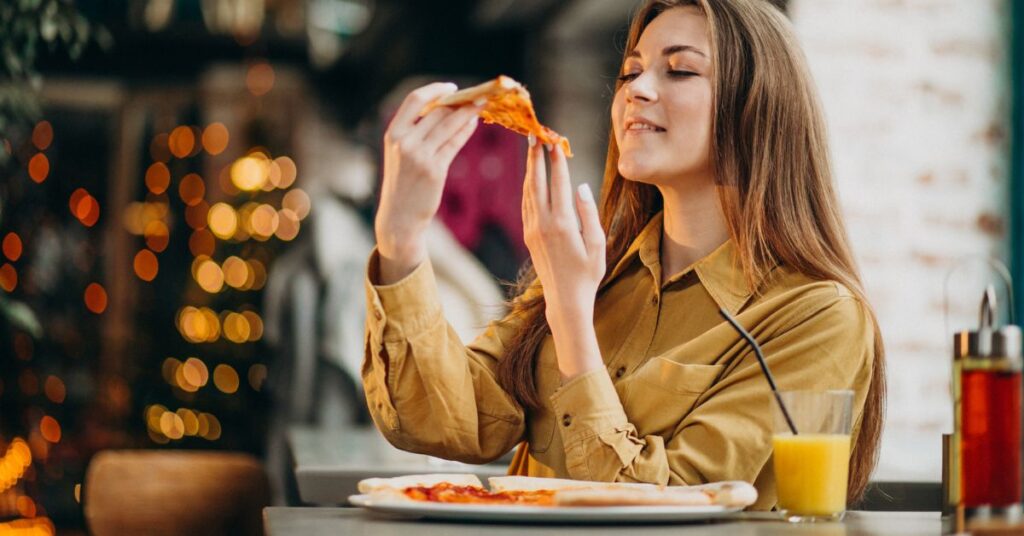 As just mentioned, in Italy eating pizza is an action that brings into play not only taste but also touch. However, there are other schools of thought and personal discretions to consider.
In short, it is up to you to decide how to eat pizza: observing etiquette with knife and fork or going with your natural instinct and flowing with your hands.
How do we Italians eat pizza in restaurants?
These rules of thumb should also be applied when eating pizza in restaurants, but there are some additions.
As already mentioned, pizza is casual food. For this reason, it is possible to make small exceptions to the rule, however, etiquette is very clear on how to eat pizza in a restaurant: with a fork and knife.
There are no alternatives that are entirely respectful of good manners, especially if you are in a fancy restaurant to enjoy a gourmet pizza.
But there are always exceptions, especially in Italy and with pizza, if the context is very informal it is actually allowed to use the hands to bring the slice of pizza to the mouth, but even in this case there are some rules.
First of all, the pieces of pizza should be cut on the plate and should be small in size. If the pizza is heavily topped, care must be taken not to spill any toppings while biting into it. If unfortunately, something should fall back onto the plate, it should absolutely be picked up with the fork and not with fingers.
When you realize that the toppings are too much to be eaten "safely" along with the pizza slice, you can start eating the toppings with a fork and knife before moving on to cutting the crust, to lighten the slice that you will eventually eat with hands.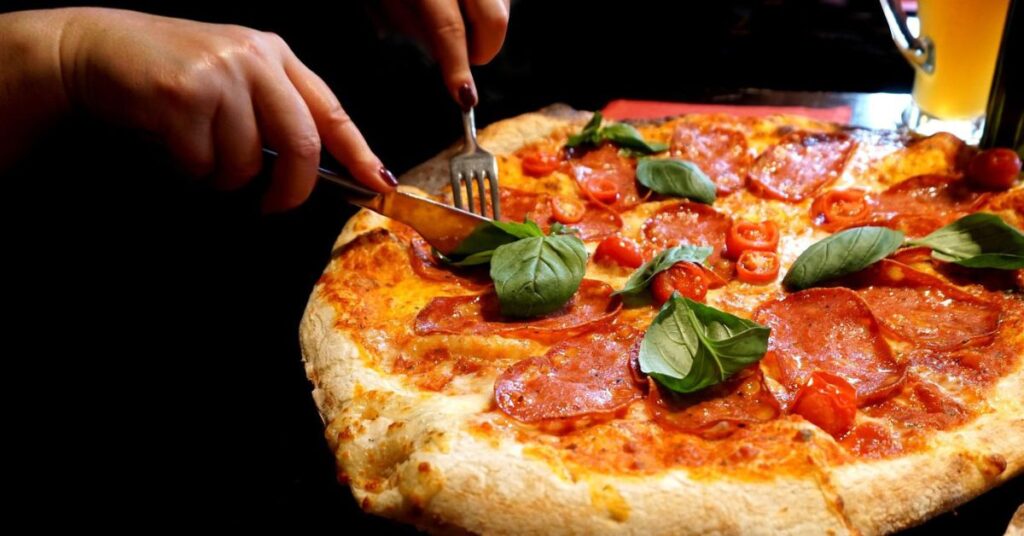 A clever strategy is to cut a slice of pizza, then eat the point-topped portion with a knife and fork, and then gracefully use your hands to bring the portion containing the puffed crust to your mouth. In fact, the edge with the crust provides a firm, clean, dry grip that allows you to eat with your fingers without getting dirty.
Mistakes not to make if you eat pizza at restaurants in Italy.
Then there are other unwritten rules that we Italians take for granted when it comes to pizza in restaurants and pizzerias. So many people make little mistakes when eating pizza, here are some mistakes not to make or behaviors to have if you want to eat pizza like an Italian:
Pizza should be eaten strictly hot and not allowed to cool. If it is burning wait until it is edible, but it should not be cold.
Another mistake is to start eating it from the crust rim; always start from the center or tip of the individual slices.
Equally important is to cut the pizza neatly into four or six slices all the same, and not into many "crooked" slices, thus ruining the topping and the visual.
Although many people did not want to eat too many carbs, and leave the pizza crust edge on the plate. But if you leave leftovers of the middle part, the topped part, it means that the pizza was not liked.
Eating pizza with a fork and knife is okay, but be careful not to make a squeaky noise on the plate when you cut it with the knife, people next to you will not like it.
Ordering two pizzas at the same time for the same person makes no sense, plus a pizza plate takes up a lot of space on the table. Rather order one and then if you are still hungry ask for the second one.
If you are not very hungry, know that sharing a pizza with a friend is a normal thing that you can safely ask for. You will be brought a pizza plus an empty plate, so you can cut it up and share it with your friend; use cutlery in this case, so you won't touch the food that others have to eat.
It is a common practice to let friends sitting at the table with you taste your pizza, often in these cases you "exchange" slices to taste other toppings. In this case, do not use your hands but cut a slice with a fork and knife and always with cutlery pass it to his plate.
How is pizza by the slice eaten in Italy?
As opposed to the classic pizza, the round pizza to be eaten in restaurants, there is also pizza by the slice in Italy. Widespread street food in our country is served in rectangular or triangular slices and is literally given into the customer's hands with only a paper napkin or at most a paper plate.
For this reason, etiquette devotes practically a separate chapter to this food. It is permitted to eat pizza by the slice with just hands, and it is considered inappropriate to ask for a knife and fork to consume it.
Despite this, some common sense rules apply as above: don't take bites that are too big and try not to get too dirty, if you get stained, clean yourself discreetly.
Again, the best strategy is not to choose over-seasoned variations of pizza by the slice to avoid having to perform strange acrobatics to avoid losing the toppings while biting into your slice.
What is pizza a portafoglio?
The pizza a portafoglio (wallet pizza) is a small pizza, which gets its name from the fact that it is taken in the hands and closed on itself on both sides just as if it were a wallet. In Italy, but more so in Naples, it is sold on the street by pizzerias, bakeries, pastry shops, and rotisseries: it is probably the most iconic street food of the Neapolitan capital.
How to eat pizza a portafoglio?
The pizza a portafoglio is served steaming hot, folded in a sheet of baking paper. Otherwise, it is up to us to wrap it on itself once in our hands, folding it on one side, and then folding it once more on another side. This "four-fold closure" would resemble that of a wallet, hence the name. It should be eaten with the hands, as it is street food, as opposed to restaurant pizza.
Related questions.
Is it rude to eat pizza with your hands?
From an etiquette point of view, yes, eating pizza with your hands is not polite. But in reality, it is a fairly acceptable way to eat a pizza in Italian restaurants, where many people help themselves with their hands to eat pizza slices.
What is the Italian way to eat pizza?
Cut the pizza with a fork and knife into four (or even six) slices, each slice to be grabbed from the ledge and folded in two for the long side, from the ledge to the tip. In case the tip is too soft, you can help yourself with a fork and fold it inward so that the ingredients, such as mozzarella and tomato sauce, do not fall off. At this point bring the slice closer to your mouth and take a bite.
Do Italians eat the pizza edge crust?
Most Italians really appreciate and eat the whole pizza edge crust ("cornicione" in italian) of their pizza, although it is not uncommon to see someone who does not eat it and leaves it as a leftover on the plate, especially not to eat too many carbs.
Why is pizza eaten with the hands?
Neapolitan pizza became a popular food in Italy also because it was eaten directly in the street and with the hands, this type of street pizza is still there and it is called pizza a portafoglio. Only in the last 50 years pizza has become a restaurant dish that is eaten sitting at the table.
How to eat pizza without getting dirty?
If you want to minimize the chances of getting dirty while eating Neapolitan pizza, the best way is to use a fork and knife to cut small bites. Using your hands certainly increases the chances of getting dirty, especially if you are not used to doing so.