In this post, I'm going to tell you how big a pizza should be to be called a real Italian pizza, or rather a real Neapolitan pizza since here the traditional pizza is from Naples.
You should know that in Italy pizza is a serious thing and there are real specifications that identify the characteristics that a Neapolitan pizza must have, including size, otherwise it will be just an ordinary pizza.
After baking, the "True Neapolitan Pizza" looks like a round baked product, with a slightly variable diameter, but which should not exceed 13,77 inches (35 cm).
So a Neapolitan pizza should have a maximum diameter of 13,77 inches (35 centimeters), including the raised crust ("cornicione" in Italian) and the central part covered by the toppings.
How much does an authentic Neapolitan pizza weigh?
Are you curious about how much a cooked pizza weighs? If we are talking about weight and not inches, obviously the toppings resting on top will make a big difference, so let's talk about ingredients, starting with the Margherita pizza.
The weight of a thick-crust Neapolitan-style Margherita pizza, topped with tomato or cherry tomatoes and buffalo mozzarella, is about 10.58 – 12.34 ounces (300-350 grams).
A frozen Margherita pizza of those commonly found in supermarkets, on the other hand, will weigh about 12.34 – 14.10 ounces (350-400 g)
The weight of other pizzas varies depending on the topping. Certainly, 4-season pizza, four-cheese pizza, tuna pizza, or a pizza topped with potatoes and sausage will weigh more than 14.10 ounces (400 g).
To have a general point of reference, remember that a baked pizza loaf with no additional toppings other than a drizzle of oil and a little salt will weigh between 6.34 and 7.05 ounces (180 and 200 g). In the case of pizzas with toppings, the weight of the cooked base should be added to the weight of the ingredients that go into the topping itself.
How much does a slice of Neapolitan pizza weigh?
If you are now curious about how much a single slice of Neapolitan pizza weighs here you will find the answer.
A real Neapolitan pizza, like Margherita, is usually cut on the plate with a knife and fork, or with a pizza wheel, however, it is cut into 4 slices or 8 slices.
If you cut it into four slices, a slice of pizza will weigh 3.06 ounces (87 grams), while a whole weighs 12.34 ounces (350 grams).
On the other hand, if you cut it into eight slices, a slice of pizza will weigh 1.55 ounces (44 grams), while a whole weighs 12.34 ounces (350 grams).
Obviously, we are talking about approximate weights, and remember that the toppings make a big difference in the final weight, as we mentioned above.
How much does a Neapolitan pizza dough weigh?
Perhaps you want to know the weight of a loaf of uncooked dough that is about to be made into a pizza?
After the time deemed necessary for resting the dough has elapsed, the dough ball will be shaped, traditionally done by hand. Using a spatula, a portion of dough is cut from the dough laid on the workbench and then given a loaf shape.
The individual uncooked dough ball that will later be made into pizzas should weigh between 7.5 and 9.87 ounces (200 and 280 grams), to make a pizza between 8.6-13.77 inches in diameter (22-35 cm).
How big is a plate suitable for Neapolitan pizza?
If you have ever eaten pizza in restaurants in Italy you will certainly have noticed that it is served on white porcelain plates, with a wide, flat shape and no rim.
What differentiates a pizza plate from a "normal" serving plate? First of all, the size.
While a classic flat plate has an average diameter of 10.62 inches (27 cm), a pizza plate is 13 inches (33 cm) or even more.
How big is a box for Italian pizza?
Obviously here in Italy pizza is often eaten in restaurants or pizzerias, but just as often it is ordered from home, and in these cases, it is moved in the classic cardboard pizza box.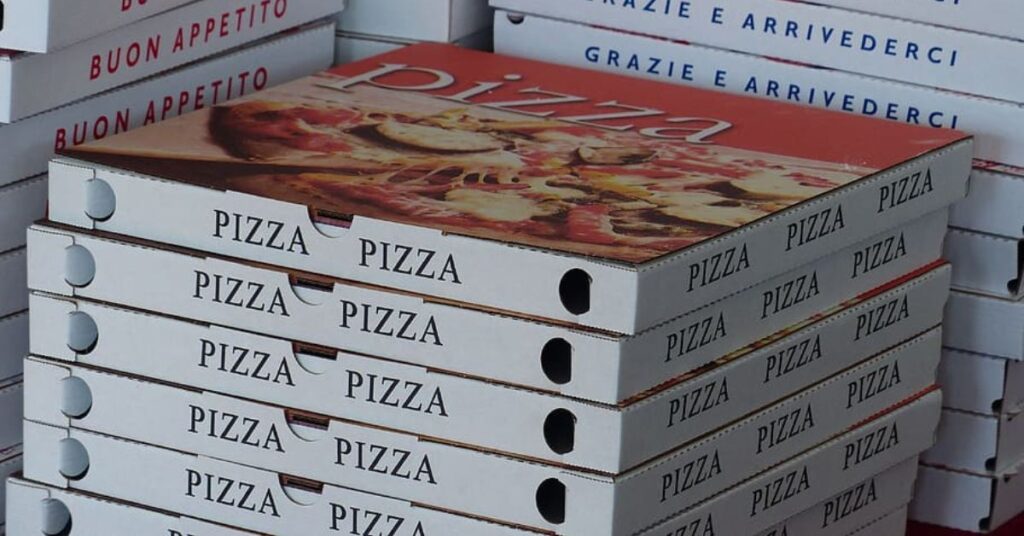 The standard size of Neapolitan pizza boxes that are used in Italy is 13×13 inches (33×33 cm), and the height of the box will be 1.18 inches (3 cm).
Are there mini Neapolitan pizzas?
Like anything, even in pizza sizes, there can be exceptions especially when we talk about pizza as street food to be eaten literally on the street while walking.
We talk about pizza "a portafoglio" (wallet pizza), which is a small pizza, that gets its name from the fact that it is taken in the hands and closed on itself on both sides just as if it were a wallet. In Italy, but more so in Naples, it is sold on the street by pizzerias, bakeries, pastry shops, and rotisseries.
Another example of a mini pizza in the Neapolitan tradition is the Montanara pizza, also called "Montanarina", a mini fried pizza with tomato sauce, cheese, and basil leaf.
This particular type of Neapolitan fried pizza, perhaps the most bizarre and least known, is often small in size, so much so that it is often offered as an appetizer before the actual pizza.
Are there any giant Neapolitan pizzas?
Although the measurements of the real Neapolitan pizza are very clear (13,77 inches in diameter) in Naples itself it is possible to come across historic pizzerias that offer giant variations of the classic Neapolitan pizza.
Dozens of large pizzerias have in common this "maxi pizza", a true XL-sized pizza, more commonly called "'a rot 'e carretto," that is, "like a cartwheel."
This pizza is wafer-thin, the dough ball is rolled out to form a much wider pizza, and the edge of the pizza comes out of the dish.