Have you ever seen Italians soaking a piece of bread or a biscuit in a glass of wine? You might have noticed this unique habit while watching an Italian movie or experienced it firsthand as a tourist in Italy.
So, where does this specific practice come from?
The tradition of soaking bread in wine originated in post-war Italy, where poverty was widespread. To make the most of limited resources like stale bread, people would soften it by soaking it in wine.
Today, it's quite rare, but not impossible, to encounter elderly people who still enjoy eating bread dipped in wine. Meanwhile, the practice of dipping cookies in wine persists; Cantucci Cookies dipped in Vin Santo are enjoyed by many, including younger generations.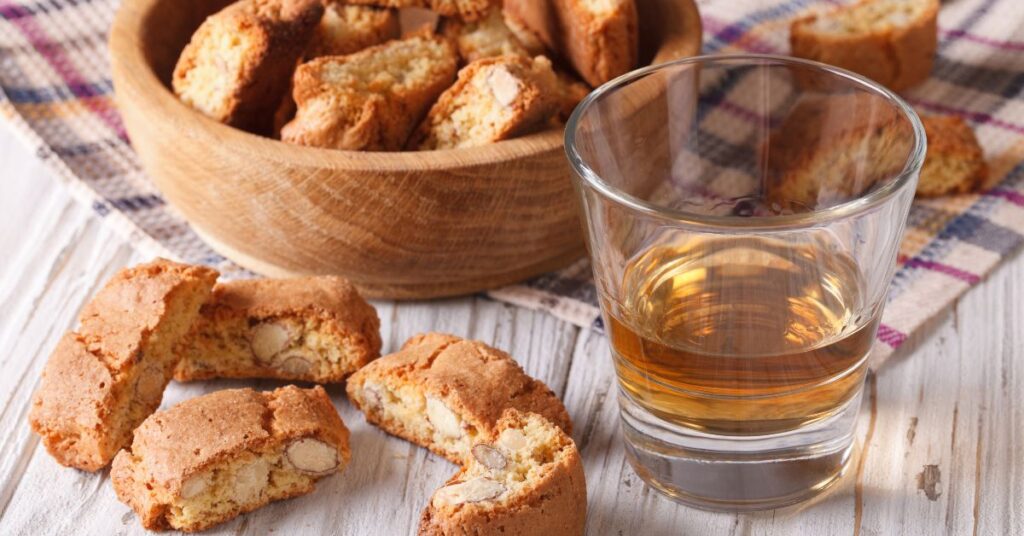 It's not uncommon for Italian restaurants to bring you "Cantucci con vin santo", as a dessert from the house, at the end of the meal! Cantucci are almond cookies, ready to be dipped in this sweet dessert wine called Vin Santo, one of the specific traditions of Tuscan culinary culture.
Continue reading this article if you want to know more about this particular all-Italian tradition.
What bread goes well with wine?
Tuscan bread is undoubtedly the best to be soaked in wine. This type of bread has a thin and crunchy crust, thick and soft crumb and it is totally salt-free! It is made with simple ingredients, just flour, water, and natural yeast.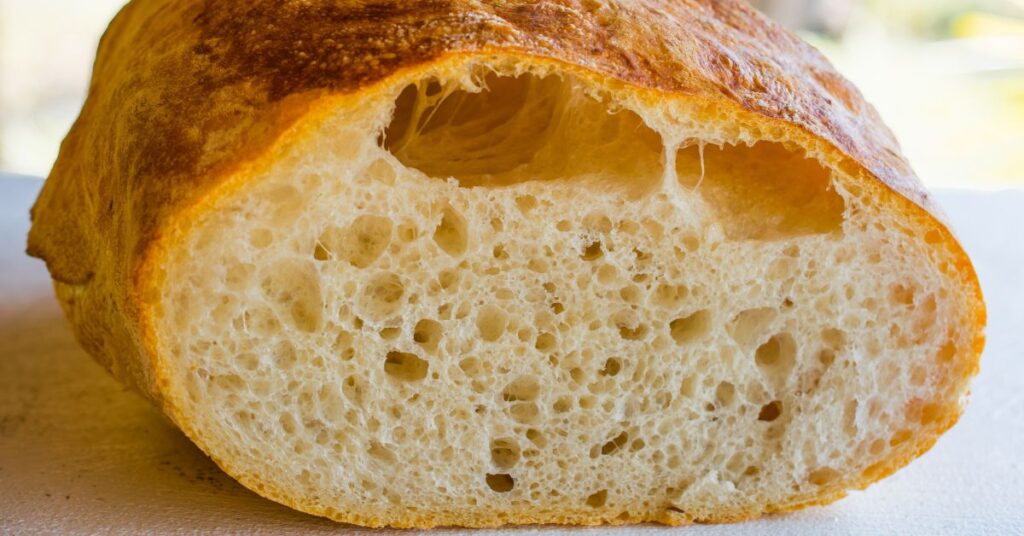 This bread, both fresh and a few days old, is perfect for soaking. If you don't live in Italy, it may be difficult to buy it, but you can try to bake it at home by following one of the many Italian recipes that can be found online.
Back in the day, people soaked in wine any type of stale bread, just to avoid wasting it.
Today, however, if you want to taste wine and bread together, I recommend you avoid these kinds of bread:
olive oil bread rolls;
sandwich bread;
bread with sesame seeds;
olive bread;
whole wheat bread.
Is it normal to soak bread in wine in Italy?
However, dipping bread in wine today is a practice that has almost disappeared. If you dunk some bread in a glass of wine at the restaurant, you will probably attract the attention of some observers.
Different from the biscuits (or Cantucci) dipped in the vin santo (a viscous, typically sweet dessert wine) at the end of the meal, this is a real dessert of the Italian tradition.
Bread, wine and sugar: the Tuscan merenda (snack)
A slice of bread soaked in wine and sprinkled with sugar: it was the snack of those who are now grandparents and great-grandparents and even before their ancestors.
In Tuscany wine and bread are two fundamental ingredients that are found in many recipes, one in particular is their maximum expression: bread, wine and sugar.
The flavor is really special: the acidity of the wine goes very well with the "sweetness" of the sugar, giving life to a tasty and delicate snack at the same time.
Do Italians dunk biscuits in wine?
Milk and cookies? It's overrated! Italians prefer to soak biscuits in wine… but not for breakfast, don't worry! In fact, at the end of a meal, in addition to bread, it is not uncommon to see people soaking biscuits or even a piece of cake (like a "crostata") in their glass of wine.
Which biscuits do Italians eat with wine?
Not every type of biscuit is suitable for soaking. For example, Italians who offer their guests some "vin santo" won't accompany it with classic breakfast cookies. There are specific biscuits that are meant to be soaked in wine. Each of them comes from a specific area of Italy and depending on where you are, you can receive different biscuits along with your wine, at the end of a meal.
cantucci (Tuscany): crispy almond biscuits, perfect for soaking;
torcetti (Piedmont): rich in butter and sprinkled with sugar grains;
baicoli (Veneto): simple and crunchy biscuits, excellent for soaking;
tozzetti (Umbria): similar to cantucci but with hazelnuts;
ciambelline al vino (Lazio): prepared with a rich mixture of wine and aniseed;
tisichelle (Lazio): small sweet donuts;
mostaccioli (southern Italy): small sweets with cocoa and various spices.
As you can see, if you want to try wine and biscuits as a dessert … You are spoiled for choice!
What does Cantucci mean in Italian?
Cantuccio (singular for Cantucci) is an Italian word that indicates a particular kind of toasted almond biscuits from Tuscany.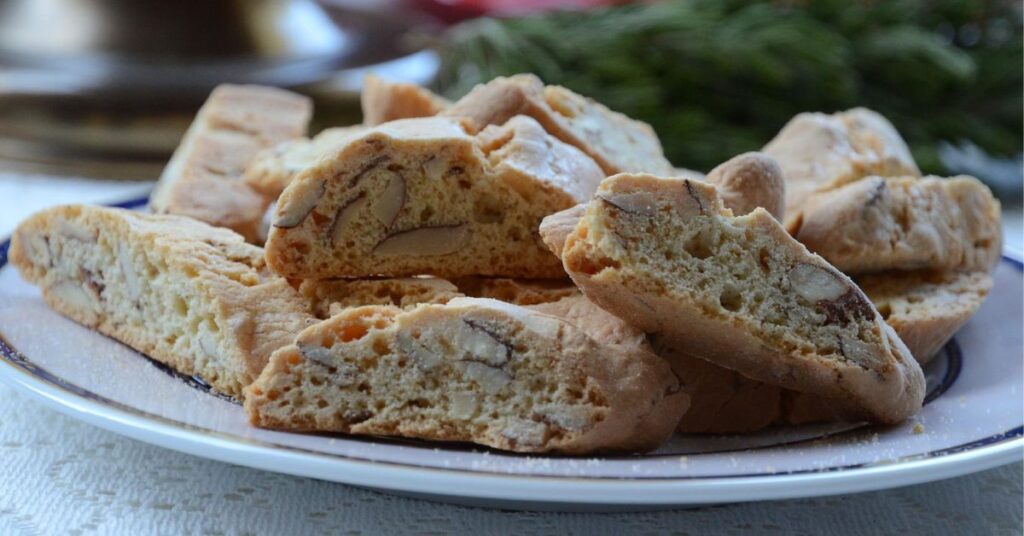 But the word Cantuccio in Italian means "small corner of a room" and is also used to describe a small and crusty piece of bread.
What is the difference between Cantucci and Biscotti?
Biscotti is a generic term that refers to all those dry sweets made with flour, butter, sugar, and various flavors. Italians usually eat biscotti for breakfast, together with milk or as a snack.
Cantucci, on the other hand, is a particular type of biscotti, originally from Tuscany. They are not eaten for breakfast but soaked in vin santo or another dessert wine at the end of a meal.
During your next trip to Italy, don't settle for classic desserts like ice cream, zeppole, or tiramisu! At some point, you should finish your meal with Cantucci and Vin Santo. It will be a wonderful treat for your taste buds!