Layered towers of bread slices, stuffed with cured meats, cheeses, grilled vegetables and oils of all kinds just to satiate even the most unquenchable appetites. Or small stuffed bites (sweet or savoury) with which to indulge in a snack in the morning, during work or study. This and what there is in the middle is the filling of "panini" in Italy.
As you can see, there is not a single definition nor is it possible to refer to a specific recipe, but this does not mean that for us, when it comes to sandwiches, anything is okay: there are still rules that define what a sandwich should be like. So, let's see some below, but first a little of history.
What are sandwiches or panini served with in Italy?
Another question: the "side dish" one. For those accustomed to the McDonald's concept it is impossible to think of a "naked" panino, without an accompaniment of sauces, fries or other similar combinations. In Italy, in fact, we are fans of authentic flavours and we do not like to cover them with too spicy additions. So, sauces here are much less used than abroad; in addition, our panini are so abundant that they are hardly eaten together with something else!
Classic Italian Panini
At this point you will be curious to know our cult sandwiches. There are many regional variations that deserve a mention, but I will limit myself to the truly unmissable ones:
Pane e panelle, Sicilian street food in which a mafalda (long bun covered in sesame seeds) is stuffed with delicious cornmeal and parsley pancakes already prepared in Roman times;
Cecina (or farinata), typical of Tuscany and Liguria, where the bread wraps chickpea cakes;
Piadina from Romagna, where a slightly different dough is "planed" and made thin to be cooked in a wood oven and generally filled with cold cuts and cheeses, of which the perfect combination is with "raw ham and squacquerone";
Rosetta with mortadella (a particularly rounded shape of bread): a truly universal must of simplicity that combines the North and the South but which requires exclusively top-quality products;
Neapolitan panuozzo, a historic proposal from the city of Gragnano in which the protagonist is the pizza dough, which is shaped like a panino and then filled with every genuine Neapolitan delicacy;
Zingara of Ischia, grilled crouton generally filled with fiordilatte, sweet raw ham, tomato and salad;
Porchetta panino, typical of the Latium table and minimal to the point of not including other condiments inside.
Panino with roasted octopus, in case you were wondering if we eat fish in sandwiches and panini here in Italy, the answer is yes! The octopus sandwich is a great classic in the Puglia region.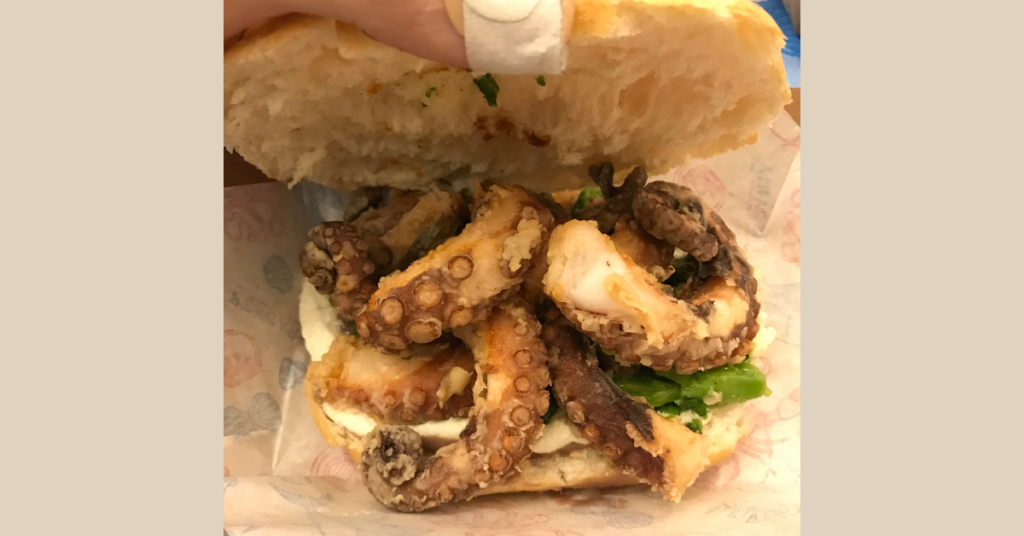 As you can see, in Italy even choosing which panino to make is a kind of dilemma. Nothing but the fast food!
Who invented panini?
The origins of the sandwich date back to many centuries ago, the ancient Romans already used to eat a kind of focaccia with venison or vegetables and it seems they were particularly greedy for a dish they called "Panis ac perna": a sort of cooked ham sandwich in fig water.
Sandwiches and panini: two adjacent but different worlds
Abroad, especially in America, one of the roles of Italian panini is covered by sandwiches: the most basic form is that of the grilled cheese sandwich, a cheese (or butter) grilled between two slices of sandwich bread until it melts; the end result is crunchy, stringy, very tasty and perfect for quick snacks as it is prepared in just a few minutes.
There are also richer variants, in which the sliced bread is stuffed with salad and other ingredients until it becomes tall and full-bodied, but this is not the same "panini concept" that you will find here in Italy.
In short, sandwich is not a panino, sandwich can only dream to be a panino!
However, where does this abysmal difference lie?
A matter of thickness, in every sense. In my country, bread, like pasta, is almost a religion: whether it is sliced, homemade or soft and spongy, it always carries with it an idea of fresh, of "just cooked", genuine, even when it is sold in envelope.
The sliced bread, on the other hand, identifies precisely that concept of mass-produced, pre-packaged product, where all the slices are perfectly identical to each other and leave no room for imagination; you cannot even imagine a housewife preparing, slicing and then putting them into circulation in large retailers.
And this is why, in Italy, preparations based on sliced bread are more inflated than those based on bread, even if appreciated and often also protagonists of small parties for children and "standing lunches" for compulsive workers. Like here in Italy we call them "tramezzini"… not sandwiches.
What is the difference between panini and tramezzini?
The main difference lays on the bread used: tramezzino is often triangular in shape and it is made with two slices of white bread with no crust. Panino, on the other hand, is made with fresh and classic bread, crunchy on the outside and soft on the inside, often with a loaf cut in half or two slices of bread cut into a loaf.
Do you put butter on the bread in Italian panini?
It is not an Italian custom to use butter inside sandwiches, but a French one. Instead, it is a tradition to find our panini seasoned with different types of extra virgin olive oil, such as spicy oil or herb-flavoured oil, to then be stuffed with other foods.
Are sandwiches eaten cold or hot in Italy? 
As I said previously, panini's issue in Italy is very varied, even if it follows its own rules. The same panino can be prepared cold and hot, depending on the season and the taste of who will eat it, but I assure you that the flavour differs to the point of confusing and making you think that they are two completely different things!
Usually, we proceed by heating the two slices of bread on a plate (or a hot pan), and then continue to cook everything by covering them with the ingredients that will fill panino, to blend all the flavours. Soft bread is generally pressed, but it is not impossible that this also happens with other types of fresh bread.
Now I guess what you are thinking: in the toaster, right?
The toaster is a sandwich stuff. Not even the thinnest slices of bread could ever fit into those tiny cracks (do not try this at home!) and, above all, come out perfectly compact, golden and crunchy. It is a very handy tool that we Italians also keep in the kitchen but that we reserve only for our "tramezzini" exactly as it happens all over the world.