Italian cuisine, known and appreciated by so many people worldwide, is still the subject of questions and doubts, especially from those who live outside Italy. For example, so many people wonder whether or not we Italians put cream in pasta.
I assure you that this question is actually more complex than it seems, heavy cream in pasta sauces, is a debated topic even today in Italy.
But don't worry, I am here to give you an answer and explain exactly why the use of cream in pasta dishes is such a controversial topic. So next time you cook some pasta at home, you'll know the do's and don'ts.
You should know that the use of heavy cream to season various pasta recipes was a major phenomenon in Italian dining in the 1980s, with dishes like tortellini cream and ham or (unobtainable today) penne with heavy cream and vodka making the use of cream very commonplace here in Italy.
But in recent years there has been a reversal in the use of cream, which is no longer so customary, by many it is seen as an ingredient useful only to hide or amalgamate the flavor of the dish, and therefore certainly not a good ingredient for pasta since simple ingredients and delicate but recognizable flavors should be favored.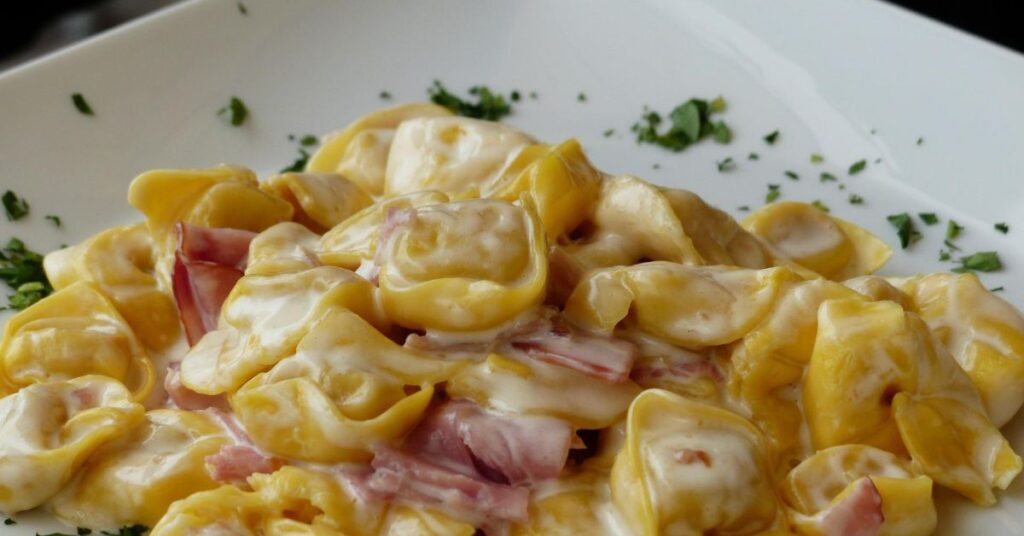 Today, it is quite difficult to find in a modern Italian restaurant all those cream-based pasta dishes that were practically on every menu in the 1980s.
That being said it must be kept in mind that modern Italian cuisine does not completely abolish heavy cream from pasta dishes, although it is definitely less used and enjoyed than before, there are still recipes that require this ingredient.
To summarize:
Heavy Cream is used in Italian cuisine mainly in pasta sauce recipes, has been used perhaps too much in the past. This has led to some good dishes but also to many recipes where the use of heavy cream was excessive or even wrong.
Even Italian cuisine, while preserving so much tradition, is still subject to fashions and interpretations over the years; cream in dishes is an example of a fashion that currently seems to have passed, though not entirely forgotten.
Why was cream often used in pasta dishes in the past?
The cream is a dairy product made from the fat part of milk, a fat that helps thicken, in the right dose it adds that touch of creaminess needed in many pasta sauces. 
But with which sauces? Many vegetables, for example, can welcome the presence of a dollop of cream to thicken, but not all: the risk is that you will then no longer recognize the vegetable on your plate.
The cream can actually improve the sauce of a dish, and for these reasons it has been used abundantly, thanks to its ease of use-in fact, it can be purchased ready to use in any Italian supermarket.
Why heavy cream is criticized in modern Italian cuisine?
The abuse of cream by many Italian restaurateurs during the 1980s and 1990s led to the use of this very fatty and flavorful ingredient to easily thicken pasta sauces and add creaminess to the dish.
However, if the cream is not dosed carefully, it often ends up covering the flavors of the dish; instead of enhancing the flavor of the raw ingredients in the sauce, such as the tomatoes, vegetables, or meat in the ragù sauce, it ends up covering them, flattening the flavors.
This explains why today, this ingredient is often avoided in Italian dining, although it is fair to mention that there are still exceptions, I tell you about them below. 
What famous Italian pasta recipes need heavy cream?
As I mentioned above, Italian cuisine is full of retro pasta recipes, inherited from the 1980s where the cream was present in the ingredients and in some cases even stars the recipe.
Some of these dishes were so eaten in those years that they are still known and appreciated today.
Here are the best-known heavy cream-based pasta recipes in Italy:
Pasta panna e prosciutto
Pasta panna e gamberi
Tortellini panna e prosciutto
Penne pasta with speck and cream
Pasta with pumpkin and cream
Penne pasta with vodka and cream
Penne al baffo
Pasta gorgonzola cream and walnuts
Today there are not many restaurants that keep these dishes on their menus anymore, mainly because of the fear of being labeled as old-fashioned restaurants, but surely many people continue to cook and eat these dishes at home.
How should I know?
Look at this research data, as you can see the recipes for these dishes, all with heavy cream, are still desired in Italy, despite everything.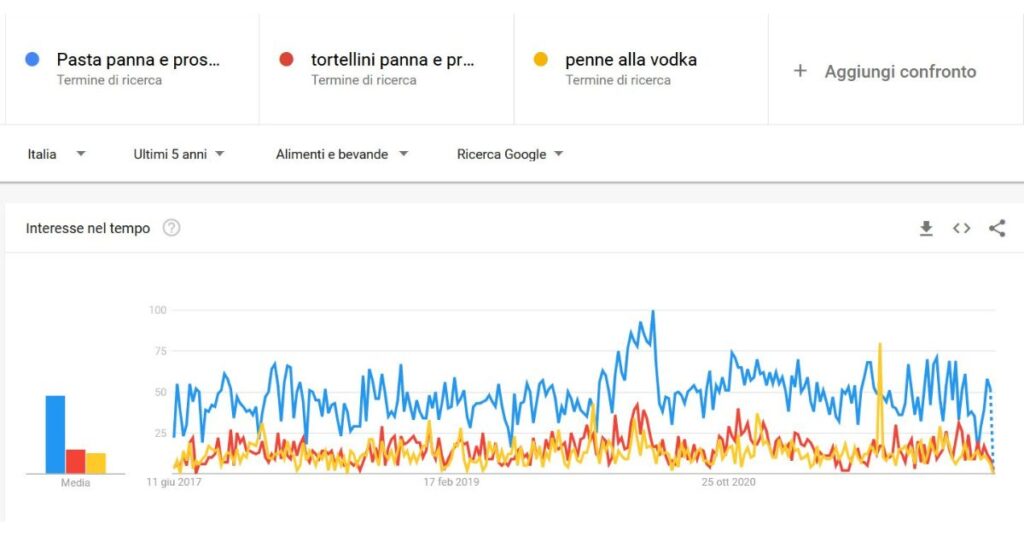 What are the pasta recipes that absolutely do not involve heavy cream?
There are some dishes in Italian cuisine in which you should absolutely never add cream, in fact adding cream to these dishes is like offending the other ingredients.
There can be two reasons for the impossible combination:
The cream would go to cover the too delicate flavors of the other ingredients.
The cream is not in the original recipe and cannot be added.
Here are two concrete examples of the two possibilities:
Heavy Cream on pasta with fish is often a mistake. It is the embodiment of 1980s catering that rather than enhancing the raw ingredients tended to erase their presence with cream. For a fish-based sauce, you can add virgin oil, but no cream and no parmesan too.
Cream in spaghetti carbonara is seen as blasphemy here in Italy. the original recipe calls for eggs, indeed it is this ingredient that makes carbonara creamy. Trying to imitate that creaminess by adding cream to carbonara sauce is absolutely wrong.
Related questions
What is heavy cream called in Italy?
In Italy, heavy cream is called "panna da cucina", also cooking cream, and can be found ready to use in any supermarket or grocery store, in the dairy department outside the fridge. Often is in bricks like those you see in the picture.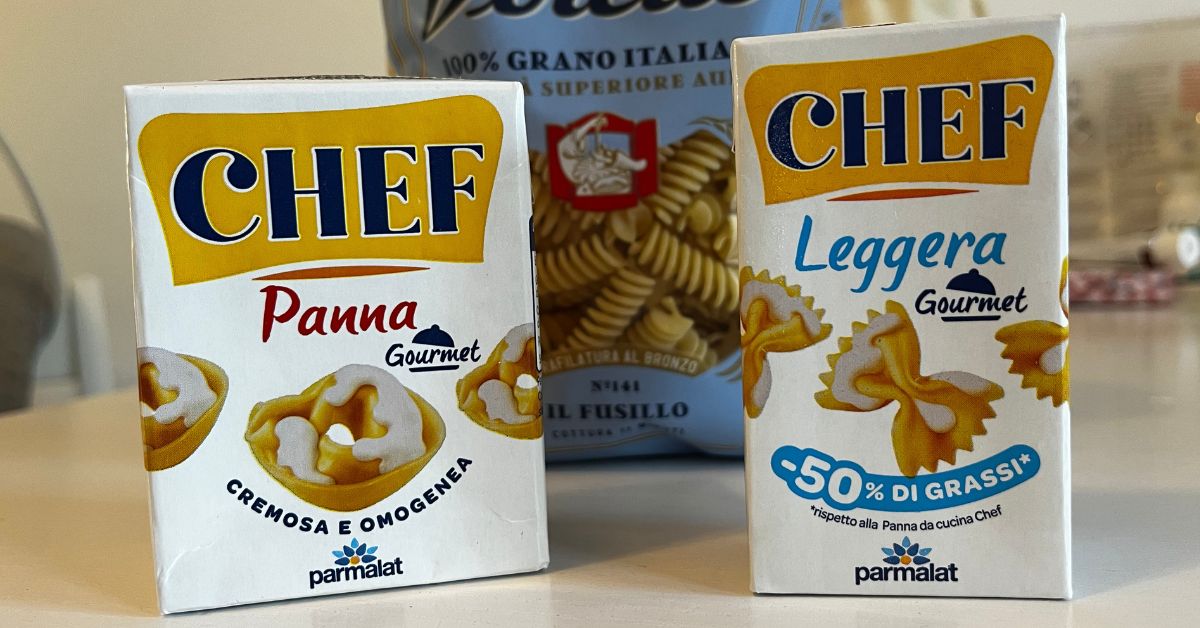 Do Italian pasta use cream?
Yes, there is some pasta recipes, many of which became famous in the 1980s, that use heavy cream as an ingredient. Penne with cream and vodka and Tortellini heavy cream and ham are examples.
Is heavy cream good in spaghetti?
There are some pasta recipes where spaghetti is topped with cream and another ingredient, such as spaghetti Panna and ham or spaghetti Panna and mushroom. Although these are not restaurant recipes, they are still dishes often prepared in the homes of Italians.
Do they have heavy cream in Italy?
In Italy, if you are looking for heavy cream you have to ask for "panna da cucina." Is an Italian cream that's typically used for cooking pasta sauce or other plates. It has less fat than whipping cream and it's also thicker than both whipping cream and heavy cream.
Can you add heavy whipping cream to tomato sauce?
Even if Italians do not like to mix heavy cream with tomato sauce for pasta, a few recipes call for this combination. Penne "al baffo" for example, calls for a cream and tomato sauce. Keep in mind, however, that most Italians eat pasta at home topped with solely tomato sauce and grated cheese.