Anyone who has ever visited Italy, or who is fond of Italian cuisine, has probably asked themselves this question: Which pasta brand is the most popular, widely sold, and frequently eaten in Italy by Italians?
As an Italian living in Italy, I thought I knew the answer, but it's not as straightforward as you might think. There are hundreds of brands of dried pasta in Italy.
Despite the significant regional differences and the multitude of pasta factories across the country, the best-selling pasta brand in Italy is still Barilla.
List of the best-selling dried pasta brands in Italy
Barilla
Supermarket Own Brand
De Cecco
Voiello
Garofalo
La Molisana
Rummo
Divella
Agnesi
Granoro
Barilla is heading the ranking, with 98 percent of presence in Italian supermarkets, then private label (supermarket own brand) are present in 90 percent of supermarkets, while De Cecco pasta is available in 87 percent of Italian supermarkets. They are followed in the ranking by Voiello (77%), Garofalo (70%), La Molisana (61%), Rummo (52%), Divella (28%), Agnesi (25%), and Granoro (22%).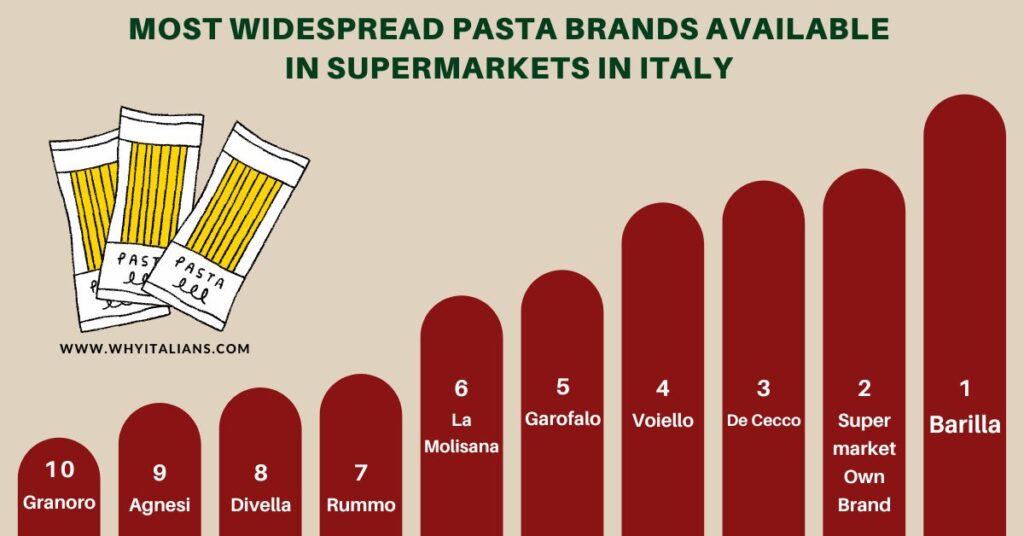 Now you might be curious to know which shape of dry pasta is the most eaten by us Italians, click on the link to read the ranking.
Most widespread pasta brands available in supermarkets in Italy
The boxed pasta market is therefore quite fragmented, with one brand – Barilla – being the absolute leader in the large-scale retail channel, followed with much smaller shares by some national competitors (De Cecco, Voiello, Garofalo) and by about 600 small and very small pasta factories spread only in some territories.
| | |
| --- | --- |
| Pasta Brands | Presence in Italian supermarkets (%) |
| Barilla | 98% |
| Supermarket Own Brand | 90% |
| De Cecco  | 87% |
| Voiello | 77% |
| Garofalo  | 70% |
| La Molisana | 61% |
| Rummo | 52% |
| Divella | 28% |
| Agnesi | 25% |
| Granoro | 22% |
In this table, I have listed the 10 most popular pasta brands in Italian supermarkets and their percentages of shelf presence.
This is a market with great territorial inhomogeneity and, in even large local areas, national shares are totally transformed in favor of industries strongly rooted in those regions.
Note also the significant market share achieved by private label pasta, i.e., pasta sold under the supermarket's brand name, which further complicates and fragments the national pasta landscape.
Italian supermarket chains such as Coop, Esselunga, and others have pasta on their shelves under their own brand name. All these brands achieve significant national sales shares, even if it is not the same pasta, but pasta from different pasta factories, that package the product under the supermarket's brand name.
For your convenience, I leave here a list of the most popular dry pasta brands among Italians, in order of preference.
Do Italians eat Barilla pasta?
Yes, Italians often choose to buy and eat Barilla pasta, currently the leading dried pasta brand in Italy with a 98% presence in supermarkets. However, as Barilla is the most widely distributed commercial pasta brand in Italy and around the world, it is often considered by many Italians to be an average-quality pasta, some hate it. Therefore, many people do not choose Barilla if they have to buy quality pasta.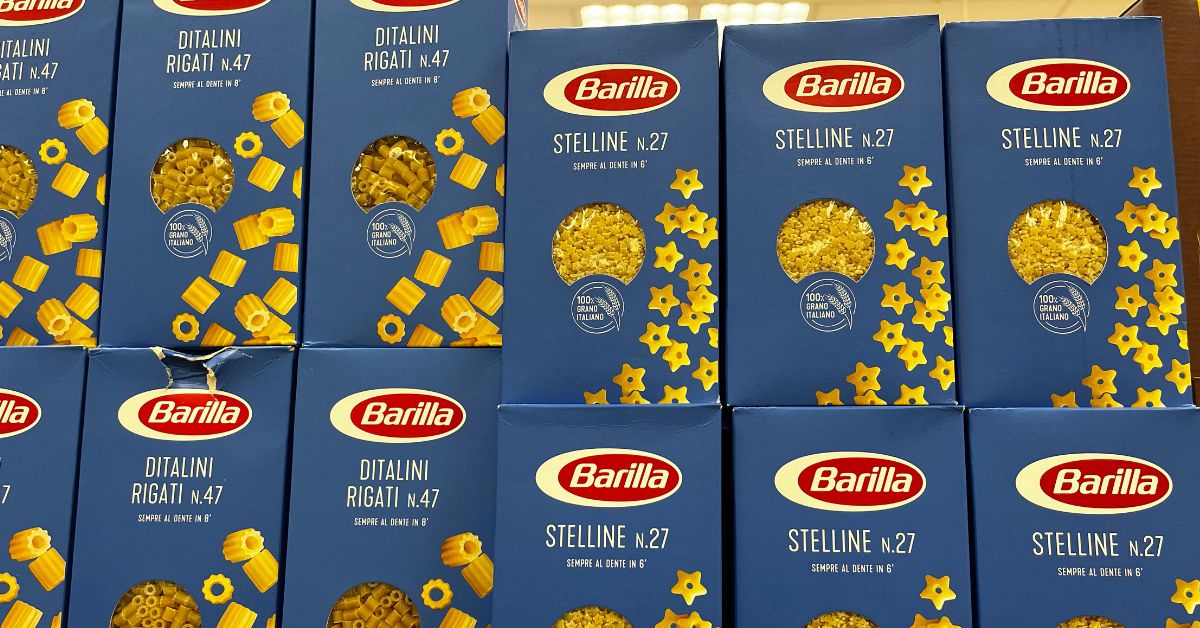 Do Italians eat De Cecco Pasta?
Absolutely, De Cecco pasta boxes are among the most chosen and appreciated in Italy. De Cecco ranks second after Barilla in terms of distribution in the Italian territory. Despite being a world-renowned industrial brand, Italians often choose spaghetti, rigatoni, and other forms of De Cecco-branded pasta from grocery store shelves because they judge it to be quality pasta.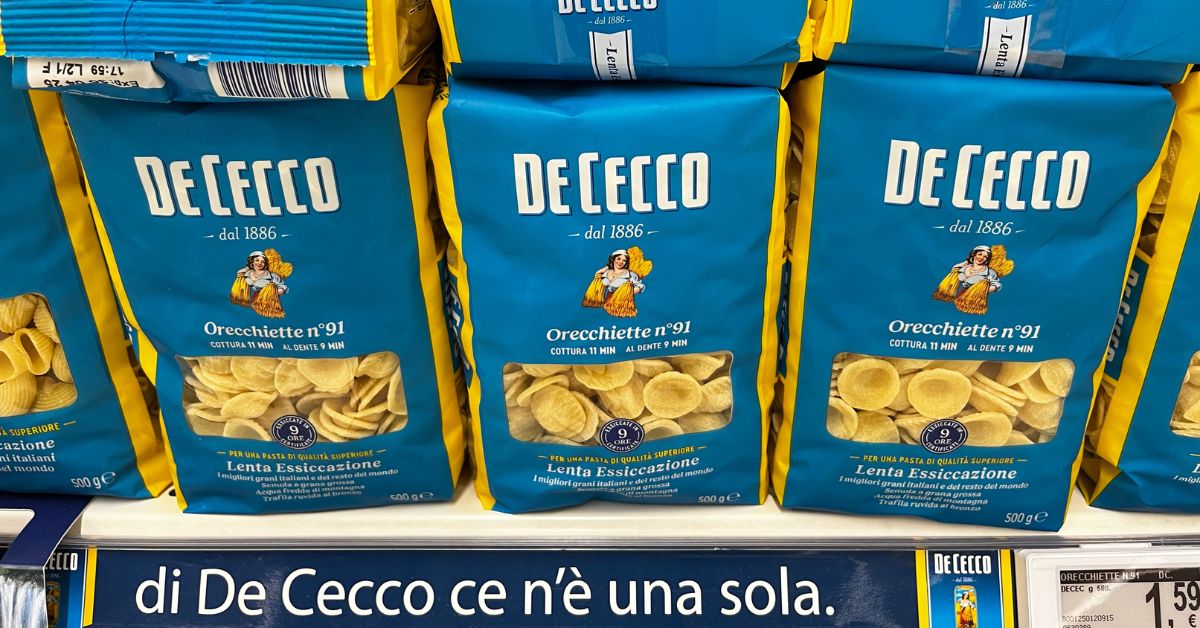 Do Italians eat Voiello Pasta?
Voiello dried pasta is widely distributed in Italy and is often chosen by Italians, especially in southern Italy, the company's homeland. After Barilla and De Cecco, Voiello is the best-selling pasta brand in Italy.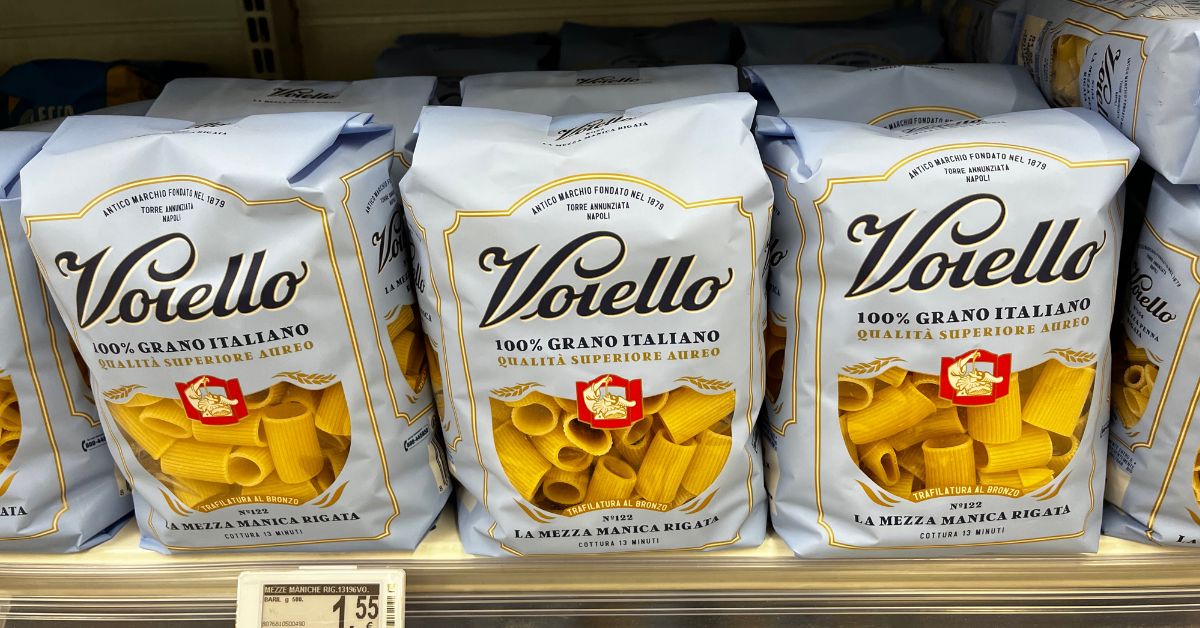 Do Italians eat Garofalo Pasta?
Yes, for many Italians the Garofalo pasta brand is synonymous with quality, it was established in 1789 in Gragnano, a town near Naples. Along with Barilla, De Cecco, and Voiello, Garofalo is among the most widely distributed and sold dry pasta brands in Italy.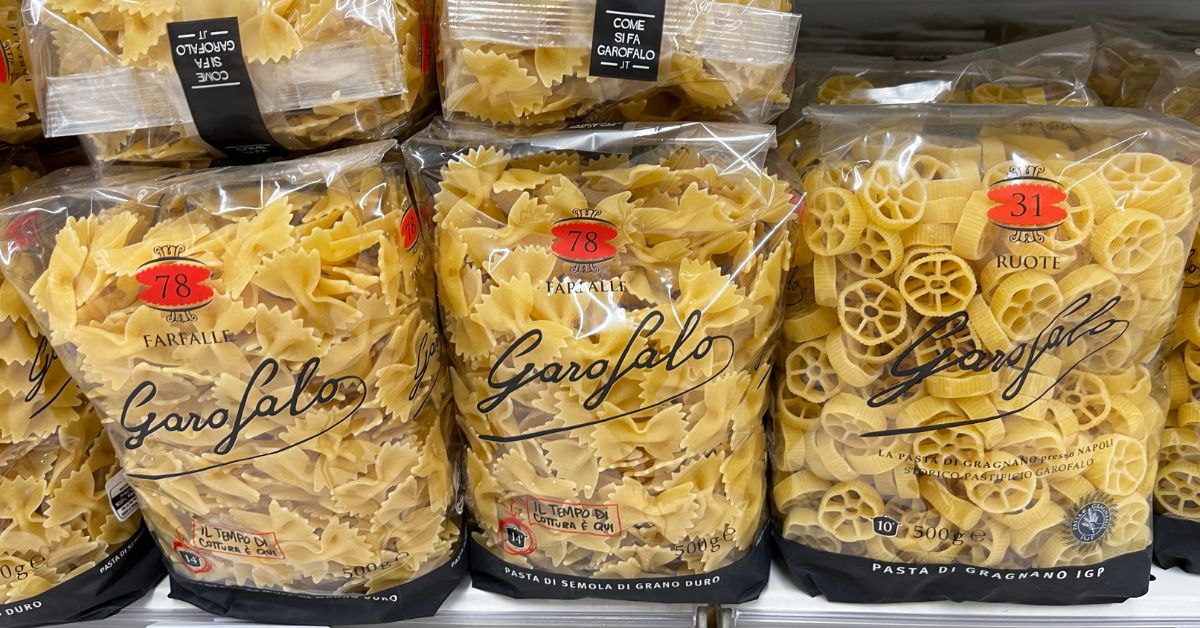 Do Italians eat store-bought pasta?
Yes, Italians buy and consume a lot of dried pasta, especially for quick pasta dishes to eat every day. In Italy, annual per capita consumption is around 28 kilograms, which is three times higher than in the United States, Greece, and France, five times higher than German and Spanish consumption, and sixteen times higher than in Japan.