When thinking of the most popular pasta shape in Italy, spaghetti clearly takes the crown. But what about the others that follow? Despite the incredible variety of pasta available, Italians have distinct favorites.
Spaghetti is the top-selling pasta shape in Italy with 14.4% of sales.

Academia Barilla
In a country that produces over 300 pasta formats, some shapes have emerged as clear winners.

The table below showcases the top ten pasta shapes sold in Italy, based on sales volume.
| Rank | Pasta Shapes Ranked | % Sales Volume in Italy |
| --- | --- | --- |
| 1 | Spaghetti | 14.4% |
| 2 | Penne rigate | 8.5% |
| 3 | Fusilli | 7% |
| 4 | Tortiglioni | 5.6% |
| 5 | Mezze Penne Rigate | 5.3% |
| 6 | Spaghettini | 5% |
| 7 | Bavette | 3.7% |
| 8 | Pennette rigate | 2.7% |
| 9 | Farfalle | 2.6% |
| 10 | Rigatoni | 2% |
Source: "I Love Pasta: An Italian Love Story in 100 Recipes" by Academia Barilla.
Italy's Top Pasta Shapes & Their Classic Sauce Pairings
Based on findings from the book "I Love Pasta: An Italian Love Story in 100 Recipes," I uncovered the top 10 pasta shapes that fly off the shelves in Italy. Check out the list below, ranked by sales volume percentages.
Along with each popular pasta type, you'll also discover recommended recipes that perfectly complement and highlight its unique qualities. In case you weren't aware, in Italy, we have a tradition of pairing specific sauces with certain types of pasta.
Here are Italy's top 10 favorite pasta shapes:
1. Spaghetti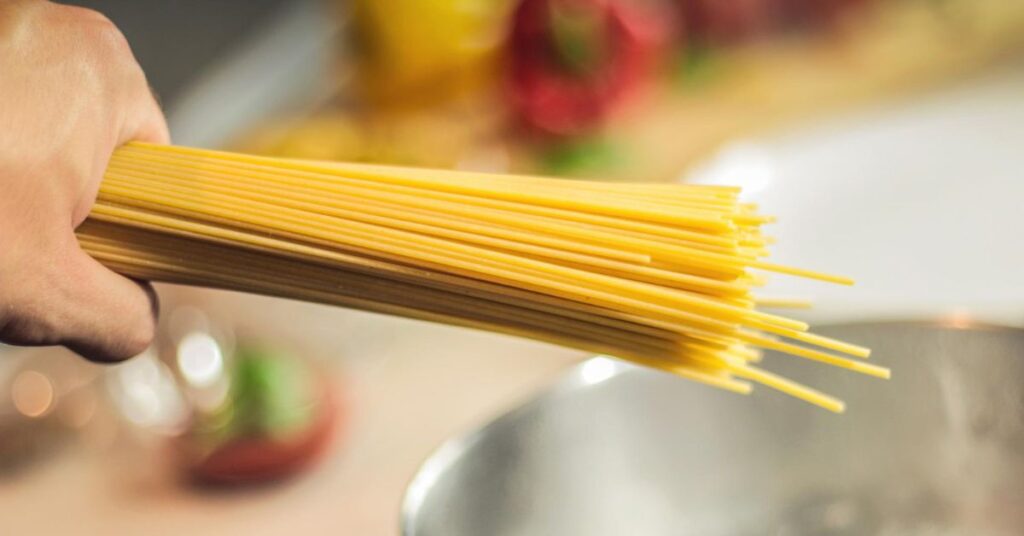 In first place reigns Spaghetti, by far the most consumed shape of pasta in Italy (it has a 14.4% share of the total volumes sold in Italy *), it is the pasta format that most represents Italian food culture in the world.
The term spaghetti comes from "piccolo spago" the Italian word for "little string" and is present in all regional culinary traditions, from North to South Italy. There is even an Italian term, "spgahettata", which refers to eating spaghetti at night.
Spaghetti pasta is very adaptable and goes well with many sauces: such as the legendary spaghetti with tomato and basil. Another recipe that enhances their characteristics is "la carbonara": a classic dish of Roman cuisine; it has a very short preparation time – (10/15 minutes), and the few selected ingredients (guanciale, eggs, Roman pecorino cheese) are the guaranteed a fabulous dish, don't try to vary the carbonara please.
2. Penne rigate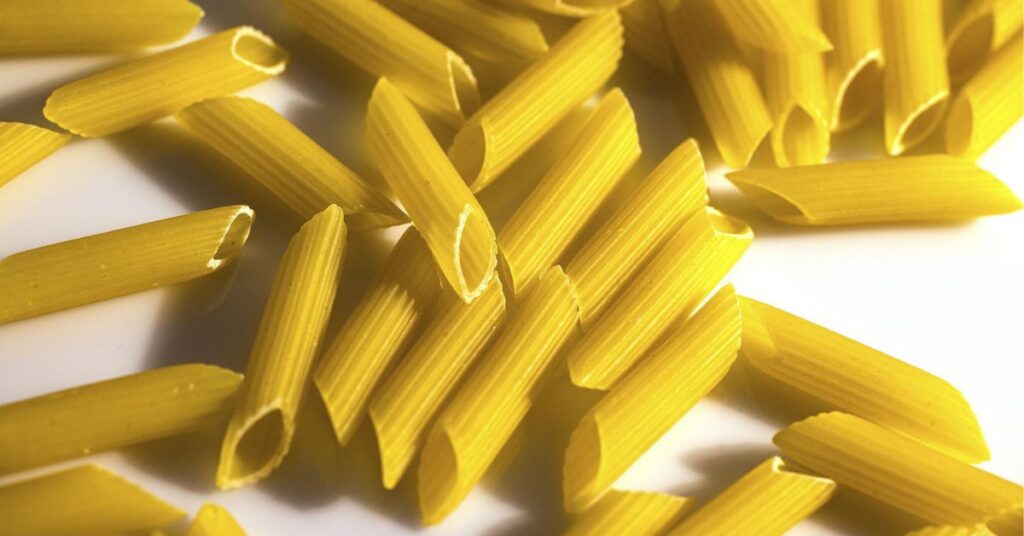 In second place here is penne rigate, very widespread throughout Italy (8.5% of volumes sold), owes its name to the quill pen, anciently used for writing, which was cut obliquely to obtain a thin stroke tip.
Penne is one of the rare formats whose date of birth is certain: 1865, the year a Genoese pasta maker patented a machine that could cut fresh pasta diagonally (in the shape of a pen) without crushing it. Penne rigate goes perfectly with "all'arrabbiata" sauce: a must-have dish on the menus of Italian restaurants around the world.
For an exhaustive explanation of what is the peculiarity of penne rigate, follow the link.
3. Fusilli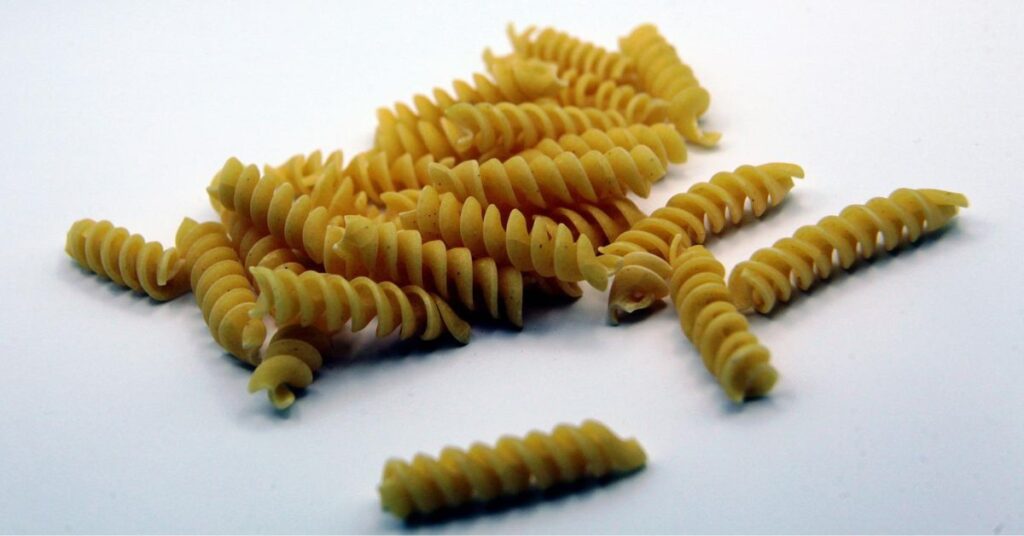 Third on the podium are fusilli, a form of pasta of Arab derivation that first spread to southern regions, from which the Muslim expansion into the Mediterranean began. Fusillo derives from the term 'fuso,' a wooden hand-spinning tool on which spaghetti was wound to make a serpentine strand of pasta.
It goes well with many sauces, from the most elaborate to the simplest, such as diced garden vegetables dressed with a drizzle of extra virgin olive oil, light and colorful. (7% sales volume).
Personally, I love fusilli and for me, they are better than penne, I even wrote an article on how to eat them.
4. Tortiglioni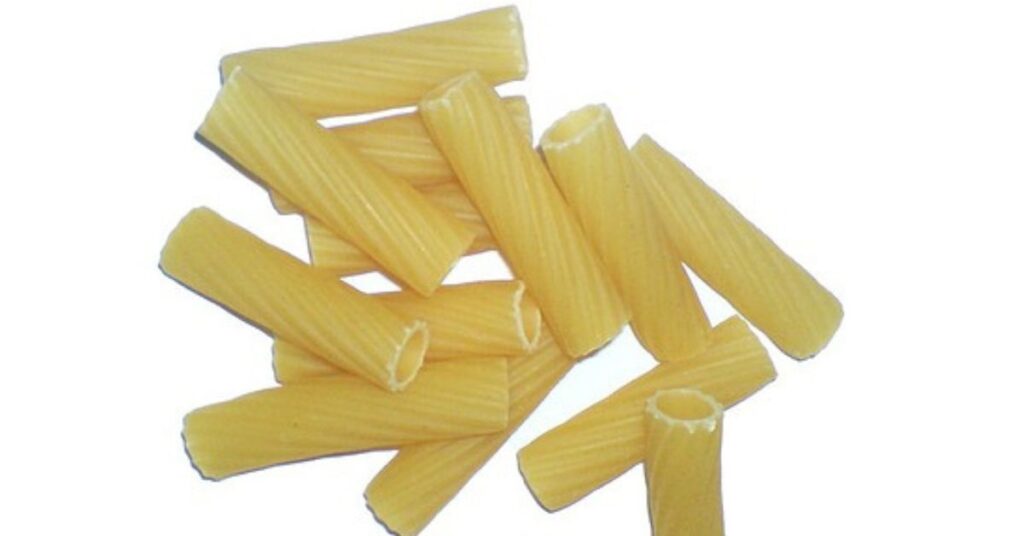 This shape of pasta is typical of southern Italy, particularly Campania, but today they are found in all Italian regions. The name comes from Latin and means "to turn."
Its characteristics are enhanced by flavorful, full-bodied sauces such as paired with a Parmesan fondue and a few drops of balsamic vinegar. (5.6% volume of sales).
They're so good to bite into, you might as well eat them plain! Read here to find out what Italians mean by white pasta.
5. Mezze penne rigate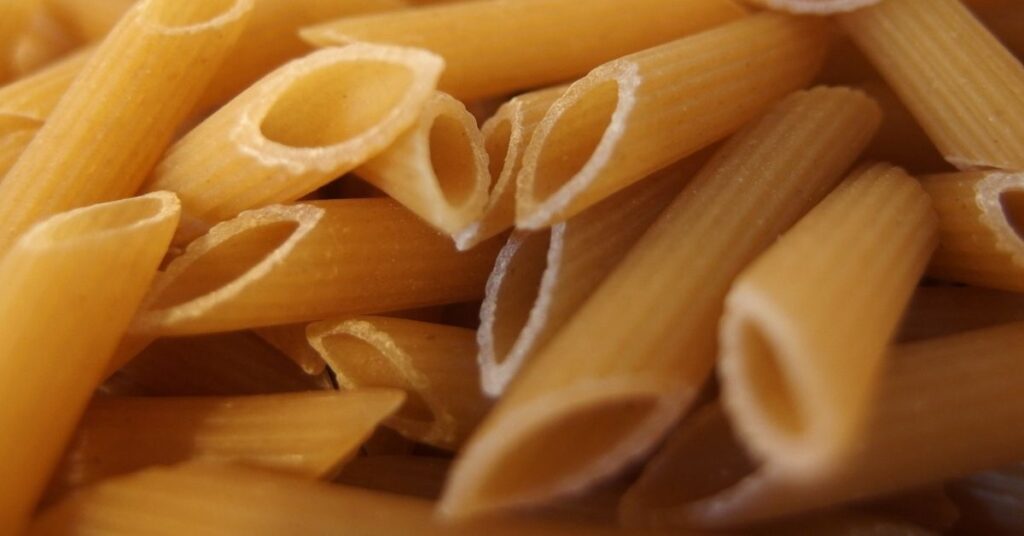 Make no mistake, mezze penne rigate is different from simple penne rigate. In the large penne family, the difference between types is thickness, diameter, and length. Mezze penne rigate is the shortest, but not the smallest: in fact, they have the same diameter as penne rigate. If you're wondering if they have the same taste despite the different shapes, I'll explain it at the link.
Very versatile, they go well with sauces of all kinds and are also used for cold pasta salads and as a base for baked pies. For an original first course, they can be paired with clams and chickpeas: an unusual and tasty recipe! (5,3% sales volume).
6. Spaghettini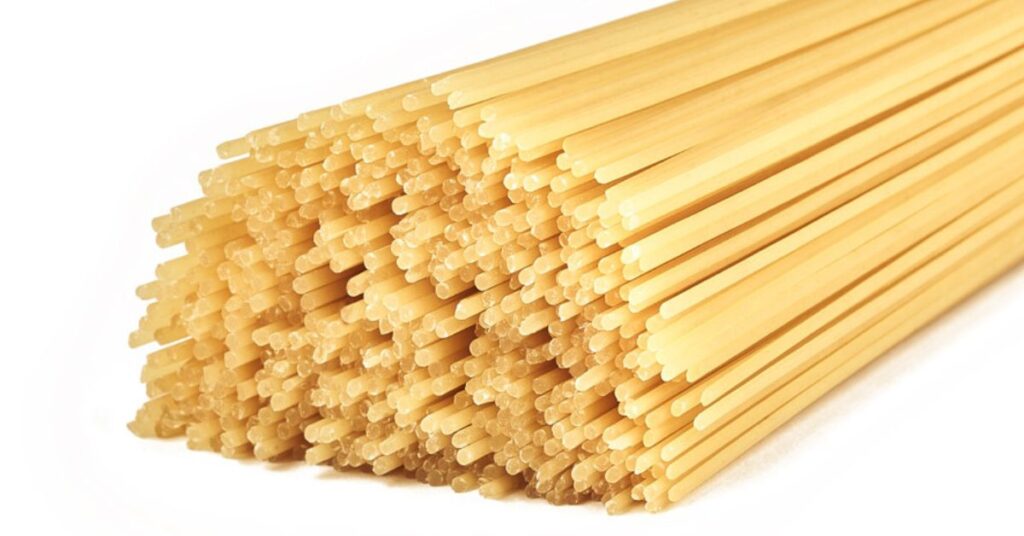 The second presence of the spaghetti family in the ranking, spaghettini is a variation of spaghetti with a thinner diameter, perfect for quick, light, and not very dense sauces.
They are traditionally paired with oil-based sauces, which do not weigh down their thin, runny shape. They are also perfect for the classic "aglio, olio e peperoncino." a dish popular throughout Italy and easy to prepare in a short time. (5 percent of sales volumes).
By the way, if you're in a hurry and don't want to wait for the pasta to cook, read here which pasta shape cooks faster.
7. Bavette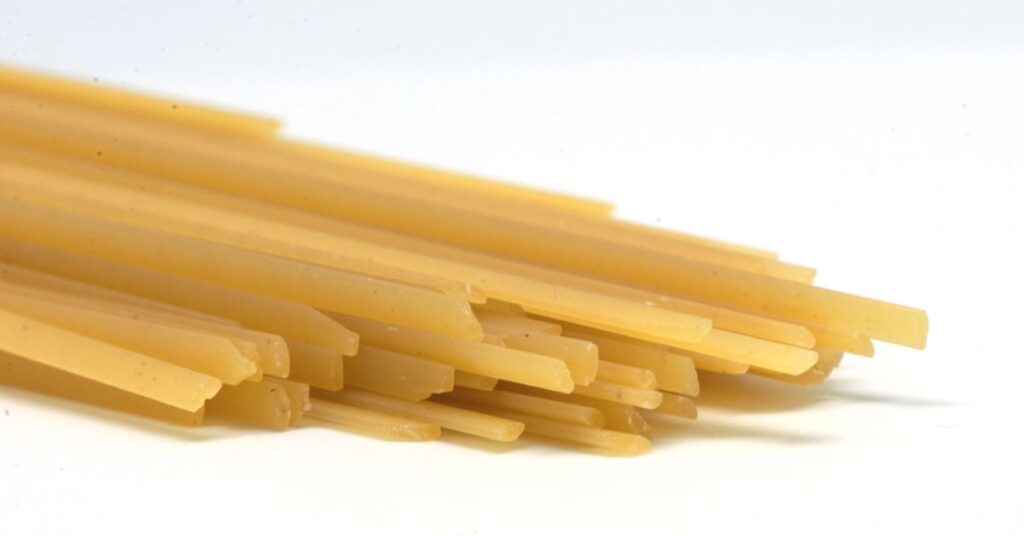 An ancient pasta format of Ligurian origin, possibly already present in the 13th century. Long like spaghetti but the flattened shape provides a larger surface area for sauces and pestos to adhere, enhancing their taste and aroma.
They are typically paired with pesto alla Genovese, one of Italy's most typical regional sauces (3.7 percent of sales volumes). Here I wrote about how pesto is really eaten here in Italy
8. Pennette rigate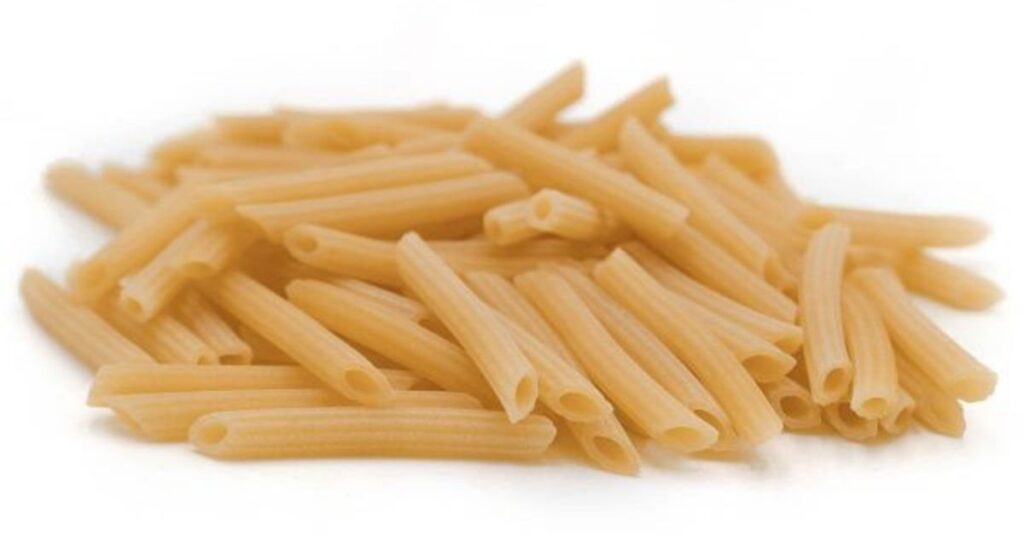 Still penne, but thinner in thickness than their big sisters, pennette rigate dive into the sauce, blending to perfection. They are widely used for pasta alla norma, a typical Sicilian cuisine recipe in which three typical ingredients are enhanced: tomatoes, eggplant, and salted ricotta cheese (2.7% of sales volume).
9. Farfalle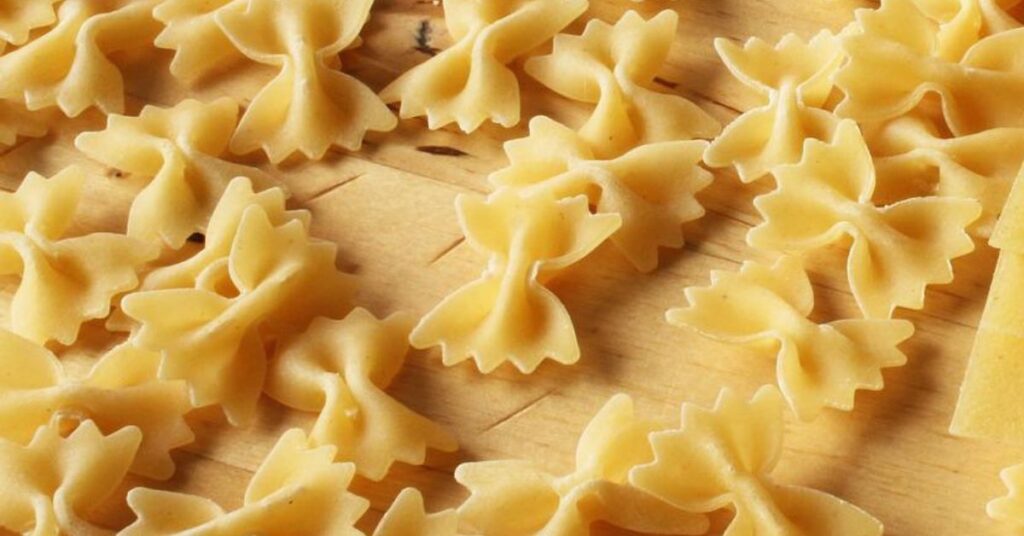 One of my favorite pasta shapes, "farfalle" in Italian is butterfly, although this pasta actually resembles more of a ribbon. The wide wings manage to hold the sauce in; the central staple is differently consistent and enhances the sauce even more.
Widespread in all regions, they are perfect both for robust sauces, typical of the winter period, and for lighter, typically summery sauces, such as tuna, cherry tomatoes, and olives (2.6% of sales volumes).
10. Rigatoni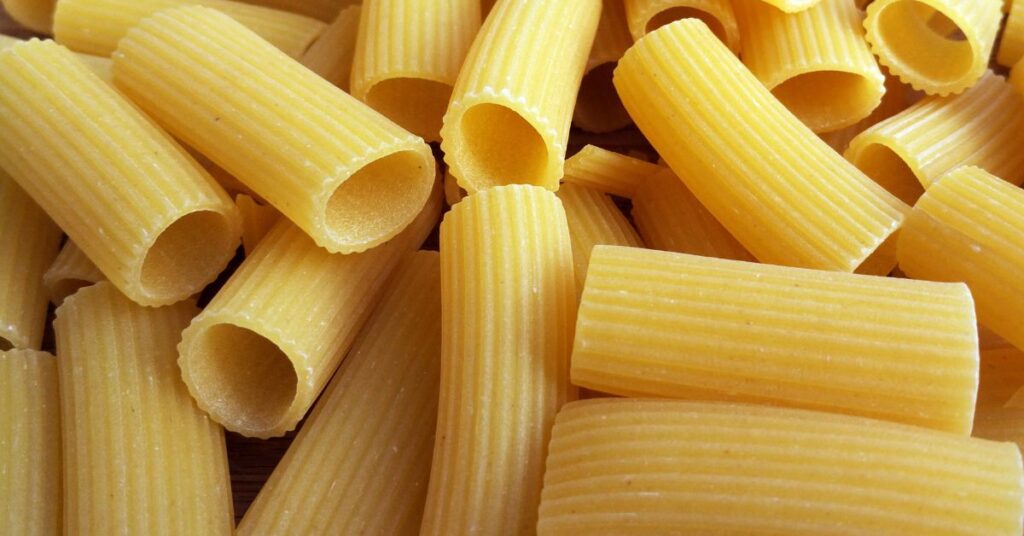 At the last place of the ranking we find rigatoni, which are typical pasta types of central/southern Italy, the name comes from the rifling present on the outside obtained thanks to the incision of the bronze drawn, which allows the sauce to be absorbed and collected.
The use of bronze dies has been recently popularized by Barilla, who has introduced its new "al Bronzo" pasta to the market, about which I have spoken at the link.
Perfect for baked pies and timbales, Rigatoni is also suitable for creaming sauces, as in the typical cacio e pepe recipe (2% of sales volumes).
Related Questions
How many types of pasta are there in Italy?
According to the Italiana Food Union data, there are about 300 shapes of pasta produced and consumed in Italy. Names and shapes that tell of territories, popular culture, production techniques, recipes, art, design, and imagination of the pasta maker.
What is the best-selling pasta format in Italy?
The undisputed supremacy for the best-selling format in Italy is spaghetti, present in all regional culinary traditions, from North to South Italy, very versatile and perfect with all kinds of sauces. According to some data from Barilla, spaghetti accounts for 14.4 percent of pasta sold in Italy.
Difference between penne and penne rigate
Penne started as a smooth type of pasta, that is, without stripes, but then over time they took infinite forms, up to the penne rigate variant. Penne rigate is the preferred format in Italy, where they are favored for their tightness in cooking and porosity due to the vertical stripes caused by the bronze drawing, which favors the marriage with the sauce.
Difference between spaghetti and spaghettini
Spaghettini is a variation of the famous spaghetti but with a thinner diameter (1.8 mm), perfect for quick, light, and not very dense sauces.
Difference between penne and mezze penne
The difference between penne and mezze penne is only in the length of the individual penne pasta, in fact as the name implies mezze penne is half the length of a regular penne. Penne is usually 2 inches long, while mezze penne is only 1,20 inches long.
What is the most popular pasta shape?
Spaghetti, both in Italy and abroad, is the most popular pasta shape in the world. Their unique shape makes them immediately distinguishable from any other pasta shape, and they are the symbol of Italian pasta in the world.
What is the most versatile pasta shape?
Although no pasta shape goes well with any sauce, there are definitely some shapes that are more versatile than others. Certainly, short pasta is the most versatile, with a shape that can hold any sauce, even those that are designed for long pasta. Penne rigate and Fusilli are two of the most versatile short pasta shapes.