In Italy there are over 300 shapes of pasta and it is legitimate to wonder how we arrived at this unbelievable variety of types and, above all, if there is a real difference in the flavor of different dry pasta shapes. 
One thing is sure: here in Italy, we know exactly when it is time to use a certain type of pasta shape over another, with a certain sauce.
Therefore, for carbonara there is long pasta, preferably linguine or spaghetti. For amatriciana, strictly bucatini. For cream and salmon, there can only be farfalle.
In Italy this type of consideration is so spontaneous that it is done automatically by most people, as easy as cooking a simple pasta al dente at home. I cannot tell you if I was born with the Italian-pasta awareness gene but, it is sure, having lived all my life in a country that has made this food a national symbol has helped me to become not only a pasta lover, but also a pasta expert. 
So leaving aside the pasta/sauce pairings I talk about at the link above, if you are wondering why there are so many shapes of pasta, I will explain everything right now.
In Italy, there are several shapes of pasta due to the strong regional diversity of the country, because of its relatively young national unity (1861). The industrial production of pasta began in the 19th century, in 1848 the first industrial pasta factory was opened in Naples, followed by many others throughout the country.
However, the variety of pasta shapes we see today were born during the 1950s and 1960s, with the introduction of new technologies and the growth of national and international demand that prompted producers to experiment new formats, innovative on the market. 
Different shapes of pasta, so different flavors?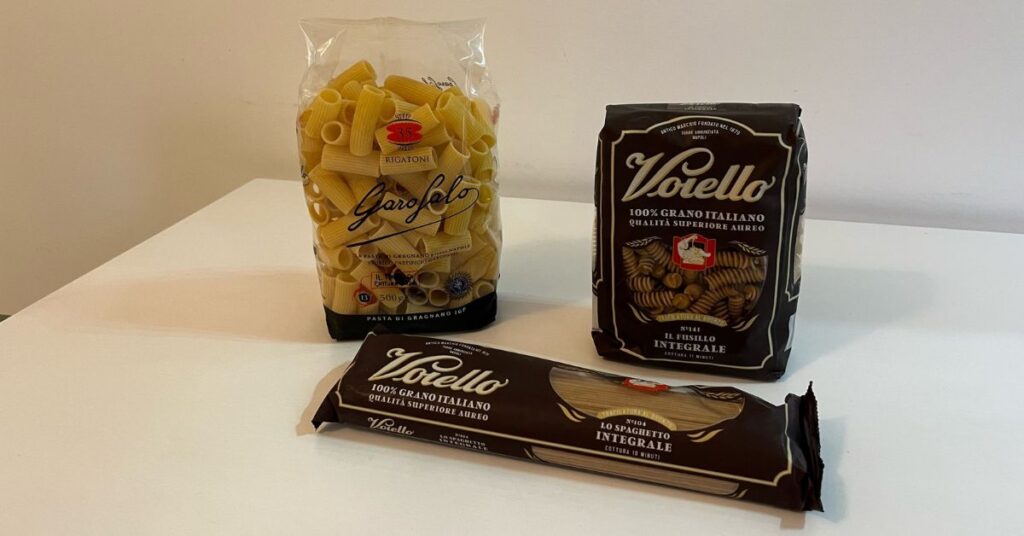 Although there is someone who would be ready to swear that penne rigate are "better" than smooth one or that bucatini tastes better than spaghetti, I want to underline one thing: pasta is pasta. It is all made from durum wheat and it does not matter what shape it will take; the flavor will always be the same. 
HOWEVER: we must mention the texture of pasta compared to our bite: each shape will offer a different sensation while we eat it. Therefore, the flavor will always be the same, but the sensation that each of us will experience will be different according to the ratio we have with that specific shape, due to the sensation it gives us during the mastication (from here you will also understand why "al dente cooking" is so important for us).
It is also true that some shapes are enhanced by pairing them with the right sauce, just as it is true that egg, paglia e fieno or wholemeal pasta offers different nuances of taste compared to normal one. 
And if we just look at spaghetti of different sizes and fettuccine of varying thickness, it becomes crystal clear that there is a bound between shape, recipe, personal preferences and tradition. From here, the study and development of many different shapes of pasta. 
The shape of pasta must always "help" the sauce
With all these formats of pasta, which actually have the same taste but different textures, many wonder if it is possible to choose the wrong shape for a certain sauce…well, the answer is yes!
Let's give an example, Italians are crazy about pasta and peas: cooked with onion browned in oil, it is a dish that can satisfy both adults and children like a lot and that you can find on Sunday tables as well as at the restaurant. 
The favorite shape of pasta for this recipe is the super-tight tubetti or ditalini (same concept, different sizes); in some cases we also use lumachine/coccinelle/pipe and, for the most important lunches, even giant conchiglioni. 
If for one, we prepare this dish with linguine or spaghetti, would it change anything?
Of course not, but think about this detail: all the shapes I have listed can literally contain peas, so when you savor a forkful you find yourself biting into the pasta really mixed with its own sauce (in this case, peas), which otherwise would not happen if we use long pasta, the peas would always slip off. 
Unbelievable, right?
Then, there is a myth we have to dispel: many people (including Italians) think that striped pasta is more suitable for "holding" the sauce. It is so wrong: many Italian chefs interviewed on the subject have clarified that the real pasta for connoisseurs is the smooth one, since the protrusions of the ribbed one mean that not all the macaroni is cooked uniformly, ending up being overcooked on the tops, where it cooks first and more al dente inside. Not a small detail!
How were the funniest shapes of pasta, like fusilli, rotelle, penne, tubetti born?
If, in the modern era, food evolutions are an integral part of certain marketing campaigns, it must be said that many traditional shapes of pasta have an entire story to tell. 
After the initial spread of first shape of pasta ever existed and the ancient spaghetti with many small variations on the subject, penne arrived with the industrial revolution. 
It was 1865 and the credit can be attributed to a Genoese pasta maker, Giovanni Battista Capurro, who patented a machine capable of overcoming the mistakes (and crushing accidents) of cutting pasta by hand. It is not a coincidence that in some southern regions these macaroni are called maltagliati (meaning badly cut). The idea was to reproduce the nib of fountain pens. 
Even fusilli are children of industrial development. They were born in 1924 thanks to two Italian immigrants in New York, who developed the fusilla, a machine with a hole in the center, able to reproduce infinite perfect spirals. 
Until that time, the realizations had been done by hand with the classic usage of ferretto (often made by a blacksmith, but there were those who recycled knitting needles or discarded umbrellas) a technique that had been carried out for centuries and which had given life to the traditional strozzapreti (priest choker. I know, it sounds creepy, but this is the real translation; it seems that the priests of that time were so greedy that they ate it…until they choked). 
Rotelle are an example of pasta design: the shape is inspired by the ancient carriages' wheels and that alternation of solids and voids is exceptional for holding condiments. Needless to say, they are also shaped by the marvels of mechanics and engineering of the early twentieth century, who are credited with having been able to design and implement them. 
I'll close this little virtual journey among the secrets of the most loved pasta by Italians, with tubetti: it seems that they had been invented in Naples, loved in Genoa and spread throughout the country. They have this strange shape of small tubes that are able to suck in and "preserve" liquid and solid dressings very easily. They have joined the geometric trend that has also inspired other more prestigious products, like stuffed ravioli (square). 
In conclusion: if it is true that the taste of pasta is not affected by the shape, its texture can enhance certain seasonings, each shape binds to the sauce in a very unique way and it gives a different sensation when it is eaten, also thanks to the sensation of mastication it provides.
In addition to the strong bond between shape, recipe, personal preferences and tradition, curiosity also plays an essential role as new shapes stimulate our interest. After all, Italians love design, especially the edible one.