Penne lisce (smooth penne) and penne rigate (ridged penne) are two classic short pasta shape that are very popular here in Italy and abroad. Both shape have their ends cut diagonally with the typical slanted tip shape, but one major difference sets them apart:
Penne rigate has a fuller and thicker shape thanks to the lines, ridges that run from one end to the other, in which the sauce will tend to bind more.
Penne lisce, on the other hand, does not have these ridges and therefore hold the sauce less, although they boast greater porosity; they also ensure more even cooking due to their more uniform shape.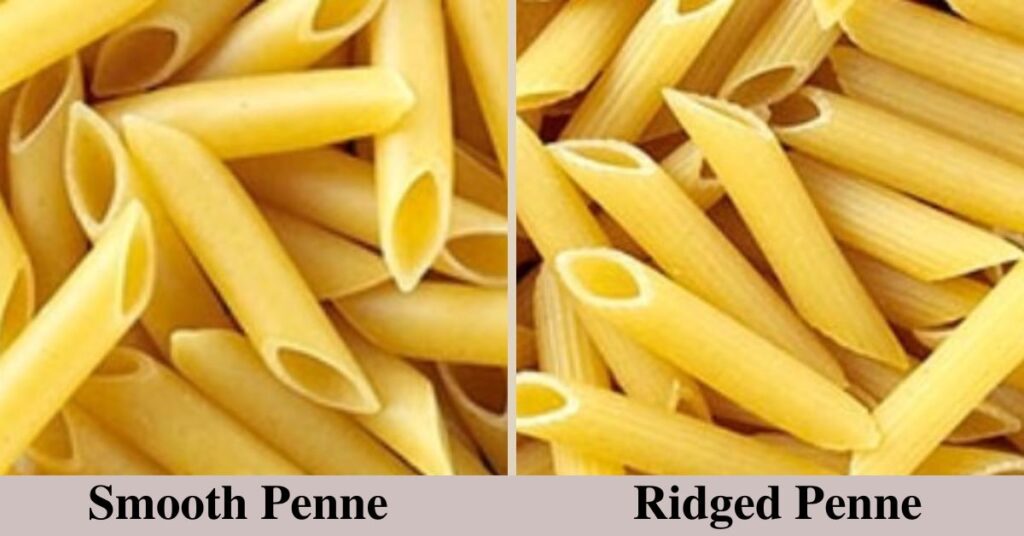 So the difference between the two shapes is really the ridges, but how are these lines made on the penne rigate? And most importantly, based on what should we choose penne rigate or penne lisce? Below I will explain everything.
At this point, you can also ask yourself if these two pasta shapes have a difference in taste, for a complete answer I refer you to the article at the link.
How are penne rigate (ridged penne) made?
Penne rigate is a short cylindrical shaped pasta with two ends that are cut diagonally forming two points, hence the name penne meaning pens, as the shape resembles the tip of a fountain pen. Unlike smooth penne pasta they have ridges all over their surface that serve to ensure a better grip of the sauce than penne lisce.
However, the ridging on the penne creates higher parts and lower parts, causing less even cooking.
In the past, ridged pasta shape was developed for the market in northern Italy, which is characterized by a lack of semolina and a harsher climate therefore not very suitable for pasta drying, so pasta ridging was introduced.
How are penne rigate and lisce shaped?
The ridges take place at the exact moment when pasta is shaped, that is, during drawing. At this stage, the dough is pushed through an extruder die, which based on the shape, will give the pasta its characteristic form.
In the case of penne rigate the die used has the cylindrical shape of the penne, but with indentations all around the outer circumference of the hole that will make the ridged effect.
In the case of smooth pens, on the other hand, the die used will have a perfectly smooth circle both inside and outside.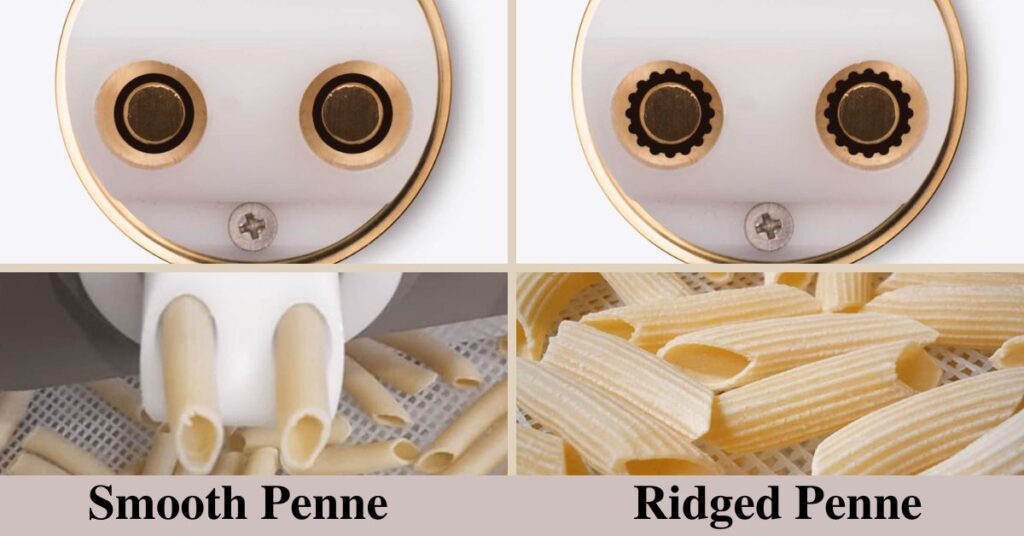 Smooth Penne or Ridged Penne: which to choose for your dish
The choice between penne lisce or penne rigate depends on the type of sauce involved.
It is necessary to understand what kind of sauce we want to combine with our penne, so that we can best enjoy the smooth porosity of the plain penne or the ridged body of the penne rigate.
What sauces go best with penne rigate?
Penne rigate goes well with many sauces, from meat or tomato-based ones to more innovative ones such as vegetables and cheese.
The best sauce to pair with penne rigate is by far the all'arrabbiata sauce, which features tomato and chili pepper.
Even a simple tomato and basil sauce or red meat sauce will find the perfect combination with penne rigate.
In recent years in the United States, a particular penne recipe has gone viral, penne with vodka, but as you can read at the link you will hardly find a penne vodka dish in Italy.
What sauces go best with penne lisce?
The best sauce to pair with penne lisce is one made with vegetables, which glides gently over their smooth surface.
Penne lisce goes very well with zucchini and shrimp sauce and white meat ragout sauce, which can be made with beef, pork, or sausage.
Seafood flavors are also a great match with penne lisce; think of the goodness of the anchovy, onion, and cherry tomato sauce with penne lisce.
Italians do not like penne lisce (not all of them).
During the lockdown due to the 2020 pandemic, here in Italy, many supermarkets were crowded with people stocking up on all kinds of long-shelf-life foods, and of course, dry pasta was one of them.
I remember one of those days, going around the shelves of my supermarket I was stunned in front of the dry pasta aisle, every format of pasta was sold out, and the only packages of pasta still on the shelves were those of penne lisce (smooth penne).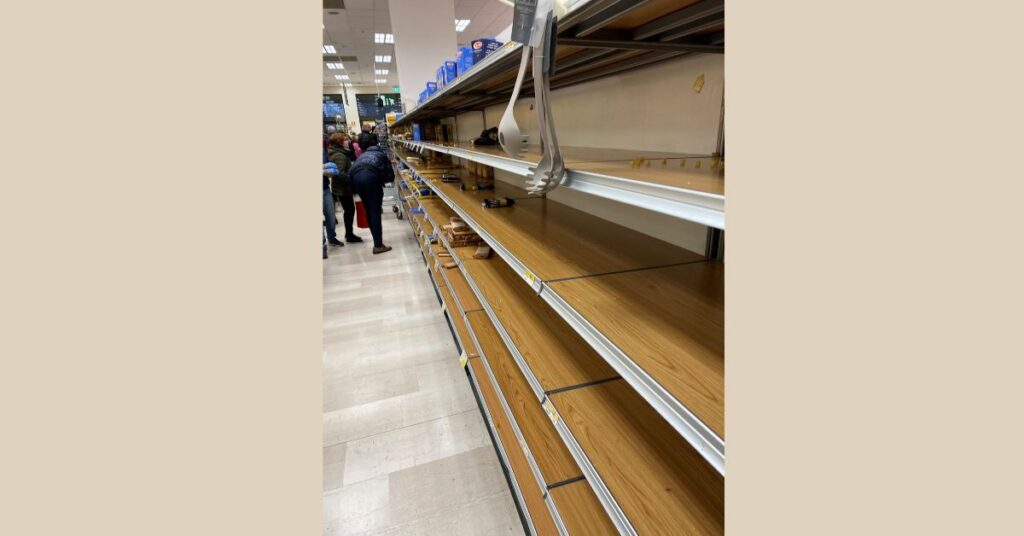 From that moment I realized that of all the pasta shapes, penne lisce was the least desirable to us Italians.
As you can see from this ranking of the most popular pasta shapes here in Italy, there is no trace of penne lisce.
In fact, Italians tend to prefer penne rigate because they know that the ridging allows the pasta to pick up and hold more sauce, but is this really the case?
Not really, in fact, some famous Italian chefs point to smooth penne as the best short pasta, contrary to what is commonly thought, penne lisce retains the sauce better than ridged penne. This is because if the pasta is drawn with bronze die and dried slowly, the smooth surface will be porous enough to hold the sauce.
Barilla itself has launched its new pasta line "Al Bronzo", basing the entire production on bronze dies. If you're curious to know what it's like and what sets die cuts bronze pasta apart from regular pasta, read at the link.
But in reality, most Italians consume industrial pasta, which is different from the pasta that is served by top chefs in their restaurants. In industrial dried pasta, bronze drawing often does not take place and drying is quite rapid, so in this case the ridged penne actually holds sauces better than the smooth one.
Penne pasta and similar pasta shape
As we will see below, there is a wide variety of penne-like types of pasta, which suit different types of sauces and cooking habits.
It's funny to think how from a single and simple ancestral pasta shape, today we have arrived at more than 300 different shapes.
Difference between pennette rigate and penne rigate.
Penne rigate are thinner and narrower in diameter than penne rigate and have a more elongated shape; they are basically the mini version of penne rigate. Because of their small size, they blend perfectly with any type of sauce.
Are mostaccioli and penne lisce the same form of pasta?
Mostaccioli are the pasta shape called penne lisce here in Italy, so they are the same shape of pasta. As we have already seen above, penne rigate/mostaccioli are cylindrical in shape with ends cut at an angle and have a smooth exterior, just like penne lisce.
Difference between penne rigate and rigatoni.
Rigatoni are a cylindrical tube-shaped pasta shape, can be of various lengths and diameters, and are sometimes slightly curved.
They are wider than penne and can hold pieces of sauce such as diced tomatoes or vegetables inside. That's why if we have a sauce that is not very fluid, but made of bits of seasoning I would choose rigatoni instead of penne.
The term "rigatone" pays homage to the invention of pasta rifling and originated in Sicily. Rigatoni boasts many synonyms here in Italy: Bombardoni, Cannaroni rigati, Cannerozzi rigati, Maniche, Rigatoni romani and others.
Difference between penne and ziti.
The biggest difference between penne and ziti is the shape due to the cutting of the ends. The ends of ziti are cut straight and take on a tubular appearance, as opposed to penne, which are cut with a point; ziti are also slightly longer than penne.
Ziti, with their smooth exterior, have a greater texture, and in southern Italy we also find their maxi formats, the so-called Zitoni.