Although for a native Italian like me, this may seem like a trivial matter, it comes to us naturally, just like cooking a dish of pasta, for many non-Italian people the choice of plate shape becomes a key issue when serving pasta on the table.
I understand you, with the many shapes of pasta that exist and the many shapes of dishes we can put on the table it is normal to have doubts.
But since pasta is a recipe of very simple origin it is only fair that the choice of a dish should also remain simple, so let's stick to the two classic dish shapes,
the soup plate/bowl plate
and the flat plate,
let's figure out when to serve the pasta in one or the other type of dish.
I'll answer you now, but know that there is no one-size-fits-all answer because the choice of the dish shape for pasta depends mostly on the context and the elegance you want to give to the plating.
In informal and homely settings, but also in the vast majority of restaurants, pasta is served in wide-rimmed soup plates; they are more convenient since they hold the portion and sauce more collected in the center of the plate. On formal occasions, on the other hand, where we try to serve the pasta with elegance, then we use flat plates, in which case the pasta will have to be carefully plated to look well served.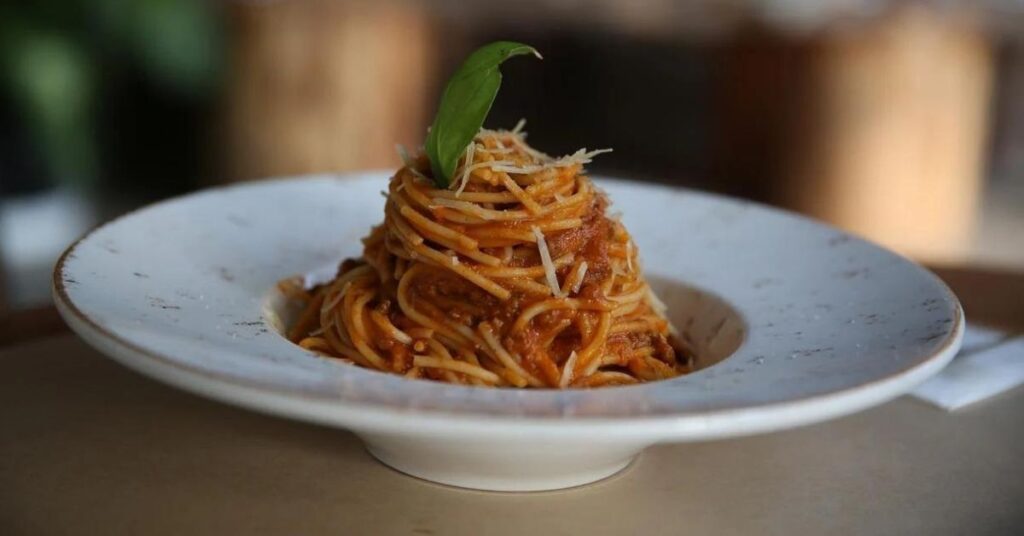 The one rule that cannot be broken when it comes to pasta and plate choice is dictated by pasta in broth, such as tortellini in broth or any pasta in broth. In this case, the choice of a soup plate is forced by the fact that serving broth on a flat plate would be impossible, as it does not have high enough rims to contain the liquids.
Do Italians eat pasta at home in a bowl or plate?
As I mentioned above, we Italians at home often prefer to use soup bowls or deep plates to eat pasta, in particular, we use soup bowls with a wide rim, this way the pasta and sauce are well held in the center of the dish.
Pasta is a dish that is eaten only with a fork, without the help of a knife, which is also why it can be eaten easily on a soup plate.
This type of dish is widely used for pasta since you don't need to know how to plate or arrange the pasta in some special way to make a nice steaming pasta dish.
Another reason for choosing the soup plate is for dose control, in fact in this type of dish the portion of pasta will seem more plentiful, while on a flat plate the same portion will seem less plentiful, resulting in the risk of wanting to fill the plate and eating way too much.
Even if we Italians are serial pasta eaters, we take care not to overdo the carbs! Or maybe not? Here I talked about our medium portions of pasta.
At a dinner or lunch with friends or family in an everyday setting, the table setting often includes a flat plate with a bowl plate resting on top.
This is because the dishes follow the course of the meal, so the pasta, which is always the first course, will be eaten on the bowl plate, and later to eat the second course the flat plate will be used, which is often meat or fish and vegetables, in fact in this type of plate you can cut the food well since it has no edges.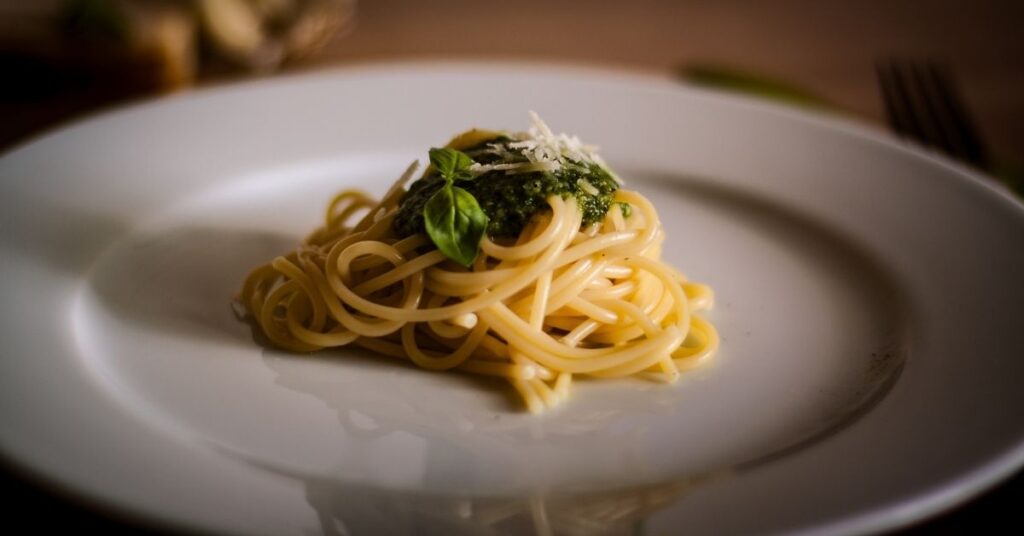 More questions and answers on how pasta is served in Italy
Do Italians restaurants serve pasta in a bowl or plate?
In restaurants, as I told you above, the deep plate or pasta bowl is the one most commonly used for pasta, although some restaurants where superior care is taken with the presentation may also use flat plates.
Why do pasta bowls have a wide rim traditionally?
The pasta bowls often used in Italy have wide rims; this is useful both aesthetically since the rim frames the pasta. Also useful functionally since the dish can be handled easily by holding it by the rim.
Are pasta bowls necessary?
If you, like me, eat pasta at least once or twice a week, then yes, pasta bowls will be necessary. These plates are just the right size for your daily portion of pasta, and thanks to the wide edges you can handle them easily.
What is a pasta plate called?
The plate specifically for pasta is called a deep plate or also a pasta bowl. In Italy, we call it "piatto fondo" which is the exact translation of deep plate.
What is a good plate for serving pasta?
In Italy, we use deep plates a lot for eating pasta, although some restaurants prefer to plate pasta on flat plates. In my opinion, the deep bowl remains the best choice for functional and aesthetic reasons.
What are the standard measurements of a pasta bowl in Italy
A dish specific for pasta usually has a height of 2 inches and a diameter of 10 inches.