Have you just made risotto, or are you thinking of making it, and are you wondering which way we Italians serve risotto: in a bowl or on a plate? Which is best?
It sounds like a minor question, but actually, the choice of the plate for risotto is of paramount importance.
I am Italian so, as you can imagine, in the course of my life I have seen and eaten risotto at home and in restaurants. So, I already have my own idea about it. However, in addition, I did some research to give you the best answer.
The texture of risotto is unique; it is neither pasta nor soup, which is why it can lend itself, without too much trouble, to being served in different dishes.
This is why the topic of "how to plate risotto" does not always produce agreement. Yet, as far as my personal experience is concerned, and also the opinions of most experts on the subject:
Risotto should be served on a flat plate, as would be done with pasta. Etiquette (Italian good manners) allows for the use of a soup plate or bowl only for very liquid foods, such as soups and stews.
So, if you want to host an elegant dinner party and replicate a chef's plating, or just enjoy this dish at its best, you can put your risotto on a flat plate.
However, even great chefs disagree about the issue of using a plate for risotto, finding that an unambiguous answer is too difficult. With that in mind, I will explain the reasons behind each point of view so that you can decide which dish is best for your risotto.
Here's why risotto should be served on a plate
There are strictly practical reasons why risotto should be served on a flat plate: Rice arranged on a large flat plate, if well plated, flattens out and covers part of the plate. This is the best way to eat risotto and enjoy all its basic aspects:
The texture of the grain of rice,
the degree of "mantecatura" (creaming),
the aroma given off by the ingredients.
A flat plate allows the heat of the risotto to dissipate more quickly, making the wait for consumption shorter.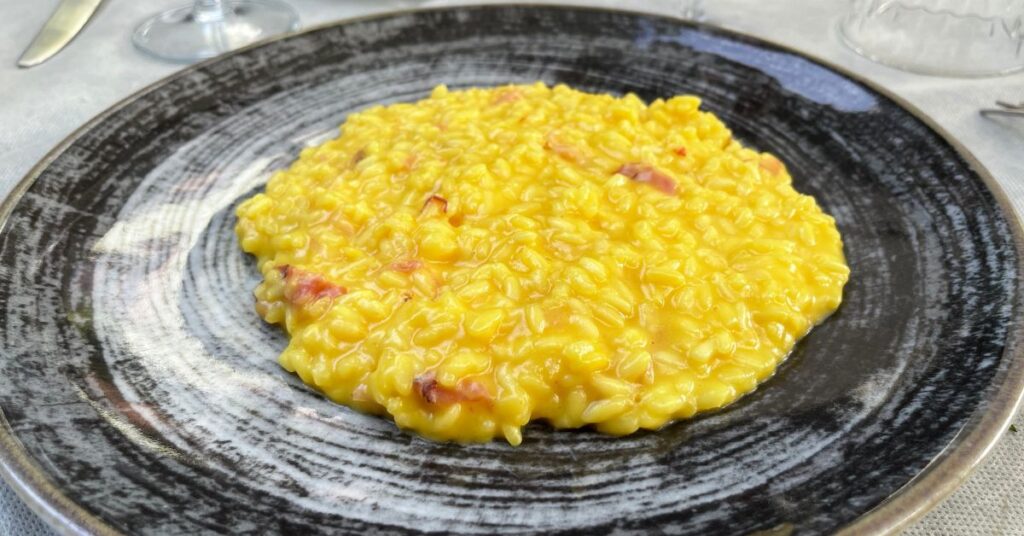 A deep dish, like a bowl or soup plate, on the other hand, can hide a less-than-accurate texture and force the rice to the bottom of the dish, where it can continue cooking beyond the optimum point. This might not allow for full enjoyment.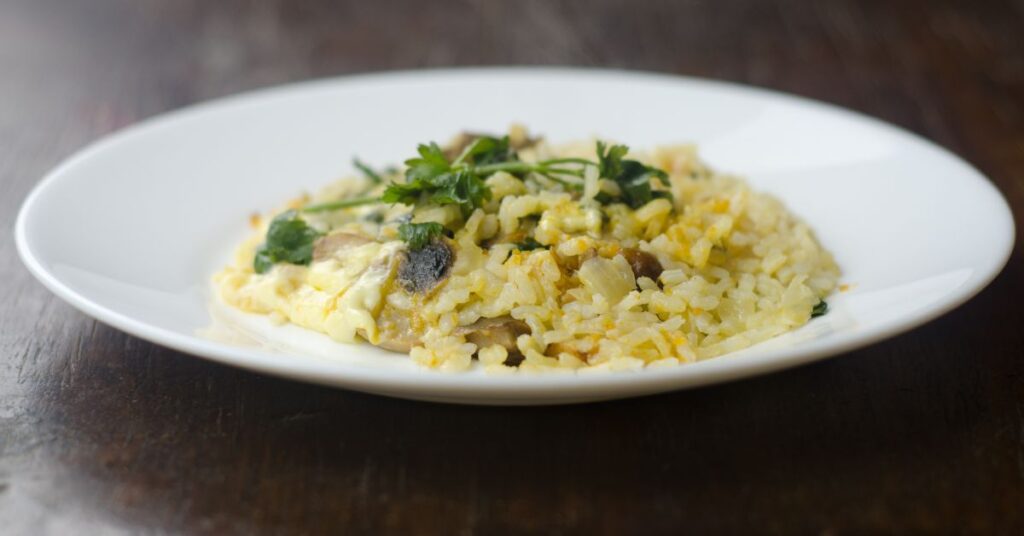 How to eat risotto according to good manners in Italy
There are other rules to keep in mind when eating risotto, as etiquette dictates fairly strict guidelines in this regard. Eating this dish, first of all, requires time and calm:
One uses a fork, not a spoon, to eat risotto. This is why bites should always be measured.
Do not blow on the risotto before bringing it to your mouth. That is why it is best to eat it very calmly.
Another gesture to avoid is "compacting" the dish; do not mash the rice with a fork to cool it first, as this might spoil the appearance and texture of the dish.
Start by eating the rice from the outside of the dish inward, proceeding at the right pace. However, if you are eating only with family, feel free to proceed as you prefer.
As for the serving, remember that risotto is best served on a flat plate. Serve a small ladle on each plate and place it exactly in the center. Let the rice flatten and spread out, but don't allow the layer to get too thin.
If the risotto you have cooked is particularly thick, you can help yourself by tapping it with the palm of your hand under the plate; this will make the rice spread out over the entire surface of the plate.
As for garnishes, remember that risotto, unlike soup, will hold them on the surface because it is thick. Get creative with the garnishes and ingredients by creating a real flower meadow.
Related questions
How should risotto be served?
Risotto should be served on a flat plate so that it will cool more quickly and thereby allow you to eat it without burning your mouth. It should be eaten with a fork and not a spoon.
How do you plate risotto?
To plate risotto nicely, place a small ladle of risotto on a flat plate and let it flatten on the surface. You can help by tapping the area underneath the plate with the palm of your hand. This will make the rice spread out over the entire surface. Now you can garnish the surface of the dish or the rim with ingredients of your choice.
Is risotto a stand-alone dish?
Risotto is a typical first course in Italian cuisine, eaten after the antipasto and before the main course. It originated in northern Italy, particularly Lombardy, Veneto, and Piedmont, and then spread in numerous versions throughout the country.
Is risotto a lunch or dinner course?
Because risotto is the first course, it can be eaten at either lunch or dinner. Just like pasta, it is not a specific first course and can be served at either a quick business lunch or a full dinner at a restaurant, always as a first course.