Polenta is a typical dish of the peasant tradition in the regions of Northern and Central Italy, it is made of cereal flour, water, and salt, and looks like a thick and slightly sticky puree with a fairly neutral flavor.
For this reason, it goes well with a wide variety of dishes. Below I will explain how polenta is traditionally served in Italy and what it is eaten with, plus other interesting facts about this staple of our culture.
How should a good polenta be prepared?
A good polenta should be prepared following traditional steps. The preparation is quite lengthy and involves the use of a large copper pot, called a "paiolo."
As soon as the water in the pot boils, "bramata" polenta flour, i.e., stone-ground, is poured in slowly and in a sprinkling, to avoid the formation of lumps.
Thereafter, the polenta will be stirred, at least for an hour, with a wooden spoon, always following the same direction.
However, in today's day and age, an induction stove and a triple-bottomed pot with a lid may be enough to prepare a good polenta, plus there are ways to eat a polenta at home without having to cook it, I'll tell you about them later.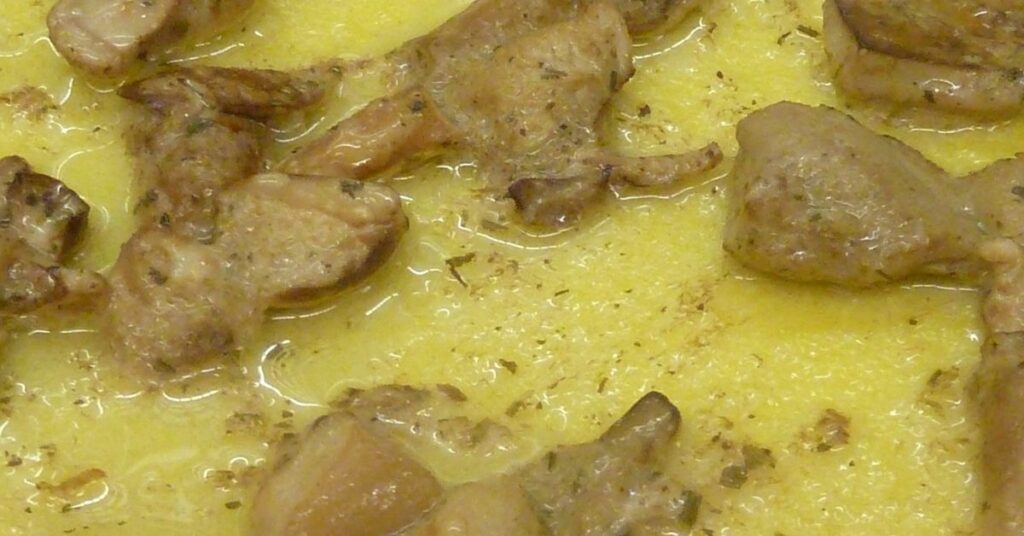 Here is how we serve polenta here in Italy
According to Italian peasant tradition, cooked polenta is presented at the table on a cutting board in the shape of a circular plate covered with a piece of cloth, it is served according to its consistency, with a spoon or sliced with a long wooden knife.
In ancient times in Italy, polenta was a main dish, especially in poor homes that did not have meat available every day.
Today, however, depending on the type of combination, polenta can be served as a side dish or a main course (in some special cases even as an appetizer, I'll tell you about that later).
In these cases, it is served in single portions within dishes where there may also be other foods, such as meats, vegetables, or mushrooms, but the neutral flavor of polenta also allows pairings with fish.
What to eat with polenta?
The versatility of polenta allows so many combinations with different ingredients, and here in Italy it can be served in so many different dishes, often the pairing depends on the season and region of Italy, here are some examples:
Polenta taste great served with cheeses such as toma, fontina and gorgonzola. In Italy, it is called "polenta concia", where the star cheese is montasio cheese.
Mushrooms, meat sauces, legumes, and vegetables make polenta a tasty and rich dish. Think also of the unique flavor that polenta gives off with truffle shavings.
The Veneto region is famous for its white polenta, made from a particular variety of corn, whose delicate flavor is ideal with fish, especially codfish.
Serving polenta with stewed meat or game gives the dish a more rustic flavor. Like polenta and bruscitt, which are shreds of beef browned in a pan with butter and lard. Or the classic polenta and osso buco, basically sliced veal shank.
As you may have guessed there is no one way to serve polenta here in Italy, with polenta you can bring really different and versatile dishes to the table, there are even those who combine it with dessert.
Do Italians eat fried polenta?
Absolutely yes, here in Italy we often eat fried polenta, it is a typical recipe for recovering polenta left over from other preparations.
It is advisable to form a loaf and refrigerate it since cold polenta makes the frying crispier. Later, you will cut slices, which will be floured and fried.
This is why fried polenta resembles golden and crispy rectangular slices, a real treat.
Fried polenta is great as an aperitif or starter with sliced meats, cheeses, and tasty dips and is often served as an appetizer in combination with mushrooms or cheese, I recommend you try it.
Do Italians still eat a lot of polenta today?
In our days, polenta has remained a typical dish of family cooking, and some trattorias offer traditional cuisine, especially in northern Italy, it is often eaten on special occasions or at village festivals.
Polenta is a hot dish that is eaten mostly in autumn and winter. The cold months lend themselves to this hot dish that is very satiating, and it is during this period that there is the most significant consumption of polenta in Italy.
Do southern Italians eat polenta?
Contrary to what you might think, we find polenta in southern Italy as well, they vary in the flours used and the seasonings, which tend to offer a stronger flavor and texture.
For example, polenta with sausage sauce, pecorino cheese, and broccoli sautéed with garlic and oil.
In Puglia, there is polenta barese, which is made by combining an onion-based sautéed with plenty of pecorino cheese.
And we certainly cannot forget the fried polenta typical of central and southern Italy.
A small dialectal curiosity: southern Italians often call northern Italians Polentoni: an epithet originally coined with a joking connotation to refer to a person who is a great eater of polenta, today it is used by the inhabitants of southern Italy to refer in a polemical sense to the inhabitants of northern Italy, who precisely would be great eaters of polenta.
What is the difference between ready-made polenta "pronta" and instant polenta?
Preparing polenta is time-consuming and we Italians do not always have enough time to spend in the kitchen. There are good alternatives for this, which are quick and easy, although with a definitely less intense taste, namely polenta pronta and instant polenta.
Polenta pronta: is the ready-made polenta (also named precooked polenta) where you only need to heat water and pour the precooked cornmeal. Usually, the preparation time is about 8 minutes, very quick!
Instant polenta: on the other hand, is already cooked and is sold in cylinders or tiles, sometimes already cut into slices, perfect to make some fried polenta!
Wondering where to buy ready-made polenta or instant polenta?
Both ready-made polenta and instant polenta can be purchased at the supermarket. The polenta pronta can usually be found on flour shelves, and the instant one is normally in gluten-free products shelves.
If, on the other hand, you want to taste polenta cooked in the traditional way, I recommend looking for a home-cooked trattoria in northern Italy, preferably in the winter months.
Related Questions:
Are semolina and polenta the same?
Semolina and polenta are different, especially in texture. The grain is finer in polenta, which takes longer to cook. They also have other uses. Semolina is used to make Roman-style gnocchi, soups, and so on.
Are cornmeal and polenta the same thing?
Polenta and cornmeal are not the same things. Cornmeal is one of the ingredients used to make polenta, along with salted water.
Does polenta taste like mashed potatoes?
The ingredients that makeup polenta do not include potatoes. In fact, mashed potatoes, which are also cooked with the use of milk and butter, have a more savory taste.
Is polenta sweet or savory?
Polenta is neutral; the taste can vary depending on the combinations. Polenta goes very well with jams and chocolate, making it tasty even in its sweet version. Its savory version goes well with a variety of foods, from meat to fish.
Does polenta taste like cornbread?
The taste of cornbread is reminiscent of polenta. Polenta flour is often used to make this tasty, bright yellow bread.