Massa Carrara hides the culinary history of two cities, Massa and Carrara, which now form a single province since December 1859.
This gastronomically rich territory is divided into two distinct regions based on their geographic nature: the Lunigiana, which is the mountainous region delimited by the Apennines and the Apuan Alps, and the Riviera Apuana, which is the coastal region facing the Ligurian Sea.
Typical dishes of Massa Carrara cuisine include taglierini with beans, tordelli filled with meat, and layered lasagna known as "intordellate," not to mention the "testaroli" from Lunigiana, which are thin pasta sheets cooked on cast-iron "testi" and then seasoned with pesto and pecorino cheese.
Lastly, we must also consider the delicious seafood dishes, which require slow and meticulous preparation, such as stoccafisso (stockfish) and baccalà (salted cod). A cuisine rich in dishes from both land and sea.
But let's go in order, here is the list of delicacies from Massa Carrara:
1. Tordelli alla Massese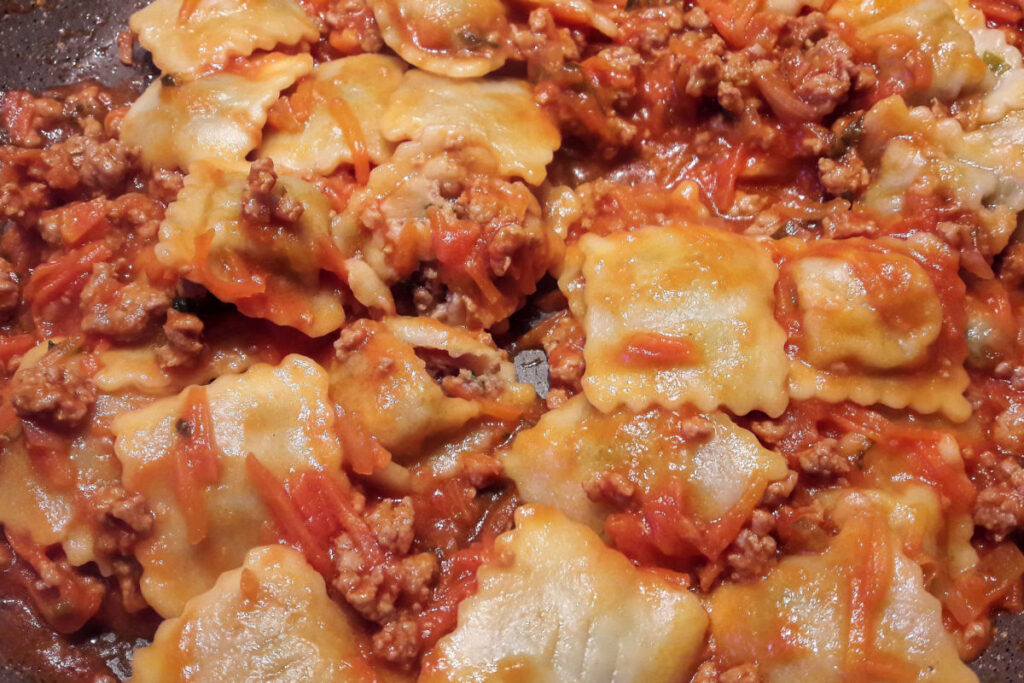 For a taste of Massa Carrara's food culture, give Tordelli alla Massese a go. Essentially, these are robust ravioli, uniquely filled with a flavorful mix.
The pasta dough involves water, flour, eggs, and salt. The filling? A combo of olive oil, parsley, garlic, spinach, ground beef and pork, mortadella, bread soaked in milk, eggs, Parmesan cheese, and a touch of salt, pepper, and local thyme known as "poerino." Each element gets enveloped by the pasta, cut into the distinctive Tordelli shape, and boiled to perfection.
These delicious bites are usually dressed with a rich meat sauce. You'll find Tordelli alla Massese at local restaurants and during food-centric celebrations like Easter. I can vouch for the fact that these pasta pockets are a flavor-filled revelation!
2. Taglierini nei Fagioli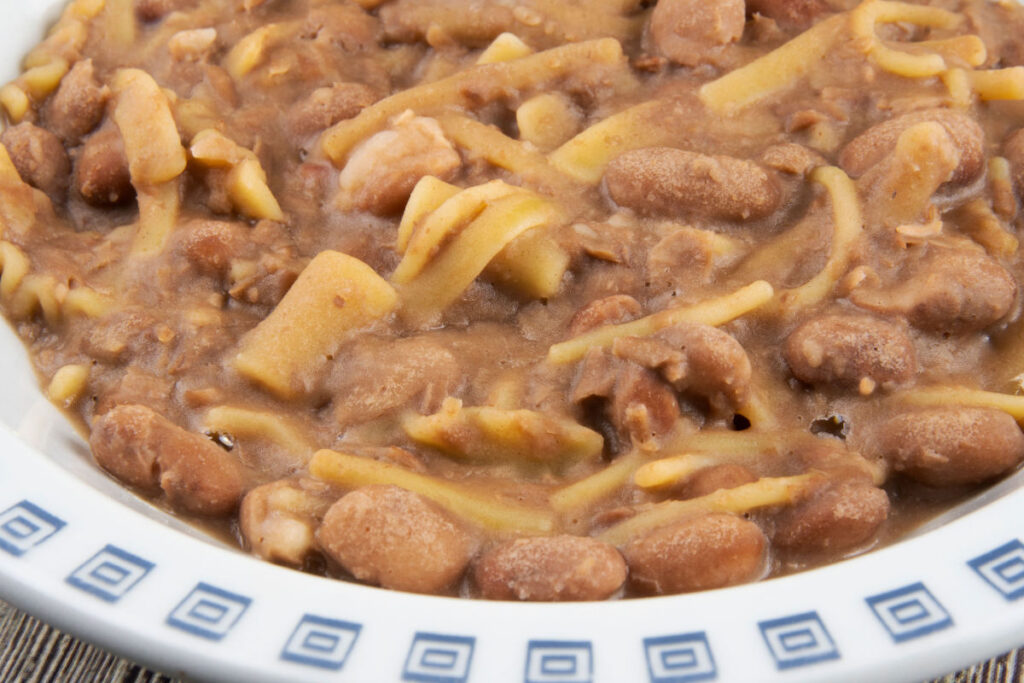 While in Massa Carrara, savor the humble yet satisfying dish of Taglierini nei Fagioli. This pasta and bean meal was once known as "the meat of the poor," thanks to its high nutritional value and accessibility in times of scarcity. Today it is one of the most important pasta dishes of the Tuscan tradition.
The beans, traditionally cooked in a terracotta pot, are partly mashed to ensure they cling to the taglierini, a pasta made simply from flour, water, and salt. Handmade for a porous texture, these thin, square-cut noodles perfectly soak up the hearty bean sauce.
This dish stands out for its delicious resilience. Cooked a day ahead, it was a life-saver during the busy farming seasons when every minute counted. Leftovers were stored in the coolest part of the house and served the following evening, their flavor even more robust and satisfying.
You can still enjoy this centuries-old tradition at local eateries serving regional cuisine. One mouthful of this rich, rustic pasta dish, and you'll understand why it's earned such enduring popularity. Trust me, it's a taste of the past that still makes my tastebuds dance!
3. Lasagne Stordellate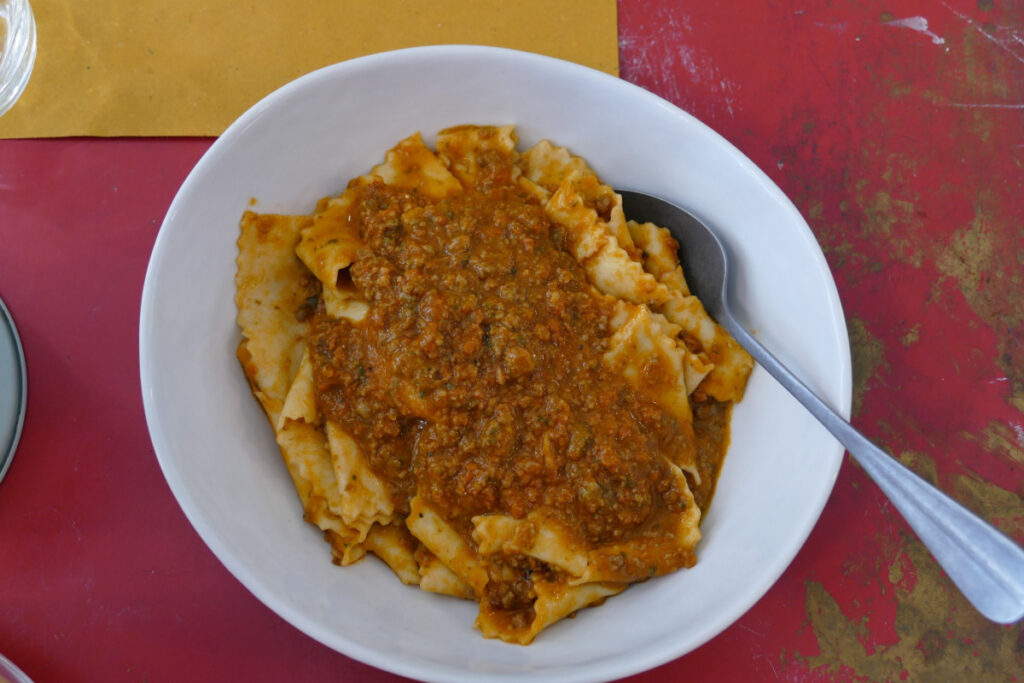 Lasagne Stordellate is a resourceful dish born from times when food was scarce and nothing went to waste. In simpler words, it's lasagna made from leftover ravioli dough and filling!
On festive days, homes filled with the aroma of homemade ravioli, or "tordelli" as they're known here. But there were often leftovers. The solution? Roll the remaining pasta into lasagna sheets and toss the filling into the ragù. Fatto! A whole new dish that tasted like a rich, second-day celebration.
Lasagne Stordellate takes you on a flavor journey, with a taste that's reminiscent of a hearty ragù coupled with the intricate tordelli filling. It's a comfort dish you can find in many home kitchens and traditional trattorias.
4. Testaroli alla Lunigiana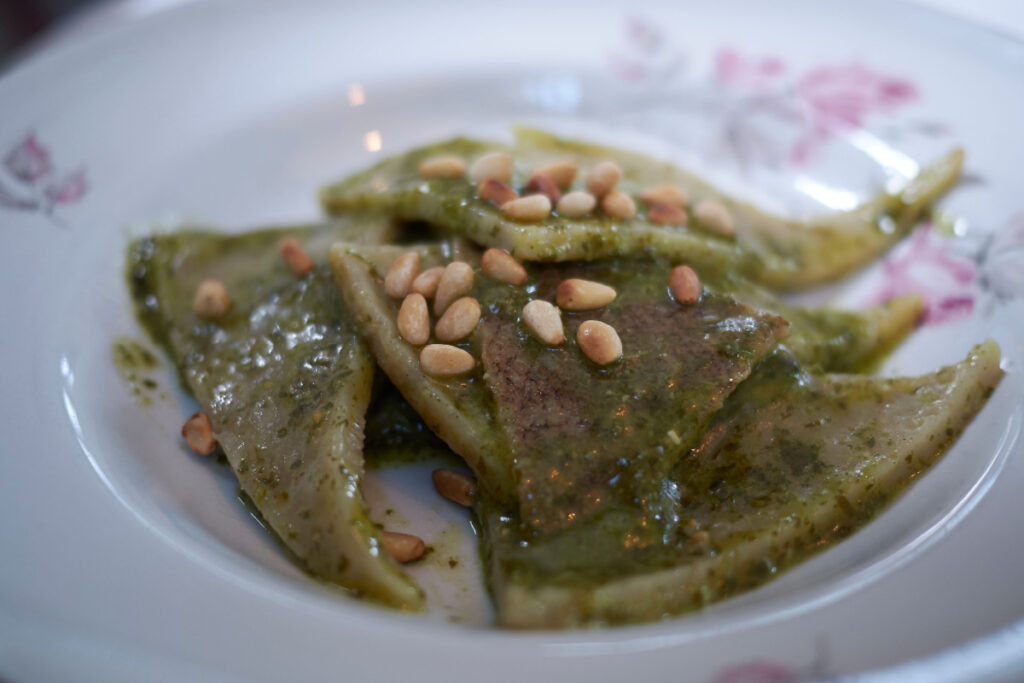 Testaroli alla Lunigiana it's a hearty, traditional dish from the Lunigiana region, at the crossroads of Liguria and Tuscany, Massa Carrara is included in the territory of Lunigiana. It's remarkably easy to prepare, based on a few humble ingredients: flour, water, and a pinch of salt.
What makes testaroli unique is their cooking method. This dish's name comes from the vessel used for its preparation: a large cast-iron or terracotta dish consisting of a base, the "sottano," and a lid, the "soprano". Testaroli cooks against the "sottano", never being flipped over.
The origins of this dish trace back to the days of ancient Rome, making it arguably one of the oldest form of pasta. In its simplicity, testaroli reflects the agricultural tradition of the region it hails from. They're typically enjoyed with a simple sauce, like pesto or fresh tomatoes. I have included this dish in my post on the best traditional dishes of Tuscany.
5. Lardo di Colonnata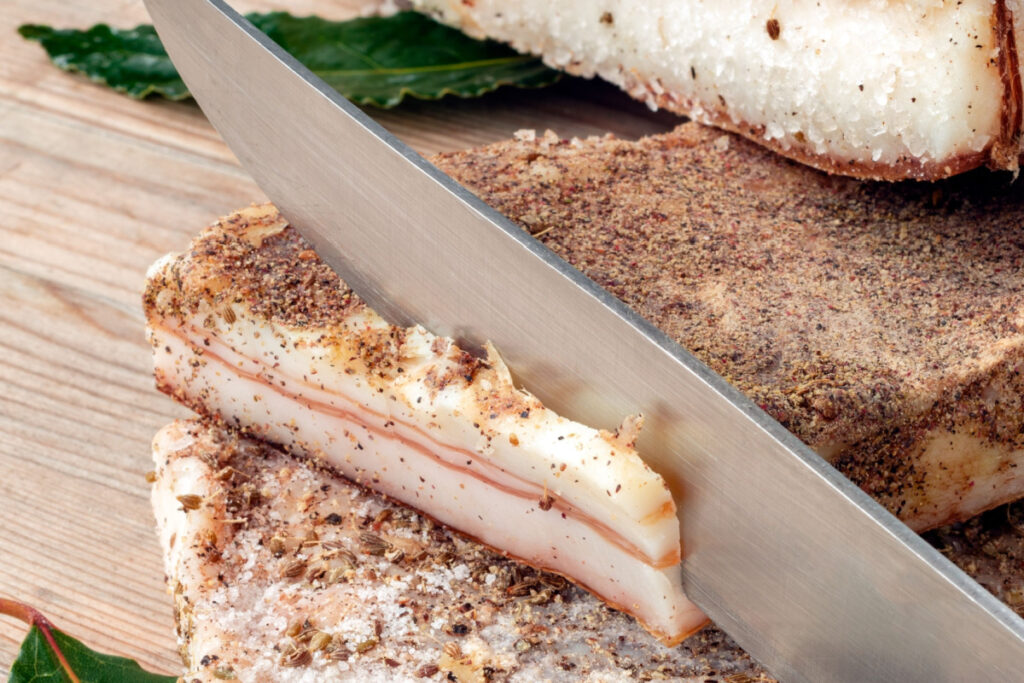 Lardo di Colonnata is a treat that no foodie should miss when visiting Massa Carrara. It's a type of cured pork fat, and trust me when I say that it's nothing like the lard you might be thinking of.
This delicacy is cured in marble basins from the nearby Carrara quarries, layered with a mix of salt, pepper, cinnamon, cloves, cumin, coriander, nutmeg, cardamom, sage, and rosemary. After 6-10 months of curing, the Lardo di Colonnata emerges – moist, subtly rosy, and delectably soft, with a fresh, delicate flavor that's enriched by the herbs and spices.
It's often served thinly sliced as part of a charcuterie plate, or used to flavor other dishes. You can find it in local specialty shops, or served up at many a restaurant in Massa Carrara.
So if you're a fan of charcuterie, or just love trying new foods, do yourself a favor and try the Lardo di Colonnata. It's a testament to the skill and tradition of the Massa Carrara artisans, and a flavor you won't soon forget.
6. Barbina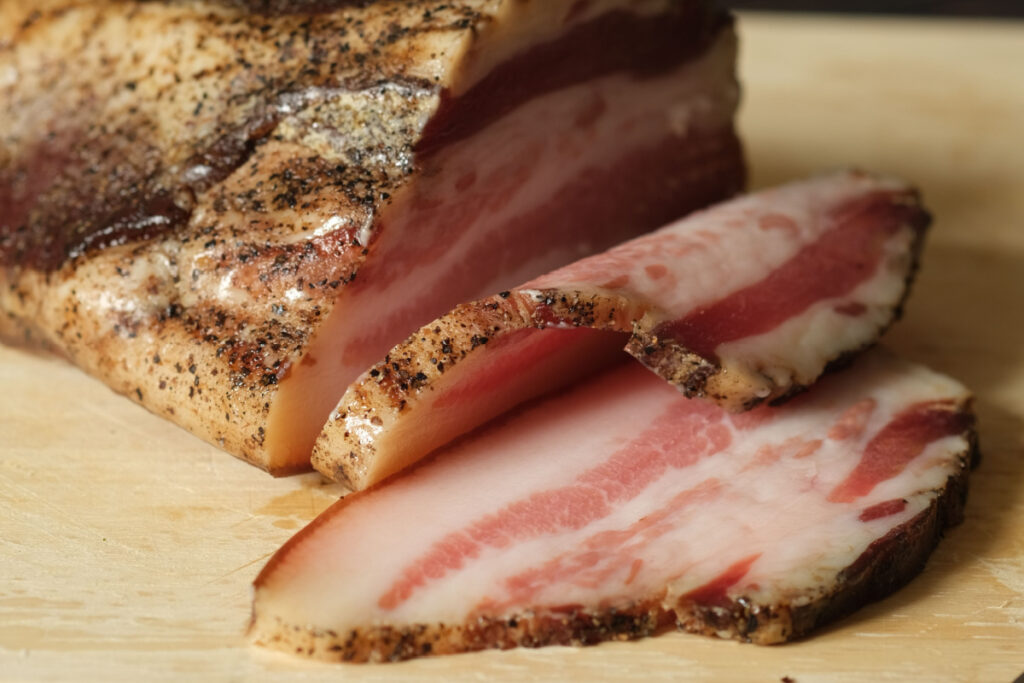 In the heart of Massa Carrara lies Colonnata, but this small town hides not only the aforementioned and famous lard, it's also home to the Barbina. This unique cured meat product is made from the muscular part of the pig's throat. Resembling a pear in shape, it's similar to pancetta, with a beautiful deep red color laced with white fat streaks.
Preparing the Barbina is quite the process. After trimming and cleaning, it's massaged with salt and placed in marble containers rubbed with garlic. Layers of meat are then covered with natural sea salt and a blend of herbs and spices. The meat cures in these containers for at least six months, giving it an incredibly intense flavor and aroma.
While you can enjoy Barbina any time of the year, it's a star at the Sagra del lardo di Colonnata, a festival held typically on the third weekend of August. This festival, celebrating St. Bartholomew's Day (24th August), is a fantastic opportunity to indulge in this local delicacy.
7. Panzanelle Fritte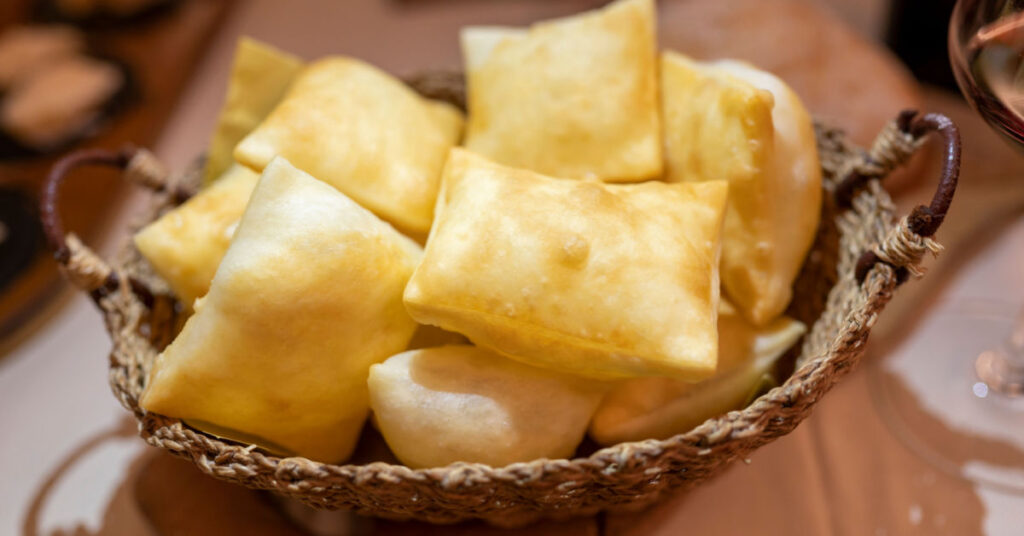 On your trip to Massa Carrara, make sure you try Panzanelle Fritte, a beloved regional appetizer. Depending on where you are in Italy, this treat might go by different names such as 'sgabeo' or 'gnocco fritto'.
Panzanelle Fritte is essentially bread or pizza dough that's deep-fried in olive oil. The result is a crispy, golden pocket of goodness, often served with an assortment of local cured meats and cheeses.
Picture enjoying this warm, fried bread, with its exterior satisfyingly crispy and the inside delightfully soft, while the local salumi and cheese add a savory punch. It's comfort food at its finest, if you ask me!
You can enjoy Panzanelle Fritte at local eateries as a tasty appetizer or main course. Some innovative chefs even turn them into desserts by filling them with custard cream or chocolate. Whichever way you have them, I promise, you won't be disappointed!
8. Fugaccia con Mundiola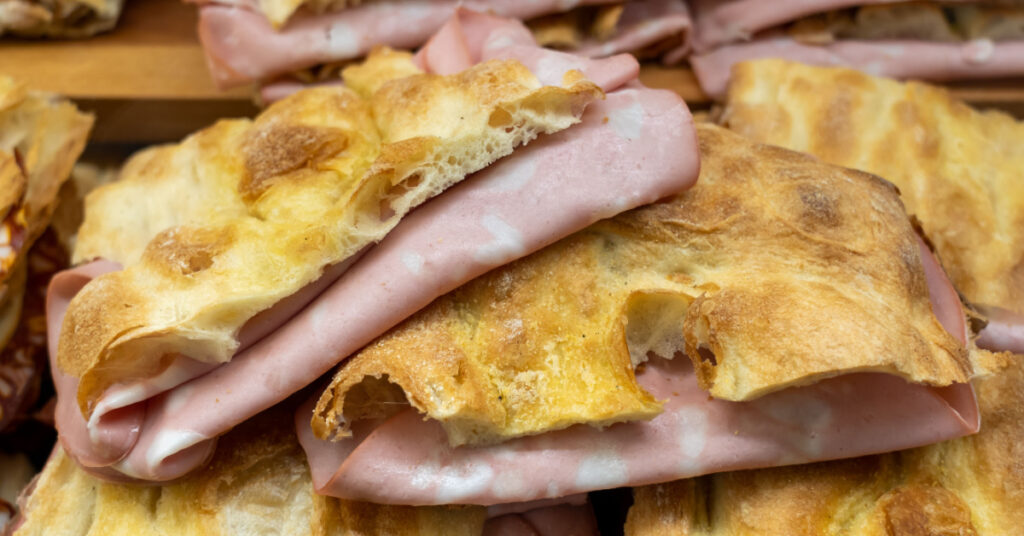 Fugaccia con Mundiola, which in Massese dialect means focaccia with mortadella, is a favorite local snack and street food from the Tuscan city of Massa Carrara. If you're a fan of flatbread and cured meats, this is your culinary heaven.
Fugaccia is the Tuscan version of a flatbread, akin to a thick crust pizza, slightly crusty on the outside yet soft and airy on the inside. Then comes the Mundiola – an affectionate local term for mortadella, a silky, finely ground pork sausage flecked with delicate pieces of fat and peppercorns, delivering a robust flavor.
Once baked, the Fugaccia becomes the perfect carrier for the thinly sliced Mundiola, creating a delightful balance of textures and tastes: the bread's crunchy crust versus the mortadella's softness.
You'll find this classic combo at local bakeries and delis in Massa Carrara. It's often enjoyed as a snack or a quick lunch, especially during local festivals and events.
9. Aglio e Cipolla Massese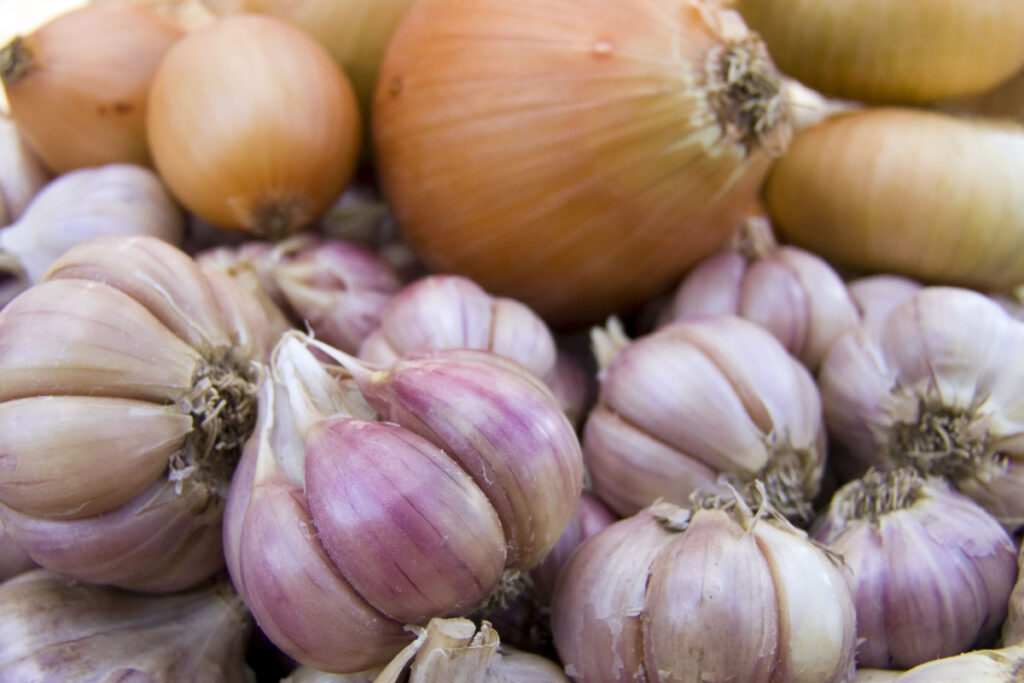 In Massa Carrara, you'll encounter two humble, yet celebrated ingredients: Massese Garlic and Massese Onion. Massese Garlic, harvested manually from April to June, is a smaller and sweeter variant than the common garlic. Fun fact: its inflorescences are often used in tasty traditional frittatas.
Massese Onion, on the other hand, is round and reddish with a sweet flavor and crunchy texture. It's also manually harvested between April and June. This onion's historical claim to fame is its high preservation capability, making it a savory and lively bulb that packs a pleasant pungency.
Every summer, the SAGRA DELL'AGLIO E DELLA CIPOLLA takes place in the Ronchi area of Marina di Massa. This local festival, centered around garlic and onions, offers dishes like the coveted "Frittata di Bidicheri" and the more complex "Lasagne al forno cipollate." There's even a tart made with onion jam!
10. Muscoli Ripieni alla Carrarina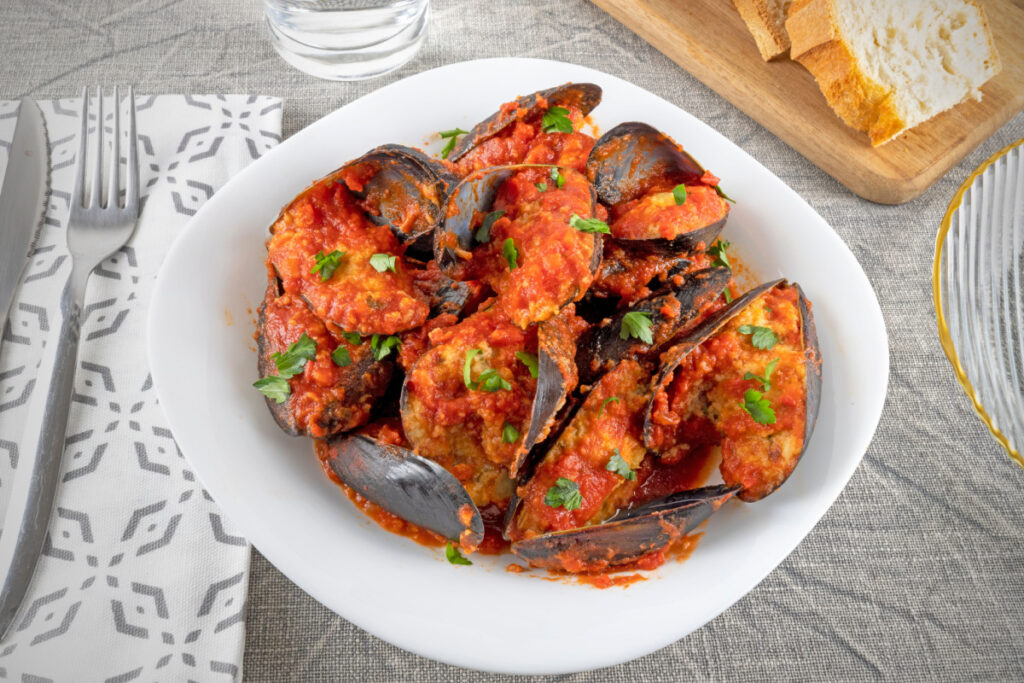 When in Massa Carrara, be sure to try the Stuffed Mussels, known locally as Muscoli Ripieni alla Carrarina. It's a well-loved delicacy of the area, and every family has their own secret recipe!
The mussels, also known as 'cozze,' are filled with a variety of ingredients, depending on the recipe. Some locals favor a seafood-centric stuffing, incorporating canned tuna with the mussels, while others add ground meat or even mortadella to the mix.
The preparation sets these mussels apart. They're opened raw, stuffed, and then closed back up. Once the mussels are sealed with their flavorful fillings, they're cooked with a combination of tomato sauce and white wine, either in a pan or baked in the oven.
You can find this tasty dish in many local restaurants around Massa Carrara, and it's a staple at seafood-focused celebrations. Just one bite, and you'll understand why these little gems are a local favorite – the burst of flavors is simply unforgettable!
11. Focaccette di Aulla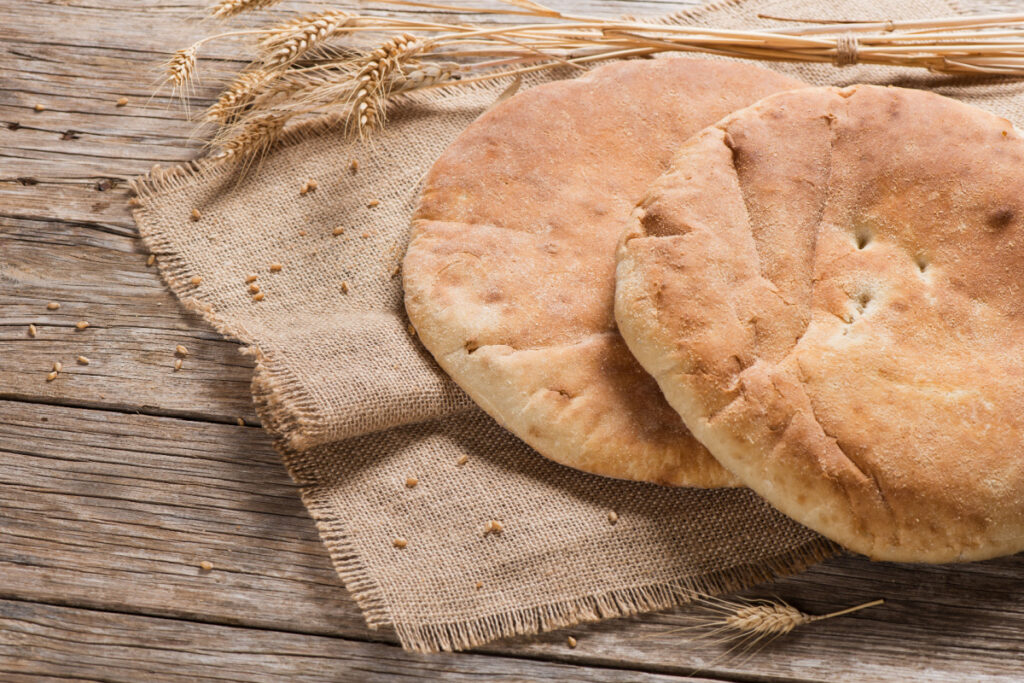 Make sure to try the Focaccette di Aulla – a delightful, local cornbread. Made from a blend of wheat and corn flour, this round, golden-brown bread is roughly 15cm in diameter and 1-2cm thick, cooked in terracotta pans over a wood fire. With a scent reminiscent of fresh bread, these focaccette are a joy to savor.
The dough is mixed with salt, natural yeast, and water, and then left to rise. It's then divided, flattened, and placed in terracotta pans to cook over the fire. The bread is flipped once and cooked for another 2 minutes, leaving it beautifully golden and fragrant.
These focaccette have been a staple in Lunigiana, the area surrounding Massa Carrara, for centuries. They're best enjoyed warm and typically paired with fresh cheeses and cured meats. You can find them at local festivals throughout the year, like the Sagra della Vaccareccia in September, where about 3,000 are served each night!
And trust me, after your first bite of these warm, fragrant focaccette, you'll see why they're such a local favorite.
12. Caciotta della Lunigiana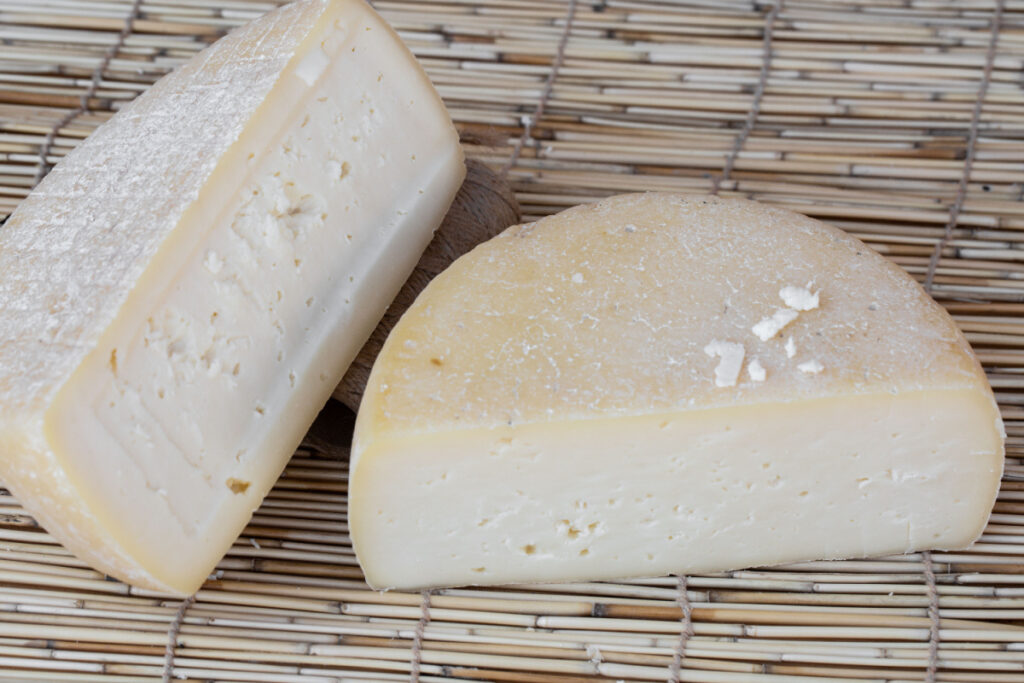 When in Massa Carrara, don't pass up the chance to try Caciotta della Lunigiana, a traditional cow's milk cheese. "Caciotta" is a general term for many kinds of Italian cheese; in this case, the "Lunigiana" denotes the specific region in Tuscany, so the name literally translates to "Cheese from Lunigiana".
Coming in small to medium-sized irregular round shapes, it boasts a distinctive pale-yellow color, with a slightly salty taste and strong aroma.
The cheese-making process starts with fresh milk warmed in a copper pot to around 30-35°C. After curdling, the curd is broken up with a wooden stick, reheated, separated from the whey, and placed into wooden molds. It's then left to drain and dry on wooden boards and periodically turned and salted.
This local delight is entirely handcrafted, following traditional recipes and using milk sourced exclusively from local farms. Generally consumed fresh, only a small portion is set aside for aging.
You can find this cheese at local markets or in restaurants, and it's available year-round. It's an experience not to be missed, and I can say, from personal tasting, that it certainly adds a creamy, rich touch to any meal.
13. Polenta Incatenata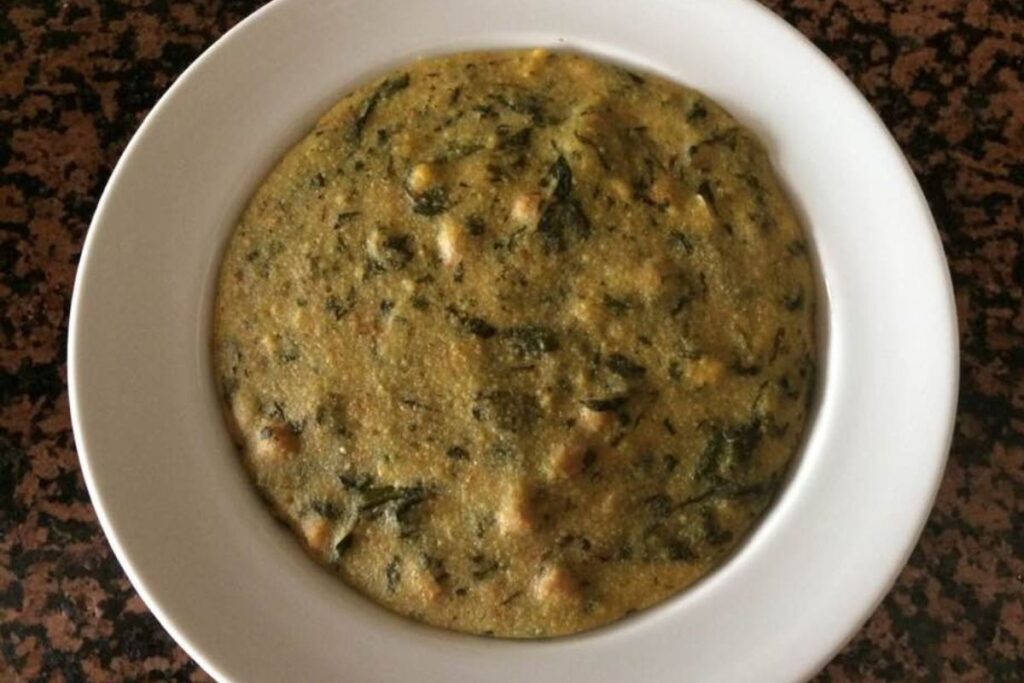 Let me introduce you to a dish that truly embraces the essence of Italian "cucina povera", or peasant cooking – Polenta Incatenata, from the Apuan Alps around Carrara. This dish takes the humble cornmeal polenta and enriches it with whatever ingredients were available. Its name, which means "Chained Polenta", hints at its origins, as "incatenata" implies combining or chaining different ingredients together.
Primarily, Polenta Incatenata includes a rich mix of black cabbage, potatoes, beans, and the star ingredient, lard from Colonnata. Trust me, this lard is not your regular variety; it's a delicacy that families in Colonnata have been perfecting over a period of at least 6 months. I was fortunate enough to sample this dish as a kid at a winter festival in Colonnata, and it's a memory that still lingers.
You can find this hearty delicacy in traditional trattorias or at local festivals like the "Sagra della Meschia" at the "Papastrel Fest" in Casola in Lunigiana in late July. Whether you're visiting Massa Carrara or just have a passion for Italian cuisine, Polenta Incatenata is a must-try that offers a delightful taste of Tuscan tradition.
14. Mocetta Carrarina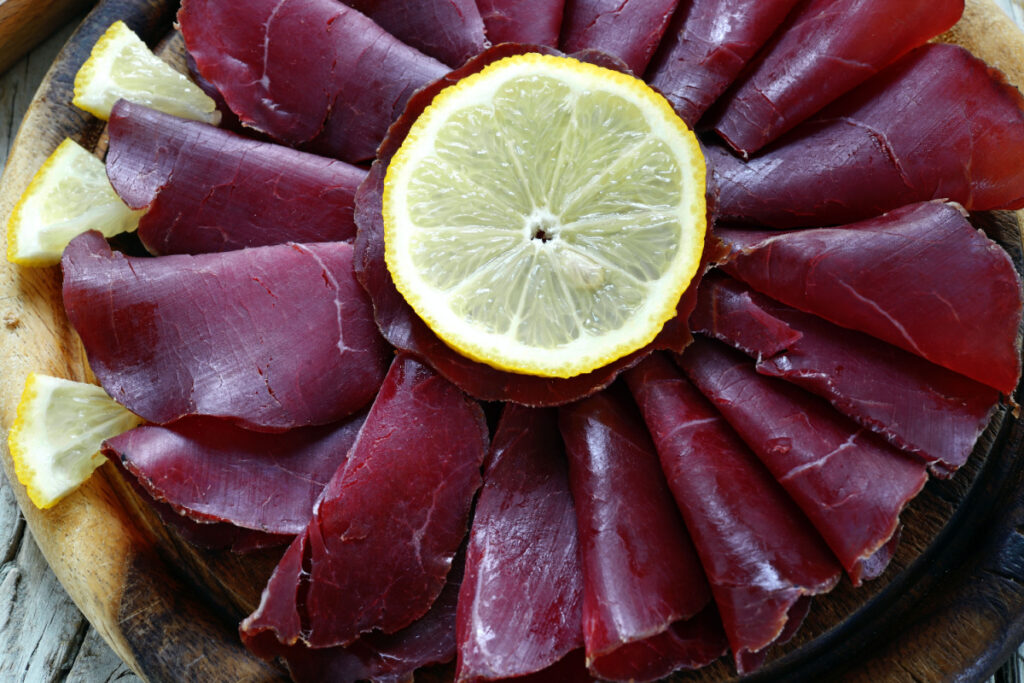 Just to clarify, "Mocetta" is similar to Bresaola, which is air-dried, salted beef that has been aged for months until it hardens. But here's the twist, Mocetta Carrarina is actually made with horse thigh meat!
It's an elongated, dark, almost purple-looking delicacy, with the sizes ranging from 800 to 1500 grams, depending on the size of the horse. The aroma is deep and penetrating, with a compact consistency that carries intense flavors.
This salami-style dish has roots in Carrara's strong tradition of consuming horse meat. This is linked to the region's history, where horses and cattle were once used for dragging carts in the nearby marble quarries. Moreover, the neighboring Lunigiana region has a longstanding tradition of horse breeding.
You can buy Mocetta Carrarina from local butchers, or enjoy it sliced thin in local bars and trattorias. There's something about its rich taste that just pairs so well with a local glass of red wine. Try it, and you'll get a real taste of Carrara's culinary history!
15. Pan Cotto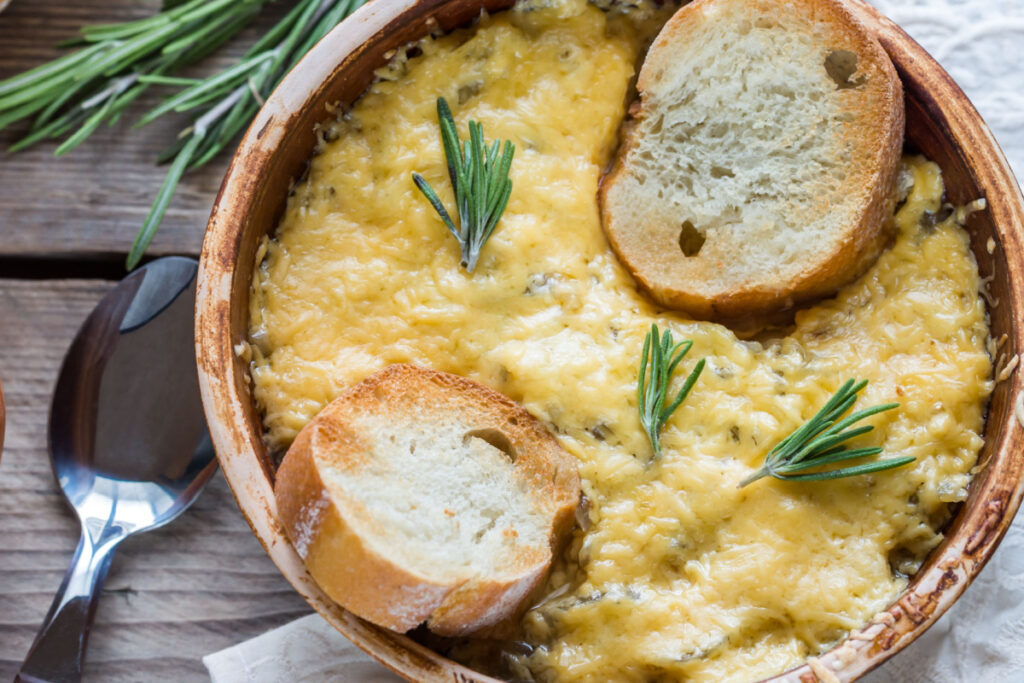 If you're someone who loves comforting, home-style food, then Pan Cotto (or Pan Kot as local call it) is a dish you must try in Massa Carrara. The name literally translates to "Cooked Bread," and trust me, it's far more delicious than the simplicity of its name suggests.
This dish is a testament to Italian ingenuity in the kitchen, transforming stale bread, which is the main ingredient, into something incredibly tasty. The recipe calls for chunks of stale bread boiled in water seasoned with salt, pepper, and garlic, cooked until it becomes a thick, hearty "mush".
Then, it's taken off the heat and stirred in with grated pecorino cheese and fresh eggs. A final drizzle of extra virgin olive oil adds a luxurious finishing touch.
Every spoonful of Pan Cotto gives you a burst of savory flavors, and the creamy texture is truly comforting. Variations of the dish might include crumbled sausage, diced pancetta, zucchini, or ripe tomatoes for an extra boost of flavor.
This humble, hearty dish is a common find in local trattorias in Massa Carrara, where it's served as a main course. And let me tell you, nothing beats a bowl of Pan Cotto after a day of exploring the beautiful city.
16. Baccalà Marinato alla Carrarina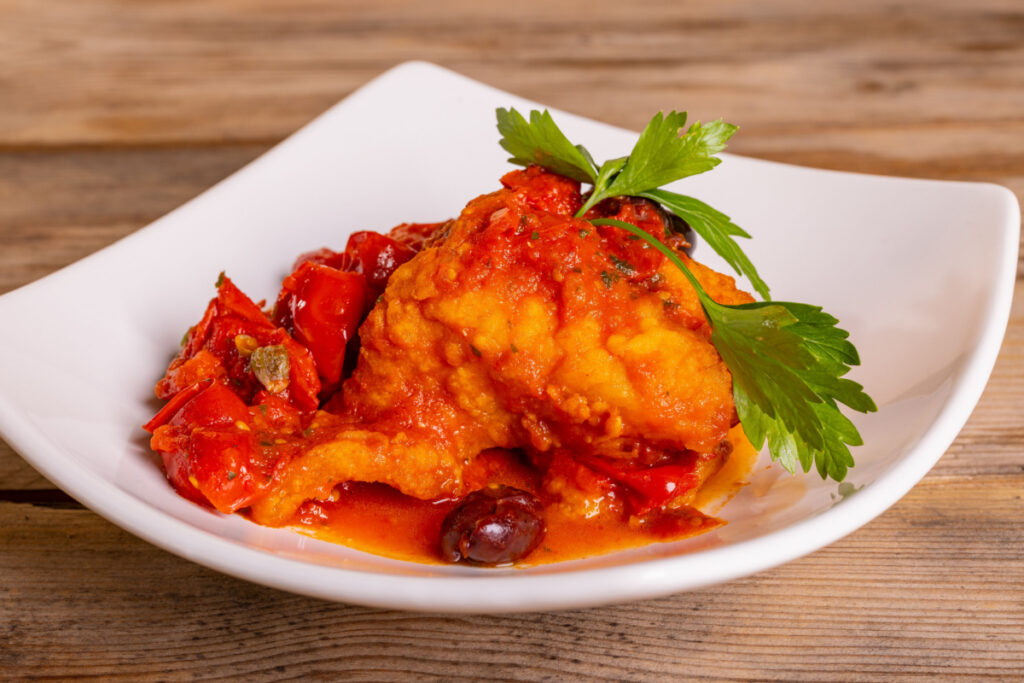 In Massa Carrara, the taste of the sea meets traditional Italian cuisine with a delectable dish known as Baccalà Marinato alla Carrarina. Here, baccalà, which is cod preserved in salt, is marinated to perfection in a savory blend of ingredients.
The term "baccalà" refers to salted cod, a preservation technique that dates back to the Arctic fisherman who discovered vast quantities of cod in the North Sea. Today, baccalà is loved throughout Italy and the Mediterranean for its delicate, tender texture and its rich nutrient profile.
The marinade is the star of Baccalà Marinato alla Carrarina, lending the fish a tangy and incredibly aromatic flavor. The baccalà is submerged in a vibrant mixture of tomato pulp, chopped parsley, and garlic, all infused with the bright tang of vinegar. But this isn't a dish you rush – the fish marinates for a whole day, tenderizing and absorbing all the flavors of the marinade.
Once the baccalà is sufficiently soaked in its marinade, it undergoes a long process of soaking to desalinate and rehydrate before it's ready to be savored. The resulting flavor is robust, rich, and deeply satisfying, making this dish well worth the wait.
17. Stoccafisso alla Carrarina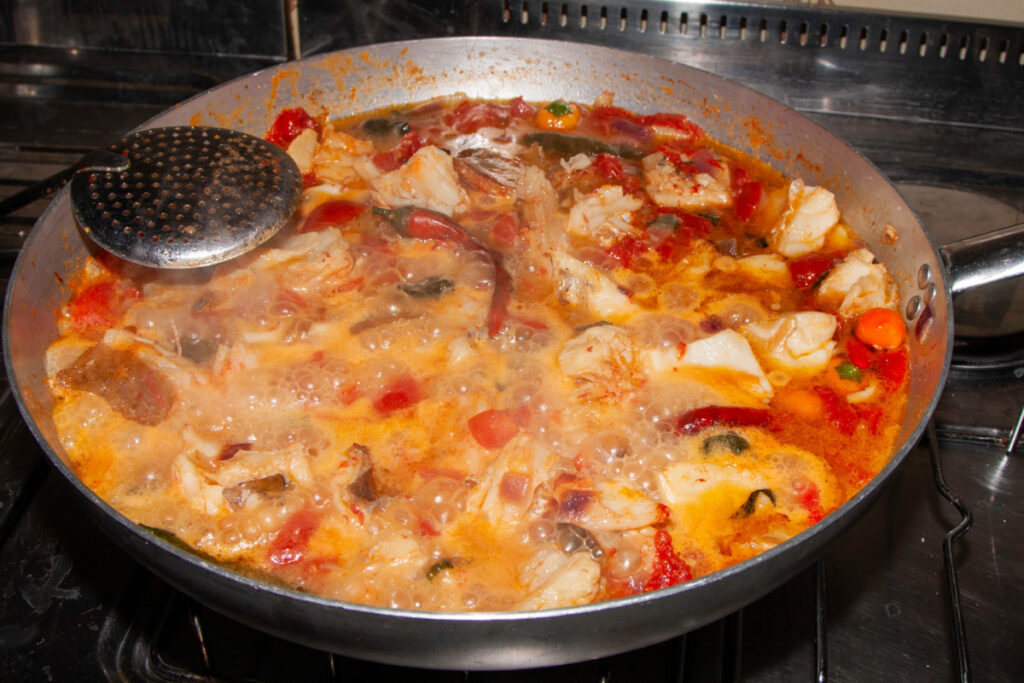 Mind you, we're talking about stoccafisso or stockfish, not baccalà – they are two different products! Baccalà is salt-dried cod, while stoccafisso is air-dried cod, requiring rehydration but no desalting.
Stoccafisso alla Carrarina is a hearty main course that's packed with flavors. The fish is cut into regular pieces and sautéed with a mixture of onion, garlic, parsley, a little chili, and anchovy fillets. A splash of white wine, canned tomatoes, and a touch of salt are then added. Potatoes, cut into chunks, join the simmering pot a bit later.
Cooking it slowly, letting it "bubble" for a good two hours, is the secret. The sauce thickens perfectly, and a handful of pine nuts thrown in near the end of cooking adds a delicious crunch.
The saying goes, "Lo stoccafisso nasce nell'acqua e muore nell'olio," which translates to, "Stockfish is born in water and dies in oil." This means you shouldn't skimp on oil when cooking it!
Pair this dish with a side of polenta for a complete, heartwarming meal. Trust me, this is one dish that's an absolute delight, a true taste of Massa Carrara that you'll remember long after your visit.
18. Limone di Castagnetola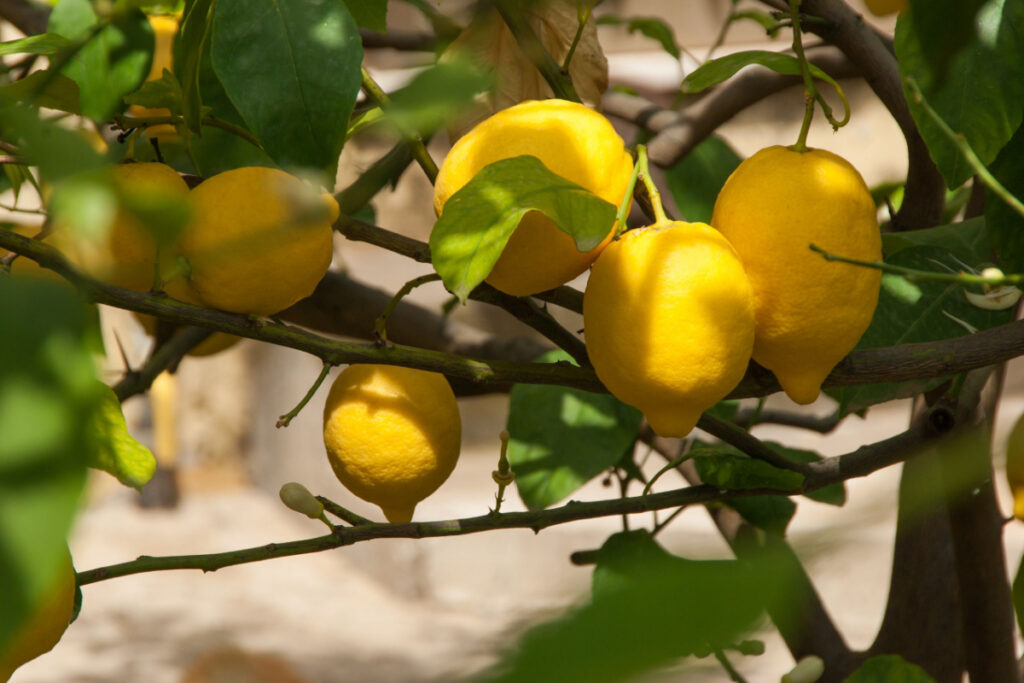 Traveling through Massa Carrara, you will discover the "Limone di Castagnetola", a local gem you can't miss out on. This round lemon variety, with its thin and mildly bitter skin, houses a sweet-and-sour pulp that's perfect for consuming fresh or as an ingredient in a plethora of dishes and drinks.
The most famous by-product of this lemon is the aromatic Limoncello, a lemon liquor often sipped as a digestif after meals. Trust me, it's as refreshing as it sounds!
Now, you might ask, where can I find these remarkable lemons? The answer is Castagnetola, a small village within the region, where the main producers of the Limone di Castagnetola are located. These farmers, about 15 in total, each owning 50-60 lemon trees on average, have come together to form a cultural group dedicated to the cultivation and promotion of this local wonder. They even host a Lemon Festival in the first week of July, a must-visit event if you're around.
One particular dish that showcases these lemons is the BonaJan, a Neapolitan classic dessert with a Tuscan heart. Invented by Chef Marco Mariani, it's essentially a Babà, a type of yeast cake, enriched with the famed Massa lemons. I've had the pleasure of tasting this dessert, and let me tell you, the blend of the spongy Babà cake infused with the tangy lemon syrup is out of this world.
19. Torta d'Erbi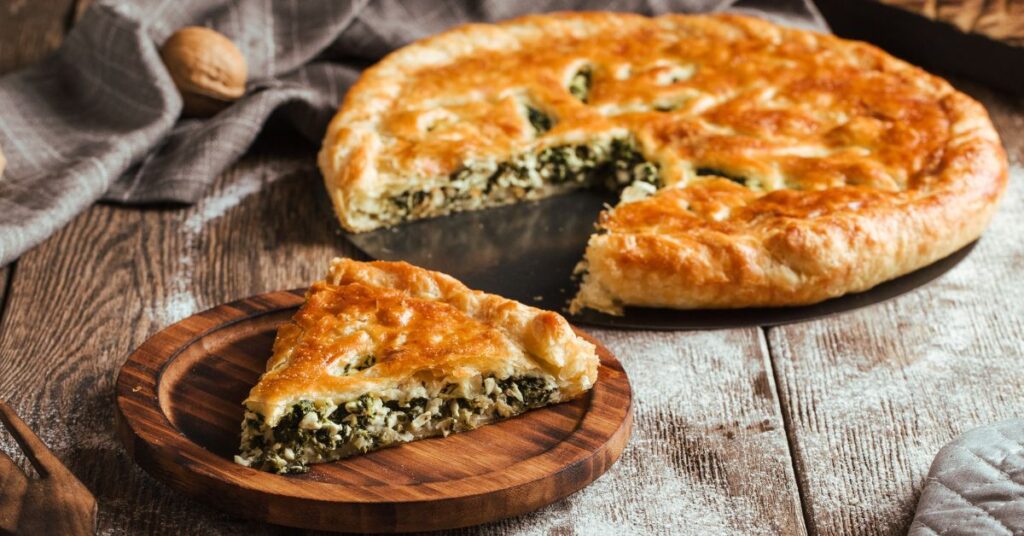 You've got to try the Torta d'Erbi, a savory pie with roots in the Lunigiana region. "Torta" means "cake" or "pie" in Italian, and "erbi" refers to herbs. The name literally translates to "Herb Pie," but it's much more than just that.
This satisfying dish is crafted from a blend of finely chopped wild herbs, parmesan or pecorino cheese, and a simple dough made from flour, water, and extra virgin olive oil. Interestingly, no eggs or other cheeses are added.
The wild herbs are traditionally harvested in the spring. Depending on the season, these herbs can be replaced by spinach, cabbage, pumpkin, or leeks. The pie was traditionally cooked in hearth ovens, adding to its rustic appeal.
Originally, the Torta d'Erbi was a frugal, sustenance meal in times of scarcity, but over time it evolved into a flavorful, cherished local dish. The pie's ingredients have expanded with its popularity, now including garden-grown herbs, butter, ricotta, eggs, and even a bit of rice to absorb the moisture from the herbs during baking.
Today, you'll find countless variations of Torta d'Erbi, as every family has their own special recipe, passed down from generation to generation. Each version has its own unique twist, its own little secret.
20. Mela Rotella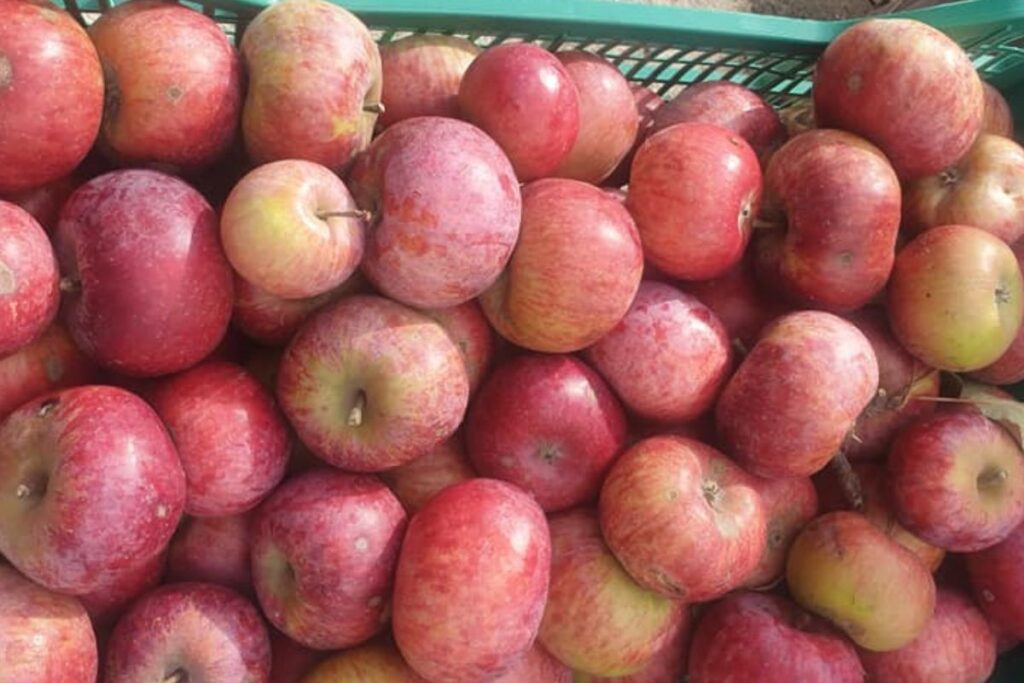 For a deliciously sweet and tangy treat in Massa Carrara, be sure to savor the unique Mela Rotella della Lunigiana, or Lunigiana Wheel Apple. Its name, "Rotella," literally translates to "small wheel," drawing a delightful picture of its characteristic flattened, round shape.
This apple cultivar is a delightful burst of flavor and fragrance. Its skin is a vibrant palette that evolves from a crisp green with red streaks to a warm yellow with intense red stripes as it ripens. Inside, you'll find firm, white flesh that offers a balance of sweetness and acidity. What really sets these apples apart is their exceptional fragrance when ripe, which perfumes the air with a hint of autumn.
Harvested in the second half of October, Mela Rotella requires a bit of patience. To fully enjoy its flavors, you should wait a few weeks after harvest when the green hues mellow into yellow. Despite its smaller size compared to other apple varieties, this fruit is cherished for its longevity, storing well over extended periods.
In the local cuisine, this apple is typically enjoyed fresh, and its sweet-tart flavor shines in homemade desserts. Traditionally, it is used in baked apple dishes and marmalades. You can find these delightful apples in local markets or orchards during the harvest season.
21. Torta di Riso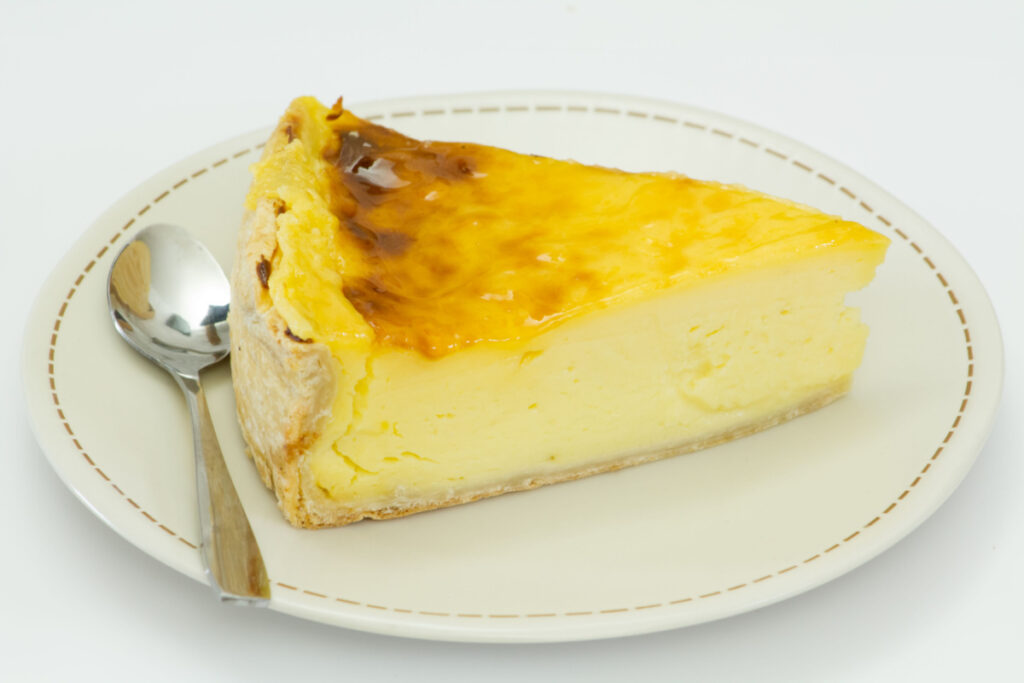 Literally translated as "Rice Cake", it's a festive dessert typically prepared during Easter or local town festivals. But truth be told, any day is a good day for a slice of Torta di Riso in Massa Carrara.
This cake has a rich heritage, each family in the region has its unique version, passed down through generations, but always features a heavenly blend of eggs, rice, milk, and liquor, with each ingredient playing a crucial role in its distinct taste and texture.
The cake is either round or rectangular, depending on the pan used, and is composed of a rice layer at the base and a creamy pudding-like layer on top. The exterior has a beautiful caramelized hue, while the inside is a creamy yellow. The aroma is delicate, inviting, with a pleasant hint of the various liquors used.
The preparation involves boiling rice, mixing up a creamy blend of eggs, sugar, liquors, grated lemon, vanilla, and milk, and then combining the two before slow-cooking it for over two hours in a wood or gas oven. The end result is a delectably aromatic cake that's a pleasure to both the eyes and the palate.
A notable event is the Sagra della Torta di Riso held in Mirteto (Massa) on Saint Vitale's day, where the best Torta di Riso is awarded.
22. Spongata della Lunigiana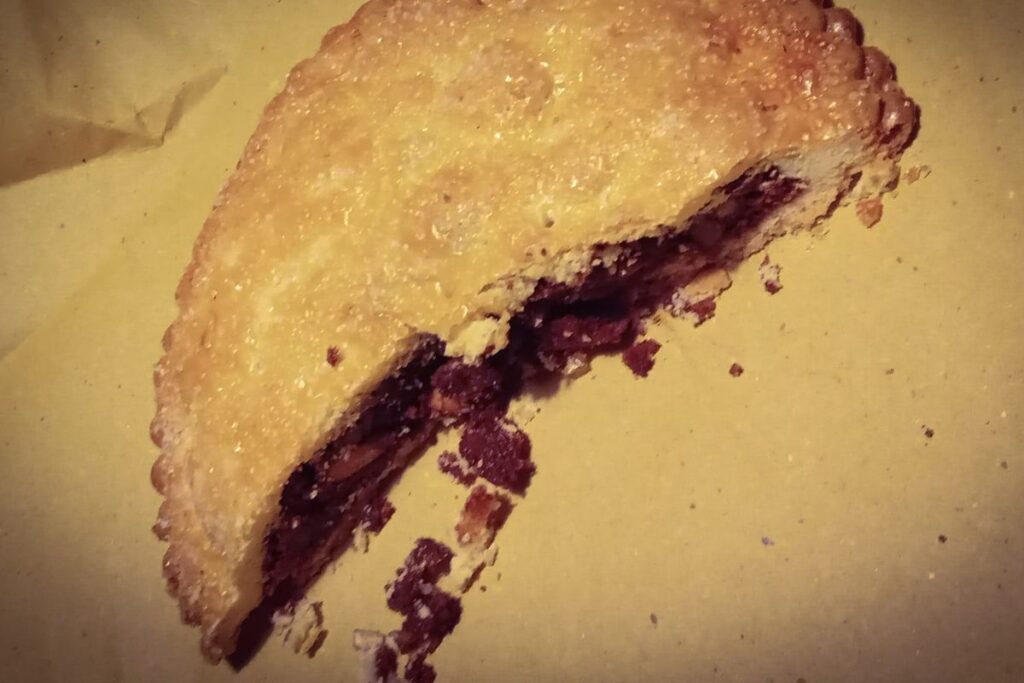 This round, pink-tinged cake has a luscious filling made of honey, bread, dried fruit, aromatic herbs, and spices.
Spongata cake has two layers of dough encase the filling, forming a unique concoction that's available throughout the year. There's history in every bite – back in the early 19th century, young men from Pontremoli would traditionally gift Spongata to their sweethearts during Tuscan Carnival.
This sweet delight starts with a dough made of flour, wine, butter, oil, and sugar. This dough is rolled out into a disc and placed on a baking tray, where it meets the filling. Another dough disc is then placed on top, with the edges crimped together and the top punctured with a fork for ventilation. It's then baked for just under 20 minutes, keeping the crust soft.
The filling itself is a marvel – honey boiled with white wine, dried bread, nutmeg, pepper, and cinnamon. This is mixed with crushed almonds, walnuts, and hazelnuts. Once off the heat, it's combined with liqueur, candied peel, raisins, and whole pine nuts, and left to rest for a day in a warm place.
The result is a cake with a soft crust and a sweet and spicy filling that's truly delightful. This dessert is also on my list of all desserts that exist in Tuscany. Once you've tried it, you'll understand why it's a timeless tradition in this part of Tuscany!
23. Pane Marocco di Montignoso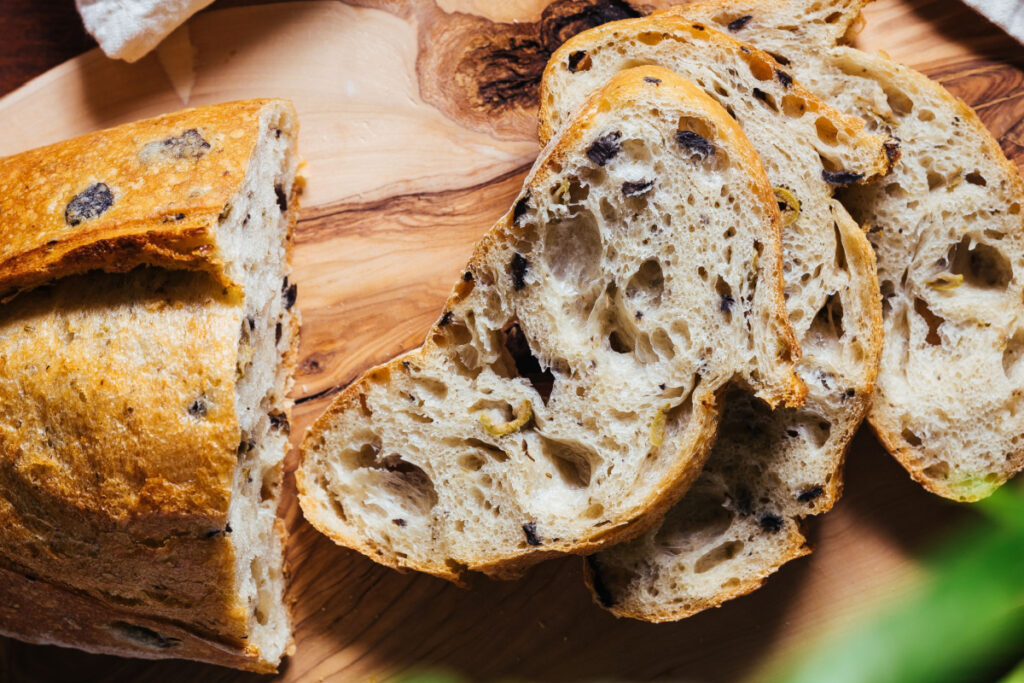 If you find yourself in Montignoso not far from Massa Carrara, you're in for a real treat with the local Pane Marocco. This traditional bread, whose name translates to "Moroccan bread," gets its name from the distinctively dark color that reminds locals of the people of Morocco.
Crafted from a blend of cornflour and wheat flour with the addition of brewer's yeast, oil, black olives, and an assortment of herbs and spices like rosemary, crushed chili, sage, garlic, and salt, Pane Marocco is unique in flavor and texture.
Each round loaf, with a diameter of about 20-25cm, boasts a dark, golden surface, a result of being baked in a wood-fired oven on chestnut leaves.
What's particularly interesting about Pane Marocco is the time of year it's produced. It's typically made from November to January, coinciding with the olive harvest season. The addition of fresh, local olives gives this bread its distinctive character.
So, while you're wandering the streets of Montignoso, don't forget to stop by a local bakery and grab a loaf of Pane Marocco.
24. Miele della Lunigiana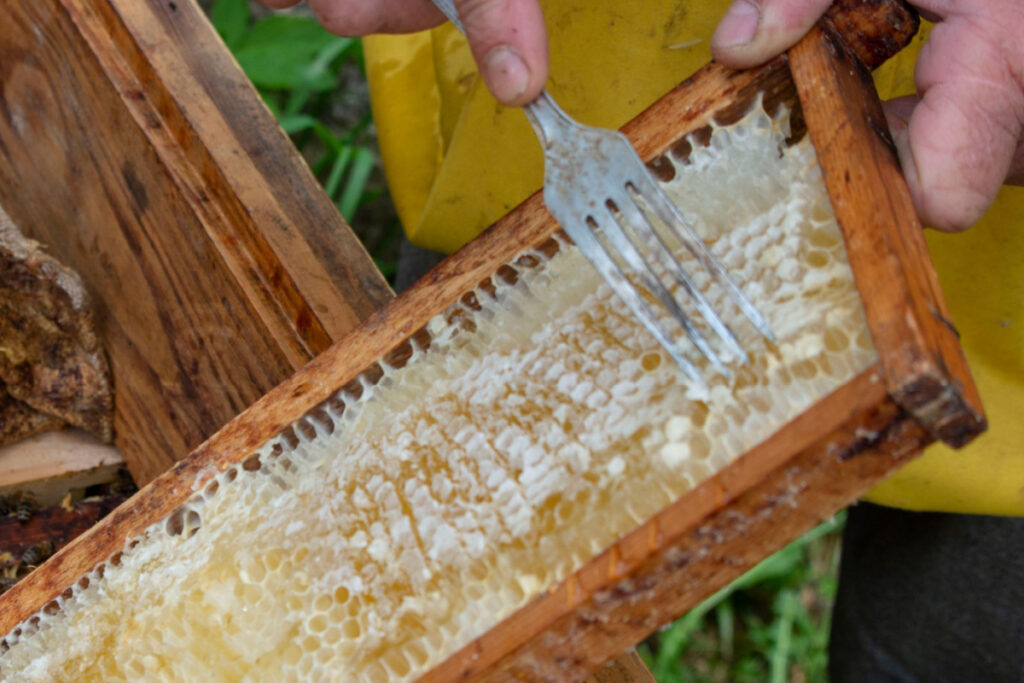 Ah, the Lunigiana honey, or "Miele della Lunigiana" as locals call it! This deliciously sweet, golden nectar of the bees in the Lunigiana area is something you definitely must try during your stay in Massa Carrara. Interestingly, "miele" translates to "honey" in Italian, a word as sweet and simple as the product itself!
There are two types of Lunigiana honey, each with a unique taste derived from the nectar of Acacia or Chestnut flowers. The Acacia honey is a clear, almost colorless, and incredibly sweet delight with a delicate vanilla-like aroma. On the other hand, Chestnut honey is a darker, amber-colored honey with a strong, penetrating odor and a slightly bitter aftertaste. Trust me, both are equally mesmerizing in their own ways!
You see, the making of this honey is steeped in centuries of tradition. Lunigiana, a region with minimal industrial development, has a rich, diverse vegetation of forests, acacias, and chestnuts, which makes it a haven for beekeeping. Local bees work diligently to collect nectar from these plants and turn it into a honey of excellent physicochemical and organoleptic characteristics.
You can savor this sweet treat in its natural state on a piece of toast or as an ingredient in traditional Tuscan desserts like panforte, honey cantucci, and spongata. And guess what? The Lunigiana honey is the first Italian honey to obtain Protected Designation of Origin (DOP) status from the European Union, so you're literally tasting a part of Italian history!
25. Bollenti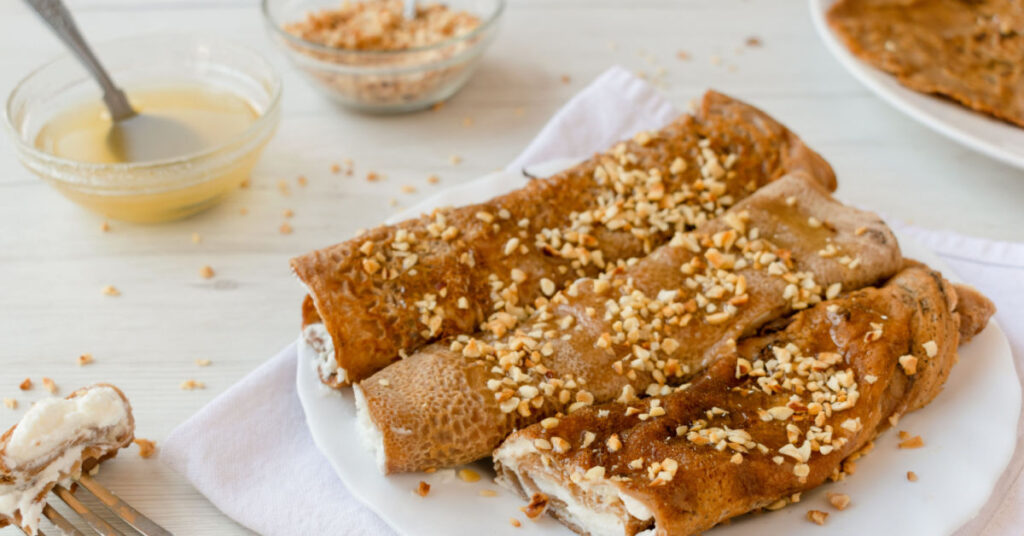 While you're in Massa Carrara, you absolutely must try "Bollènti," known as "Necci" in the neighboring Garfagnana region, these treats are akin to chestnut pancakes and boast a deep brown color and irresistible softness.
Bollènti is made with chestnut flour, resulting in a sweet and nutty flavor. Think of them as a type of crepe that can be filled and rolled up. Traditionally, these delights are stuffed with ricotta cheese. But don't stop there!
The beauty of Bollènti lies in its versatility. They are just as delicious in sweet versions as they are in savory. I've tried them with Nutella, soft stracchino cheese, and even with mixed cold cuts like Lardo di Colonnata, sausage, and Biroldo.
These tasty treats are traditionally made on the eve of the festival of Santa Lucia, the longest night of the year. Locals gather to cook Bollènti in special cooking tools known as "Testi," which are two iron plates with a handle.
These tools are family heirlooms, often passed down through generations. The batter is poured onto one plate and covered with the other to cook.
Finding Bollènti is a treat in itself. They are usually homemade but can also be found in local markets or during the Santa Lucia festival.
26. Ciorchiello di Casette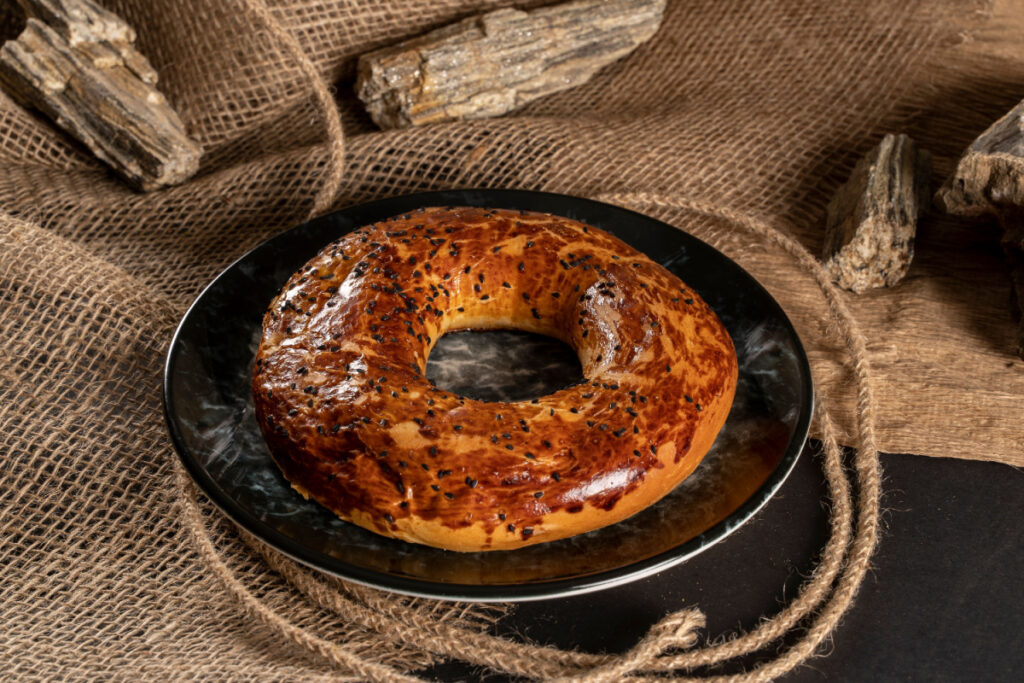 If you find yourself in Massa Carrara during the Easter season, you can't miss the chance to try the Ciorchiello di Casette, a symbolic dessert of unity and tradition. "Ciorchiello" translates to "small round object" in local dialect, perfectly describing this ring-shaped cake.
This 500-600 gram donut-like treat has a dark color and an enticing aroma of anise. It's sweet, yet offers a firm, satisfying bite, with a surprising longevity, meaning you can enjoy it at a leisurely pace.
The dough is a delightful mix of flour, yeast, eggs, sugar, butter, soaked sultanas, anise seeds, pine nuts, and a pinch of salt. After forming the dough into a circle, it's left to rise for around 15 hours. Before baking at 200°C for approximately 30 minutes, the top is brushed with beaten egg, lending a beautiful golden finish.
It's a cake rooted in the Easter traditions of mountain villages near Massa Carrara, like Casette, Forno, and Caglieglia. In the past, each family would bake dozens of these cakes not only for their own enjoyment but also as a gesture of goodwill to share with friends and relatives. On Palm Sunday, it was customary to bring these cakes to the church for a blessing.
You can sample this sweet delight at the annual "Sagra del Ciorchiello" festival held in Casette the weekend before Palm Sunday, or during the main gastronomic events in the region.
27. Torta Cybea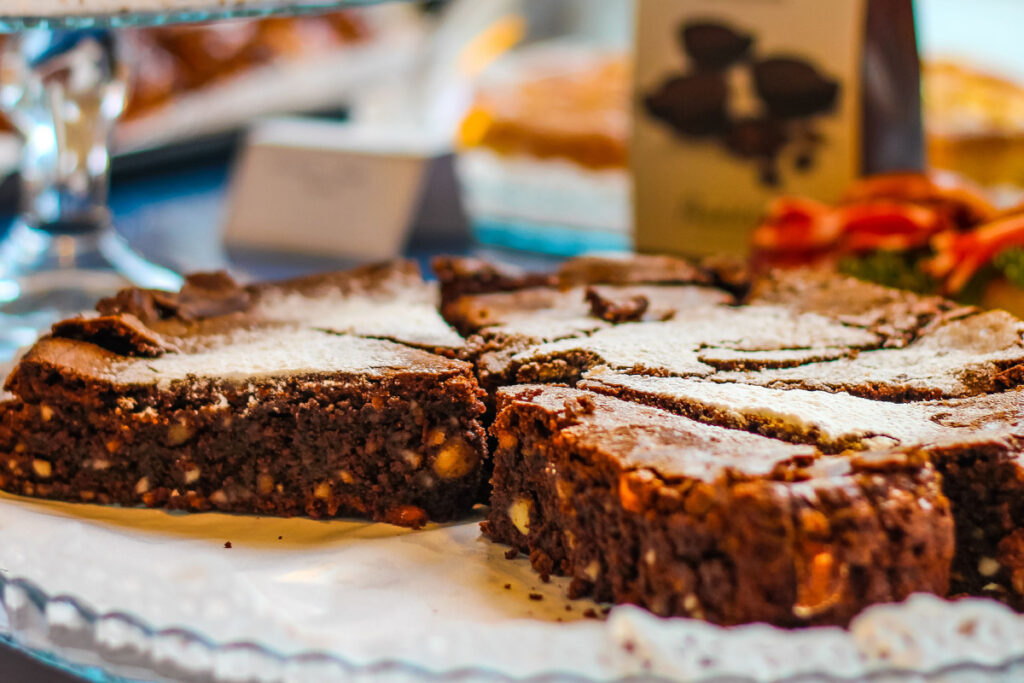 When in Massa Carrara you have a sweet tooth to satisfy, you've got to try the Torta Cybea. A true local delicacy, this dense and round chestnut-based dessert is a classic treat from Massa.
About the size of a small cake, it weighs in at around 500 grams and presents a dark complexion that perfectly complements its robust flavor. The ingredients include glazed chestnuts, chestnut flour, honey, sugar, candied orange peel, raisins, wheat flour, salt, and a blend of warm, aromatic spices. The result is a delightfully compact cake that tastes like the essence of autumn in Tuscany.
The story behind Torta Cybea is as rich as the cake itself. It's an old recipe that's been handed down through generations and was revived alongside the Quintana, an ancient jousting tournament held in Massa Carrara.
The city springs to life in June with Renaissance-style dinners and knighting ceremonies to celebrate the foundation of Massa Nuova, also known as Cybea, back in 1557.
And let me tell you, having personally enjoyed this dessert during my visits, it's a rich and sweet way to end a meal, especially if you've got a cup of strong Italian coffee at hand.
More information about characteristic food from Massa Carrara
What is the iconic dish of the city of Massa Carrara?
My advice would be to try the Tordelli alla Massese, a flavorful ravioli style pasta dish filled with a mix of ground meats and herbs.
Which dish or typical food from Massa Carrara is suitable for vegans?
For the vegan travelers out there, you won't want to miss the Ribollita Soup in Massa Carrara. It's a hearty and comforting dish made with a variety of vegetables and day-old bread.
Which dish or typical food from Massa Carrara is suitable for vegetarians?
My recommendation for vegetarians visiting Massa Carrara would be to sample the Pan Cotto. It's a delicious bread-based dish loaded with veggies and beans – simple, yet packed with flavor.
What is the characteristic street food of Massa Carrara?
You should try Fugaccia con Mundiola, or focaccia with mortadella, basically a flat bread cut in half, stuffed with local pig cured meat (mortadella). It's a local favorite that you'll find hard to resist.
What is the typical dessert or sweet treat of Massa Carrara?
Got a sweet tooth? The Torta di Riso is a beloved dessert in Massa Carrara. This traditional rice cake is a treat you won't want to miss!