Despite the richness and variety of the Italian culinary tradition, here in Italy, we love to eat Japanese cuisine, especially sushi.
Data says so, over 90% of Italians habitually consume sushi and 28% even say they would eat it every day. Sushi in Italy is considered a light, fresh food with an exotic touch, which makes it special.
It is no wonder that the craving for Japanese cuisine does not hint at stopping in Italy, whether it is the fusion version or all-you-can-eat sushi.
But let's try to understand exactly why there are so many sushi restaurants in Italy and how sushi is served in Italy.
Why are there so many sushi restaurants in Italy?
Over the past forty years, Japanese restaurants in Italy have spread very quickly. According to data from Business Week magazine, there are nearly 26 thousand Japanese restaurants today in Italy.
This is a very large number of restaurants, built in response to the incredible desire of us Italians to eat Japanese food.
But why do Italians love sushi so much?
Japanese cuisine, although completely different from Italian cuisine, shares with it some basic values that make it very appealing to us Italians:
Dishes made up of a few simple ingredients
Use of light and healthy fresh ingredients
Raw foods or quick cooking to preserve flavors
The moderate use of spices
Zero waste of ingredients
Attention to details of the tradition
Pursuit of "Umami" flavor
What kind of sushi do Italians love?
Sushi according to traditional Japanese cuisine is made of rice, accompanied by raw or marinated fish, to be served rolled in a strip of seaweed, where it is placed on rice, but it must be admitted that in Italy, as in other Western countries, sushi is adapted to the culture and taste of the population.
74% of Italians like a Japanese-Italian version of sushi, and 53% like sweet sushi with chocolate or fruit.
For example, people in Italy like salmon-based sushi very much, but in Japanese reality, salmon is used very little and tuna is the real protagonist.
And what about uramaki with raw salmon, avocado, spreadable cheese, and rice, which are never lacking in every Japanese restaurant, these rolls do not actually exist in Japan, at least not in the version with spreadable cheese, in fact, this reinterpretation comes from the USA. It is an example of how a classic Japanese dish has been revisited to suit Western tastes.
Here are some of the most popular sushi dishes eaten in Italian Japanese restaurants:
Hosomaki: consisting of a fried seaweed flap that wraps rice topped with a single ingredient (usually salmon or tuna).
Uramaki: Vegetables and tasty crabmeat can often be found inside. The rice is topped with sesame seeds.
Onigiri: Tuna or salmon is usually put inside, but it also lends itself well to use with vegetables.
Nigiri: The rice patty is laid on the bottom, while the top is covered with a variety of ingredients, often salmon, tuna, or sea bass.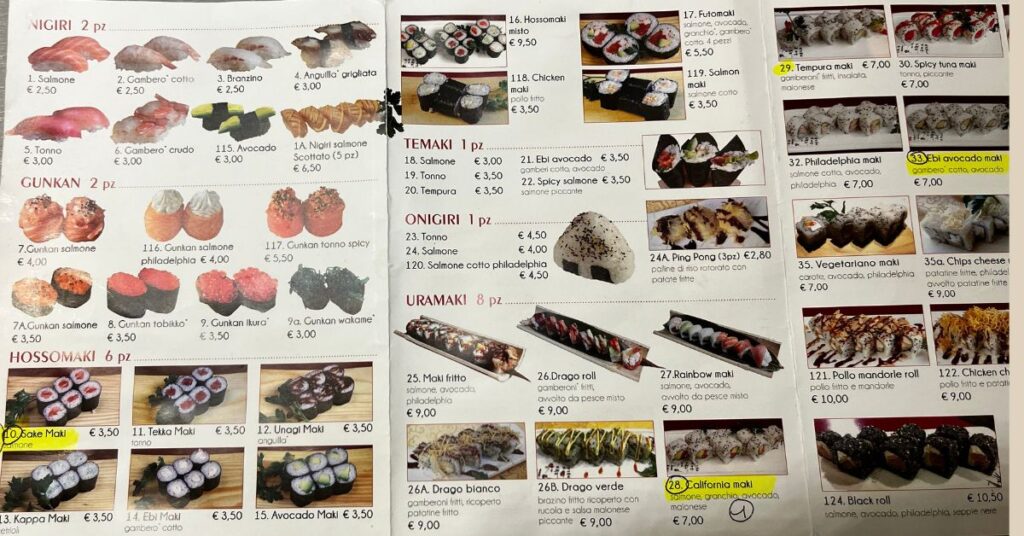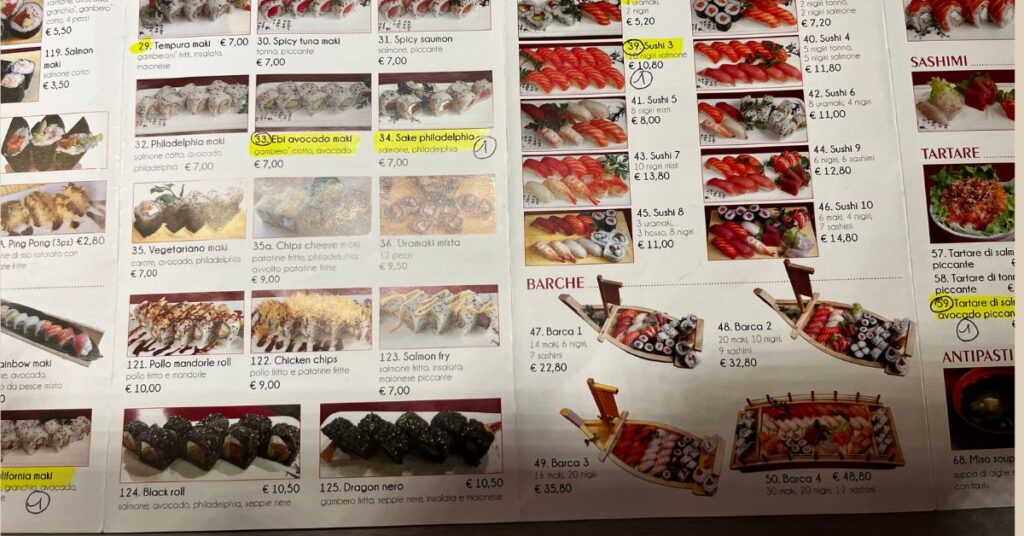 Can Italians distinguish Japanese cuisine from Chinese cuisine?
If you have been to Italy and dined at a Japanese sushi restaurant, you have probably noticed that there are traditional Japanese dishes mixed with traditional Chinese dishes on the menu.
In fact, many Italians still do not really know the difference between Japanese and Chinese cuisine, and they confuse the dishes of the two cultures, but this fact is not only due to our ignorance.
There is a large Chinese community in Italy, and during the boom years of Japanese cuisine, many Chinese entrepreneurs opened Sushi restaurants putting Chinese dishes on the menu as well.
In fact, a kind of Japanese-Chinese-Western cuisine was created where you can find the dishes of both cultures, presented and consumed in a Western way, to meet the tastes of us Italians, one of the effects of globalization after all.
So don't be surprised if in the sushi restaurant you find in Rome or Milan you can order Salmon Nigiri along with Cantonese rice and almond chicken.
On what occasions do Italians go out for sushi?
According to research by Uber Eats and Nextplora, 54 % of respondents want to consume sushi with friends, whether it is a dinner with friends, a business lunch, or with family.
However, another interesting fact arises, 21 % like to enjoy sushi in solitude, as a "pampering" all to themselves. This is where the desire to eat sushi at home comes in, thanks to home service, as we will see in the next section.
Do Italians often order sushi to eat at home?
Italians like to eat sushi, often in the tranquility of their homes, and the spread of home delivery services confirms this trend. A survey by food delivery Deliveroo states that sushi orders on the platform have grown significantly over the past year (+134 percent). This phenomenon affects large cities such as Milan, Rome, Turin, and smaller towns.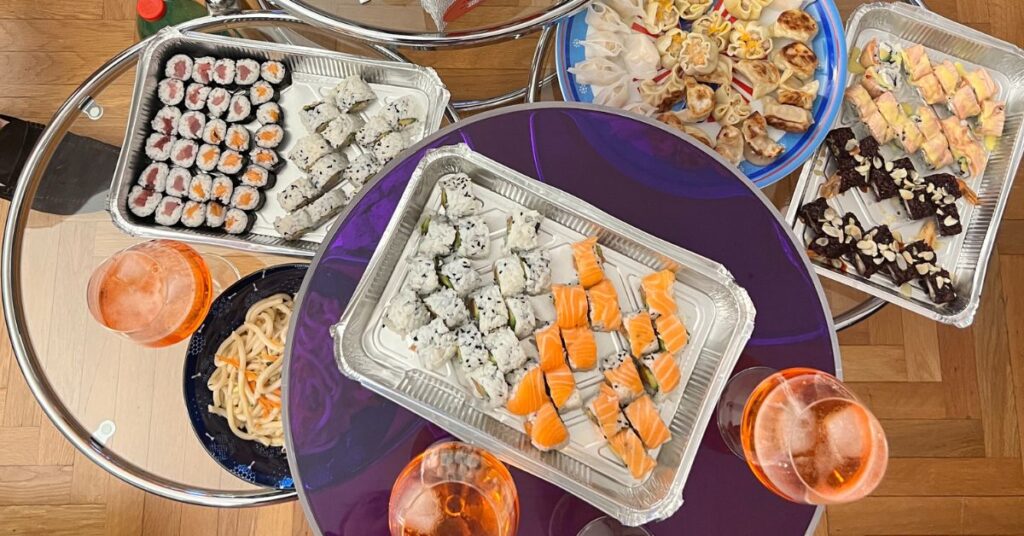 And in Italian supermarkets, can you buy sushi?
Yes, in almost all supermarkets, you can buy fresh packaged store-bought sushi, sometimes prepared directly inside the supermarket. In the larger ones, there is actually a stand where the sushi man prepares the Japanese dishes on the spot, which can then be enjoyed at home.
In which Italian cities are there more Sushi restaurants?
Sushi is eaten all over Italy, especially in medium/large-sized cities, where Japanese restaurants are widespread. The primacy has always been Milan, a cosmopolitan city par excellence. But for the first time, Rome is about to beat Milan and become the largest city for sushi consumption in Italy.
Do Italians eat sushi with a fork and knife or do they use chopsticks?
Italians when they go to eat sushi in restaurants tend to use chopsticks. However, there are many restaurants that can set the table with forks if it is expressly requested, however, it is more difficult to find the knife on the table.
Is sushi expensive in Italy?
Sushi is not particularly expensive in Italy, despite the fact that it is raw fish that requires special processing. The most common commercial formula offered by Japanese restaurants is "all you can eat" sushi, in which the entire menu is made available to the customer, without special restrictions, at a fixed price, usually 20 euros per person.
Normally, the lunch menu, compared to the evening menu, is less expensive since it has a smaller offering. This formula is well suited to social dining, but it is advisable to beware of restaurants with fixed prices that are too low because the quality is highly likely to suffer.
Then there are higher-level restaurants with a la carte menus that offer Japanese cuisine with fusion foods and more refined and sophisticated dishes, creating the right atmosphere for a couple's dinner, in which case prices increase considerably.