As an Italian who has had the pleasure of visiting Pisa multiple times, I can attest that this city has more to offer than just the iconic Leaning Tower and other amazing landmarks, its cuisine is equally noteworthy!
Pisa is home to some gastronomic treasures that are truly unique, and not trying them while visiting would be a missed opportunity.
Some of these unique dishes can only be tasted in Pisa, such as pasta alla renaiola, seasoned with turnip tops and herring, or Pallette alla Pisana is a type of polenta made from cornmeal, and there are also delicious meat dishes such as Tagliata di Mucco Pisano, a grilled beefsteak from the local breed of cattle. Finally, the desserts are not to be missed, including the cake with bischeri for chocolate and pine nut lovers.
If I were in Pisa right now, what would be my ideal meal?
I would have no doubts about my choice, after the list of typical Pisa dishes at the end of the article you will find my selection.
Pisan delicacies that you can't miss
1. Bordatino alla Pisana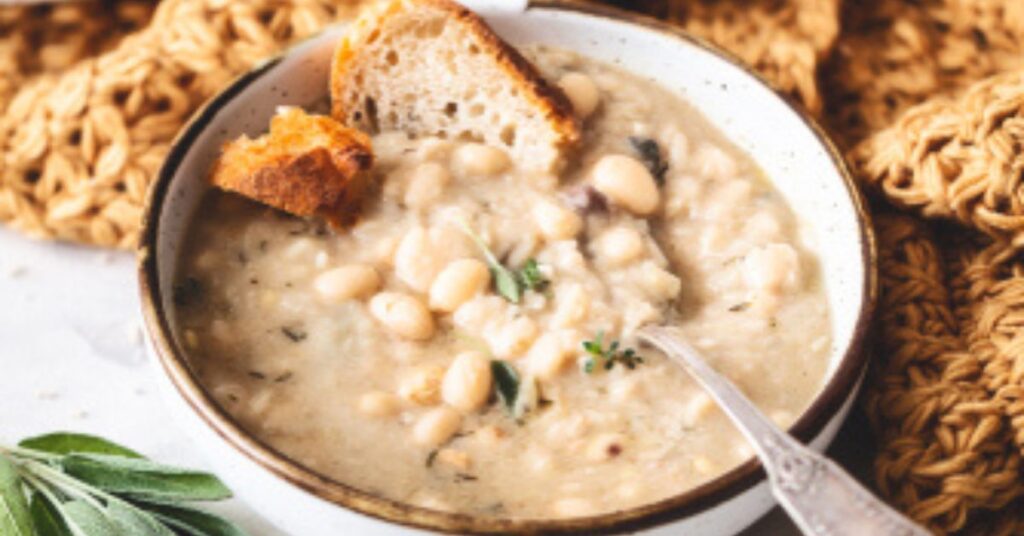 Bordatino alla Pisana a traditional first course from Pisa, is a soup made with beans, potatoes, and vegetables like chard, cabbage, and carrots.
The soup has a hearty, rustic flavor and texture, with a thick consistency and a slightly sweet taste from the potatoes and carrots. The beans give it a creamy texture, while the vegetables add a fresh, earthy flavor. It's a comforting dish that is perfect for colder weather or when you're in need of a warm, filling meal.
Bordatino alla Pisana can be found in traditional trattorias and restaurants around Pisa and Tuscany. It's not a dish commonly found in touristy areas, but it's definitely worth seeking out for an authentic Tuscan experience, by the way, don't miss my list of foods from the Tuscany region to know and taste.
2. Pasta Alla Renaiola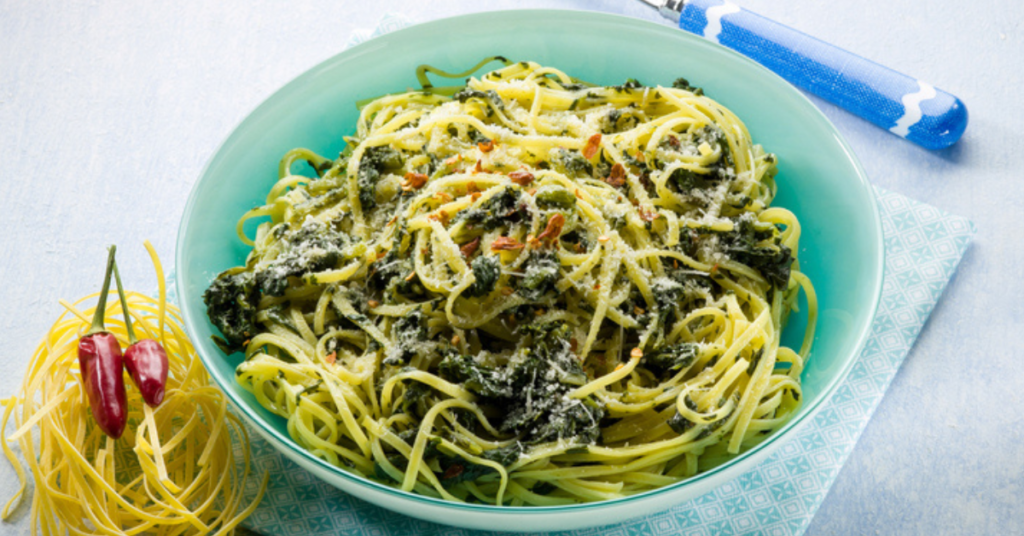 One dish you shouldn't miss is Pasta alla Renaiola, this is a primo piatto (first course) dish, typical of the Pisan cuisine, made with trenette pasta, a type of flat and narrow pasta that is similar to linguine.
The sauce is made with cime di rapa (turnip tops) or other tender leafy greens, such as spinach, sautéed with garlic, chili pepper, and anchovies or a whole aringa (herring). Some diced tomatoes may also be added to the sauce.
The dish has a rich and savory flavor that combines the bitterness of the greens with the umami taste of the fish.
You can find Pasta alla Renaiola in many restaurants and trattorie in Pisa and its surroundings, especially in the autumn and winter months when the greens are in season. This dish is also popular during the Easter period, especially on Good Friday, when Catholics abstain from eating meat.
3. Cecina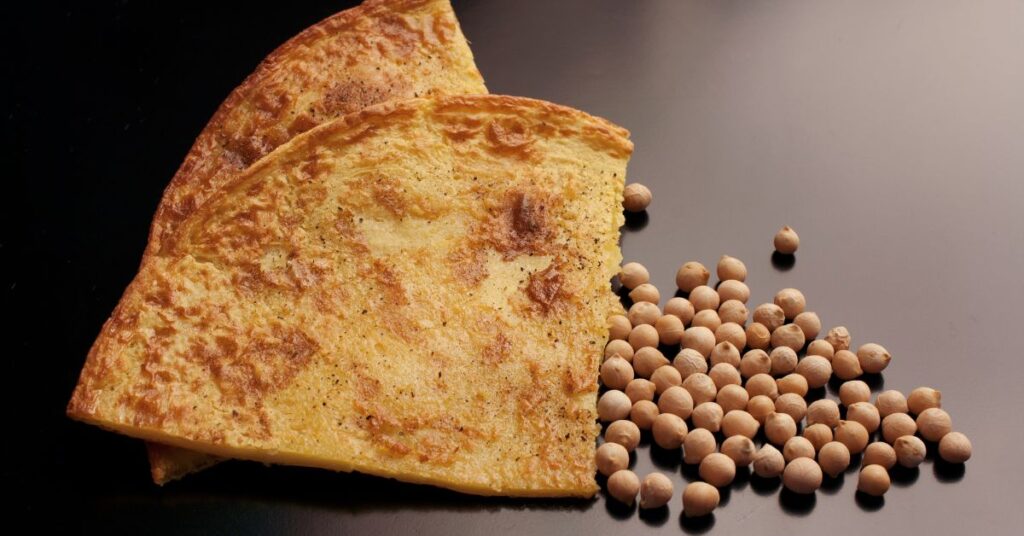 Cecina is a traditional dish that has been around since the Middle Ages, a savory flatbread made with chickpea flour, water, olive oil, and salt. Its name comes from the Italian word "ceci," which means chickpeas. The batter is poured into a hot wood-fired oven and baked until crispy on the outside and soft on the inside.
The taste of Cecina is very unique, it has a crispy crust with a creamy texture on the inside. It is also slightly salty and has a nutty flavor. Eating Cecina feels like a treat for the palate, and it is perfect as a snack or as a light lunch.
You can find Cecina in Pisa's bakeries, street food vendors across Tuscany, and in some restaurants as an appetizer or a side dish. One of the most popular places to try Cecina is the Piazza delle Vettovaglie market, where you can find several vendors selling it hot and fresh.
Cecina is a must-try when visiting Pisa, I have personally eaten it many many times, consistently amazed by its taste and texture. It is a unique and delicious dish that you won't find anywhere else.
4. Pallette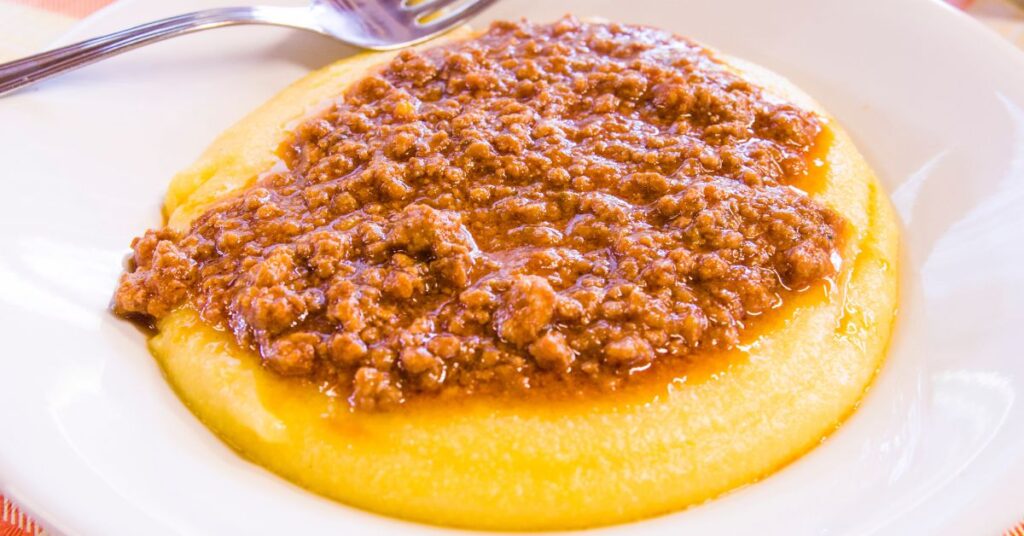 Pallette alla Pisana is a type of polenta made from cornmeal, boiled in water and served with a variety of condiments, such as ragù or mushrooms, making it a delicious and versatile meal.
Pallette is typically considered a primo, or a first course, in Italian cuisine. The main ingredients include cornmeal, water, and salt, with various condiments added depending on personal preference.
The dish has a creamy and smooth texture, with a slightly sweet flavor from the cornmeal. It's not typically sold as street food or in bakeries, but rather in places where you can sit down and enjoy a full meal.
It's especially great during the colder months, as it's a warm and filling meal that's perfect for keeping you full and satisfied. The use of cornmeal, which was once a staple of the peasant diet, shows how Italian cooking is often born out of necessity and resourcefulness.
Personally, I love Pallette alla Pisana because it's a hearty and comforting meal that's perfect for a chilly day. Whether you're a vegetarian or a meat-eater, you can find a condiment to suit your tastes and make this dish your own.
5. Trippa alla Pisana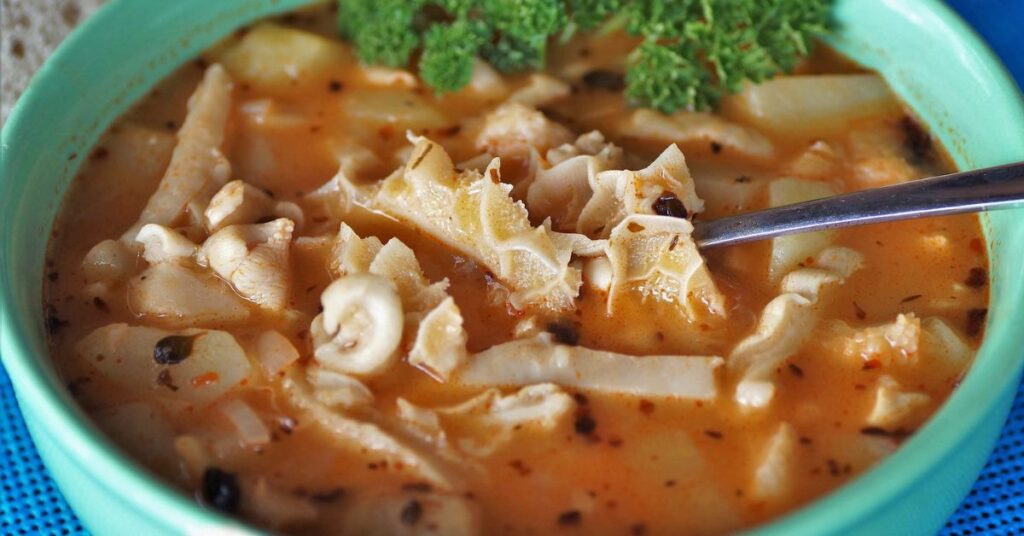 You must try the local dish called Trippa alla Pisana. This traditional recipe dates back to the medieval era and is still popular in the city's culinary scene, is a first course dish made with tripe, the edible stomach lining of cows or pigs, cooked in a tomato-based sauce with onions, carrots, celery, and garlic.
The tripe is first boiled and then stewed with the vegetables and tomato sauce, seasoned with salt, pepper, and a pinch of parsley. Tripe is a relatively cheap cut of meat, and it has been a staple of Italian cuisine for centuries.
When you taste Trippa alla Pisana, you will experience a unique and strong flavor. The dish has a slightly pungent taste, thanks to the tomato sauce, and a tender texture due to the slow-cooking process. The flavor of the tripe itself is mild, and it absorbs the other ingredients' flavors, creating a perfect blend of savors.
You can find Trippa alla Pisana in many local restaurants and trattorias in Pisa. This dish is a popular winter meal, and you can usually find it on the menu from October to March. It is often served with a side of bread to soak up the flavorful sauce.
It may not be everyone's cup of tea, but it's worth trying for its distinct flavor and cultural significance.
6. Zuppa alla Pisana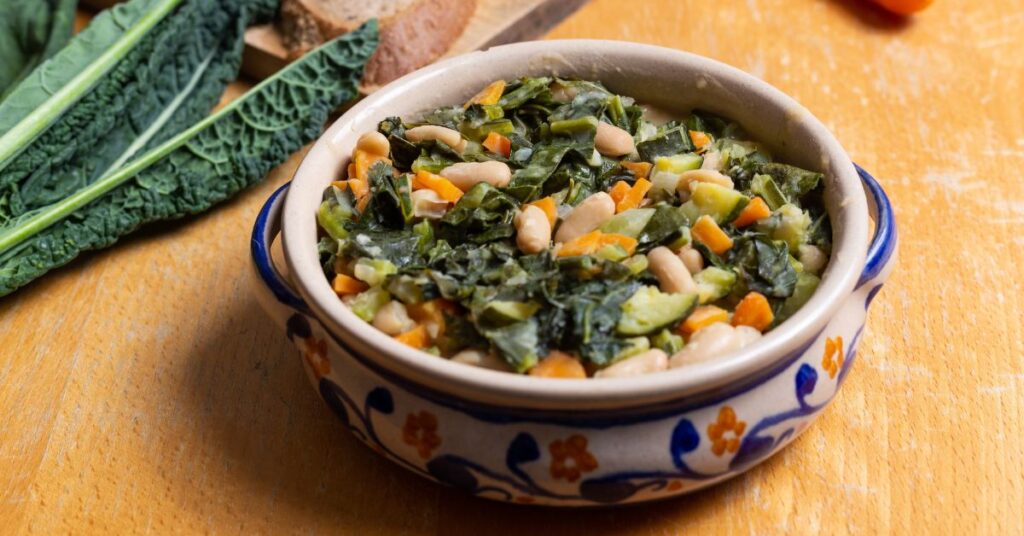 If you're a foodie visiting Pisa, you must try the traditional dish of Zuppa alla Pisana. This soup is a classic first course of the Tuscan cuisine.
The main ingredients of this hearty soup are stale bread, kale or Swiss chard, cannellini beans, and vegetables such as potatoes, onions, and carrots. The soup is usually flavored with garlic, rosemary, sage, and extra virgin olive oil, giving it a rich and savory taste.
When you taste Zuppa alla Pisana, you'll experience a warm and comforting sensation, as it's a hearty and filling soup that's perfect for colder days. The combination of the creamy beans, tender greens, and crusty bread creates a satisfying texture that will leave you feeling satisfied.
7. Tagliata di Mucco Pisano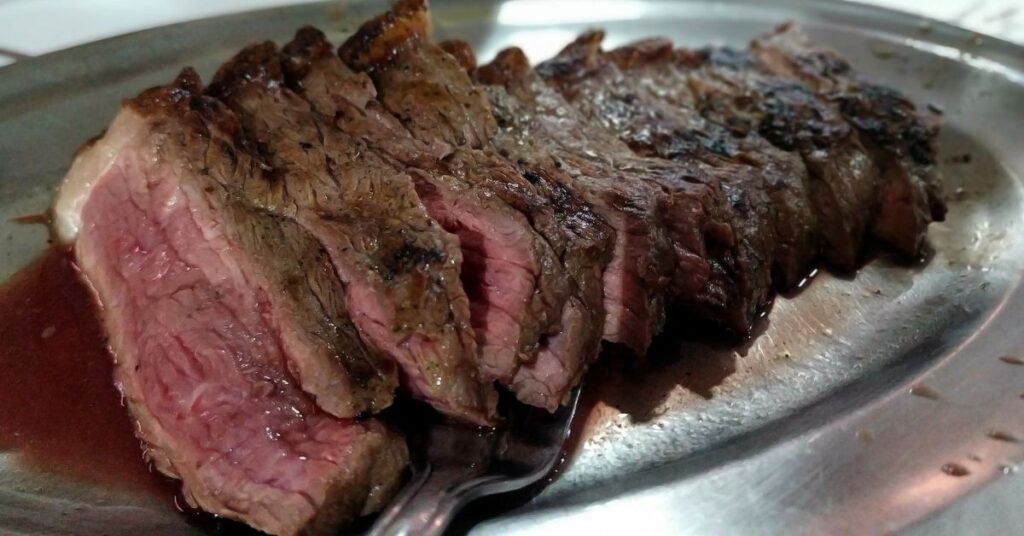 Tagliata al mucco Pisano is a main course made with grilled beefsteak from the local breed of cattle, known as Mucco Pisano, served with grilled vegetables. The vegetables typically used are zucchini, peppers, scallions, and radicchio. The dish is seasoned with salt, pepper, and extra virgin olive oil, and topped with a balsamic reduction.
The beefsteak is grilled in a cast-iron grill or griddle until it is cooked to perfection, then sliced thinly and arranged on a serving platter with the grilled vegetables. The vegetables are grilled briefly until they are lightly charred and tender, and then seasoned with garlic and parsley. The beefsteak is usually served rare or medium-rare, but it can be cooked to your preference.
The beefsteak is tender and juicy, with a smoky flavor from the grill. The vegetables are sweet and savory, with a crisp texture that complements the beefsteak perfectly. The balsamic reduction adds a tangy sweetness that ties the dish together.
You can find Tagliata al mucco Pisano in most traditional Tuscan restaurants and trattorias, it's a popular dish in the region and can be found year-round, although it's especially popular during the summer months when grilling is in season.
8. Stoccafisso alla Pisana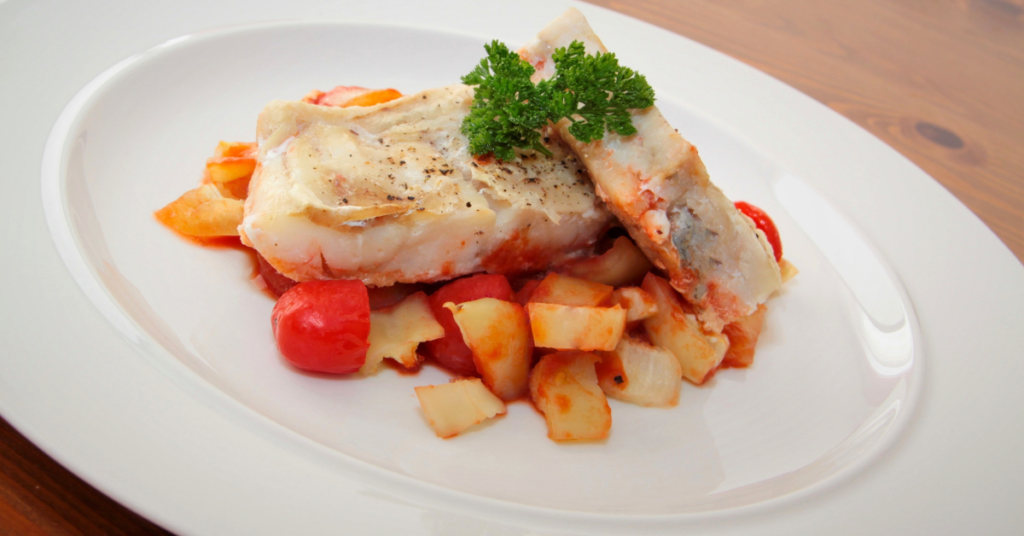 If you love fish you must try the traditional dish of Stoccafisso alla Pisana. This dish is a second course made with stockfish, potatoes, and tomatoes, flavored with herbs and white wine. The texture of the stockfish blends well with the potatoes, which are soft and creamy.
You can try this dish in many restaurants, trattorias, and osterias in Pisa and its surroundings. It's a typical dish of the local cuisine, so you can find it easily. In some traditional restaurants.
The stockfish was also a popular ingredient among sailors and fishermen, so it has become a staple dish of the coastal regions of Italy, including Tuscany.
Stoccafisso alla Pisana is an example of the Mediterranean diet, which is a well-balanced and healthy diet, rich in vegetables, legumes, and fish. This dish is perfect for those who want to taste the flavors of the sea and the land and enjoy a healthy and delicious meal.
9. Baccalà coi Porri alla Pisana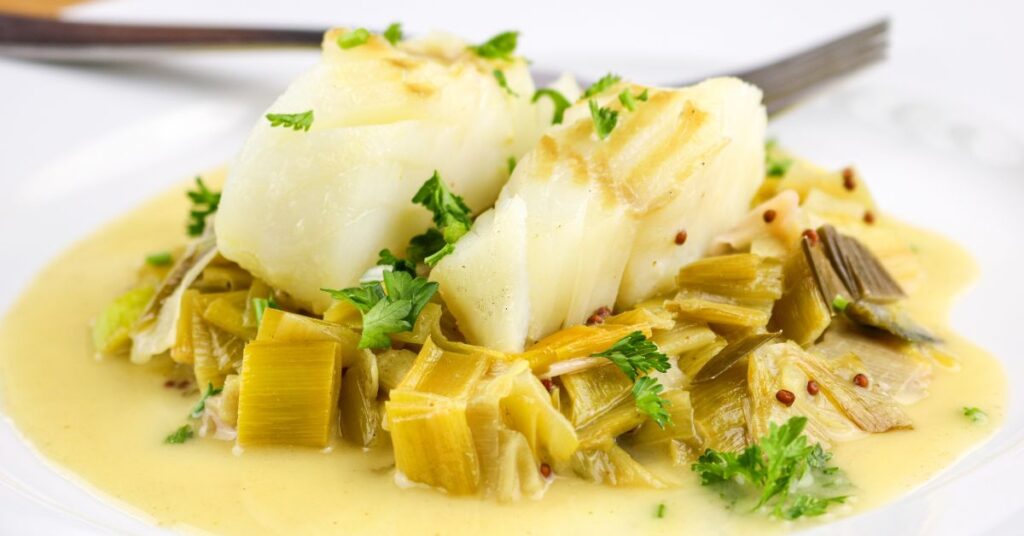 This delicious dish is a second course and the main ingredients are codfish, leeks, tomato sauce, olive oil, and chili peppers.
Baccalà is salted codfish that is soaked in water for a few days to remove excess salt before being cooked. Porri are leeks, a vegetable from the onion family that are widely used in Italian cuisine. The tomato sauce gives the dish a slightly sweet taste, while the chili peppers add a bit of heat.
The combination of baccalà and porri creates a perfect balance of flavors that makes this dish unique and delicious. The texture is tender and flaky, and the sauce is rich and hearty.
You can find Baccalà coi Porri alla Pisana in traditional trattorias or osterias in Pisa, especially in the winter months. This dish is a staple of the Tuscan cuisine and a popular choice for locals and visitors alike.
10. Cantucci col Vinsanto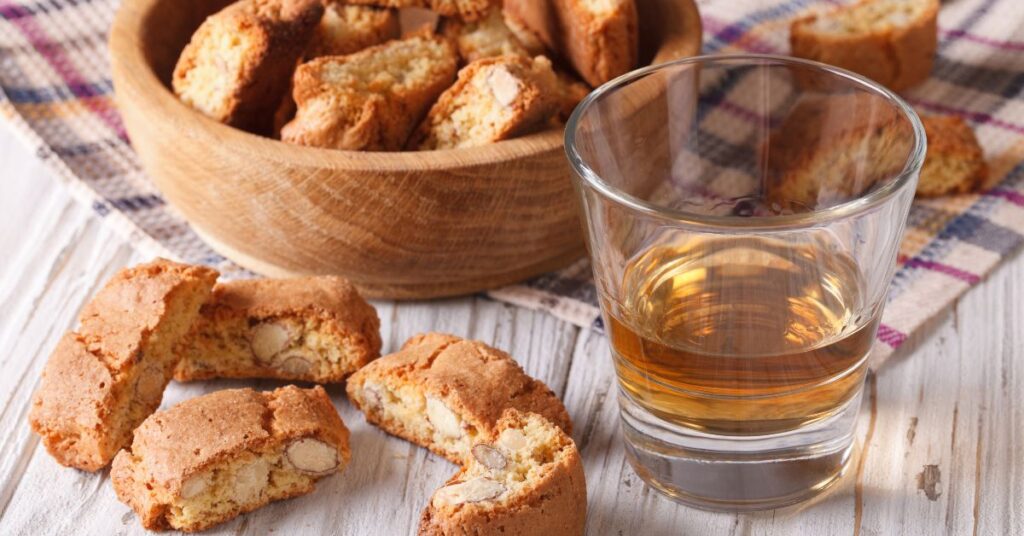 Cantucci are crunchy almond biscuits that are typically enjoyed with Vinsanto, a sweet dessert wine. The biscotti are made with flour, sugar, eggs, and almonds, which are mixed together to form a dough that is then baked until golden brown. The biscuits are then sliced and baked again until they become crunchy.
Vinsanto, on the other hand, is a sweet dessert wine that is made by fermenting and aging grapes for a long period of time. The result is a rich and flavorful wine with a deep amber color that is perfect for dipping the Cantucci.
When you take a bite of the Cantucci, you'll immediately notice the crunchiness of the biscuit and the sweet and nutty taste of the almonds. When dipped in the Vinsanto, the flavor becomes even richer and more complex, with hints of honey and caramel.
You can find Cantucci col Vinsanto in most bakeries and pasticcerie in Pisa and the surrounding areas. It's a popular dessert in Tuscany, and it's often served during special occasions like weddings and holidays. You can also enjoy it in restaurants and trattorie as a dessert after your meal.
As an Italian, I highly recommend trying Cantucci col Vinsanto when visiting Pisa. It's a delicious and traditional dessert that perfectly encapsulates the flavors of Tuscany.
11. Torta coi Bischeri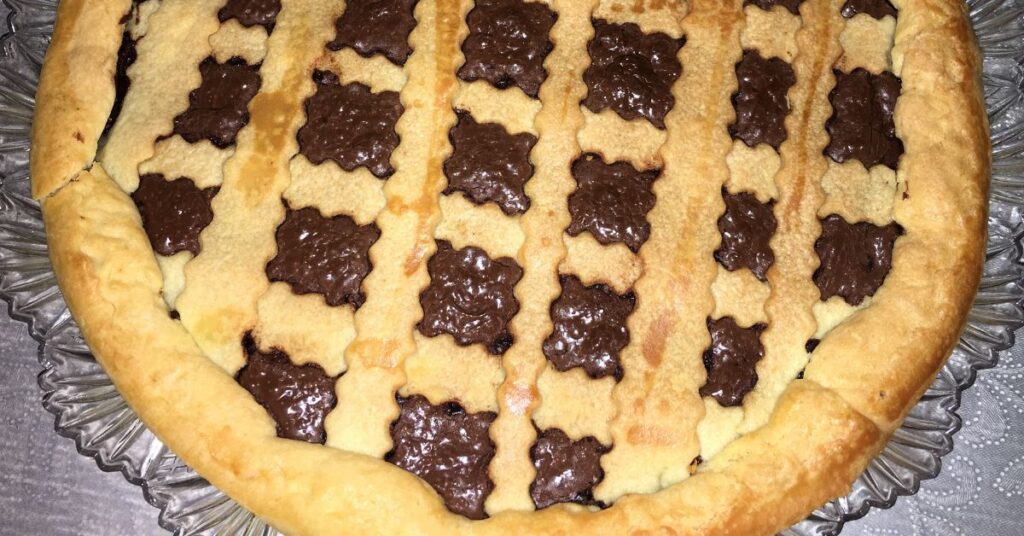 Another traditional dessert that you shouldn't miss: bischeri cake. This ancient sweet treat is still prepared on special occasions in the Pisa area. It's a homemade dessert made with dark chocolate, rice, cocoa, raisins, candied fruit, and pine nuts, enclosed in a golden crust and decorated with "bischeri" or beaks, as if they were the delicious merlons of a medieval castle.
Torta coi bischeri is a dessert made with a combination of different ingredients that give it a unique flavor. The dark chocolate and cocoa give it a rich, intense flavor, while the rice, raisins, and candied fruit add texture and sweetness. The pine nuts, on the other hand, give the dessert a slightly nutty flavor and a crunchy texture. All these flavors come together perfectly in the crumbly, buttery shortcrust pastry that encases the filling.
If you're looking to try torta coi bischeri, you can find it in traditional pastry shops and bakeries in Pisa and the surrounding areas. It's a dessert that's been passed down through generations, and it's an excellent example of the rich culinary heritage of the Pisa area.
12. Kinzica Pisano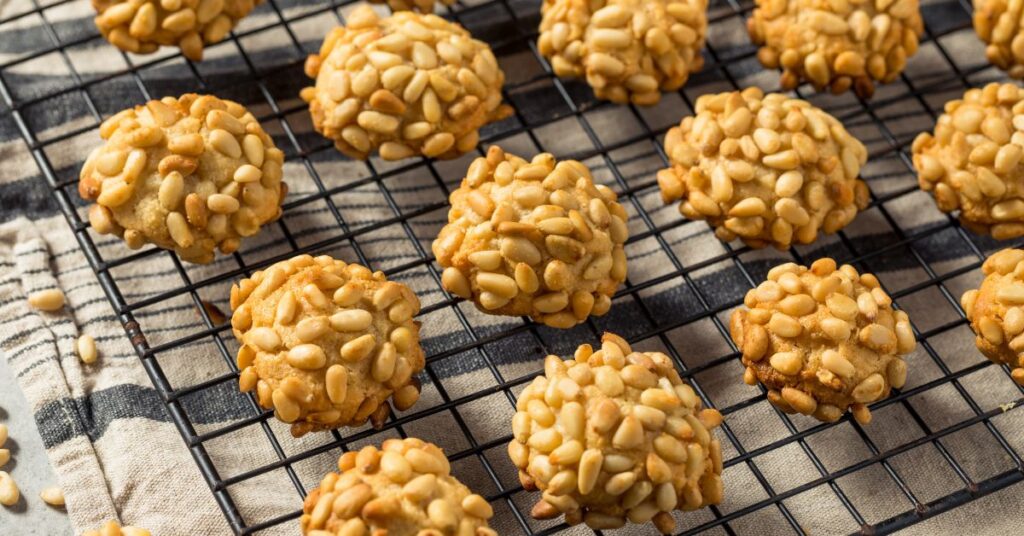 Than you should definitely try Kinzica Pisano cookie, a typical Pisan pastry made with pine nut dough from the San Rossore park. These pine nuts are obtained from domestic pine trees in the Mediterranean scrubland, giving the pastry a unique flavor and resin aroma.
Kinzica is particularly soft and spongy, dusted with powdered sugar and covered with whole pine nuts on the entire surface.
In Pisa, the name "Kinzica" is very common; it seems to have been the name of a young girl, Kinzica De' Sismondi, who, around the turn of the millennium, sounded the alarm for an attempted invasion of the city by Saracen pirates. This pastry was dedicated to her and also the ancient name of a city district, San Martino.
You can find Kinzica in many pastry shops, bars, and restaurants in Pisa. It's a perfect snack to enjoy during a walk in the historic city center or to taste after dinner.
As a Pisa lover, I highly recommend giving it a taste!
Finally, my perfect meal in Pisa
Without any hesitation, this is my choice for a full-course meal of the typical dishes of Pisa.
Appetizer: I would start my dinner with an appetizer of Cecìna, a sort of crunchy focaccia made with chickpea flour and olive oil.
First Course: Moving on to the pasta course, I would definitely choose the Pasta alla Renaiola, made with turnip tops, sautéed with garlic, chili pepper, and aringa (herring).
Main Course: For the main course, I would go for the Tagliata al Mucco Pisano, a classic Tuscan steak dish made with beef from the local breed of cattle. As a side dish, I would order the Pallete, polenta made from cornmeal topped with mushroom.
Dessert: To finish off the meal, I would indulge in some of Pisa's famous desserts. The Cantucci col Vinsanto is a classic combination of almond biscotti dipped in sweet wine, while the Torta coi Bischeri is a traditional cake made with chocolate and pine nut.
Overall, this meal would be a perfect introduction to the flavors and traditions of Pisa's cuisine, with a mix of flavorful pasta dishes, juicy meats, crispy sides, and sweet desserts to round it all off.