Easter in Tuscany is a rich celebration marking the beginning of spring, filled with culinary traditions like breaking the Lenten fast on Sunday with anise-scented sweets and biscuits, and the popular Angel's Monday, known for outdoor excursions where typical Tuscan food like stuffed tordelli pasta, lamb and peas with rigantino never fails.
Tuscany offers a variety of Easter specialties that characterize the different cities of the region, and in some cases, they can only be eaten in those cities. But what's certain is that the Tuscan Easter menu spares no dish, from appetizers to first and second courses, side dishes, all the way to sweets and desserts. Here's the selection of regional Easter specialties.
Crostini di Polenta con Fegatini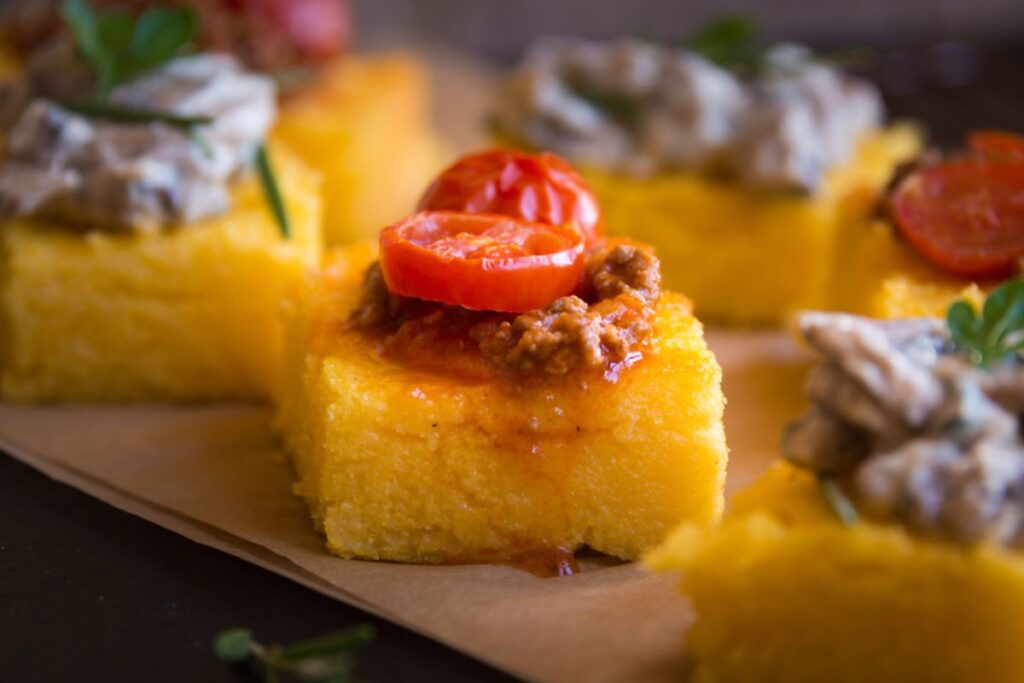 Imagine this: crispy slices of leftover or freshly made polenta, fried to golden perfection, then spread with a rich chicken liver pâté. Paired with a glass of Chianti, this dish is a real treat for the taste buds, offering a blend of textures and deep flavors that are both rustic and sophisticated.
It's a fantastic antipasto dish that you'll find in many local restaurants, not only during the Easter holidays.
In Tuscany, nothing's wasted, and this dish is a perfect example, here you can see other zero-waste Tuscan specialties. It's rooted in the age-old farming tradition where every morsel was put to use. You'll find variations served with local cheeses and cured meats, but the fried polenta with the liver is an absolute classic.
Salame di Cinta Senese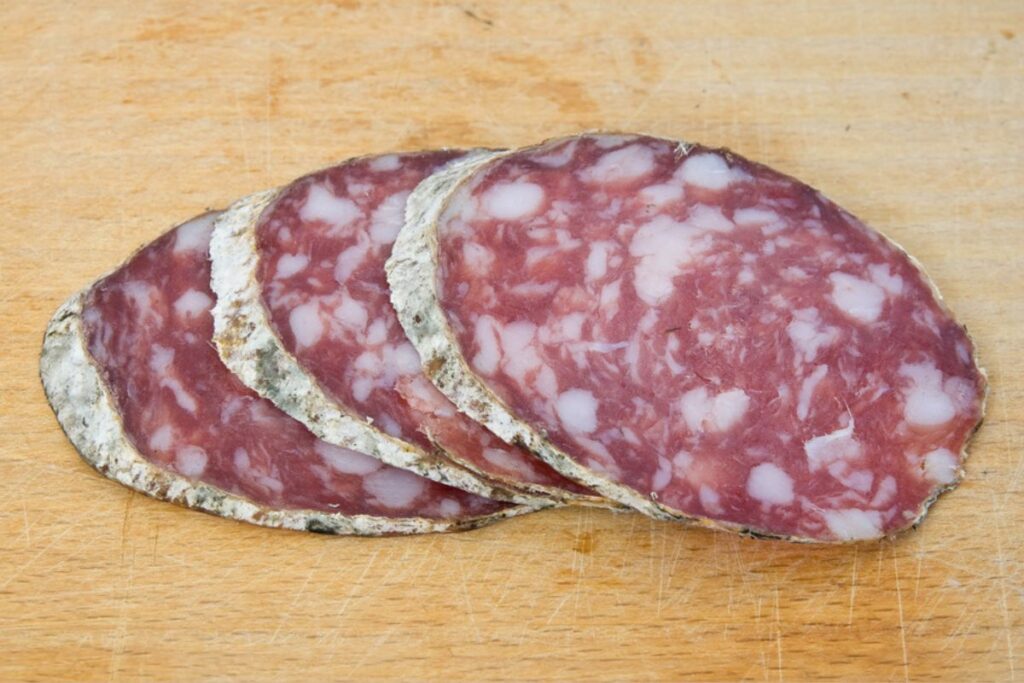 If you're visiting Tuscany around Easter and want to savor some authentic local flavors, you've got to try Salame di Cinta Senese, a gastronomic specialty that comes straight from Siena. It's a prized Tuscan sausage, a kind of antipasto, made from a special breed of pig known as Cinta Senese.
So, what's in it? Well, it's a blend of finely ground pork, mixed with aromatic spices, and then stuffed into natural casings. Sometimes, you'll find a version with fennel seeds, adding a unique twist to the flavor.
As for the taste, oh my, it's something special! Salame di Cinta Senese is known for its rich and delicate taste, and the fat inside helps spread those aromatic flavors, making each bite an unforgettable experience.
Soppressata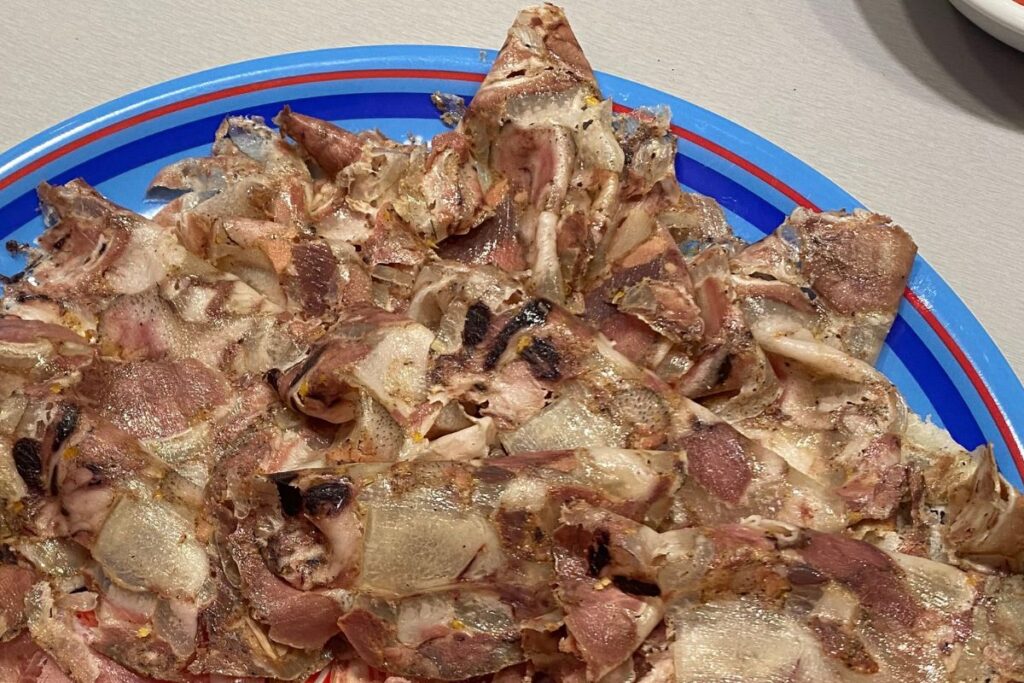 Soppressata it's a typical Tuscan salami that's all about making the most out of the whole pig (litterally).
Now, this isn't your regular sliced meat; it's a coarse mixture of pork fragments, mainly from the pig's head, with spices, lemon and orange peels. They pack it into a cylindrical shape, press it down (that's where the name comes from, "soprassata" means "compressed"), and let it set into a solid mass. The result? A dark, round, intense-flavored delicacy.
You might find it served as an antipasto in local trattorias or purchased at specialty butcher shops. Paired with Tuscan bread and robust red wine, it's an amazing treat. Its unique taste, a blend of savory, tangy, and rich flavors, really embodies the Tuscan holiday traditions.
Tordelli Lucchesi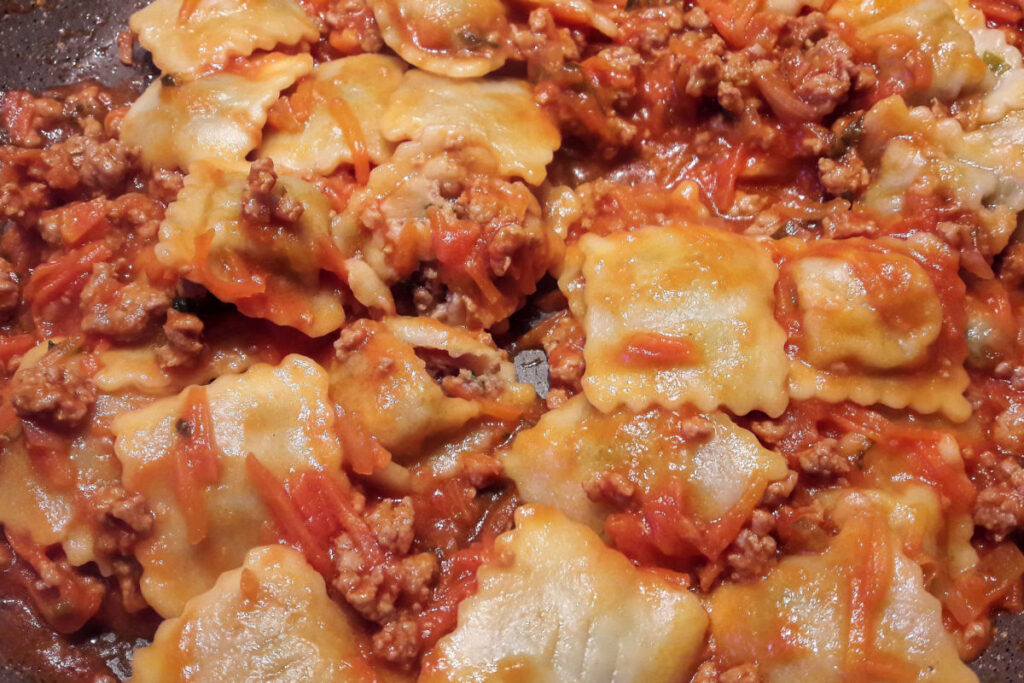 Tordelli Lucchesi is a beloved first course in Tuscany around Easter, particularly popular in Lucca. These crescent-shaped pasta pockets are stuffed with a delightful blend of ingredients. We're talking about Tuscan bread, ground beef and pork, Swiss chard, and some aromatic spices.
The name "Tordelli" is a fun one, as it's connected to a local saying that humorously refers to someone as plump, much like the hearty shape of the pasta itself.
Flavor-wise, these little delights are both savory and comforting. The meat offers richness, while the bread and greens bring a comforting balance. You might say it's a little taste of Tuscany right in your mouth! They're a big deal during Carnival, but also a common Sunday dish.
Pici al Ragu di Cinta Senese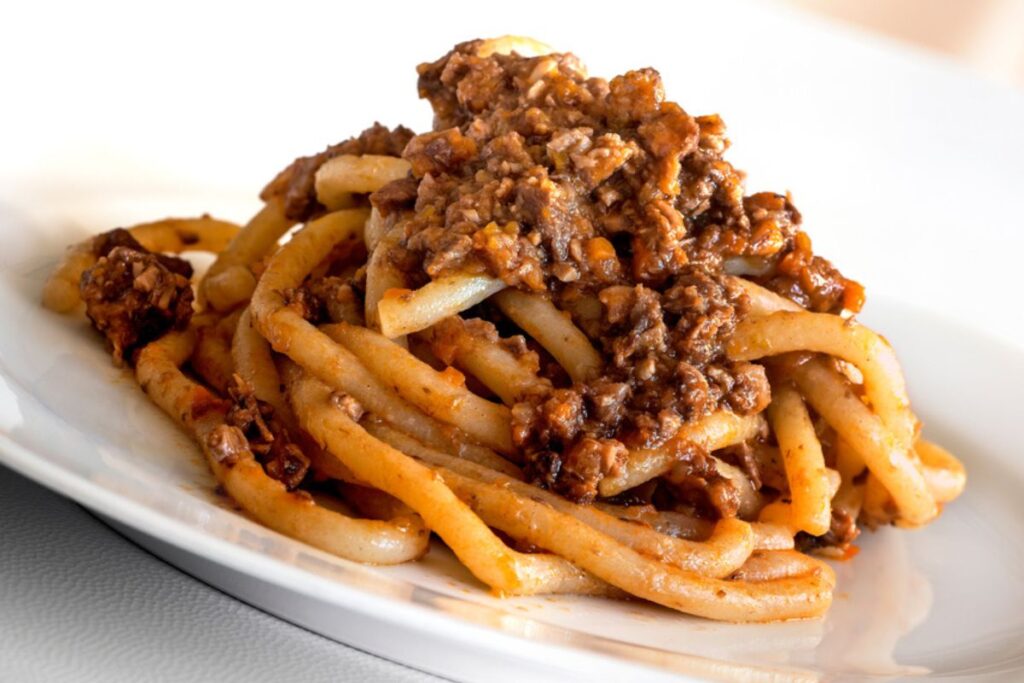 This dish is a primo (first course), one of the symbols of pasta in Tuscany. The pici is a type of hand-rolled pasta, like thick, rough spaghetti, perfect for holding the sauce.
Now, the real star here is the Cinta Senese, a special Tuscan pig breed. The ragù made with this pork is a "white" sauce, meaning it's tomato-free, rich, and savory.
Taste-wise, it's vigorous and gives a delightful rustic sensation. It's like a comforting hug from the Italian countryside, with every bite loaded with tradition. You can find this dish in local trattorias, especially during festive times like Easter. I had the pleasure of enjoying this in a little place in Siena, and boy, it was unforgettable!
Ribollita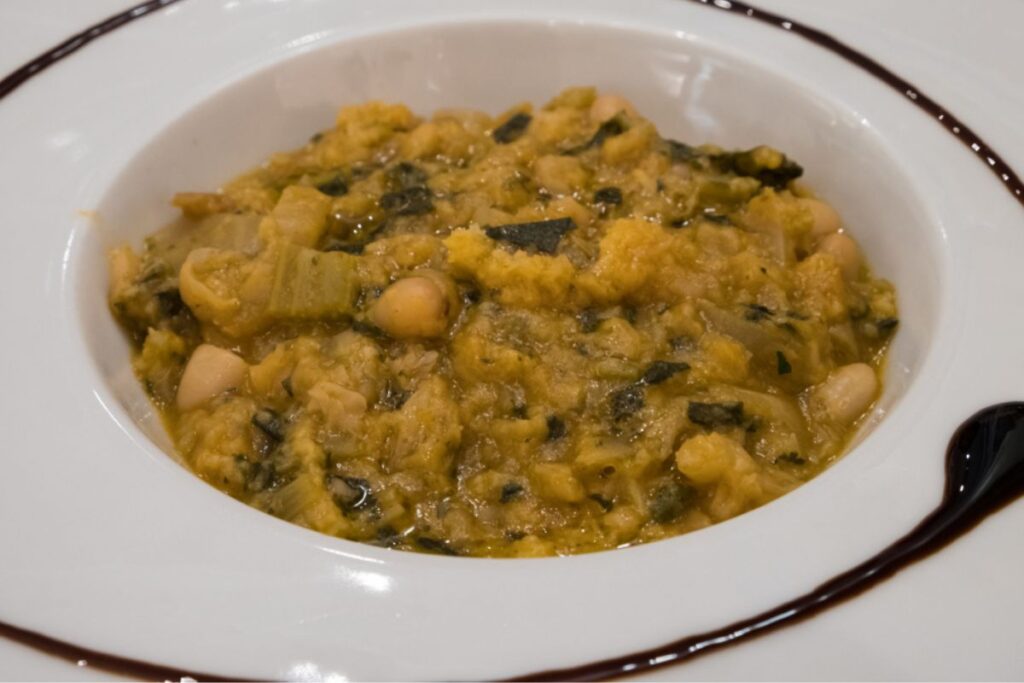 Ribollita, whose name translates to "reboiled," is a thick, warm soup made with Tuscan kale (cavolo nero), cannellini beans, and unsalted Tuscan bread. It is the Florentine soup, even if in Florence there are many other foods as you can see at the link.
Its magic lies in being cooked and reheated at least twice, giving it a rich, enveloping flavor. Trust me, it's a must-try when you're in Tuscany, and it gets better every time you reheat it!
It originated as a peasant dish in medieval times, and its humble ingredients deliver an extraordinary taste. You can find it in most trattorias and restaurants across Tuscany. In the colder months, Ribollita becomes a staple to warm up the soul, connecting locals and visitors to the traditions of the region.
I've tasted Ribollita myself, and it's an embrace of flavors that feels like home. Whether at a small local eatery or a renowned restaurant in Florence, you'll experience the true essence of Tuscany in a bowl.
Fagioli al Fiasco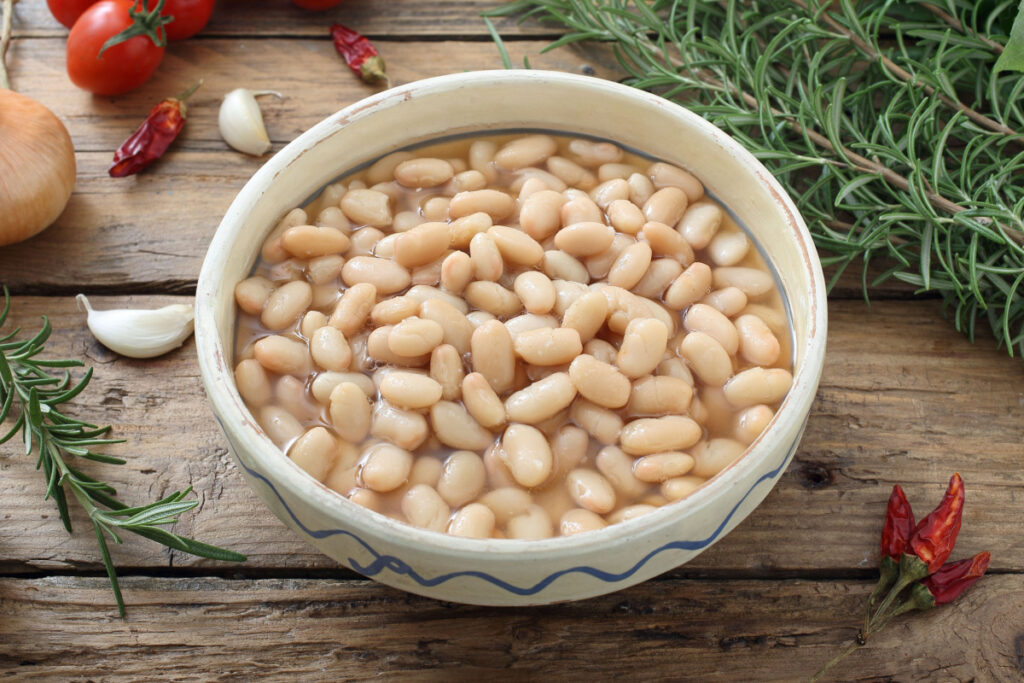 First off, the name. "Fagioli" means beans, and "fiasco" is a type of old-school glass flask. We're diving deep into ancient Tuscan cooking methods here. This isn't your typical pasta dish; it's more of a slow-cooked bean stew, and it's honestly soul-warming.
To whip up Fagioli al Fiasco, you'd traditionally place beans inside this glass flask and cook 'em low and slow, often overnight if you're lucky enough to have a wood-burning fireplace or stove, you're in for some of the most flavorsome beans you've ever tasted. They're creamy, rich, and have this unique smoky undertone.
Fiasco Beans It's not an exclusive holiday dish, but it's especially cherished then. There's no grand story about the dish tied to Easter; it's just one of those comforting meals that Tuscans gravitate towards during festive times.
Buglione d'Agnello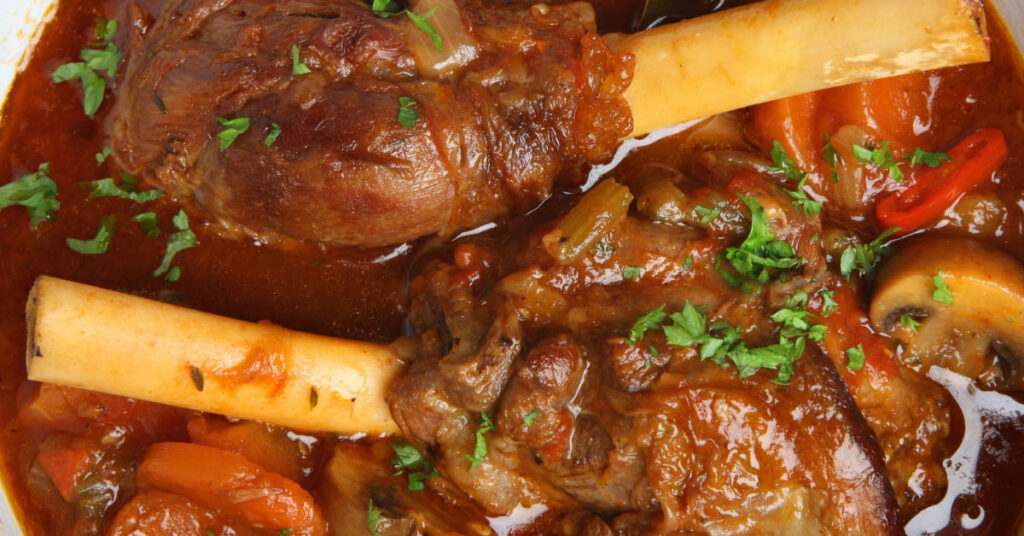 Buglione, in the local Tuscan dialect, means a mix of various things, and boy does this dish deliver on that! Think of it as Tuscany's answer to a full-bodied lamb stew. Originating from the Capalbio area next to Grosseto city, the spotlight ingredient here is lamb, tenderly marinated in wine to mellow out its robust flavor.
Easter's the perfect time to savor this dish because of the availability of young, milk-fed lambs, not older than 5 weeks. Imagine melt-in-your-mouth lamb pieces marinated for at least 8 hours before slow-cooking.
Piselli con il Rigantino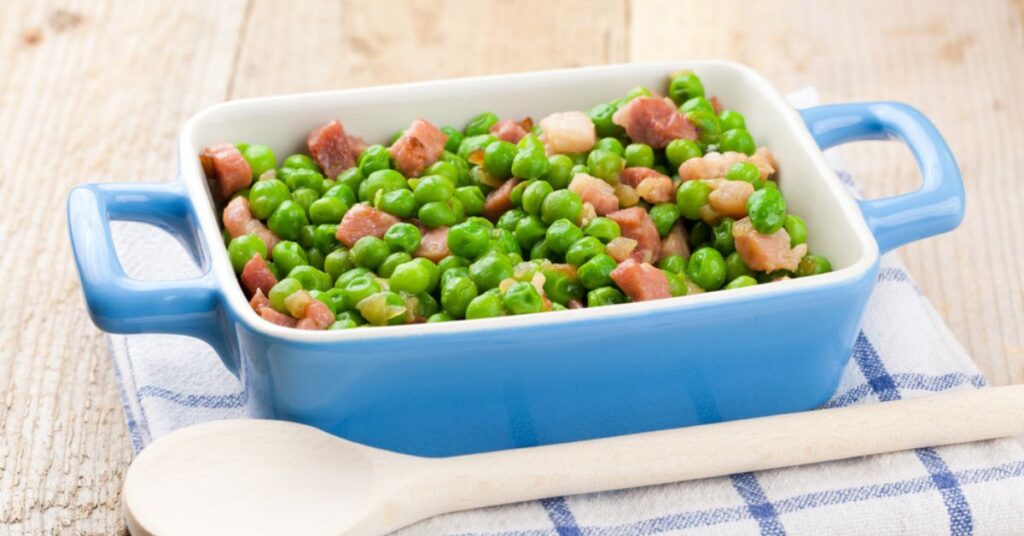 Piselli con il rigatino is basically peas cooked with a type of Tuscan pancetta called "rigatino." It's a popular side dish, often found on Sunday lunch tables, and also during Easter. The peas offer a fresh, green flavor, complemented by the savory notes of the rigatino. Together, they create a harmonious taste that's both strong and refreshing.
Now, this rigatino is special. It's made from the upper part of the pig, nestled right between the back (from which lardo is produced) and the belly (the source of pancetta). Picture a salami with about 70% lean meat and 30% fat, sprinkled with spices and aromas. Rigatino has its unique taste – a blend of spiciness and deep meaty flavors.
Do we Italians have a unique way of enjoying this? Well, the simple, honest ingredients reflect the Tuscan way of life – no frills, just good food. It's a dish that showcases the balance between the land (with the fresh peas) and traditional Tuscan charcuterie.
Quaresimali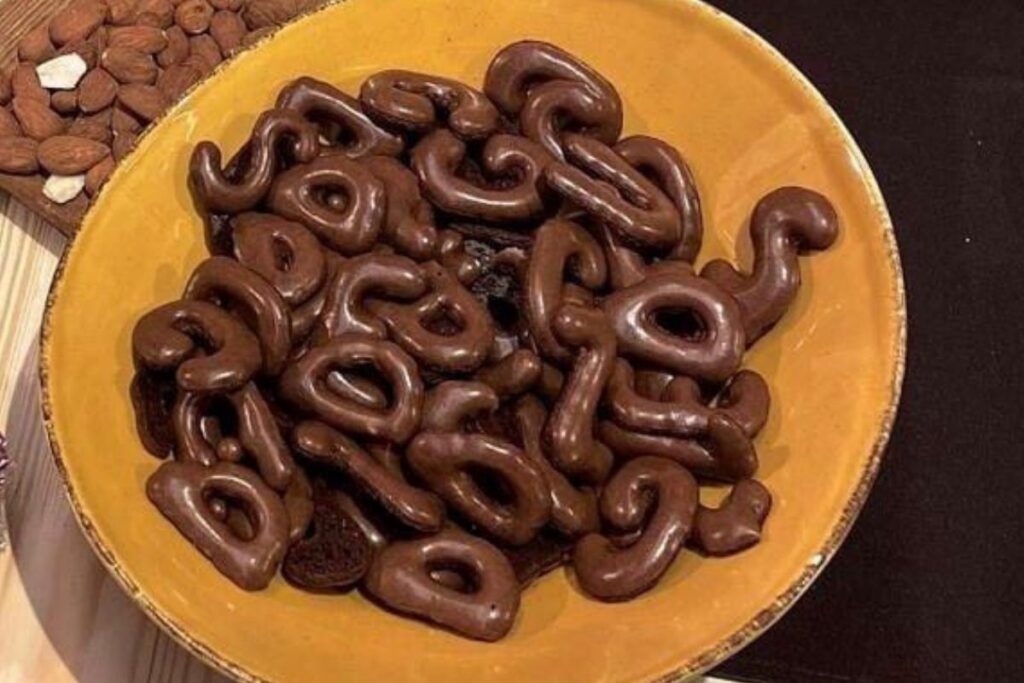 Quaresimali are traditional Tuscan cookies that you'll often find during the Lenten period leading up to Easter. Imagine alphabet-shaped cookies made primarily from flour, eggs, sugar, bitter cocoa, crushed hazelnuts, and a dash of cinnamon, they're a delightful treat.
Now, here's a bit of backstory: these treats were once believed to be the only permitted sweets during Lent. Some say they originated in a convent between Florence and Prato in the mid-19th century. The idea? These were fat-free biscuits (no animal fats) meant for nobility and archbishops. The alphabet shapes? They might be a nod to the Gospel scriptures.
Taste-wise, they've got a slightly bitter undertone from the cocoa, balanced by the rich, nutty flavor of hazelnuts. The texture? Crunchy with a subtle hint of cinnamon warmth. If you're looking to try them, your best bet would be artisanal bakeries or pastry shops in Florence between Fat Tuesday and Holy Thursday. Happy munching!
f you are curious about all the Tuscan sweets and desserts, don't miss this page at the link.
Schiaccia di San Piero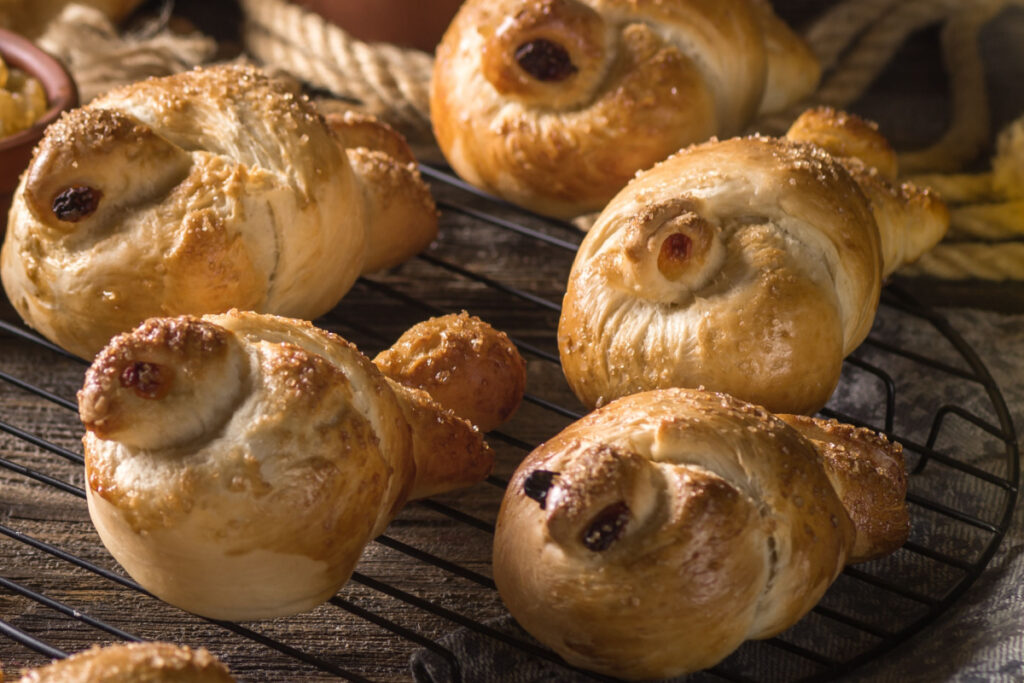 If you find yourself on the Island of Elba around Easter, you've got to try the Schiaccia di San Piero. It's a bread like no other, a real treat from the western side of the island. Picture a disc of bread adorned with little bread birds, making it not only delicious but a feast for the eyes too.
This Easter bread is made with bread dough and anise, and it has a unique shape. Think of a circular base divided into 4 or 5 wedges, with handcrafted birds on top, anywhere from 5 to 13 depending on the size. After baking, it turns a beautiful golden color, and the inside's white and speckled with anise seeds.
Historically, this bread has been an Easter-only treat in the village of San Piero. It's even blessed during the Easter mass! You can find it in local bakeries around the holiday, and trust me, it's something you won't want to miss.
Schiacciata di Pasqua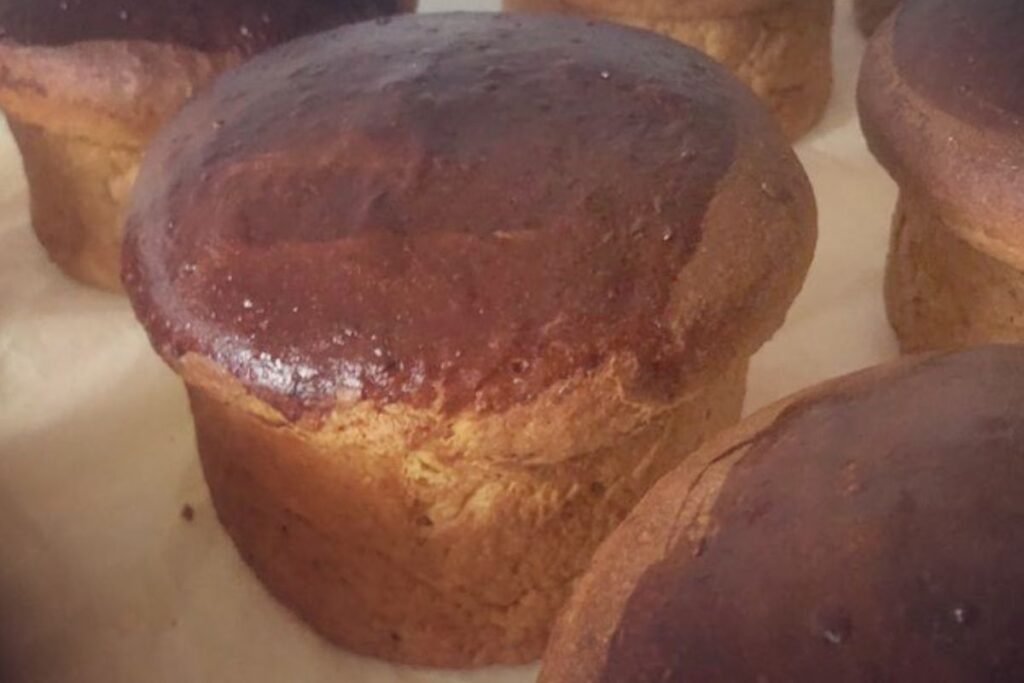 This ain't your usual flatbread or schiacciata; it's a special Easter dessert with a form resembling a panettone, a rich, cake-like bread.
The name "Schiacciata" can be a little misleading. You'd expect something flattened, right? But, nope! In this case, it refers to the traditional practice of "schiacciare" or crushing a large number of eggs, a surplus product from the hens in spring. Clever Tuscan farmers, eh?
This sweet treat gets its unique flavor from anise seeds which are its star ingredient. Imagine biting into a lightly sweet, spongy cake with the distinct, slightly licorice-like zing of anise.
The Schiacciata di Pasqua has its roots in the Livorno and Pisa areas (at the links the respective gastronomic specialties of the two cities) in the mid-19th century. But it quickly became a region-wide favorite. And it's not just a delight to eat; it's a symbol of sharing and gift-giving during the Easter season.
Torta di Riso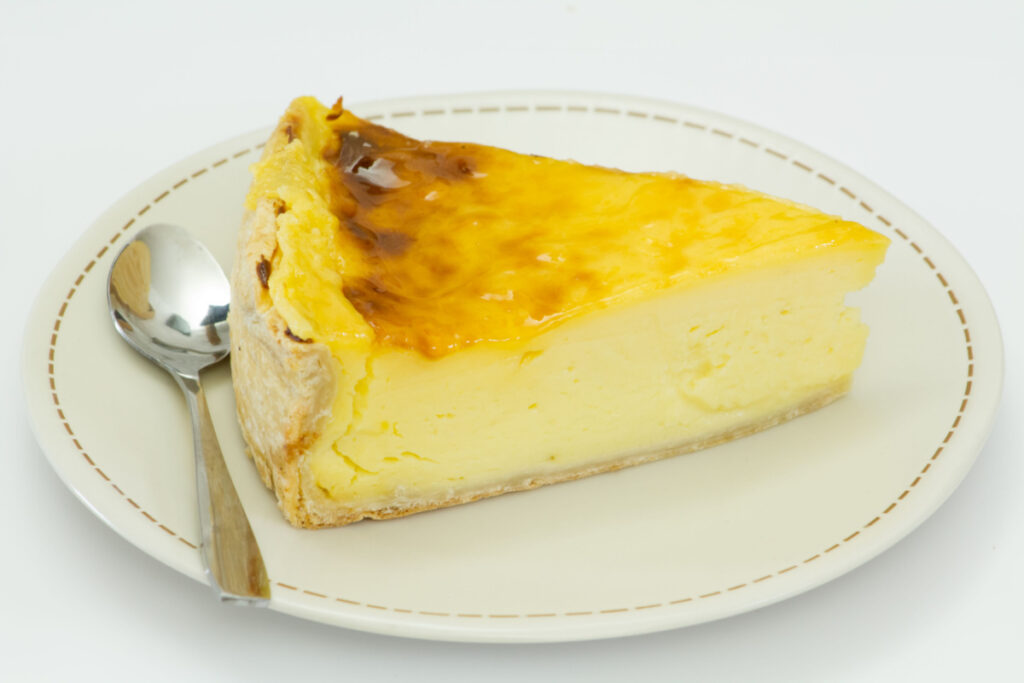 If you're venturing into the Tuscan culinary scene during Easter, you've got to dive into the world of "Torta di Riso". Literally translated, it means 'Rice Cake'. But trust me, it's way more than just that.
At its heart, Torta di Riso boasts two distinct layers: the bottom one, packed with rice and the top, a rich egg cream resembling creme caramel. When you bite into it, you're met with a symphony of textures – the gentle bite of rice beneath a soft, creamy layer.
Growing up, this cake was a staple during Easter brunches at my grandmother's. It's not only a star during Easter but also shines during other spring celebrations like April 25th and May 1st. But if you're yearning for a slice outside of these dates, you're in luck. Many local trattorias, bakeries, and even some bars serve it, given its popularity.
Scole Pistoiesi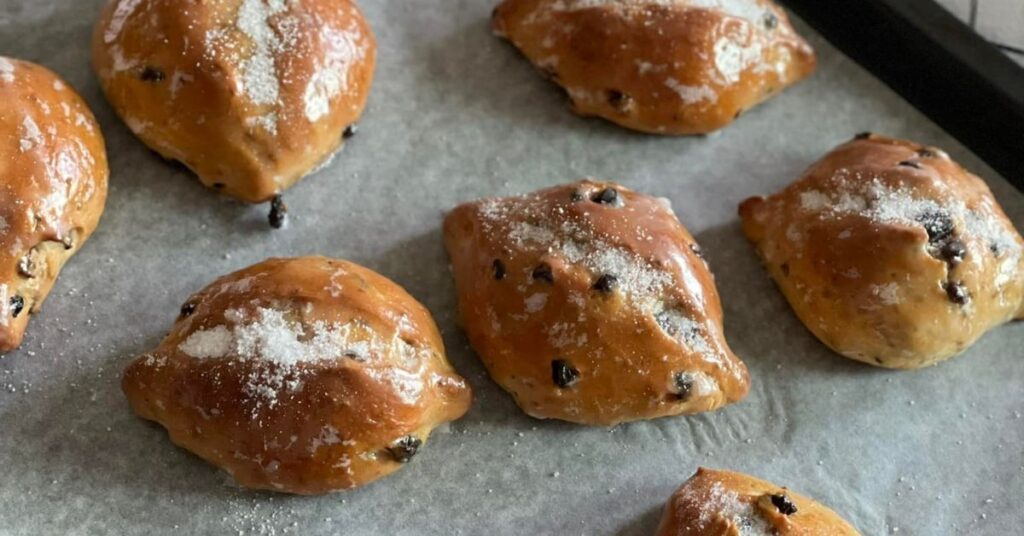 Scole Pistoiesi is a charming delicacy from the area around Pistoia, typically enjoyed during the Lenten season. They're semi-sweet buns, reminiscent of a time when bread was baked in wood-fired ovens. In the old days, village women would bake bread early in the morning, each bringing her own dough to a communal oven.
Given the ovens' unpredictable temperatures, they'd break off little bits of bread dough to test the heat. These test pieces, slathered with olive oil and sprinkled with a touch of salt, evolved into what we now know as Scole.
During the Easter period in Pistoia, it was customary to add anise and salt to bread—a nod to the religious symbolism of "grains of wisdom". So, imagine biting into a slightly sweet bun, with the gentle hint of anise complemented by the savoriness of salt. It's a perfect balance of flavors!
Scarsella Orbetellana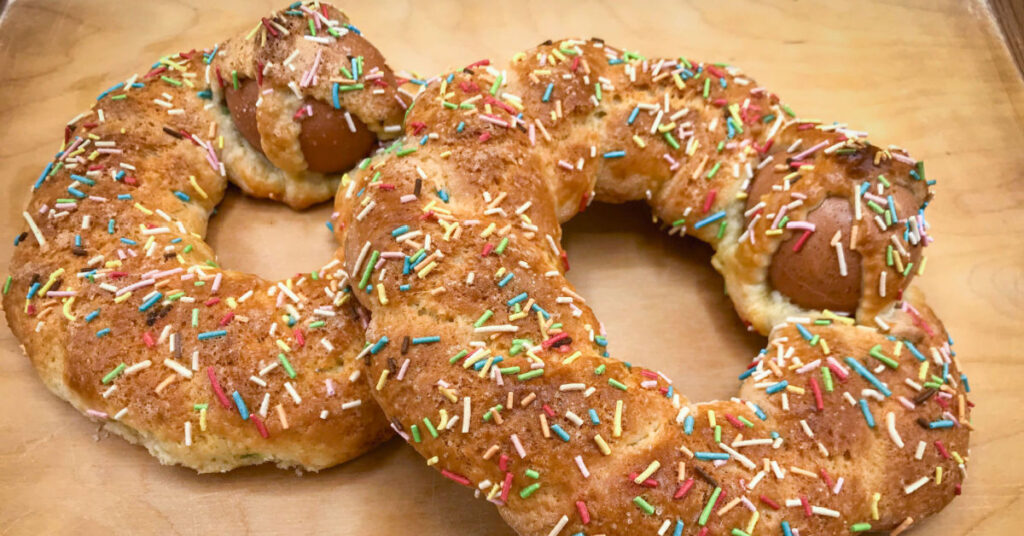 This dessert is a unique sweet doughnut with a bright yellow color, firm yet crumbly texture. Its ring shape with crossed and protruding ends holds a whole egg at the intersection – it's baked right in there!
Its name is likely of Spanish origin, with some intriguing history involving long poles and giving treats to children. But here in Tuscany, it's a traditional Easter delight.
Made from flour, eggs, sugar, lemon zest, and some secret family ingredients, the taste is sweet with a hint of citrus. You can find Scarsella Orbetellana in bakeries and pastry shops, especially during the Easter season.
Panina Aretina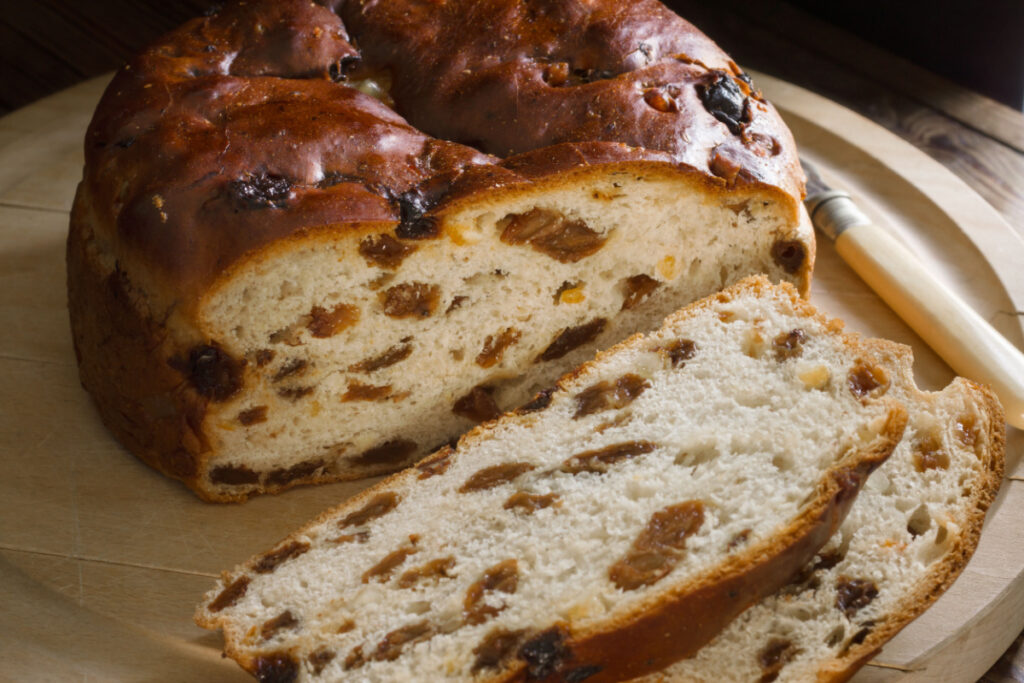 Panina Aretina it's a delicious sweet bread often enjoyed during Easter, and it comes from medieval times, rooted in the gastronomic culture of Arezzo, Tuscany.
Typically, Panina Aretina is a dessert, made with a blend of sweet spices, raisins, and sometimes pepper. You might also find a savory version, where the sugar is replaced with more salt and pepper. Sounds odd, right? But trust me, it's worth a taste!
Its flavors are rich, a mix of sweet and spicy, pairing well with Easter chocolates or a hard-boiled egg for a festive breakfast.
Corolli Senesi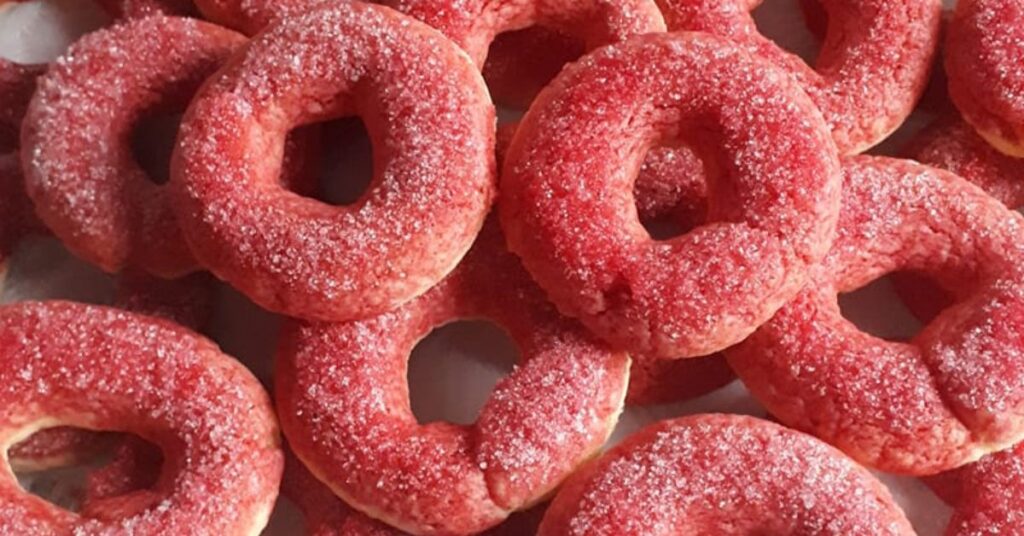 Corolli Senesi is a simple sweet bread, often shaped like a ring. It's not your fancy pastry but a humble dessert, mainly found in traditional bakeries that follow the rhythm of seasons and celebrations. During Easter, it's a delight many locals, including myself, eagerly await.
What makes Corolli special? It's the taste of anise seeds. This key ingredient infuses the bread with a unique and irresistible flavor, soft and lightly sweet, with a nostalgic fragrance that might remind you of grandma's kitchen.
You can often find Corolli in some of the older, traditional bakeries in Siena. Freshly baked, they are soft, fragrant, and deliciously simple. Some may sprinkle sugar on top, but trust me, the plain ones are perfect.
Ciambellini della Val di Chiana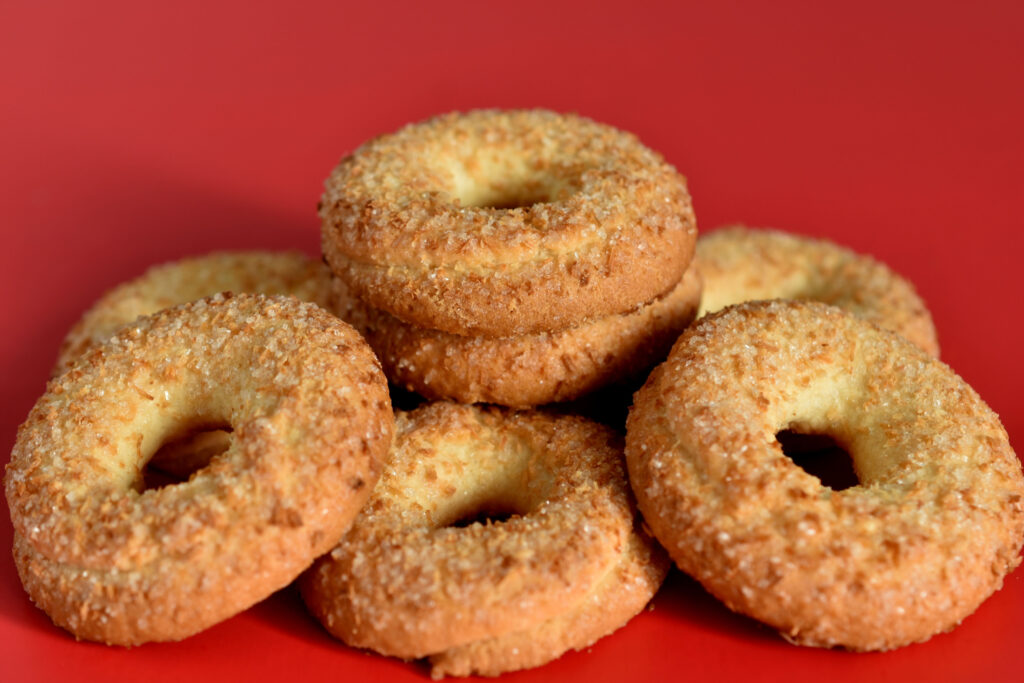 If you're headed to Tuscany around Easter, you've got to try the Ciambellini della Val di Chiana. Made with simple ingredients like eggs, flour, sugar, orange zest, and a splash of Vin Santo (a sweet wine), Ciambellini are often enjoyed with a glass of the same wine.
They're round with a hole in the middle, about 20 cm in diameter, and have a delightful citrus and wine fragrance. Some variations might include anise or vanilla, but the classic shape stays the same.
The flavor? It's a sweet, rich taste, with a crunchy texture that melts in your mouth. Whether in a local trattoria, bakery, or family gathering, you'll find these tasty treats around Easter time.
Pan di Ramerino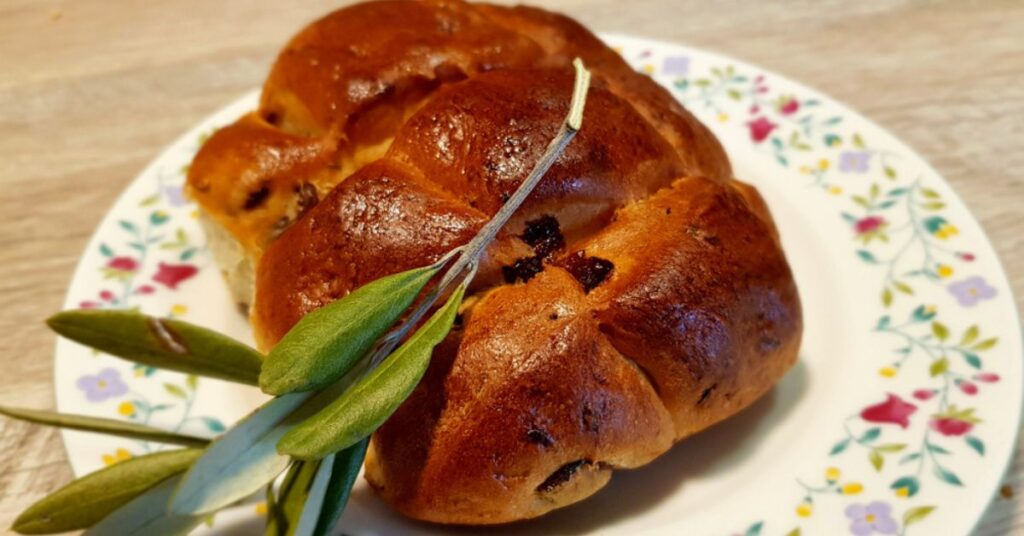 Let me tell you about Pan di Ramerino. It's not exactly a dessert, but a flavorful bread enjoyed during Lent and especially on Holy Thursday.
Pan di Ramerino, meaning "Rosemary Bread," combines the aromatic taste of rosemary, a typical Mediterranean herb, with the sweetness of raisins and olive oil. This mixture creates an extraordinary blend of flavors that's both fragrant and distinctive. These ingredients symbolize devotion and the mystical presence of Christ.
This bread is like a taste of Tuscan hills, with a soft texture that fills your mouth with a unique blend of savory and sweet. The small loaves are marked with a cross, giving it a spiritual aspect.
Sportella dell'Isola d'Elba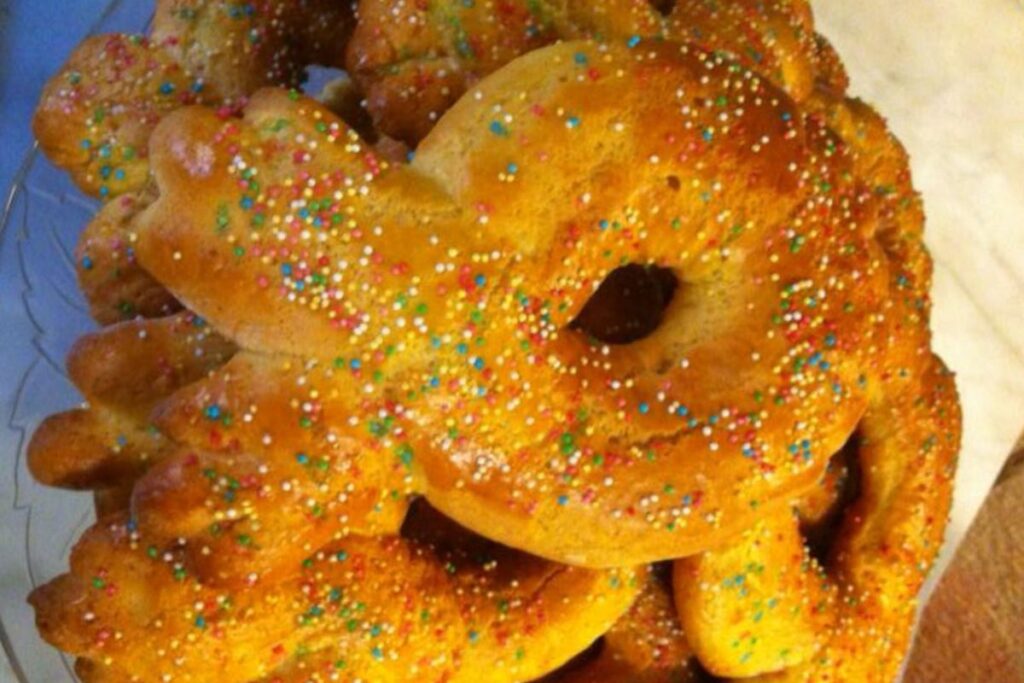 If you find yourself in Isola d'Elba around Easter time, you've got to try Sportella, a traditional Easter treat from Elba island. It's a dessert bread, richly flavored with anise and fennel, and filled with dried fruit like raisins, pine nuts, and figs. Sugar has replaced honey over time, giving it a sweet twist.
The dough is special, as it's left to rise for a hundred hours, beginning on Holy Tuesday. This results in an incredibly fluffy texture, unlike anything else.
Now, here's a fun part – Sportella has an interesting romantic tradition tied to it. Young men would send it as a declaration of love on Palm Sunday, and if the girl reciprocated, she would send one back on Easter.