As an Italian who has had the pleasure of visiting Siena multiple times, I can attest that this city has more to offer than just stunning architecture and rich history, its cuisine is just as remarkable!
As it is made up of some local gastronomic delicacies that are unique in the world, visiting Siena without tasting them would be a crime.
The signature dishes and food of Siena are definitely ribollita soup, a hearty soup made with vegetables beans and bread; then pici, a long and thick shape of pasta served with tomato and garlic sauce. Also two must try famous Sienese sweets, such as ricciarelli, a soft almond cookie, and panforte, a dense fruitcake with nuts and spices.
Many of these dishes have left the city and are now part of the Tuscan gastronomy known all over the world, see the complete list at the link.
If I were in Siena right now, what would be my ideal meal?
I would have no doubts about my choice, after the list of typical Sienese dishes at the end of the article you will find my selection.
11 Culinary Gems of Siena You Need to Experience
1. Ribollita Soup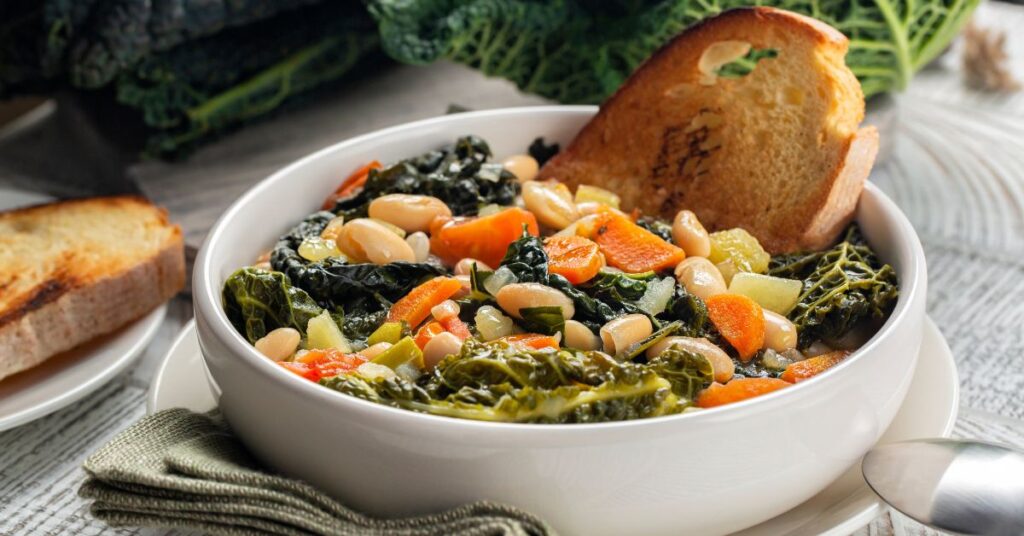 Ribollita is a hearty, vegetable-based soup that is a staple of Sienese cuisine. The name "ribollita" comes from the Italian word "ribollire," which means "reboil," because the soup is traditionally reheated and served over several days.
The ingredients for ribollita typically include stale bread, cannellini beans, kale, carrots, celery, onion, and tomato. The soup is seasoned with garlic, thyme, rosemary, and bay leaves, and is often finished with a drizzle of extra-virgin olive oil.
Ribollita has a rich, savory flavor that is both comforting and satisfying. The bread and beans give the soup a thick, creamy texture, while the vegetables add a fresh, slightly sweet taste, is often served with a sprinkling of grated Parmesan cheese and a crusty piece of bread on the side.
You can find ribollita on the menu of many restaurants and trattorias throughout Siena and Tuscany. It is a popular dish in the colder months, and is especially delicious on a chilly day. You can also find canned or jarred versions of ribollita in grocery stores, which can be a convenient way to enjoy this tasty soup at home.
In terms of Italian food culture, ribollita is a classic example of "cucina povera," or "poor cuisine." It was traditionally made with ingredients that were readily available and inexpensive, making it a popular dish among working-class families. Today, ribollita remains a beloved comfort food in Siena and is a must-try for anyone visiting the region.
2. Pici all'Aglione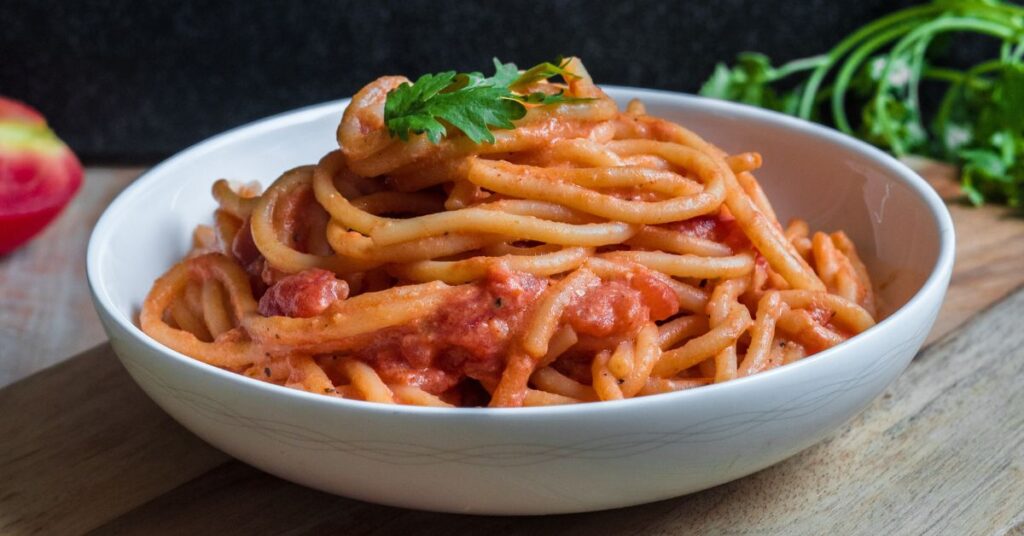 Pici are thick, hand-rolled pasta noodles similar to spaghetti, but with a chewier texture. Aglione is a type of garlic that is grown in the region and is known for its sweet and delicate flavor.
The dish is typically made by sautéing aglione and red pepper flakes in olive oil and adding chopped tomatoes. The sauce is then simmered until it thickens and the flavors meld together. The cooked pici are then added to the sauce and tossed until coated.
When you taste pici all'aglione, you'll experience the bold flavors of garlic, tomatoes, and red pepper flakes with the chewy texture of the pasta. The dish has a rustic, homey feel and is perfect for a comforting meal.
You can find pici all' aglione in many restaurants and trattorias throughout Siena and Tuscany. Italians value quality ingredients and simple preparations, allowing the natural flavors of the ingredients to shine through.
3. Gnudi Gnocchi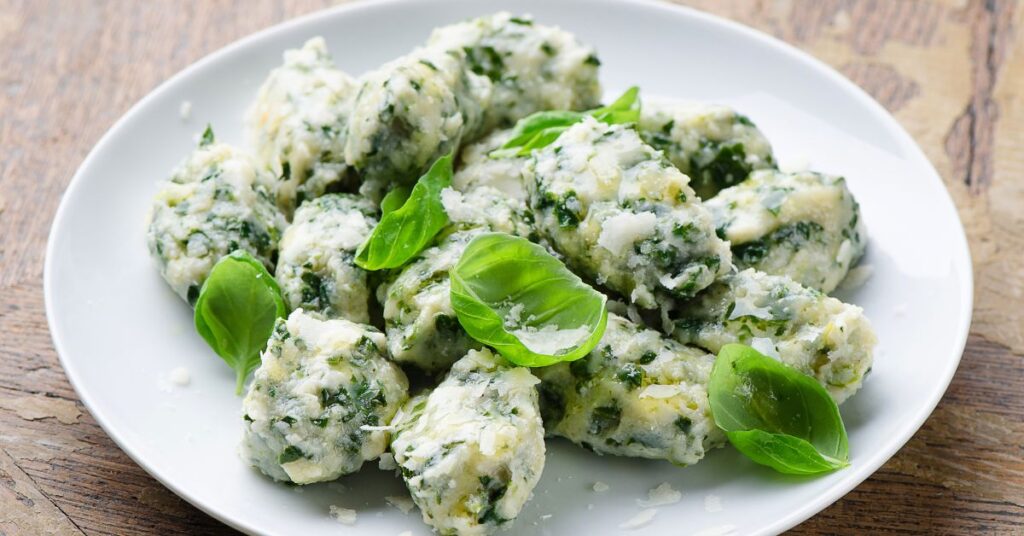 Gnudi gnocchi is a type of dumpling made with spinach, ricotta cheese, and flour. The name "gnudi" means "naked" in Italian, referring to the fact that these dumplings are similar to stuffed pasta but the fillings are not covered in a traditional pasta dough.
To make gnudi, spinach is first blanched, chopped finely, and mixed with ricotta cheese, flour, and Parmesan cheese. The mixture is then shaped into small balls with an elongated shape and boiled until they float to the surface. Gnudi is typically served with a simple tomato sauce, butter and sage, or a cream-based sauce.
When you taste gnudi, you'll experience a delicate, creamy texture with a slight spinach flavor, is a great choice for vegetarians, and is a popular dish throughout Tuscany.
You can find gnudi in many restaurants and trattorias in Siena and throughout Tuscany. However, it is particularly delicious in the spring and summer when fresh spinach is readily available.
4. Fettunta and Crostini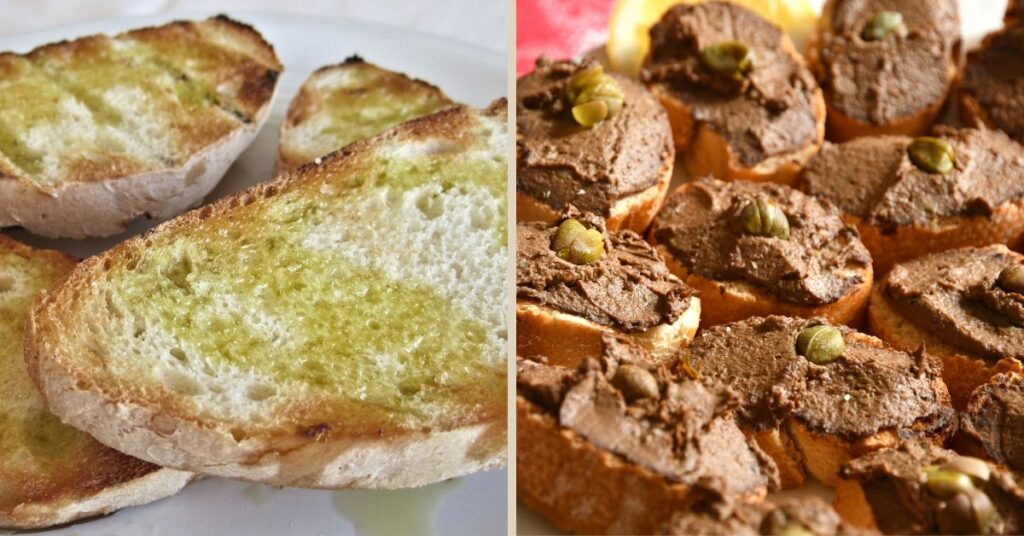 Fettunta and Crostini are two classic Tuscan appetizers that are a must-try for anyone visiting Siena or the surrounding areas.
Fettunta is a type of bruschetta made with toasted bread, rubbed with garlic, and drizzled with extra-virgin olive oil. The name "fettunta" means "oily slice," and refers to the generous amount of olive oil used to dress the slice of bread. The bread used for fettunta is typically a Tuscan bread called "pane sciocco," which is unsalted and has a dense texture.
Crostini, on the other hand, are small toasted bread slices topped with various savory toppings. The toppings can vary, but some popular options include chicken liver pate, tomato and basil.
The garlic and olive oil in the fettunta add a subtle but delicious taste, while the crostini toppings are savory and satisfying.
You can find fettunta and crostini in many restaurants and trattorias throughout Siena and Tuscany. They are often served as an appetizer or as part of a larger antipasti platter.
In my personal opinion, fettunta and crostini are a delicious and satisfying way to start a meal or to enjoy as a light snack. The combination of crispy bread and flavorful toppings is simply irresistible.
5. Tagliata di Manzo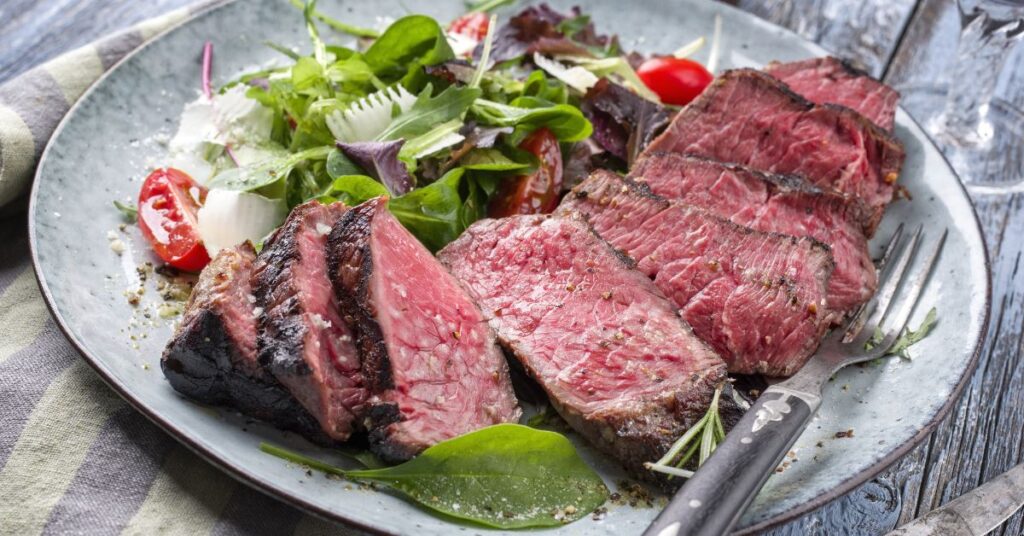 Tagliata di Manzo is a classic dish that consists of sliced grilled beef served with a side of arugula salad. It is typically served as a second course, or "secondo" in Italian, and is a popular choice for meat lovers.
The beef used for tagliata di manzo is typically a high-quality cut such as sirloin or ribeye. It is grilled to medium-rare or medium, then sliced into thin strips and served with a drizzle of olive oil and a sprinkle of coarse salt.
You can find tagliata di manzo on the menus of many Tuscan restaurants and trattorias. It is a popular choice for both locals and tourists, and is often served as part of a larger meal. It is also a popular dish for special occasions such as weddings and family gatherings.
6. Ossobuco alla Senese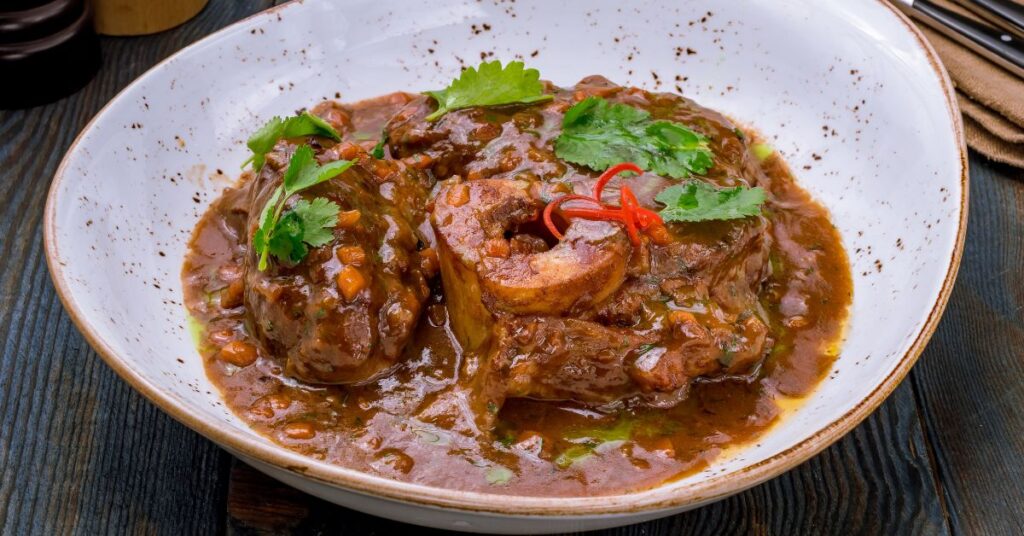 Ossobuco is a main course that consists of veal shanks that are braised in a flavorful sauce made from tomatoes, onions, carrots, celery, white wine, and a blend of herbs and spices, including rosemary and garlic. The meat is slow-cooked until it becomes tender and falls off the bone.
"Ossobuco" means "bone with a hole" in Italian, referring to the marrow-filled bone at the center of the meat.
The flavor of Ossobuco alla Senese is rich and savory, with a deep umami taste that comes from the slow-cooked meat and the combination of herbs and spices. The texture of the meat is tender and succulent, with the marrow from the bone adding an extra layer of richness and depth to the dish.
In my personal experience, I have found Ossobuco alla Senese to be a truly satisfying and flavorful dish, perfect for a cozy evening in a traditional Tuscan restaurant.
7. Trippa alla Senese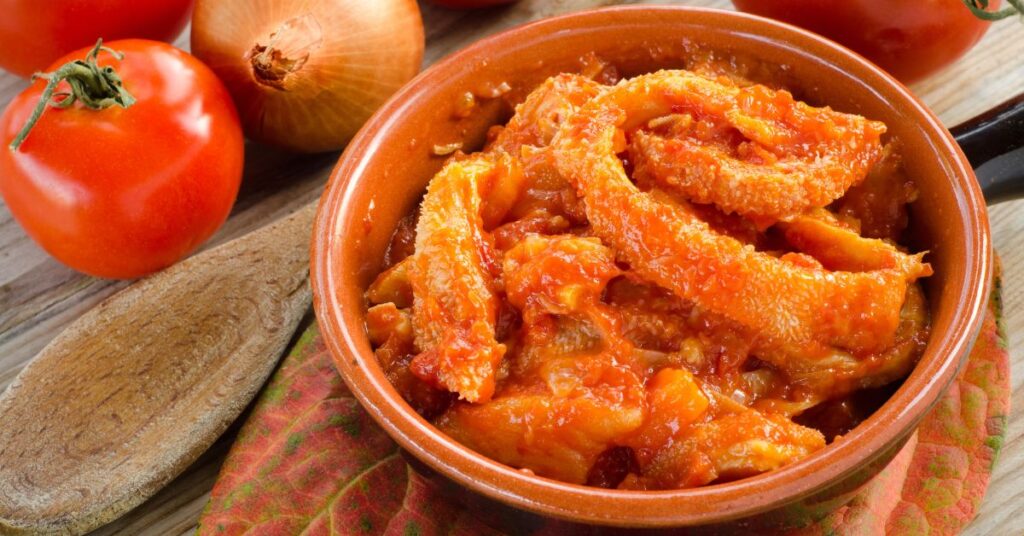 Trippa Senese is a hearty and savory dish made with tripe, or the lining of the cow's stomach, and a rich tomato-based sauce with garlic, onion, and herbs.
Trippa in Siena is typically served as a main course, and its main ingredients are tripe, tomato sauce, carrots, celery, onion, garlic, and parsley. Tripe is a popular ingredient in Italian cuisine and is often used in soups and stews.
The texture of the tripe is soft and tender, and it absorbs the flavors of the sauce well. When eating Trippa Senese, you may feel a sense of comfort and warmth, as it is a hearty and filling dish.
Trippa may not be to everyone's taste, as tripe has a unique texture and flavor. Nonetheless, for those who enjoy tripe, Trippa Senese is a must-try when visiting Siena.
8. Dried Ham of Cinta Senese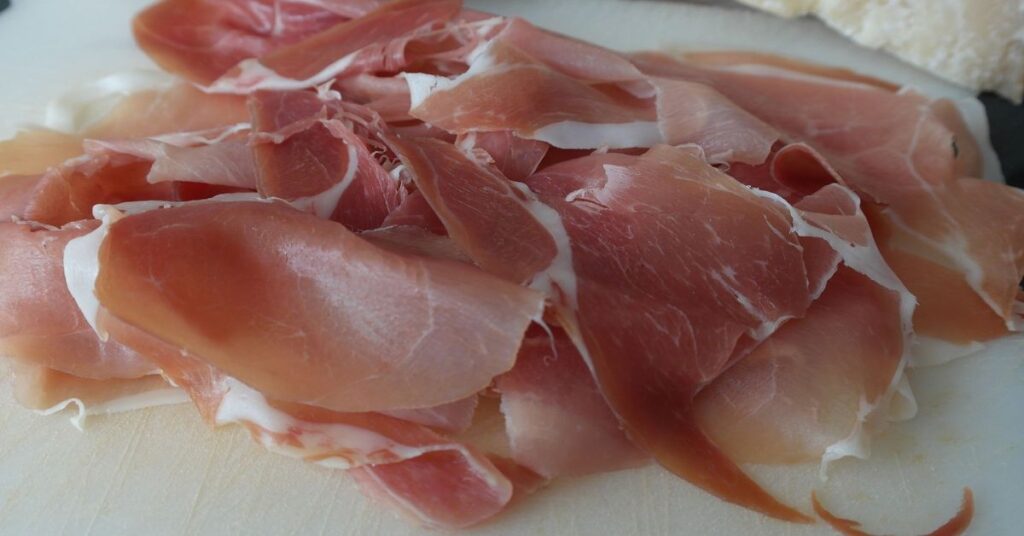 Prosciutto of Cinta Senese is a type of dried ham (prosciutto) that comes from the Cinta Senese breed of pigs, which are raised in Siena. This prosciutto is typically served as an antipasto or appetizer and is made using only a few simple ingredients: Cinta Senese pork, salt, and pepper.
Cinta Senese is a particular breed of pig that is characterized by its distinctive belt of white hair around its midsection, giving it its name (cinta means belt in Italian). This breed is highly valued for its flavor and quality, and the meat is often used in traditional Tuscan dishes.
When you try dried ham of Cinta Senese, you'll experience a rich, meaty flavor with a salty kick. The texture is firm and chewy, with a bit of fat for added flavor. It pairs perfectly with a glass of red wine or a slice of fresh bread.
You can find Cinta Ham in many restaurants and trattorias throughout Tuscany, as well as in specialty food stores and local markets. It's especially popular during the autumn and winter months, when it's often served alongside other traditional Tuscan dishes like ribollita and pappa al pomodoro.
9. Pecorino di Pienza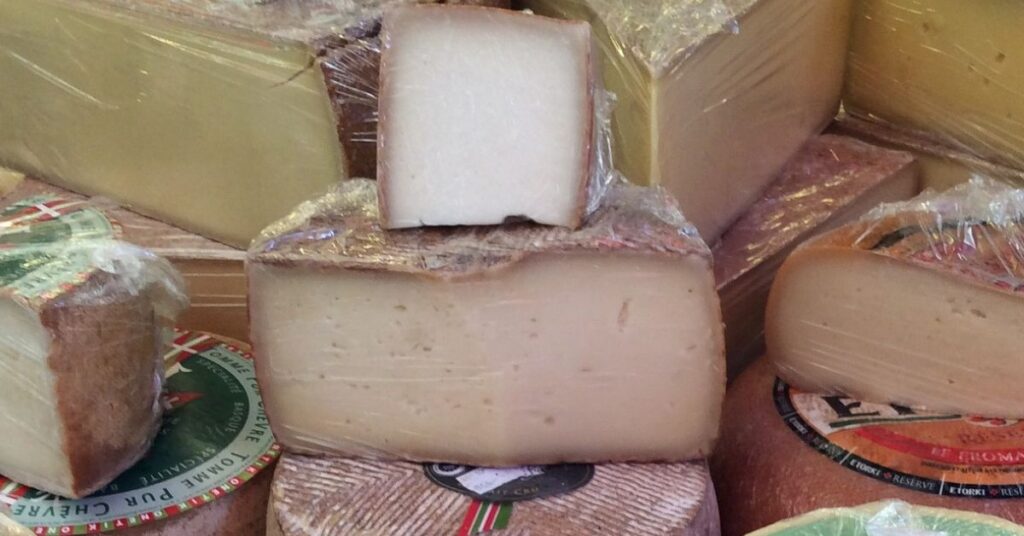 Pecorino di Pienza is a traditional Italian cheese hailing from the small town of Pienza, a small village south of Siena. It's a type of sheep's milk cheese that's been produced in the area for centuries.
This cheese is usually served as an antipasto, or appetizer, before the main course. Its main ingredient is sheep's milk, which gives it a unique flavor and texture. Pecorino di Pienza is made using traditional methods, and it's aged for several months, resulting in a firm texture.
When you taste Pecorino di Pienza, you'll notice its strong and sharp taste, with a slightly salty finish. It's perfect for pairing with a glass of red wine, and it's often enjoyed alongside other local Tuscan specialties, such as prosciutto, olives, and bread.
You can find Pecorino di Pienza in many restaurants, trattorias, and wine bars, specialty food stores, and markets in Siena.
There are no specific occasions or festivals where Pecorino di Pienza is traditionally eaten, as it's a staple of the local cuisine all year round. However, it's worth noting that Pienza hosts a yearly festival in honor of the cheese called "Fiera del Cacio" (Cheese Fair), which takes place in September.
10. Panforte di Siena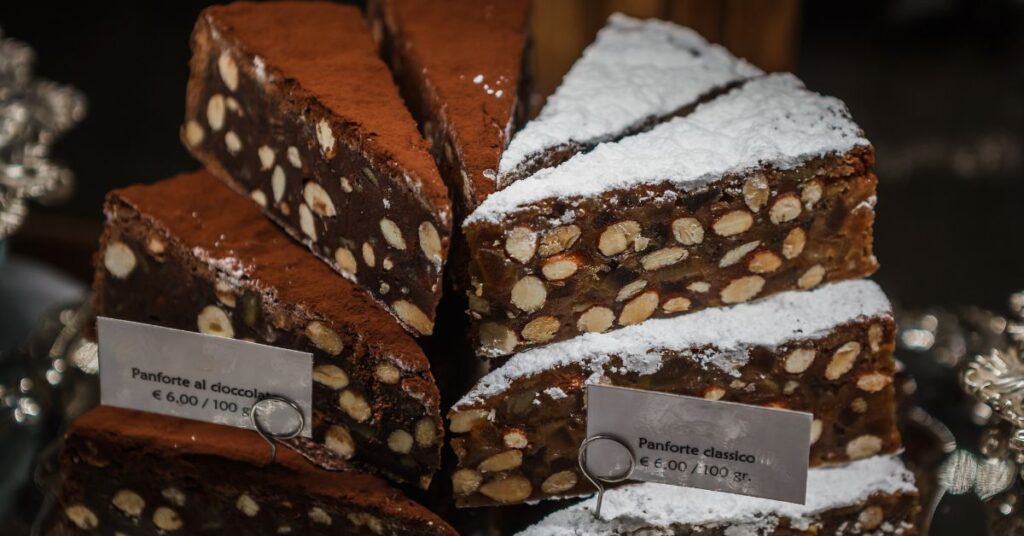 Panforte di Siena is a traditional Italian dessert that originates from the city of Siena. It's a type of cake that is made with honey, sugar, nuts, and candied fruit. The name "panforte" comes from the combination of the words "pan" (bread) and "forte" (strong), which refers to its robust and intense flavor.
When you take a bite of panforte, you'll immediately notice its rich, complex taste. It has a sweet and spicy flavor profile, with notes of cinnamon, nutmeg, and cloves. The texture is dense and chewy, with bits of nuts and candied fruit throughout.
Panforte can be found in many restaurants, pastry shops, and specialty food stores throughout Siena and the surrounding region of Tuscany. It's also a popular treat during the Christmas season, and many local bakeries make their own versions of the cake.
Overall, panforte is a unique and delicious dessert that's definitely worth trying if you're in Siena. Whether you enjoy it on its own or with a cup of coffee or tea, it's sure to leave a lasting impression on your taste buds.
11. Ricciarelli di Siena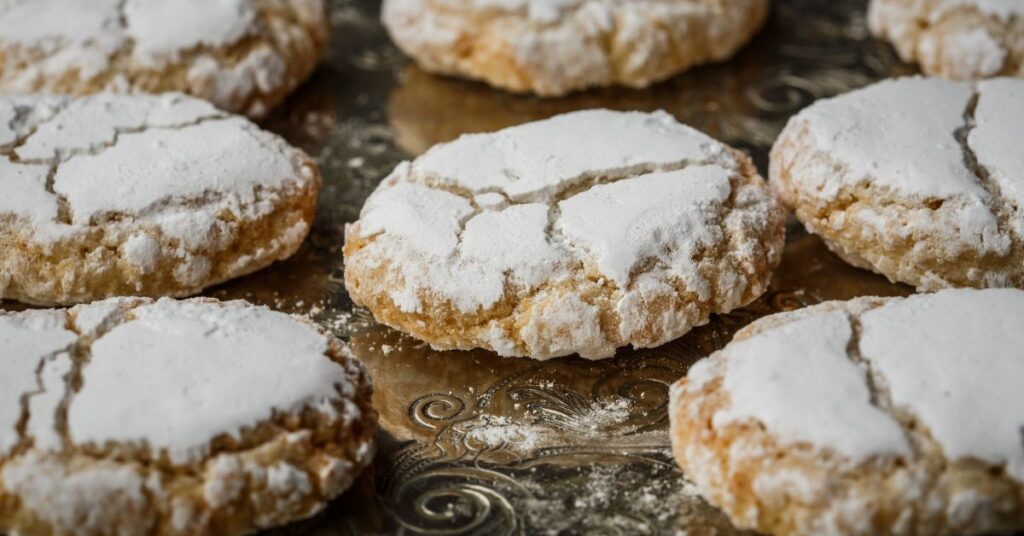 Ricciarelli it's a type of cookie made with almond flour, sugar, egg whites, and honey. The name "ricciarelli" is derived from the Italian word "riccio," which means "curly," and refers to the cookie's distinctive shape.
Ricciarelli di Siena is a sweet and chewy dessert that is perfect for an afternoon snack or a light dessert. The cookies have a delicate almond flavor and a light sweetness that is not overpowering. They are typically dusted with powdered sugar, which gives them a beautiful, snow-like appearance.
You can find ricciarelli di Siena in many pastry shops and bakeries throughout Siena and the surrounding region of Tuscany. They are often sold in beautifully wrapped packages and make for a great souvenir or gift. You can also find them in some restaurants or cafes where they might be served with a cup of coffee or tea.
In terms of Italian eating habits, ricciarelli di Siena is typically consumed as a dessert or snack rather than as a meal. Italians have a strong tradition of enjoying sweets after a meal or as an afternoon snack, and ricciarelli di Siena fits perfectly into this tradition.
My perfect Meal in Siena
As promised, here is my very personal choice if I had to sit in a Sienese restaurant or trattoria right now, I would definitely order:
Appetizer: Crostini of chicken liver
First course: Pici all'aglione
Second course: Ossobuco alla Senese
Side dish: Fagioli all' uccelletto
Dessert: Panforte di Siena
Wine: Chianti Classico of course!
I am so excited to have shared with you the delicious food that Siena is famous for! From traditional dishes like ribollita and pici pasta to mouthwatering desserts like panforte, Siena has something for every foodie to enjoy.