In Italian cuisine, the tradition of using every part of an animal, inspired by 'cucina povera' or 'poor kitchen', is highlighted in the use of "frattaglie", or chicken offal

Yes, dishes crafted from parts of chicken, such as their combs, wattles, testicles, and feet, hold a distinct place in Italian gastronomy, such dishes as Cibreo Toscano and Finanziera Piemontese offer intense and unique flavors, a stark contrast to the conventional chicken breast or thigh.
In post-war Italy, many families relied on the less-prized parts of the chicken, for their livelihood. While these parts have been overshadowed in the past fifty years by meatier and more flavorful cuts, they haven't vanished entirely.
In fact, some haute cuisine restaurants are reintroducing them, recognizing their place in our culture and their undeniable taste.
Are Chicken Combs Eaten in Italy?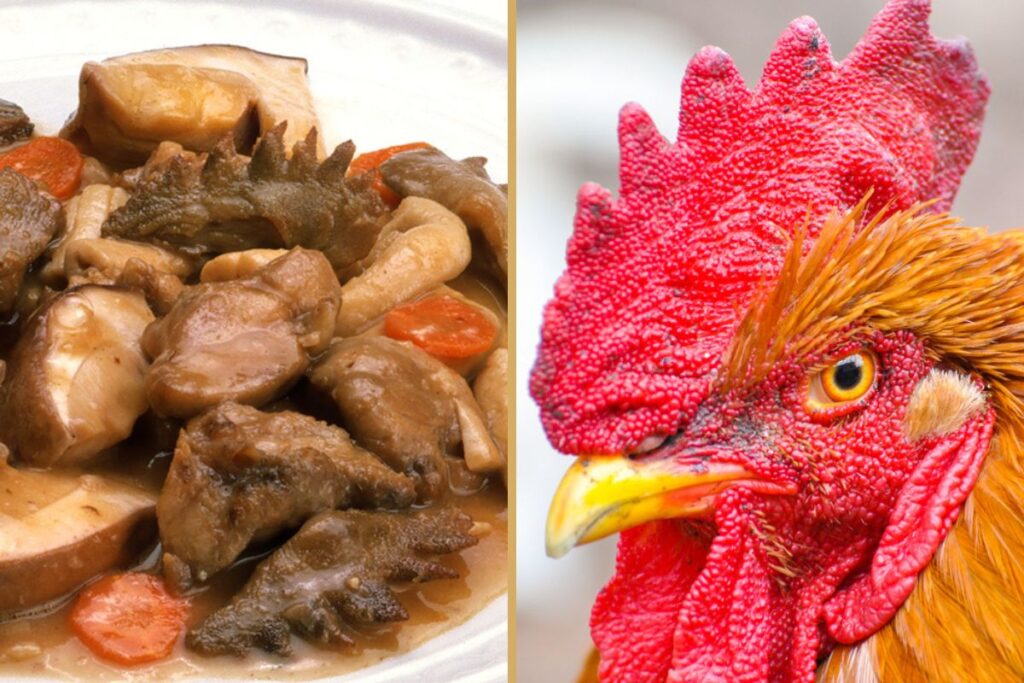 Absolutely, chicken combs, or "creste di gallo," are indeed consumed in parts of Italy, though they may not be as prevalent as other traditional ingredients.
One classic dish that showcases chicken combs is "Creste di Gallo in Umido" where the combs are slowly braised with tomatoes, wine, and aromatic herbs until they're tender and flavorful.
Chicken combs, also known as cockscombs, are the fleshy, bright red growths found on top of a rooster's head. Their unique, gelatinous texture and rich flavor make them a prized addition to certain dishes.
In Italy, like in many cultures, there's a long-standing tradition of utilizing every part of an animal, both out of respect and to maximize resources. Consuming chicken combs in Italy is often tied to old peasant traditions where nothing went to waste.
Exploring the richness of Italian regional cuisine, the following dishes stand out for their use of cockscombs (creste di Gallo in Italian):
Finanziera – A Piedmontese dish that elegantly combines various offal, including chicken combs, with wine, mushrooms, and a plethora of spices.
Creste di Gallo in Umido – As mentioned, a classic preparation where chicken combs are braised to perfection in a robust tomato sauce.
Risotto con Creste di Gallo – A creamy and sumptuous risotto where the unique texture and flavor of chicken combs complement the creamy rice grains.
Are Chicken Wattles Eaten in Italy?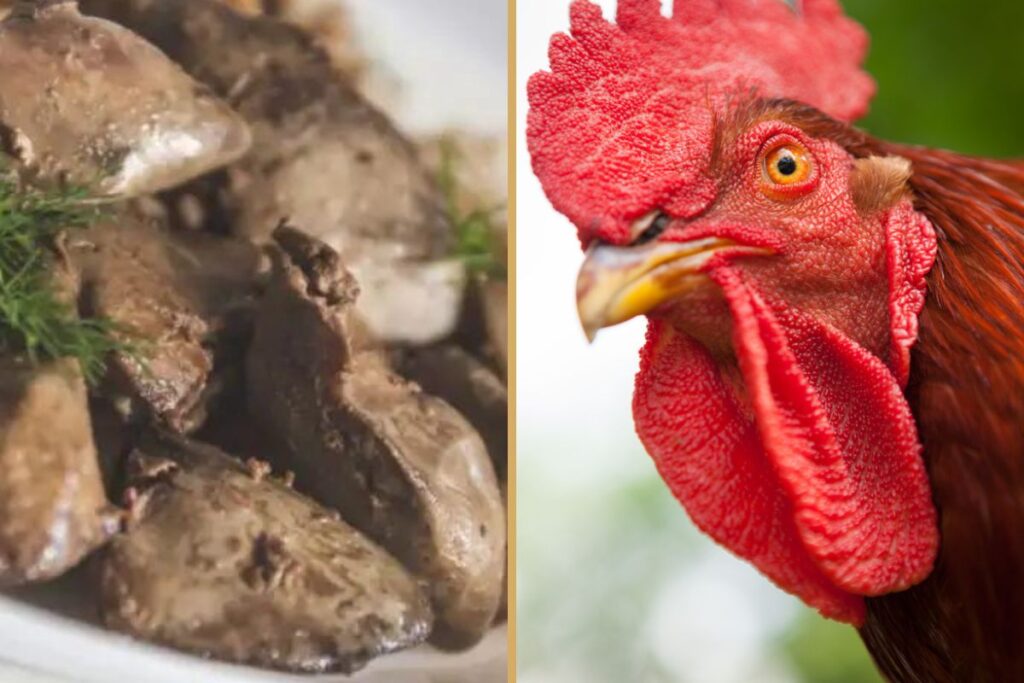 Yes, chicken wattles are consumed in some parts of Italy, particularly in the countryside where traditional recipes have been preserved.
A notable dish that uses wattles is the "Stufato di Gallina," where they are stewed with other parts of the chicken, herbs, and vegetables until tender.
Wattles are the dangling, fleshy lumps located beneath a chicken's beak. In Italy, just like many other parts of an animal, they're eaten due to the historical need to utilize every part of the animal, minimizing waste and maximizing resources. The wattles, when cooked, offer a unique texture and are known to add richness to stews and broths.
Here's a list of typical dishes from Italy's regional traditions that involve the use of wattles (bargigli in Italian):
Brodo di Gallina con Bargigli: A rich chicken broth infused with the flavors of wattles.
Cibreo Toscano: This traditional Tuscan dish, with origins in the Renaissance era, incorporates chicken combs, wattles, testicles, and hen's feet, offering a unique blend of flavors that represent the region's rich culinary traditions.
Risotto con Bargigli e Funghi: A creamy risotto dish with wattles and Italian wild mushrooms.
Are Chicken Testicles Eaten in Italy?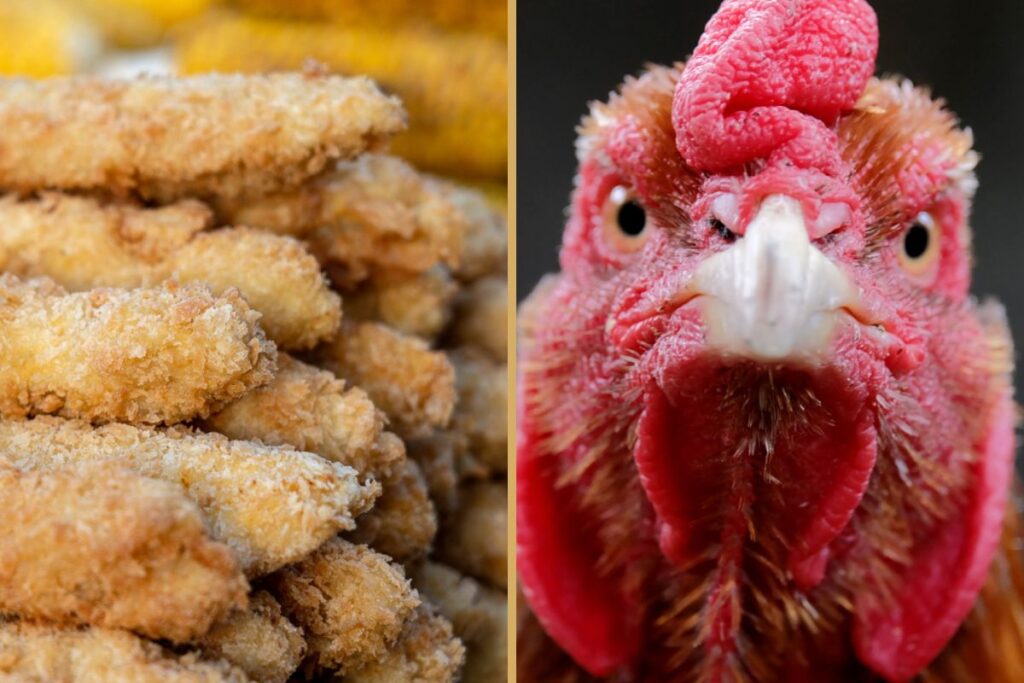 In Italy, chicken testicles, colloquially known as "fagioli" or "granelli," have historically been considered an old-time delicacy.
Although rarely consumed today, they can still be found in dishes such as Tuscan Cibreo or breaded meat skewers from Liguria.
Chicken testicles were once perceived as a luxury food in Italy. Historically, chickens and roosters weren't regular fixtures on the Italian dinner table, being served only a few times a year, which added to the exclusivity of consuming their parts.
Ancient texts like those by Pliny suggest some even believed consuming rooster testicles could influence the gender of one's offspring, emphasizing their cultural importance.
Today, while they may not be as widely consumed, these parts are appreciated for their rich taste, especially when prepared in traditional recipes.
Typical Italian Dishes Featuring Chicken Testicles:
Cibreo Toscano: This is a Florentine specialty with roots in the Renaissance era. The dish is a rich mix of chicken combs, wattles, testicles, and hen's feet, simmered together with seasonings like salt and pepper. It's a favorite among those seeking an authentic taste of Tuscan cuisine.
Stecchi alla Genovese: is a time-honored Ligurian dish slowly fading from contemporary menus. These meat skewers are traditionally crafted using various chicken offal, it includes the testicles.
Are Hen's Feet Eaten in Italy?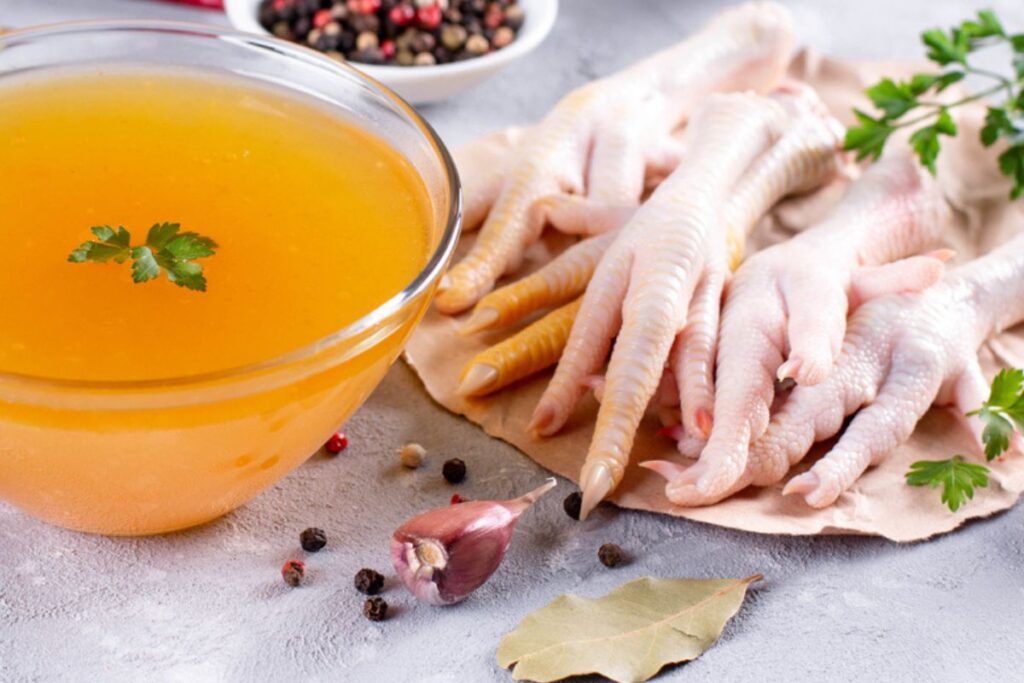 Yes, hen's feet are indeed consumed in Italy. They have historically played a significant role in traditional Italian cuisine, particularly in rural and countryside regions.
One of the most classic preparations is boiled chicken feet, which form the base for an exceptional and flavorful broth.
This hen's feet broth was often hailed as the cure for every ailment, especially for those suffering from flu. Prepared predominantly by grandmothers, it's an integral part of the country's rich culinary tradition, closely tied to family gatherings and heartwarming memories.
Hen's feet, essentially the lower part of the chicken, were once a staple in many Italian households, especially those boasting a chicken coop. Given the historical context where nothing could be wasted (lest one starve), every part of an animal was used.
Despite being composed mainly of tendons and skin with little muscle, hen's feet offer a unique taste and gelatinous texture, thanks to their cartilage. This quality, combined with their nutritional value and affordability, makes them an appealing choice.
Typical Italian Dishes with Hen's Feet:
Hen's Feet Broth: Revered as the "Grandmother's penicillin" in the US, it has a similar fame in Italy too, this simple dish is heartwarming and easy to digest. Its popularity soars during colder months, providing warmth and comfort to those who consume it.
Hen's Feet in Tomato Sauce: A rustic dish, where the feet are slowly simmered in rich tomato sauce until tender.
While these dishes might sound unusual to an American palate, they showcase the Italian knack for turning simple ingredients into culinary masterpieces. For those adventurous in their dining choices, diving into these traditional dishes is a must when exploring Italy's gastronomic treasures.