The first time I visited Arezzo, I had no idea that this city was a treasure trove full of local recipes and dishes that are almost unknown in other cities of Tuscany. Even though I was born and raised in Florence myself, I was unaware of most of the delicacies that Arezzo has to offer.
For example, I had never heard of or tasted the maccheroni with goose sauce (which is now my favorite pasta dish from Arezzo…) and I had never seen the classic Arezzo dessert made with Alchermes liqueur. And even in the case of recipes that are highly appreciated throughout Tuscany, such as the crostini neri, there is always some difference that makes the Arezzo recipe unique.
In short, you will have understood that to truly know and savor Tuscan cuisine, Arezzo and its delicacies are a practically obligatory stop. To facilitate this challenging task, I have listed below what I believe are the iconic dishes of the city that are worth tasting directly on-site. Here you go, enjoy!
1. Bistecca con l'Acciugata
Let me tell you about a delicious dish you should try: Bistecca con salsa Acciugata is a classic Tuscan dish that consists of a juicy steak accompanied by a flavorful anchovy sauce. It's typically served as a main course.
The word "salsa Acciugata" literally translates to "anchovy sauce." The sauce is made with just four simple ingredients: anchovies, olive oil, garlic, and parsley. Despite its simplicity, it packs a punch of flavor. It's the perfect complement to both meat and vegetable dishes, and some people even use it as a dressing for salads.
When you take a bite of the steak with the Acciugata sauce, you'll experience a delightful combination of savory, salty, and herby flavors. The anchovies give the sauce a rich umami taste, while the garlic and parsley add freshness and depth. It truly elevates the flavor of the steak and creates a mouthwatering experience.
You can find Bistecca con salsa Acciugata in many traditional trattorias and restaurants in Arezzo. It's a beloved dish among locals and is often reserved for special occasions or Sunday family lunches. So, if you want to indulge in a true Tuscan culinary delight, don't miss the opportunity to try this flavorful steak with Acciugata sauce.
2. Crostini Neri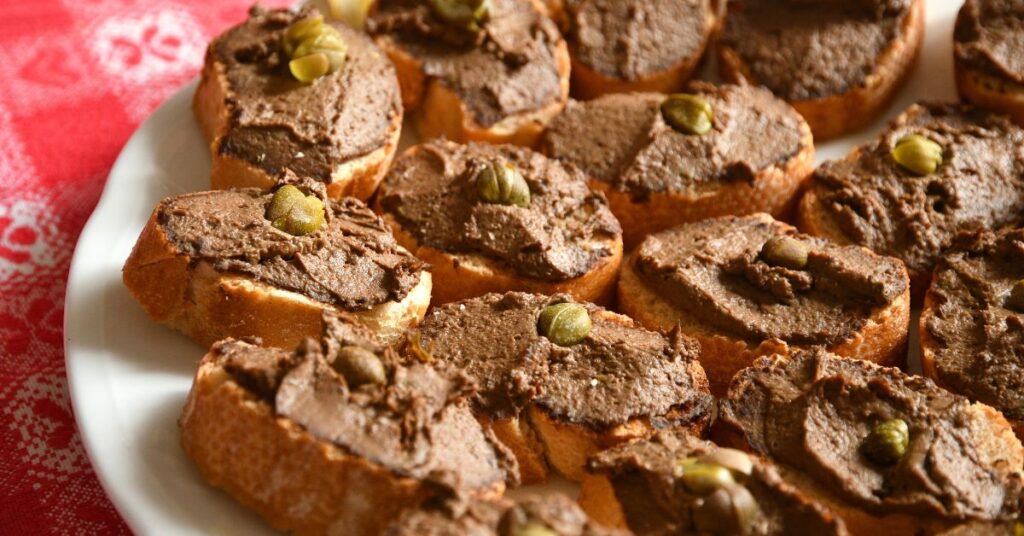 Crostini Neri is a traditional appetizer from Arezzo that is perfect for special occasions or festive days. It's a delicious way to enjoy leftover bread, which is a common ingredient in Italian cuisine. The main ingredients include bread, chicken liver, spleen of veal, ground meat, capers, and anchovies.
The bread used for Crostini Neri is usually soaked in broth and sometimes Vin Santo, a sweet Tuscan dessert wine, to add flavor. The liver and spleen are then mixed together to create a rich and savory spread. Capers and anchovies are added to complete the festive flavor profile.
When you take a bite of Crostini Neri, you'll experience a combination of textures and flavors. The toasted bread provides a satisfying crunch, while the liver and spleen spread adds a creamy and savory taste. The capers and anchovies add a tangy and briny note, balancing out the richness of the dish. It's a delightful explosion of flavors that will leave you wanting more.
You can find Crostini Neri in traditional trattorias, restaurants, and local food festivals in Arezzo. It's a beloved dish among the locals and is often enjoyed as an appetizer before the main course.
3. Fegatelli all'Aretina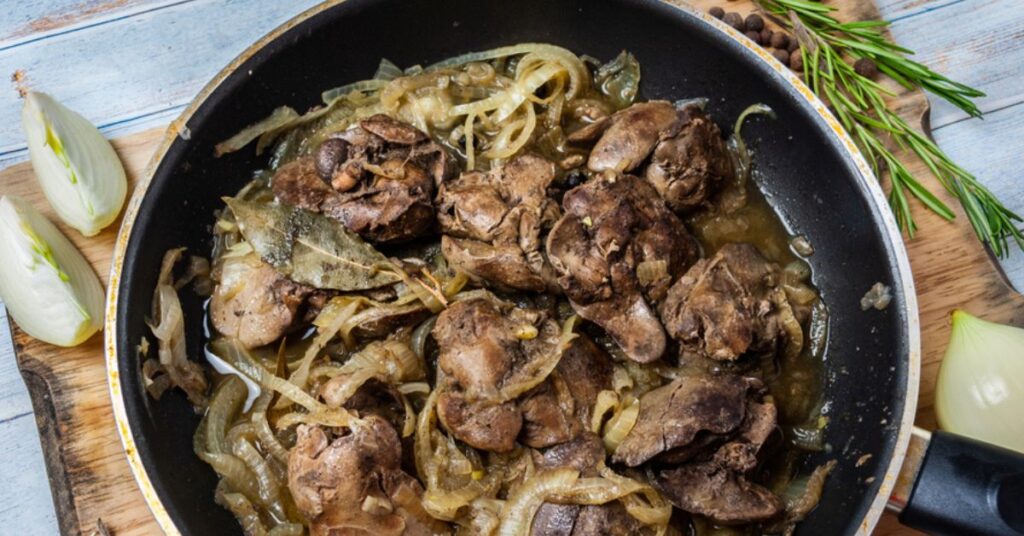 Fegatelli all'Aretina is not just any ordinary dish—it's an experience! It's a traditional second course that perfectly embodies the essence of Arezzo. These succulent bites of pork liver are like little flavor bombs that will make your taste buds dance with joy.
The origins of this dish trace back to ancient times. There's even a mention of marinated pieces of pork liver seasoned with pepper and wrapped in a net with bay leaves, then cooked on hot coals. Talk about an ancient recipe!
But let's get to the good part—the taste. Fegatelli is a combination of rich, meaty flavors with a delicate touch. The use of fennel gives it a unique twist, adding a subtle and refreshing note to the dish. It's a true delight for both hearty eaters and refined foodies alike.
Now, where can you find this delicious treat? You'll be happy to know that Fegatelli all'Aretina can be savored in various restaurants, trattorias, and local eateries in Arezzo. Trust me, the locals take immense pride in their culinary traditions, so you're in for a treat!
4. Acquacotta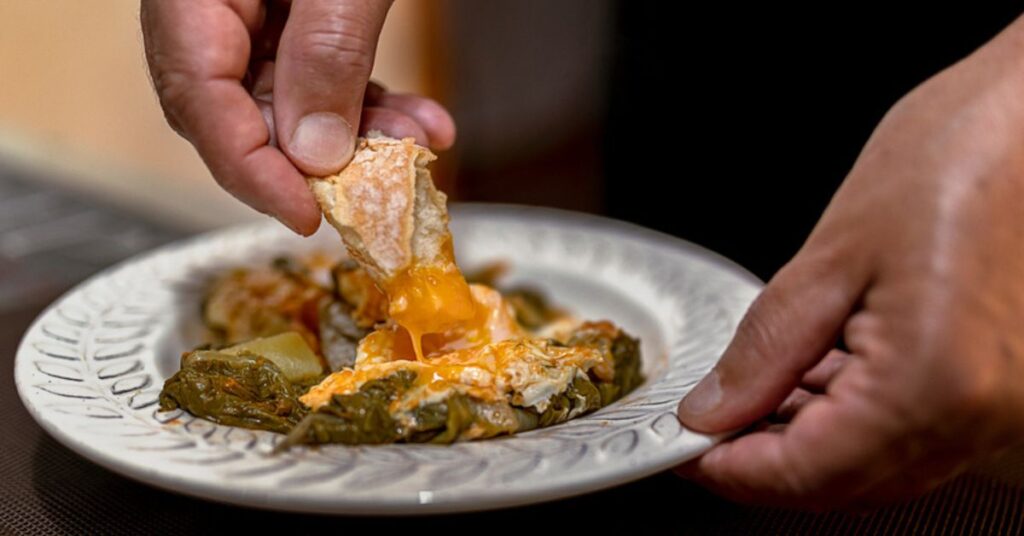 Acquacotta is a hearty soup that's perfect for those cold, dark nights when winter's icy wind sweeps through the valleys and hills. It's the kind of comforting meal that warms you up from the inside out.
The origins of Acquacotta are a bit mysterious, but it's a versatile and creative dish that can be found throughout Tuscany, making its way to the lovely town of Arezzo. Some say the butteri, the Tuscan cowboys, are the ones who came up with this marvelous soup during their transhumance journeys.
Others believe it was the shepherds and lumberjacks who made it a staple due to its simple ingredients, easy preparation, and hearty caloric value. While everyone claims to have the true recipe, the reality is that there are countless variations.
Let's talk about the Arezzo version, which features porcini mushrooms and pecorino cheese. The main ingredients typically include vegetables like onions, celery, and carrots, along with tomatoes, garlic, and herbs. The soup is often thickened with bread and can also include ingredients like beans, eggs, or even pancetta.
The combination of the mushrooms, cheese, and vegetables creates a depth of taste that's truly satisfying. It's like a warm hug on a chilly day, filling your senses with warmth and comfort.
5. Scottiglia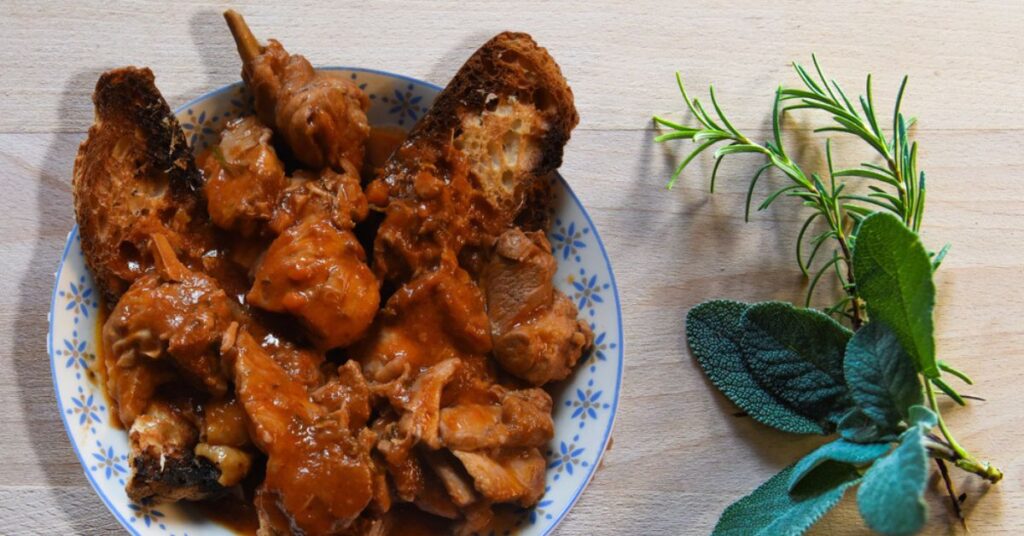 Scottiglia, also known as the "Cacciucco del Casentino," is a hearty meat stew that's often referred to as the "meat version of Cacciucco." It's a culinary creation that has its roots in the province of Arezzo, and its origins are shrouded in mystery. Some say it dates back to medieval times, while others believe it has ancient Etruscan origins.
So, what exactly is Scottiglia? Well, it's a super stew made with a variety of meats. Rabbit, chicken, beef, pork, guinea fowl, lamb—you name it, the more, the better! It's this unique blend of flavors that reminds many of the famous Cacciucco from Livorno. Just like that renowned fish stew, Scottiglia is a symphony of textures, tastes, and aromas.
Preparing Scottiglia takes hours of slow cooking and it's not something you can whip up last minute. That's why lazy cooks and food lovers on the lookout for a taste of this dish often seek out restaurants and taverns where it's offered. One standout example is the Scottiglia Festival held in Lonnano, a hamlet of Pratovecchio Stia, every year at the end of July.
When you take a spoonful of Scottiglia, you'll experience a rich and comforting flavor profile that showcases the different meats and their succulence. The combination of tender meats, savory broth, and aromatic herbs will leave your taste buds in awe.
As an avid foodie who has indulged in this dish, I highly recommend seeking out the authentic Scottiglia experience during your visit to Arezzo.
6. Tortelli di Patate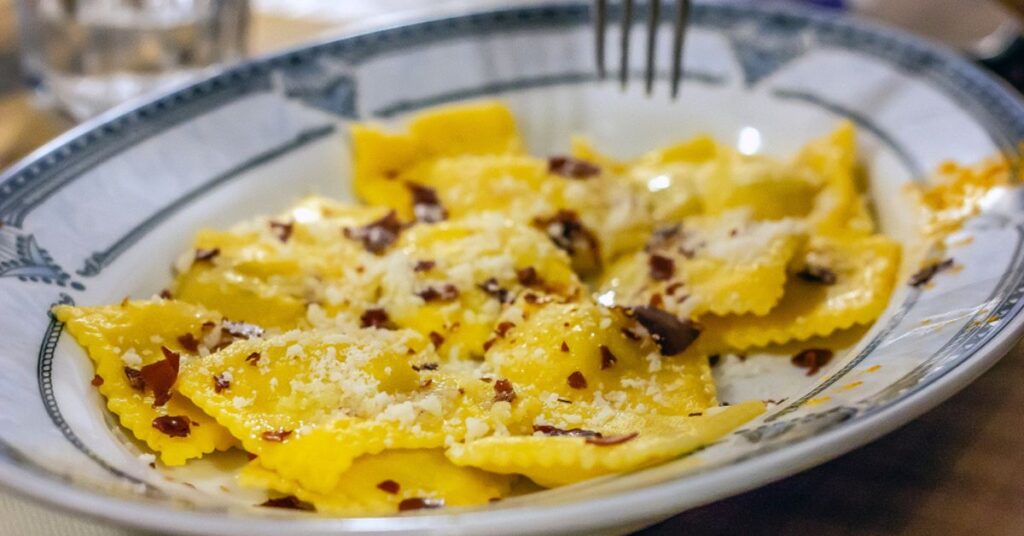 Alright, let me introduce you to a dish that will knock you off your feet with a big smile on your face: Tortelli di patate, the stuffed pasta with potato-filled delight!
Picture this: soft pillows of pasta, generously stuffed with a delectable potato filling. Tortelli di patate is a primo piatto, which means it's a first course in Italian cuisine. It's the kind of dish that will make your taste buds dance with joy.
These delightful dumplings hail from the Casentino land in Arezzo and embody the flavors of the land. They are beautiful, delicious, and delicate, just like the Casentino area they come from.
Tortelli di patate has a rich culinary tradition, drawing influences from the neighboring regions of Romagna, Emilia, and Florence. It originated as a humble dish, born out of necessity, where potatoes became the star filling. Back then, potatoes were a staple for every peasant family in Arezzo, offering a tasty alternative to the chestnuts that dominated the forests of Casentino and formed the basis of their daily diet.
Each bite of PotatoTortelli is a burst of flavors, the tender pasta envelops the creamy potato filling, creating a harmonious combination. The addition of pancetta adds a hint of saltiness and depth to the dish. It's a delightful balance of textures and tastes that will leave you craving for more.
Speaking from personal experience, I have to say that Tortelli di patate is a true taste of Arezzo's culinary heritage, so don't miss out.
7. Maccheroni all'Ocio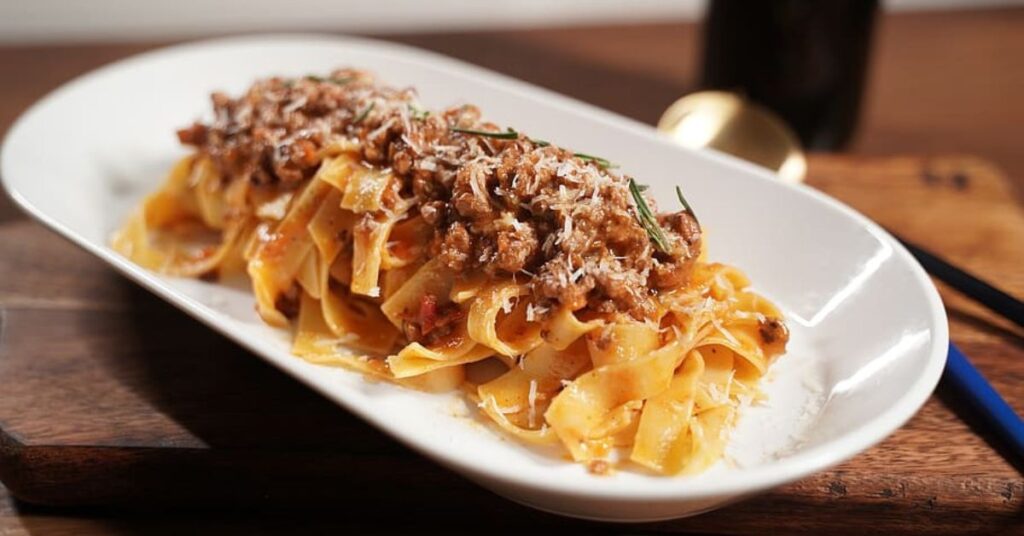 This is not your average maccheroni, now, when I say maccheroni, I don't mean the regular macaroni that we're used to.
In Arezzo, they have their own special version of maccheroni that is quite different. These maccheroni are actually long shaped and fall into the category of "long pasta" (very similar to pappardelle pasta), the best part is the sauce that accompanies them, known as "sugo d'oca". The secret to the deliciousnes lies in the sauce, which is made from locally-raised geese.
The homemade pasta pairs wonderfully with the rich and savory goose sauce. Each bite is like a burst of deliciousness, and it's definitely an experience you won't forget.
You can find Maccheroni con l'Ocio in restaurants and trattorias in Arezzo, personally I have never found them in Florence, probably because Florence itself has many local specialties. It's a specialty that showcases the local culinary heritage and is cherished by the community. So be sure to give it a try and savor the unique taste of this traditional dish.
8. Salsicce e Pulezze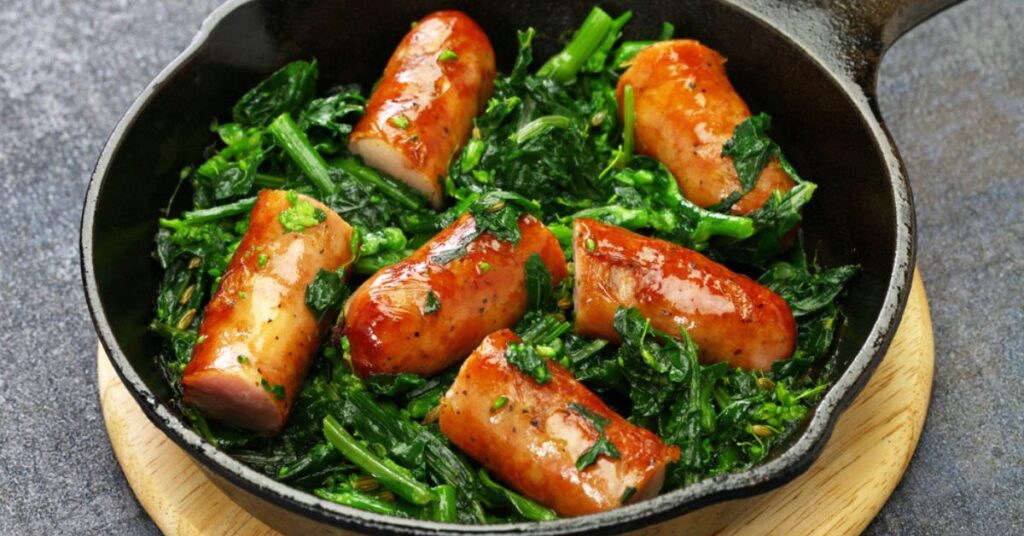 In Arezzo, they have a culinary tradition that involves quick cooking rather than elaborate preparations. And Salsicce e Pulezze is a perfect example of this principle. It's a super-fast and very common dish that showcases the simplicity and speed of traditional Arezzo cuisine.
So, what exactly are Salsicce e Pulezze? Well, imagine succulent sausages paired with a vegetable called "pulezze," which is similar to turnip greens. These greens are frequently consumed until the arrival of spring.
When you take a bite, you'll experience a delightful combination of flavors. The savory and juicy sausages complement the slightly bitter taste of the pulezze.
You can enjoy Salsicce e Pulezze at various restaurants, trattorias, and even local markets in Arezzo. Just follow your nose and look out for places that serve traditional Arezzo cuisine. Trust me, this dish is a must-try!
9. Rocchini di Sedano
Rocchini di Sedano are a tasty side dish that you can find in the traditional cuisine of Arezzo, as well as in the nearby Valdarno area.
Now, let's talk about the star ingredient: celery (sedano in Italian). This vegetable has a strong yet delicate flavor, and it's packed with minerals and has excellent detoxifying and digestive properties.
Whether it's served raw as part of a veggie platter, boiled and revamped, or finely chopped in sautés, celery is a fundamental element of Arezzo's cuisine. It's simple, humble, and definitely healthy. Maybe a little too healthy. That's why our grandmas came up with incredibly indulgent ways to enjoy this green veggie and lick our fingers.
Rocchini di Sedano is a prime example that leaves no room for doubt. These bite-sized treats are fried, refried, and cooked to perfection. They are deliciously coated in flour, and the taste is so incredible that it takes your soul to another level. They're the best accompaniment for meats like chicken or rabbit.
10. Stufato alla Sangiovannese
A dish you've got to try: Stufato alla Sangiovannese, don't call it a "simple stew"! Would be an understatement. This hearty dish is a true culinary tradition in Arezzo, and it's like a flavorful symphony for your taste buds. The stew is made with tender, slow-cooked meat that practically melts in your mouth. It's bathed in a succulent and indulgent sauce made with tomatoes, broth, wine, and a fragrant blend of spices and herbs.
The taste? Oh boy, it's something else! With each bite, you'll experience a harmonious blend of flavors. The richness of the meat, the aromatic spices, and the lusciousness of the sauce will take you on a journey through both familiar and exotic tastes.
You can find Stufato alla Sangiovannese in traditional trattorias and local restaurants in Arezzo. This dish holds a special place in the hearts of the locals, and it's often enjoyed during the "domeniche degli Uffizi" – the five Sundays leading up to Fat Tuesday, a festive time when the city comes alive with celebrations and food plays a central role.
Now, let me share a little secret with you: the key to making this dish truly unique is the "drogo." It's a secret spice mix that adds depth and flavor to the meat. The exact recipe for the drogo is fiercely guarded by the "droghieri" of San Giovanni, and each family adjusts the mysterious ingredients to create their own personalized and one-of-a-kind drogo blend.
11. Crostoni di Cavolo Nero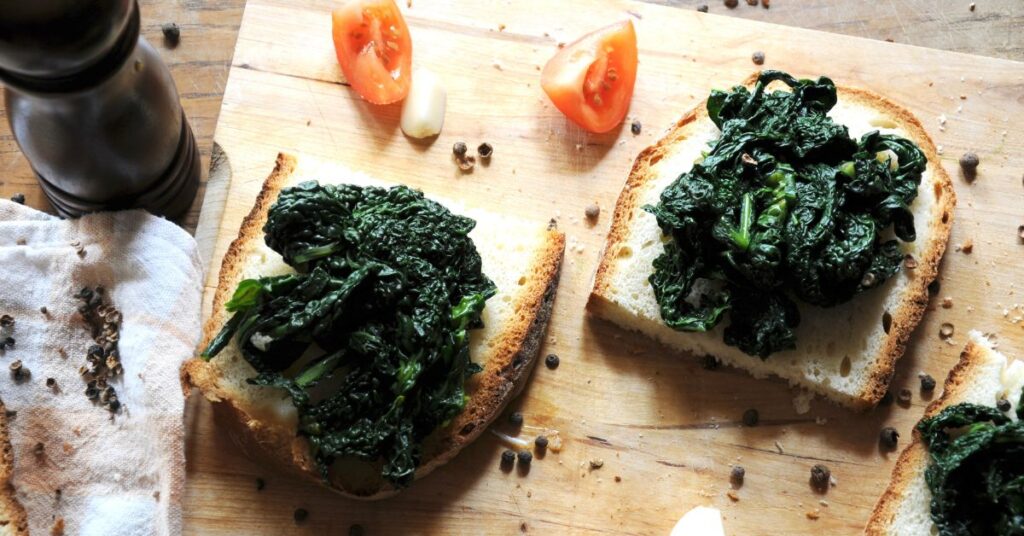 Picture this: a simple, tasty, budget-friendly treat that's perfect for detoxing after all those holiday indulgences. Crostone di Cavolo Nero is an appetizer that hails from the Tuscan countryside, specifically Arezzo. It's made with just two incredible ingredients: bread and cavolo nero, also known as Tuscan kale.
Now, let's talk about the key players in this delicious dish. The bread is no ordinary bread—it's a rustic, crispy Tuscan loaf. Ideally, it's baked in a wood-fired oven using high-quality, locally sourced flours like grano Verna, senatore Cappelli, or whole wheat. As for the cavolo nero, it's crucial to choose it carefully and only when it's in season.
This leafy green vegetable thrives from November to April, but the best, most flavorful harvest comes after the first frost. Look for vibrant, firm leaves without any wilted or inedible parts.
So, what does it taste like? When you take a bite of the crostone, you'll experience a delightful combination of textures and flavors. The crispy bread provides a satisfying crunch, while the cavolo nero offers a slightly bitter and earthy taste. It's a match made in culinary heaven!
12. Grifi all'Aretina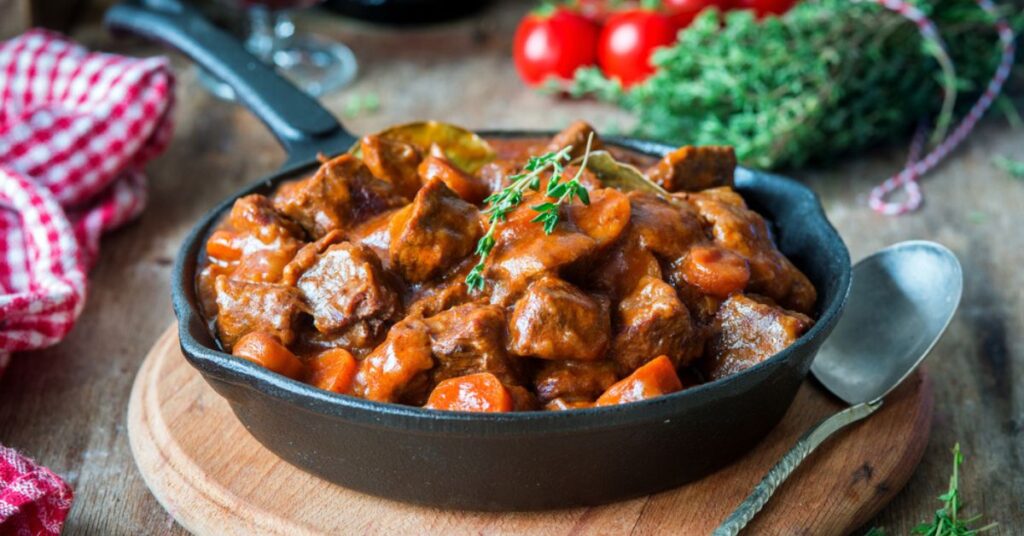 Grifi all'Aretina is a hearty stew made from the lean and tender parts of veal snout, yes here in Italy cow' face parts are a delicacy. In the traditional cuisine of rural Arezzo, these less noble parts of the animal were used to create a flavorful main course, enriched with herbs and tomatoes.
Back in the day, it was uncommon for farming families to have a large number of veal calves, but when they did, they were typtypical the Chianina breed. These animals were lean, strong, and impressive, making them well-suited for working in the fields.
Once the veal was butchered, the parts of the snout were cleaned of the fattier portions and cut into small pieces. They were then stewed in a pan with a glass of water, white wine, and the aromas from the garden.
When you take a bite of Grifi all'Aretina, you'll experience a combination of rich flavors. The meat is tender and succulent, while the stewed tomatoes add a tangy sweetness. The aromatic herbs infuse the dish with a delightful fragrance. It's a comforting and satisfying dish that will leave you wanting more.
13. Abbucciato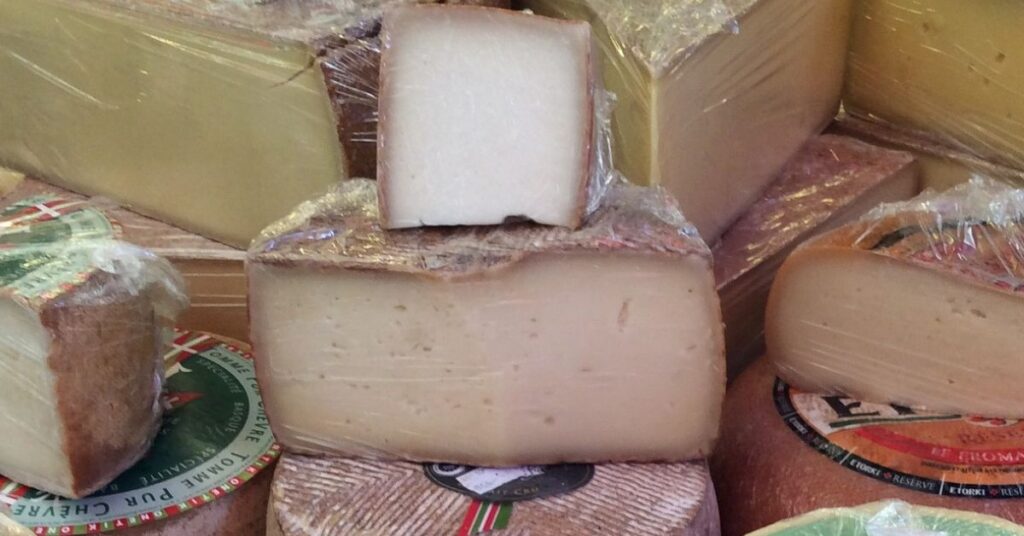 Abbucciato is a special type of pecorino cheese that's typical of Casentino valley near Arezzo. Its name comes from its "buccia," which means rind in Italian, and it leaves a dark edge along the entire slice.
This cheese represents one of the most important traditions linked to sheep farming and cheese production in Arezzo. It's made using raw milk and animal rennet. The cheese wheels are flipped twice a day and brushed every three days, while the aging process varies from medium to long.
The use of raw milk allows the cheese to capture the flavors of the pasture's herbs, resulting in a product that's unique and different every time.
Abbucciato is included in the list of Traditional Agri-Food Products and is also recognized by Slow Food as a culinary gem of Casentino.
Abbucciato is typically served as a part of a cheese platter or enjoyed on its own. You can find it in local restaurants, trattorias, and specialty food shops in Arezzo and the surrounding area. It's a fantastic option for cheese lovers who want to explore the flavors of the Casentino region.
14. Gattò all'Aretina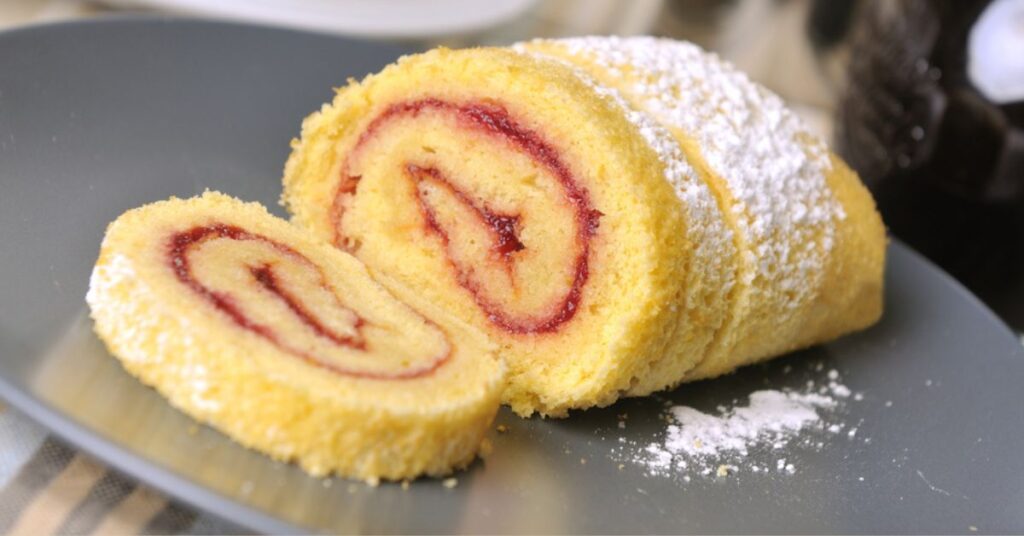 Gattò all'Aretina is a dessert that holds a special place in the hearts of the people of Arezzo. It's a rolled sponge cake soaked in Alchermes, a Tuscan liqueur beloved by the Medici family. The cake is then filled with pastry cream and chocolate cream.
Let me tell you, Gattò is a dessert that makes an appearance on every special occasion in Arezzo. Whether it's a baptism, communion, birthday, or a simple get-together at home, there's always a corner reserved for this marvelous, fluffy, and utterly delightful treat. Gattò is the prince of important occasions, fancy dinners, and memorable dates.
Its perfect balance of sweetness and flavor makes all other desserts seem unnecessary. If you flip through your family photo album and don't find a picture of a magnificent Gattò roll accompanied by bottles of sparkling wine, chances are you weren't born in the province of Arezzo.
Although its origins trace back to the French domination of Arezzo (gâteau means cake in French), some claim it actually originated in Umbria. But what truly matters is that the people of Arezzo have become the true custodians of this enchanting recipe, captivating more than a magician.
As for where to enjoy Gattò all'Aretina, you can find it in various restaurants, trattorias, pastry shops, and bakeries in Arezzo. These local establishments have mastered the art of creating this delectable dessert, and each bite will transport you to the heart of Arezzo's culinary traditions