What's an African bird, that's like the pheasant's quirky cousin, doing at an Italian dinner table next to the pasta and wine? While guinea fowl might not be the star of the show at your local Italian trattoria, don't be fooled. This feathered friend has a fan club in Italy that rivals a pop star's Twitter following!
Yes, in many Italian regions, guinea fowl is one of the typical dishes served during local feasts or Christmas holidays, such as the roasted guinea fowl that is typical of Piacenza. Although it's not an everyday dish due to its complexity to cook, its meat is muscular, lean, and rich in proteins.
The bird's meat is categorically placed between turkey and pheasant in terms of color and needs to be cooked thoroughly after proper tenderizing.
The most famous Italian dish featuring guinea fowl is "Faraona alla Creta," an ancient recipe commonly attributed to the Lombards. In this method, the bird—feathers and all—is wrapped in clay and cooked over hot stones or in an oven.
The bird emerges cooked and clean when the clay is broken open, as the feathers stick to the clay casing. This elementary yet ingenious cooking technique is still in use in East Africa, where guinea fowls are commonly found in the wild.
While "Faraona alla Creta" is the most renowned preparation, guinea fowl also appears in various other Italian recipes such as "Faraona al Vin Santo" (guinea fowl cooked with Vin Santo wine), or "Faraona in Potacchio" (guinea fowl in a tomato-based sauce).
Guinea Fowl Dishes: Festive and Rare in Italian Cuisine
Guinea fowl belongs to the family of white meats. Compared to chicken or turkey, which we may be more accustomed to, its meat has a dark color, is very firm, and has an intense flavor.
These meats are both coveted and premium-quality, exuding an aroma that's simply unforgettable. It's no surprise, then, that guinea fowl holds a special place on the holiday tables of many Italian regions. Take Tuscany, for instance, where stewed guinea fowl is a classic dish during festive seasons. Let's delve into some of these delectable offerings:
Faraona alla Creta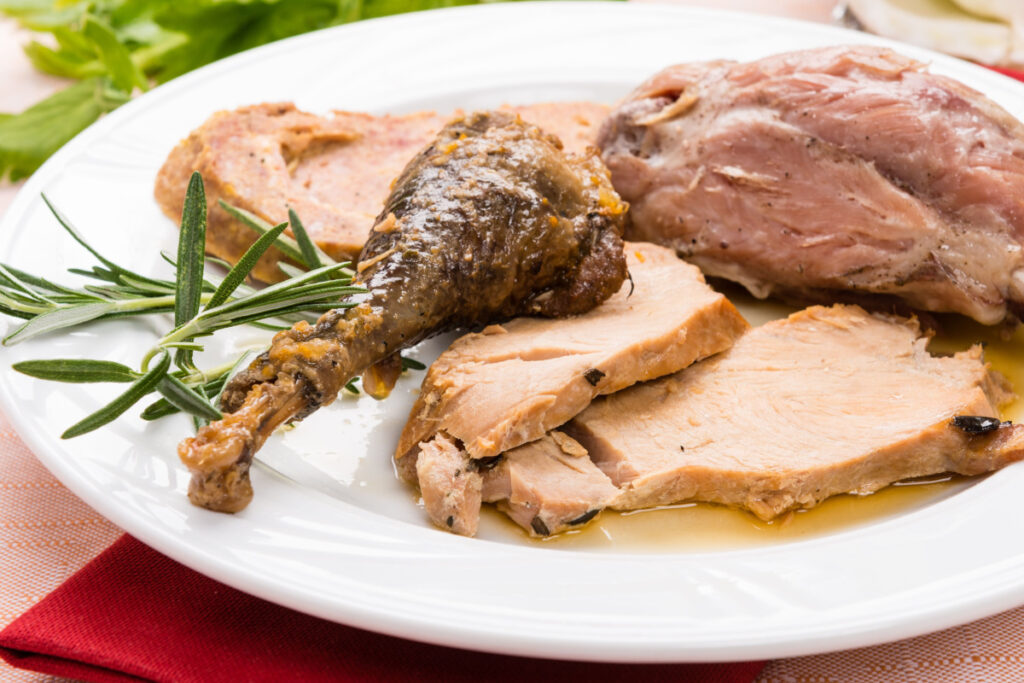 The "Faraona alla Creta" is an Italian dish that turns dining into an event. In this traditional recipe, guinea fowl is encased in a layer of kitchen clay and then baked. When it's time to eat, the clay shell is dramatically cracked open with a hammer, revealing meat that is tender and rich in flavor.
Think of this as a high-drama version of a pot roast but with a distinct, exotic taste. The clay sealing process locks in the juices, making the meat exceptionally tender and flavorful. It's a festive dish that's perfect for special occasions, offering both a culinary and theatrical experience.
Faraona Arrosto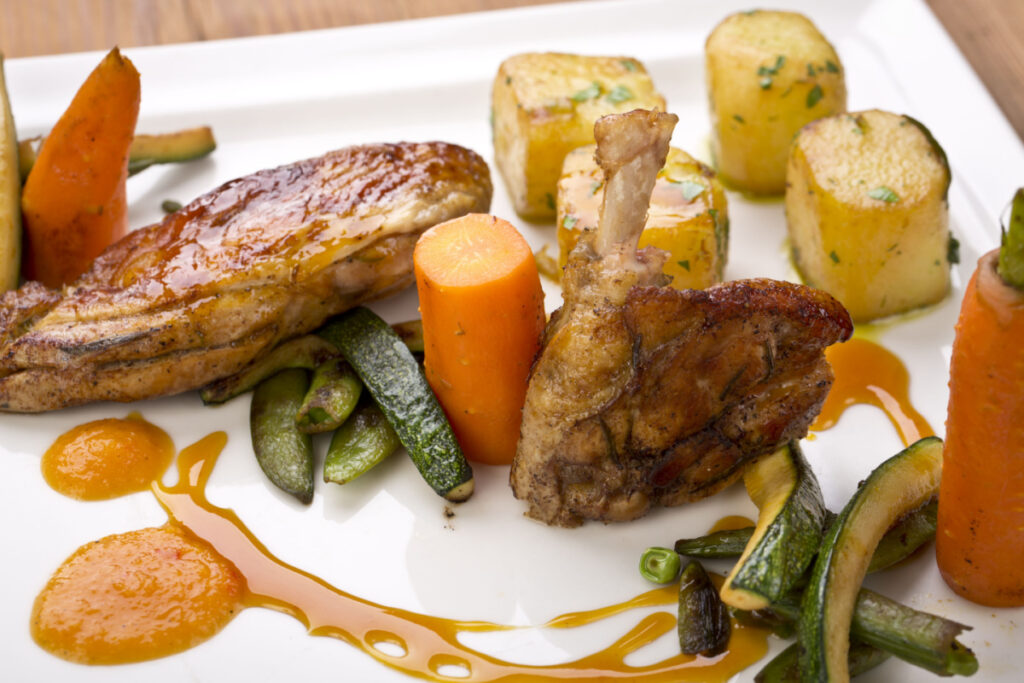 In the Italian region of Piacenza, roasted guinea fowl is a special holiday dish. The meat's unique texture falls between chicken and gamey fowl-like pheasant. For optimal tenderness, chefs use younger birds, identifiable by lighter-colored legs, and carefully prepare them by gutting and singeing off any remaining feathers.
The guinea fowl is then stuffed with aromatic herbs and paired with rosemary-seasoned potatoes. It's roasted at varying temperatures to achieve a tender, flavorful meat that becomes the star of any festive Italian table.
The Journey of Guinea Fowl to Italy: A Culinary Adoption
Guinea fowl, native to open forests and grassy plains across much of Africa and Madagascar, has a long history. The bird was domesticated by the ancient Greeks and later by the Romans, who introduced it to Italy from its native lands.
Although the first domesticated breeds went extinct in early Christian times, the bird made a comeback in Europe in the 15th century, thanks to Portuguese navigators who brought new specimens from the Gulf of Guinea—hence the English name, "Guinea fowl."
Despite not adapting as easily as chicken to domestication, guinea fowl has found a special place in Italian culinary traditions as a meat of high quality.
Physically, a guinea fowl resembles a large partridge with its bare-headed and partially bare-necked appearance. Domesticated guinea fowl often weigh more than their wild counterparts, with males averaging 1.8 kg and females weighing over 2 kg. They're identifiable by their distinct calls: while both sexes make various sounds, only the females produce the characteristic "coquak… coquak…coqak…"
Regarding character, wild guinea fowls are monogamous—a trait that initially posed a challenge for breeders. However, advances in artificial insemination have made it easier to breed these birds, primarily for their meat, which has similar organoleptic properties to that of pheasant.
So yes, Italians do eat guinea fowl, and it's a dish that holds historical and cultural significance.
From its ancient Roman roots to its place in modern Italian kitchens, guinea fowl is more than just an alternative to chicken; it's a culinary experience that captures a slice of Italy's rich gastronomic history. If you find yourself in Italy, don't miss the opportunity to try this delicacy—you won't be disappointed!