Salads have a special place in Italian cuisine, though not as a precursor to a meal as often seen in other dining cultures. The traditional Italian meal structure seems to reserve a unique spot for salads, often puzzling visitors with the question: when do Italians eat salad?
Key Takeaways
Italian salads are often served as an accompaniment to the second course or as a separate course, not typically as an appetizer.
Salads can also serve as a main dish when paired with bread or breadsticks.
Dressings in Italy are simple, often just a drizzle of oil and a splash of vinegar or lemon.
Despite the popularity of salad kits, Italians prefer making their salads from scratch, valuing the freshness and customization.
Now, let's delve into the Italian salad culture that often leaves people wondering, why do Italians eat salad last?
In Italy, Salad is Anything But an Appetizer: Discover the Unique Course Placement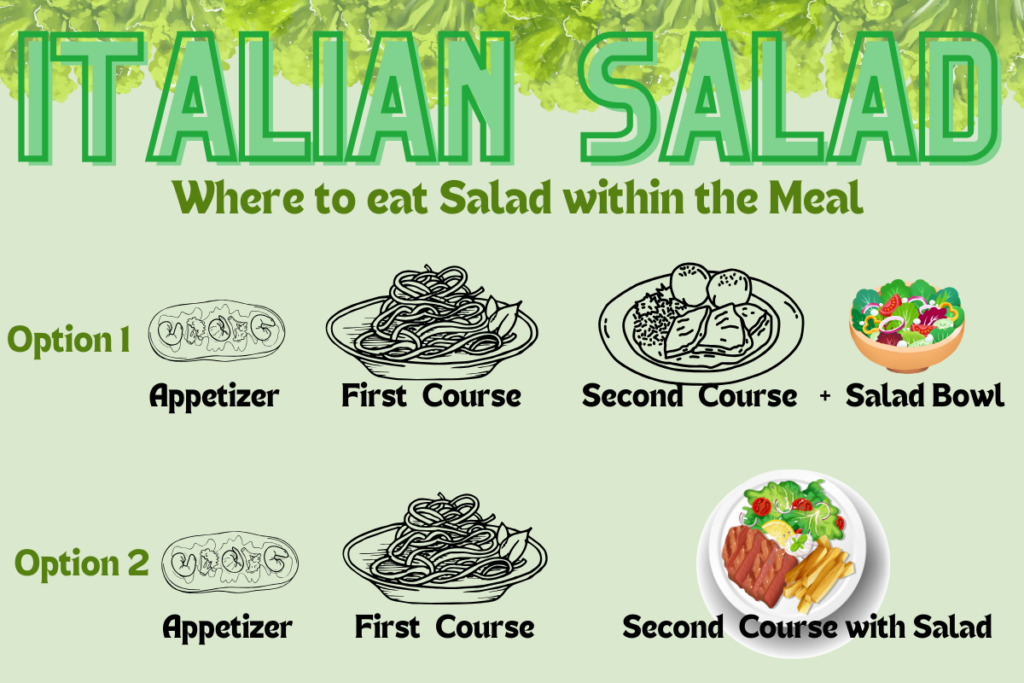 Unlike many dining cultures where a salad is the light introduction to the meal, in Italy, it's not usually an appetizer. The placement of salad in the Italian meal structure is more nuanced. A question often asked is, what course is salad in Italy?
Typically, salad is served as an accompaniment to a second course, a side dish, acting as a refreshing, palate-cleansing segue from a hearty main dish. For instance, if you order a steak at a traditional Italian eatery, a simple green salad often accompanies the plate, unless you request otherwise.
If you're curious about the timing and composition of a typical day's meals in Italy, check out the link.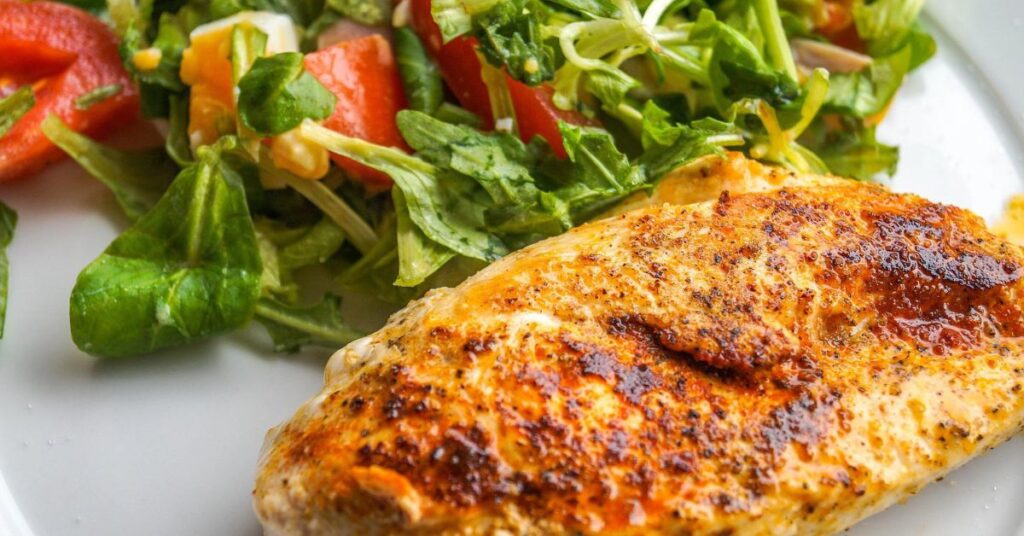 However, salads in Italy can take a center stage as the main dish, especially when enriched with a variety of ingredients making them a standalone course, often enjoyed with bread or breadsticks.
This type of salad is obviously richer in ingredients and in addition to green leafy vegetables, it can contain:
tuna fish;
carrot strips;
mozzarella cheese;
grilled chicken;
black olives;
corn;
sun-dried tomatoes;
bread croutons.
These are some options that you will most commonly find if you order a bowl of mixed salad in a restaurant in Italy.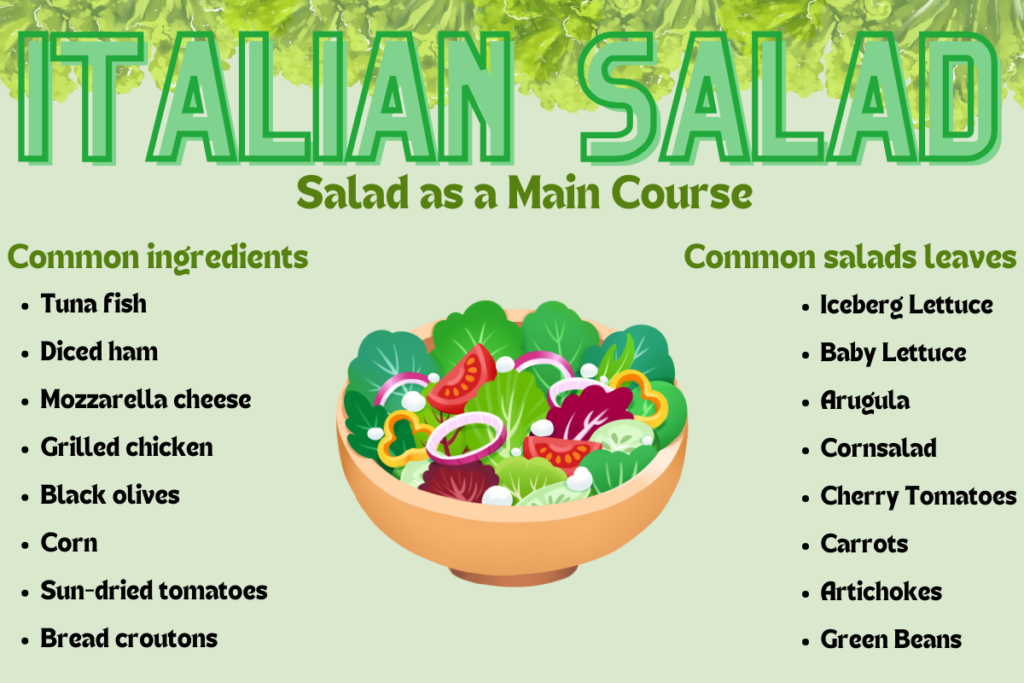 The Serving Style of Salad in Italy
When is salad served in Italy? The answer varies slightly whether you are dining out or eating at home. In restaurants, when served as a side, the salad often shares the plate with the second course. However, if you order a mixed salad as the main course, a large bowl of verdant, crisp vegetables graces your table.
At home, salads are typically prepared in a big bowl from where everyone serves their portion. The ingredients are freshly chopped and assembled, ready for everyone to customize their plate, aligning with the Italian love for fresh and simple meals.
Dressing the Italian Way
In Italy, the concept of salad dressing strays from the creamy or sugary bottled dressings common elsewhere (this is also one of the many tips/rules featured in my list of Italian table etiquette). Instead, a simple drizzle of extra virgin olive oil, a splash of vinegar or lemon, and a sprinkle of salt often suffices. This minimalist approach allows the freshness of the ingredients to shine through.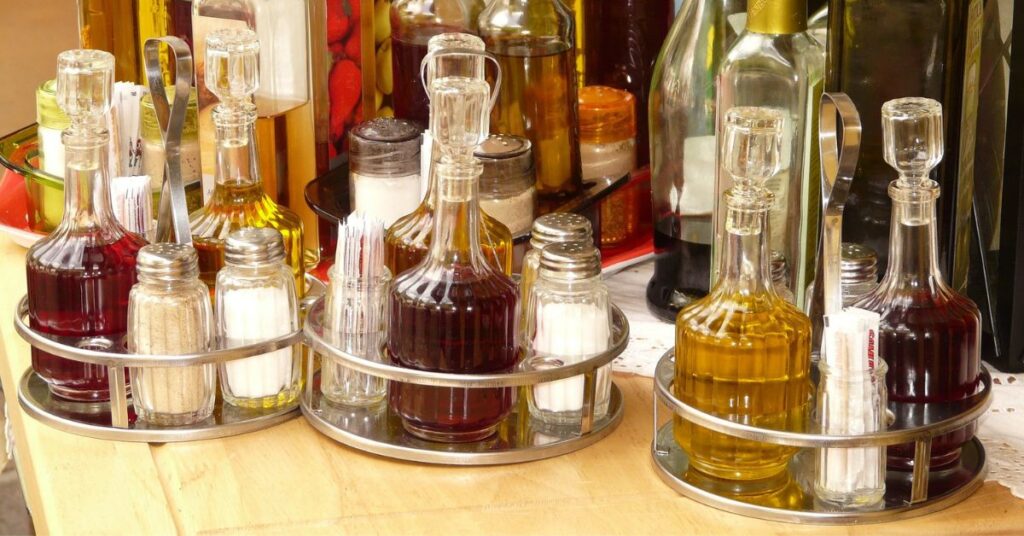 When dining in Italy, you'll find sets of oil, vinegar, pepper, and salt on the table, inviting you to dress your salad to your taste. Some Italians enjoy a vinaigrette, often a blend of oil, vinegar, and sometimes a hint of mustard.
Do Italians eat salad kits at home?
While salad kits have found their way into the Italian market, the tradition of crafting salads from scratch remains strong. The convenience of salad kits might cater to a quick lunch break, but the authentic Italian salad experience is in the selection and assembly of fresh, crisp ingredients.
Which vegetables are salads made in Italy?
Certainly, green leafy vegetables are the basis of any salad. Iceberg lettuce is Italians' favorite salad: Italians consume almost 12 thousand tons per year, followed by baby lettuce and rocket. These data were reported from a 2018 marketing research by Bonduelle, a leading company in the production of packaged salad in Italy.
Cherry tomatoes, carrots, artichokes, and green beans are other vegetables that Italians love putting in their salads.  
Do Italians eat pasta and salad?
Yes, they do. Italians definitely eat pasta and then salad during the same meal but they won't ever combine these two foods together.
Italian salads are colorful, tasty, and incredibly low in calories because they are not served with tons of dressing. If you are in Italy and want to recover between a plate of lasagna and a pizza, don't be afraid to order a mixed salad at the restaurant. You will be pleasantly surprised!
Do Italian bread with salad?
Yes, when you eat a salad in Italy, whether it is in a restaurant or at home, there is never a shortage of bread. Whether it is soft bread with a crunchy crust, bread sticks, or another type of bread, it is a classic accompaniment.
Does an Italian eat a salad with extra virgin oil?
Among the various condiments of a salad in Italy are often optional: salt, pepper, and balsamic vinegar. But one is never in doubt, extra virgin olive oil. A true Italian will always want to dress his salad with a drizzle of extra virgin olive oil, never a regular olive oil.
Do Italians drink wine with salad?
Yes, it is quite common to see people in Italy eating their salad while sipping a glass of wine. Usually, light and dry wines such as Pinot Grigio, Riesling Sylvaner, a Verdejo, or a light Chardonnay are often suggested.