It's no secret that Tuscany is a dream come true for pasta lovers. In addition to its rolling hills, stunning art, and rich history, the variety of pasta dishes you'll find here is mind-blowing. Each one is influenced by the local ingredients and traditions of its specific city.
Whether it's the coastal flavors of Livorno or the hearty country fare of Siena, Tuscan cuisine has a way of showing you where you are through what's on your pasta plate.
In my opinion, if there's one pasta dish that encapsulates the essence of Tuscany, it's Pappardelle with Tomato and Wild Boar Sauce. This dish marries the robust flavors of the Tuscan countryside with the finesse of Italian culinary craftsmanship.
But the list of Tuscan first-course pasta dishes—and risottos—is actually quite long, so it's better to get started.
1. Pappardelle al ragù di Cinghiale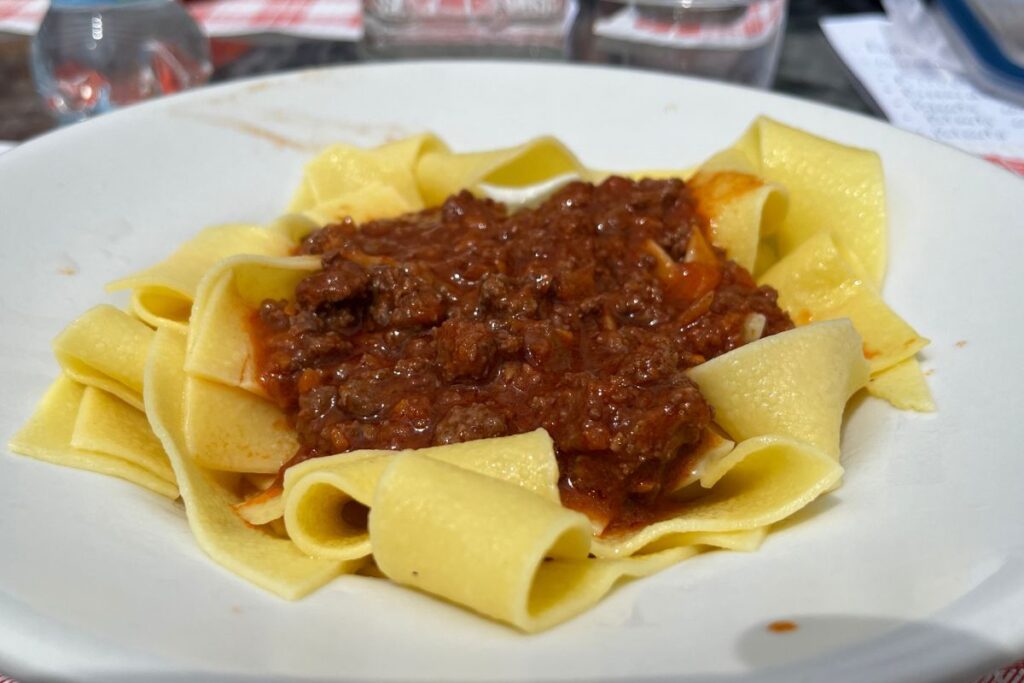 In Tuscany it would be a shame to miss out on Pappardelle al ragù di Cinghiale, the spearhead of a highly appreciated culinary tradition. Pappardelle is a type of broad, flat pasta, and 'cinghiale' means wild boar, giving this dish its hearty character.
The sauce, a ragù of wild boar, is more robust and distinctive than your standard Bolognese. It has a slightly gamey taste, which mellows into a tender, flavorful delight after hours of slow cooking.
When it meets the pappardelle, something magical happens. The egg-based, porous pasta absorbs the ragù, releasing a burst of flavor with every bite. This is one of those dishes where you can really taste the difference between handmade pasta and store-bought dried ones.
2. Testaroli alla Lunigiana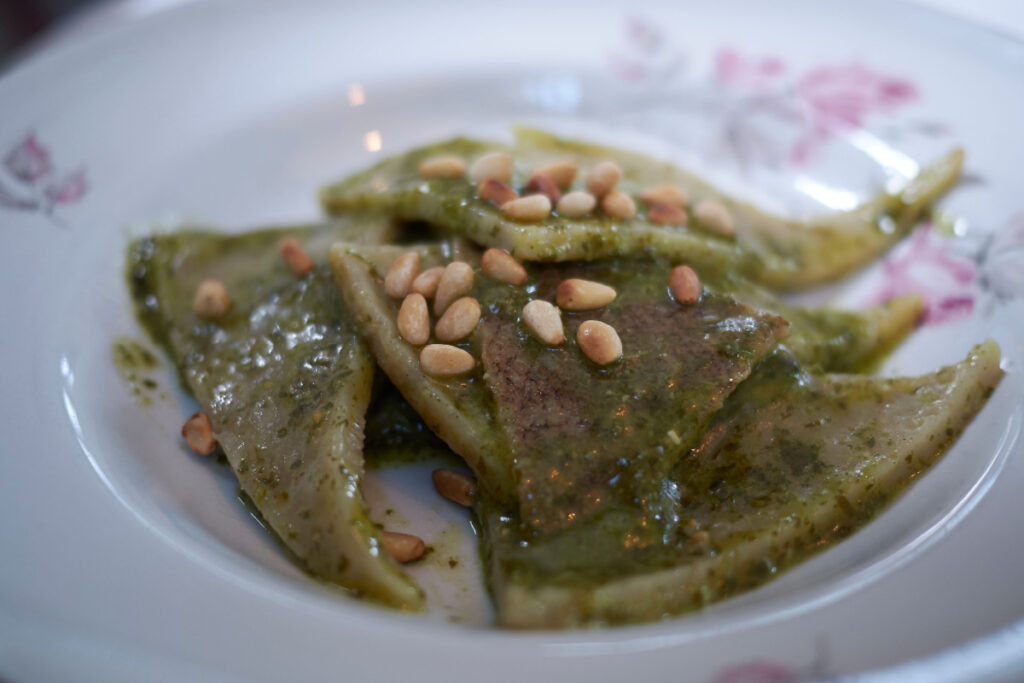 Testaroli alla Lunigiana it's a hearty, traditional pasta dish from the Lunigiana region, Massa Carrara is included in this territory in northwestern Tuscany. It's remarkably easy to prepare, based on a few humble ingredients: flour, water, and a pinch of salt.
What makes testaroli unique is their cooking method. This dish's name comes from the vessel used for its preparation: a large cast-iron or terracotta dish consisting of a base, the "sottano," and a lid, the "soprano". Testaroli cooks against the "sottano", never being flipped over.
This pasta dish's origins trace back to ancient Rome's days, making it arguably one of the oldest pasta shapes. In its simplicity, Testaroli reflects the agricultural tradition of its region. They're typically enjoyed with a simple sauce, like pesto or fresh tomatoes.
3. Pici con Briciole di Pane Toscano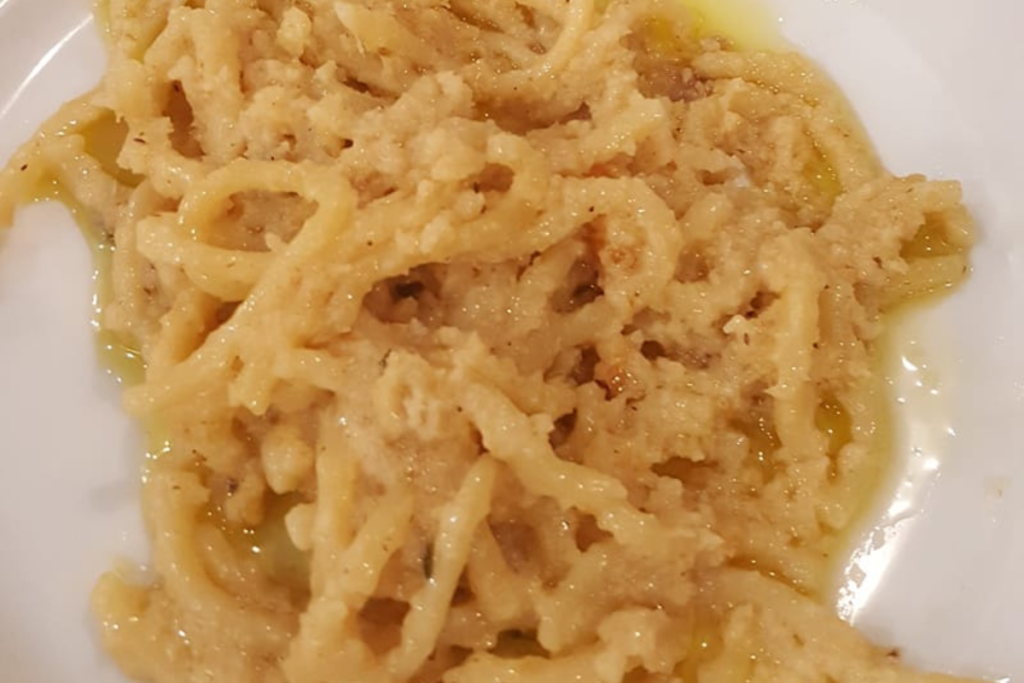 In Tuscany, you simply can't miss trying "Pici alle Briciole," a true comfort food that tastes like home. "Pici" is a thick, hand-rolled pasta, somewhat like a fat spaghetti, traditionally made with durum wheat flour, water, and a pinch of salt. "Briciole," on the other hand, means breadcrumbs, giving a name to this delightfully simple dish.
"Pici alle Briciole" hails from the Tuscan culinary tradition of utilizing every part of the food, not wasting anything. That's why the sauce is so minimalistic – just sautéed breadcrumbs with a bit of extra-virgin olive oil, fresh chili, and garlic. The breadcrumbs, typically from stale, crustless Tuscan bread, create a wonderful texture contrast to the smooth and chewy pici.
The final result? A pasta dish with a rustic and genuine flavor, a celebration of simplicity that reflects the charm of the Tuscan countryside. And let me tell you, once you've tried it, "Pici alle Briciole" will become one of your favorite pasta dishes ever!
4. Gnudi Gnocchi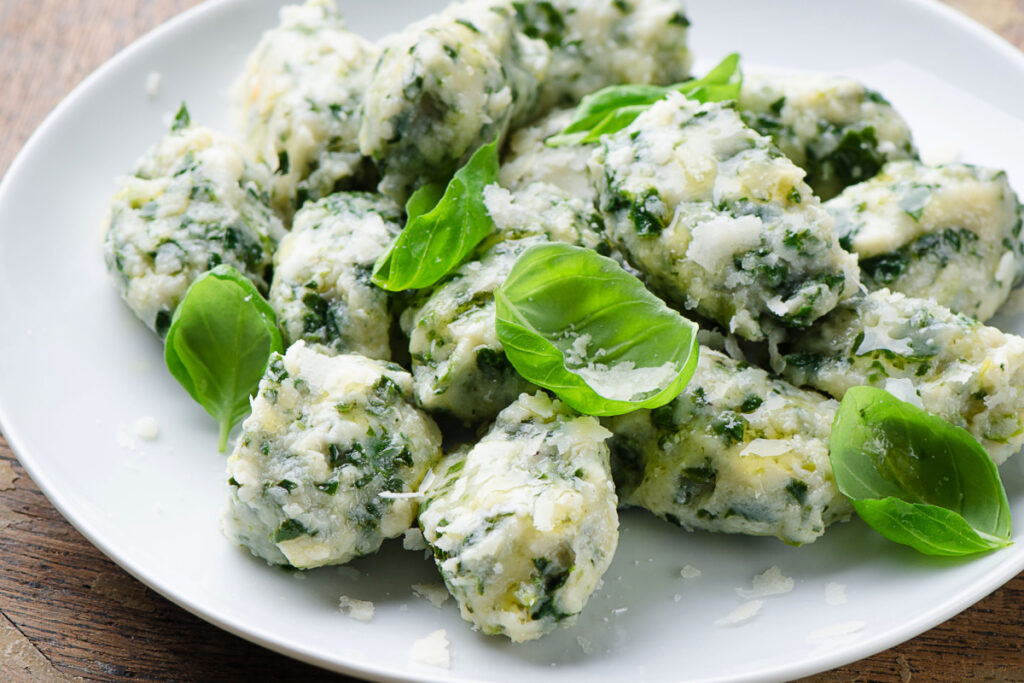 Every pasta lover who finds themselves in Toscana should try Gnocchi Gnudi, and in case you're wondering, know that gnocchi is essentially pasta, with some notable differences.
The term 'Gnudi' means 'naked', these are essentially the ricotta and spinach filling of ravioli, without the pasta wrapper. A mixture of spinach, ricotta, Parmigiano-Reggiano, flour, and egg is rolled into small balls and boiled. The result? Creamy, tender dumplings with an earthy flavor that practically melt in your mouth.
You'll find Gnudi at loud and casual traditional Tuscan trattorias, served as a primo (first course). They're perfect comfort food, especially in colder months.
5. Tordelli Lucchesi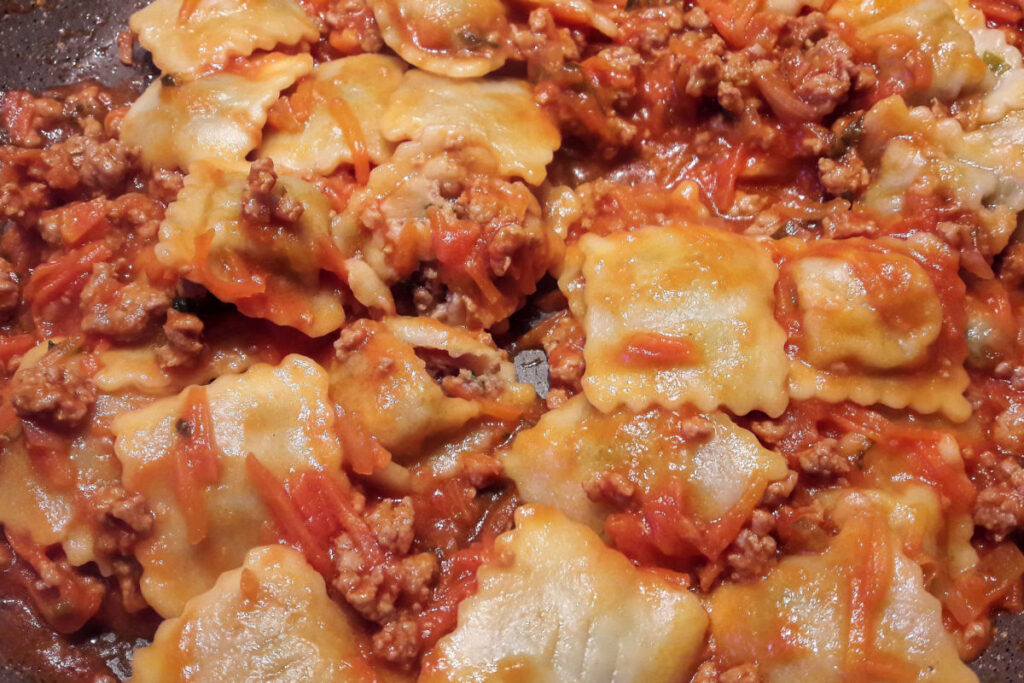 A traditional first course that's very rich and flavorful: Tordelli alla Lucchese is a type of fresh stuffed pasta filled with ragu, a mixture of ground meat, mortadella, grated cheese, and aromatic herbs, a typical dish of Lucca but famous throughout Tuscany.
The Tordelli pasta is always large and has a characteristic half-moon shape. I've tried Tordelli alla Lucchese several times, and I can say that it's worth a try if you're pasta addicted like me. Let me know if you end up trying it and what you think!
6. Risotto al Nero di Seppia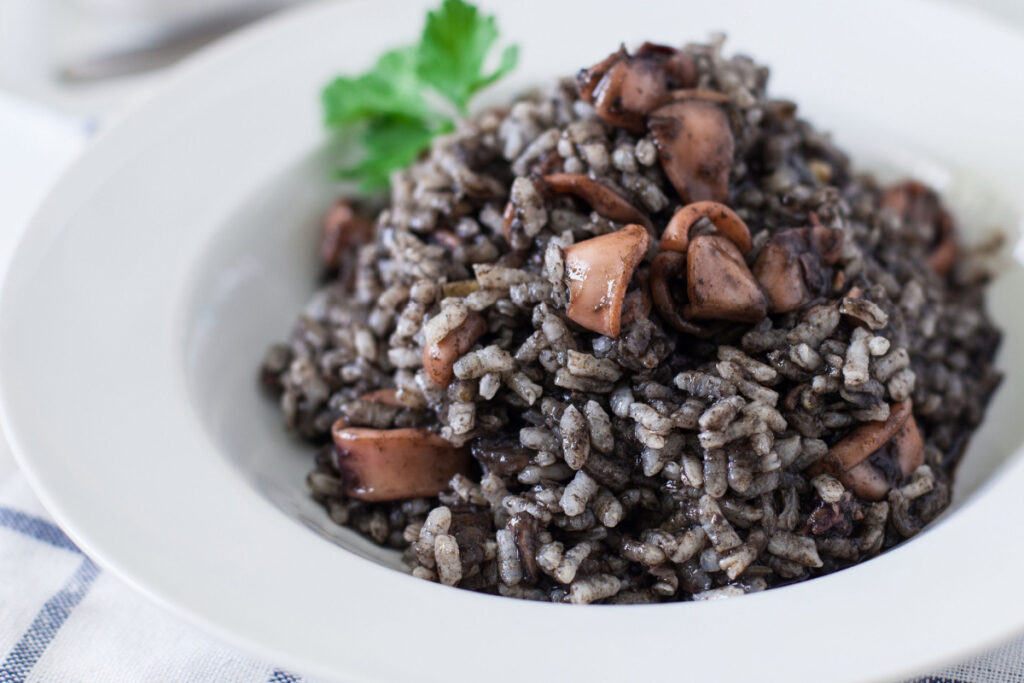 Risotto al Nero di Seppia is a rather popular first course in Livorno, an important port city on the west coast of Tuscany, which offers many seafood specialties and more.
The star ingredient of this dish is the black ink of the cuttlefish (nero di speppia in Italian), which not only acts as a natural coloring agent but also adds a distinct flavor to the dish. Don't confuse cuttlefish ink with squid ink, for clarification follow the link.
When you taste Risotto al Nero di Seppia, you'll experience a unique combination of flavors. The richness of the black ink gives the risotto a savory and slightly briny taste. The dish is often garnished with tender pieces of cuttlefish tentacles, adding a delightful texture to each bite. It's truly a treat for seafood lovers!
7. Penne Strascicate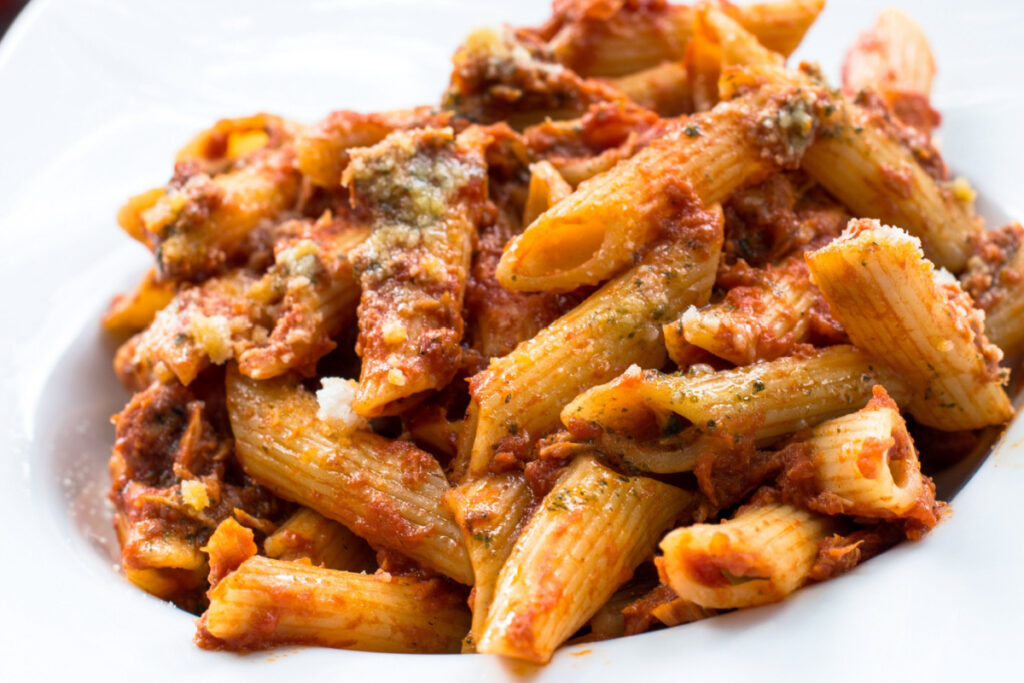 In Florence, you've got to try Penne Strascicate, this is a primo piatto, basically your go-to pasta course, rich with a meaty sauce made of both beef and pork. "Strascicate" translates to "dragged," and it's called this because the pasta is essentially "dragged" through this hearty ragù, absorbing all its flavor.
You'll find it both savory and filling, thanks to the meat and a splash of red wine that elevates the sauce. Ah, the wine! It's not just for drinking here; it adds depth and aroma to the sauce.
You can get this dish in traditional trattorie or ristoranti in Florence or other Tuscan towns, it definitely represents the Tuscan love for pasta meals that are both simple and deeply satisfying, like many typical dishes found in Florence.
8. Tortelli di Patate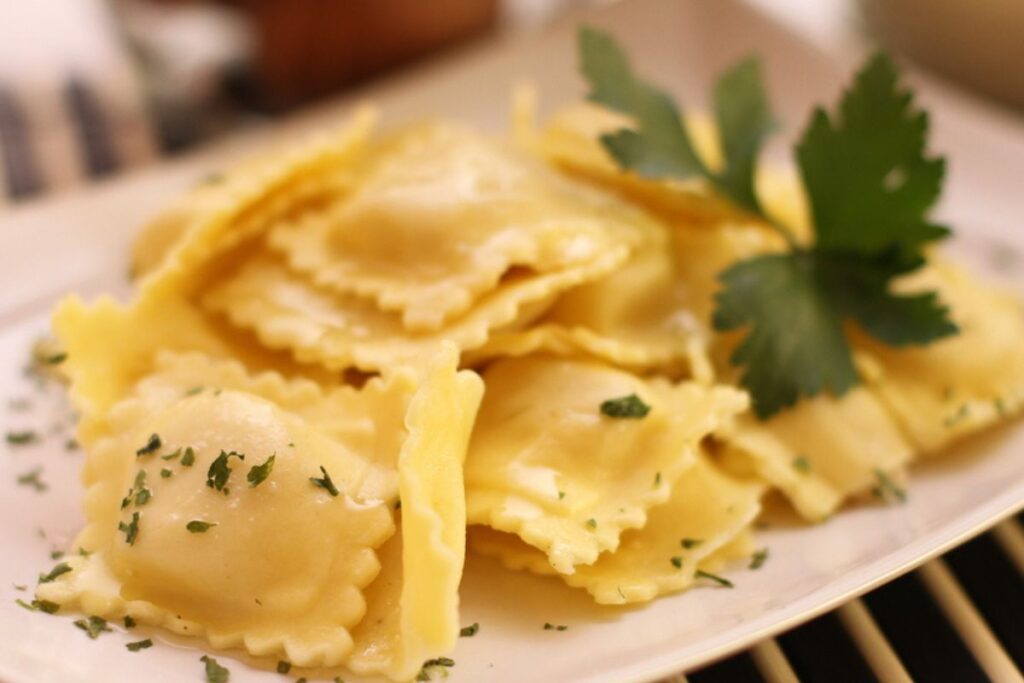 Tortelli di Patate are a traditional dish from the Mugello region, but they have become a typical specialty of the Val di Bisenzio and the province of Prato. These delicious potato-filled tortelli are a real institution in the valley, and they taste even better when served with the typical ragù and mushroom sauces from the Val di Bisenzio.
Unlike the Emilian tortellini, Tortelli di Patate has a square shape and is larger in size. The filling is incredibly tasty, made with boiled potatoes, Parmesan cheese, nutmeg, and salt.
The ideal condiments for Tortelli di Patate include meat sauces (veal, wild boar, duck, rabbit), truffle sauce, porcini mushroom sauce from the Val di Bisenzio, and a classic butter and sage sauce.
9. Risotto con Femminelle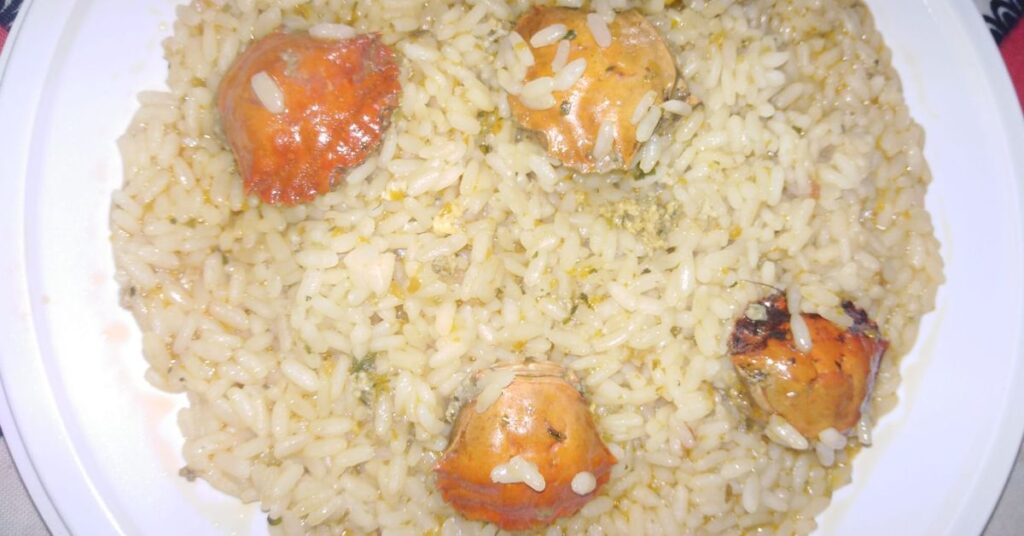 Here is a delicious pasta dish for you to try on your next trip to Grosseto in Tuscany – Risotto con Femminelle.
The "Femminelle" are small crabs from the Orbetello lagoon, and they're especially treasured during the months of November and December. Why's that, you ask? Well, it's because during this period, the female crabs (femminelle) are full of eggs which lend a unique, rich flavor to the dishes they're used in.
This first course brings together the creaminess of risotto with the delicate, slightly briny flavor of these special crabs. The taste is simply out of this world. You get the classic comfort of risotto elevated with the unique, seafood note of the Femminelle. Read here for more typical food from Grosseto City.
10. Pici all'Aglione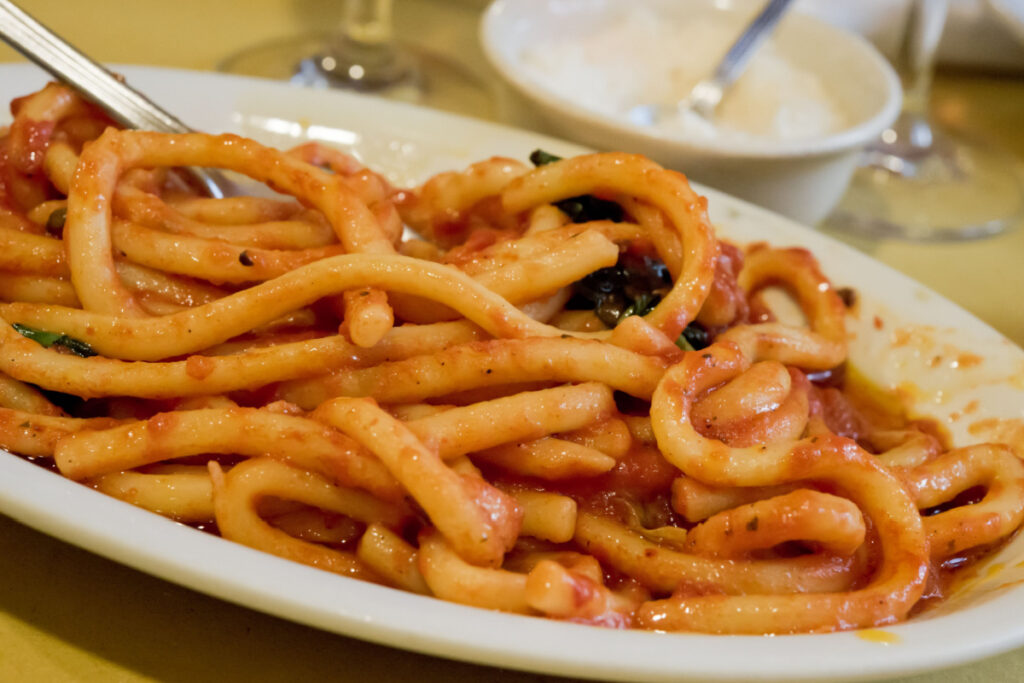 Pici all'Aglione is the traditional pasta dish of Siena, located in the center of Tuscany, this pasta has ancient roots dating back to the Etruscan civilization, is long, hand-rolled, and slightly irregular, almost like a thicker version of bucatini but without a hole in the middle.
The real magic of Pici lies in its versatility. It can be served with a variety of sauces, from rabbit liver sauce to meat ragù, or even simple breadcrumbs. But there's one pairing that stands out above all others: aglione.
Aglione is a type of giant garlic native to the Chiana Valley. Its ivory bulbs are enormous, each containing around six large cloves. Unlike regular garlic, aglione has an incredibly mild and delicate flavor. It's becoming increasingly rare and is considered a precious ingredient in Tuscan cuisine.
11. Pasta alla Renaiola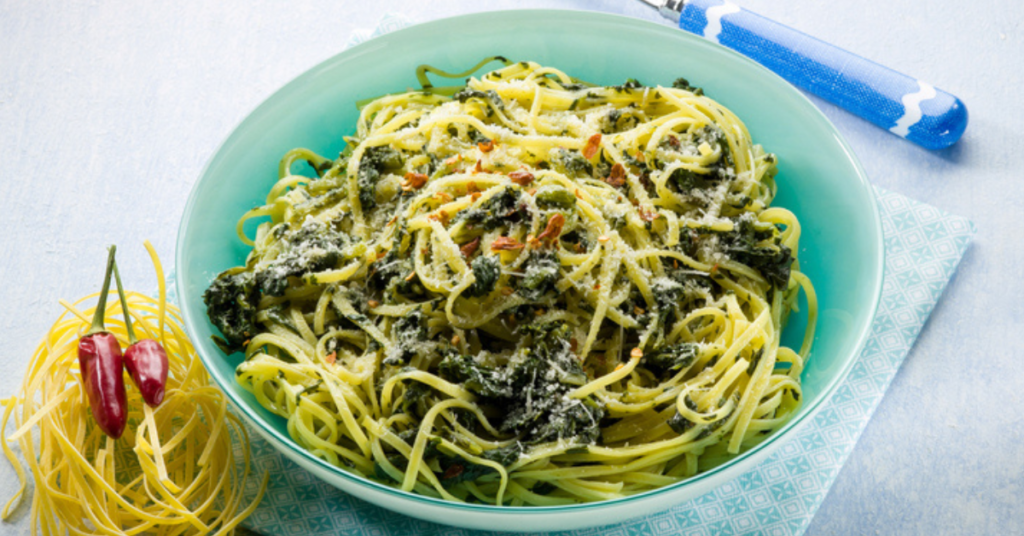 One pasta dish you should try is Pasta alla Renaiola, typical of the Pisan cuisine in Tuscany, made with trenette pasta, a type of flat and narrow pasta that is similar to linguine.
The sauce is made with cime di rapa (turnip tops) or other tender leafy greens, such as spinach, sautéed with garlic, chili pepper, and anchovies or a whole aringa (herring). Some diced tomatoes may also be added to the sauce.
The dish has a rich and savory flavor that combines the bitterness of the greens with the umami taste of the fish.
12. Maccheroni all'Ocio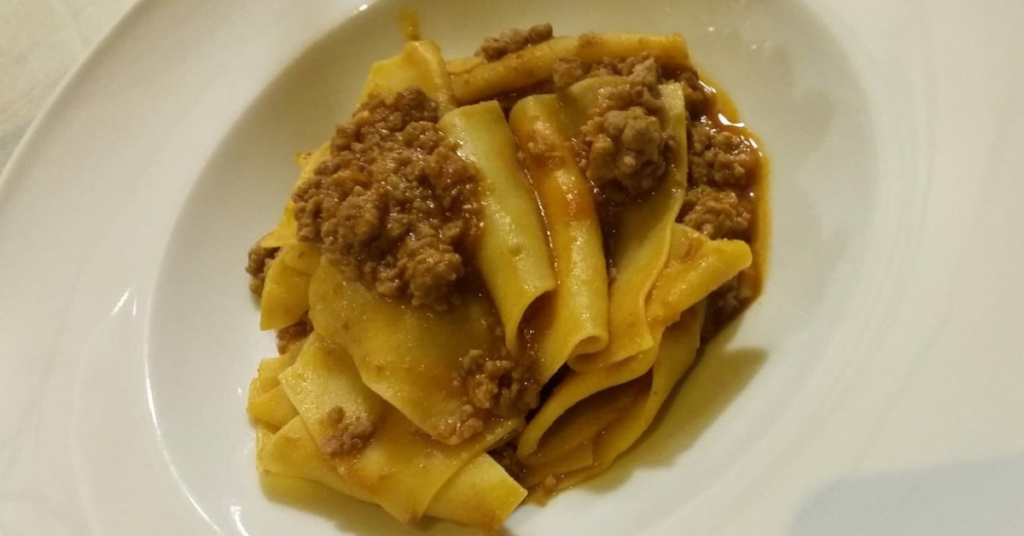 In Tuscany, specifically Arezzo, you'll find a unique and delectable pasta dish known as Maccheroni all'Ocio. It's a hearty pasta dish that turns the idea of 'macaroni' on its head.
In Arezzo, 'maccheroni' refers to large squares of fresh pasta, similar to lasagna sheets but not quite the same. These pasta squares are perfectly designed to hold the specialty sauce – a robust, local goose sauce. Hence, the name Maccheroni all'Ocio, with 'Ocio' referring to a gander, the male goose.
For this dish, the goose is locally sourced from Arezzo and its surroundings, exemplifying the concept of zero-kilometer, or locally sourced, cooking. The sauce preparation requires time and patience to ensure the right flavor, making it a labor of love.
13. Taglierini nei Fagioli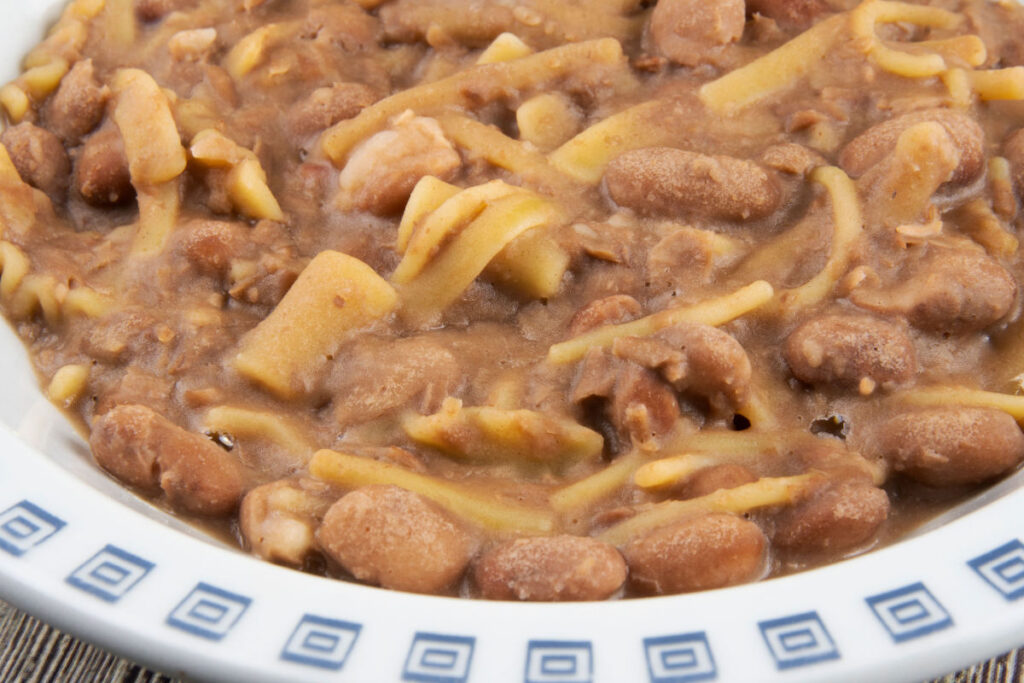 If you really want to dive headfirst into the history of Tuscan pasta dishes don't miss Taglierini nei Fagioli! Imagine hand-rolled pasta mixed with hearty beans in a thick, savory soup – a dish so satisfying, that we called it "the meat of the poor".
The pasta, called taglierini, is made simply with flour, water, and salt. The magic is in the thickness – it's rolled not too thin, yet cut finely, which creates a pasta that's deliciously absorbent.
The beans, cooked in an earthenware pot, are partially mashed to allow them to meld better with the pasta. Once combined, the mixture should be so dense that, as tradition says, a wooden spoon could stand up in it alone!
14. Pappardelle al ragù di Lepre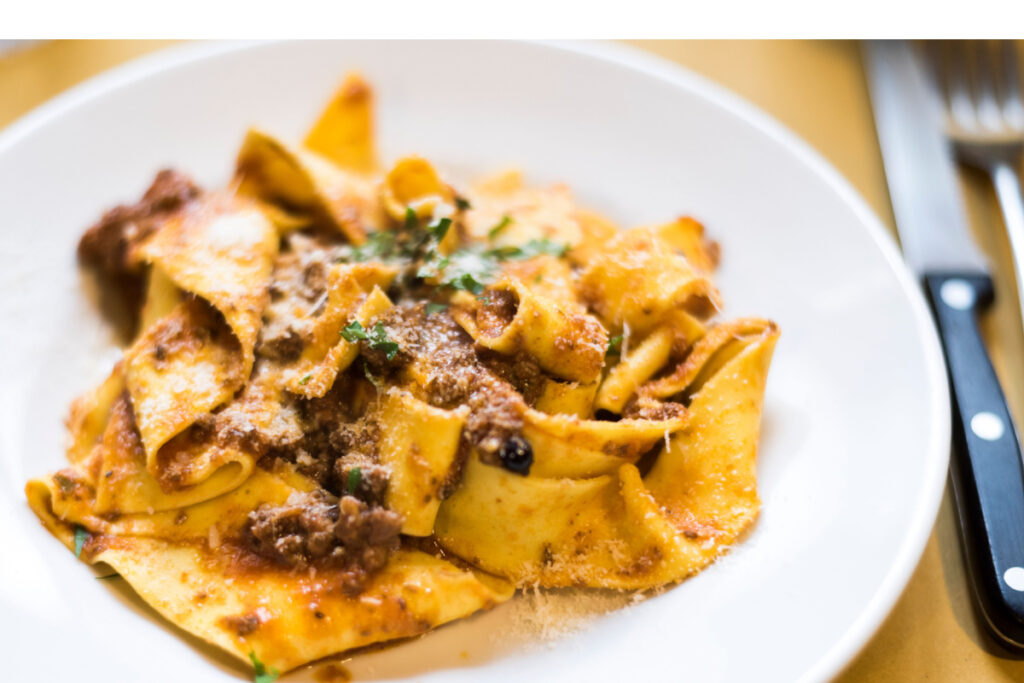 Pappardelle al ragù di Lepre is it is a very traditional and refined pasta dish, with the star ingredients being wide, flat pappardelle noodles and a rich, savory hare sauce. This isn't your run-of-the-mill pasta; the hare gives it a gamey, intense flavor that's deeper and darker than a rabbit, and it pairs beautifully with the broad, egg-based pappardelle.
When I first tasted this dish, I was captivated by the hearty, rustic flavors. The hare, marinated to eliminate any strong gamey odors, is cooked into a tomato sauce that's traditional or "in bianco" (white).
In the white version, the hare is lightly floured, browned, then simmered with its marinade, resulting in a delightfully creamy consistency to coat the pasta.
15. Gnocchi di Pane al Cinghiale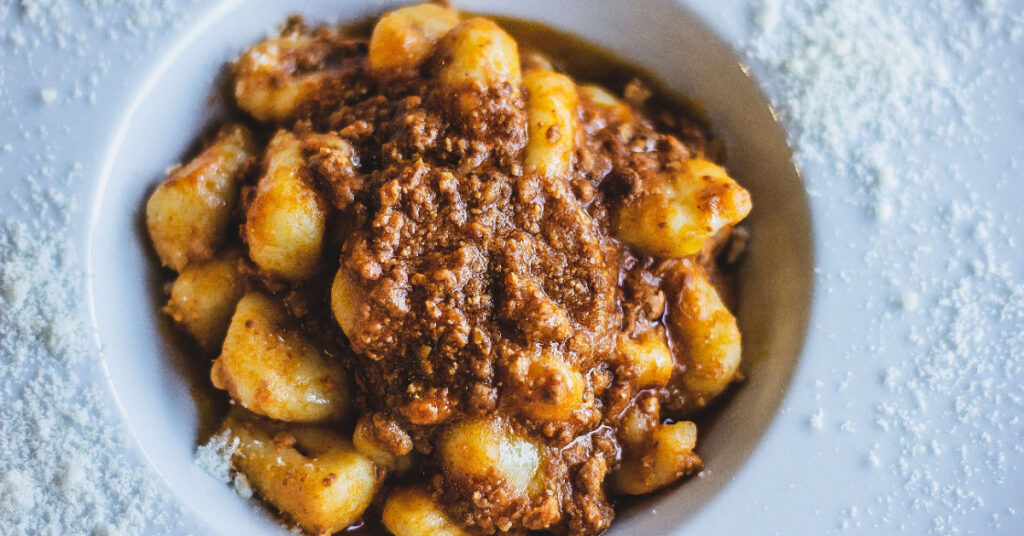 Let's dive straight into the heart of Grosseto cuisine with Gnocchi di Pane al Cinghiale, a mouth-watering first course you'll find in the Maremma area.
First, let's break down the name. "Gnocchi di Pane" means bread gnocchi, and "Cinghiale" is Italian for wild boar. Yep, you got it right, here in Italy we eat wild boar – we're talking about a dish that combines these soft, bread-based gnocchi with a robust, flavorful wild boar sauce.
The gnocchi are made with Tuscan bread, eggs, and Parmigiano cheese. But the real magic happens when these gnocchi are paired with the wild boar sauce, cooked slowly and spiced just right. The result is a rich, game flavor that's uniquely Tuscan.
You'll often find this delicacy in the local osterias and trattorias of Grosseto. Some even have their special recipe, giving you a slightly different experience each time you try.