American food culture truly has deep roots in Italy, and although some dishes from its tradition are not as famous in my country, we actually share much more than one might think.
After all, modern American civilization is also the result of the great migrations of the early 20th century, mainly by Europeans, particularly Italians, fleeing a country that at that time faced enormous challenges and crises.
This sharing of gastronomic cultural heritage can be found in many recipes, and one of them is precisely that of spaghetti meatballs, a kind of icon on American tables that does not enjoy the same fame here in Italy.
In fact, spaghetti meatballs are not an Italian dish and are not eaten here in Italy. We can say that spaghetti meatballs are a typical recipe of Italian-American cuisine, as created in the United States by some Italian immigrants who combined flavors from their homeland. However, it never became part of Italian culture, even today, despite its enormous success in America.
In our imagination, it is merely the dish that serves as the backdrop to the famous "canine kiss" scene in "Lady and the Tramp." But I don't mean to say that it's dog food, eh (or not)!
On the contrary, I'm about to reveal to you which Italian recipes come closest to the Italian-American Spaghetti Meatballs.
Yes, Italian-American! Because there's a bit of us (Italians) and a bit of you (Americans) in this dish.
Why did Italians in America create spaghetti meatballs?
Until 1861, the Italian territory appeared divided into various kingdoms, republics, and states that managed to cooperate with each other but also engage in war. With the unification of Italy, it was thought that an important milestone had been reached. No one could have imagined the difficult years, epidemics, famines, poverty, and two world wars that lay ahead.
The Italians who left for America were therefore people in difficulty searching for a better life. The New World offered novelties but didn't shield them from the nostalgia for their roots and Mediterranean food. Of course, there was more abundant and affordable meat, and pasta, the essential queen of Italian tables, was fortunately available in the most popular and economical form of the time: spaghetti.
This is the background in which many famous made-in-the-USA recipes were born but never reached Italian soil. Spaghetti meatballs are part of this ancient story, combining three easily accessible and, above all, affordable ingredients:
spaghetti,
canned tomatoes,
and meat.
Regarding the meat used for the meatballs, initially, common and inexpensive cuts were used, shaped into a pleasant meatball form that enriched such a simple and basic dish. Over the years and with improved economic conditions, even poor recipes have undergone changes, and ground meat has been replaced by pork, beef, or a combination of both.
Today, even Michelin-starred chefs like Joe Bastianich have their own exclusive and traditional recipe for this dish. In short, these meatballs have come a long way (by the way, their exact origin is uncertain and contested between Ancient Rome and Persia, but that's another story)!
Here is what we eat in Italy instead of spaghetti meatballs.
As I mentioned, spaghetti meatballs are not a local dish here in Italy, but that doesn't mean we don't eat meatballs. In fact, we make them in different ways (but never with spaghetti and tomato sauce).
Our custom is to eat meatballs on their own as a main course or second course, separate from the first course of pasta. In Italy, we have a penchant for frying, so usually, our meatballs have a crispy outer layer when deep-fried in hot oil… and I assure you that their contribution to any dish is exceptional.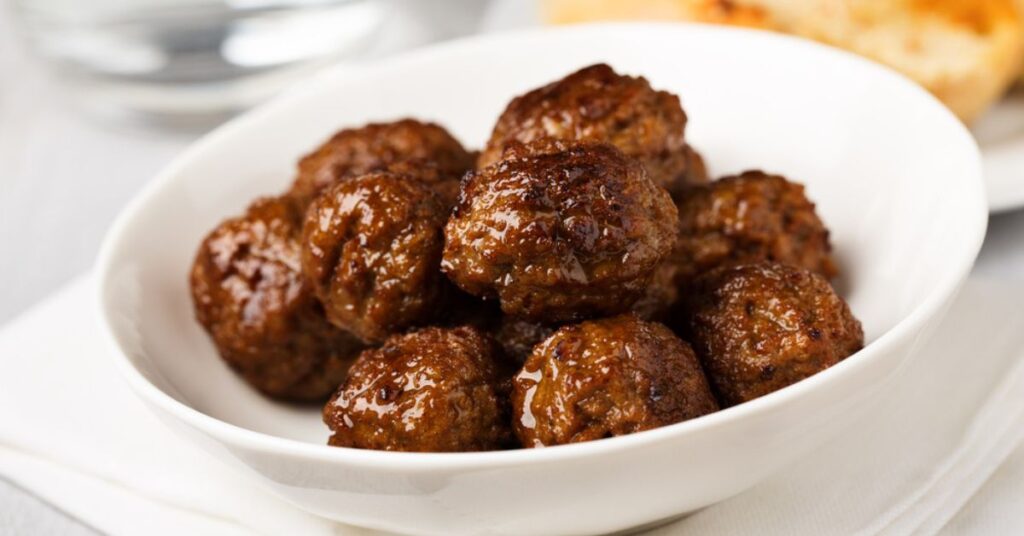 When we want to keep it lighter (although it doesn't happen often), we opt for baking, which still offers that pleasant fragrance.
This is already a first difference between our cuisines: American meatballs are large and substantial, even those that end up dressing the pasta; this type of volume, for us, is only considered when they are meant to be a main course.
To accompany our pasta dishes, there are exclusively tiny meatballs!
And the reason is simple: they have to get tangled and entwined in the shape of our pasta to allow us to savor it all together.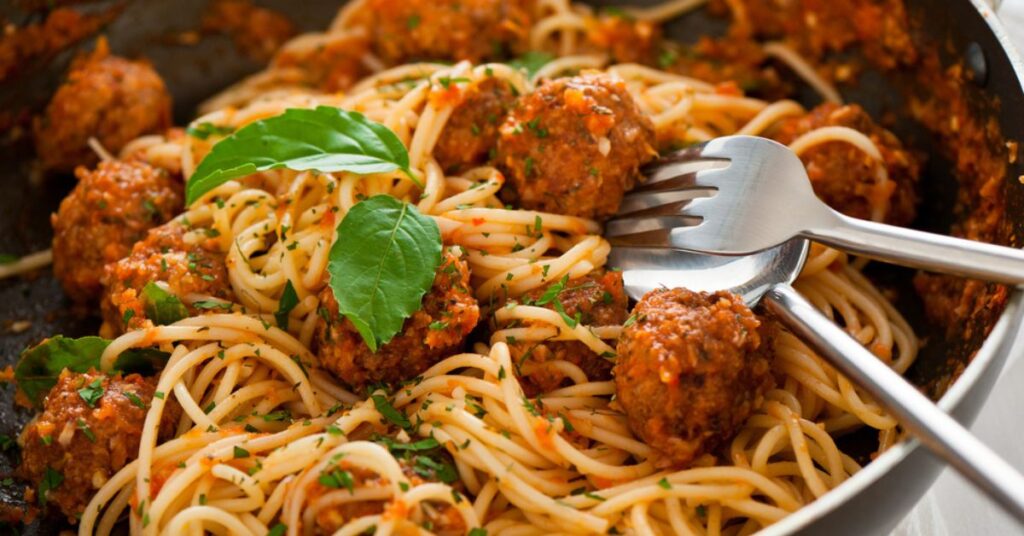 That's the reason why Italians don't particularly love American spaghetti meatballs.
However, in our traditional gastronomic heritage, there are many similar recipes where we eat pasta with meatballs in the same dish:
In Abruzzo, meatballs become "pallotte" and "pallottine" and enrich many regional dishes, including a first course of "spaghetti alla chitarra" (a type of egg pasta similar to spaghetti but wider and square-shaped).
In Campania, there is no lasagna without a filling of tomato sauce, mozzarella (by the way, did you know that in Italy fresh mozzarella is almost never put on hot pasta? Read about it at the link.), and delicious, tiny meatballs that children enjoy discovering and savoring.
In Puglia, they have "maccaroni azzese," a hearty baked dish similar to "pasta mbruscinata" from Calabria.
In Sicily, there's "pasta paddunedda," where the meatballs are large but without tomato sauce.
In general, the combination of pasta and meatballs is at the center of many recipes that, however, present themselves in a very different way, in the form of timbales, "sartù" (rice dish), and "sformati" (baked savory custards).
That's why, if you find yourself in Italy, you will hardly find spaghetti meatballs in a restaurant, but you can always look for osterias and taverns to taste some of the aforementioned regional variations!
Why Italians Get Angry at Chef Boyardee's Canned Spaghetti Meatballs
One thing is for certain: we don't have a culture of ready-made food here, let alone canned pasta.
That's why Chef Boyardee's canned spaghetti meatballs have no reason to exist in Italy. Nada, nisba, niet.
It's a market segment that is trying to reach us but hasn't fully taken off, even though it's adapted to Italian taste and a more genuine interpretation of precooked food.
That mushy pasta to be reheated is an affront to us; it's something even our dogs would refuse!
I hope I've given you a good overview of what we Italians think about American spaghetti meatballs.