From my hometown, Florence, Prato is just a few minutes away, but this doesn't mean that this city is the same thing gastronomically as Florence, quite the opposite. Like almost every Tuscan city, Prato also boasts local specialties, dishes, and foods that you can taste only and above all directly on-site.
Pratese cuisine is simple, essential, and unique, with recipes and dishes that are staples of the Tuscan culinary tradition. Some of the typical recipes from Prato include potato-filled tortelli pasta, bread soup, mortadella salami, stuffed celery, the famous Prato biscuits, and delicious "peschine" pastries.
As you can see from the list of delights below, Prato truly has nothing to envy in terms of food compared to other Tuscan cities, both in savory dishes and sweet specialties. In fact, many Prato specialties are included in my list of typically Tuscan delicacies.
1. Pappardelle al ragù di Lepre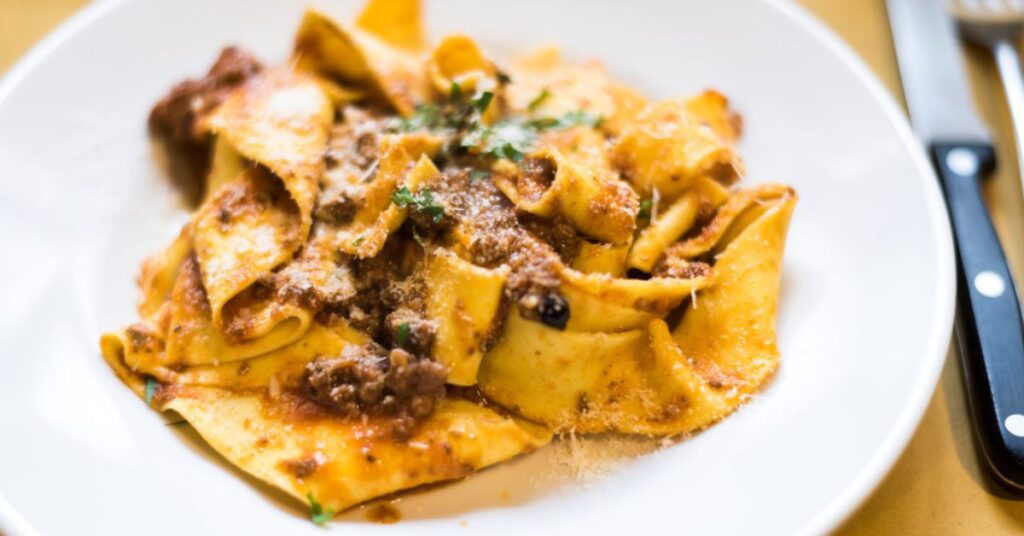 I've got a delicious dish to tell you about, Pappardelle al sugo di lepre, which translates to Pappardelle pasta with hare sauce. In Prato and Tuscany, it's common to use game meat such as hare and wild boar in cooking to flavor typical pasta dishes. Preparing the sauce for this dish requires some time and skill to ensure the meat is cooked perfectly and can be shredded easily.
Pappardelle pasta is a wide and flat pasta similar to fettuccine, in this recipe topped with a rich ragu sauce made from hare meat, tomatoes, herbs, and spices.
These pappardelle noodles with hare ragù it's a dish for those who appreciate the taste of game meat and what we call "dark meats".
When you take a bite of this dish, you'll experience a wonderful blend of flavors. The rich tomato sauce perfectly complements the tender shreds of hare meat, creating a savory and satisfying taste, it's a truly comforting and indulgent dish that will leave you wanting more.
You can enjoy Pappardelle al sugo di lepre in various restaurants and trattorias in Prato. These places specialize in authentic Tuscan cuisine and will ensure you have an unforgettable dining experience.
2. Mortadella di Prato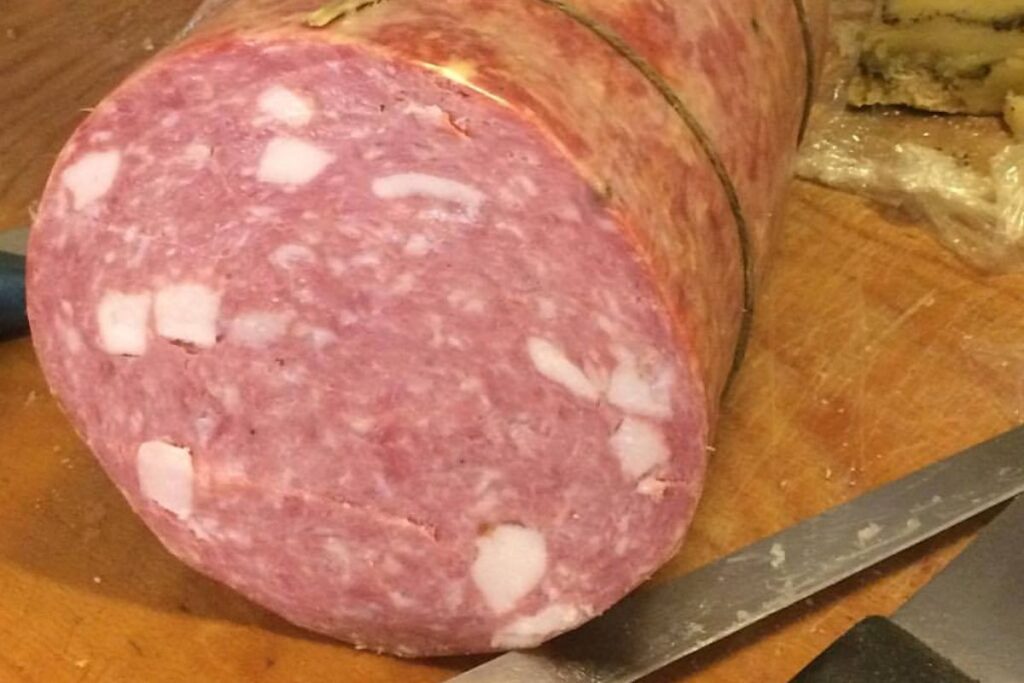 Mortadella is a traditional Italian cold cut, and in Prato, they have their own unique version. Now, this isn't your typical mortadella that you might be familiar with.
In Tuscany, mortadella was originally created as a way to utilize leftover meats and second-choice pork cuts. Back in the early 1900s, they started stuffing these meats into casings, seasoning them with spices and liqueurs, and cooking them in water.
After disappearing for a while following World War II, mortadella production made a comeback about thirty years ago thanks to a salumeria in Prato. The modern Mortadella di Prato is carefully crafted with selected cuts of meat, so you won't find overpowering flavors or excessive spices anymore.
Now, let's talk about the taste. When you enjoy mortadella right after it's cooked and still hot, it's absolutely fantastic. But here's the catch: if you try reheating it once it's cooled down, it loses a lot of its flavor. So, whether you're in a restaurant or getting it from a local shop, make sure to have it cold or at room temperature. Trust me, it's best that way!
The Mortadella di Prato pairs perfectly with Dottato figs, preferably the ones from Carmignano, and the local "bozza" bread. The combination of the delicate mortadella with the sweet figs and the rustic bread is a match made in heaven.
You can find Mortadella di Prato in various places, including delis, butcher shops, and local markets in Prato. It's often enjoyed as part of a charcuterie board, or as a sandwich filling for street food lovers, if you are interested in Tuscan street food, read at the link.
3. Farinata Gialla con Cavolo nero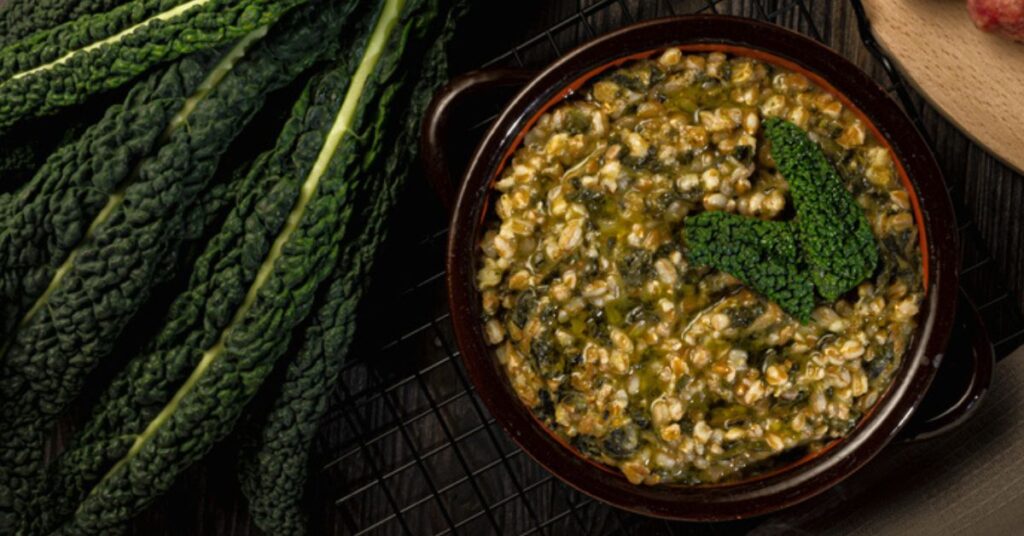 Farinata gialla con cavolo nero, also known as yellow farinata with black cabbage, it's a hearty and comforting food that's deeply rooted in the gastronomic tradition of Prato.
Picture this: a thick, yellow farinata (made from cornmeal) combined with the rich flavors of black cabbage. It's the perfect combination to warm your belly and heart, especially during those chilly winter evenings.
This rustic dish originated in the mountains of Tuscany and is a true gem worth trying. It's considered a primo, or first course, in Italian cuisine. The main ingredients include cornmeal, black cabbage, red onions, spicy peppers, tomato paste, extra virgin olive oil, and salt.
The creamy texture of the farinata complements the earthiness of the black cabbage, creating a harmonious blend. The slight heat from the spicy peppers adds a kick of excitement to each bite.
4. Tortelli di Patate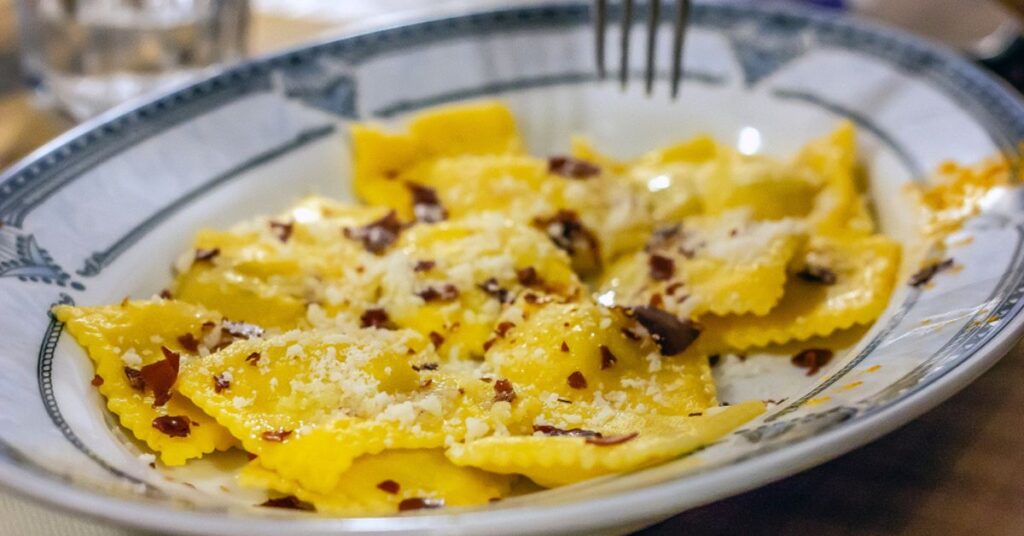 Tortelli di Patate are a traditional dish from the Mugello region, but they have become a typical specialty of the Val di Bisenzio and the province of Prato. These delicious potato-filled tortelli are a real institution in the valley, and they taste even better when served with the typical ragù and mushroom sauces from the Val di Bisenzio.
Unlike the Emilian tortellini, Tortelli di Patate have a square shape and larger in size. The filling is incredibly tasty, made with boiled potatoes, Parmesan cheese, nutmeg, and salt.
The ideal condiments for Tortelli di Patate include meat sauces (veal, wild boar, duck, rabbit), truffle sauce, porcini mushroom sauce from the Val di Bisenzio, and a classic butter and sage sauce.
Now, let me tell you about the flavors and sensations you can expect when you take a bite of these tortelli. The combination of the creamy potato filling, the savory Parmesan cheese, and the hint of nutmeg creates a harmonious and comforting taste. The texture is soft and delicate, and with each bite, you'll experience a burst of flavors that will make your taste buds dance with joy.
5. Sedani Ripieni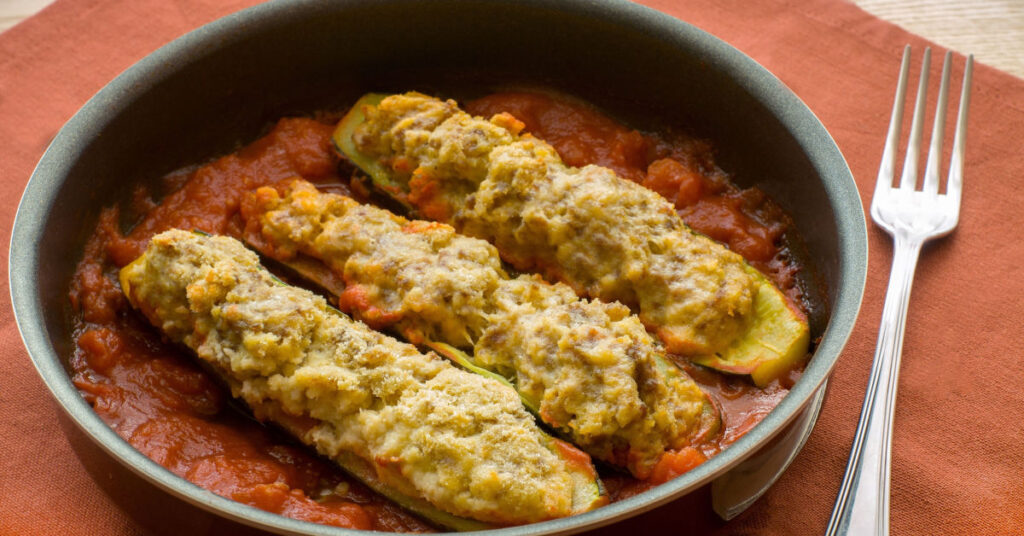 Sedani Ripieni is a typical dish from Tuscan cuisine, specifically from the city of Prato. It's a traditional recipe with unknown origins, believed to date back to the Middle Ages. It's still prepared today, especially during the Madonna della Fiera festival on September 8th. But don't worry, you can enjoy it any time of the year because it's absolutely tasty and versatile.
The star of the dish is the sedano, which is celery in Italian. It's blanched in water and then filled with a flavorful mixture of ground veal, mortadella, Parmesan cheese, and egg. After being fried in hot oil, it's simmered in a rich meat sauce.
The result is a hearty and savory second course, perfect for a Sunday family lunch or a gathering with friends.
You can savor Sedani Ripieni in various restaurants and trattorias in Prato, it's a dish that shines in more traditional dining establishments.
6. Papero in Umido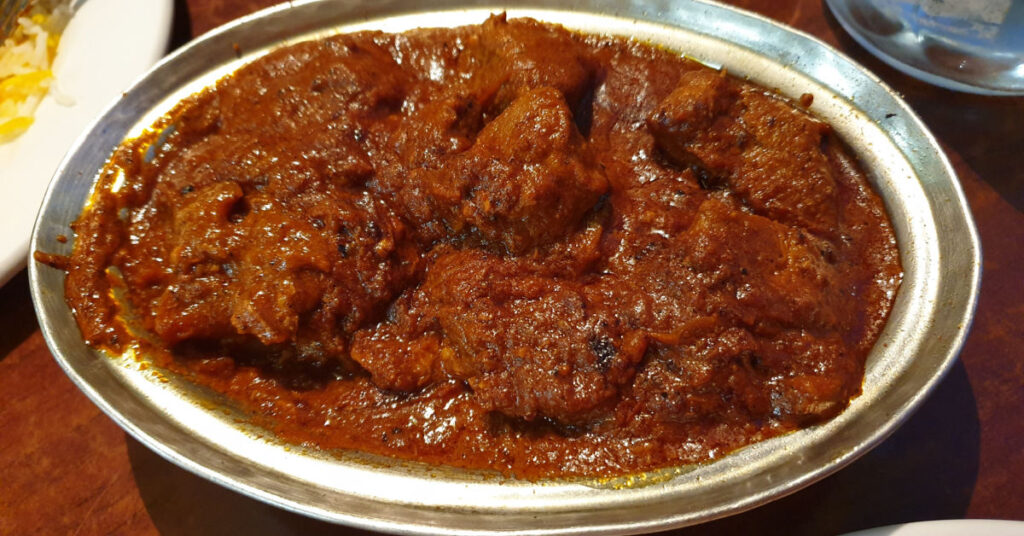 Papero in Umido is a traditional Tuscan dish, specifically from Prato, the main ingredient of this dish is papero, which is a domesticated duck, and "umido" means "stewed." So you can imagine, it's all about the flavors simmering together in a delicious meaty sauce.
Back in the day, this dish was a special treat served to reward the hardworking farmers and their helpers after a long day of harvesting and threshing. The duck was carefully raised and fattened for a whole year, resulting in tender and flavorful meat.
To prepare Papero in Umido, the duck is cut into pieces and then browned along with a mixture of carrots, celery, onion, sage, tomatoes and white wine.
Traditionally, this dish is enjoyed with homemade maccheroni, but it's also delicious with penne or even spread over slices of Prato bread. The sauce is so rich and flavorful that it's often recommended to use it to dress some greens on the side.
You can find Papero in Umido in traditional trattorias and restaurants in Prato, where they proudly serve local specialties. It's a hearty and satisfying dish that showcases the traditional flavors of the region.
7. Polpette di Carnevale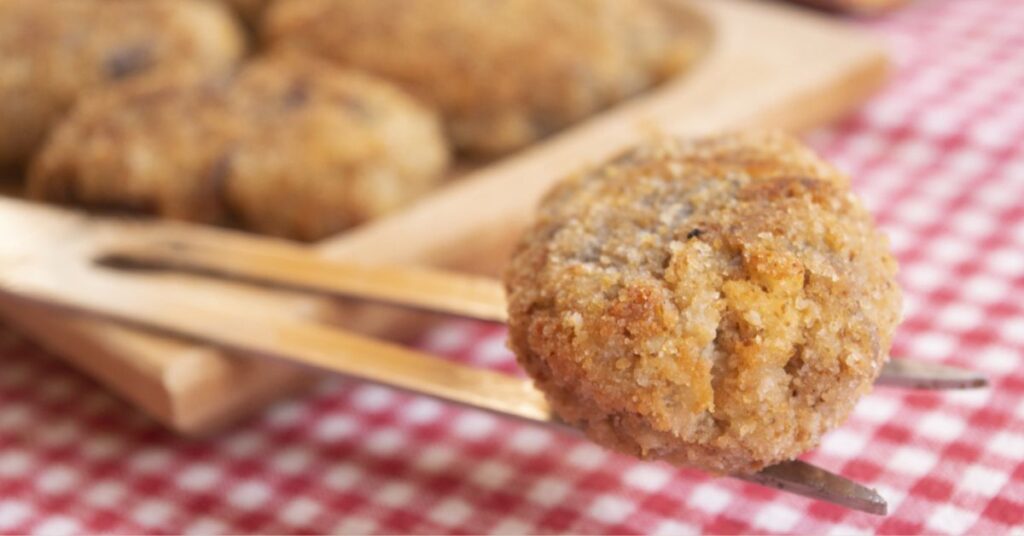 Polpette di Carnevale, also known as Carnival Meatballs, are a typical dish from the traditional cuisine of Prato, prepared by families in various variations during the Carnival season, especially on Fat Tuesday.
These meatballs are made with chicken or veal and have the special addition of pine nuts inside. They are a true delight that was meant to satisfy taste buds before the start of Lent.
Polpette di Carnevale are a delicious and savory delight, when you take a bite, you'll experience the rich flavors of the meat, combined with the nuttiness of the pine nuts and the subtle saltiness of the pancetta. The crispy exterior and tender interior create a delightful texture that will leave you wanting more.
8. Minestra di Pane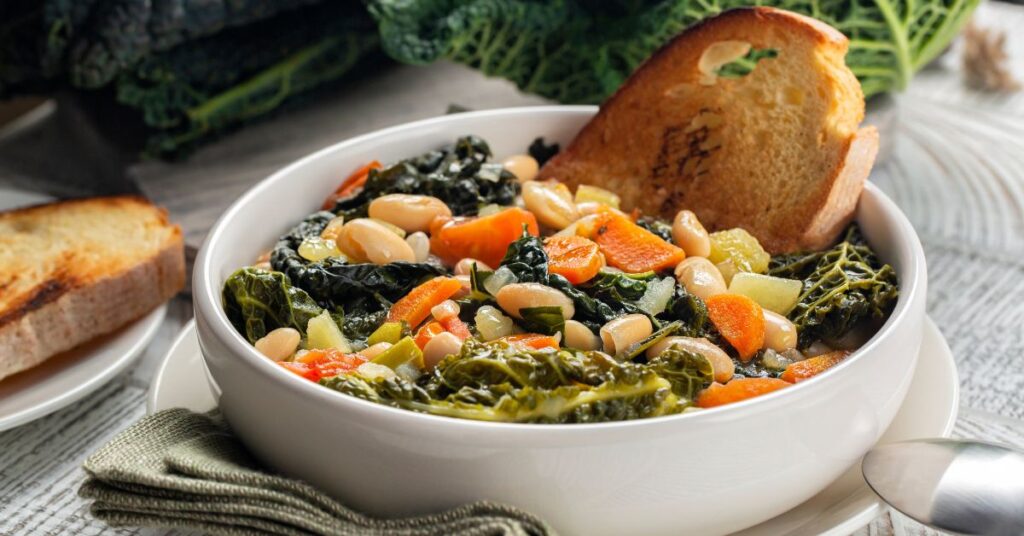 Minestra di Pane is a soup that belongs to the rich culinary tradition of the Middle Ages. It's a humble dish that originated from popular traditions and is usually made with seasonal vegetables. The recipes may vary depending on the vegetables available, but they all share the essence of simplicity and personal taste.
The main ingredients for Minestra di Pane include extra virgin olive oil, onion, garlic, carrots, celery, potatoes, savoy cabbage, Tuscan kale, Swiss chard, cannellini beans, tomato paste, stale homemade bread, and salt.
When you take a spoonful of Minestra di Pane, you'll experience a comforting blend of flavors and textures. The vegetables are cooked until tender, creating a satisfying broth, while the bread soaks up all the deliciousness. It's a warm and nourishing dish that brings a sense of coziness and homecooked goodness.
9. Pappa al Pomodoro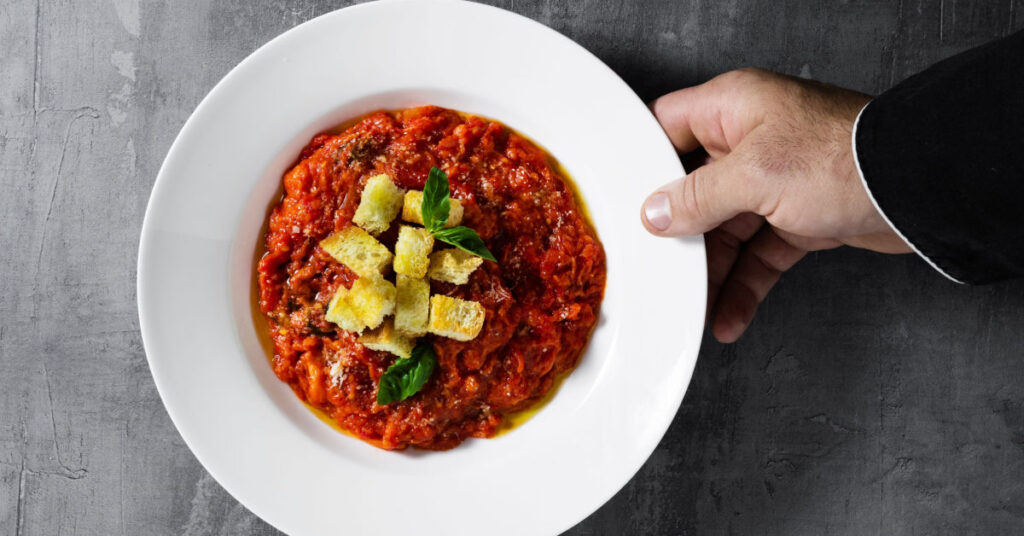 Pappa al Pomodoro is a traditional Tuscan dish that originates from the humble peasant cuisine. It's a perfect example of how simple ingredients can come together to create something incredibly flavorful.
The main ingredient in this dish is stale Tuscan bread. Yep, you heard that right! The bread is soaked in a tomato-based broth along with other ingredients to create a thick and hearty soup.
When you take a spoonful of Pappa al Pomodoro, you'll experience a burst of flavors. The combination of ripe tomatoes, garlic, basil, and olive oil creates a rich and comforting taste. The bread absorbs all the flavors and becomes soft and moist, giving the soup a unique texture. It's like a warm hug for your taste buds!
You can find Pappa al Pomodoro in many restaurants and trattorias in Prato. It's often served as a first course or a main dish, especially during the summer months when tomatoes are at their peak. It's a popular choice for locals and visitors alike because of its simplicity and incredible taste.
10. Ficattole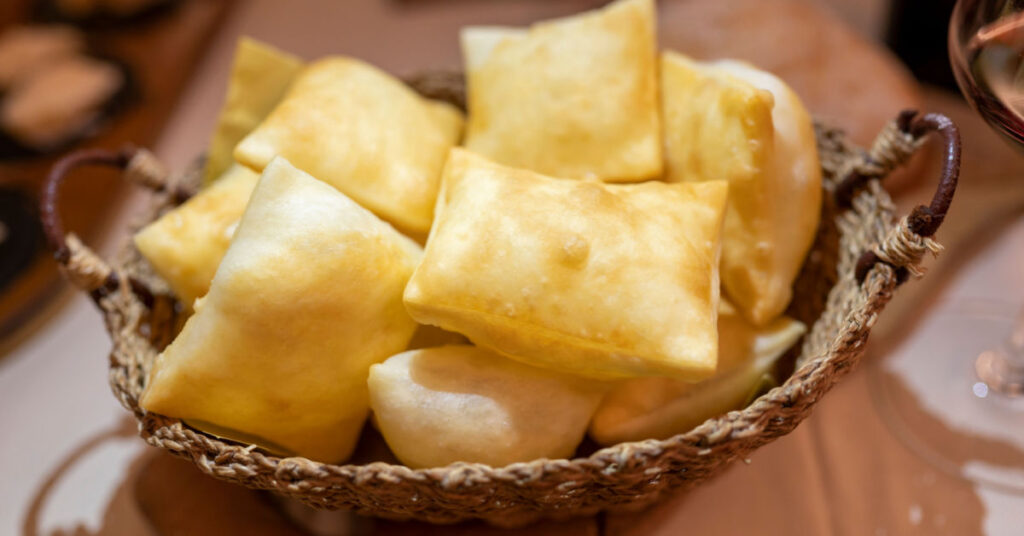 Ficattole, also known as Donzelle or Zonzelle, are a delicious treat from the culinary tradition of Prato. They're made from fried bread dough and are perfect for accompanying Tuscan cold cuts and salami.
The great thing about Ficattole is that they can be both sweet and savory. Some versions even include figs in the dough, which adds a unique twist to the flavor.
When you take a bite of Ficattole, you'll experience a delightful crunch on the outside and a soft, doughy texture on the inside. The savory version pairs perfectly with the salty flavors of the Tuscan cold cuts, while the sweet version offers a delightful contrast with the hint of sugar.
You can find Ficattole in various places in Prato, such as local restaurants, trattorias, and even some bakeries or pastry shops. They're often enjoyed as a snack or part of a light meal.
11. Cantucci (Biscotti di Prato)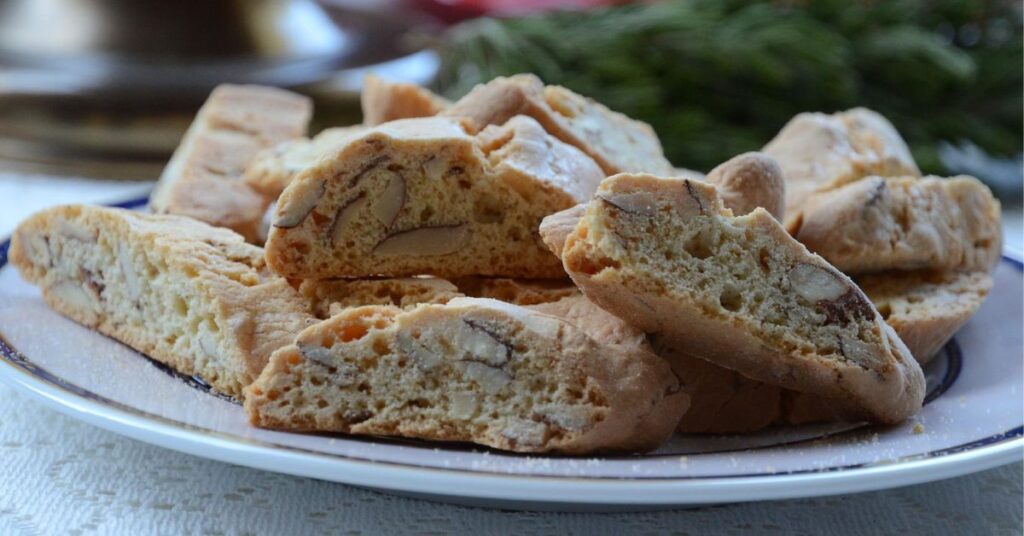 Cantucci also known as "Biscotti di Prato" are typical Tuscan sweets, known for their crunchy texture and elongated shape. They're made by cutting the dough, which is made with eggs, flour, sugar, almonds, and hazelnuts. What makes them unique is their double baking process, which gives them their characteristic hardness and makes them true biscotti.
The word "Cantucci" refers to their elongated shape, resembling small logs or "cantuccio" in Italian. These delicious treats can be enjoyed throughout the year, but they are particularly popular during Christmas when it's customary to dip them in Vin Santo, a sweet dessert wine.
Cantucci is not only famous in Italy but also widely recognized worldwide. You can find them in various places, including bakeries, pastry shops, and even some restaurants and cafes. They are the cookie of Tuscan Christmas along with other desserts that you see here at the link.
12. Pesche di Prato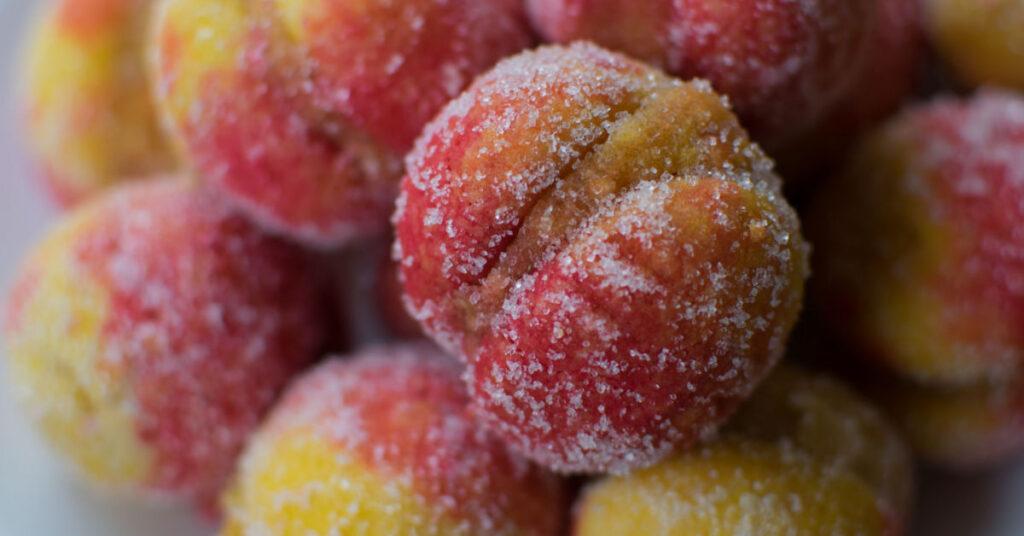 I've got a sweet treat you need to try: Pesche di Prato, or Prato peaches, is a typical Tuscan dessert that you can find in the area between Prato and Florence, click here to see other typical delights of Florence. Now, don't let the name fool you, they're not actually made with peaches. Instead, they're named after their shape, which resembles a peach.
Pesche di Prato are made up of two soft brioche pastry halves that are filled with either cream or, alternatively, chocolate. The brioche pastry is soaked in Alkermes: another famous Tuscan product of medieval origin, a liqueur that gives the treats their signature pinkish color, much like that of a peach.
Legend has it that Pesche di Prato originated during the celebrations for the proclamation of Italian Unification when a Prato chef presented them, winning the appreciation of everyone. Since then, they have become part of the culinary specialties of Prato, alongside the famous cantucci biscuit.
Now, let's talk about the taste and sensations when you take a bite. The combination of the soft brioche, creamy filling, and the hint of Alkermes creates a delightful experience. You'll experience a wonderful balance of textures and flavorssweet, creamy, and a touch of aromatic notes from the liqueur. It's like a little taste of heaven!
You can enjoy Pesche di Prato in various places, such as bakeries and pastry shops in Prato. They are a popular choice for dessert or a sweet snack throughout the year.
13. Scendiletto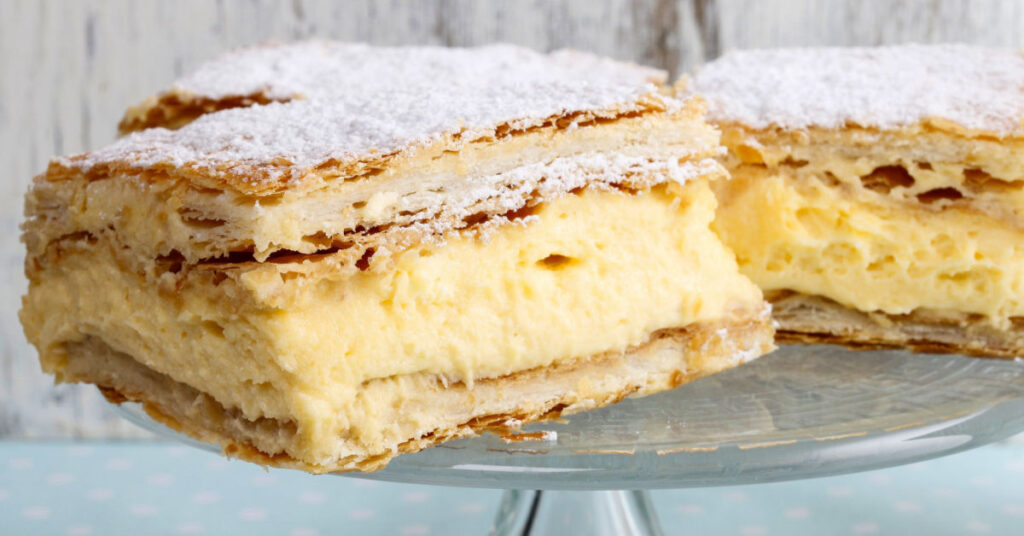 Scendiletto cake is a traditional homemade dessert from Tuscany. Now, the funny thing is, nobody really knows why it's called "scendiletto." Some people think it refers to the soft carpets that were placed at the foot of the bed, creating a cozy and inviting start to the morning. Others believe the name suggests that the cake is an invitation to get out of bed and enjoy it in the kitchen!
Regardless of the name's origin, one thing's for sure – this cake is absolutely delightful! It's like a flaky pastry sandwich filled with creamy custard. It's a true indulgence, and Tuscany knows how to create such delights with ingredients always at hand!
When you take a bite of Scendiletto cake, you'll experience a combination of textures and flavors. The flaky pastry provides a satisfying crunch, while the smooth and creamy custard filling adds a rich and sweet taste.
You can find Scendiletto cake in many bakeries and pastry shops in Prato. It's a popular dessert that locals enjoy, and you'll often find it served with a cup of coffee or tea. Trust me, it's the perfect treat to satisfy your sweet tooth while exploring the charming streets of Prato. As you can see from this list, the tradition of Tuscan desserts is very rich.
14. Sassi della Calvana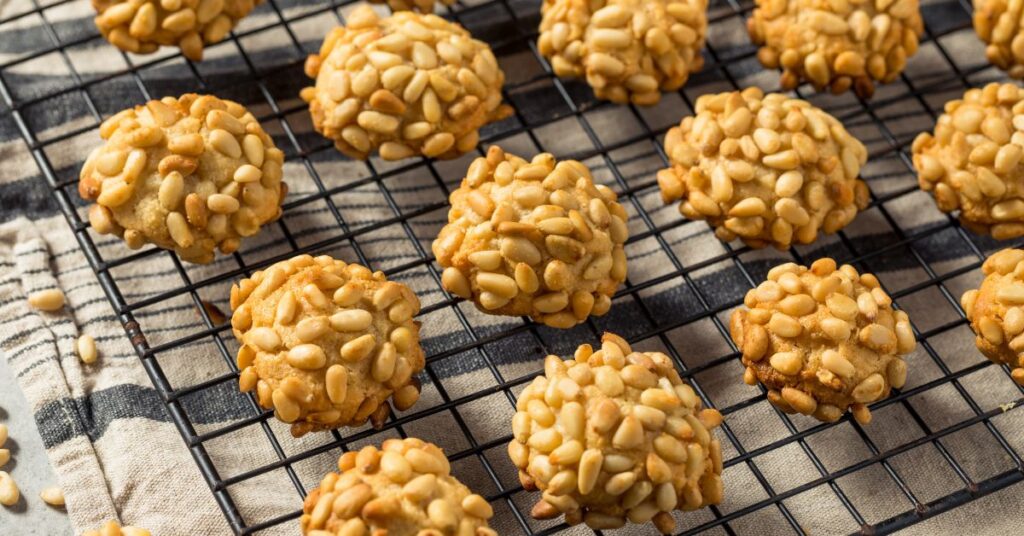 Sassi della Calvana are traditional biscuits from Vernio, in the Prato area. These biscuits are shaped and colored like the stones (sassi) you'll find in the Calvana Mountains. They come in four different variations, each made with natural ingredients from Val di Bisenzio.
Let me break down the flavors for you:
The chestnut flour biscuit is accompanied by pine nuts.
The biscuit with raisins and Vin Santo, a sweet Italian dessert wine, offers a unique combination of flavors.
The hazelnut biscuit is infused with the aroma of extra virgin olive oil.
Lastly, the biscuit with extra virgin olive oil has a delightful hint of lemon.
These biscuits have a round shape and a straw-like color that varies depending on the ingredients used. The size is about 3-4 cm, keeping in mind that they are crafted by hand.
You can find Sassi della Calvana in local bakeries and pastry shops in Prato. They're perfect for a snack or as a sweet treat with a cup of coffee.
15. Fichi Secchi di Carmignano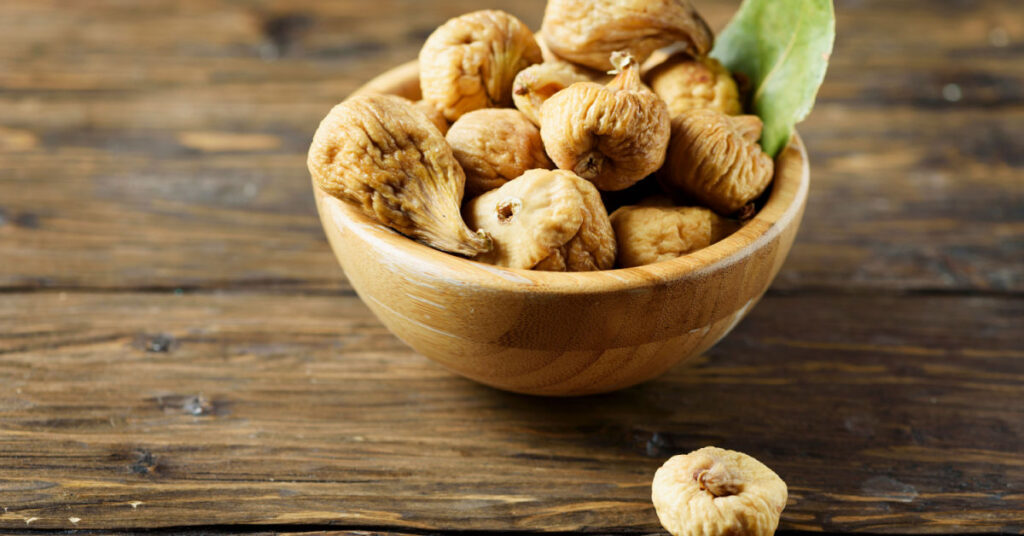 Fichi secchi di Carmignano, in English, dried figs from Carmignano, an Italian municipality bordering the province of Prato, are a typical product of the region and are part of protected typical products in Tuscany. The special processing techniques used in Carmignano are environmentally friendly and respect the traditions passed down from ancestors.
These dried figs have a rich history and are deeply rooted in the Tuscan countryside. While figs have been traditionally grown in a mixed cultivation style, the areas of Carmignano in the Province of Prato have focused on intensive cultivation, often alongside vines and olive trees. This has led to the development of a thriving industry producing high-quality dried figs that are highly sought after in the markets.
You can find these dried figs in local markets, specialty shops, and even some bakeries in Prato. They are perfect to bring home as a souvenir or to enjoy during your visit.
16. Zuccherini di Vernio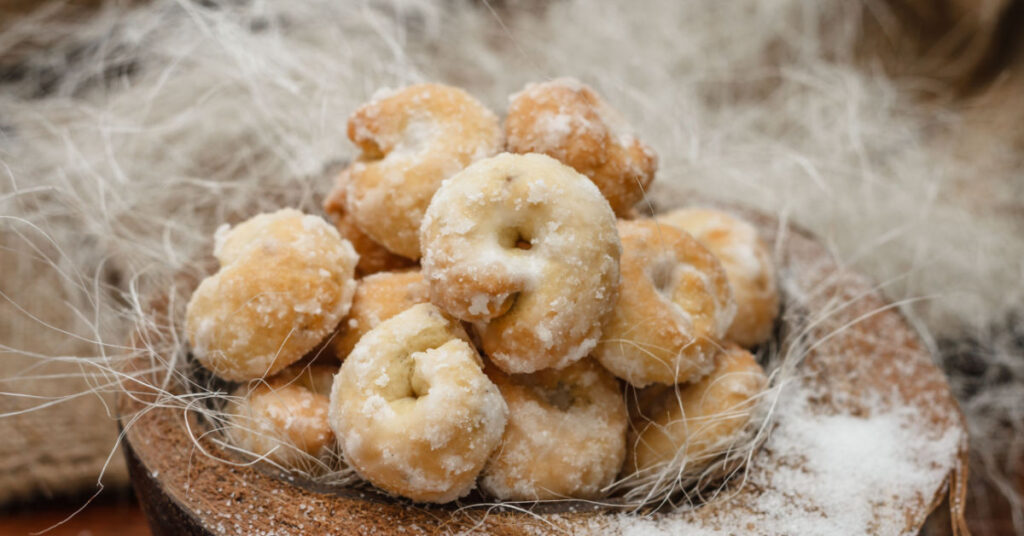 Zuccherini di Vernio are a type of traditional biscuit fromo Vernio, a small town near Prato, they're known for their unique combination of ingredients and the traditional handmade process that has been preserved over time.
These sweet treats are meant to last longer than others because they're quite dry. Originally, they were made for weddings, confirmations, and communions in the Bisenzio Valley.
Nowadays, you can find them in the form of small rings or rounded shapes. They're enjoyed for breakfast or as a snack and can be paired with Vinsanto.
The main ingredients for Zuccherini di Vernio include all-purpose flour, eggs, butter, sugar, baking powder, anise seeds, and anise liqueur. These ingredients come together to create a delightful flavor.
17. Amaretti di Carmignano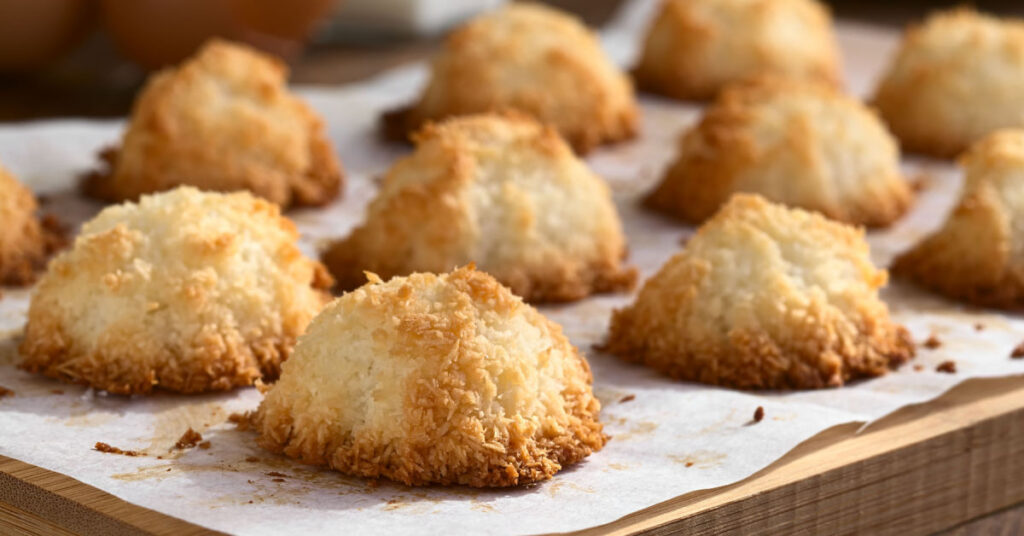 Amaretti di Carmignano, also known as Amaretti Di' Fochi, are small almond cookies with a unique flavor that has been enjoyed since the 19th century. These little treats are slightly larger than a walnut, with an amber color and a rounded, uneven shape that's a result of their artisanal production process. Each cookie has a soft texture and a distinct aroma and taste of almonds, which are the star ingredient.
The main ingredients used in making Amaretti di Carmignano are peeled almonds, sugar, and egg whites.
The origin of this recipe dates back to the late 19th century when Mr. Giovanni Bellini, also known as I' Fochi due to his fiery character, created it in Carmignano. That's why these cookies are called Amaretti Di' Fochi.
To fully enjoy Amaretti di Carmignano, they are often paired with a glass of Vinsanto Doc di Carmignano, a sweet Tuscan dessert wine. You can find these delicious cookies at various places, including pastry shops, bakeries, and local events like the "Antica Fiera dei Fichi Secchi di Carmignano," which takes place on the first Tuesday of December and showcases typical products of Prato and its surroundings.
18. Puppe di Monaca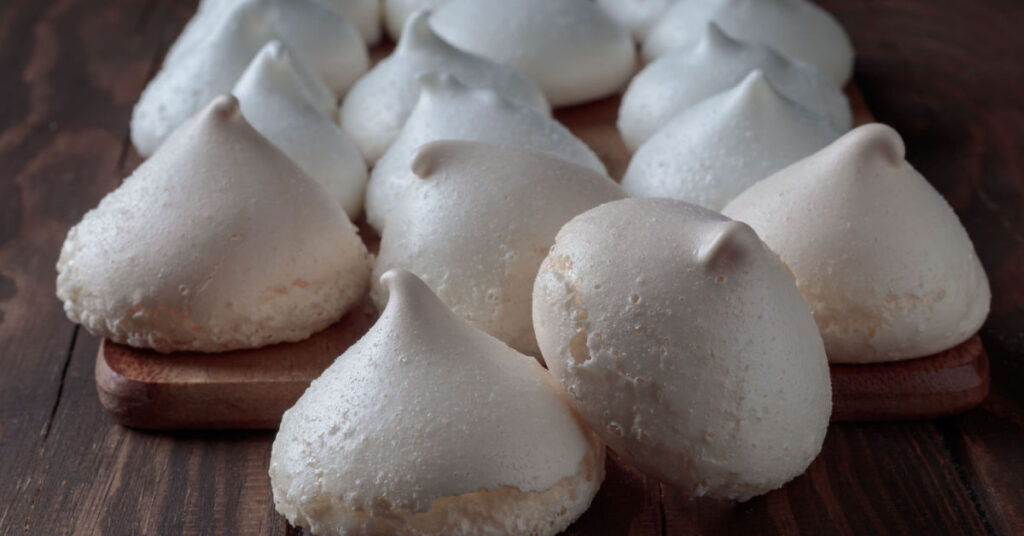 Another sweet treat you definitely don't want to miss: Puppe di Monaca, which are meringues with a very particular shape, a type of dessert that are unique to Prato.
The name translates to "Nun's Dolls" in English. Now, you might be wondering why they're called that. Well, the shape of these sweets resembles a female breast, and their white color is reminiscent of the habit worn by nuns.
What's for sure is that Puppe di Monaca have a distinct and delicious taste. They're made using a traditional and old-fashioned recipe.
Once they're ready, you can enjoy Puppe di Monaca with some whipped cream or alongside a good cup of coffee. They're an integral part of the sweet culinary tradition in Prato.
You can find Puppe di Monaca in various pastry shops and bakeries in Prato. They're often enjoyed as a dessert or a sweet snack.
More information about characteristic food from Prato
Which dish or typical food from Prato is suitable for vegans?
A suitable dish for vegans in Prato is Panzanella, a traditional bread salad made with stale bread, tomatoes, onions, basil, and olive oil. It's a refreshing and flavorful option that doesn't include any animal products.
Which dish or typical food from Prato is suitable for vegetarians?
For vegetarians, a great choice is Tortelli Mugellani. These stuffed pasta pockets are filled with ricotta cheese, spinach, and nutmeg. They are typically served with butter and sage sauce, creating a delicious vegetarian dish.
What are the typical street foods of Prato?
Typical street foods of Prato include Schiacciata con la Mortadella, a flatbread stuffed with Mortadella salami, also Ficattole, which are deep-fried dough balls served with a variety of toppings like prosciutto or stracchino cheese.
What is the typical dessert of Prato?
The typical dessert of Prato is Cantucci di Prato, also known as Biscotti di Prato. These crunchy almond biscuits are traditionally enjoyed alongside a glass of Vin Santo, a sweet dessert wine. They are a delightful way to end a meal in Prato.