Pistoiese cuisine is characterized by its frugality, which makes it healthy despite appearing simple, using products cultivated locally or hunted and found in the nearby mountains of Pistoia, some traditional recipes also make use of "recycled" ingredients.
In Pistoia you can taste dishes like carcerato soup, farinata with legumes, and maccheroni with duck sauce, side dishes which include local products like beans from Sorana, and mushrooms from the mountains. But there are also traditional desserts like castagnaccio (made from chestnut flour) and the delicious confetti ricci (hedgehog-shaped sugared almonds).
In short, listing all Pistoia's specialties and local products would require an entire list. Below you will find 23 of the most traditional and sought-after ones.
1. Maccheroni di San Jacopo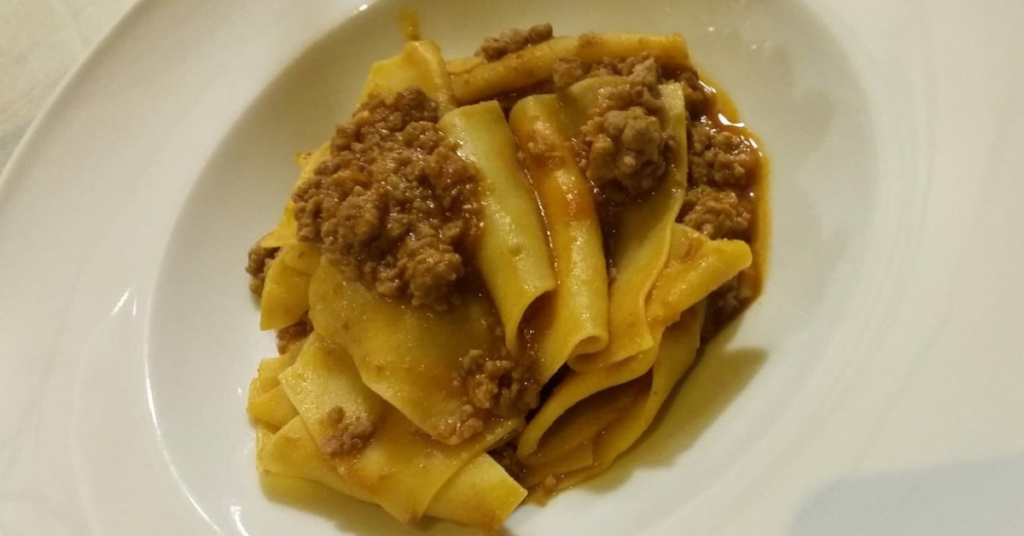 My local favorite from the beautiful city of Pistoia, is a pasta dish (of course…): Maccheroni di San Jacopo. This dish is something quite special and unique, and is part of the best Tuscan pasta dishes.
Not your regular pasta, these "maccheroni" are squares of hand-cut pasta sheets, the star of the show, however, is the sumptuous ragu red sauce made from a bird called the Muscovy duck, or "anatra muta" in Italian, which isn't even native to Italy but came from Paraguay!
This delicious ragù is both the pasta sauce and the main course of the meal, giving you a hearty and satisfying experience in one dish.
As you savor this meal, you'll appreciate the rich and intense flavor of the duck ragù which beautifully coats the rustic, hand-cut pasta. The pasta itself, with its slightly rough texture, does a superb job of capturing the sauce. It's an explosion of taste that brings together the essence of Tuscan cuisine (link to my list of best Tuscan food) and something a little exotic from across the ocean.
You can typically find this delectable dish served in local trattorias in Pistoia, especially around July 25th. This date is the Feast of San Jacopo, the patron saint of Pistoia, and this pasta is an integral part of the celebration. It's not just a meal; it's a tradition!
2. Carcerato Soup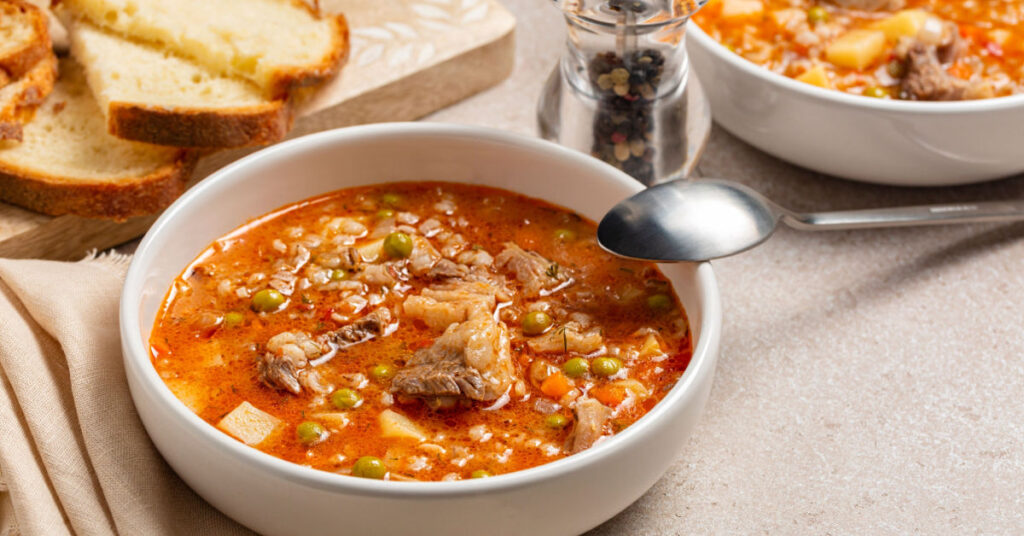 In Pistoia you'll want to sample "Carcerato", which literally translates to 'prisoner', is a unique, traditional second course made from the offcuts of veal (called rigaglie), Tuscan stale bread, grated cheese, and pepper.
The name comes from an old practice in Pistoia where the town's prison, surrounded by local butchers, was supplied with the offcuts of veal to make a filling stew for the inmates.
The offcuts include various parts of the cow's stomach, and they are simmered for hours to create a rich, aromatic broth. The bread is soaked in this broth until it becomes creamy and soft – a skill that needs the right touch. The result is a flavor-rich dish, peppery and savory, with the salty bite of pecorino cheese.
While Carcerato is not for the faint-hearted, it is a testimony to Italian culinary resourcefulness, transforming simple, humble ingredients into a deeply satisfying meal. You'll find it served in traditional trattorias around Pistoia, and it's particularly comforting during the chilly winter months.
3. Farinata con le Leghe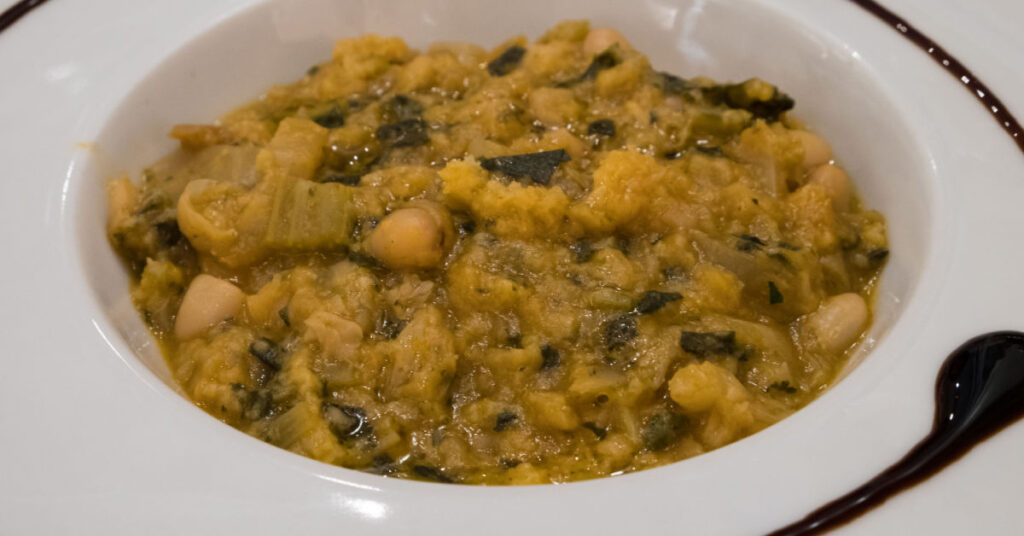 Farinata con le leghe is a hearty, satisfying main dish that originates from the Florentine culinary tradition, but don't be surprised if you also find it in Pistoia's homestyle trattorias, warming the bellies of locals and visitors alike on a chilly day. The term "leghe" is the Florentine way of saying cavolo nero, also known as Tuscan kale or black cabbage.
The main players in this humble dish are Tuscan kale and cornmeal. You'd be surprised how these simple ingredients combine to create a soul-warming, hearty stew-like consistency that is akin to a rustic polenta. Some versions will even throw in pureed beans to amp up the richness.
As for the taste? Imagine the earthy, slightly bitter notes of Tuscan kale beautifully melded with the mild flavor of cornmeal. The addition of beans brings an extra layer of creaminess that makes the whole dish deeply satisfying.
This isn't some fancy food you'd find in high-end restaurants. Nope, it's honest, stick-to-your-ribs, home-cooking at its finest.
4. Fagioli di Sorana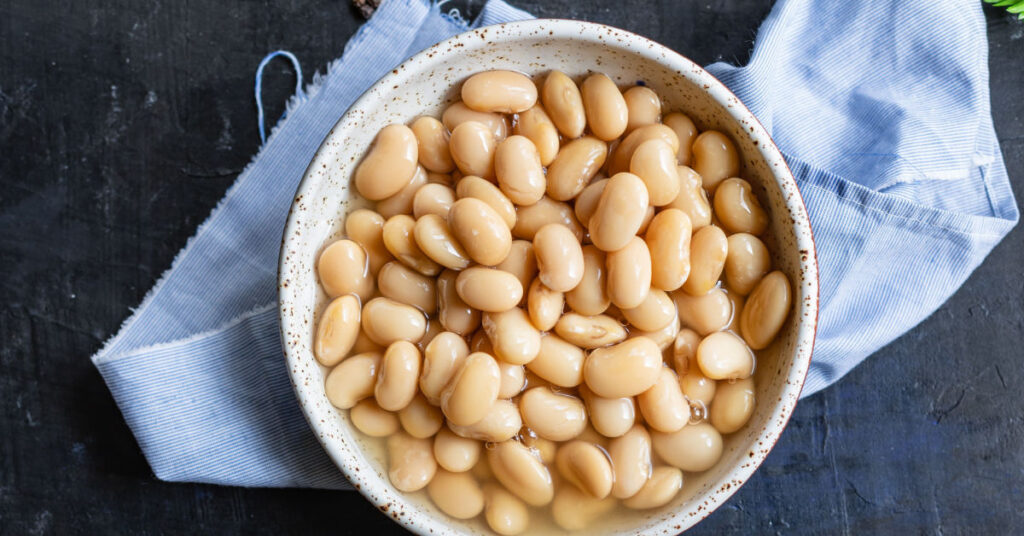 Tender, pearl-like beans with a creamy texture, each mouthful releasing a gentle wave of chestnut and pine nut flavors. Sounds mouthwatering, right?
Fagioli di Sorana are beans native to the Tuscan region, grown in a tiny area along the Pescia river next Pistoia. Thanks to the unique microclimate, these beans are absolutely sublime. I know the term 'bean' might sound ordinary, but trust me, these are no ordinary beans!
You'll often find these beans served as a side dish with a steak, or perhaps pureed alongside some fresh seafood. In fact, one of my favorite ways to enjoy Fagioli di Sorana is simply boiled, dressed with Tuscan olive oil and black pepper. It's like an explosion of authentic Italian flavors!
Of course, you can always experiment. Some locals love pairing these beans with a juicy sausage or in an 'all'uccelletto' style with tomato sauce.
You'll find these delectable beans in local restaurants around Pistoia, or if you're feeling adventurous, buy a bag of dry beans to cook up in your own kitchen. Just remember, they're best soaked for at least 12 hours before cooking.
5. Crostini di Fegatini Toscani
In Pistoia, there's one appetizer you just can't miss out on – the "Crostini di Fegatini Toscani". Simply put, these are Tuscan-style chicken liver crostini, a traditional and widely beloved dish.
These savory little toasts are made by topping slices of rustic, tuscan toasted bread with a mouthwatering spread made from chicken livers sautéed in aromatic ingredients. The livers are typically cooked with white wine, capers, anchovies, and a variety of herbs. Once cooked and beautifully soft, they're mashed into a spread and served atop the toasted bread.
Now, don't be put off by the 'liver' part – the taste is absolutely divine. The rich and savory liver spread, combined with the crunch of the toast, creates an explosion of flavors and textures in your mouth. There's a wonderful balance between the meaty, somewhat iron-like taste of the liver, the salty tang of capers and anchovies, and the subtle sweetness of caramelized onions. It's a great way to start any meal.
You'll find this delightful starter in most traditional restaurants and osterias in Pistoia. They're usually served alongside other antipasti, such as cold cuts and cheese, and are best enjoyed with a glass of local red wine. Now that's what I call living la dolce vita!
6. Migliaccio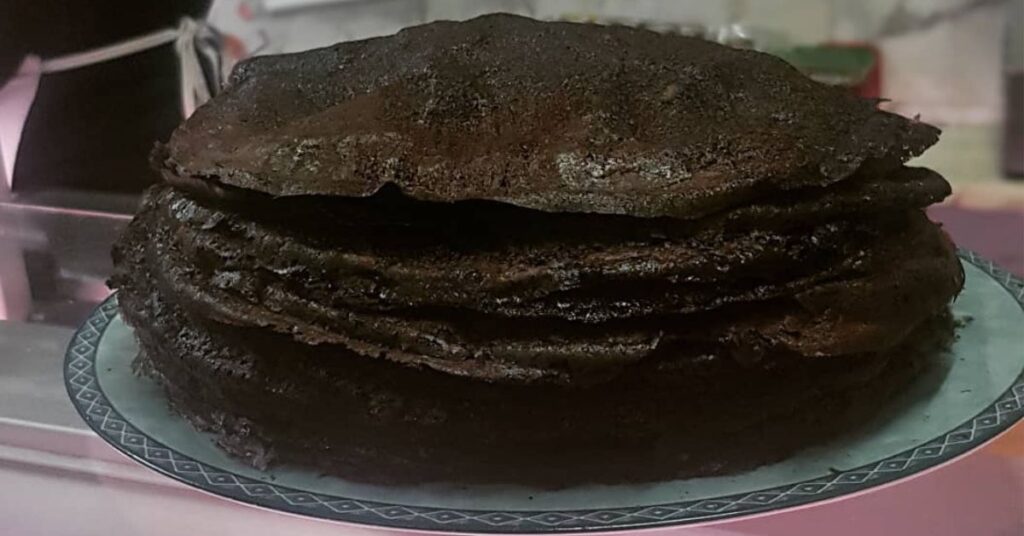 This is not your typical Italian fare, let me tell you! Migliaccio is a thin, crepe-like cake primarily made with pig's blood. Yes, you heard that right, we still use pig's blood! I know it sounds a bit daunting, but stick with me here.
The word 'migliaccio' originates from the term 'migliare', meaning to mix in old Italian – it's a fitting name because the dish blends various ingredients into a culinary experience unlike any other.
What does Migliaccio taste like, you ask? It's a delightful blend of savory and sweet. The pig's blood lends a rich, meaty flavor that contrasts beautifully with the spices and sugar. It's an unexpected symphony of flavors that leaves a lingering aftertaste of warm spices.
You might wonder where to find Migliaccio. Well, it's typically served at rural feasts and in traditional shops that celebrate Pistoia's culinary heritage. Some local butchers in Pistoia and its surroundings also offer it, especially during winter, which is when this dish is traditionally prepared.
Eating Migliaccio is not just about enjoying a tasty dish; it's a nod to the Italian philosophy of using every part of the animal in cooking – a sustainable practice that dates back centuries. "Del maiale non si butta via niente," we say in Italy, meaning "nothing goes to waste from the pig".
7. Pecorino a latte crudo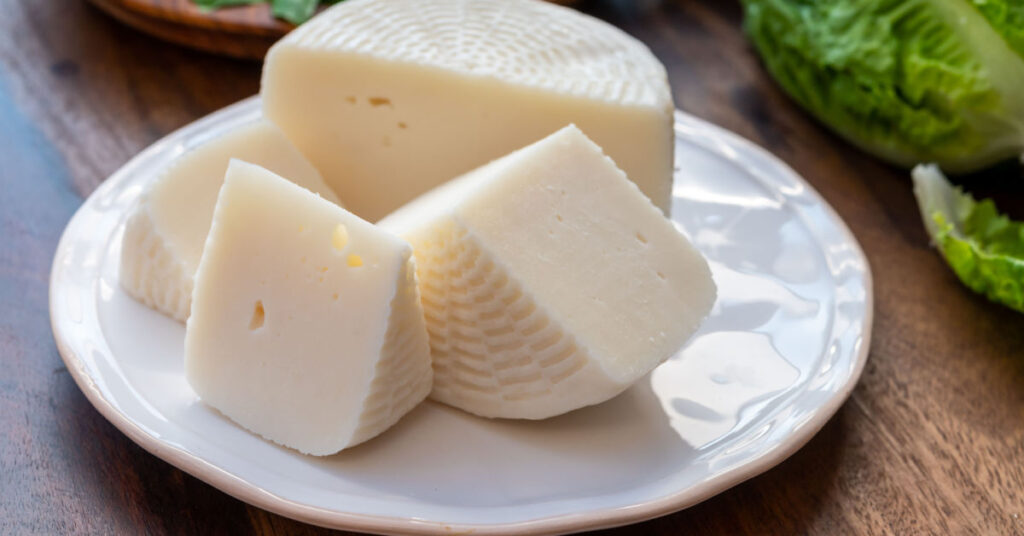 I'm going to share one of Tuscany's best-kept secrets: Pecorino a latte crudo della Montagna Pistoiese. It's a type of cheese (formaggio), made from unpasteurized sheep's milk, native to Pistoia, a charming city nestled in the heart of Tuscany.
Pecorino is neither a starter nor a main dish; it's more of a versatile star that can steal the show in many meals. Imagine a table cheese that also excels in cooking, from appetizers to entrees.
The cheese is made by curdling the milk with lamb rennet or a vegetable coagulant derived from wild thistle flower, making it suitable even for vegetarians if made with the latter. It's aged for different lengths of time, yielding "fresco" (fresh), "abbucciato" (medium-aged), or "da asserbo" (long-aged) versions.
Let me tell you, the taste is simply divine. The fresco is delicate, slightly sweet and acidic. As it ages, it becomes more intense, savory, and spicy. Each bite is a sensory journey, with flavors deepening and evolving with the cheese's age.
Pecorino a latte crudo isn't typically street food; it's artisanal. You'd likely find it in local delis, cheese shops, or trattorias in Pistoia. And if you're lucky, you might stumble upon a farmers' market selling it. Trust me, getting your hands on this cheese is a culinary treasure hunt worth embarking upon!
8. Patate Bianche del Melo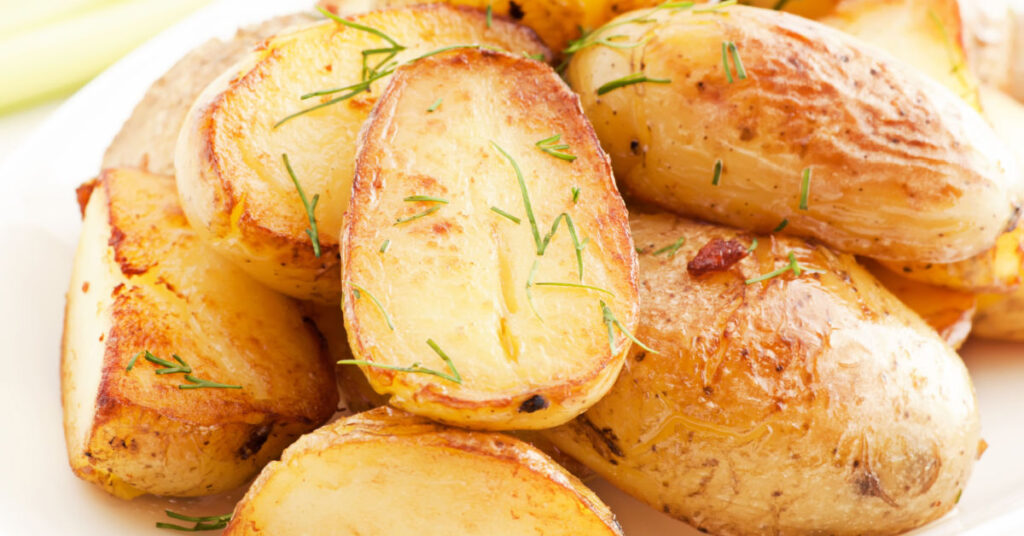 This is a unique potato variety hailing from the high altitudes of Pistoia, Italy, the Patata Bianca del Melo.
This delightful spud, typically round and slightly flattened, boasts a smooth skin, a starch-rich, floury texture, and a white pulp that makes it the star of countless recipes. The creamy, delicate flavor is a tribute to the traditional farming techniques used in the small village of Melo, where it grows untreated at over 3,300 feet. It's nature's best, without a doubt!
While not a dish in itself, Patata Bianca del Melo is the heart of many local dishes—think primo, like the rich, comforting potato gnocchi, or a hearty potato and porcini mushroom soup. It's like a cuddle in a bowl, truly!
Now, where to grab a bite of this Italian treasure? Visit local trattorias and farmers' markets in and around Pistoia. There's something magical about sitting in a rustic eatery, surrounded by the Tuscan hills, savoring a plate of gnocchi made with these potatoes—each bite filled with the soul of Italy.
These potatoes are harvested in autumn and stored for months at room temperature, making them a staple throughout the colder months. You'll find them celebrated at the local sagre (food festivals) in Pistoia during this time. Trust me, these festivities are a gastronomic delight you wouldn't want to miss!
9. Tortellata Pistoiese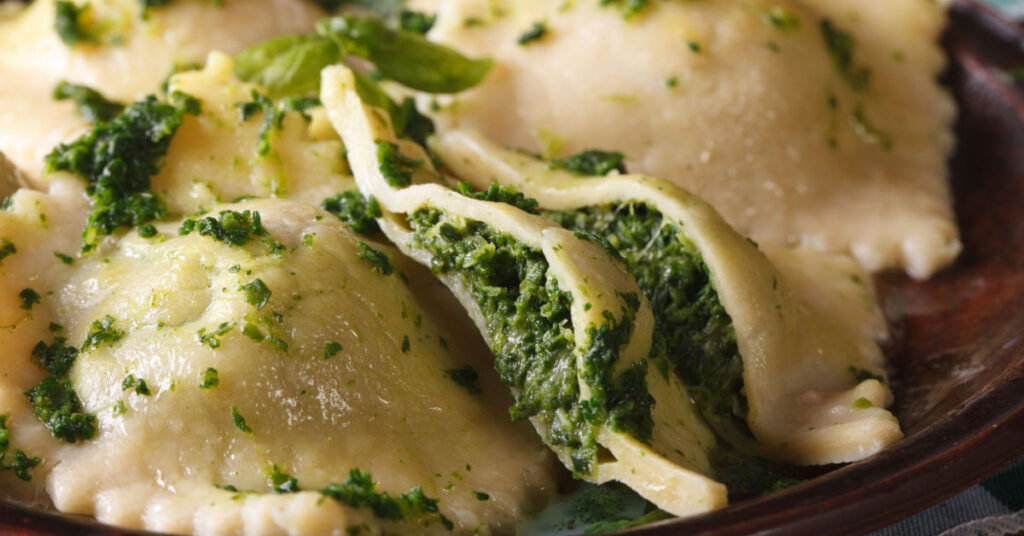 Tortellata Pistoiese it's a comforting pasta dish, typically enjoyed as a "primo" or first course.
The Tortellata is like the ingenious cousin of tortellini. Instead of being filled, the pasta is tossed in a sauce that's essentially the stuffing of tortellini. Crafty, right? The name 'tortellata' hints at this – it's like an opened-up tortellino!
At the heart of this dish are Tuscan maccheroni, a handmade fresh pasta mixed with a sauce made of stewed chard or Swiss chard, fresh ricotta cheese, a sprinkle of Parmigiano, and a pinch of nutmeg for that warm, spicy undertone. The combination delivers a rich, creamy and subtly spicy flavor that'll take your tastebuds on a little Tuscan adventure.
The best part about Tortellata Pistoiese? It's a classic example of Italians' knack for avoiding food waste. The recipe was devised as a way to use leftover tortellini filling, turning it into a delightful sauce for pasta.
This delightful dish can be found in the rustic trattorias and osterias in Pistoia, where it's often prepared fresh daily. Sometimes, you can find ready-made Tuscan meat sauce available in local grocery stores.
10. Cioncia Pesciantina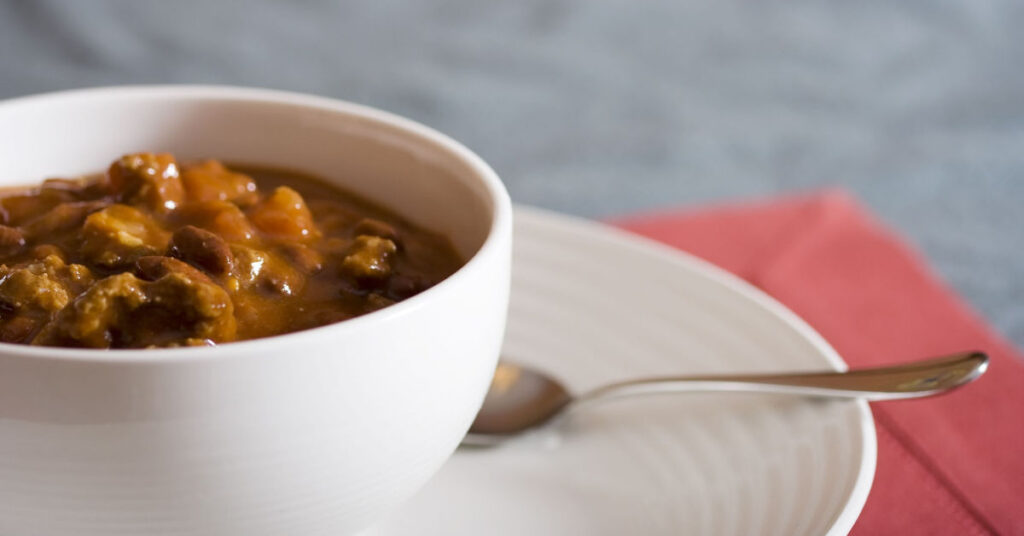 Get ready to be introduced to a lesser-known Italian delicacy, a humble dish from the heart of Pistoia – Cioncia Pesciantina. This is a main course, a kind of stew, prepared primarily with parts of veal including the head and tail, though the star is definitely the more textured parts like the snout and ears.
The word "Cioncia" comes from the local word for leather tanning, a major industry in Pescia, where workers would take home leftover meat scraps to cook.
Imagine simmering these flavorful bits with classic Italian soffritto – celery, carrot, and onion – and adding in some tomato sauce, robust Tuscan red wine, and some vegetable broth. That's essentially how this dish is made. The slow-cooked meat with aromatic vegetables and spices like rosemary gives the Cioncia a unique flavor. The end result is similar to goulash, but without potatoes.
Now, eating Cioncia is an experience. The meat, slow-cooked for hours, is so tender it almost melts in your mouth, and the taste? Let me tell you, it's divine!
11. Ricotta di Montecatini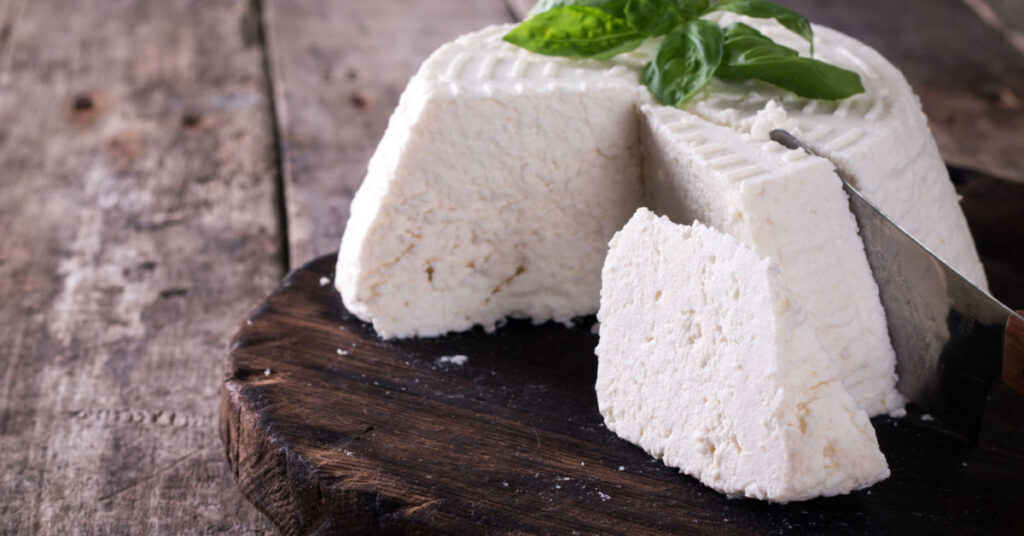 We're gonna talk about Ricotta di Montecatini, a delightful cheese from Montecatini Terme next to Pistoia. What's in a name? Well, "ricotta" means re-cooked, stemming from the method of its production. It's not your standard cheese, oh no! Ricotta is actually a by-product of cheese-making, made from the whey left behind during the process.
Ricotta di Montecatini is something special, it's creamy, light, and velvety. Made with sheep's milk, or sometimes a mix of sheep and cow's milk, it's got this slightly sweet yet savory balance that's just downright heavenly. You know those melt-in-your-mouth moments? That's exactly what this Ricotta delivers.
Now, where to find this creamy gem? Head over to local delicatessens, cheese shops, or farmers' markets in Pistoia and Montecatini. Some authentic Italian restaurants might have it on the menu, especially paired with "necci", a sweet flatbread made from chestnut flour. This combo is a classic in Pistoia.
Personally, I'm a sucker for Ricotta di Montecatini. I've enjoyed it with a dollop of honey for dessert, or spread on some crusty bread for a quick snack. Trust me, once you've had a taste, you'll be hooked.
12. Castagne dell'Appennino Pistoiese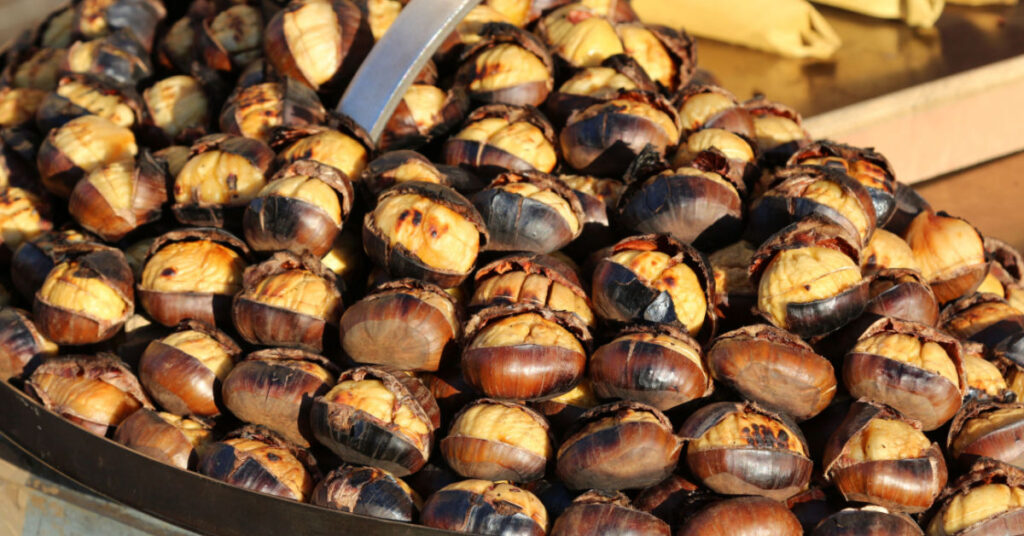 As your guide to Pistoia delicacies, I have to tell you about the chestnuts of the Pistoia Appennines, or 'Castagne dell'Appennino Pistoiese'. It's not a dish per se, but more of a versatile ingredient and a beloved snack in its own right.
Chestnuts are a remarkable product of the beautiful woods of the Pistoia Appennines, picked from October through November. Back in the day, they were a survival food, dried over slow fires for around 40/50 days, peeled, and then ground into flour. But now, it's a cherished part of the culinary heritage.
The texture when roasted, known as 'caldarroste' or 'frugiate' in Pistoia, is an absolute delight — slightly crunchy on the outside, but the inside? Warm, soft, and almost creamy. It's like a cozy, woolen blanket for your taste buds on a chilly fall evening!
Now, if you're wondering where to get these fall delights, you'll find them mostly on the streets. During October, the aroma of roasting chestnuts fills the air at local markets and street stalls (here you will find many other Tuscan street foods). There are even special events dedicated to chestnuts, where they're celebrated in various forms: boiled, roasted, or transformed into sweet flour for dishes like 'necci' and 'castagnaccio'. These festivals are, no doubt, a highlight of any autumn visit to Pistoia.
13. Necci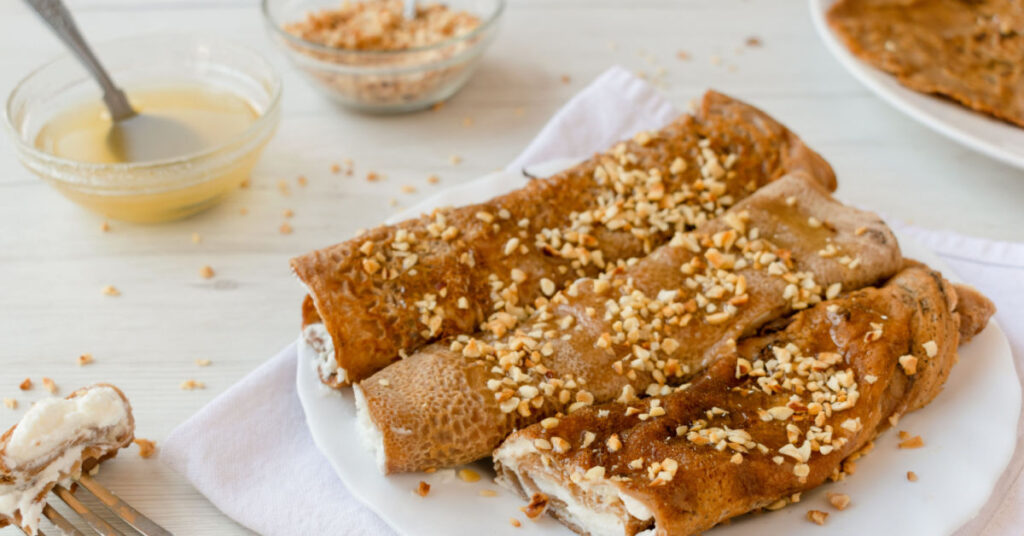 Speaking of chestnuts we must now speak of the Necci. These beauties are a street food of sorts, but also a fantastic dessert or snack, making them quite versatile. Their main ingredient? Chestnut flour, which is simply mixed with water and a pinch of salt. Pretty basic, right? But boy, the flavor they pack is anything but.
Now, imagine biting into a thin, pancake-like crepe, with an earthy, subtly sweet taste. That's the experience of a Necci. Traditionally, they're filled with creamy, sweet ricotta cheese, but modern twists see Nutella or Tuscan cured meats making a grand entrance. My personal favorite? Definitely the classic ricotta filling. There's something about the mix of the chestnut crepe and fresh ricotta that just hits the spot.
The name "Necci" is thought to come from the Latin "nec," meaning death, referencing the reliance on chestnuts as a food source during times of famine. It's a humble nod to survival and resilience.
You'll find the best Necci in small trattorias and bakeries, and sometimes even on street stands in Pistoia and surrounding areas. But the ultimate experience? Necci cooked on "testi," or iron pans with long handles, right over an open fire. There's something uniquely charming about this tradition that's been passed down generations.
14. Castagnaccio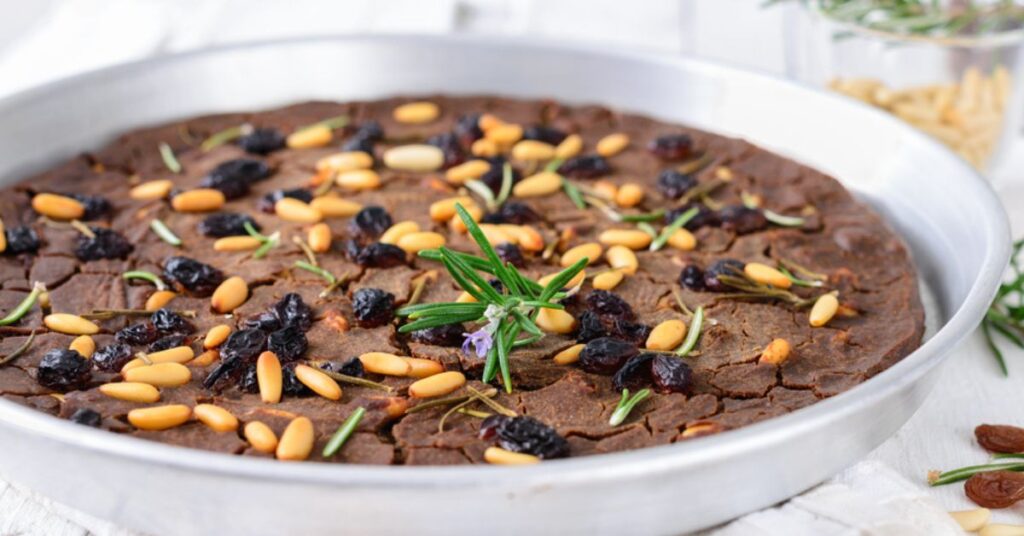 Castagnaccio is a traditional Italian dessert, more specifically, a flat cake. Its main ingredient is chestnut flour, lending the dish its name, since "castagna" translates to chestnut in English. The other key ingredients are water, olive oil, pine nuts, and raisins, with some variations including rosemary, orange peel, or even a swig of good Tuscan wine.
If I had to describe the taste, imagine a dense, moist cake with a rustic, earthy flavor from the chestnuts. The sweetness is subtle, more of a natural undertone from the chestnuts and raisins, rather than an overpowering sugar rush. The pine nuts and rosemary give it a savory twist, making each bite a new experience.
Where to find Castagnaccio? Well, it's traditionally a homemade dish, but you can find it in Tuscan bakeries, pasticcerias, and some trattorias, especially in Pistoia where it is made with Apennine chestnut flour.
Now, Castagnaccio isn't just a dessert; it's a bite of Italian culture, and if you want to know more about Tuscan sweets, follow the link. Its simplicity reflects Tuscan cuisine's "peasant" roots, making the most of readily available ingredients. So, when you bite into this unassuming cake, you're tasting a bit of Italian history.
My personal take? Castagnaccio is definitely an acquired taste. If you're expecting a sweet American-style dessert, you might be surprised. But give it a chance! I've come to love its simplicity and unique blend of flavors. So, when in Pistoia, be adventurous and try some Castagnaccio!
15. Collana San Bartolomeo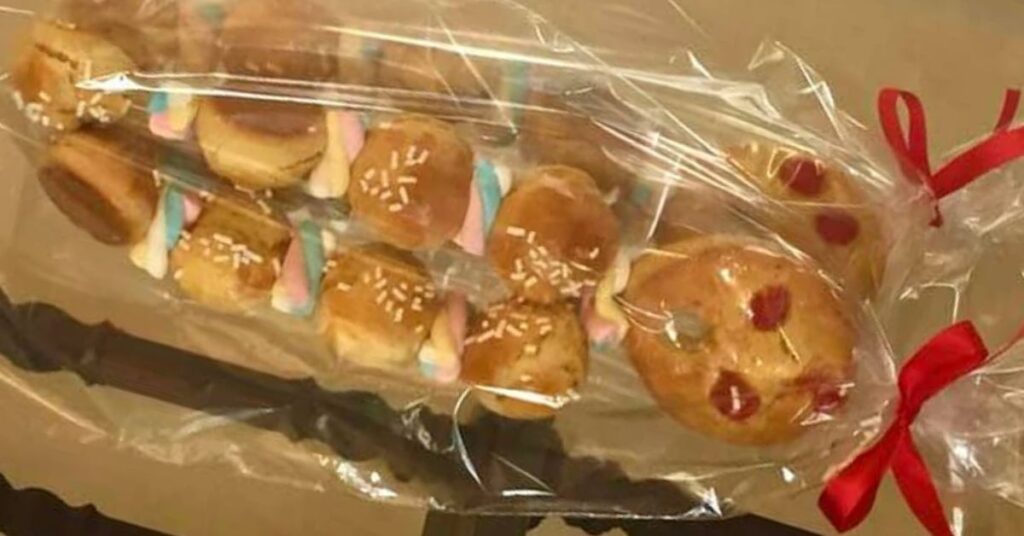 Another special sweet hailing from the charming city of Pistoia – the "Corona di San Bartolomeo".
Imagine this: a necklace of sweet treats that you can eat! That's right, the Corona di San Bartolomeo is a chain of round shortcrust pastry cookies, called "pippi", strung together on a string. These pippi are jazzed up with colorful sprinkles and adorned with tiny chocolates that are added while the cookies are still warm from the oven. As a bonus, there's a larger medallion-shaped cookie in the center, decorated with a colorful array of chocolate candies.
Sinking your teeth into one of these, you'd experience the crumbly, buttery goodness of the cookies, highlighted by the slight crunch of the sprinkles and the melting chocolate. It's a party in your mouth, and trust me, you don't want to miss it!
This sweet treat isn't just delicious, it's also steeped in tradition. It's linked to the celebration of Saint Bartholomew on August 24th, the city's protector of children. On this day, the square in front of the church comes alive with stands full of these cookie crowns. It's a wonderful sight, seeing the children's eyes light up as they "spippolano" (pluck the cookies off) their edible crowns.
These aren't just your run-of-the-mill cookies; they are a piece of Pistoia's heritage. You can find them in local bakeries and candy stalls during the San Bartolomeo festival. Don't worry if you're not in town for the festival, though, because some pastry shops make them year-round.
16. Frittelle di Riso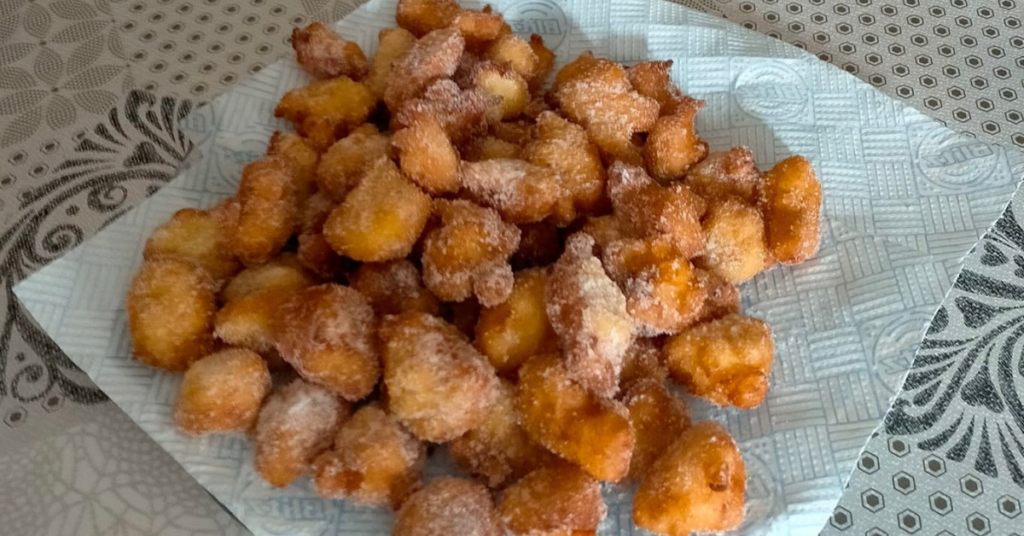 Frittelle di Riso, literally translating to 'rice fritters', are sweet, deep-fried rice balls. The key ingredients include Arborio rice, milk, sugar, and eggs, though you'll find some variations that add in flour, or even a touch of raisins for an extra burst of sweetness.
Here's the deal about the taste – imagine biting into a light, slightly crispy outer layer to find a soft, creamy rice-pudding-like center, all with a hint of vanilla and a dusting of powdered sugar on top. It's a delightful mix of texture and taste, almost like biting into a cloud of sweetness.
Now, you might be wondering where you can sample these scrumptious treats? Well, Frittelle di Riso can be found in bakeries, pastries shops, or even some bars, especially around mid-March, leading up to Saint Joseph's Day in Pistoia. It's a long-standing tradition, a Tuscan way of 'symbolically offering' to the Saint, and honestly, it's an offer I'm always happy to accept!
17. Confetti Ricci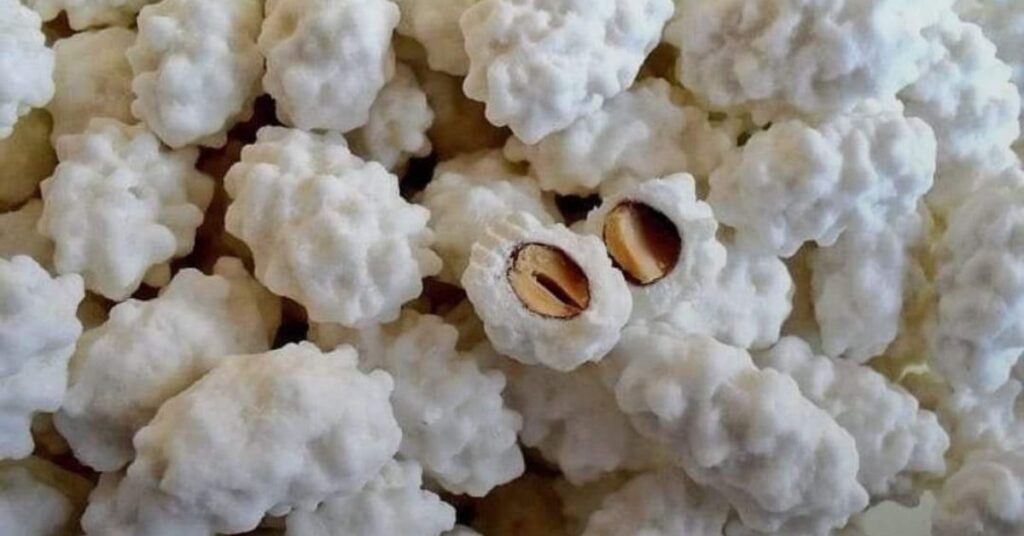 A unique and delightful little sweet treat from Pistoia, the Confetto a Riccio. Confetto in Italian means "candy," and "a Riccio" translates to "like a hedgehog," referring to the irregular, spiky appearance of this sweet treat.
These candies aren't your typical sugared almonds, they're bigger and somewhat spiky, hence the nickname "birignoccoluto," or "knobbly." Their irregular shape comes from the unique way they're made using a metal funnel to sprinkle sugar onto the candy's core.
And what a core it is! It's not just plain almond like your usual Italian confetti. No, the Pistoia version can contain a variety of different flavors – from cocoa balls and hazelnuts to candied orange, coriander, or even chocolate. The result? A sweet and slightly vanilla-flavored treat that's a joy to eat!
Now, as a lover of all sweet things edible, I've personally enjoyed these candies at the end of a meal. The traditional anise-flavored one is a great digestive. So it's more than just a treat, it's practically health food, right?
As a visitor in Pistoia, you'll find these candies at local artisan shops, the perfect place to score a bag of these unique sweets. Or, if you're feeling fancy, you can even get them in more elegant packages – a great gift for the folks back home!
18. Scole Pistoiesi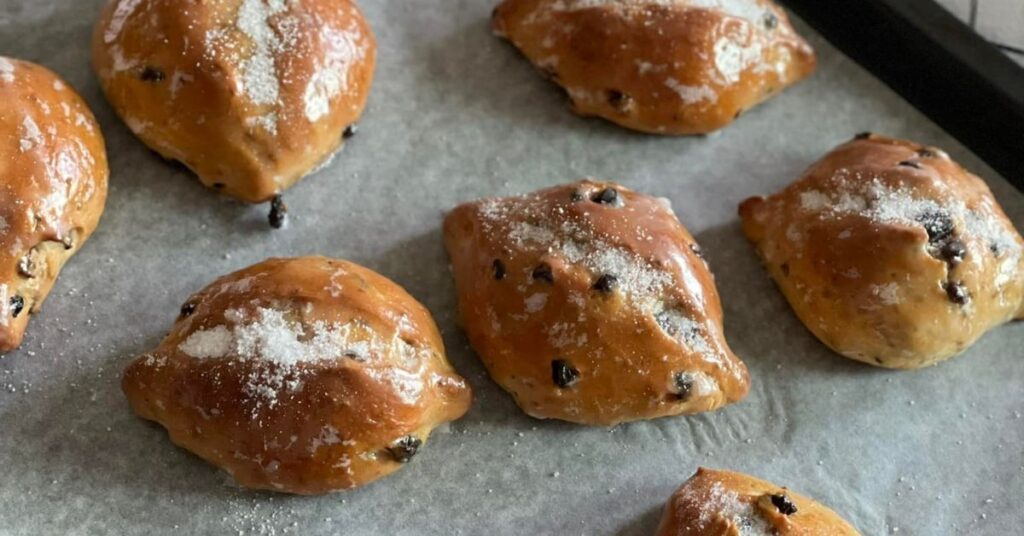 These aren't your typical dessert or pastry – they're a sort of semi-sweet bread roll, traditionally baked during the Lenten season in Pistoia.
So what's the story behind Scole? They have a humble origin, beginning as a baker's temperature test for wood-fired ovens. They would take a small piece of bread dough, flatten it out, sprinkle it with oil and a bit of salt, and pop it in the oven. If the scole baked perfectly, they knew the oven was ready for the main batch of bread.
During the Easter period, the folks in Pistoia would add a twist – anise and salt, which symbolizes the "salt of wisdom" (I wrote here about all the foods of the Tuscan Easter tradition if you want to know more). This gives the Scole Pistoiesi their distinctive flavor, a delightful mix of salty and sweet with a hint of anise.
Now, here's the best part. These little rolls are perfect for breakfast, they have a soft, slightly chewy texture, and when they're fresh out of the oven… Oh boy! The smell of warm bread mixed with that slightly licorice scent of anise – it's downright heavenly.
In Pistoia, you can usually find Scole in bakeries during the Lent and Easter period, but some bakeries might offer them year-round due to their popularity. They're not typically served in restaurants or bars, so it's a fun experience hunting down a local bakery to find them.
From a cultural standpoint, Scole Pistoiesi, like many Italian foods, bring people together. They recall a time when community baking was the norm, and each roll is like a piece of shared history. You see, food in Italy isn't just about feeding the body, it's about feeding the soul and connecting with others.
Trust me, Scole Pistoiesi is a must-try when you're in Pistoia. They're a simple pleasure that truly captures the spirit of this charming city. Happy eating!
19. Panforte Glacè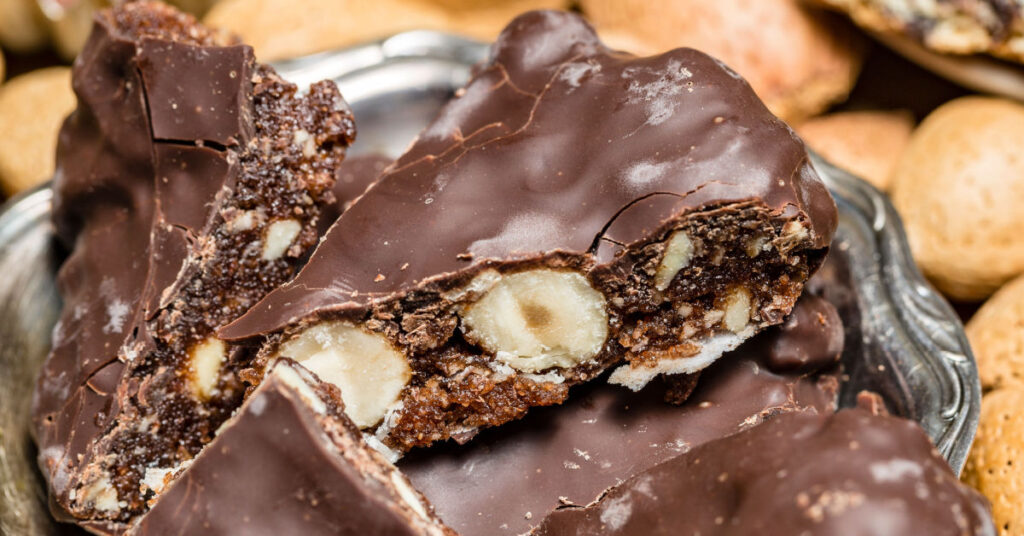 Let me tell you about a delicacy that's unique to Pistoia, the Panforte Glacé. A traditional holiday dessert, this sweet treat deviates from the conventional panforte that you might know from Siena. In fact, the Pistoian version doesn't even see the inside of an oven. It's a confectionery specialty, not a baked good!
The process starts with making a "jacket" of pure, melted dark chocolate combined with butter in a round mold. This shell is filled with a mixture of hazelnuts, Avola almonds, sugar, gianduja (a rich, creamy paste made from chocolate and hazelnuts), and candied fruit like cherries, citron, and orange. The treat then gets another coating of melted chocolate, and after cooling, you've got yourself a Panforte Glacé.
This dessert is a taste explosion – the richness of the chocolate beautifully complements the crunch of nuts and the sweetness of candied fruits. The texture is fairly soft, but every bite gives a delightful contrast. It's usually precut into ten wedges, making it easy to share – if you're willing to, that is!
Pistoia's Panforte Glacé is a special treat usually consumed during the Christmas season (here other Tuscan Christmas foods), though you can find it year-round at Corsini, a renowned local confectionery. Pair it with some Tuscan Vin Santo wine, and you've got a winning combo.
20. Brigidini di Lamporecchio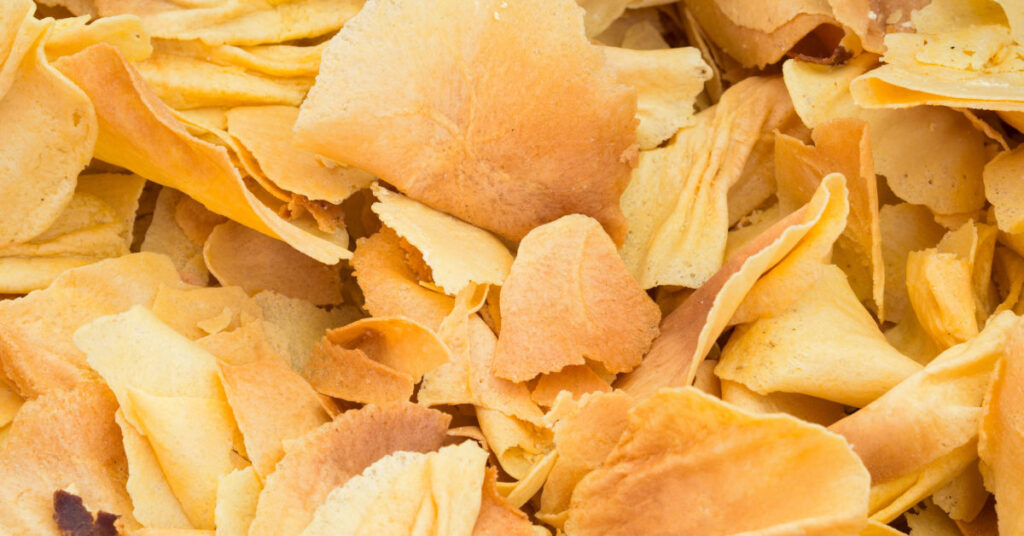 If you find yourself wandering around the town of Pistoia, you should taste Brigidini di Lamporecchio, these guys are a type of wafer-thin cookie, irregularly shaped and slightly curved, a heavenly sweet snack with an invitingly warm, golden hue.
Made from a simple combination of sugar, eggs, and flour, what really sets Brigidini apart is their signature taste of anise. This gives them a unique, subtly sweet and slightly licorice-like flavor. I'm telling you, these crisp, yet delicate cookies will just melt in your mouth!
Hailing from the small village of Lamporecchio, Brigidini is said to have been first made by nuns who were trying to create communion wafers. Legend has it that they added eggs, sugar, and anise to the recipe, and voilà – a scrumptious treat was born.
Nowadays, you can find these little gems being made in specialty machines, which churn out one brigidino after another. As you stroll around the local fairs and markets, you're likely to spot them in tall, thin bags – a beloved symbol of this region's gastronomic heritage.
Sure, you can get Brigidini throughout the year, but they are especially prominent during town festivals or religious events. Just follow your nose to the sweet, anise-scented stalls. And, be warned, once you start munching on these cookies, you'll find it hard to stop!
21. Cialde di Montecatini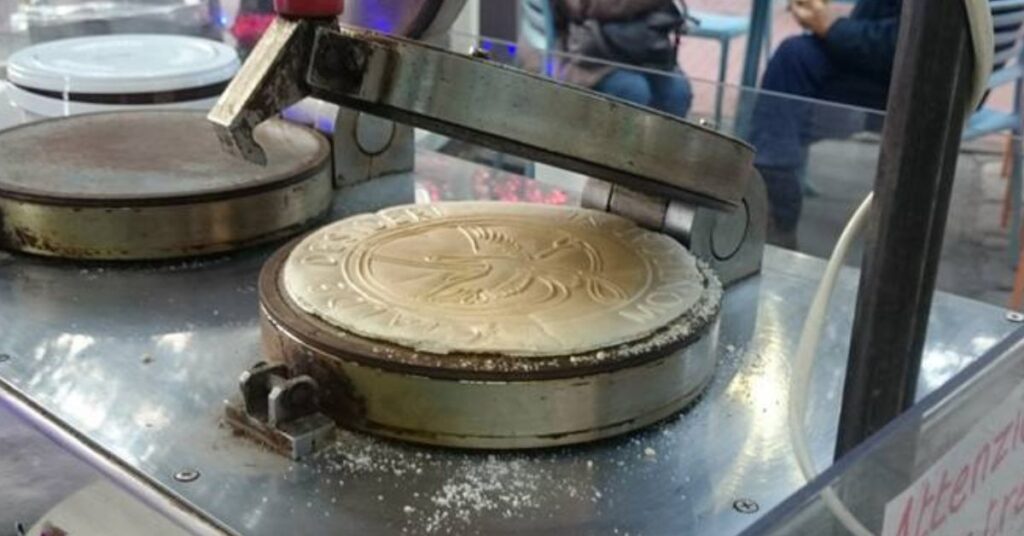 Say "Ciao!" to the Cialde di Montecatini – a beloved dessert straight from the heart of Tuscany.
These delicate delights are a staple in the little town of Montecatini Terme, situated in the province of Pistoia. They're not your typical dessert – think of them as an Italian wafer cookie sandwich. These super-thin, crisp wafers – barely two millimeters thick – have a heart of finely chopped almonds and sugar.
Every bite of a Cialda di Montecatini is a delightful journey in texture and flavor. The wafers crumble at first touch, while the almond-sugar blend offers a pleasantly sweet aftertaste that lingers. They're so light, yet so satisfying – the perfect sweet bite after a meal, or with your afternoon espresso.
Best of all, they're as versatile as they are delicious. Try pairing them with gelato, hot chocolate, or tea. Want to go all in on the Italian experience? Enjoy them with a glass of vin santo, a traditional Tuscan dessert wine.
When you're strolling through the charming streets of Montecatini Terme, you'll find these beauties in local bakeries and pastry shops. Trust me, the smell alone will guide you! You can't miss the opportunity to try them fresh from a local pasticceria – it's a real Italian experience.
22. Miele di Castagno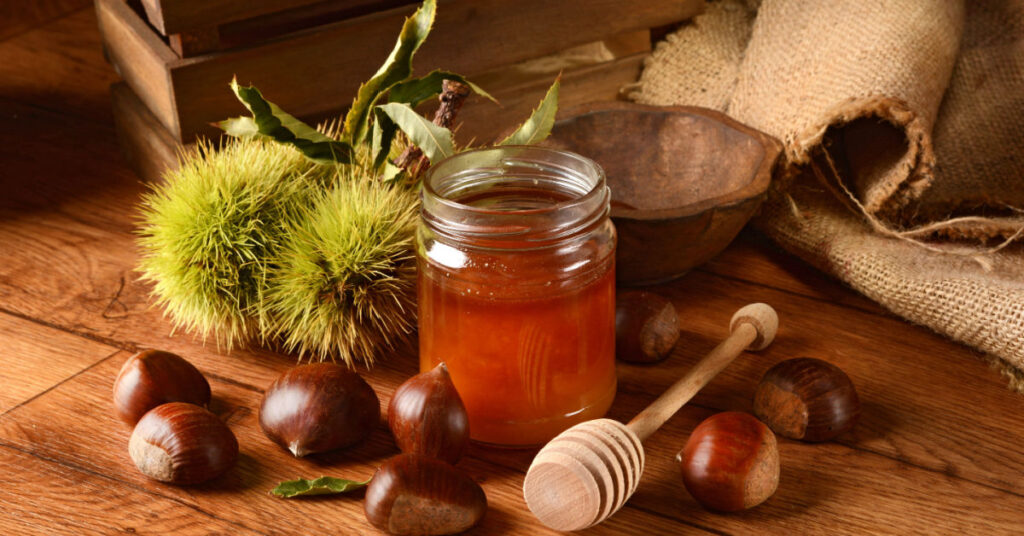 Miele di Castagno, also known as Chestnut Honey, ist a sweet, natural food product that's a staple in Italian pantries.
Chestnut honey is a unique and aromatic dark-colored honey produced in the mid-mountain areas of Tuscany. What sets it apart is its distinctively not-too-sweet taste with a slightly bitter aftertaste, giving it a flavor profile that's a far cry from your average honey.
While it doesn't exactly make up a part of a meal course, you can enjoy it in various ways! I personally love it spread over a slice of freshly baked bread for breakfast or as a sweetener for my tea. It's fantastic drizzled over cheese too – an absolute treat.
You can find this product in local markets, grocery stores, and some specialty shops in Pistoia. Whenever I'm there, I make sure to grab a jar or two!
23. Frutti del sottobosco delle Montagne Pistoiesi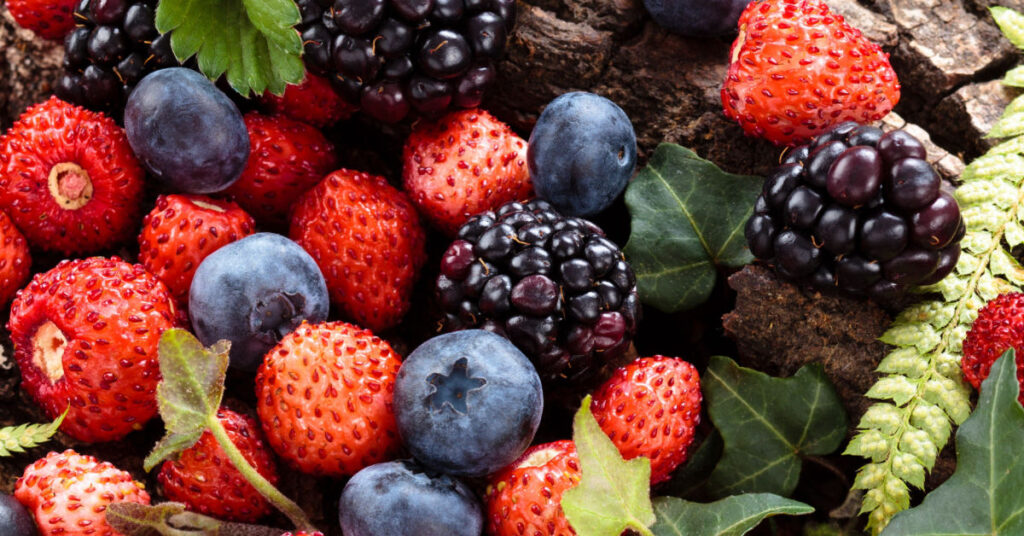 A real gem from Pistoia's mountains – "Frutti del Sottobosco" or wild forest fruits!
Now, these aren't any ol' dish that you'd just order in a restaurant. They're the main ingredients of desserts, jams, and syrups; sometimes even a tartness addition to a savory dish. We're talking about ripe, juicy berries like blackberries, raspberries, strawberries, and especially the blueberries – oh my, the blueberries!
When I first tasted these fruits, I was taken aback by their intense, sweet flavor and almost vanilla-like aroma. I've always loved berries, but these… these were on a whole other level of deliciousness. Juicy and tender, you can taste the mountain air and sunshine in every bite.
The best part is you can find these fruits in local markets or even in the wild during summer hikes through the Pistoia Mountains. Trust me, picking your own fruits for a mid-hike snack or a picnic dessert makes them taste even better! And if you aren't up for foraging, you can always buy the divine jams and syrups made from these berries in local shops.
Every summer, the town of Cutigliano hosts a festival celebrating these amazing fruits, particularly the blueberry. It's a treat for all senses, and if you're lucky enough to be around, you don't want to miss it.
And finally, here's a pro tip. If you're visiting Pistoia, try a crostata (a type of tart) with these forest fruits. It's a classic Italian dessert that will blow your taste buds away!
More information about characteristic food from Pistoia
What is the iconic dish of the city of Pistoia?
The iconic dish of Pistoia is the Carcerato soup, a flavorful dish that's rich in history. It's typically made with the offcuts of veal (called rigaglie), Tuscan stale bread, grated cheese, and pepper.
Which dish or typical food from Pistoia is suitable for vegans?
For vegans, Pistoia offers the delectable Farinata con le Leghe, with Tuscan kale and cornmeal. It's a tasty and satisfying dish, completely plant-based, making it a perfect choice for vegans.
Which dish or typical food from Pistoia is suitable for vegetarians?
Vegetarians visiting Pistoia should definitely try Fagioli di Sorana or Ricotta di Montecatini. Fagioli di Sorana are a special bean variety from Pistoia, and Ricotta is a fresh cheese from local cows, both an excellent choice for a vegetarian meal.
What is the characteristic street food of Pistoia?
When it comes to street food in Pistoia, Brigidini takes the spotlight. These are thin, crisp aniseed wafers that are typically sold in local markets or during festivals. A delightful, aromatic treat to enjoy on the go!
What is the typical dessert or sweet treat of Pistoia?
Confetti Ricci is the quintessential sweet treat from Pistoia. They're sugar-coated almonds, usually in white vibrant colors with a spiky appearance. Often associated with celebrations, these crunchy almonds are a treat for both the eyes and the palate!