Welcome to Vernio, the northernmost municipality of Prato. This small district is renowned for its typical dishes and treats that are famous throughout Italy. Let's explore what they are.
Zuccherini di Vernio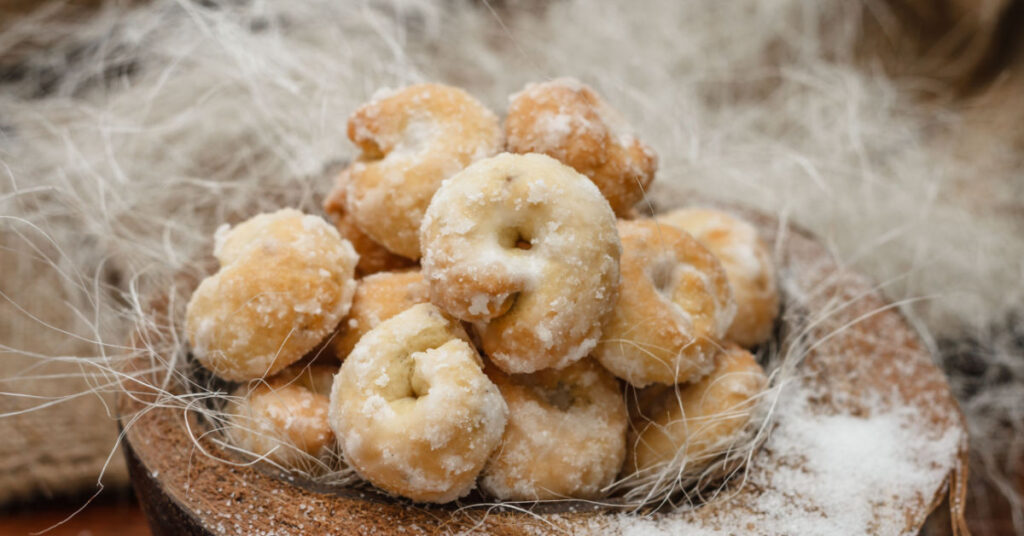 The charming town of Vernio near Prato gifts us the Zuccherini. These biscuits, historically reserved for significant life events in the Bisenzio Valley, have an enduring sweetness, symbolizing long-lasting happiness.
Today, these treats come in various shapes, and are ideally dunked in Vinsanto. With ingredients like anise seeds and anise liqueur, these biscuits offer a unique flavor profile that is both familiar and pleasantly surprising.
Sassi della Calvana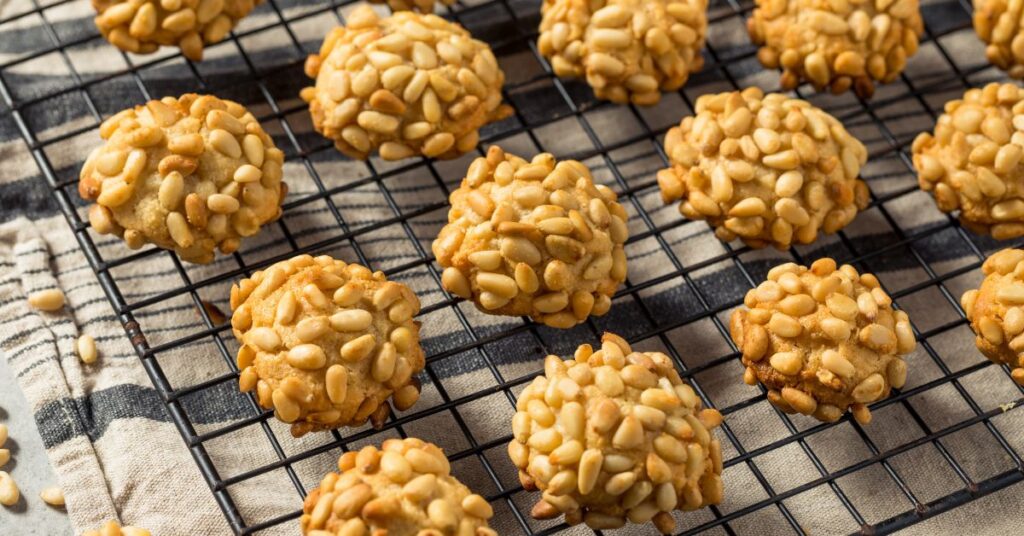 Another delicacy from Vernio in the Prato region, Sassi della Calvana biscuits pay homage to the Calvana Mountains. They imitate the mountain stones in shape and hue, and are known for their four distinct natural flavors, inspired by the ingredients from Val di Bisenzio:
Chestnut flour complemented by pine nuts.
Raisin paired with the sweet tones of Vin Santo wine.
Hazelnut subtly mixed with extra virgin olive oil.
And a zesty combination of extra virgin olive oil and lemon.
These handcrafted biscuits are a must-try when you're in Vernio, perfect for munching with your mid-morning coffee.
Pappardelle al ragù di Lepre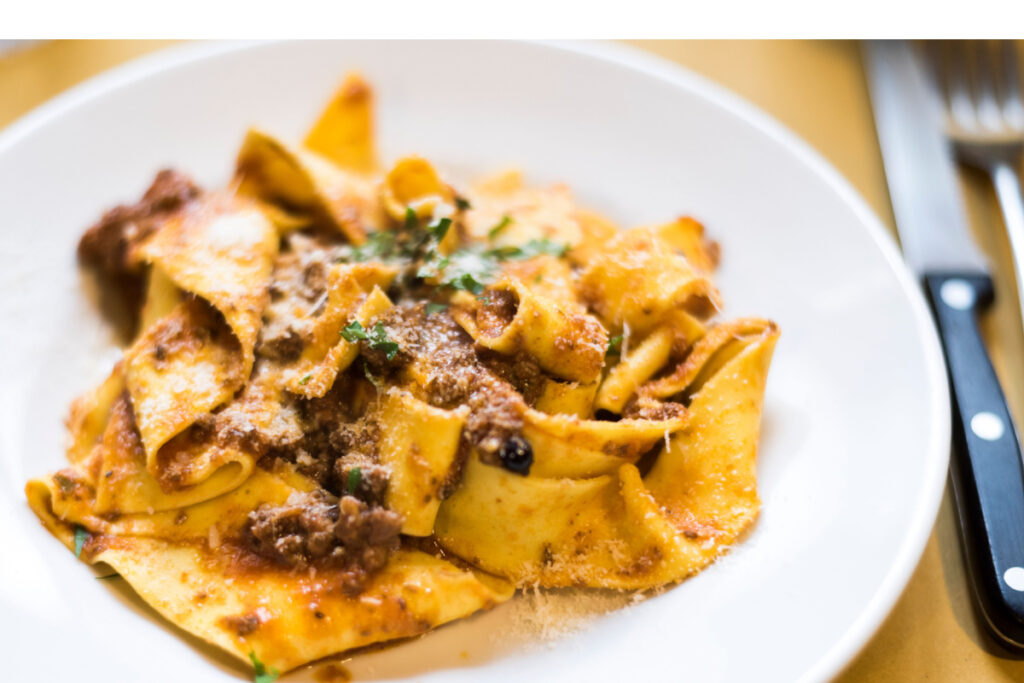 Introducing a delectable meal, Pappardelle al sugo di lepre, or as we'd say, Pappardelle with hare sauce. In places like Prato and Vernio and the broader Tuscany region, it's customary to integrate game meats, including hare and wild boar, into quintessential pasta recipes. Crafting the sauce for this culinary masterpiece takes a meticulous hand and patience to get the hare meat just right.
Resembling fettuccine, Pappardelle is broad and flat, and for this dish, it's draped in a luscious ragu crafted from hare meat, sundrenched tomatoes, and a blend of herbs and spices.
This Pappardelle dish, adorned with hare ragù, caters to those who have a penchant for gamey flavors or what we'd label "dark meats."
Mortadella di Prato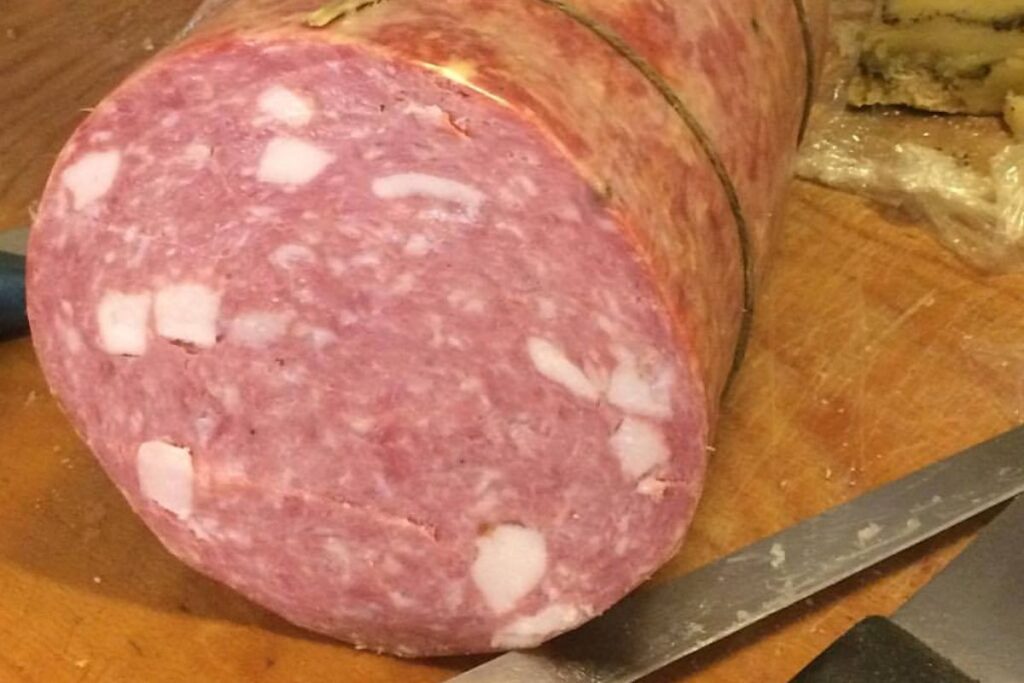 While Mortadella might ring familiar as a classic Italian deli meat, Prato has its own signature twist, and the delicatessens of Vernio celebrate it. This isn't the mortadella you think you know.
In times gone by, especially in Tuscany, mortadella was birthed from a necessity to repurpose residual meats and secondary pork selections. Early in the 20th century, these meats found a new purpose when encased, seasoned with aromatic spices and liqueurs, then simmered to perfection.
Though its production waned post World War II, mortadella saw a resurgence around three decades ago, spurred by a Prato delicatessen. The modern Mortadella di Prato is a result of meticulous crafting using choice meat cuts, ditching overpowering seasonings.
Farinata Gialla con Cavolo nero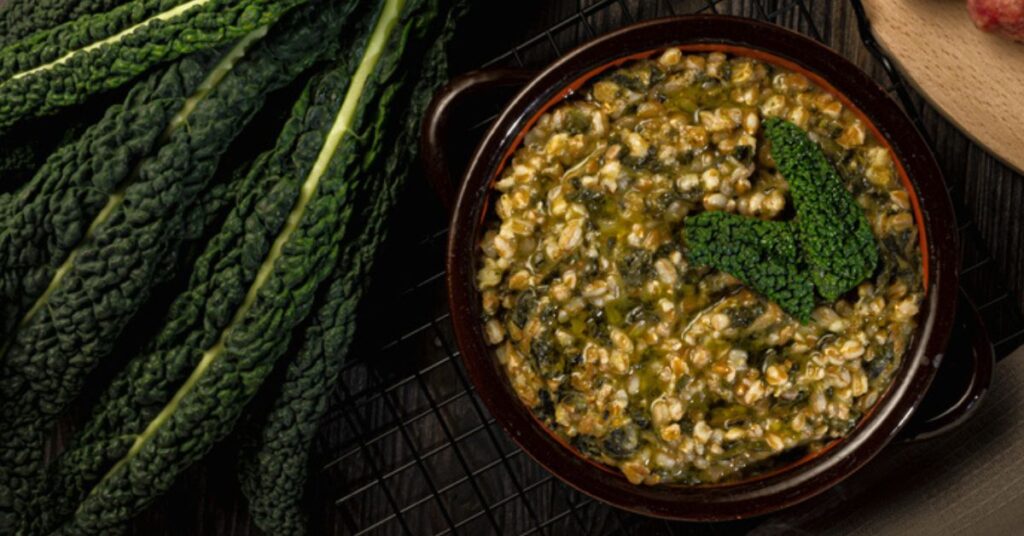 In Vernio venture into the realm of Prato's culinary heritage with Farinata gialla con cavolo nero. Essentially, this translates to a yellow farinata made from cornmeal combined with the bold character of black cabbage, promising warmth during those frosty evenings.
This dish, reminiscent of Tuscany's mountainous terrain, is a treasure not to be overlooked. Envision cornmeal, black cabbage, red onions, fiery peppers, tomato essence, a drizzle of extra virgin olive oil, and a dash of salt, coming together in a delightful blend.
Tortelli di Patate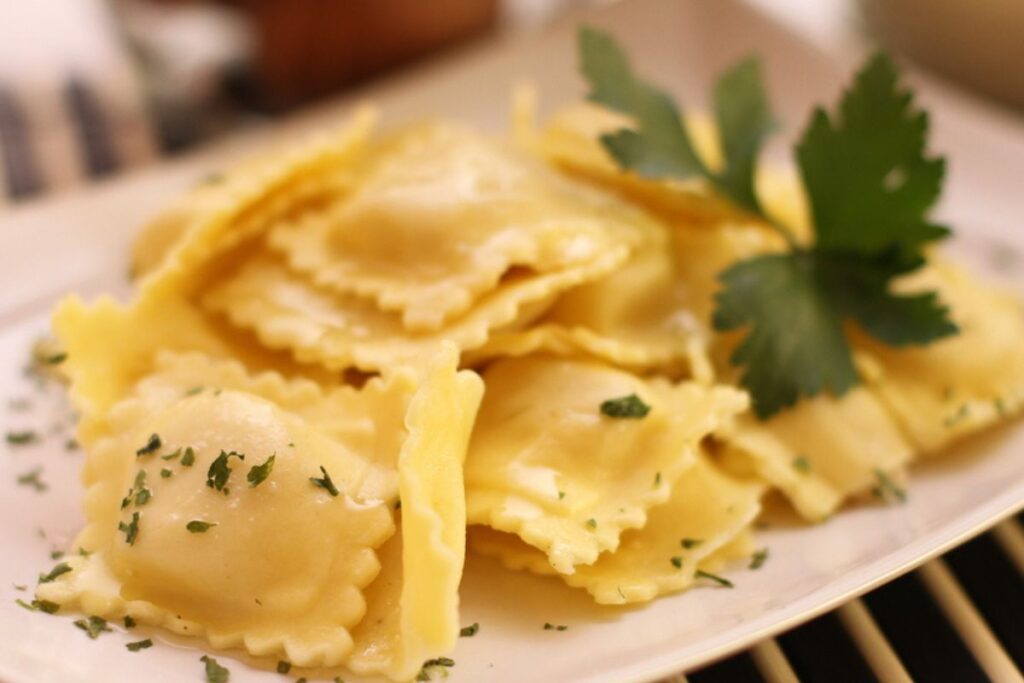 Hailing from the Mugello landscapes but deeply ingrained in the Val di Bisenzio and Prato provinces, Tortelli di Patate is a staple. These potato-stuffed parcels are a valley legend, heightened when paired with signature sauces from the Val di Bisenzio.
These aren't your average tortellini. The Tortelli di Patate is generously sized and boasts a filling that's a mix of creamy potatoes, savory Parmesan, aromatic nutmeg, and a pinch of salt.
Papero in Umido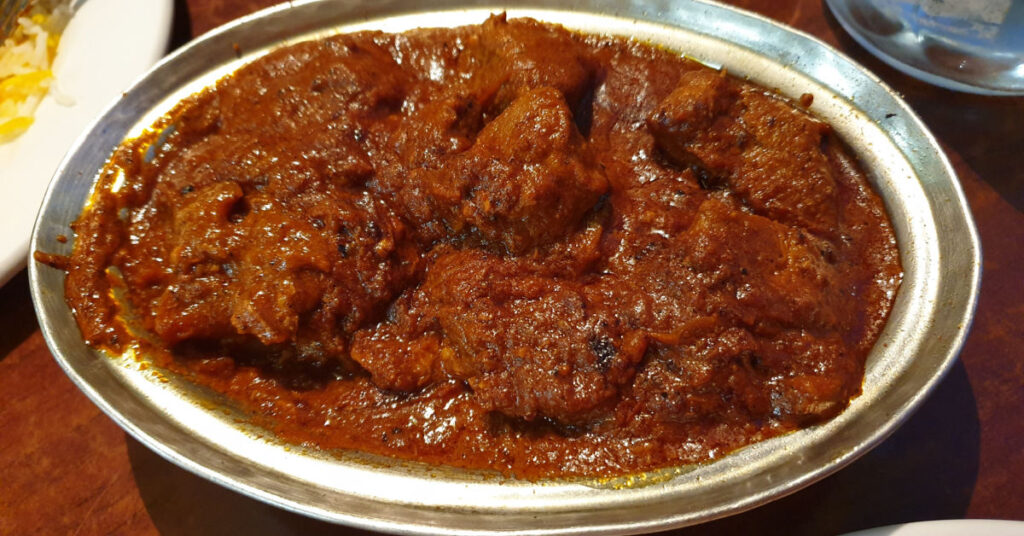 Let's journey to Prato's heart with Papero in Umido, a dish highlighting stewed domesticated duck that you can find in the traditional trattorias of Vernio. This dish was traditionally a reward for tireless farmers after strenuous harvest days.
This duck preparation, paired with traditional maccheroni or served atop slices of Prato bread, delivers a rich, heartwarming flavor, embodying the region's culinary spirit.
Polpette di Carnevale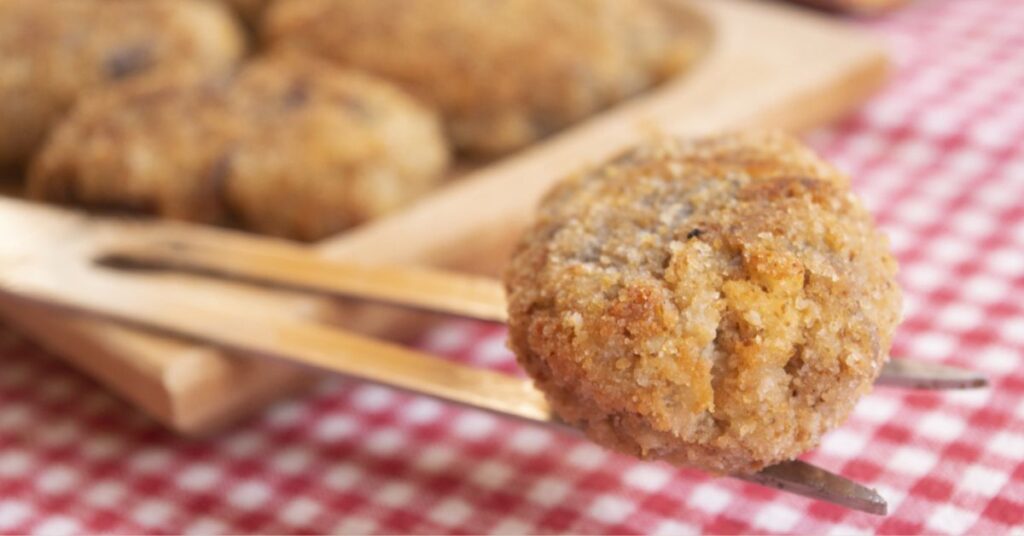 If you've ever heard of Polpette di Carnevale, you might recognize them as the festive Carnival Meatballs rooted in Prato's traditional culinary heritage. These are a must-have during the Carnival celebrations, especially as Fat Tuesday approaches.
What sets them apart? These meatballs come with a delightful surprise of pine nuts nestled within and can be crafted using chicken or veal. Dive in, and you're greeted by the rich taste of the meat, harmoniously mingling with the distinctive nuttiness of pine nuts and the slight salt kick from pancetta. Crunchy on the outside, but oh-so-soft within, these meatballs are a pre-Lenten treat not to be missed!
Minestra di Pane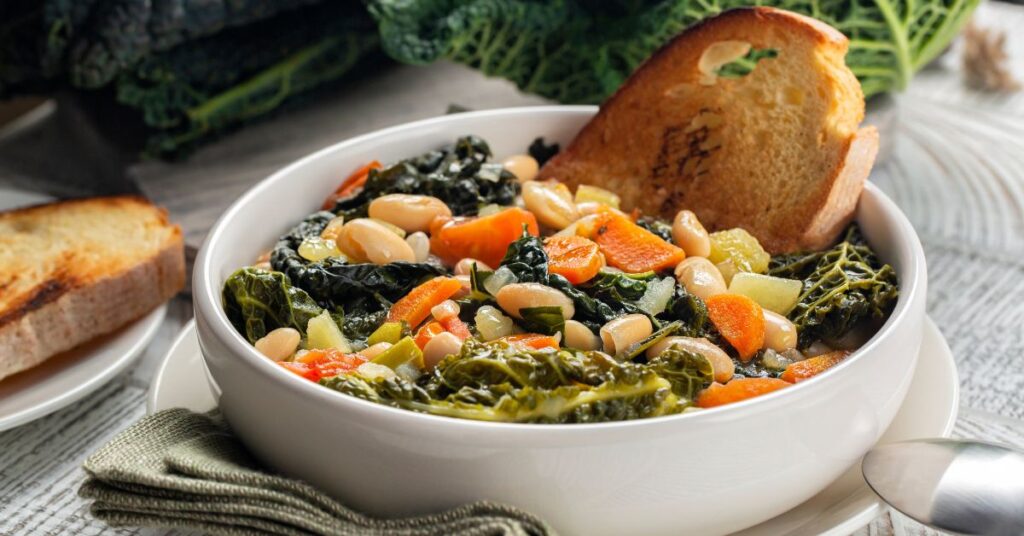 Journey back to the culinary essence of the Middle Ages with Minestra di Pane, a soup that sings praises to its humble origins and the age-old practices of the masses. Often crafted using the seasonal veggies at hand, its beauty lies in its sheer simplicity and individual twists.
Dive into its ingredients, and you'll find it brimming with olive oil, onion, garlic, carrots, and a mix of vegetables like celery, potatoes, and more. As you savor a spoonful, the tender veggies create a heartwarming broth that's elevated by the soaked stale bread, giving you the quintessence of rustic comfort.
Pappa al Pomodoro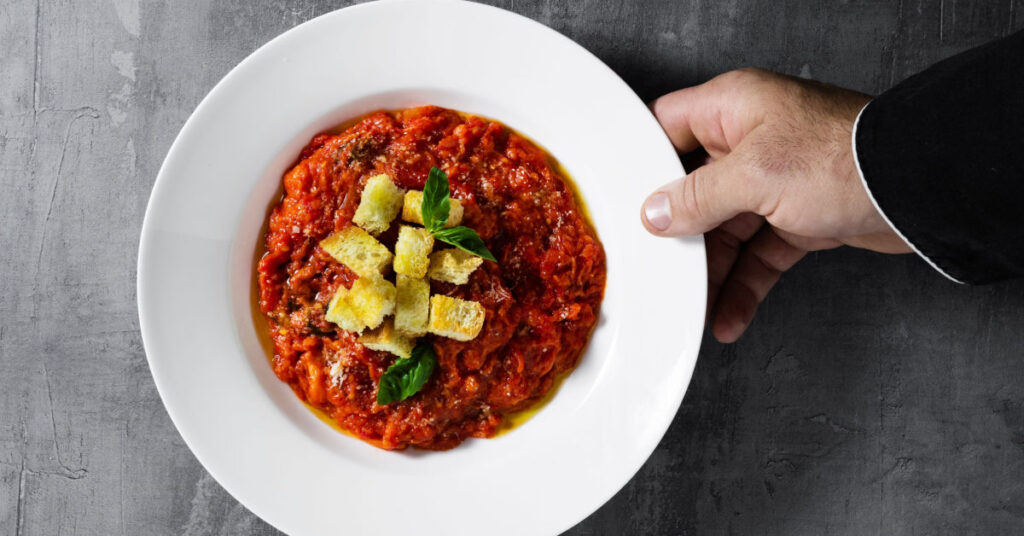 Welcome to the world of Pappa al Pomodoro, a Tuscan classic that pays homage to the genius of rustic kitchens. Using stale Tuscan bread as its star, it transforms it with a tomato-rich broth and a mix of ingredients, resulting in a dense, soul-soothing soup.
Every spoonful is a symphony – tomatoes, garlic, basil, and olive oil work in tandem to gift you a comfort-filled experience. The bread, now soaked and soft, only enhances the textural journey. And, when in Prato, you'll find this gem gracing the menus of many establishments, especially during tomato-rich summers, showcasing its unpretentious brilliance.
Ficattole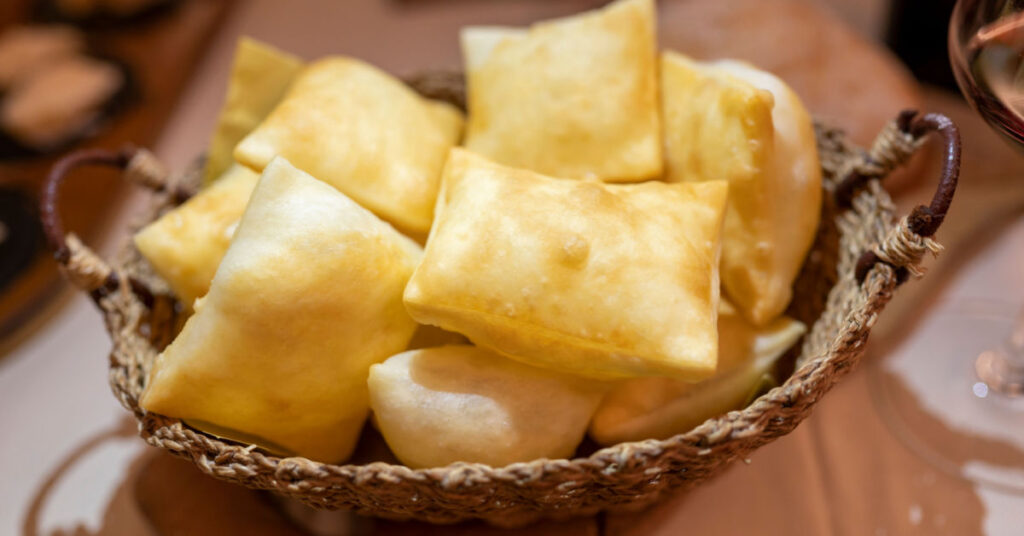 Ficattole, sometimes referred to as Donzelle or Zonzelle, is Prato's answer to fried bread delights, also eaten a lot in Vernio. Whether accompanying the renowned Tuscan charcuterie or standing on their own, they're a joy to savor. And, the versatility is impressive – from sweet to savory, even with delightful fig inclusions for a special taste.
Indulge in one, and the contrast between its crispy exterior and the pillowy insides is irresistible. Its taste oscillates between the sweetness and the savory brilliance of Tuscan delicacies. Be it restaurants, trattorias, or even bakeries, Prato ensures these treats are never far from reach.
Pesche di Prato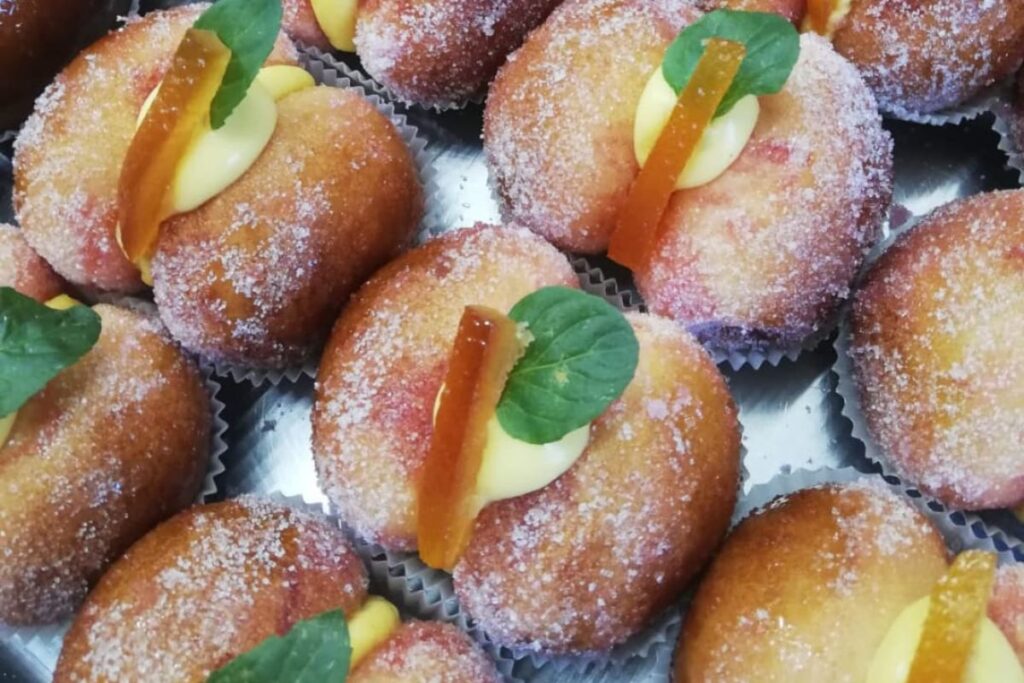 Let's unravel a sweet secret: Pesche di Prato. Now, despite what the name might suggest, peaches aren't in the mix. These Tuscan desserts, found in the region spanning Prato to Florence, are crafted to resemble peaches in form.
Each Pesche di Prato is two halves of soft brioche pastry coming together with either a cream or chocolate center. But it's the Alkermes bath they receive, a renowned medieval Tuscan liqueur, that gifts them their peachy hue.
Tracing their origin, folklore suggests they debuted during the Italian Unification celebrations, where they won hearts instantly. As for the flavor – the brioche's softness, the creamy core, and the Alkermes notes harmonize beautifully, creating a taste that's ethereal. For anyone with a sweet tooth, Vernio's pastry shops ensure these delights are ever-present.
Scendiletto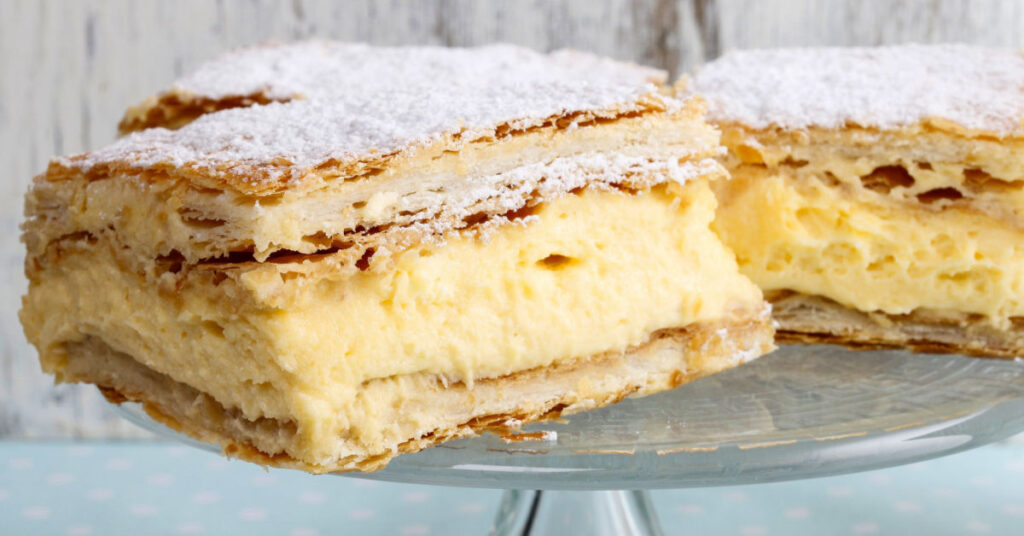 Ever hear of Scendiletto cake from Tuscany? Its peculiar name's origin is a fun mystery – some say it's inspired by the soft carpets that used to be by the bed, welcoming you in the morning. While others believe it's a way to coax you out of bed with the promise of something delicious in the kitchen.
What we can confirm? This cake is a treat! Think of it as a pastry puff filled with a creamy, velvety custard. Scendiletto is one of Tuscany's delicacies that combines readily available ingredients into a dessert you won't forget.
Taking a bite is like diving into a texture party – crisp pastry meets smooth, luscious custard. Stroll through Prato or Vernio and you'll find this cake in several bakeries and cafes, often paired with a steaming coffee or tea. It's a testament to how Tuscan desserts can be both simple and spectacular.