Most traditional Italian dishes have humble origins and have their roots in times of war, hunger, and famine when people got by stirring up leftovers from the previous day, this is what happened with ragù, a minced meat and tomato-based sauce whose preparation takes several hours but is never the same since it has adapted differently from region to region.
Although today ragù (also ragoût) is known throughout the world as an Italian delicacy, its earliest origins can be found, however, in France (easy to imagine from its name, which, in fact, derives from ragoût, an old French word for "revives the taste"), where a very similar dish is still prepared today that has retained its original name.
Sugo and Ragu: what is the difference?
In Italy, the word sauce is sugo, it does not indicate a unique recipe: it can generically indicate a sauce or refer to a specific tomato-based condiment. Contrary to popular belief, marinara sauce is not so popular for us Italians.
Ragù is a tomato sauce with ground meat and can be considered a sauce. Still, since it has a very strong nationally and internationally recognized identity, it is almost always identified by its name, ragù or sugo al ragù.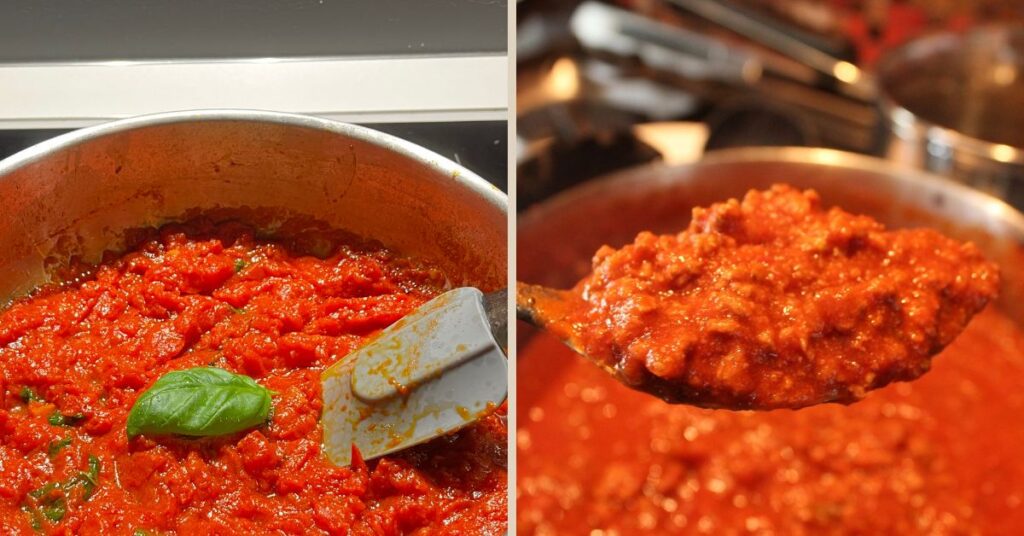 Now that we have understood the difference between a simple tomato sauce and a meat ragu sauce, we need to make a further distinction.
In fact, here in Italy, the term "ragu" doesn't just refer to a sauce with tomatoes and ground meat, but it also refers to a sauce that only contains meat and no tomatoes.
We call it "ragu bianco," which translates to white ragu sauce.
White Ragu and Red Ragu explained
The main difference lies in the ingredient and color and composition of the sauce.
Ragu rosso (Red Ragu), is a rich meat-based sauce that is cooked slowly with a combination of ground beef, tomatoes, onions, carrots, celery, and sometimes a splash of wine. It gets its reddish color from the tomatoes, which are an essential ingredient in this sauce.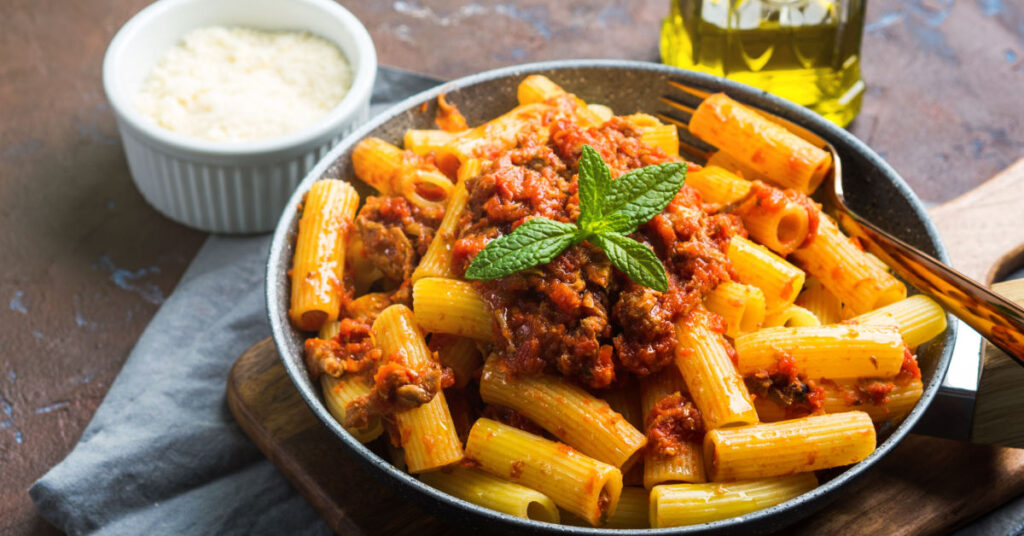 Ragu bianco (White Ragu), does not contain tomatoes. Instead, it is a meat-based sauce that is cooked with ingredients such as ground pork, chicken, or veal, along with onions, garlic, white wine. Ragu bianco has a lighter color and a more delicate flavor compared to its red counterpart.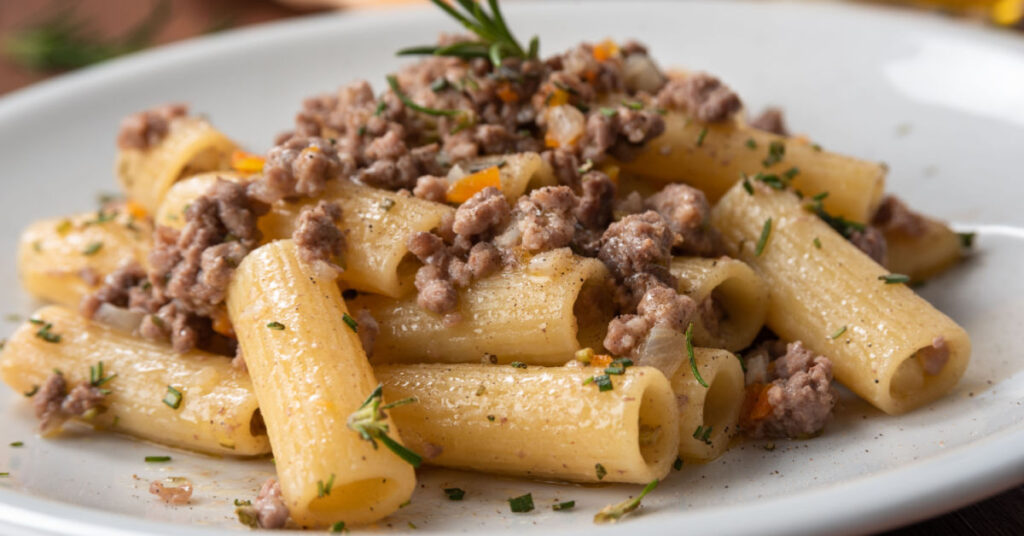 The choice between ragu rosso and ragu bianco depends on personal preference and the specific recipe being prepared. Ragu rosso is the go-to sauce for classic Italian dishes like lasagna, spaghetti or any pasta dish that benefits from a rich and hearty tomato-based sauce. Ragu bianco, on the other hand, offers a lighter alternative for those who prefer a milder sauce or wish to explore different flavors. It is often used in pasta dishes where a tomato-based sauce might overpower the other ingredients.
Both ragu rosso and ragu bianco are beloved in Italian cuisine, showcasing the diverse and regional variations of traditional meat sauces.
The different ragùs according to region
The Italian ragù represents the sunday dish par excellence because the meat needs to cook for several hours over a gentle flame to break down inside the sauce (which must be left simmering for a long time, here we say "pippiare" or "pappuliare" to describe the sound that ragu makes during prolonged cooking).
But the most interesting thing is to get lost among the territorial versions ragù that you can taste around our cities.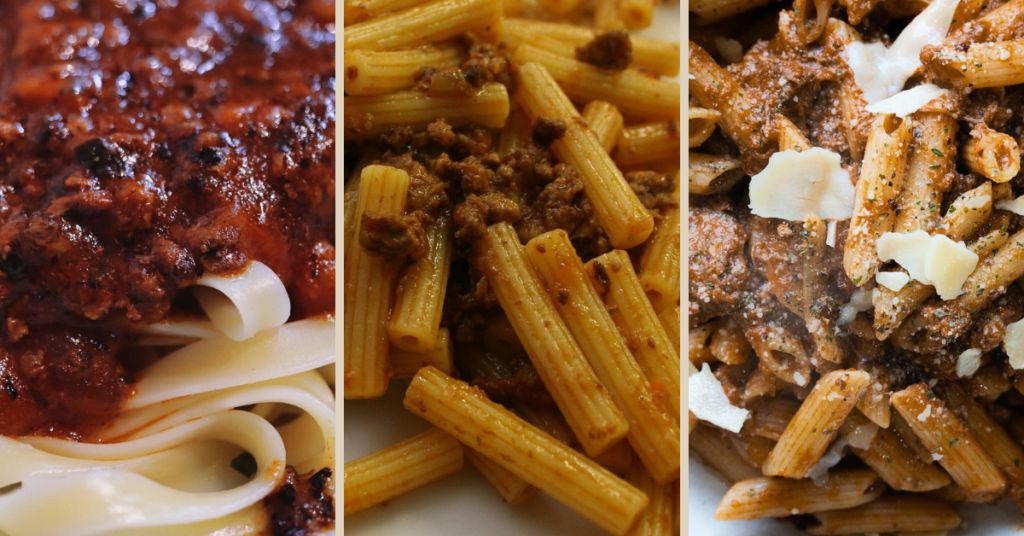 In each region, everything can vary and bring a different vein of flavor to the ragu sauce: the quality of meat used, the presence of vegetables or herbs, the spices used, and even the type of tomato chosen for cooking. Practically, one could organize a "ragù tour" in Italy to try them all!
Let's see how the most famous regional variations of ragù in Italy:
Ragù Bolognese is the best-known type of ragù, so much so that ragù and bolognese sauce is often referred to as the same thing, but this is not exactly the case, Bolognese sauce sees in its preparation in addition to meat and tomato full-bodied chopped vegetables, which the classic ragù does not have.
The Latium ragu variant of ragù, on the other hand, is more delicate and minimalist, opting only for garlic sauté and contemplating only meat from suckling lamb (ragù d'abbacchio).
In Abruzzo, where sheep meat is a must, it is possible to taste an excellent mutton ragout.
While in Basilicata the dish is enriched with many types of meat (lamb, pork sausage, pork and veal), spices and flavorings (onion and parsley) and, above all, lard that takes the place of extra virgin olive oil.
Calabria, the land of chili peppers, could only invent the spicy ragout.
Before I tell you about Neapolitan ragù of Campania, I must warn you: you'd better sit down. Here, in fact, the ragù cooks for no less than 6 hours, and only the highest quality raw materials are accepted: local tomatoes, minced pork and beef, and sautéed onion.
And that's not all: there is Romagna ragù, made with mixed meats and a hint of sugar to sweeten the tomato;
The Friuli ragout, which identifies Alpine flavors by combining chamois with pork and flavoring it with juniper, cloves, bay leaf, and horseradish for a spicy note;
Lombard ragout, which draws on the flavors of the land, employing goose meat, game, wild herbs, and even some savoy cabbage!
The Marche ragout is inspired by many of these variants, using lard and a mix of meats and spices; ancient tradition would even have the use of offal and bones to give the dish a stronger flavor but, today, not everyone still follows this custom.
I could go on and on but it would be impossible to list all the possible customizations of the Italian ragù: to finish, I will mention only the white ones, the so-called white ragùs -that is ragu sauce without tomatoes- that you can find in Umbria (with béchamel or cream instead of tomato sauce), in Liguria (with shallots, carrots, and smoked bacon) and in Piedmont (with venison and porcini mushrooms).
Perhaps you are left with one last question, which is which pasta format is best enjoyed topped with a ragu meat sauce?
Depending on the variant, of course, there is also a more suitable pasta format. In general, pappardelle pasta (egg pasta, wide, ragged, and very long) manage to get everyone to agree.
Where to eat a real Ragu in Italy?
Ragù is the dish of tradition, of the home hearth, of sunday lunch. It is a symbol of togetherness, of family, of tables where everyone talks loudly and eats happily. Of patience, care and dedication.
Therefore, the best place to eat it is at the home of an Italian who has prepared it with his own hands or at the table of a restaurant or osteria that has made it the day's dish.
If you are wondering whether it is possible to find ready-made store-bought ragù at the supermarket, the answer is -yes, but it is not worth it-. The price will be cheap, the preparation will be quick, and the flavor may even be tasty, but what you will taste will never embody the true Italian ragù concept.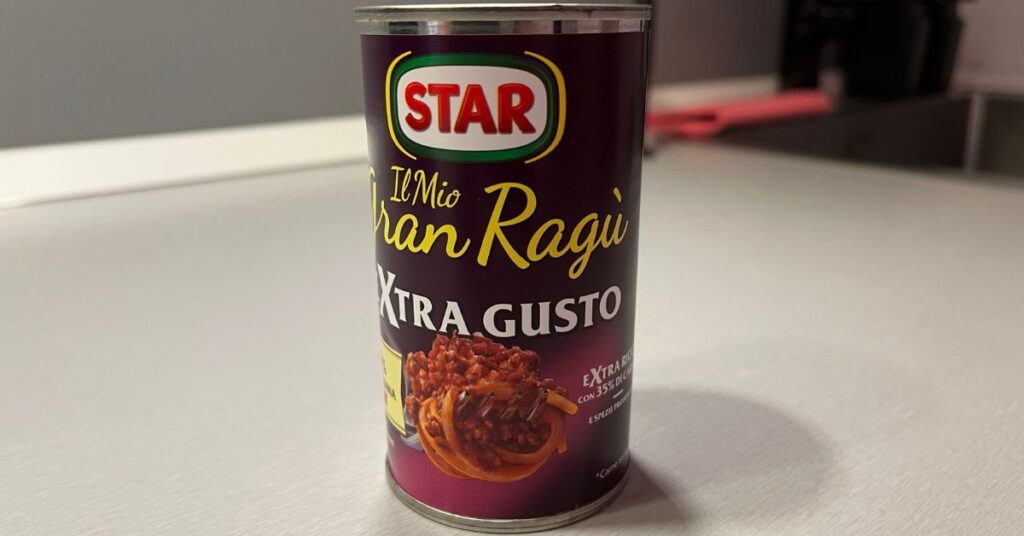 I'll let you in on a secret, though: there are stores, taverns, and even open kitchens of traditional Italian women where you can buy at a price so reasonable as to be ridiculous, a jar (strictly in a glass jar!) of homemade ragù for an authentic ragù experience. You only have to choose the variant that most intrigues you!