Italy's connection to caseiculture is ancient and has been continuously renewed with time. Then again, we couldn't embody pizza heaven without having the best mozzarella in the world! The flavor of cheeses actually enriches not only a great many first and second courses, but also scenic cutting boards that, in theory, would serve as an appetizer but, in practice, are worth almost as much as a single dish!
On Italian cheese platter, you can find fresh cheese, spreadable cheese, soft, hard and semi-hard cheeses: in Italy, there are almost 500 varieties of cheeses, the most valuable of which have become DOP (Protected Designation of Origin), PAT (Traditional Food Products) and IGP (Protected Geographical Indication). No wonder, then, that the Belpaese is the third largest producer in the cheese market at the European level.
Anyone who has eaten at least once in an Italian restaurant or trattoria knows what I'm talking about: before the main courses, it is usually possible to opt for several cheese platters; even, small thematic appetizers offered by the house often arrive at the table. This gives a measure of how important, here, this kind of food is. How then, to assemble a perfect Italian-style cheese board?
How to present an Italian-style cheese board.
In Italy, we say that "even the eye wants its part"; and cuisine is no exception. After the preparation of the dishes, "phase 1" of any course is the plating.
A cheese board worthy of this name generally makes its impression if it is positioned in a clockwise direction: this means that whatever the shape of the tray chosen (rectangular, square, circular), slices, chunks, and pieces of cheese are arranged sequentially, starting with soft and fresh ones, moving on to semi-hard and aged and ending with hard ones.
The rule of a good cheese board is to put cheeses from various regions so as to make people taste typical products.
The meaning of so the called "clock" cheese platter should start with soft cheeses continue with semi-soft cheeses and end with semi-hard and hard cheeses with an aging of more than 6 months.
A significantly important standard to be followed in all of this is to arrange the cheeses in order of taste as well, that is, starting with the soft cheeses, one must always start with the most delicate to continue with the full-bodied ones than with herbs, flavored and so on.
In summary, the order of a clockwise cheese board are:
Soft cheese
Semi-soft
Semi-hard
Hard
Seasoned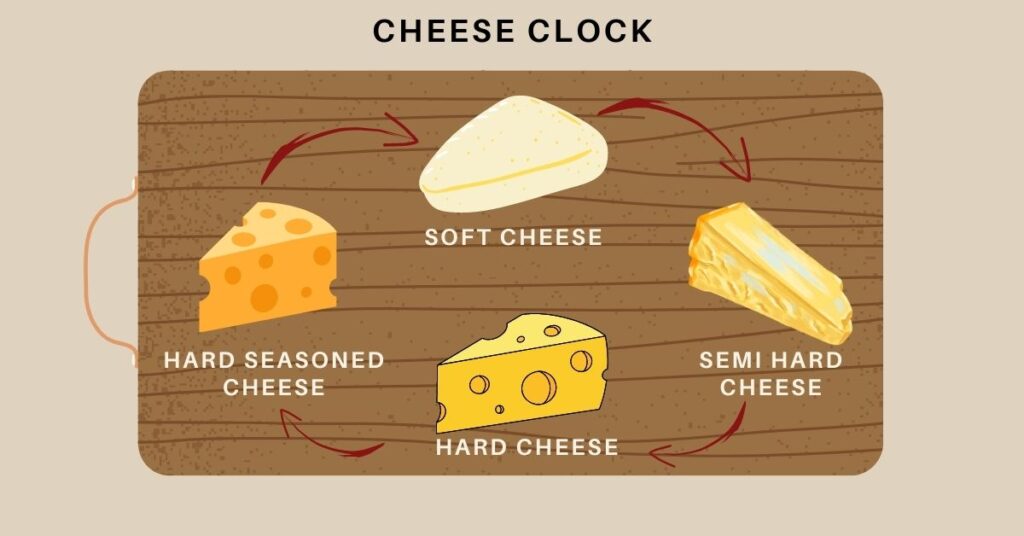 The mandatory protagonist of any Italian cheese board is Parmesan, whose highest expressions are Parmigiano Reggiano and Grana Padano, two DOP (produced exclusively locally) with raw cow's milk and no additives. Their genuineness and high nutritional power make them perfect (and delicious) even for kids.
As for semi-hard cheeses, a good pairing is the Fontina and Asiago combo. The former is an incredibly aromatic DOP cheese from Valle d'Aosta that can be served in fondue form in a pan set over a flame and accompanied by fragrant bread croutons, a delight! But I must be honest, this is a luxurious idea that we Italians have "stolen" from our Swiss and French neighbors. Asiago, on the other hand, fresh and aged, has a gentler and more recognizable, flavor.
The clockwise arrangement, in short, is not just a matter of aesthetics, but also of food pairings and temperatures: many kinds of cheese, in Italy, are enjoyed together with honey, jams, or spicy sauces; others are wrapped in thin slices of local cured meats or offered together with grilled and sautéed vegetables; fresh and invigorating are also the summer inspirations with fruit.
This great variability also implies an ad hoc study of the space available on the cutting board, deputed to accommodate knives, spoons, small bowls, and other accessories that make tasting convenient and smudge-free.
Combinations made with our beloved carbohydrates are also particularly popular: a sufficiently spacious tray can center precisely around a basket filled with slices of bread, breadsticks, piadinas, flatbreads, and loaves of bread.
At what point in the meal is a cheese board served in Italy?
In Italy, the cheese board can be the main course of a meal or a single dish. If small, gourmet and for tasting, it generally identifies a tasty appetizer. If richer and more versatile, then it can act as a second course (and, therefore, follow the main dish, usually pasta, rice, or gnocchi) or even as a single course, depending on the number of offerings and bread it contains.
If dinner or lunch includes a cheese board of at least 4 cheese, the entire menu will have to deal with this course, which, because of its composition in terms of nutritional values, can almost be assimilated to a second course. So, it is advisable to choose appetizers that are not too rich, and it is better not to overdo the sauces and condiments of the first course, then opting for a light main course. Once the side dishes are finished, you will arrive at that course not too weighed down, and everyone will enjoy the tastes and textures of a well-composed cheese board.
What do Italians drink with a cheese plate?
No Italian with taste buds in the right place would ever eat cheese while sipping a soda. The best choice is wine, but don't think you can put just any bottle on the table! Again, it all depends on the flavor. Less aromatic cheeses, for example, combine perfectly with dry white wines: the more heightened the taste, the more you will veer toward red (rosé, vintage and aged reds) and even fortified and passito wines.
In short, if you want to make a good impression by proposing a scenic Italian-style cutting board to your guests, you have three watchwords to memorize: clockwise, pairings, wine.