Bucatini is a unique type of long pasta beloved in Italy. While similar in length to spaghetti, what sets bucatini apart is the distinctive hollow center running through each strand, resembling a thin, elongated straw. This characteristic hole adds a unique texture and allows the pasta to hold sauce in a way that spaghetti simply can't.
Not to be confused with other similar long pasta shapes such as ziti, which have a much larger diameter, below you will find pictures that will give you a better understanding of the differences, especially not to confuse them with spaghetti.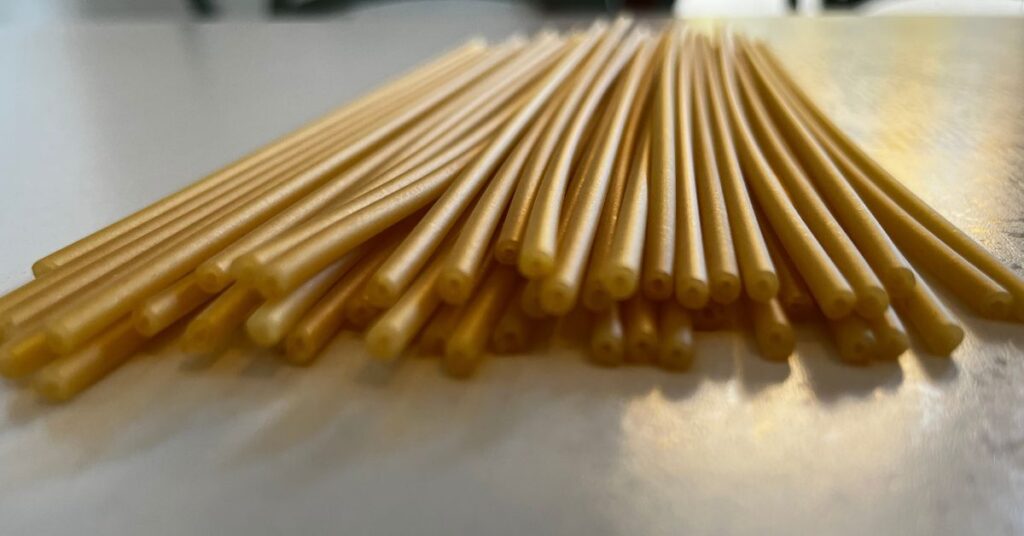 What does bucatini pasta look like?
If I had to explain how bucatini is made and what it looks like to a person who has never seen bucatini, I would tell him that Bucatini is a type of long pasta, similar to large perforated spaghetti.
The easiest way to tell if the pasta in front of us is bucatini is this:
Pick up the single noodle, "bucatino" in Italian, and check that its length is about 25 centimeters, this is the average length of bucatini.
Then turn it over and check the ends, if there are holes on both ends, then these are real bucatini.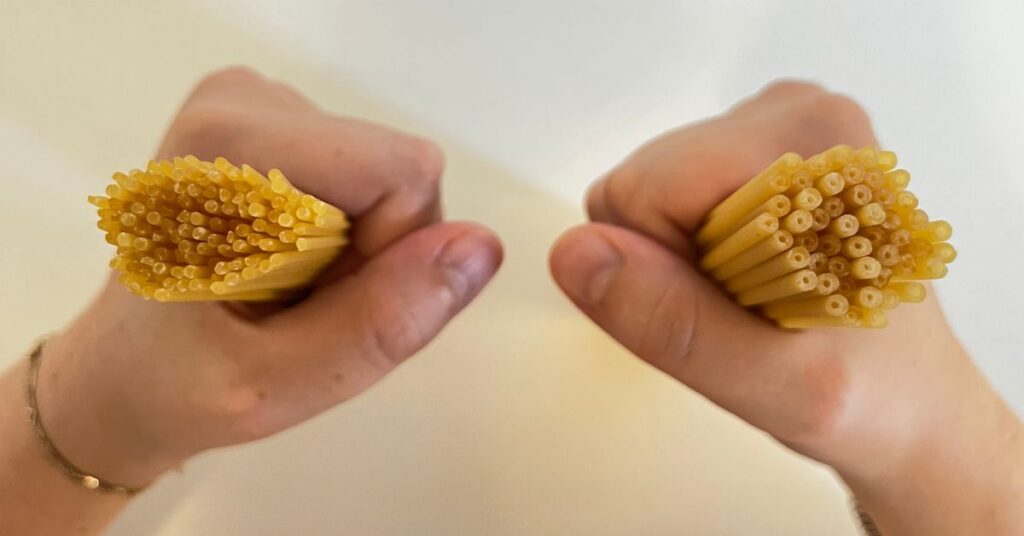 In Italy, as abroad, you can find packages of dried bucatini in almost any supermarket, although spaghetti remains the easiest and favorite form of long pasta to find. Check out here which pasta shape is in second and third place.
There are also pasta factories that produce fresh bucatini, in which case they will not be dry and will have a much shorter cooking time than packaged dry pasta.
Thus, bucatini is one of the many shapes of durum wheat semolina pasta, known in Italy and abroad for the very famous recipe of bucatini all' Amatriciana, i.e., bucatini seasoned with a sauce made essentially of tomato, guanciale bacon, and a generous sprinkling of pecorino romano, the main secret of this legendary combination is just the hole in the bucatini.
Why does bucatini have a hole?
To find out why and how the hole that runs through the bucatini from side to side is made, just read the classic recipe, which calls for a base of durum wheat semolina and water that form a dough that must rest for about 30 minutes, after which the bucatini are drawn, using a knitting needle.
At the industrial level, bucatini takes their characteristic shape thanks to the extrusion of the dough with a special die that gives it the classic central hole.
The hole in bucatini is not there by chance or for beauty but has a functional motivation that leads this pasta shape to have two characteristics, quite different from any other long pasta:
Thanks to the hole that runs through them, bucatini as opposed to spaghetti are passed through by water while cooking, so they cook on the outside but also on the inside.
Once cooked, the hole comes in handy again, as the sauce with which they are seasoned can now enter the bucatini and pass through it from the inside. That is why you need thick and flavorful seasonings for this pasta, precisely because the sauce is trapped inside the bucatini.
What does the word bucatini mean?
At this point, you will also have to take away your curiosity as to why here in Italy we use the word "bucatini" and not simply "spaghetti with a hole".
The answer is in the translation of the word buco in Italian, it is "hole," while something that has a hole in it is called "bucato," hence the word bucatini to define this pasta which is basically thicker spaghetti with a hole.
If you are in an Italian restaurant just know that Bucatini is pronounced boo/kah/TEE/nee in Italian.
What's the difference between bucatini and spaghetti?
In the eyes of a person not used to eating long pasta, bucatini may look like spaghetti, but they are actually very different.
| | | | | |
| --- | --- | --- | --- | --- |
| PASTA SHAPE | Outer diameter | Central hole diameter | Length | Medium cooking time |
| Bucatini | 2,8 mm | 0,8 mm | 260 mm | about 5-7 minutes |
| Spaghetti | 2,2 mm | no | 260 mm | about 9-11 minutes |
Bucatini and spaghetti measure difference.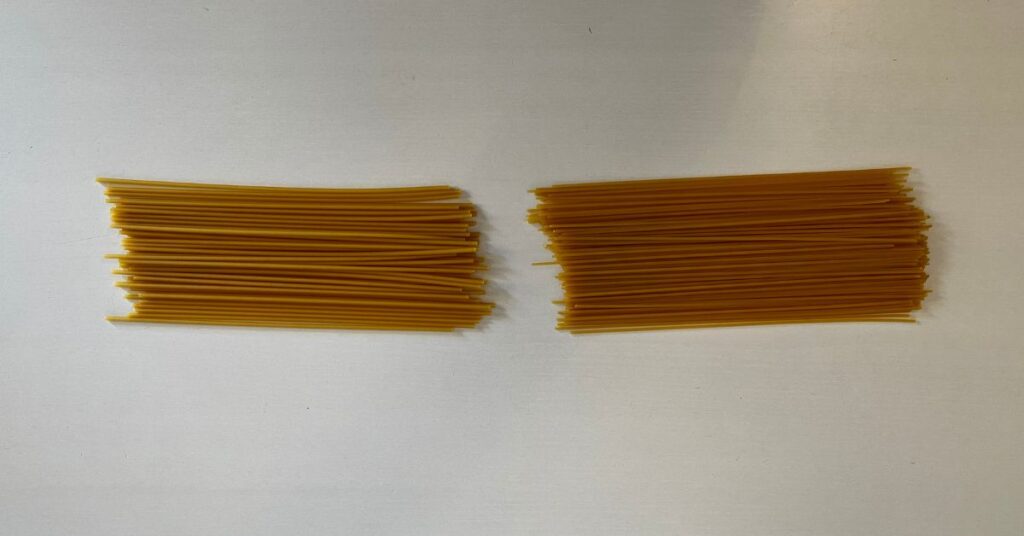 Bucatini has a diameter of 2.8 mm with a central hole of 0.8 mm and is 260 mm long. The cooking time is about 5-7 minutes.
Spaghetti has a diameter of 2.2 mm and is 260 mm long. The cooking time is about 9-11 minutes.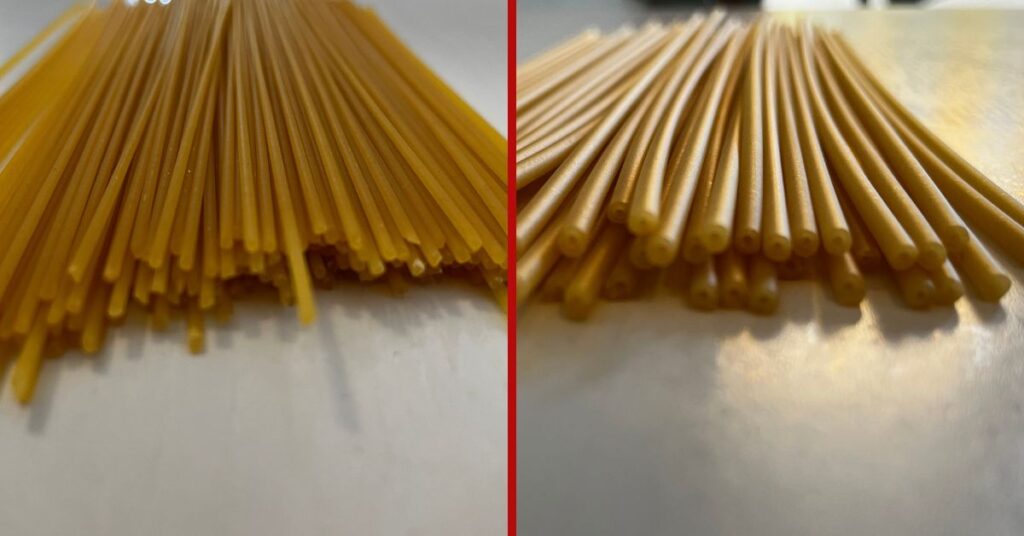 What is the difference between bucatini and perciatelli?
Both here in Italy and abroad it is possible to find for sale a long pasta format called perciatelli, actually, it is the exact same pasta type as bucatini, only the name changes.
It is often traditional in Italy to give the same type of food or the same type of pasta as in this case, different names according to regional dialects, Bucatini and Perciatelli in fact are the same types of pasta.
In most regions of Italy, they are called bucatini, a descriptive name since "bucato" in Italian means punctured.
In Campania, in southern Italy there is another word for punctured, this word is "perciato," which is why bucatini is called perciatelli in those regions.
Actually, Bucatini and Perciatelli are the same forms of long pasta, like thicker spaghetti with holes in the middle.
Actually here in Italy Bucatini is also known by a third name, Foratini, which comes from "foro", another word meaning hole.
Does Italian break bucatini?
No, never break or crack bucatini, not even when they are already cooked. Exactly like spaghetti, bucatini should be cooked whole, mixed with the sauce, and then served on a bowl plate forming a skein in the center of the plate.
Breaking the bucatini before putting them in the pot with the water is highly inadvisable, as being dry, long, hole-crossed pasta, you risk the break will not be clean and will create splinters of pasta.
I must warn you that breaking any kind of long pasta before cooking it will incur the wrath of any Italian, or person fond of Italian cuisine, nearby.
How do you eat bucatini pasta?
According to etiquette any kind of long type pasta, such as bucatini or spaghetti, or linguine, should be eaten with only a fork (here is an insight). So no help with a spoon, which is instead dedicated to soups, and specifically no knife.
Bucatini should be twirled with the fork until you get a small group twisted around the fork and then you can bring it to your mouth to eat it.
The fork should be slightly inclined to the plate and never used vertically. Simply grasp a few bucatini at a time (about 2-3), twirl them clockwise, and bring a perfect skein to your mouth, with no dangling bucatini if possible.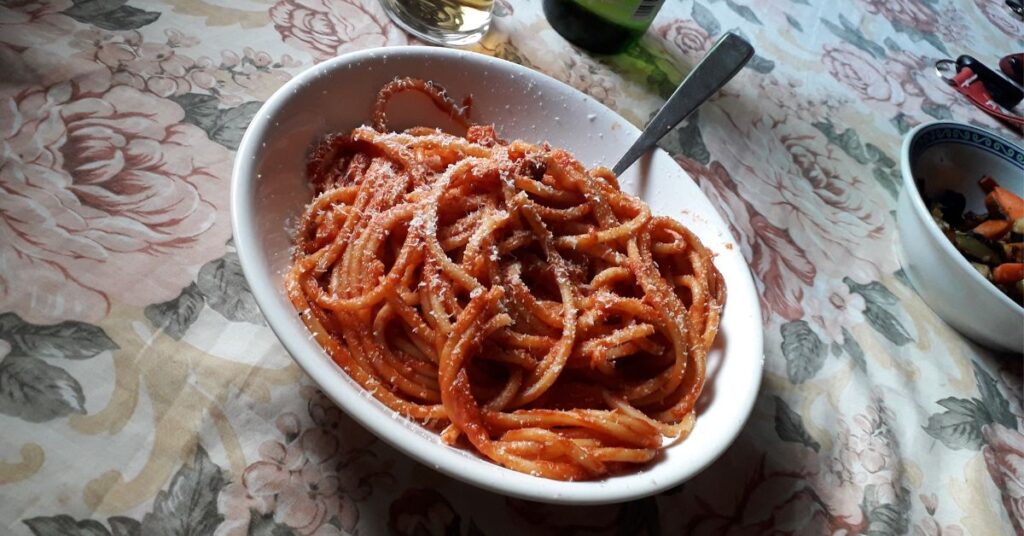 Remember that bucatini pasta is a first course in Italy, which is why it is always served on bowl plates, never on a flat plate. In addition, a bowl is also useful for containing bucatini and keeping the sauce concentrated on them.
How to Cook Bucatini?
This variety of pasta made from durum wheat is characterized by an elongated shape similar to spaghetti, requiring a high-sided pot and salted water for cooking. In addition, due to the internal hole, this format is the perfect ingredient for recipes with thick and flavorful sauces.
Cooking times are about the same as for spaghetti, about 10 minutes, because, although they are larger than spaghetti their central hole encourages the passage of water (during cooking), thus allowing them to be cooked fairly quickly.
With which sauce Italians eat bucatini
Bucatini in Italy is a well-known pasta shape, although it is not among the top choices of pasta types. Undoubtedly the home region for this form of pasta is Lazio, mainly because of the sauce with which they are cooked.
A great classic of Roman cuisine is bucatini all'amatriciana, or bucatini with tomato, guanciale, and pecorino cheese. There are various interpretations of the original recipe but they mainly involve different proportions between these four main ingredients.
Bucatini all'amatriciana is a simple and inexpensive pasta recipe that is very popular in Italy and a guaranteed success.
If you don't like tomato, another Roman bucatini recipe is bucatini alla carbonara, a fairly simple but beloved sauce in Italy and abroad.
What can I substitute for bucatini pasta?
If you can't find bucatini for sale, you can look for other long pasta shapes, pierced or not, that are different in size but yield very similar to bucatini.
Pasta shapes similar to bucatini:
Ziti: Ziti is a type of durum wheat pasta that is elongated, tubular, and hollow in shape with a smooth surface like bucatini but a larger diameter.
Spaghettoni: Like spaghetti but thicker and more full-bodied, Spaghettoni is a true workhorse of the Neapolitan culinary tradition, that satisfies all the senses and is pleasing to the eye even before they are tasted.