If you are visiting or planning to visit Livorno, you should know that this city is much more than just a large port for cruise ships or ancient medieval fortifications; it is a true treasure trove for seafood lovers and more.
The typical dishes of Livorno are based on local fish seasoned "alla livornese," which means with plenty of tomato sauce, an ingredient introduced to Livorno by Spanish Jewish immigrants: therefore, we have Cacciucco alla livornese (Livorno-style fish stew), Livornese salted cod, Livornese stuffed mussels, and Livornese red mullet.
But be careful because Livorno also hides some sweet delights, just try the "frati," which are delicious fried mini doughnuts.
But even if you are not a fan of fish, Livorno will still satisfy your appetite, especially if you enjoy street food. Read below to discover the incredible culinary offerings that are typical of this city with a salty air and a humorous spirit.
1. Polpo Ubriaco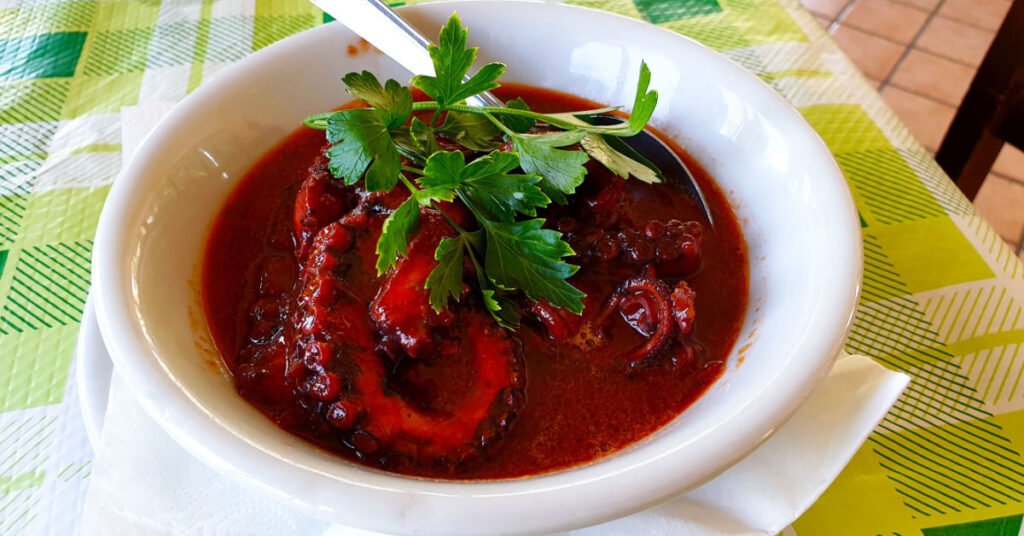 Polpo Ubriaco or "Drunken Octopus" is a popular seafood dish in Livorno, typically served as a second course. The octopus is sautéed with a base of onions, garlic, bay leaves, and chili peppers. Then, it's simmered slowly over low heat with a good-quality red wine until it becomes tender, flavorful, and succulent.
This recipe has humble origins, rooted in the tradition of fishermen, and it won't disappoint with its bold and distinctive flavor.
It gets its name because it's boiled in red wine. During cooking, the alcohol evaporates, and the wine transforms into an intense red sauce, perfect for dipping toasted garlic-rubbed bread.
While Polpo Ubriaco is typically served as a second course, it can also be enjoyed cold in salads or used to prepare bruschetta. The cooking broth is excellent for dressing spaghetti.
2. Telline e Arselle alla Livornese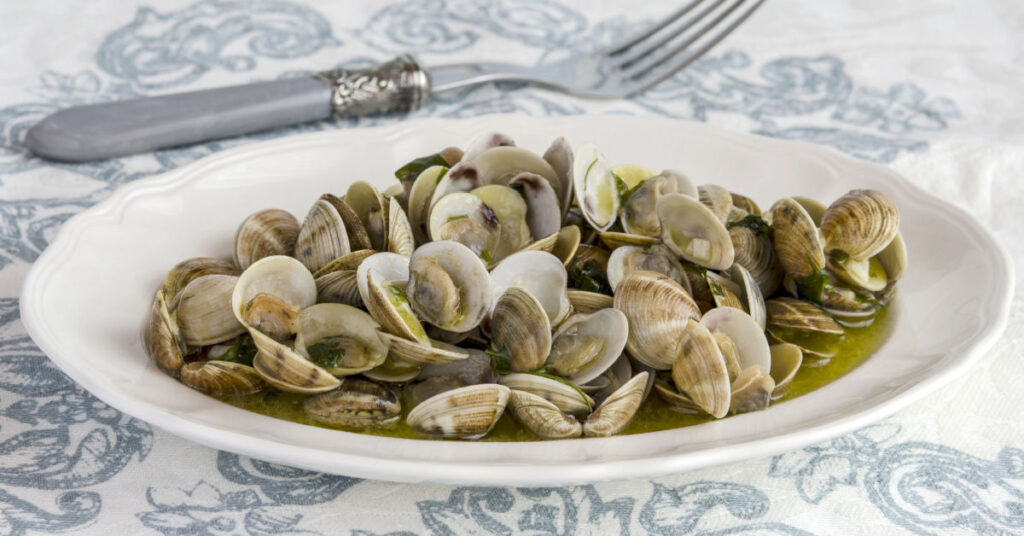 You've gotta try the Arselle alla Livornese, this dish is a delightful seafood course typically enjoyed during the summertime.
Arselle alla Livornese is a traditional Tuscan recipe from Livorno, but it's pretty popular all along the sandy Tuscan coast. The dish is named after the tiny clams known as 'arselle' which are the main ingredient. Trust me, you've never tasted clams quite like this.
The main ingredients are incredibly simple, yet the flavor is divine. It consists of 'arselle' clams, garlic, chili pepper, parsley, and a drizzle of olive oil, that's it. When you bite into this dish, the fresh, salty taste of the clams pairs perfectly with the spicy kick from the chili pepper, and the parsley brings a refreshing balance to the mix.
This dish was initially a simple, budget-friendly meal for the less affluent population, but its incredible taste quickly caught the attention of the upper class. It's so beloved that you can find historical references to it in the Livorno city archives. So, it's more than just a meal, it's a piece of Livorno's rich culinary history.
You'll usually find Arselle alla Livornese at local trattorias or seaside restaurants. Make sure to try it when you're in town – there's nothing like savoring it while you're enjoying the sea breeze. Tuscany has several typical seafood recipes, read all the specialties of this region at the link.
3. Risotto al Nero di Seppia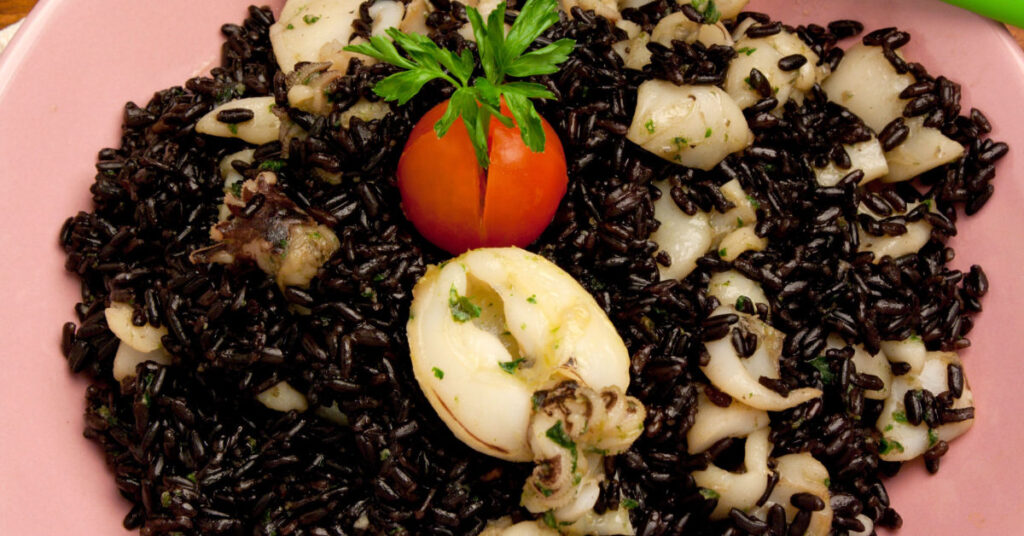 Risotto al Nero di Seppia is a rather popular first course in Livorno that originates from the coastal regions of Croatia. It made its way to Italy when Croatia was under Venetian rule, which is why it became popular first in Veneto and then throughout Europe.
The star ingredient of this dish is the black ink of the cuttlefish (nero di speppia in Italian, which is different from squid ink), which not only acts as a natural coloring agent but also adds a distinct flavor to the dish.
When you taste Risotto al Nero di Seppia, you'll experience a unique combination of flavors. The richness of the black ink gives the risotto a savory and slightly briny taste. The dish is often garnished with tender pieces of cuttlefish tentacles, adding a delightful texture to each bite. It's truly a treat for seafood lovers!
You can find Risotto al Nero di Seppia in many seafood restaurants and trattorias in Livorno.
4. Cacciucco alla Livornese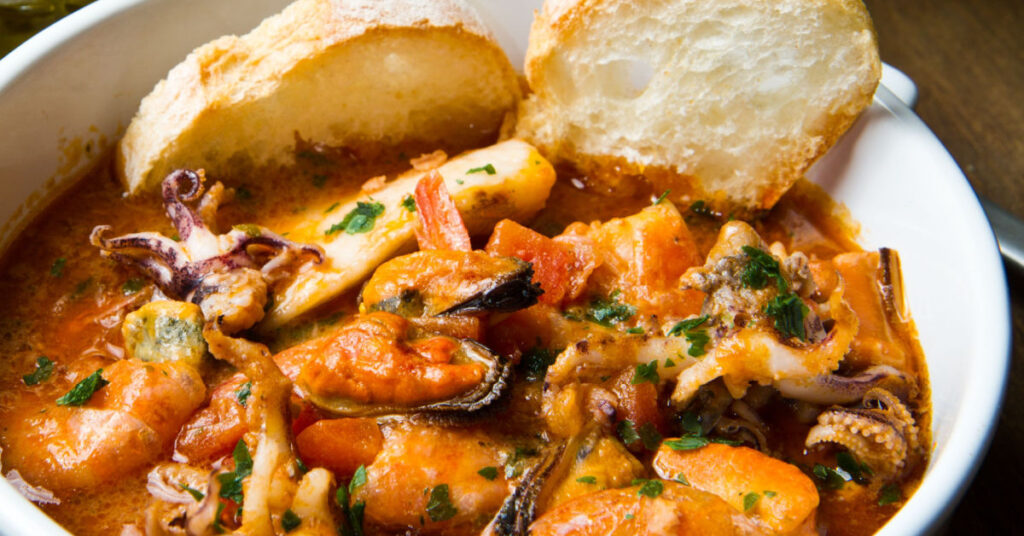 A dish that is the heart and soul of Livorno – the Cacciucco alla Livornese. If you're a seafood lover, brace yourself!
Cacciucco is a fish stew, a mouthwatering soup brimming with various types of seafood. This hearty main dish was born out of necessity to use up the less desirable catches of the day, resulting in a delicious mishmash – hence its name "cacciucco", which roughly translates to "mixture" in Turkish.
In true Tuscan fashion, this dish is a simple but hearty melange of ingredients: at least five different types of seafood, like shellfish, squid, octopus, and various types of fish. The seafood is simmered with garlic, chili pepper, tomatoes, and white wine, and served over toasted garlic bread – a delightful symphony of flavors, I assure you!
When you taste Cacciucco, you're welcomed with a burst of rich, spicy flavors, courtesy of the chili peppers and the medley of seafood. The bread soaks up all that goodness, making every bite a memorable one. This dish is a warm hug on a plate, it takes you straight to the heart of Livorno!
You can savor this masterpiece at any traditional "trattoria" in Livorno, but honestly, you'll find it in most parts of Tuscana. It's a year-round dish, but it's particularly satisfying during cooler months.
Having had my share of Cacciucco, I can't recommend it enough, dive in spoon-first and savor a piece of Livorno's tradition.
5. Spaghetti allo Scoglio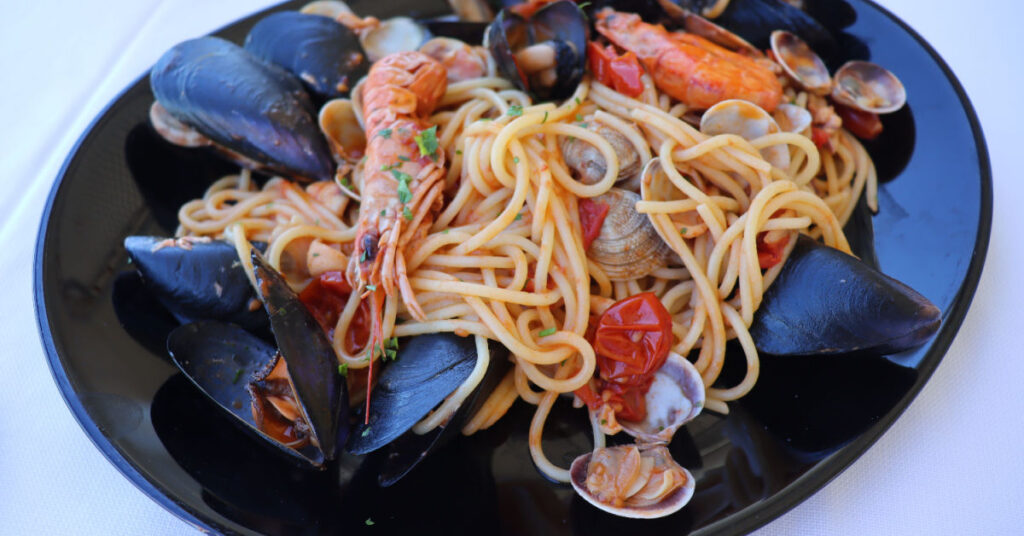 Let me introduce you to Spaghetti allo Scoglio – a delicious Italian main course that's like a love letter from the sea straight to your plate. Picture this: perfectly cooked spaghetti mingling with a generous medley of shellfish like mussels and clams, and often various types of seafood such as calamari, shrimps, and prawns.
While Spaghetti allo Scoglio originates from Sicily, it's popular across Italy, and of course a staple in Livorno, each region and city putting its own twist on it. A perpetual debate among Italian foodies, though, is whether to go "in bianco" (white), allowing the fresh, briny seafood flavors to shine, or to add cherry tomatoes for a hint of sweetness and color.
The name "Spaghetti allo Scoglio" translates to "spaghetti of the rock," harkening back to its humble origins when seaside dwellers would use what they could gather from the rocks by the sea to create this flavorful dish.
6. Bordatino alla Livornese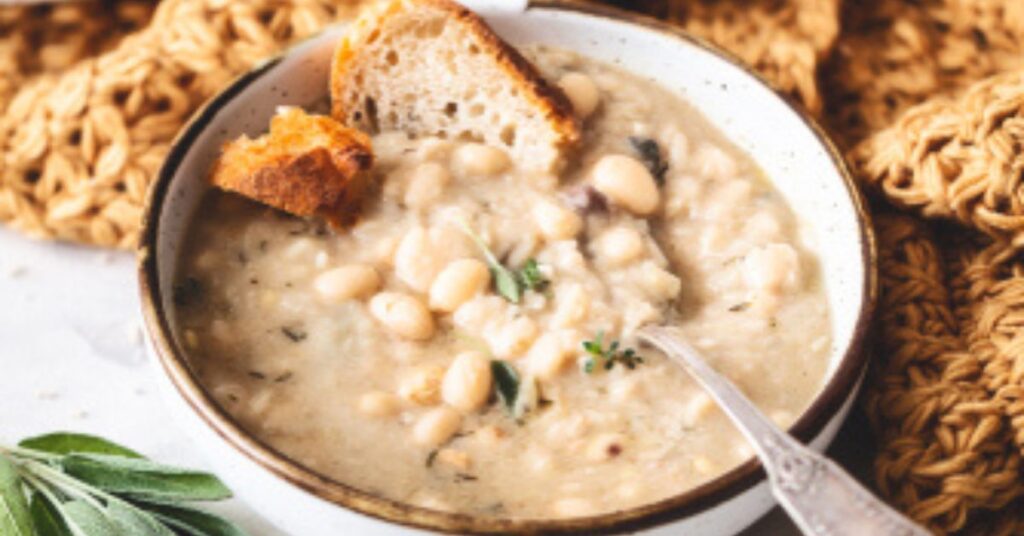 Bordatino Livornese it's a soup that's as rustic as it is hearty. Picture this: a bowl of savory beans, cornmeal, and Tuscan kale, all melding together to create a meal that's both humble and satisfying.
What's unique about the Bordatino is the effort put into its preparation. It isn't just tossed together. No, sir! You need to patiently whisk it for about 40 minutes to prevent any lumps from forming. The result is worth the wait, though. It's a hot, filling bowl of comfort that you can cozy up to.
It's quite a staple dish, so you'll have no trouble finding it in most local restaurants in Livorno. You'll especially appreciate it after a long day of exploring the city, trust me.
7. Tonno alla Livornese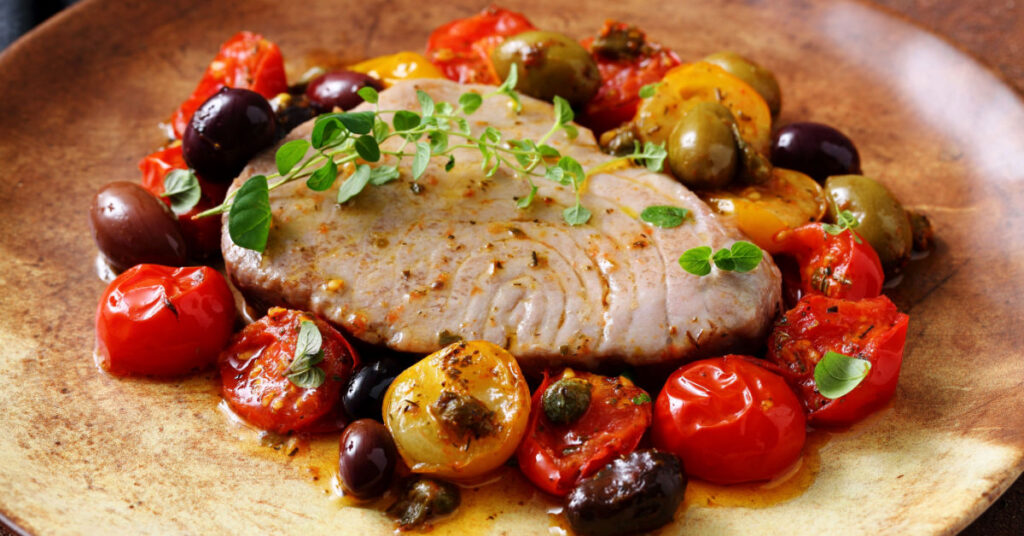 This dish is typically served as a main course, but it's so hearty that it can easily be a meal all on its own.
Tonno alla Livornese is basically a tuna steak cooked Livorno style. Its main ingredients are fresh tuna, white wine, tomatoes, capers, onion, and a touch of allspice. The fish is lightly floured before it's seared in a pan with a little olive oil and onions. Once it's nicely browned on both sides, white wine is added for a bit of acidity and then comes the pièce de résistance – the tomatoes and capers.
This results in a robust, savory-sweet sauce that complements the meatiness of the tuna just perfectly.
You can find Tonno alla Livornese in the trattorias and seafood restaurants around Livorno. They serve it fresh and hot, often paired with a local white wine. But honestly, it's so easy to make that you could try cooking it at home for an authentic Italian dining experience!
8. Torta di Ceci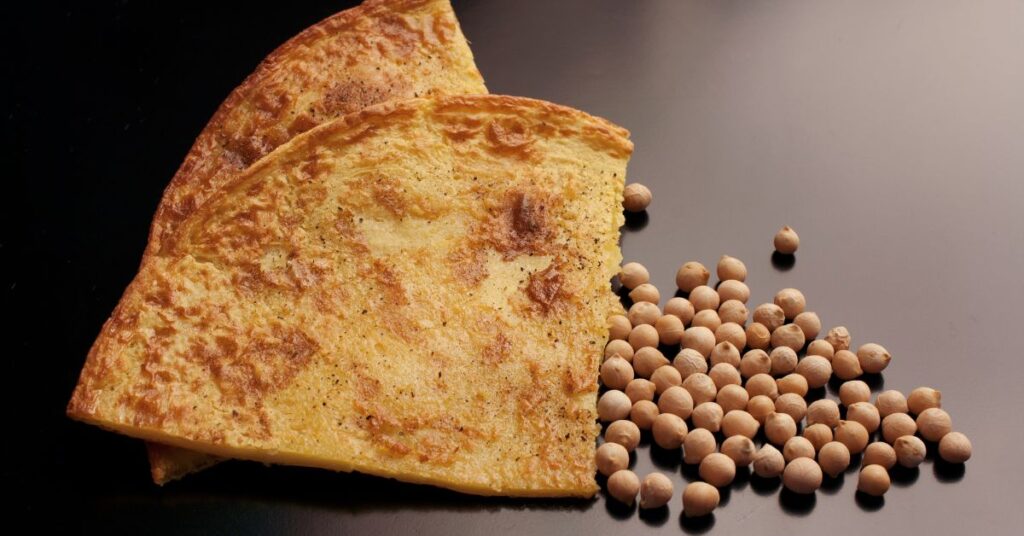 As a Livorno enthusiast, I can't help but spill the beans (or should I say chickpeas?) on a local dish that's a must-try – the Torta di Ceci!
Torta di Ceci, or Chickpea Pie, is a versatile dish that can be enjoyed as a main meal, a snack on the go, or even a street food delicacy. It's a thin, savory pancake made primarily from chickpea flour, water, olive oil, and salt, baked until crispy and golden.
Its taste is somewhat of a sensation. Imagine a symphony of subtly nutty chickpeas harmonizing with the richness of olive oil, all while dancing on a crispy, golden stage. It's a light, yet hearty mouthful that leaves you craving for more. Personally, I could eat it all day!
Torta di Ceci originated from the coastal city of Livorno, but it's also relished in different variations across Italy. In Livorno, the traditional way to devour it is as a "Cinque e Cinque" – a delightful combo of this chickpea pie sandwiched in a crispy bread roll, more on that later.
You can find Torta di Ceci almost anywhere in Livorno – from local trattorias and bakeries to street-side kiosks. However, my top pick is always the traditional 'friggitorie' (fry shops) – they serve it fresh and warm, just the way it should be!
9. Panino 5e5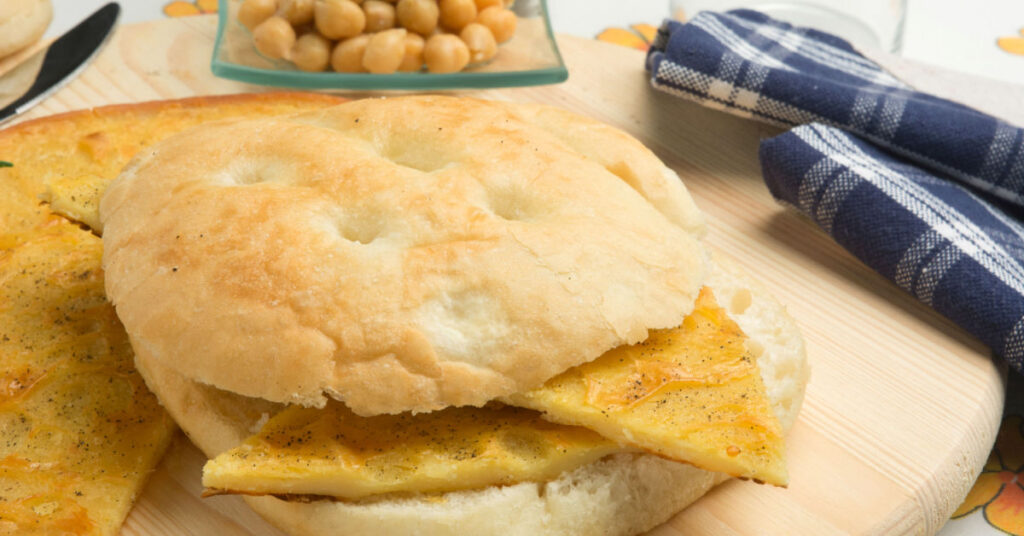 Picture this: you're wandering the streets of Livorno, when the aroma of something delicious wafts through the air. That's the famous 5 e 5 – a quintessential Tuscan street food, named after its price of "five and five" lire (the Italian currency before the euro) for bread and chickpea cake back in the 1930s.
This panino is stuffed with slices of warm, savory chickpea cake, dusted with a hearty helping of black pepper.
This isn't your typical sandwich. The chickpea cake, or torta di ceci, (remember, don't call it "cecina," that's for Pisans), is smooth, with a nutty flavor that'll take your taste buds on a journey. Its silky texture contrasts beautifully with the crusty bread, culminating in a symphony of flavors with each bite.
Now, where can you find this delicious treat? Lucky for you, it's not hard to come by. You'll spot it in bakeries, at street stalls, and even in bars across Livorno. Be sure to get it fresh, though – there's nothing like a piping hot 5 e 5 straight from the oven!
10. Frittura di Pesce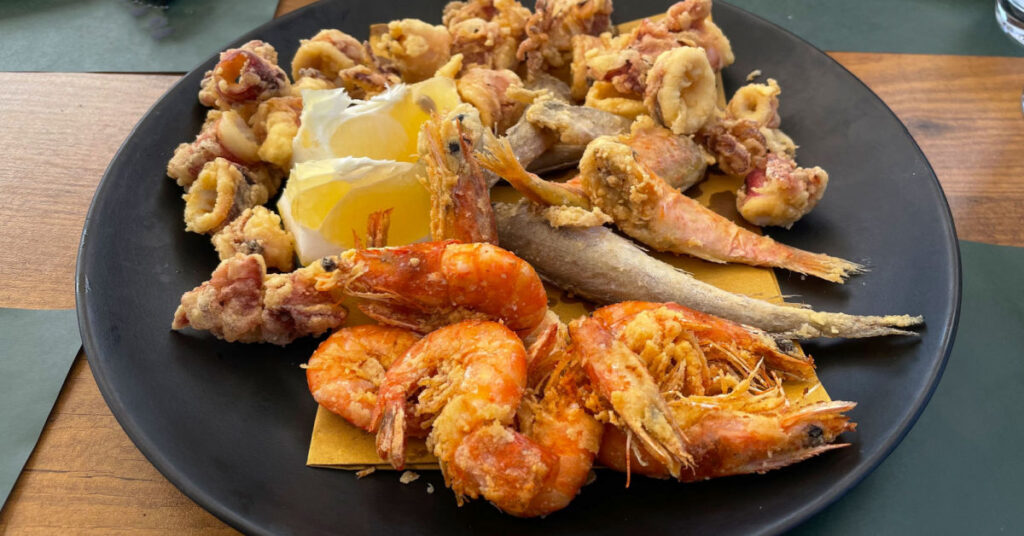 Fresh fish lightly battered and deep-fried to golden perfection. Mmm, sounds good already, doesn't it?
"Frittura di Pesce" is a beloved "secondo piatto" (main course) that's an absolute must-try when you're visiting Livorno. It's a seafood lover's paradise, typically featuring a variety of fish like squid, shrimp, and small local fish. The ingredients are simple, but the flavor is anything but.
In Italian, "Frittura" means fried and "Pesce" is fish. And let me tell you, they've really mastered the art of frying here. The seafood is crispy on the outside, tender on the inside, and leaves you with a delightful taste of the sea with every bite.
You'll find the best "Frittura di Pesce" served in traditional 'trattorie' and seafood restaurants along the coastline, where it's brought straight from the sea to your plate. And if you're in for a more casual dining experience, keep an eye out for street food kiosks, they serve up some amazing renditions too.
And read here to discover all the street foods you will encounter in Tuscany.
11. Roschette Livornesi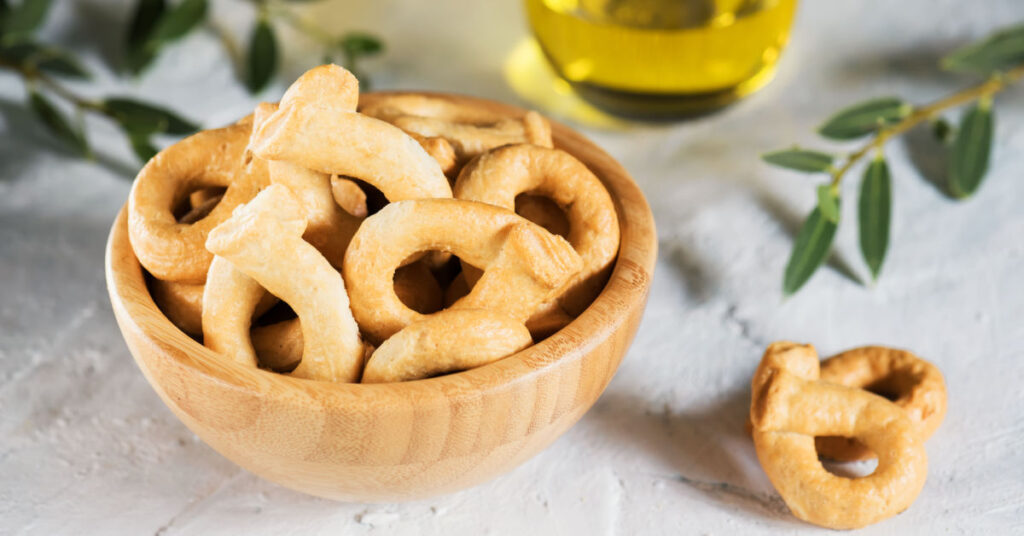 Let's talk about this unique little treat from Livorno, Roschette Livornesi. Imagine, if you will, a doughnut-shaped breadstick. Crispy on the outside, a little chewy on the inside, with a delightful olive oil undertone. That's a Roschette Livornese.
These savory bread rings are not a main course or a side dish – think of them more like an appetizer or snack. The main ingredients are simple, but oh-so-Italian: flour, sourdough, extra-virgin olive oil, water, and salt.
The word "roschette" derives from the Hebrew "ka'ak," which, guess what, also means little bread rings! These snacks were brought to Livorno by Sephardic Jews, who fled persecution on the Iberian peninsula centuries ago. The locals loved these treats and they became an integral part of Livornese culture.
Now, for the best part – where to get these delicious tidbits! When in Livorno, I'd suggest taking a stroll around the old Jewish quarter on market days. You'll find charming family-run bakeries and trattorias, where you can taste these authentic, tradition-rich roschette.
12. Carciofi Fritti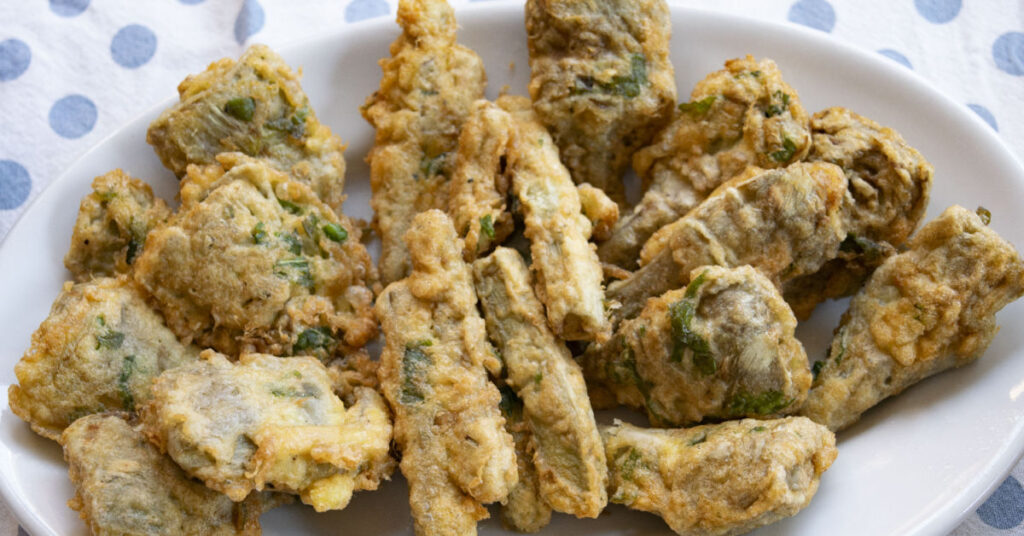 Carciofi Fritti it's more of a side dish or a delectable appetizer. Now, don't let the fancy name throw you off; Carciofi Fritti simply means "fried artichokes" in Italian.
Just imagine this: fresh artichokes, lightly coated with flour and whisked eggs, deep-fried to a beautiful golden-brown. The crunch of the crispy outer layer gives way to the tender, slightly sweet interior of the artichoke.
Just a heads up though, Carciofi Fritti might not be your typical tourist fare, but I assure you, it's definitely worth a try. For me, it's the balance of textures and the simple, clean flavors that make it truly special.
13. Trippa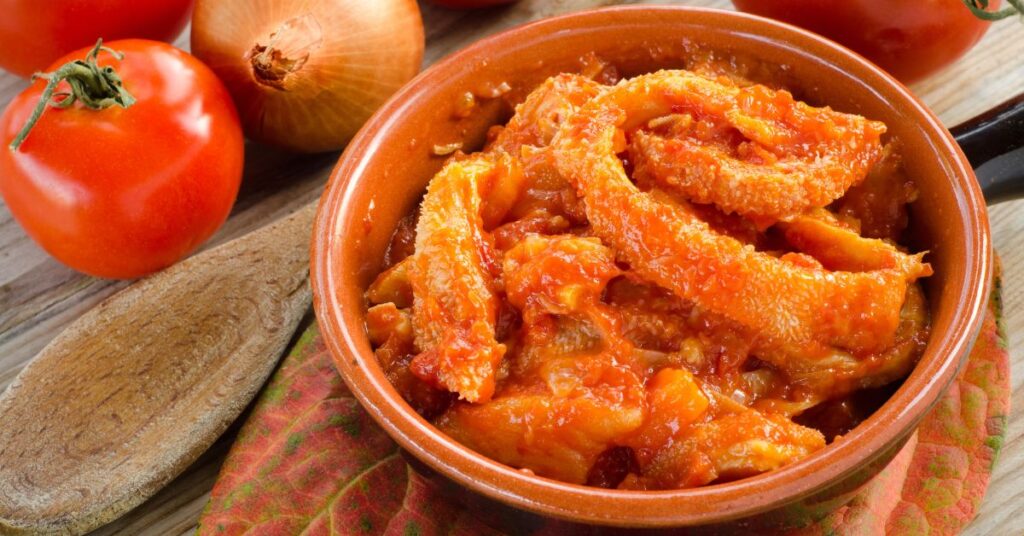 Have you ever heard of Trippa? If not, buckle up, 'cause you're in for a ride! Trippa, also known as tripe in English, is a dish you'll find in almost any traditional osteria (pub) or trattoria (restaurant) in Livorno.
It's typically a main dish made from the lining of a cow's stomach – doesn't sound too appetizing, I know, but trust me, it's a whole different story once you've tasted it!
It's simmered for hours in a hearty tomato sauce with onions, celery, and carrots until it's melt-in-your-mouth tender. Some versions even add Parmesan cheese, which gives an extra flavor punch. The result? A stew that's incredibly rich, savory, with a unique texture that's soft yet slightly chewy.
14. Triglie alla Livornese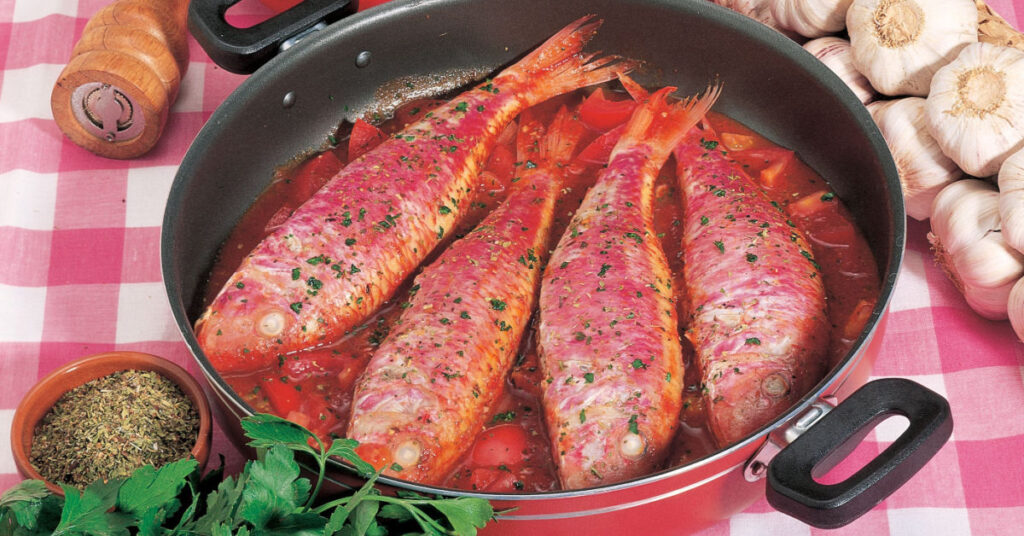 So what is it? Triglie alla Livornese is a main course that stars red mullet, a fish known in Italy as "triglie." The two kinds you'll commonly find here are reef red mullets and mud red mullets, both lending a unique flavor to the dish. But it's the reef ones that are more prized for their tastiness, giving the dish a distinct, irresistible savoriness.
Now, imagine this: fresh red mullets swimming in a rich, tomato-based sauce, harmoniously blended with garlic, parsley, and a dash of red pepper flakes. The mullets are pan-fried to golden perfection before being stewed in the sauce, resulting in a dish that's an explosion of flavor – mildly sweet, subtly briny, with a pleasant kick from the pepper.
You'll find Triglie alla Livornese served hot in the trattorias and restaurants of Livorno, usually accompanied by a slice of crusty bread to mop up the delicious sauce – trust me, you'll want to savor every drop!
15. Acciughe alla Povera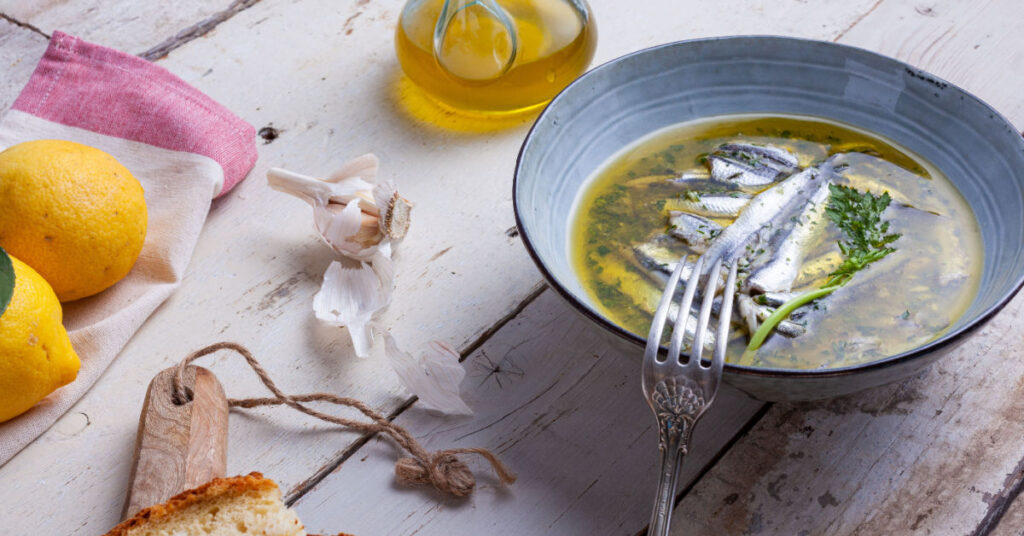 "Acciughe alla Povera" or Anchovies the Poor Man's Way. A simplistic yet scrumptious dish, it beautifully represents the rich culinary culture of Livorno.
This traditional dish is typically served as an appetizer or as a second course. Its star ingredient is anchovies, known for their characteristic flavor. They're coupled with two simple ingredients: Tropea onions and a hearty splash of white wine vinegar. The anchovies are marinated, not cooked, keeping the preparation easy and the flavors robust.
If you're wondering about the name, "povera" translates to "poor" in English. This hints at its humble origins. It was a dish born out of necessity, using affordable ingredients, primarily anchovies – an abundant and accessible catch for Livorno's seafaring folk.
Acciughe alla Povera serves a taste of the sea on your plate. Each bite sends a rush of tangy, salty, and slightly sweet flavors thanks to the vinegar-marinated anchovies and sweet Tropea onions. Don't forget the touch of heat from a little chili pepper that leaves a pleasant aftertaste!
When it comes to Italian food culture, the Acciughe alla Povera is a shining example of the Italian knack for creating flavorful dishes from simple, affordable ingredients. It's this magical blend of simplicity and taste that makes Italian cuisine so adored globally.
16. Seppie in Zimino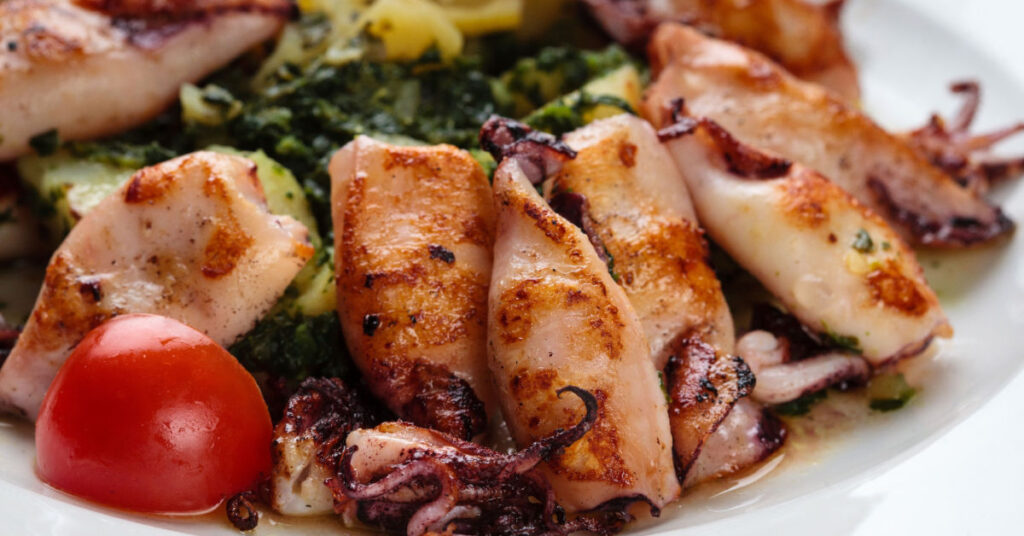 Let's dive into a Livorno gem – "Seppie in Zimino", is a hearty, feel-good dish that'll have you going back for seconds, thirds, or even fourths. We're talking about a main course traditionally cooked up in the coastal areas of Tuscany and Liguria.
It's a marriage of tender cuttlefish (that's "seppie" in Italian) and leafy greens, usually Swiss chard or spinach, simmered to perfection in a tangy tomato base. A dash of garlic and a sprinkle of chili pepper give it that unmistakable Tuscan kick.
If you've never had cuttlefish before, you're in for a treat. It's soft, slightly chewy texture pairs beautifully with the cooked-down greens, and the zesty tomato sauce rounds everything off nicely.
The term "zimino" actually originates from the Arabic word "samin" meaning "fatty" or "buttery". Trust me, it doesn't mean this dish is heavy, rather it's a hint at the velvety, lush texture of the sauce the cuttlefish and greens cook in.
In Tuscany, you'll find Seppie in Zimino in most trattorias or seafood restaurants, particularly in the coastal towns of Livorno and Viareggio.
17. Cozze ripiene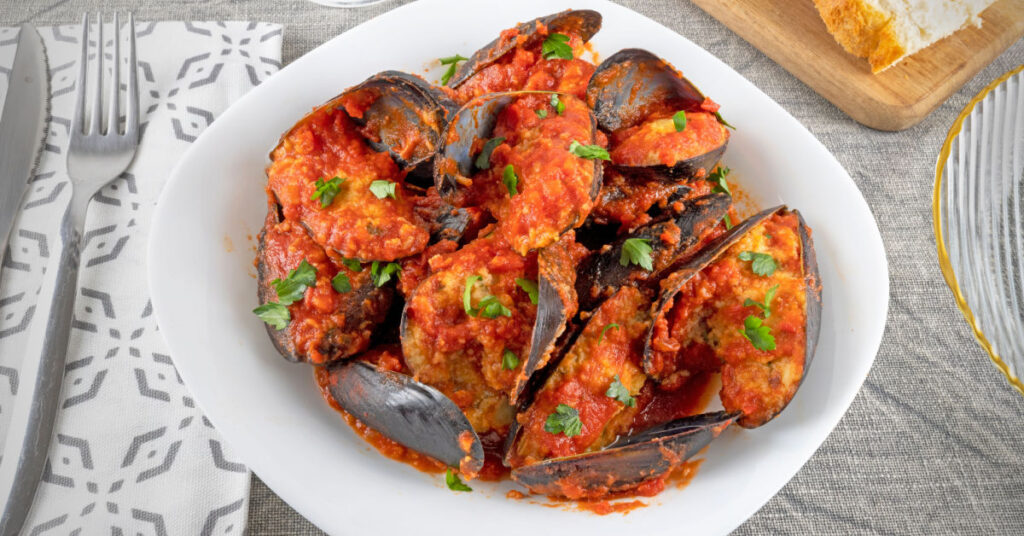 As you're exploring the scenic seaside city of Livorno, you absolutely can't miss trying the local delicacy – Cozze Ripiene alla Livornese, which essentially are stuffed mussels. It's a mouth-watering second course dish that perfectly encapsulates the flavor of the sea meeting the earthy undertones of Tuscany.
This classic Tuscan recipe features mussels generously stuffed with a mix of ground beef, breadcrumbs, parmesan cheese, eggs, garlic, and parsley, creating an irresistible medley of textures and flavors. Though variations of this dish are found throughout Tuscany, Livorno holds the title for the most authentic preparation. In some places, like Viareggio, they add celery, onions, carrots, and white wine for an additional spin.
The moment you take a bite of these stuffed mussels, you're met with the briny kick of the sea followed by a warm, hearty meat stuffing that's full of umami goodness. It's a delightful contrast that makes this dish incredibly unique.
You can find the best Cozze Ripiene alla Livornese at authentic Trattorias or seafood restaurants dotting Livorno's coastline.
18. Baccalà alla Livornese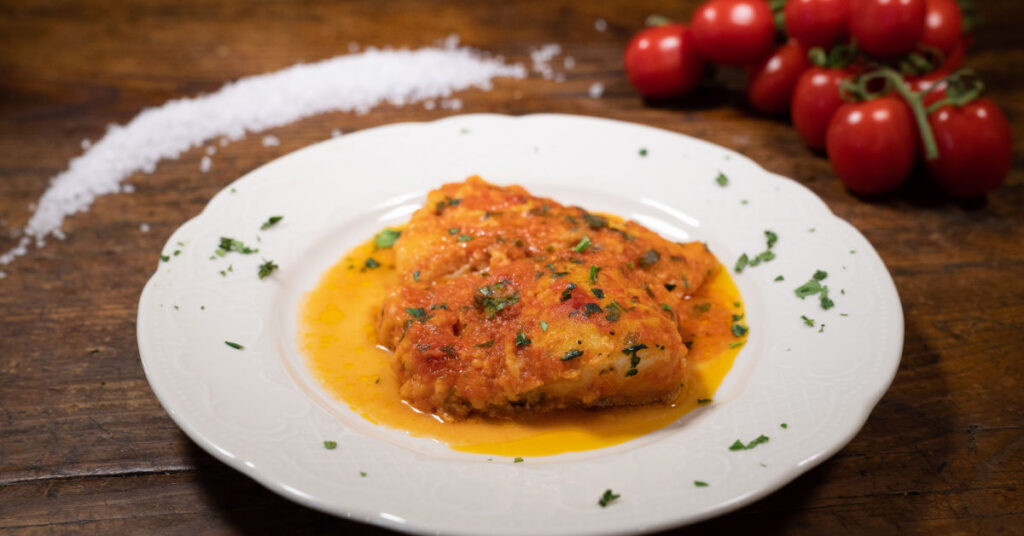 When exploring the culinary scene in Livorno, one dish stands out as a must-try: Baccalà alla Livornese.
This traditional second course is a flavorful fish dish prepared from baccalà, a type of salted cod. No, don't get confused with stoccafisso, another Italian cod dish. Here's the deal: while both are made from cod, baccalà is salted and stoccafisso is dried in the sun.
The salt preserves the baccalà, which makes it perfect for long sea journeys, and that's how it found its way to Tuscany via Northern European traders docking at Livorno.
In the Baccalà alla Livornese, the baccalà is simmered with tomatoes, garlic, parsley, and a touch of red pepper flakes. And, let me tell you, the result is just heavenly. The saltiness of the fish harmonizes beautifully with the tanginess of the tomatoes, delivering a melody of flavors that dances on your palate.
19. Nettare di Capraia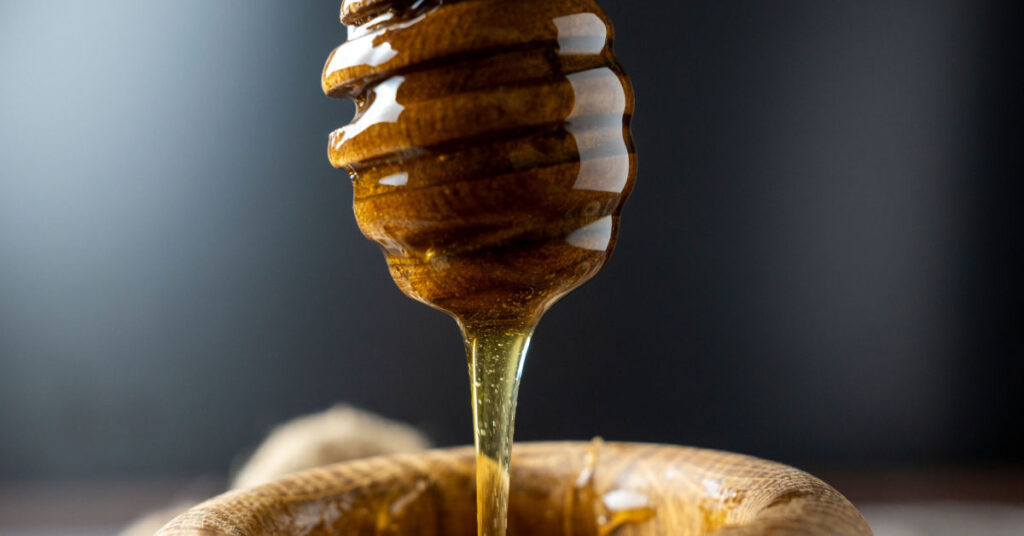 You're in for a treat if you've got a sweet tooth and you're visiting the beautiful island of Capraia off the Tuscan coast, in the province of Livorno. I'm talking about the local delicacy, "Nettare di Capraia," which literally translates to "Nectar of Capraia." It's a unique honey that you can drizzle over cheese, toast, or just taste on its own for a heavenly experience.
This isn't your everyday supermarket honey. Nettare di Capraia is a wildflower honey with a fluid, slightly opalescent consistency, and an amber hue. The aromatic scent is mildly floral, and the flavor is a unique bitter-sweet with an intriguing hint of thistle.
This honey's been a Capraia staple for ages. Since 1873, when a farming penal colony was established, honey production ramped up and became a dietary supplement for all island families. Today, while the traditional hives have been modernized, the aroma and properties of the honey remain unchanged.
This nectar is mainly sold locally, either directly on the farm or in local shops. Only a small portion makes it to Livorno and the rest of Tuscany. So, if you're ever in Capraia, make sure to grab a jar! I can't resist a spoonful now and then – the slightly bitter flavor is truly addictive!
20. Ponce Livornese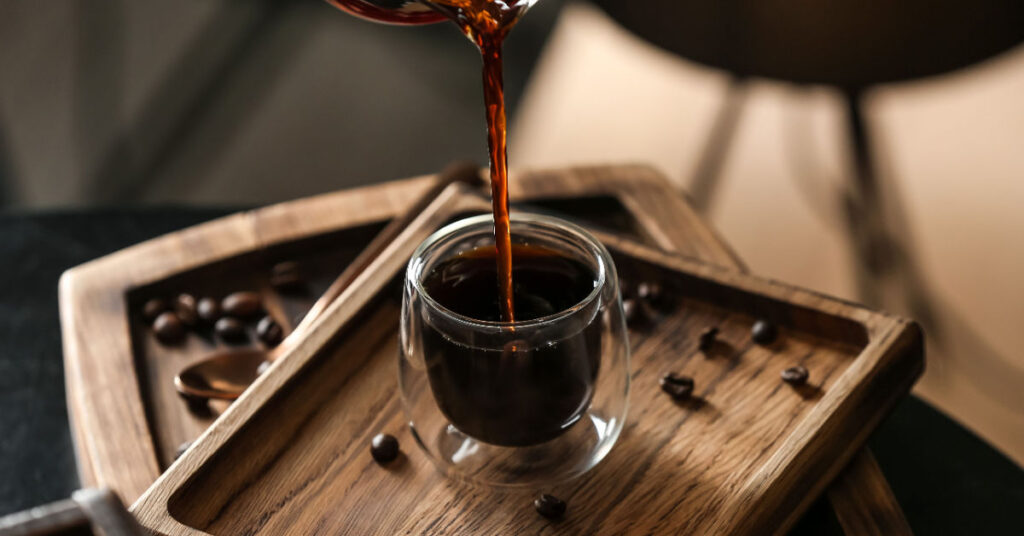 Now let's talk about a unique local beverage that's a must-try when in Livorno, Italy – the Ponce Livornese. It's not a food dish, but rather a staple drink that locals swear by, typically enjoyed as an after-dinner digestif or a pick-me-up on cold days.
Ponce Livornese, simply known as "Ponce," is a reinterpretation of the English punch, tracing its roots back to the chilly English sailors who docked in Livorno. These sailors used to mix their rum with hot water to warm up. However, the Livornese, being a bit extra, thought coffee was a better fit, and thus, Ponce was born!
The main ingredients are simple: a shot of espresso, the locally famous "Rum Fantasia", a sugar spoonful, and a twist of lemon peel. "Fantasia" rum, characterized by a unique aromatic profile, is exclusive to Livorno. The espresso coffee shot complements it perfectly, with the lemon peel adding a fresh note.
So, what's it like to sip on a Ponce? It's a dance of flavors in your mouth – the warm, robust taste of coffee intertwining with the sweet, aromatic rum, and a zesty lemon note cutting through, making every sip feel like a hug from the inside.
You can savor this drink in most bars and cafes across Livorno. I, for one, particularly enjoyed my Ponce at the old-time favorite 'Bar Civili', a place brimming with the local charm.
There's no specific time or occasion to enjoy Ponce – whenever you're in need of a little warmth or a caffeine-kick with a twist, Ponce is your go-to drink. The Livornese, just like most Italians, love their coffee, and Ponce just adds an interesting local touch to this love affair.
21. Frati di Livorno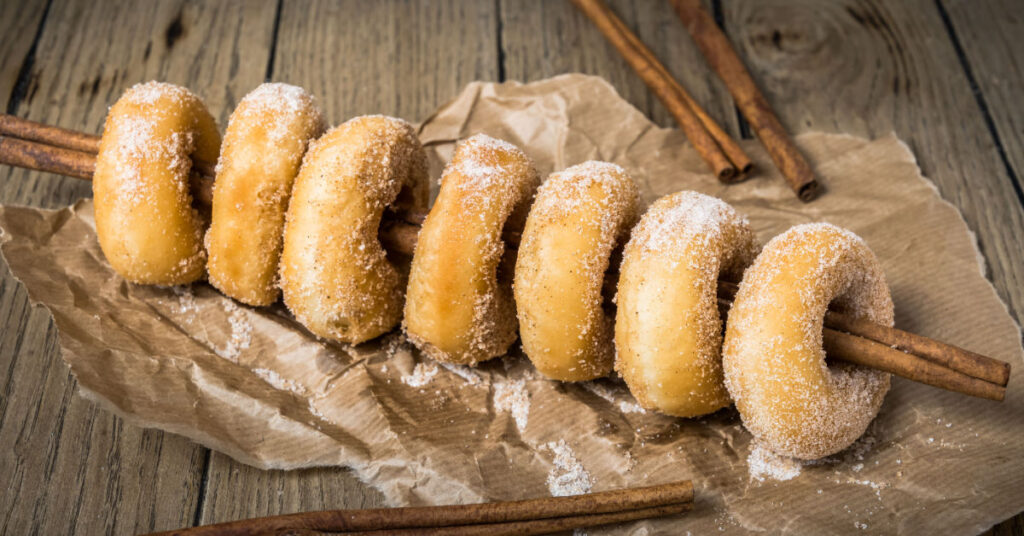 A delicious local treat in Livorno known as "Frati Livornesi." Think of Frati Livornesi as a mid-day snack, street food, or if you've got a sweet tooth like me, as a sneaky dessert! It's a divine little doughnut-like creation, and trust me when I say it's just as heavenly as it sounds.
Mainly, these Italian treats are a simple concoction of flour, water, yeast, a bit of sugar, salt, and a splash of lemon essence. After the dough is prepared, it's left to rise before being shaped and fried in sunflower seed oil. Once golden, the doughnuts are covered in a light dusting of sugar, creating a sweet, crunchy outer layer that gives way to the soft, pillowy inside.
The name "Frati" is a local term in Livorno that roughly translates to "monks" in English, thought to be inspired by the shape of these treats that resemble a cleric's tonsure! Well, it's Livorno; they've got a unique way with words and food.
You can find these delicious doughnuts mainly in local bakeries or street stalls, with one famous spot being "Il Frataio", an old-school frying shop right in the heart of Livorno. It's a family-run business that has been serving these goodies since the 1920s!
Now, imagine biting into a Frati Livornese. The slight crunch of the sugar-coated exterior followed by the warm, soft dough is simply divine. It's the kind of food that's comforting and satisfying, a sweet treat that pairs perfectly with an afternoon espresso. And remember, the first bite is a sensation, but the second, well, that's an addiction!
22. Cenci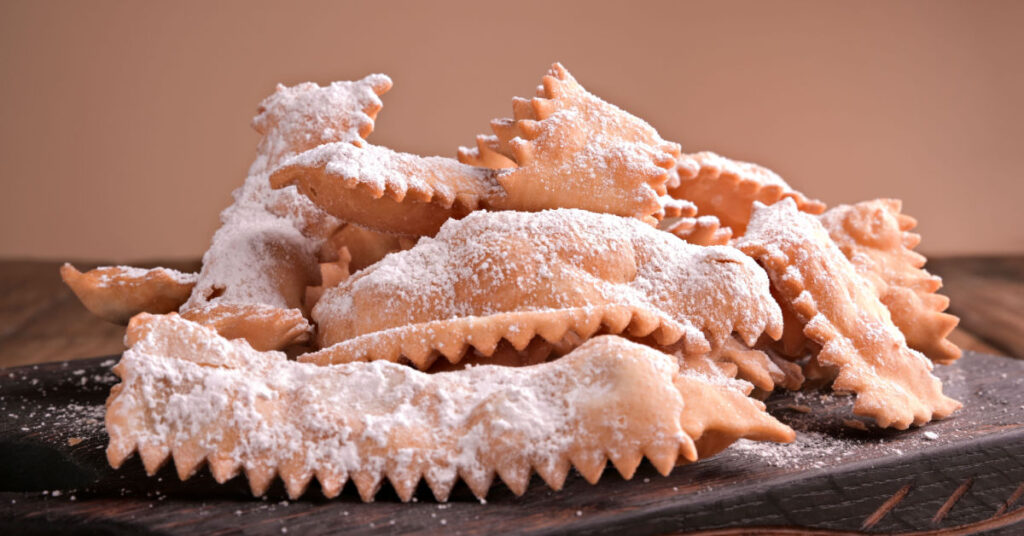 Let's chat about "cenci", a type of food that's straight out of a Tuscan sweet dream!
Cenci is part of the Carnival tradition and is one of the many typical sweets of Tuscany. The name 'Cenci' translates to 'rags', inspired by the food's distinctive rag-like appearance. This delightful treat primarily consists of flour, sugar, eggs, and butter, mixed and deep-fried to create a crunchy, golden brown delicacy that's often dusted with powdered sugar for an extra sweet finish.
Now, talking about taste – imagine biting into a thin, crispy strip that crumbles in your mouth releasing a subtle, buttery flavor enhanced by the sweetness of sugar. That's what cenci tastes like! An explosion of sweet, simple flavors that leaves your taste buds craving for more.
You can find cenci in local pasticcerie (bakeries) during the Carnival period, which typically falls in February or early March. It's one of those seasonal delights that Italians eagerly wait for all year round.
From personal experience, I love Cenci! There's something about its light, crispy texture combined with the dusting of sugar that just makes it irresistible. So, if you find yourself in Livorno or Tuscany around Carnival time, make sure you try some Cenci. Believe me, you won't regret it!
23. Ricotta Ubriaca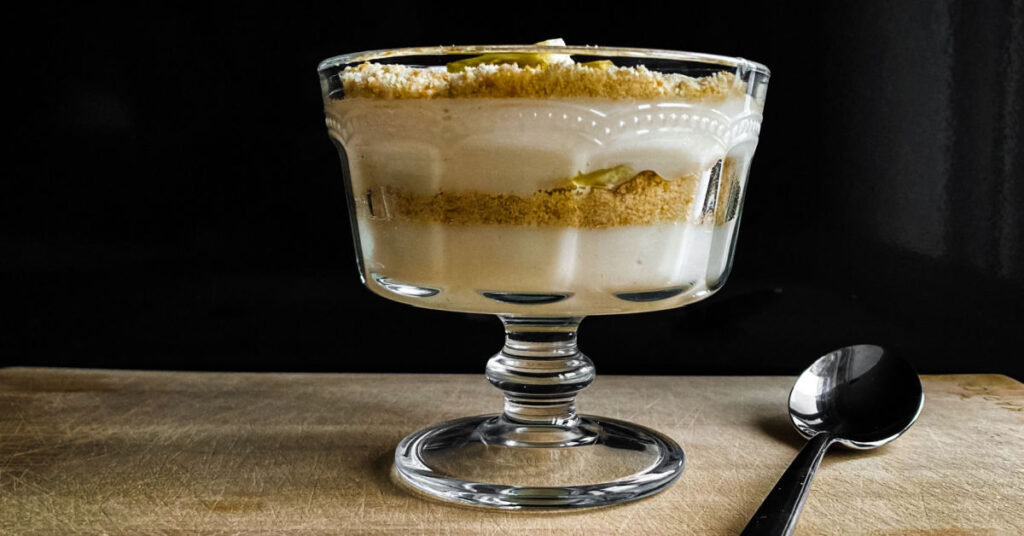 Another spoon of Livorno culinary wonder, Ricotta Ubriaca. Originating from Livorno, it's an incredibly simple dessert that's been around for ages, born out of, guess what, humble ingredients.
In Italian, 'Ubriaca' means 'drunk,' and let me tell you, this dish lives up to its name with a delightful boozy twist! The Ricotta Ubriaca is primarily made from ricotta cheese, sugar, and most importantly, a generous pour of Marsala wine. Some variations swap out the Marsala for cognac, Vinsanto, or even red vermouth.
It's a dessert now, but once upon a time, it was a precious second-course meal. Even today, its unique, rich taste is undeniably mouthwatering. Imagine a creamy, sweet ricotta cream, enhanced by the warm and complex notes of Marsala.
Ricotta Ubriaca is typically found in local trattorias or home kitchens rather than fancy restaurants. It's not an everyday sweet treat, though.
24. Schiacciata di Pasqua Livornese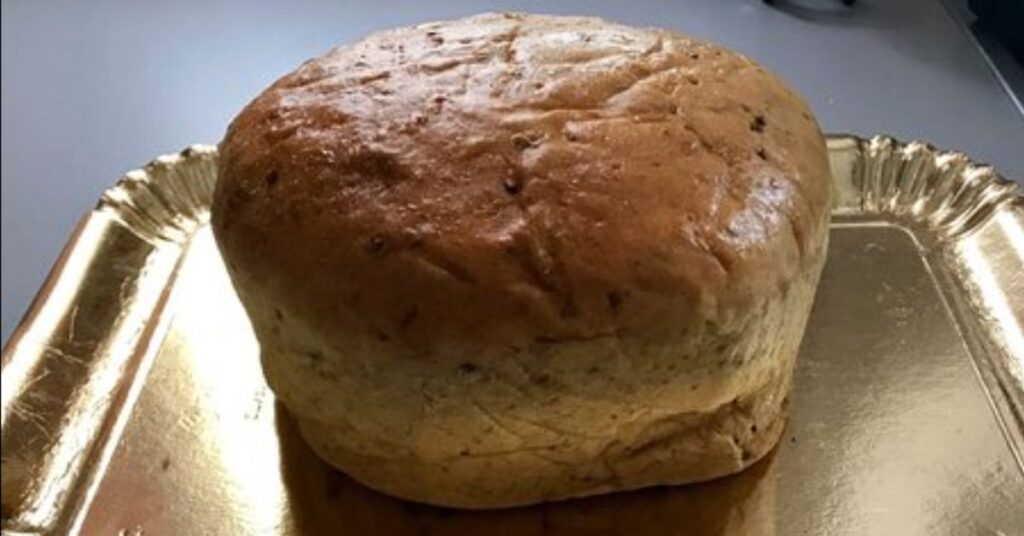 Schiacciata di Pasqua is a traditional Easter dessert from Tuscany like many others that you can see at the link, especially popular in the areas of Livorno and Pisa. Its name may deceive you – "schiacciata" usually refers to a type of flattened, salty Tuscan bread. But don't let that fool you.
This Easter "schiacciata" looks more like a panettone and tastes like a sweet, anise-scented cloud. It got its name not because it's flattened, but because a lot of eggs (uova) have to be cracked – "schiacciate" in Italian – to make it.
Let's talk about the taste. It's a sweet bread but not too sweet, with a distinctive anise flavor. It's soft and fluffy, thanks to the natural yeast that requires quite some time and attention for the dough to rise properly. Honestly, every bite is a celebration of spring itself!
You can find this delight around Easter time in local bakeries, pastry shops, and even some supermarkets in Tuscany. And let me tell you, there's nothing like the smell of fresh-baked Schiacciata di Pasqua early in the morning. It's a tradition to gift these to friends and family during Easter, symbolizing a form of respect and gratitude.
In Italy, we love having it for breakfast dunked in milk, or as an afternoon snack. And if you're feeling fancy, pair it with a glass of Vin Santo, a sweet Tuscan dessert wine. Pure perfection!
More information about characteristic food from Livorno
Which dish or typical food from Livorno is suitable for vegans?
Torta di Ceci is an excellent choice for vegans in Livorno. It's a savory chickpea cake, baked to golden perfection and typically served between two slices of bread.
Which dish or typical food from Livorno is suitable for vegetarians?
Bordatino alla Livornese is a hearty soup that vegetarians will appreciate. It's made from cornmeal, black cabbage, and white beans, served with a side of toasted bread.
What is the characteristic street food of Livorno?
When it comes to street food, the Panino 5e5 shines in Livorno. It's a sandwich that holds a slice of Torta di Ceci (chickpea cake), epitomizing simplicity and flavor in a grab-and-go form.
What is the typical dessert or sweet treat of Livorno?
For dessert, try the Frati di Livorno. These sweet, fried doughnut-like treats are a local favorite, often dusted with a generous amount of powdered sugar.
What is the iconic dish of the city of Livorno?
The iconic dish of the city of Livorno is Cacciucco, a seafood stew with tomato sauce filled with various types of fish and shellfish, served over a slice of toasted bread. The dish embodies the city's strong connection with the sea and its maritime traditions.