Ah, Carnival in Tuscany… masks, masquerades, and—most importantly—munchies, sweets, and desserts!
From the fluffy allure of Schiacciata alla Fiorentina to the mysterious, only-found-here Follonica Cake, Carnival sweets in Tuscany are a real pleasure.
I've rounded up an A-list lineup of Carnival delights that'll make even a Venetian mask blush with envy.
1. Berlingozzo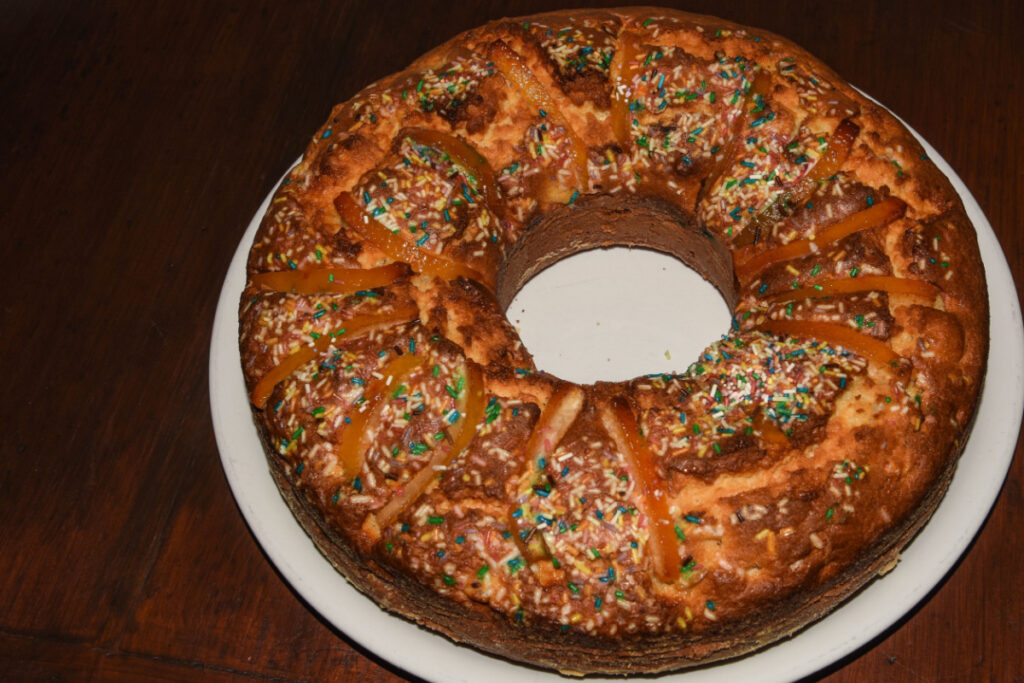 In Tuscany during Carnival time, you've got to try Berlingozzo, a dessert shaped like a ring, so think of it as Italy's answer to the bundt cake. The name comes from "berlingaccio", which refers to Shrove Thursday and all the fun and feasting that comes with it.
Ingredients are pretty simple: egg yolks, flour, sugar, yeast, and grated lemon or orange zest. Sometimes there's butter and a touch of milk. The result is a soft, fragrant cake with a slightly crispy, amber-colored outer layer.
What makes it extra special? It's drizzled with syrup made from freshly squeezed orange juice and sugar, and then usually topped with colorful confetti or sugar grains to make it look festive. Although it's a traditional Carnival treat, nowadays it's made year-round, together with classic Tuscan desserts.
2. Schiacciata alla Fiorentina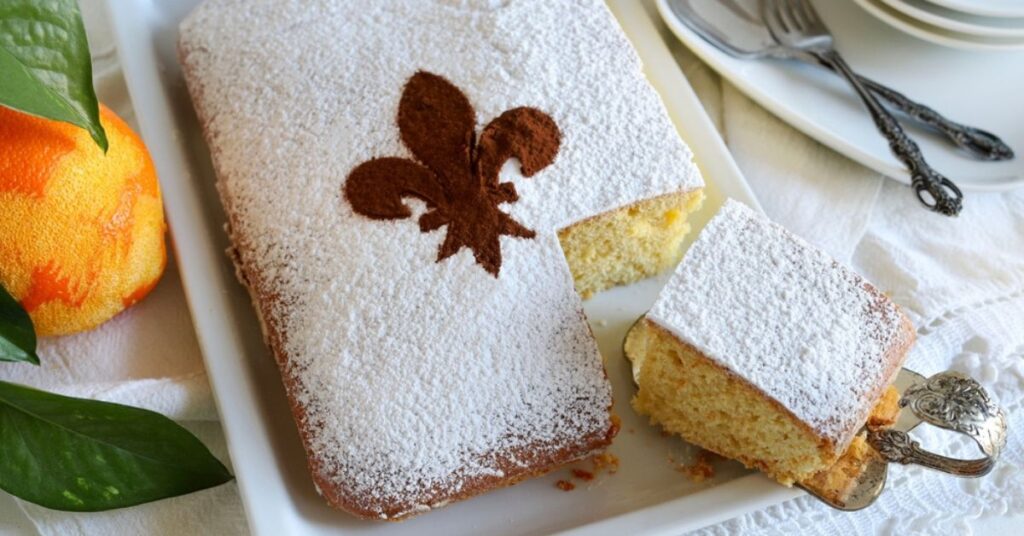 Here is my favorite! "Schiacciata" means "flattened" or "squashed," and let me tell you, it's anything but flat in flavor. Schiacciata Fiorentina is a leavened cake that's flavored with orange zest, about an inch thick. Once it's baked, it gets a generous dusting of powdered sugar, and bakers even use cocoa powder to stencil designs like the Florentine lily.
The flavor is like a citrusy hug; the orange zest gives it a zing, and the cake itself is airy yet moist. It's like sunshine in dessert form! While you can enjoy it as is, some places offer a version filled with Chantilly cream, which is just heavenly.
You'll find this cake pretty much anywhere in Florence during Carnevale—every pastry shop window flaunts it. So it's easy to grab a slice or even a whole cake to take back home.
3. Frati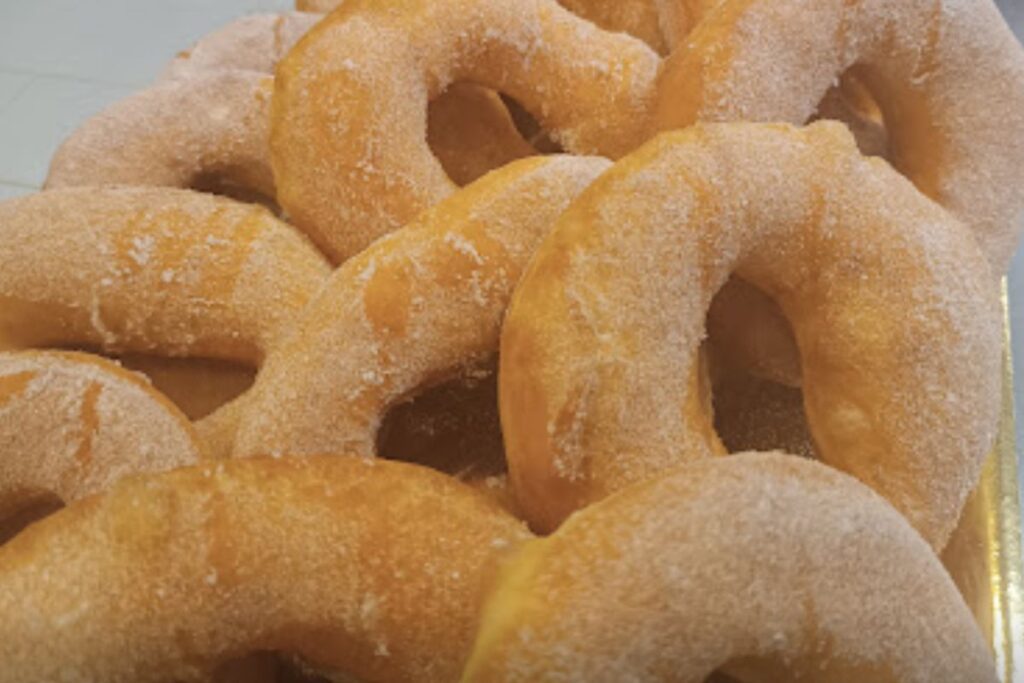 Ah, you have got to try "Frati" when you're in Tuscany during Carnevale! This treat is a dessert, mainly a fried doughnut, made of simple ingredients like flour, sugar, and yeast, it gets its name because its shape resembles the clerical collar of a monk ("frate" in Italian means "monk").
Biting into a Frati is celestial: the outside is golden and crispy while the inside is tender and sometimes filled with rich, creamy goodness. You'll get hit by a waft of sweetness and a little yeastiness—kind of like an Italian version of a beignet.
Frati is super popular in Livorno, a city that offers many local delights. One iconic place to grab 'em is Antica Friggitoria via del Cardinale. It's run by two brothers, Luigi and Davide, and it's been around since the 1920s!
4. Cenci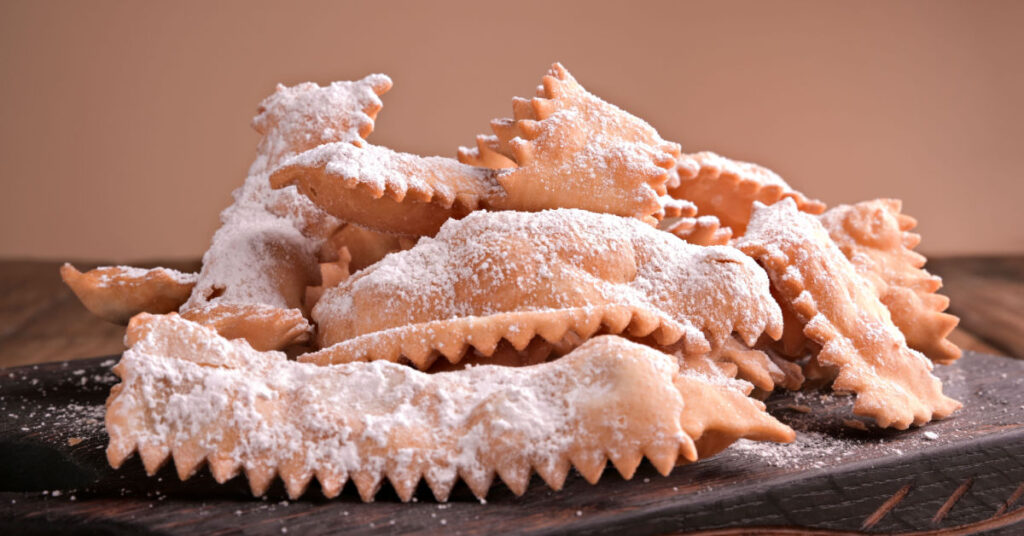 It is literally impossible for a Tuscan not to eat Cenci during the Carnival period. They're a dessert-type treat, often referred to as "rags" because their shape resembles tattered cloth. The main ingredients are simple: flour, sugar, eggs, and a splash of Vin Santo or rum for flavor. Then they're deep-fried until golden and sprinkled with powdered sugar.
Cenci have been around since Roman times, believe it or not. They were inspired by "frictilia," deep-fried treats that Romans loved during their Saturnalia festival, an ancient precursor to modern Carnival.
In my opinion, no visit to Tuscany during Carnival is complete without trying Cenci. It's like a sugary, crispy time machine that takes you right to the heart of Italian tradition. So, grab one (or a dozen), you won't regret it!
5. Spongata della Lunigiana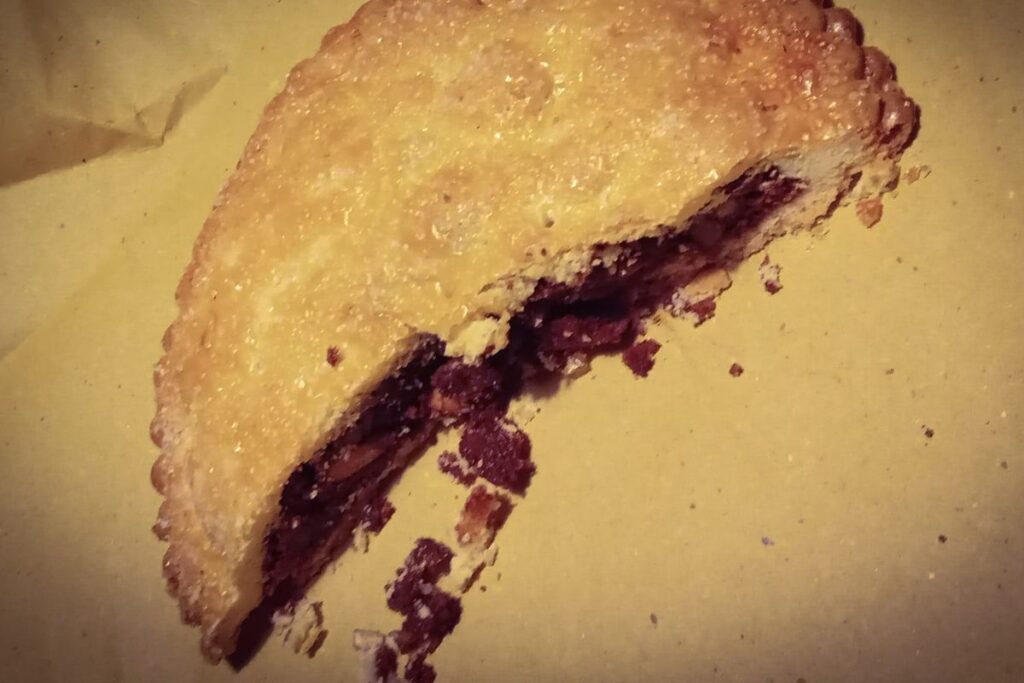 Spongata della Lunigiana it's a dessert that's all about Carnival celebration. Picture this: a round, blush-colored cake filled with a heavenly mix of honey, bread, dried fruits, and spices.
Now, imagine biting into a piece and experiencing a burst of flavors. You get the sweetness of honey, the earthiness of spices like nutmeg and cinnamon, and the crunch from almonds, walnuts, and hazelnuts. Trust me, it's a taste adventure.
Back in the day, guys in Pontremoli used to gift this treat to their sweethearts during Carnival. You can find references to this tradition dating back to the early 1800s!
6. Frittelle di Riso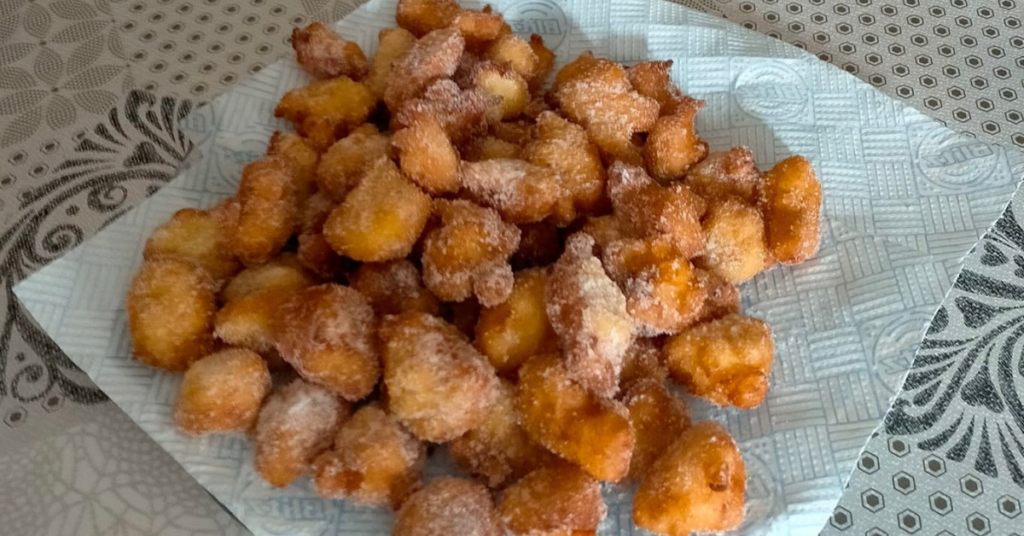 If you're wandering around Tuscany during Carnival or on St. Joseph's Day (March 19, also known as Father's Day in Italy), you've got to try these sweet rice fritters. Technically, they're a dessert or a sweet snack, perfect for satisfying your sweet tooth after a hearty Tuscan meal (follow the link to see the entire Tuscan gastronomic culture).
The main ingredients? Arborio rice, sugar, lemon, and orange zest, and sometimes a little raisin action for that extra oomph. The rice is usually cooked in milk, then mixed with all the other goodies and deep-fried until golden brown.
Imagine biting into a crisp, golden orb and meeting a soft, creamy center with hints of citrus and an occasional burst of sweetness from the raisins. They're a seasonal delight, so get 'em while they're hot!
7. Quaresimali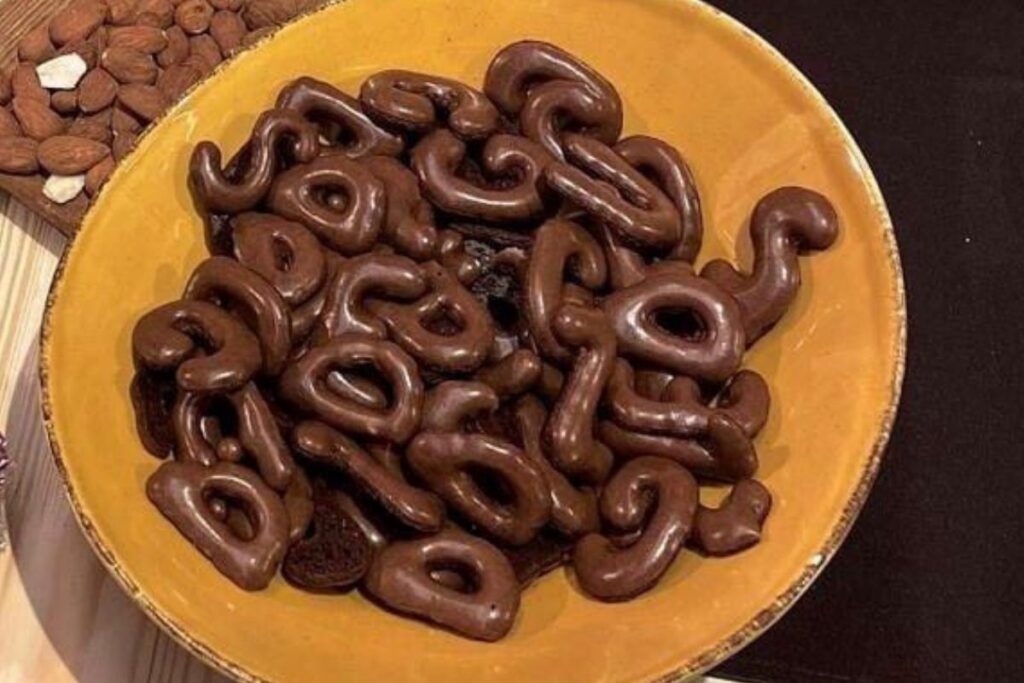 Quaresimali is a type of biscuit or cookie you'd typically find during Lent. They're alphabet-shaped treats, often baked into the letters of meaningful words from the Gospels. It's a fascinating blend of religion and food, dating back to the 19th century, where nuns from a convent between Prato and Florence are said to have created them.
In terms of taste, they are lightly sweet with a slightly nutty or chocolatey flavor, depending on the recipe. They are crunchy, but not too hard—perfect for dipping in Vin Santo or tea if you like.
You'll mostly find Quaresimali in bakeries and pastry shops during Lent, which starts from Carnival and goes until Easter, when many other foods specific to Tuscan Easter are cooked. They aren't your typical year-round cookie; they are a seasonal treat with religious significance.
8. Zuccherini di Fucecchio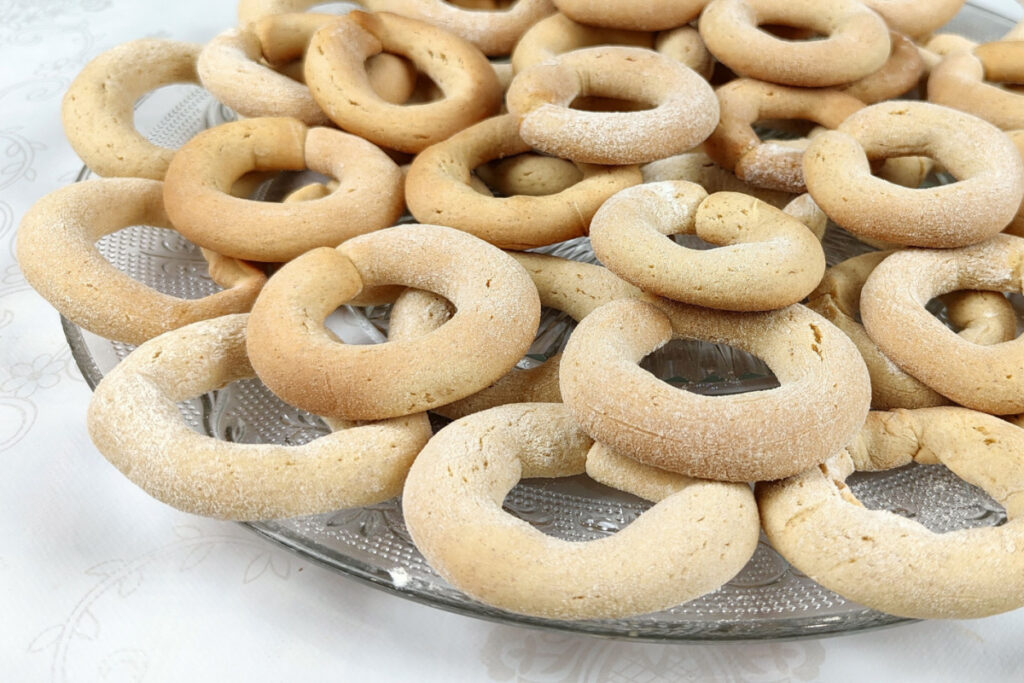 This sweet treat hails from Fucecchio, halfway between Florence and Pisa, right along the lower Arno River. So, what is it? Zuccherini is essentially sugar-coated donuts. They're made of flour, sugar, and eggs, but what sets the Fucecchio version apart is the flavoring of anise, that gives them this fragrant kick.
They were traditionally made for Carnival but stored on a stick through Lent, so they're seasonal but deeply rooted in local tradition.
Ah, personal touch: these things are addicting. I mean, anise and sugar? Come on, it's like they knew we couldn't resist. Perfect with a shot of Vin Santo or a cup of espresso.
9. Torta Follonica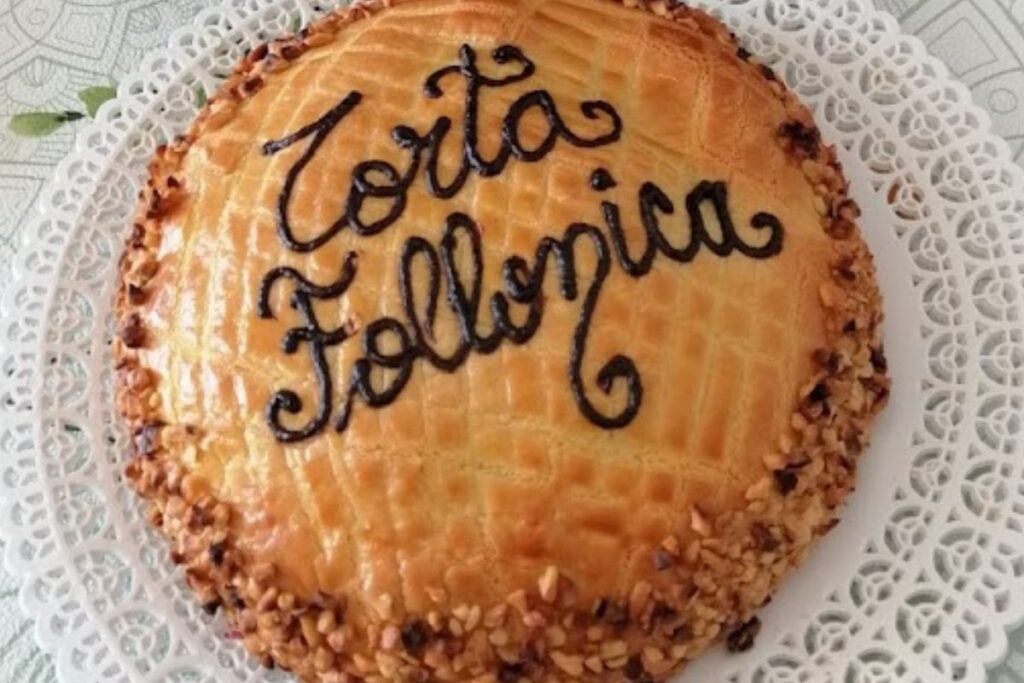 Torta Follonica it's a Tuscan pastry born in the '70s, so it's younger than disco but equally groovy. Think of it as a pastry treasure chest: a crispy shortcrust pastry ("pasta frolla") houses a creamy filling of custard, sultanas, and sponge cake… and a family-secret ingredient that makes it special.
You'd find this scrumptious cake at Pasticceria Peggi in Follonica, and ONLY there, because it's trademarked; even in the food world, intellectual property is a thing, you know? Perfect for gifting, this dessert is basically Follonica in a bite—just pair it with some local dessert wine and you're set.
So, if you ever find yourself in Follonica, near Grosseto, especially during Carnevale, make a beeline for Pasticceria Peggi. You can thank me later!