In Grosseto, you can not only enjoy unique Tuscan dishes but also take advantage of the surrounding territories. Grosseto is the southernmost of the provincial capitals in the Tuscany region and represents the heart and administrative engine of central "Grossetan" Maremma.
The cuisine here is full of aromas and flavors, with an authenticity that brings the typical dishes of a land that produces all its own food to the tables of Maremma inhabitants, and therefore to the numerous local restaurants. This includes fish, game, cured meats, cheeses, wines, and oil.
Among the traditional dishes in Grosseto, those based on game, especially wild boar and hare, stand out. They are often used to dress local pasta dishes, but also many fish and vegetable soups, inherited from times when humble cooking was a necessity. A prime example is "acquacotta", made from onions, basil, celery, oil, tomatoes, eggs, toasted bread, and a little grated pecorino cheese.
1. Gnocchi di Pane al Cinghiale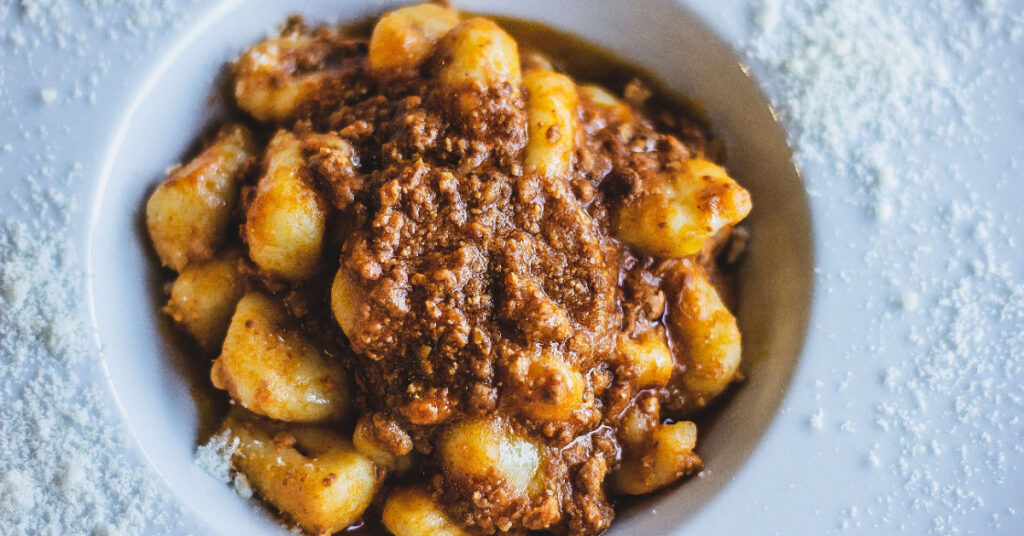 Let's dive straight into the heart of Grosseto cuisine with Gnocchi di Pane al Cinghiale, a mouth-watering first course you'll find in Maremma area.
First, let's break down the name. "Gnocchi di Pane" means bread gnocchi, and "Cinghiale" is Italian for wild boar. Yep, you got it right – we're talking about a dish that combines these soft, bread-based gnocchi with a robust, flavorful wild boar sauce. As you can find out here at the link, wild boar is often found in Tuscan regional dishes.
The gnocchi are made with Tuscan bread, eggs, and Parmigiano cheese. But the real magic happens when these gnocchi are paired with the wild boar sauce, cooked slowly and spiced just right. The result is a rich, game flavor that's uniquely Tuscan.
You'll often find this delicacy in the local osterias and trattorias of Grosseto. Some even have their special recipe, giving you a slightly different experience each time you try.
In Italy, we believe in making the most of what nature provides, and this dish is a perfect example. It's a celebration of Tuscan bread, local cheese, and the wild boar that roam our countryside.
2. Schiacciata Grossetana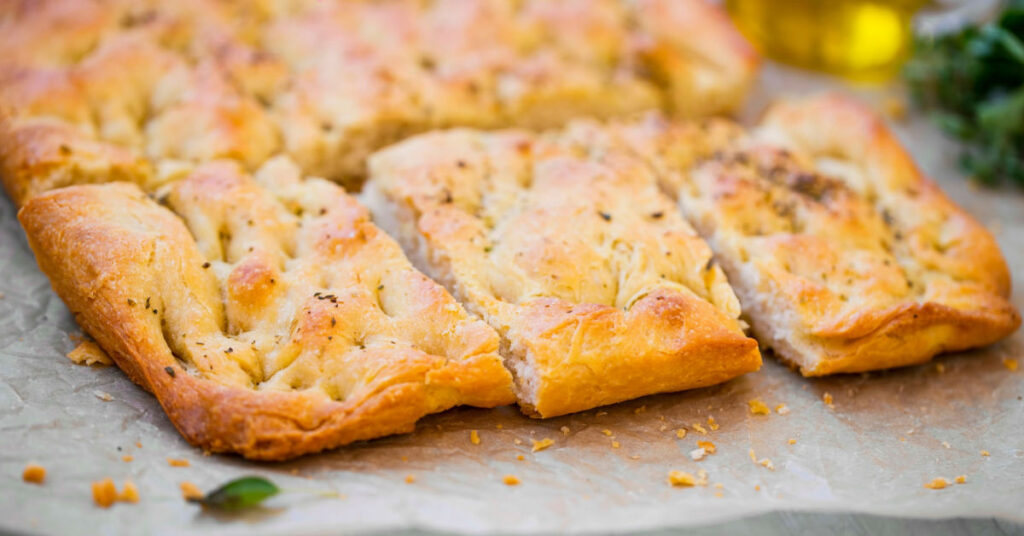 Schiacciata, or "schiaccia" as Grosseto people call it, is a traditional Tuscan flatbread, similar to focaccia. The term 'schiaccia' actually translates to 'flattened' in English, and that's exactly what it is.
A simple yet scrumptious bread made from water, flour, and natural yeast, flavored with a generous drizzle of extra-virgin olive oil and a sprinkle of sea salt. And the best part? It's baked in a wood-fired oven giving it that distinct, irresistible smoky flavor.
There are various versions of this dish throughout the Grosseto region, each boasting its unique twist. Some versions are even sweet, like the Schiaccia pizzicata, where sugar, eggs, and ricotta are added to the dough. It's then flavored with orange peel, vanilla, and white wine, resulting in a treat that's slightly sweet, fragrant, and absolutely delightful.
My personal favorite, though, has to be the Schiaccia con cipolle e acciughe (with onions and anchovies). The salty tang of the anchovies, the sweetness of the caramelized onions, all balanced perfectly by the crisp, savory bread. Every bite is a delightful explosion of flavors. Trust me, it's heaven!
In Grosseto, you can get your hands on these from any local bakery, pizzeria, or during a local festival or event. Just remember, nothing beats a warm slice of Schiaccia fresh from the oven!
3. Tortelli con Ricotta e Spinaci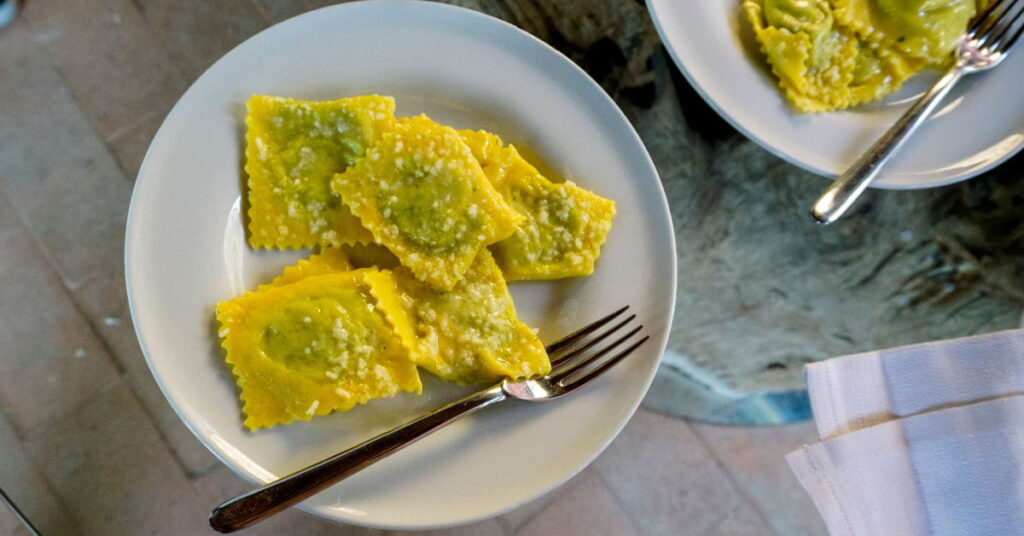 If you're planning a trip to Grosseto, there's one dish that's an absolute must-try: Tortelli with Ricotta and Spinach!
These pillow-like parcels of pasta are a primo piatto, the first course that follows the antipasto in traditional Italian dining. Tortelli are similar to what you might know as ravioli, but they're usually larger and have a distinctive, often square shape.
Stuffed with a creamy mixture of ricotta cheese and spinach, these tortelli are the epitome of comfort food. The smooth ricotta and earthy spinach make for a filling that's both rich and light at the same time. Often, they're simply served with a sage butter or a tomato sauce, letting the fresh flavors of the filling truly shine.
You'll find these mouthwatering tortelli in trattorias and ristorantes all over Grosseto. I recommend trying them at a local family-run trattoria, where the pasta is handmade and the recipe passed down through generations.
4. Risotto con Femminelle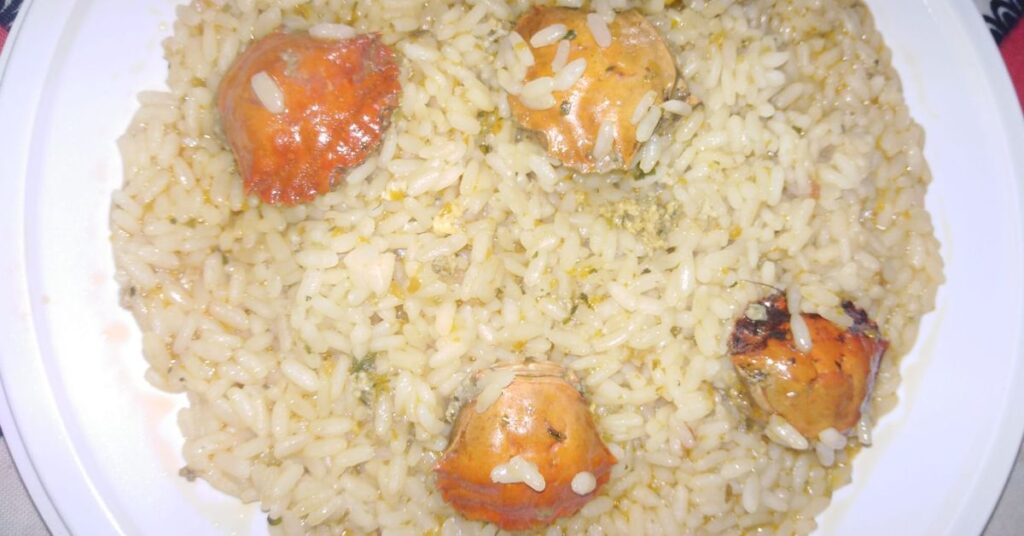 Here a delicious dish for you to try on your next trip to Grosseto – Risotto con Femminelle.
The "Femminelle" are small crabs from the Orbetello lagoon, and they're especially treasured during the months of November and December. Why's that, you ask? Well, it's because during this period, the female crabs (femminelle) are full of eggs which lend a unique, rich flavor to the dishes they're used in.
This first course brings together the creaminess of risotto with the delicate, slightly briny flavor of these special crabs. The taste is simply out of this world. You get the classic comfort of risotto elevated with the unique, seafood note of the Femminelle.
You can typically find this delicious risotto in local restaurants or trattorias around Grosseto. It's a seasonal delicacy, so make sure you plan your visit for the winter months. Trust me, it's worth timing your trip right for a taste of this mouthwatering dish.
5. Salumi di Cinghiale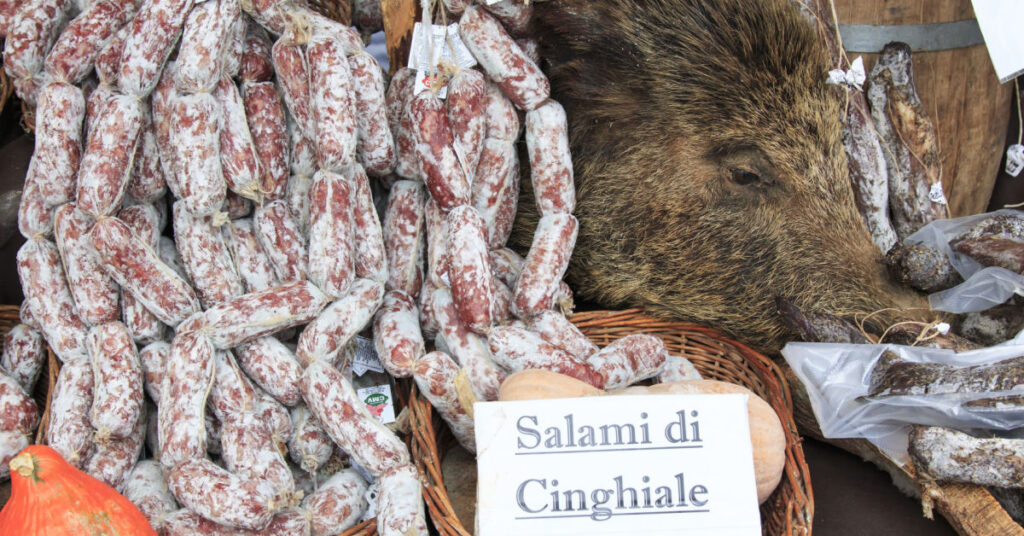 The star of the charcuterie board in Grosseto – Salumi di Cinghiale, or wild boar salami, especially from Maremma!
This isn't your average salami; it's tubular, typically around 12 to 30 cm long and 5-10 cm in diameter. Its inside color is a vibrant red that leans towards dark brown. Now, the flavor! It's robust, with a kick of spice that sets it apart from regular pork salami. The wild boar gives it an earthier, richer flavor that truly reflects the Tuscan countryside.
You'll find this salami in trattorias, local markets, and even some bars across Grosseto. It's usually sliced thin and served as an antipasto, sometimes accompanied by local bread or cheese.
6. Acquacotta di Capalbio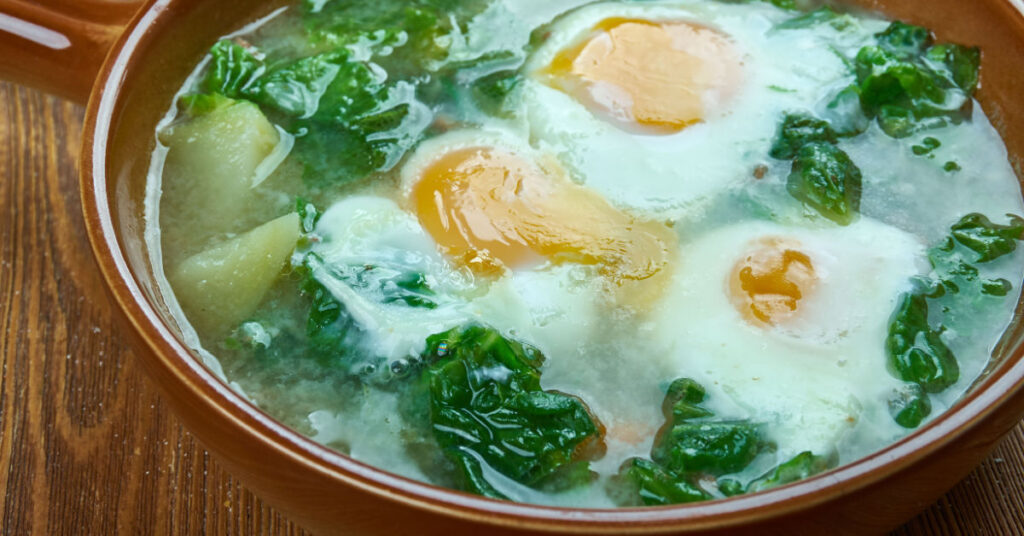 Ever heard of Acquacotta di Capalbio? If you're visiting the beautiful Tuscan town of Grosseto, this dish is a must-try!
Acquacotta di Capalbio is a traditional soup of the Bassa Maremma and Alto Lazio regions. A humble dish with a simple lineup of ingredients, it was traditionally prepared by the local herdsmen. The base version can be jazzed up with seasonal veggies like spinach, cabbage, dandelion, or chicory. But the star of the show? The poached egg.
What's fantastic about this soup is its simplicity. A good Acquacotta relies heavily on the quality of the ingredients, and oh boy, does the flavor deliver! The broth is honest and hearty, and the egg? It adds that extra punch and a creamy richness that's just irresistible.
You can savor Acquacotta di Capalbio at local trattorias in Grosseto. These eateries often serve the soup year-round, though it's particularly warming in the cooler months. Trust me when I say there's nothing quite like a hot bowl of Acquacotta to comfort you after a long day of sightseeing.
7. Tonnina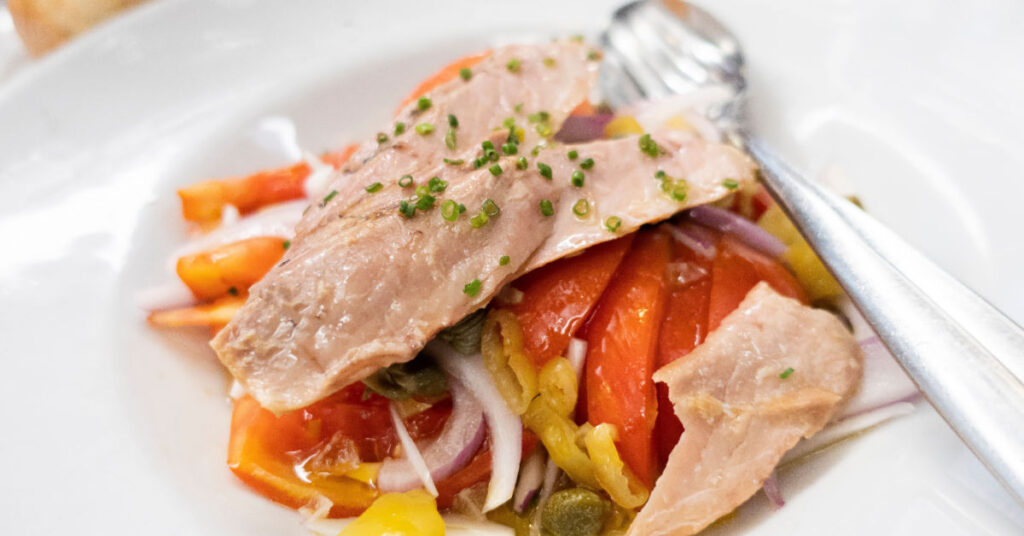 Tonnina isa specialty from the island of Giglio near Grosseto! A cold antipasto dish consisting of preserved tuna belly or "ventresca". It's first salt-cured, then soaked to remove the excess salt, torn into pieces (not cut – that's important!) and finally preserved in olive oil.
The flavor? Oh, you're in for a treat! It's the perfect blend of rich, fatty tuna belly, with the sharp tang of salt and the earthiness of olive oil. Add a little pepper and some fresh tomatoes, and you have a real Italian summer on your plate!
You'll find this treat in local trattorias and markets around Giglio and Grosseto. It's particularly popular in the summer months, perfect for a light lunch or an appetizer before seafood pasta. In fact, when I first tasted Tonnina at a seaside eatery in Giglio, I was instantly hooked!
8. Pappardelle al sugo di Lepre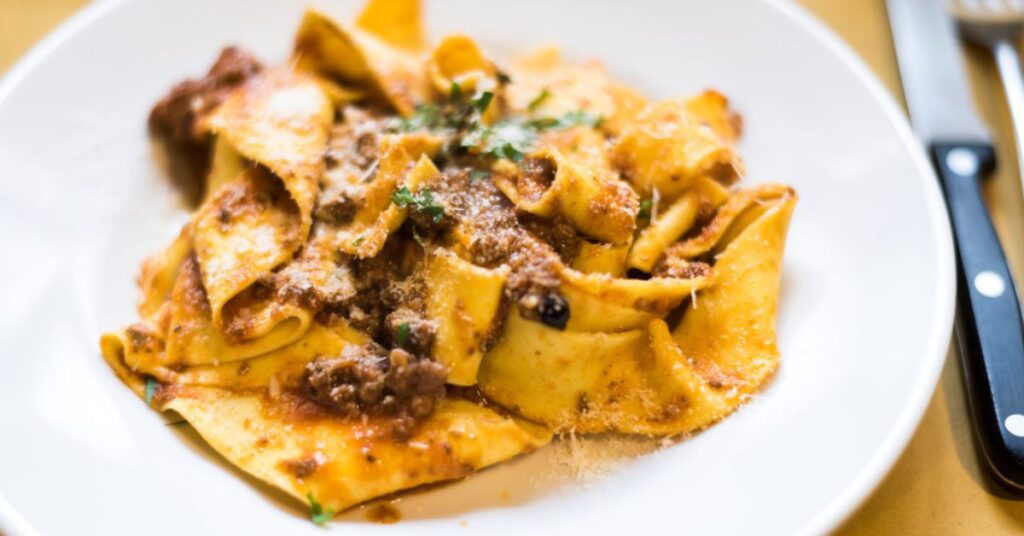 Pappardelle al Sugo di Lepre is a heartwarming pasta dish, with the star ingredients being wide, flat pappardelle noodles and a rich, savory hare sauce. This isn't your run-of-the-mill pasta; the hare gives it a gamey, intense flavor that's deeper and darker than rabbit, and it pairs beautifully with the broad, egg-based pappardelle.
When I first tasted this dish, I was captivated by the hearty, rustic flavors. The hare, marinated to eliminate any strong gamey odors, is cooked into a tomato sauce that's traditional or "in bianco" (white). In the white version, the hare is lightly floured, browned, then simmered with its marinade, resulting in a delightfully creamy consistency to coat the pasta.
You'll find Pappardelle al Sugo di Lepre in trattorias or restaurants, especially those that specialize in traditional Tuscan cuisine.
9. Zuppa di Ricotta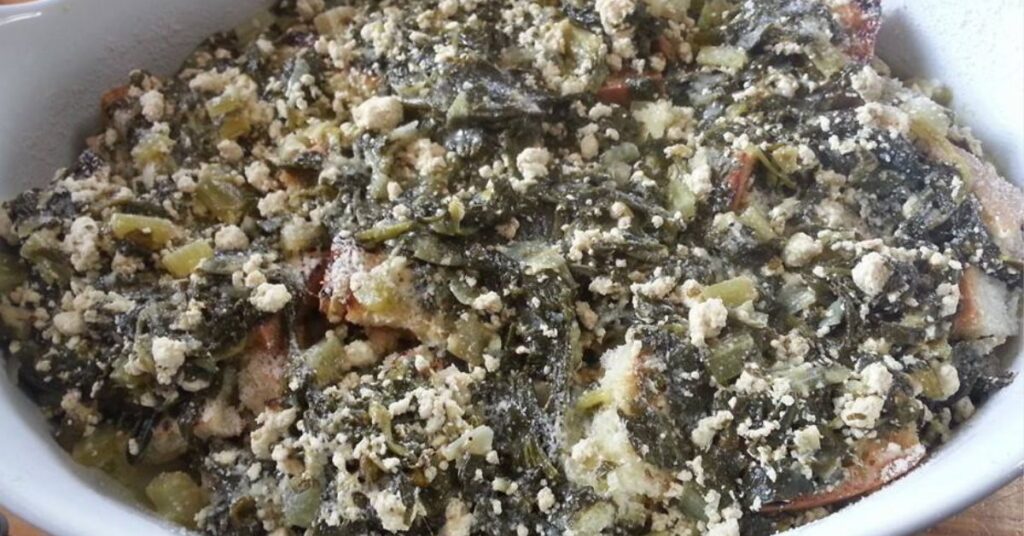 This dish, essentially a hearty ricotta soup, boasts of some of the simplest ingredients you'll find in Italian cuisine, yet delivers big on flavor.
A typical primo, or first course, it's made with fresh sheep's ricotta and wild greens such as chard or spinach. This simple combination harks back to its rural roots, when foragers would gather wild herbs and farmers would make their own ricotta cheese.
As for the taste, it's the definition of comfort food: creamy, savory ricotta melting into a warm, nourishing soup, interspersed with tender greens.
10. Crostini Salsiccia e Stracchino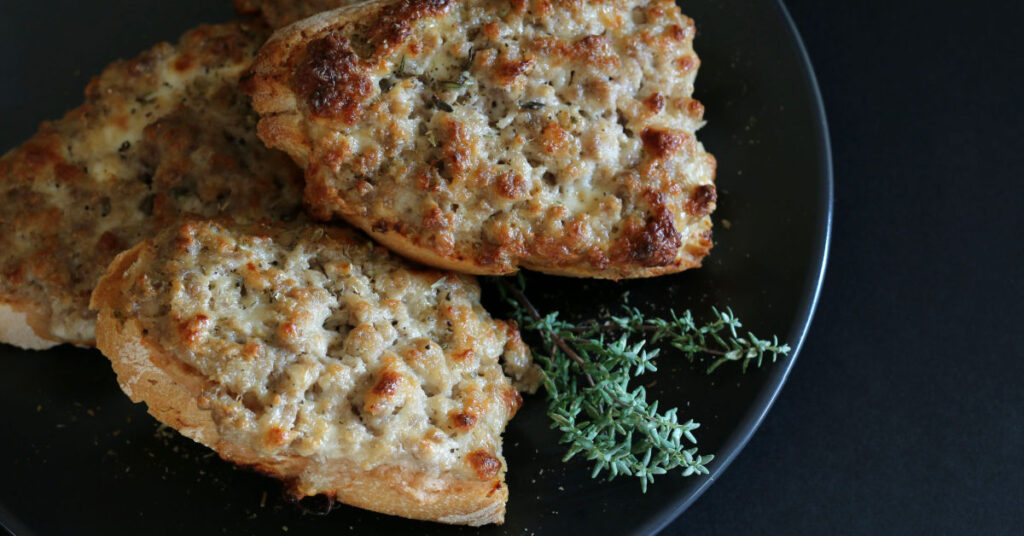 Sausage and Stracchino Crostini, or "Crostini di Salsiccia e Stracchino," are a crowd-pleaser in Grosseto's culinary scene. As an antipasto, these tasty bites kick-start meals with their distinct, hearty flavors. The main components of this Tuscan specialty are crusty bread slices, topped with robust local sausage and stracchino, a soft and creamy cheese from Sorano.
When biting into one of these crostini, expect a harmonious marriage of flavors – the stracchino's gentle creaminess subtly offsets the sausage's assertive, meaty taste. Truly, the first time I savored these crostini, I was struck by this clever balance.
You can enjoy these tasty bites at local osterias and bars in Grosseto. Often, they're part of an antipasto platter, served with other local delicacies. Anytime you visit Grosseto, I'd strongly recommend indulging in these crostini.
11. Caldaro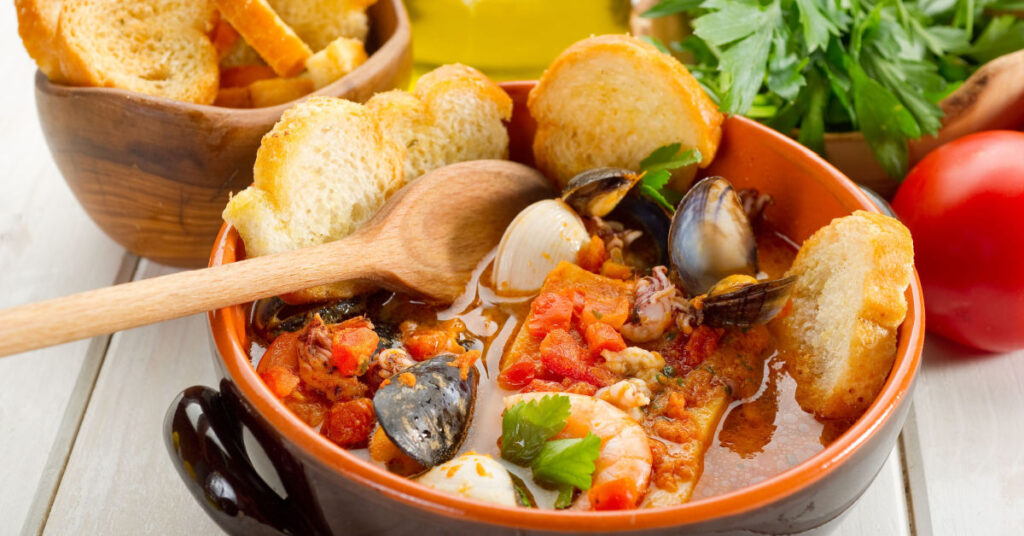 Caldaro, a distinctive seafood soup hailing from the Argentario area of Grosseto, is a must-try if you're exploring the Tyrrhenian coast. The recipe dates back to ancient times and includes freshly caught smooth fish and shellfish as its main stars. You'll find it has a few ingredients in common with the renowned Cacciucco Livornese, another Tuscan seafood soup.
The richness of the various seafood, like gallinella, scorfano, and polpi di scoglio, blends perfectly with the succulent flavors of the broth, delivering a mouthful of ocean goodness with each bite. It's traditionally served over toasted slices of stale bread, rubbed with garlic, turning this humble ingredient into a tasty treat.
What's interesting is the name "Caldaro" itself. It comes from the large pot ('caldaro', from 'caldaio') where fishermen used to cook this soup, often right on the rocks after a day's catch or even on their boats. I love this bit of history because it adds an authentic touch to the dish, don't you think?
Paired with a glass of local Bianco di Pitigliano DOC, the Caldaro becomes even more magical. You'll find it served in several restaurants in the Argentario area, especially Porto Ercole and Porto Santo Stefano.
12. Cinghiale alla Cacciatora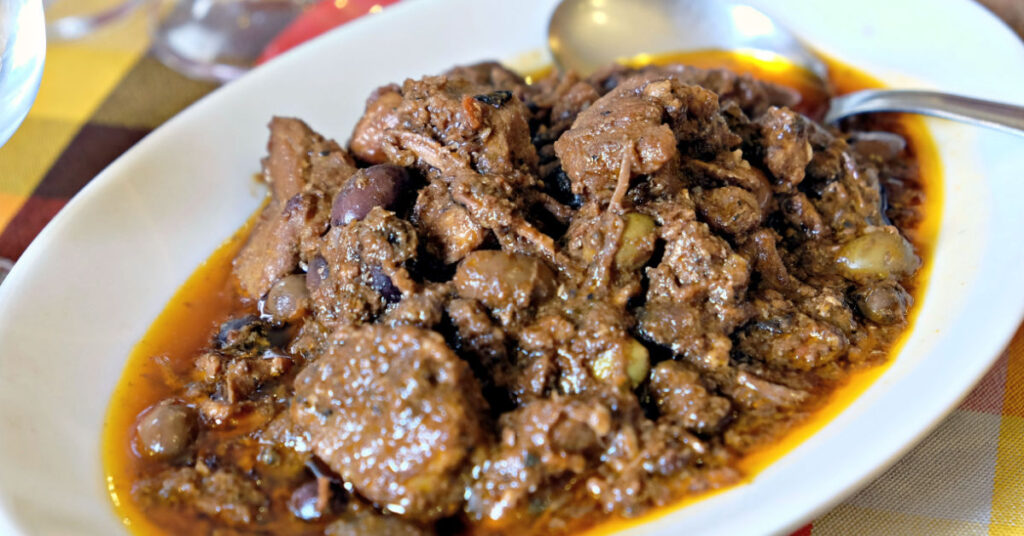 Cinghiale alla Cacciatora, or Hunter-style Wild Boar, is a cherished dish in Grosseto, and for good reason. This secondo, or main dish, features wild boar marinated to tone down its gamey flavor, then stewed for hours until tender. Key ingredients include tomatoes, olives, and a medley of herbs, all contributing to a robust, earthy sauce that's a joy to mop up with a piece of crusty bread.
Every bite of this Tuscan treat offers a rich, meaty flavor, softened by the sweetness of tomatoes and balanced with the tang of olives. It's a dish that requires patience, with the slow cooking process bringing out the best in each ingredient. The result is a warm, hearty stew, perfect for those cooler Tuscan evenings.
You'll find Cinghiale alla Cacciatora served in local trattorias across Grosseto, often with a side of polenta or fresh bread. It's especially prevalent during the winter months, when hunting season is at its peak. Remember to pair it with a robust red wine for the ultimate Tuscan experience.
13. Panzanella Maremmana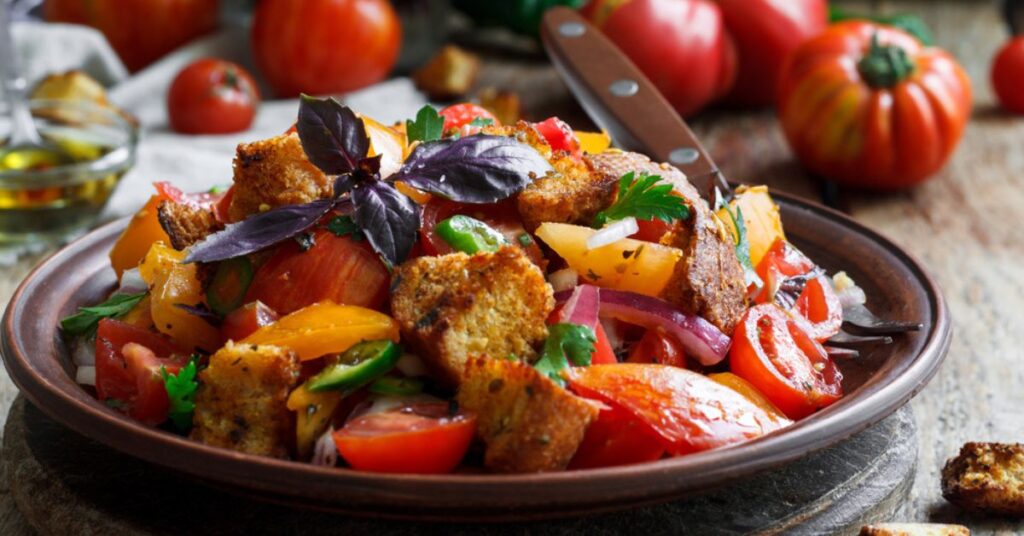 The Panzanella Maremmana is a celebrated dish from Tuscany that's got a special place in the culinary heart of Grosseto. This humble salad uses stale bread as its core ingredient, truly embracing the Italian principle of wasting nothing in the kitchen.
The bread is soaked and then tossed with a medley of fresh veggies including cucumbers, tomatoes, onions, and capers. Finished off with a splash of white wine vinegar, and a drizzle of extra virgin olive oil, it's a delightful mix of flavors and textures – crunchy, tangy, and oh so fresh!
Panzanella Maremmana is especially refreshing during the sweltering Tuscan summers. The brilliance of this dish lies in its flexibility – you can always add or subtract ingredients as per your preference, making every Panzanella experience unique. However, do not skip the red onion and basil leaves, they lend that authentic Tuscan touch to this staple.
You'll find the best Panzanella Maremmana served in the cozy trattorias scattered throughout Grosseto. It's not just a dish, it's a peek into the Tuscan past when farmers cleverly used leftover bread and farm-fresh vegetables to create a satisfying meal. I've always found it to be a testament to Italian creativity in the kitchen.
14. Caprini della Maremma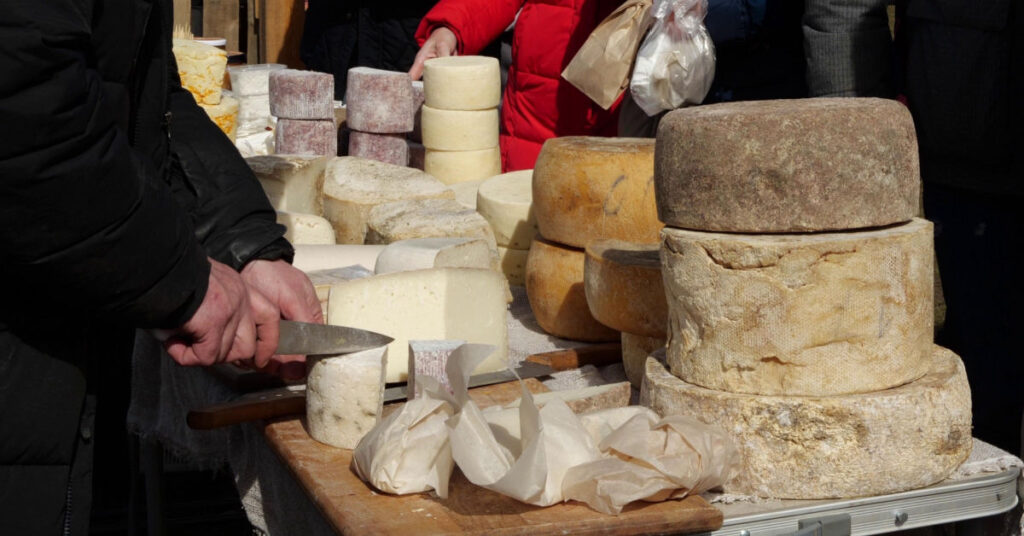 Caprini della Maremma is a delightful assortment of fresh goat cheeses you'll find in Grosseto, each bursting with unique flavors. With toppings ranging from charcoal, whole pepper, chili, chives, garlic, sesame, mint, oregano, chopped almonds, to basil, these cheeses showcase the richness of Tuscan seasonings.
They come in various shapes, from cylindrical and pyramidal to "tomino" (a small round form). Their texture is smooth and compact, and their taste is subtly acidic and delicate. The real kick comes from the aroma, which can be quite strong depending on the seasoning used.
Each bite of Caprini della Maremma takes you back in time. The method of making these cheeses has been passed down through generations, preserving an old tradition. What makes these cheeses special is their digestibility and lower fat content compared to other sheep or Tuscan cow's milk cheeses.
As the story goes, every family in Maremma had a few goats, providing milk not just for cheese-making but also as a digestible food source for children.
When you're in Grosseto, enjoy Caprini della Maremma at local restaurants or buy some at local markets to pair with a glass of local white wine. My personal favorite is the version seasoned with pepper – a subtle heat that pairs perfectly with the creaminess of the cheese.
15. Polpo Ubriaco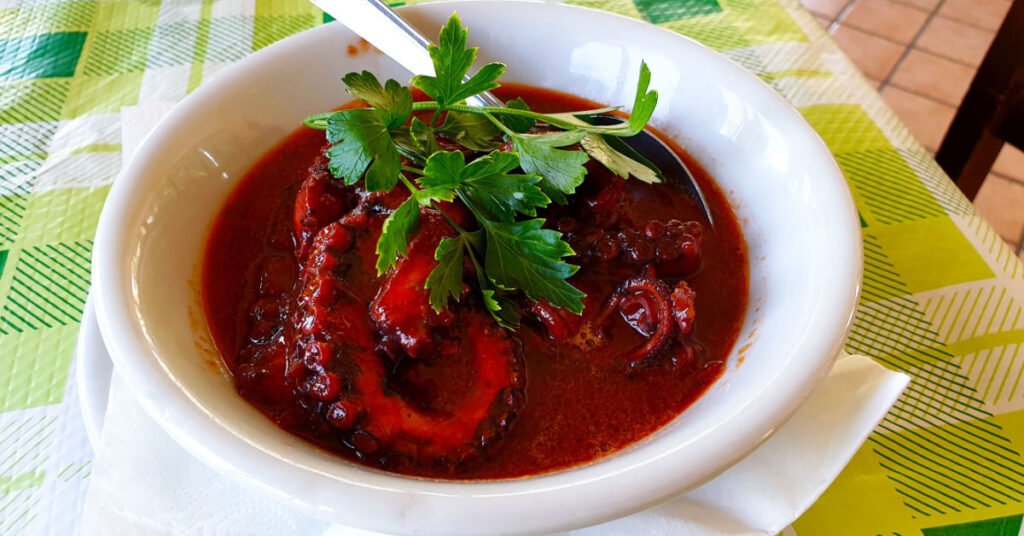 Polpo Ubriaco, or "Drunken Octopus", is a much-loved antipasto from the coastal city of Grosseto. It's made by cooking chunks of octopus in red wine, flavored with garlic, chili, and bay leaves, then served on warm bread crostini rubbed with more garlic.
This is not just food; it's an experience. With the first bite, you'll find the octopus incredibly tender, its subtle sea flavors beautifully enriched by the boldness of red wine and a kick from the chili. The crostini offer a pleasant crunch, and the garlic, both in the octopus and on the bread, ties everything together.
This dish is commonly enjoyed in seafood lunches or dinners, available at most restaurants in Grosseto. Definitely a must-try for seafood lovers.
16. Ciaffagnoni di Manciano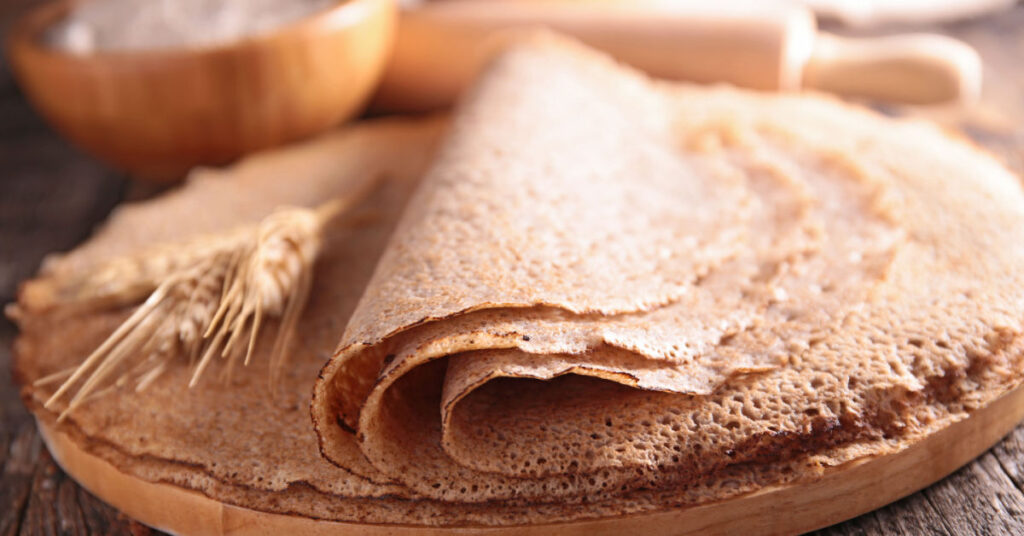 Known as the original crêpe, Ciaffagnone di Manciano is a delightful street food delicacy from the medieval town of Manciano, nestled in Maremma hills near Grosseto (and if you are interested in tasting all the Tuscan street foods, you should read the link). This thin pancake-like dish is made with simple ingredients: flour, eggs, and water.
Traditional Tuscan cooks, who still guard the recipe, would pan-fry the ciaffagnone in a bit of lard and serve it with grated pecorino or lardo. You may find variations topped with tomato sauce and ricotta, or meat ragù and béchamel, layered in a tray, baked with parmesan and served as a substantial one-course meal.
The taste is a delightful surprise – savory, slightly crispy, yet soft, almost melting in your mouth. While the ciaffagnone has become a rarity in restaurants and trattorias, the best time to enjoy this treat is during local festivals and patron saint celebrations in Maremma, where they're often served sweet, with sugar, jam, or chocolate cream.
Believe it or not, the iconic French crêpe owes its existence to the humble ciaffagnone. The dish traveled from Manciano to Florence, changing slightly with the addition of milk to the batter, before reaching France with the help of Catherine de' Medici's trusted cook in the 16th century. Speaking of Florence, here you can see the typical Florentine dishes.
When in Grosseto, or anywhere in Maremma, don't miss the chance to try a ciaffagnone – it's a taste of history, a culinary journey from Maremma to France, all in one delicious bite. The flavors might be simple, but the experience is extraordinary.
17. Agnello a Buglione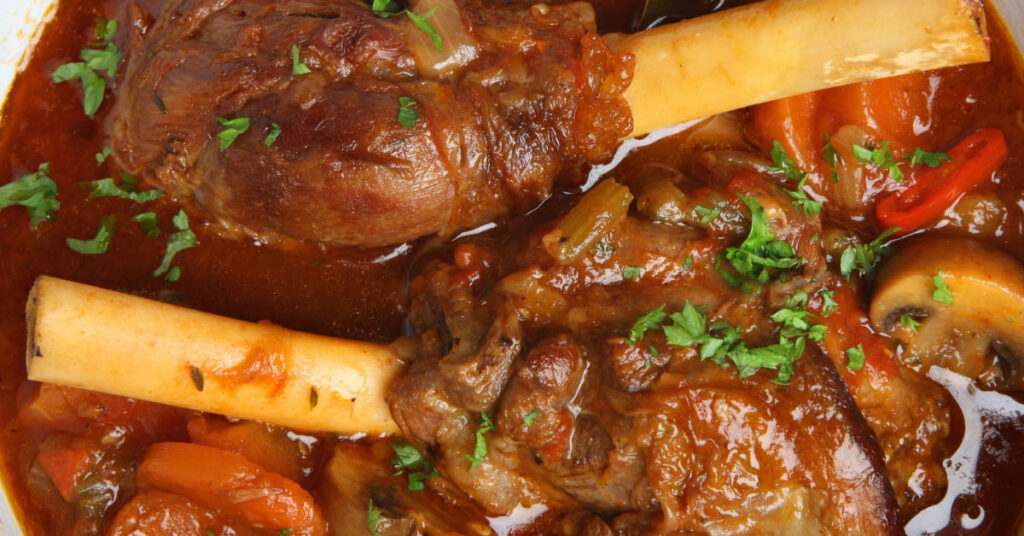 Agnello a Buglione is a must-try dish if you're in Grosseto, a hearty second course steeped in Tuscan history. The star ingredient here is lamb, harking back to the region's past when sheep farming was prevalent.
What makes this dish special is its preparation – diverse cuts of lamb, traditionally the leftover pieces, are slow-cooked in a tomato sauce until they're fall-apart tender. The meat, now often the more succulent cuts, is served over pieces of bread, soaking up that rich sauce.
"Buglione" in Tuscan dialect indicates a mix of things, reflecting the potpourri of ingredients in this dish. If you're lucky, you might even find a version with olives, adding an extra layer of flavor. This dish has a robust, meaty taste, the lamb's gaminess mellowed by the sweet and tangy tomato sauce.
You can indulge in Agnello a Buglione at local trattorias, particularly during the "Sagra dell'Agnello", a historical festival in San Martino sul Fiora that celebrates lamb dishes. I remember tasting this dish during one such festival – the flavors took me back in time, evoking Grosseto's pastoral past.
18. Scaveccio di Orbetello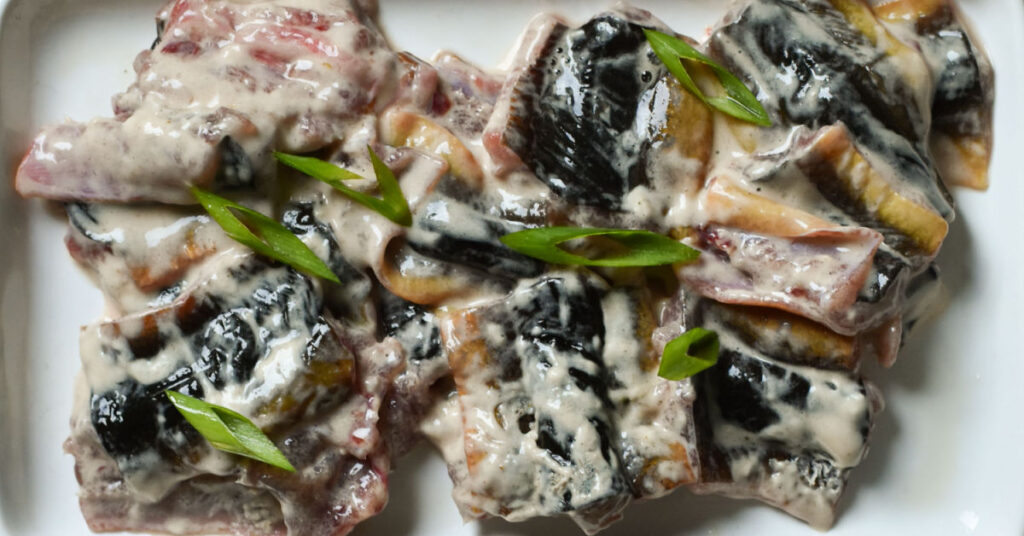 Scaveccio comes from the Italian word 'scabeccio' or 'scapece' in some dialects, which refers to a specific method of food preservation. This involves marinating the food, typically fish, in a vinegar-based mixture. So, 'Scaveccio di Orbetello' could be loosely translated as 'Orbetello-style Marinated Eel'.
It's a dish from Orbetello, a charming town in the Grosseto region known for its rich seafood offerings. Scaveccio di Orbetello, with its fresh eel fried to perfection and then marinated in a tangy concoction of white wine vinegar, garlic, and a mix of aromatic herbs, is a beloved representation of the town's culinary heritage.
What truly blew me away was the interplay of flavors. The intensity of the vinegar beautifully cuts through the rich, tender eel, resulting in an exciting taste adventure that leaves you longing for more. It's a treat best enjoyed in local eateries, where the freshness of the ingredients truly shines.
19. Baccalà alla Maremmana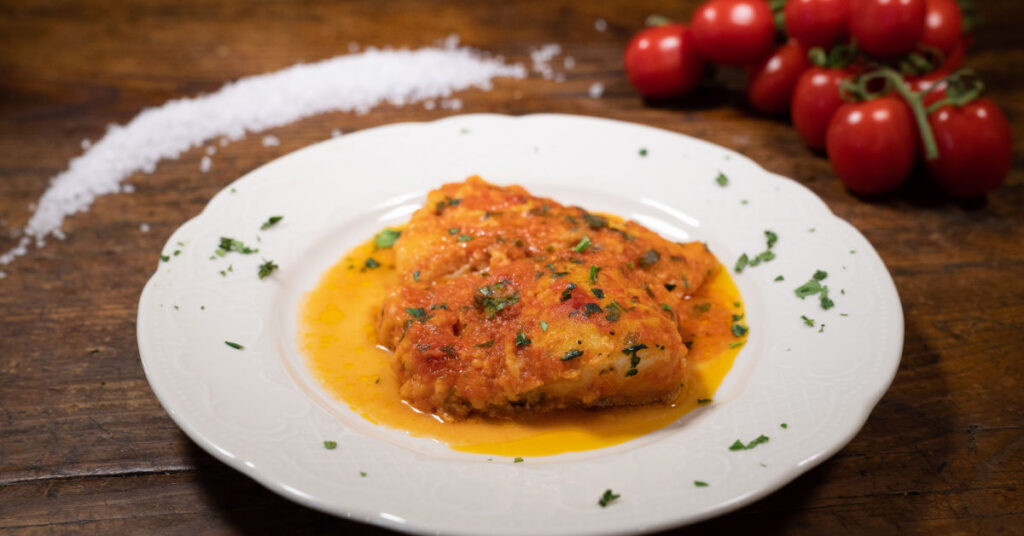 Baccalà alla Maremmana is a must-try seafood second course from Grosseto and Maremma area. Typically served in local restaurants specializing in seafood. The main component is codfish (baccalà) that has been soaked and desalted, then dusted with flour and fried.
To offset the robust, savory flavors of the cod, a sauce made from tomatoes and onions is drizzled over it, providing a delicate sweetness.
The dish is typically served with a side of chickpeas, showcasing the perfect marriage between land and sea. When you bite into it, you're met with the crispy cod, followed by the comforting taste of the tomato and onion sauce. It's a dish that truly captures the essence of Tuscany.
20. Scarsella Orbetellana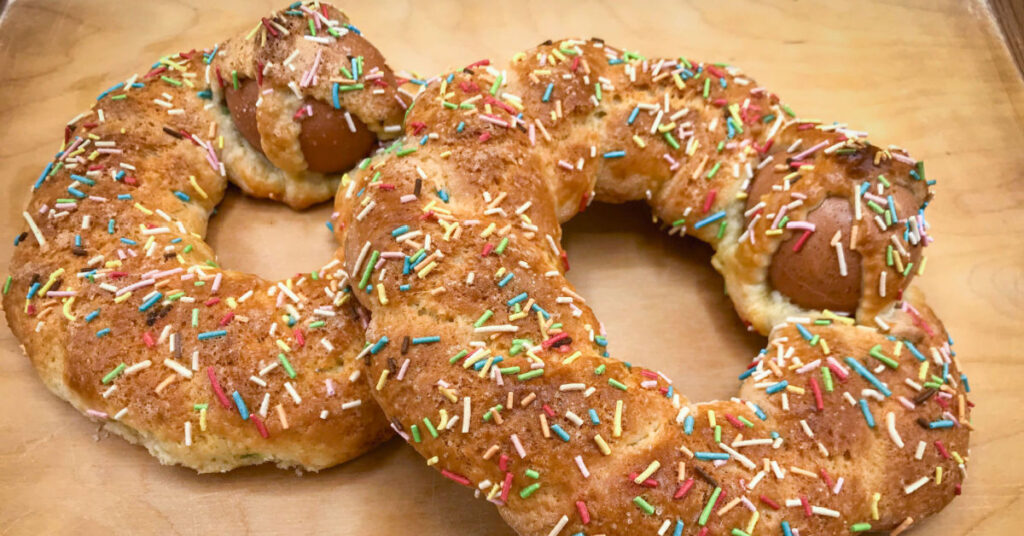 The Scarsella Orbetellana is an Easter dessert with a twist (in reality it is only one of the many Easter sweets of Tuscany, at the link you can find many others). It's a doughnut-shaped treat with crossed ends that cradle a whole egg, baked right in. Its yellow-ocher color and firm, crumbly texture are distinctive features that make this sweet ring stand out.
Now, imagine biting into this hard and brittle dessert, the sweetness blending with a subtle crunch. It's not your typical confectionery, but its unique texture adds to its appeal.
This dessert hails from Orbetello, a town in Grosseto, and it's a must-try for anyone with a sweet tooth visiting during Easter. You can find it at local bakeries, where it's prepared specially for the holiday season.
What I find fascinating about the Scarsella Orbetellana is its Spanish origins and unique design, which made it easy to be handed out to children on long poles from windows during Easter processions.
21. Tozzetti di Pitigliano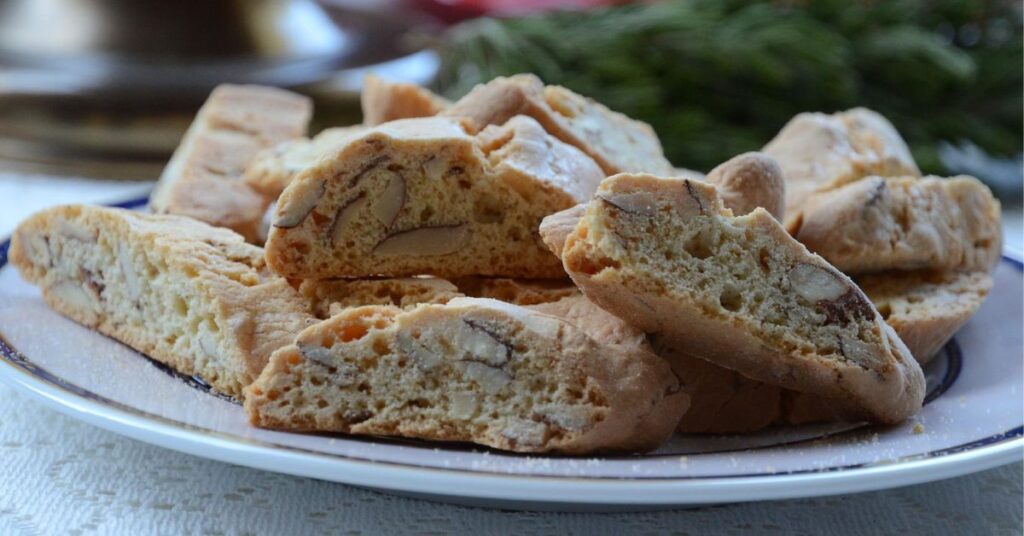 Tozzetti di Pitigliano are small, golden biscuits from the small town of Pitigliano in the province of Grosseto, that pack a real punch in terms of flavor. These sweet treats, baked into a unique curved rectangle shape, offer a delightful crunch followed by a surprising burst of hazelnut and candied fruit flavors.
The dough, a mix of wheat flour, eggs, hazelnuts, candied fruit, sugar, and natural yeast, is shaped into a long roll and baked. Once cooled, it's cut into little sticks and baked once more, creating that ideal crunch.
The name "Tozzetti" comes from the Italian "tozzo," which refers to the stubby shape the dough takes after being cut.
You can find these gems in bakeries and cafes in Pitigliano, often enjoyed with a glass of Vin Santo, a sweet dessert wine, following a meal.
22. Cavallucci di Massa Marittima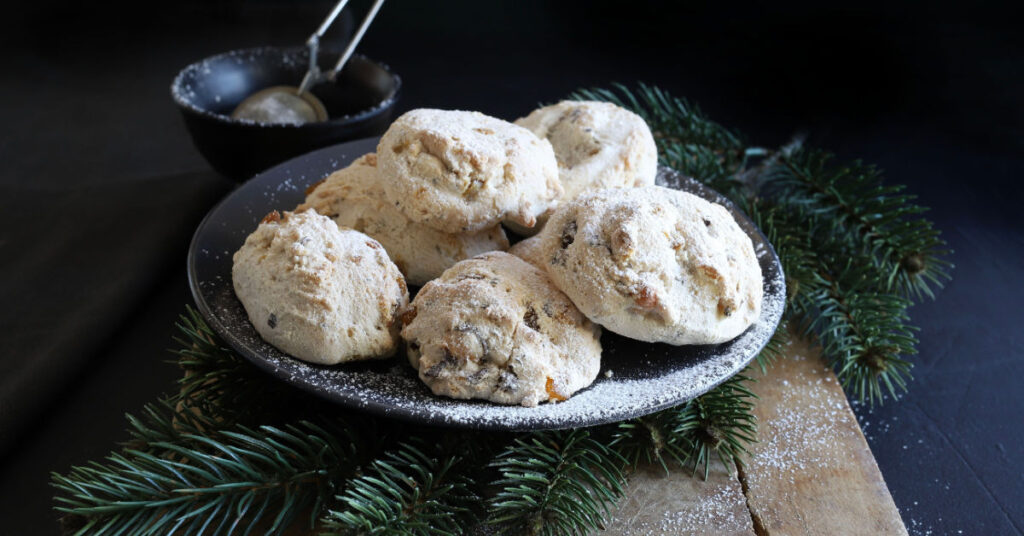 For dessert lovers touring Grosseto, the Cavallucci di Massa Marittima is a must-try treat. These large, irregular-shaped cookies have a unique, spongy yet compact texture that sets them apart. Made with walnuts, anise, and candied fruit, each bite is a wonderful harmony of flavors. But be warned, these cookies are quite firm, so it's customary to dip them into sweet wines like Aleatico, Passito, or Vin Santo – it's an Italian way to make dessert even more indulgent!
Interestingly, Cavallucci translates to "little horses," a nod to their history. These cookies were a staple among "cavallai," the individuals who changed horses at traveler's post stations. These hardy treats provided sustenance and comfort on long journeys.
Today, Cavallucci can be found in local bakeries and traditional food markets in Massa Marittima, a charming town within Grosseto. And around holiday times, don't be surprised if you're gifted a few as they are often shared as festive presents. Read here for more holiday food in Tuscany.
23. Pagnottella Santostefanese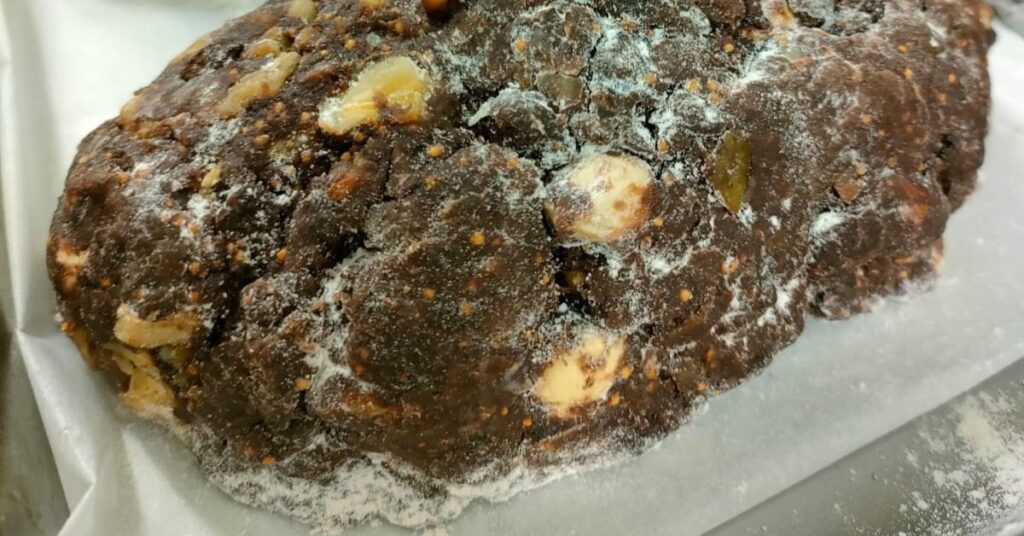 Pagnottella Santostefanese, litterally Little Bread from Santo Stefano, is a gem from the Argentario tradition. This delightful dessert is as unique as the families in Porto Santo Stefano and Grosseto, with every family having its own closely guarded recipe passed down through generations. The essence of this sweet treat lies in its individuality, making it an absolute treat to taste from different places.
Ingredients vary widely, yet the core philosophy remains the same: use what you have at home to create something lasting and sweet. As a result, every Pagnottella Santostefanese has a personality of its own. Some may be rich with a hint of cinnamon, while others might bring a hint of citrus zest.
This treat takes center stage during Christmas festivities, and it's said to have been a cherished carry-on for mariners during their long voyages, allowing them to taste home even when far away. Sampling this dessert is like tasting a piece of the area's history and tradition, sweetened and baked to perfection.
You'll often find lively debates about whose Pagnottella Santostefanese is the best around festive times. So, when in Grosseto during Christmas, do join the tradition and have a taste of the famed Pagnottella from a local bakery.
24. Sfratti di Pitigliano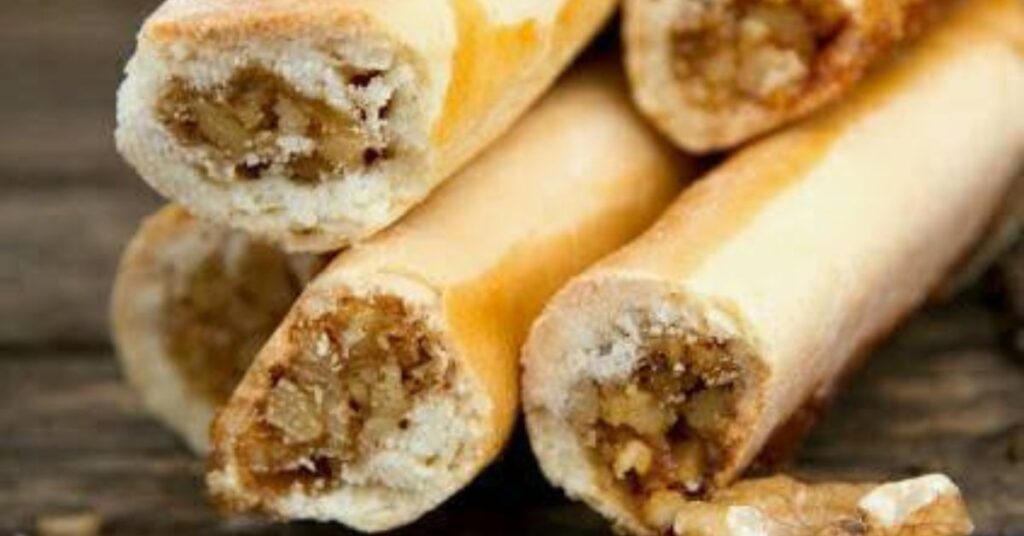 Sfratti di Pitigliano is a traditional sweet with a history as rich as its taste. This dessert, similar in shape to a cigar, consists of a thin unleavened pastry filled with a mixture of crushed walnuts, honey, spices, and orange peel. You can find these delightful sweets in the bakeries and pastry shops around the town of Pitigliano, next Grosseto.
The name 'Sfratti' comes from the Italian word for 'eviction', and these sweets have a poignant history. Their shape is reminiscent of the sticks landlords used to drive tenants from their homes, a fate that Jewish residents of the area experienced too often. This treat was ironically named after an event in the early 1600s when Cosimo II de' Medici moved all the Jews into a single quarter, effectively evicting them from their homes.
Tasting Sfratti di Pitigliano is a unique experience. The crispy pastry shell gives way to a sweet and nutty filling, punctuated with the zing of orange and warming spices. It's a symbol of resilience and tradition, enjoyed by everyone in Pitigliano.
25. Corolli della Sposa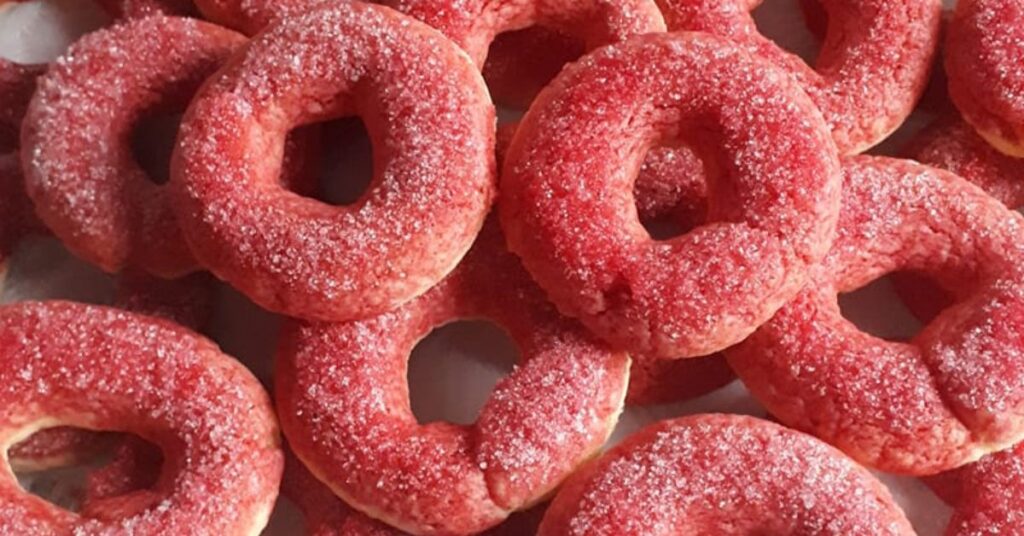 Corolli della Sposa are traditional pastries originating from Porto Santo Stefano, easily identifiable by their distinctive pink hue. This dessert is typically made for weddings and special occasions. The main ingredients include flour, sugar, milk, butter, eggs, liqueur and ammonium carbonate, a classic leavening agent in Italian baking.
These small donut-like pastries are a delightful mix of sweet and comforting, with a satisfying, slightly dense texture that perfectly absorbs the Alchermes, a brightly colored Italian liqueur that gives the Corolli their pink color. After baking and cooling, the pastries are dipped in this liqueur and then coated in sugar for a satisfying crunch.
Biting into a Corolli is like stepping into an Italian wedding celebration. The pastries have a warm, sweet, and slightly buttery flavor with a hint of the aromatic Alchermes. They are the perfect accompaniment to a strong cup of espresso or a glass of Vin Santo.
You can find Corolli della Sposa in local bakeries and pasticcerie around Grosseto, especially during wedding season.
More information about characteristic food from Grosseto
What is the iconic dish of the city of Grosseto?
The iconic dish of the city of Grosseto is undoubtedly the "Pappardelle al sugo di lepre," a hearty pasta dish featuring wide noodles and a rich hare sauce.
Which dish or typical food from Grosseto is suitable for vegans?
"Panzanella Maremmana" is a perfect vegan option in Grosseto. It's a refreshing bread salad with ripe tomatoes, onions, basil, cucumber, vinegar, and olive oil.
Which dish or typical food from Grosseto is suitable for vegetarians?
"Tortelli con spinaci e ricotta" is a vegetarian-friendly typical food of Grosseto. These are delicious filled pasta with a blend of spinach and ricotta cheese.
What is the characteristic street food of Grosseto?
For street food, "Schiacciata Grossetana" is the go-to in Grosseto. It's a savory flatbread that you can grab and eat on the go.
What is the typical dessert or sweet treat of Grosseto?
As for a typical dessert, nothing beats "Corolletti della Sposa." These are traditional pink pastries, originally made for weddings but now enjoyed on various occasions.