Well yes, some Italians (a small part actually) really do eat frogs, it is not an urban legend.
I can imagine the incredulous and worried look on someone's face, but I assure you, that once you get over the initial embarrassment, the little amphibians are actually good and tasty if cooked and eaten in a certain way.
Frog is often said to taste similar to chicken because their flavor is mild. Frog legs can be compared to chicken wings in terms of taste and texture, but some claim that they taste similar to fish.
Do all Italians eat frogs?
Not all Italians eat frogs, in fact for many people some doubt or even disgust persists when faced with a frog dish.
But so what are the areas of Italy where the inhabitants can be defined as frog eaters? The regions where it is easy to find them, so in northern Italy, near the Po River, particularly Piedmont, Lombardy, Veneto, and Emilia.
Historically, frogs were collected and cooked as a poor man's food, especially in the early 1900s. They were widespread and were found in abundance, in wetlands where there were ponds or rice fields, such as in the Vercellese or Veronese regions of Lombardy. For poor families, frogs were good substitutes for fish.
Unfortunately, today the situation has changed markedly, frogs are increasingly rare due to herbicides used in agriculture and the consequences that would seem to have on frogs and other animals.
What's more, in recent decades prosperity and wealth have led to poor families being able to afford meats such as chicken and beef, so frogs have become a delicacy for aficionados and nostalgics of the old days.
What part of the frog do Italians eat?
Generally, people consume frog legs, whose meat is easily digestible and rich in protein, with a delicate taste. The frog's thighs are actually the meatiest part of the animal, many recipes that use frogs in fact deal precisely with the legs.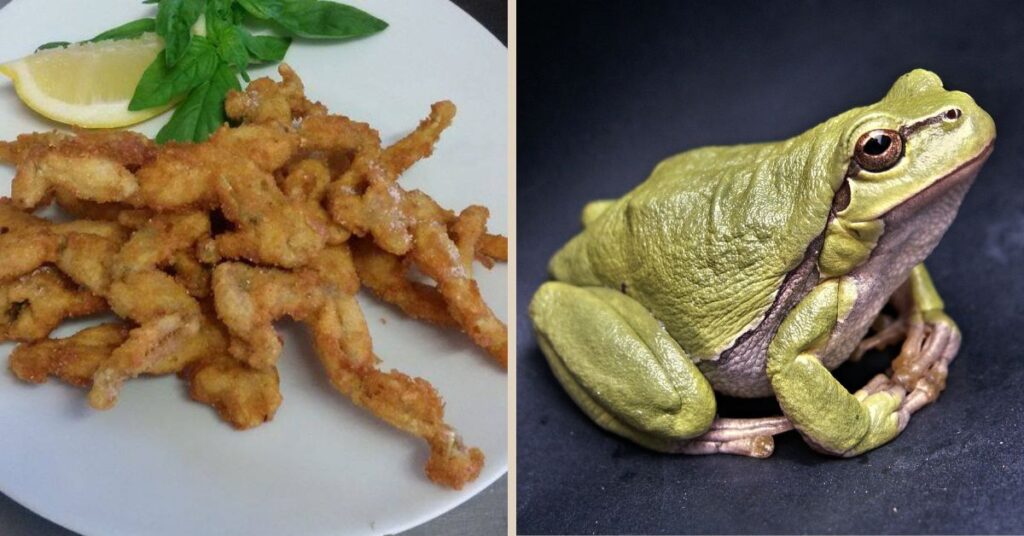 It is important to remember that in Italy there are two species of frogs suitable for eating in the kitchen: the green frog (Pelophylax esculentus) and the common frog (Rana temporaria), which belongs to the so-called red frogs.
Here is how we Italians eat frogs
Italians cook frogs in various ways, but in general, the delicate flavor of frog meat should never be covered by overly savory seasonings.
The most famous amphibian dish in Italy is fried frog legs with or without a light batter.
There is also a version from Trentino-Alto Adige, the so-called "embragade frogs," which are marinated in vinegar and chopped parsley, then dipped in egg and flour, and finally fried.
How to eat frog legs?
Frog leg etiquette can be tricky, but generally, you should use your thumb and forefinger as tongs to hold the leg bone and bring them to the mouth by eating them like a small chicken leg. If you are in a very formal situation, however, you can simply eat them on the plate by separating the meat from the bone using a fork and knife.
Frogs at the table: first course, second or side dish?
Frog dishes range between starter, first and the second course, depending on how and where they are cooked, below is a list of typical dishes from different Italian regions, all frog-based of course:
A light and tasty appetizer, frog fritters with shrimp.
A nice first course, with which to start, is definitely risotto with frogs, a traditional recipe typical of Northern Italy, which combines the typical symbols of the rice field, rice and frogs precisely. It is advisable to make the broth with the carcasses of the frogs, whose legs will end up garnishing the dish.
Moving toward the Center we encounter frog soup, typical of the province of Rome.
Another first course with frogs comes from Southern Italy, particularly Sicily. These are frogs in "guazzetto" or stew.
It continues with fried frogs, which are in fact, a typical second course from the areas of Lombardy and Piedmont. Frying, with or without batter, provides an extra tastiness to this ingredient, definitely the first frog dish I would recommend you try here in Italy.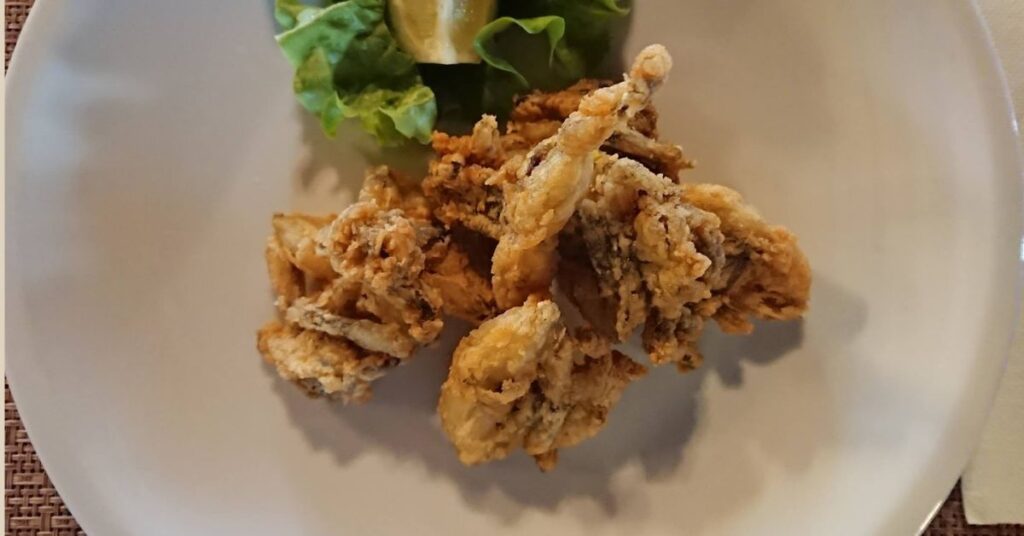 Where do the frogs that are eaten come from?
In the 1800s and 1900s, frogs were caught by the "mondine" girls aka seasonal workers who weeded the grasses in the rice fields. Mondine knew the rice fields well and knew where and how to catch the frogs.
In our days everything has changed, the mondine are no longer there and finding frogs is becoming more and more difficult.
Almost all of them come from abroad, especially the United States and China. Imported frogs are much larger, with chicken-like thighs and definitely less tasty, compared to our small domestic frogs.
In Italian restaurants can you always order frogs?
In restaurants in some parts of northern Italy, it is quite easy to find frogs. However, this is a type of food that most restaurants serve by reservation.
The reasons are simple. It is a rare meat now that is difficult to find in this day and age and with a time-consuming way of preparation.
It is advisable to simply make reservations, and in this way, lovers and those curious about the little amphibians will be able to enjoy them without any problems.
What restaurants typically serve frogs?
It is possible to eat frogs in many trattorias, especially in Piedmont, Lombardy, Veneto, and Emilia, the regions that follow the Po River. Especially during the summer period, festivals and fairs are organized in these areas where you can eat the small amphibians.
From trattorias, they move on to many restaurants, including prestigious ones, that offer them on their menus. It is evident how frogs have been transformed from a popular food to a gourmet delicacy.
So if you are in Italy and you want to taste frogs, I suggest you look for them among traditional trattorias and village festivals, also because finding them for sale is very unlikely; they are not the kind of meat you will find in the supermarket here in Italy.