Although it may sound absurd, American peanut butter is currently quite popular here in Italy, it is certainly not appreciated and known by everyone, but it is still an easy-to-find food, found in almost all our city supermarkets.
I consume it habitually and I also love to prepare it at home, later I'll show you how I do it, but don't think it has always been so, peanut butter here in Italy is finding quite a success only in recent years. 
According to this data in recent years there has been a fair amount of growth, especially in the Netherlands, the United Kingdom, and Germany in the distribution and consumption of peanut butter.
Despite this recent success, the European Union is still a tiny market for U.S. peanut butter. Just think that the average European eats less than a tablespoon of peanut butter in an entire year. 
This is to say that even though peanut butter is a food to this day known throughout the country and all in all readily available, it is still under-consumed when compared to U.S. use and, more importantly, is only eaten by a very small portion of the population.
Here's how we eat peanut butter here in Italy
Now that you know that only a few Italians eat peanut butter, you may wonder how those few who do are eating it.
Unlike American usage, here in Italy with peanut butter, we have less creativity, in fact, it is often eaten simply spread on bread for a tasty and caloric breakfast or snack.
I eat it this way, rarely at breakfast, I spread it on grilled bread together with some jam, besides this way I sometimes eat it directly from the jar with a teaspoon… I have to admit, but who doesn't?
Anyway, peanut butter remains a much sought-after food for Italians who do a lot of sports and are looking to incorporate food into their diet that provides them with healthy fats and is free of preservatives, dyes, and sweeteners.
Do we cook with peanut butter?
As I told you in Italy the scarce use of peanut butter is almost always coupled with bread, for cooking or accompanying other dishes, it is never used, so in case you were wondering: no… here in Italy we never use peanut butter to season pasta, this is because we do not like to mix flavors of traditional and local foods with foods from other nations.
However, this cannot hide the fact that here peanut butter is used as an ingredient in the preparation of cakes and cookies, it is pretty normal to find pastries or cookies with peanut butter in pastry shops or in the dessert aisles at the supermarket.
After pasta, let's tackle another great classic: pizza. I confirm that no traditional Italian pizzeria will ever dare to put a pizza topped with peanut butter on the menu. The only exception, in this case, is if the pizza in question is served as a base for a dessert, like a sweet pizza. As I told you before, we often combine peanut butter with desserts with chocolate or other creams.
Now let's talk about another classic Italian food, this time it is sweet and therefore a great friend of peanut butter here in Italy.
Does peanut butter-flavored ice cream exist in Italy?
Absolutely yes, it is a very popular gelato flavor, both in artisanal ice cream shops and in packaged ice creams on the refrigerated counter. Peanut butter ice cream is usually made with a base of milk and cream, to which peanut butter is added to give the ice cream the right texture and taste. In my experience as a serial ice cream eater, you can find it in 1 in 4 ice cream shops here in Italy, I recommend you try it.
What American brand of peanut butter is found in Italy?
Unbelievable but true, we also produce Italian peanut butter in Italy, made from peanuts grown, harvested, and roasted entirely in Italy, but most of the time on the shelves you can find American brands such as Skippy, Jif, and Peter Pan. Here in Italy, peanut butter is call burro di noccioline or burro di arachidi.
If, on the other hand, there is no sign of peanut butter in the supermarket you visited, don't despair, I invite you to try other nut-based creams that you can often find in the sweet spreads aisle (next to Nutella), you can try hazelnut, walnut or pistachio-based creams.
Here's how an Italian makes homemade peanut butter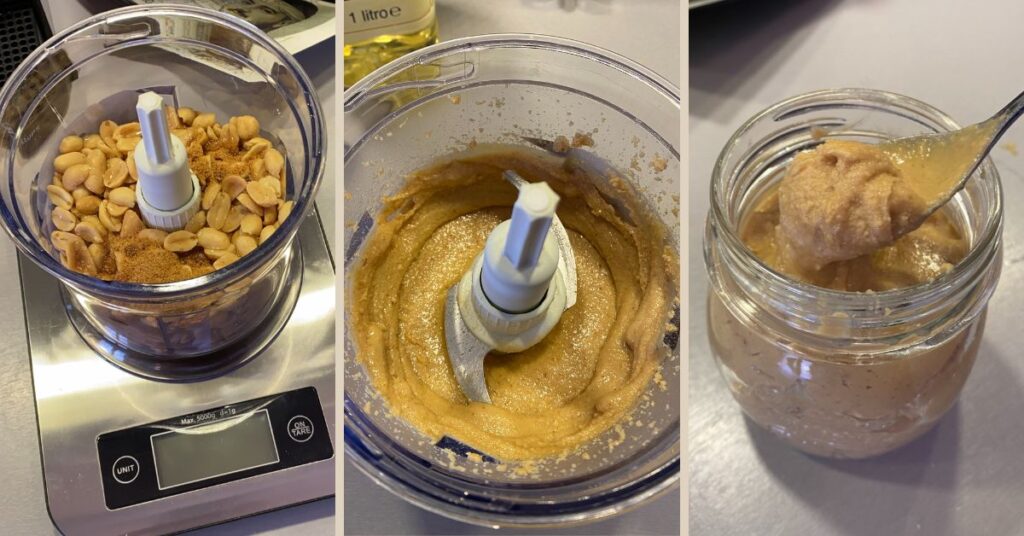 As I promised at the beginning of the article, here's how I make my own peanut butter at home:
I take 250 grams of roasted and already salted peanuts and put them in the blender.
I add 2 teaspoons of Acacia Honey and one teaspoon of brown sugar.
I add 3 tablespoons of Arachis oil.
I activate the mixer until I get creamy peanut butter.
That's it!