Pheasant, known as "fagiano" in Italian, is a game specialty that frequently graces dinner tables in Italy during special occasions like Christmas. Although its meat is delectable, it requires specialized preparation due to its status as a game bird.
The Italian affinity for pheasant isn't new; it dates back to Roman times when pheasants, originally native to Asia, were introduced to Italy for both decorative and culinary purposes.
Why is Pheasant Italy's Culinary 'Cook Me If You Can'?
The answer lies in the elaborate preparation and extended cooking time the meat requires. These factors make pheasant more suited for special events rather than everyday dining.
Additionally, pheasant is "game meat" like guinea fowl, it is not supermarket meat. Most of the pheasants that land on Italian tables are wild and hunted only during specific seasons.
This limited availability is another reason why pheasant is less commonly eaten compared to domestic poultry in day-to-day Italian cuisine. So to recap:
Game Meat Regulations: Being game meat, pheasant hunting is subject to specific seasons and regulations, making the bird less readily available year-round.
Cost Factor: Given its status as a game bird and the labor required for its preparation, pheasant can be more expensive than other types of poultry.
Limited Availability: Pheasant isn't as widely available in supermarkets and butcher shops as other poultry, like chicken or turkey.
Gender Differences: The taste and texture of the meat can vary between male and female birds, requiring different preparations and cooking methods, adding to its complexity.
Nutritional Specifics: While pheasant meat is lean and low in calories, it may not provide the same range of nutrients as more commonly consumed meats, making it less ideal for daily consumption.
Culinary Expertise: Properly preparing and cooking pheasant often requires a certain level of culinary skill, which may not be practical for everyday home cooking.
These factors together contribute to why you're less likely to see pheasant as an everyday meal on Italian dinner tables.
Time-Honored Italian Pheasant Dishes
Fagiano alla Cacciatora
Fagiano alla Cacciatora, or "Hunter's Pheasant," is a time-honored classic in Italian game cuisine. Pheasant is typically cooked with a medley of aromatic herbs, vegetables like onions, carrots, and celery, and a robust tomato sauce. Wine and sometimes broth are added to help tenderize the meat, while a variety of spices such as rosemary, sage, or juniper berries impart complex flavors.
Tagliatelle con Ragù di Fagiano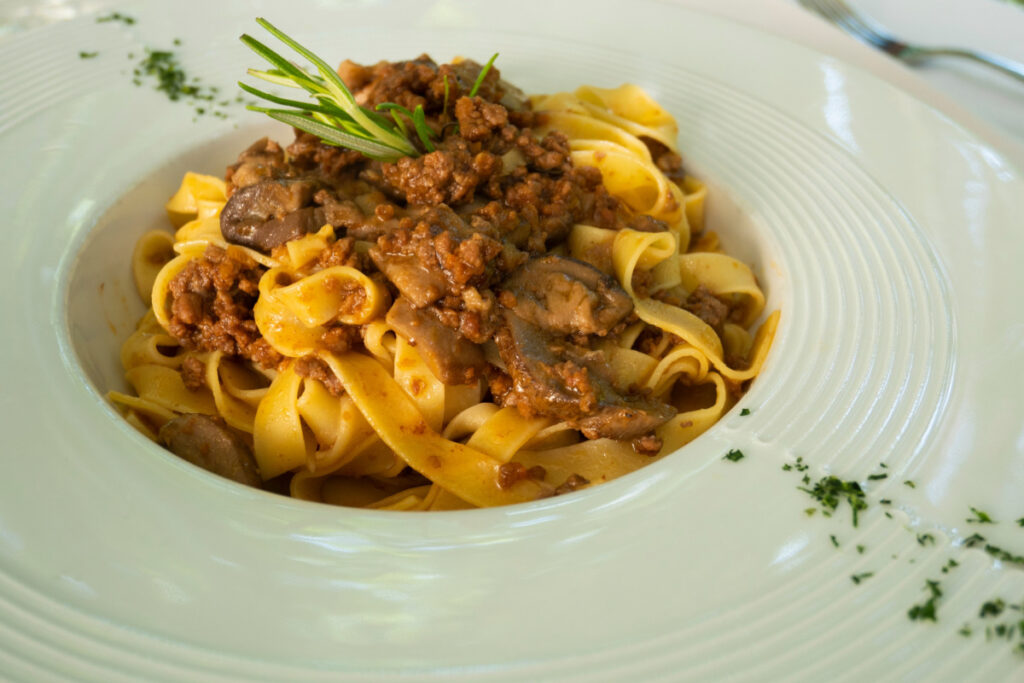 Tagliatelle with pheasant ragù is a hearty and flavorful pasta dish that embodies the richness of Italian game meat cooking. Although pasta with chicken is taboo in Italy, in the case of game birds things change.
The star ingredient, pheasant meat, lends itself perfectly to slow-cooked sauces like ragù, elevating an otherwise simple tagliatelle into a sumptuous feast. While making a pheasant ragù may not be a quick and easy endeavor, the steps closely mimic those of traditional meat ragù.
Fagiano in Salmì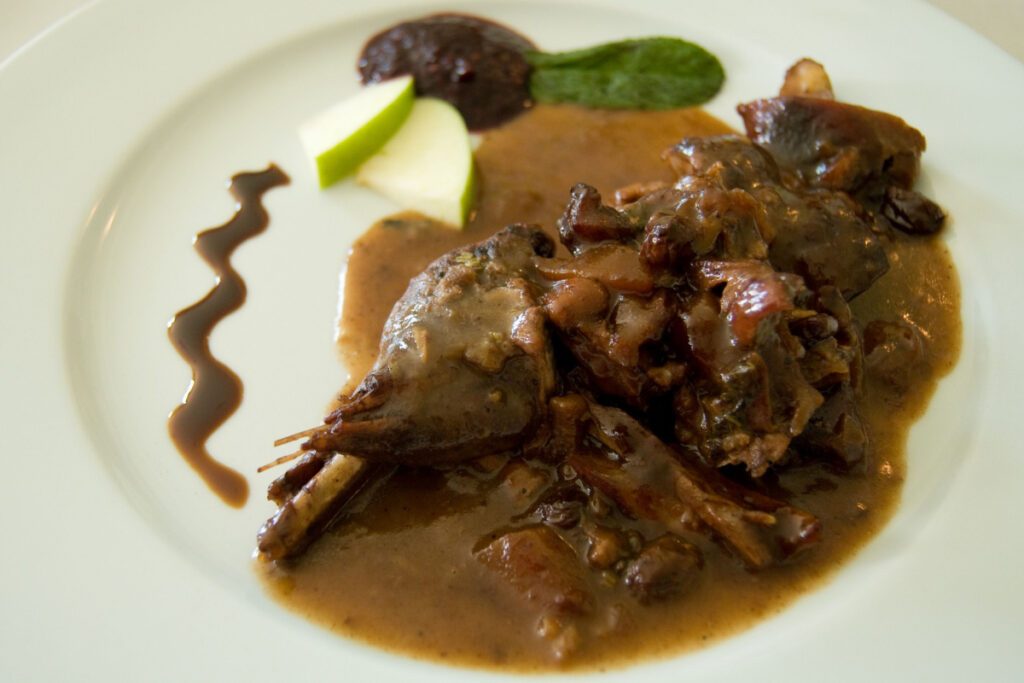 Fagiano in Salmì is a traditional Italian dish that features marinated pheasant slow-cooked to perfection. The bird is first soaked in a red wine and herb marinade to temper its gamey flavor. It's then seared in a mix of olive oil and butter, and simmered in a rich sauce of roux bruno and tomato concentrate. The result is a tender, flavorful pheasant dish, often served with a side of polenta for a complete, hearty meal.
Fagiano Ripieno Arrosto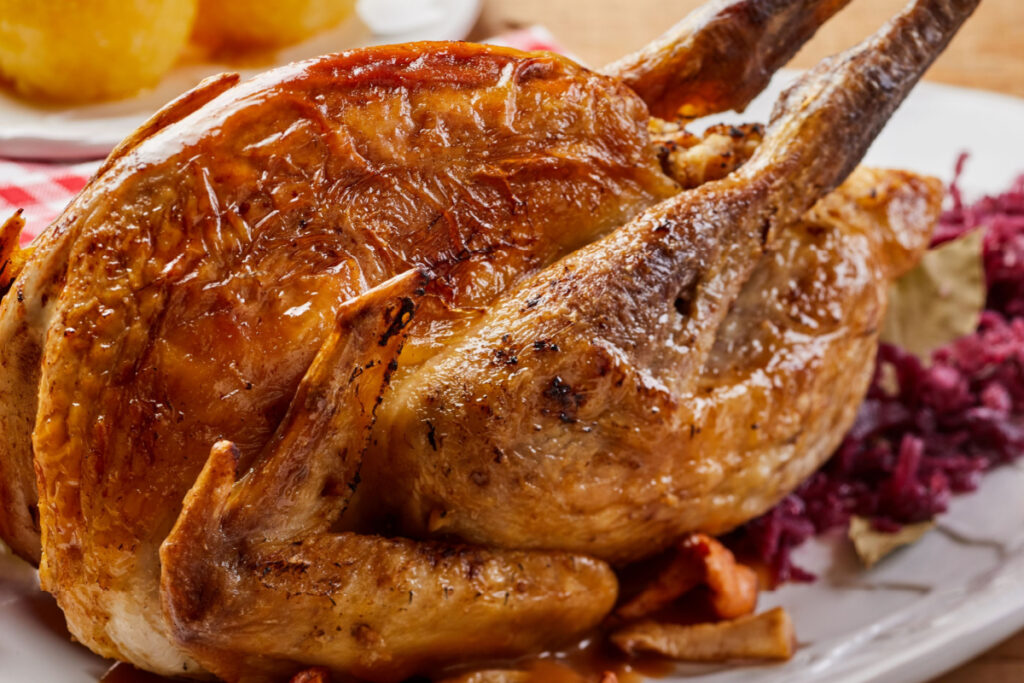 Fagiano Ripieno Arrosto is a luxurious Italian dish featuring a pheasant stuffed with a rich blend of chestnut puree, Prague ham, and its own liver. Seasoned with sage and bay leaves, and optionally enhanced with Marsala wine, the bird is slow-cooked to perfection. The dish fills the home with an irresistible aroma that even kids can't resist, making it an excellent choice for special occasions, including a romantic Valentine's Day dinner.