The legendary hazelnut spreadable cream, invented by Mr. Ferrero in 1946 to overcome the lack of cocoa was one of Italy's symbolic products along with pasta and pizza, but what we are interested to understand is… do Italians really like Nutella?
With the amount of alternative products and competitors to Nutella that exists in Italy (I show you some really good ones here below), but also with the wave of attention to the foods' consumption with a low-calorie index or palm-oil free, it is legitimate wondering if the so popular Italian spreadable cream is still loved in its own homeland or not. 
Well, actually yes, Nutella is today the most consumed and loved spreadable cream in Italy and these data from 2022 confirm it: 
In the sample of Italians who were questioned, they were asked "Do you like Nutella?" 74% answered "I like it" and 26% replied, "I don't like it". So, more than 7 out of 10 Italians say they like Nutella, without any particular difference between men and women. 
If we analyze the age of the interviewed people, we find that it is older men between 55 and 64 who love Nutella more than other age groups. Men between the ages 35 and 54 also like Nutella, while men aged 25 to 34 say they do not like it.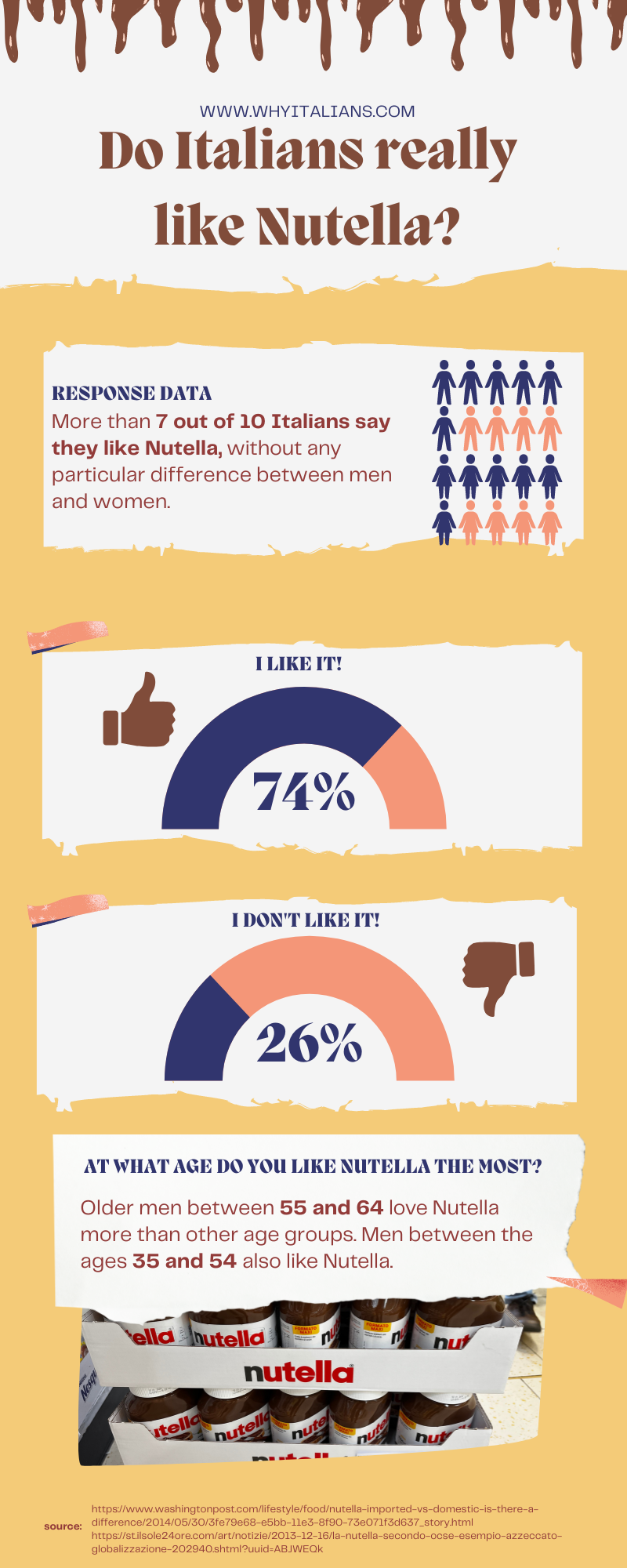 Maybe this data does not surprise you, but what I am about to tell you, surely will. 
Is Italy the country where the most amount of Nutella is consumed?
Many wonders if it is Italy, the country where the most quantity of Nutella is eaten in the world and, also for this reason, I did some research, here is what I surprisingly discovered. 
350 thousand tons of Nutella are produced every year, according to the data reported in the latest OECD report, which defined the aforementioned product as the first example of the global value chain in the agri-food context, because its supply chain touches all the continents. 
However, which countries are the biggest consumers of Nutella? In the world rankings, in the first place we find Germany, followed by France and Italy.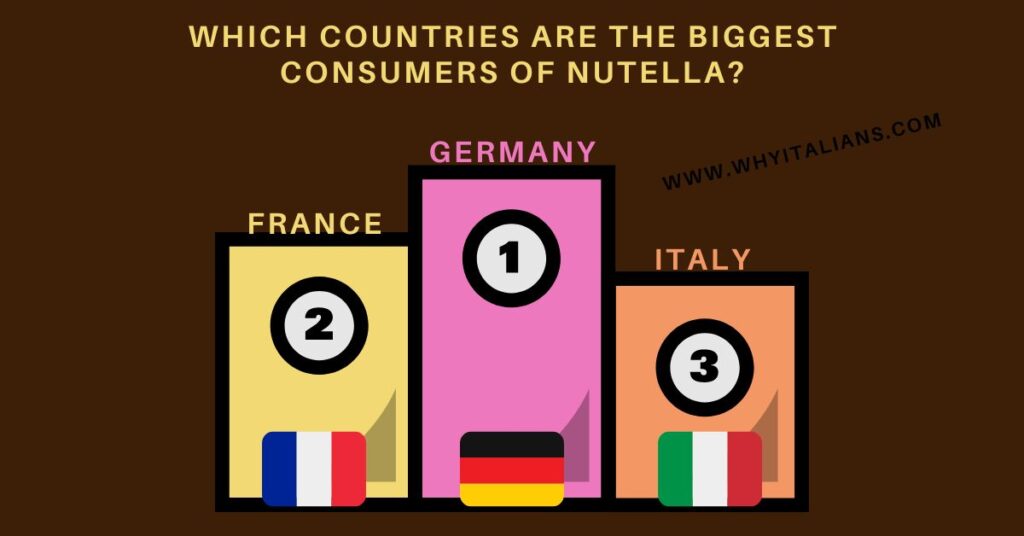 Although Italy is (only) in third place, you have to think that here 83% of families buy Nutella every year at least once, with an average per capita consumption of one kilogram!
How and why Nutella was created?
Few people know that Nutella was born because of the Second World War. The war caused the price of cocoa to skyrocket in our country; indeed, real chocolate-based sweets had practically disappeared, so the pastry chef Pietro Ferrero invented a sweet dough by mixing the small amount of chocolate available with hazelnuts (present in abundance in Piedmont) and sugar. The dough was quite solid and certainly not easy to spread. He called it Giandujot and, on May 14th 1946, he founded the Ferrero company in order to distribute his chocolate dough in Italy. 
Eighteen years later, his son Michele Ferrero, inspired by that dough, invents the first jar of a new cream, more spreadable than his father's one, based on hazelnuts and cocoa, which he decides to call Nutella. The success of this new cream is not long in coming and we know how it went.
Is it true that Italian Nutella is better?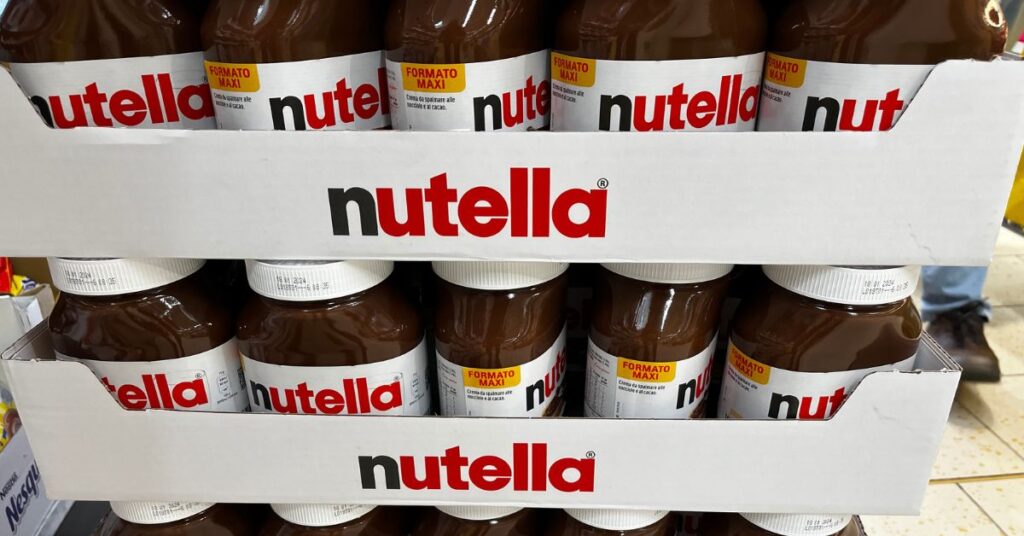 A Nutella-loving foreigner who comes to Italy might be very interested in tasting the real Nutella, as it is said that our spread has a different taste from what is found in America or in the rest of the world, but is that true?
I did not get to taste American Nutella, but I did some research and I can bring you what I discovered right here. 
Although Nutella is a product sold worldwide and, even if most of its ingredients are the same in each of its production factories, there are differences that are highlighted between Italian and American versions and these differences identified are always the same. An indication that confirms the real difference between the two versions. 
When you put the spoon in the jar, Italian Nutella seems to be softer and less compact than American one. Just to be clear, once the spoon has been removed from the jar, there is no depression on the surface of the Italian Nutella; while in the American version, there is clearly the sign of its passage. 
All those who have tried the two Nutellas in sequence, seem to agree: the flavor of Italian Nutella is more "nutty" than the American one, thus resulting better. This despite the fact that the two versions of Nutella contain exactly the same amount of hazelnuts. 
9 Nutella alternatives that you have to try in Italy
You must know that in Italy Nutella is just one of the many hazelnut and chocolate based spreadable creams available on sale in our supermarkets; in fact, the competition has not be so slow in arriving over the years and, although no cream has ever come close to the success of Ferrero's worldwide sales, there are alternatives that, in my personal opinion, beat it on taste and goodness. 
Here are the best alternatives to Nutella (it is not a ranking) that you can find and buy in Italy: 
Pernigotti Gianduia: A tasteful spreadable cream inspired by the tradition of the iconic Gianduiotto Pernigotti, prepared with the highest quality ingredients with 29% hazelnuts. 
Pan di Stelle Cream: A spatial encounter between a sweet cocoa cream and hazelnuts with crunchy grains of Pan di Stelle biscuits. 
Novi Cream: It is the spreadable cream with the highest percentage of hazelnuts (45%) and its inimitable feature is its intense and nutty flavor. 
Venchi Suprema Nocciola: A spreadable cream with hazelnut based on chocolate, IGP Piedmont Hazelnuts and Olive Oil. 
Rigoni di Asiago Nocciolata: An organic spreadable cream composed of cocoa and hazelnuts, produced with carefully selected ingredients. 
Terre d'Italia Gianduja Cream: It contains 40% hazelnuts with a specific and simple taste. The high-quality of hazelnuts gives a very intense aroma that matches perfectly with the fragrant and persuasive taste of cocoa. 
Caffarel Cremosa: Spreadable and versatile cream, it is a cream with an intense flavor of cocoa and hazelnuts with a smooth consistency. It is practical and immediately ready to be tasted. 
Lindt Italian Hazelnuts Cream: The finest Lindt chocolate combines with hazelnuts in a spreadable cream: a perfect match between Italian hazelnuts and fine cocoa, impossible to resist. 
Emilia Extra Dark Cream: Dark cream with 22% cocoa and 25% hazelnuts, a delicious product that you have to try if you love dark chocolate and low sugar. 
My favorite Hazelnut spreadable cream (better than Nutella)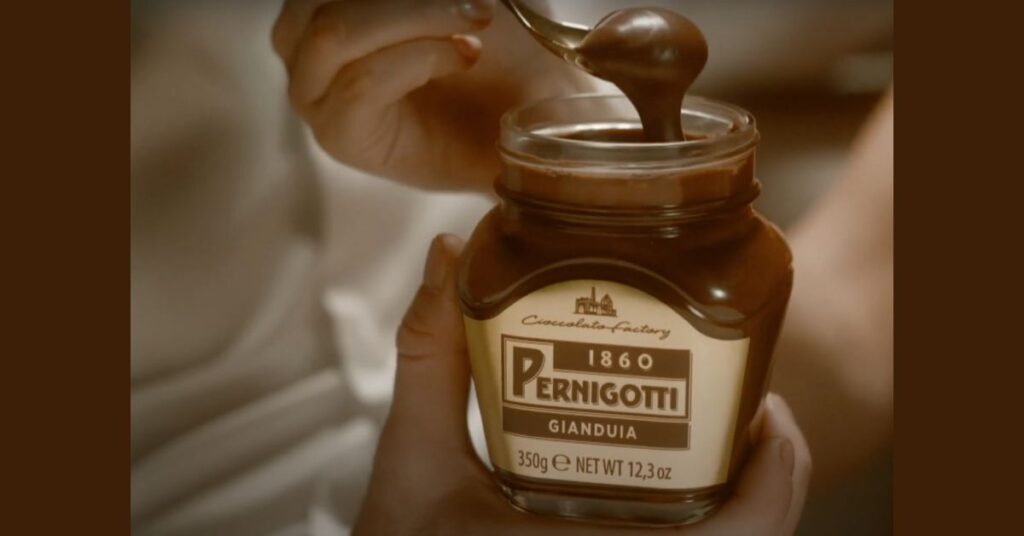 Having grown up in Italy, Nutella has always been part of my life, especially during my childhood in the 90s. There were not so many alternatives other than the popular Ferrero cream. 
However, as I showed you previously, the situation is very different now: the competition and the alternatives to Nutella are numerous and, over the years, many people, just like me, have wanted to try something new. 
Currently, in my personal opinion, the best hazelnut cream is the Pernigotti Gianduia cream. I prefer the dark variant, Pernigotti Gianduia Nero. This cream is much better than Nutella, since it is less sweet and with a greater quantity of cocoa and hazelnut that gives to this product a full and persistent flavor, a real pleasure. 
Alternatively, if you cannot find the Pernigotti, I suggest you try the Novi or Venchi cream, both rich in hazelnuts and with an extremely full and smooth flavor. 
sources: 
https://www.seriouseats.com/international-face-off-nutella
https://www.washingtonpost.com/lifestyle/food/nutella-imported-vs-domestic-is-there-a-difference/2014/05/30/3fe79e68-e5bb-11e3-8f90-73e071f3d637_story.html
https://st.ilsole24ore.com/art/notizie/2013-12-16/la-nutella-secondo-ocse-esempio-azzeccato-globalizzazione-202940.shtml?uuid=ABJWEQk